Complete guide to Saugus Iron Works in Massachusetts including things to do, nearby lodging and camping, history, Junior Ranger program, and more.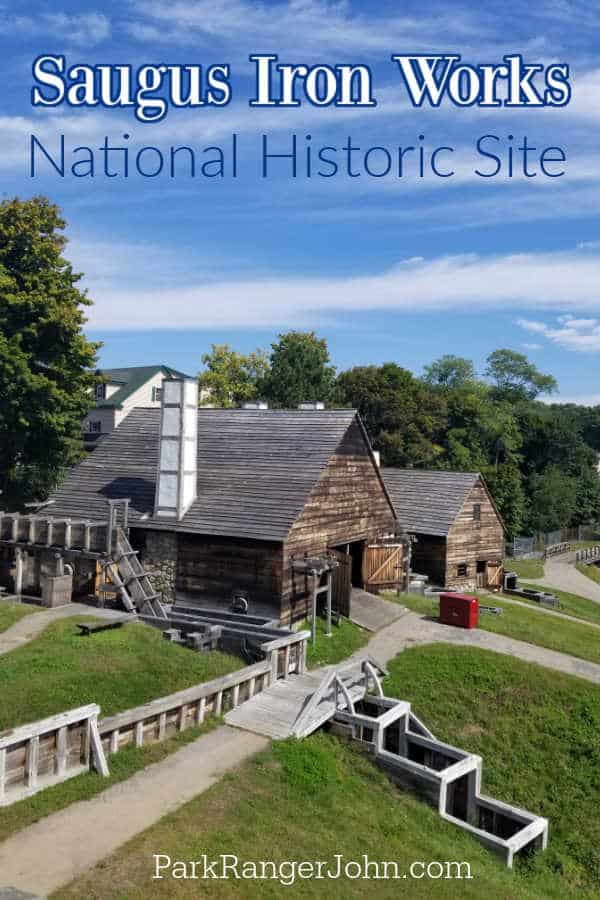 Saugus Iron Works National Historic Site
The 17th century settlers of Massachusetts Bay Colony needed a variety of supplies to build the colony.
They bought some supplies with them but needed a source for additional materials.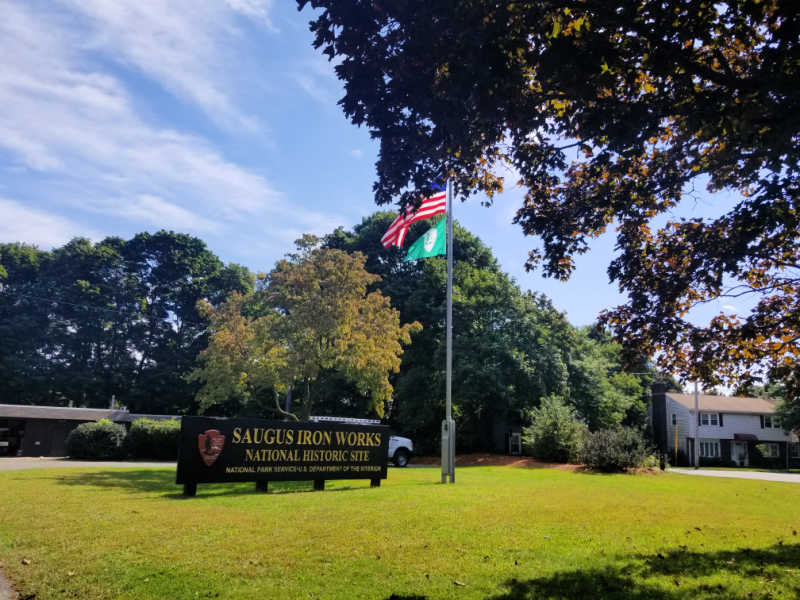 About Saugus Iron Works National Historic Site
From 1646 to 1668 a company called Saugus Iron Works produced the wrought iron bars that were used to manufacture goods, including axes, saws hoes, nails, pots, skillets and more.
The iron works was set along the Saugus River in Eastern Massachusetts between Boston and Salem. This plant was the first iron-making plant in colonial America.
The ironworks eventually closed due to poor management, high costs, and competition from imported ironworks.
While the ironworks went out of business the impact of the company continued. Many of the workers moved to different regions around New England and continued to work in the iron industry.
Saugus is considered to have helped start the United States iron and steel industry.
One of the amazing things about visiting Saugus Iron Works NHS is being able to see a blast furnace, forge, rolling mill, warehouse, and working waterwheels.
The site is easily walkable and you can walk in and out of the warehouses and working areas.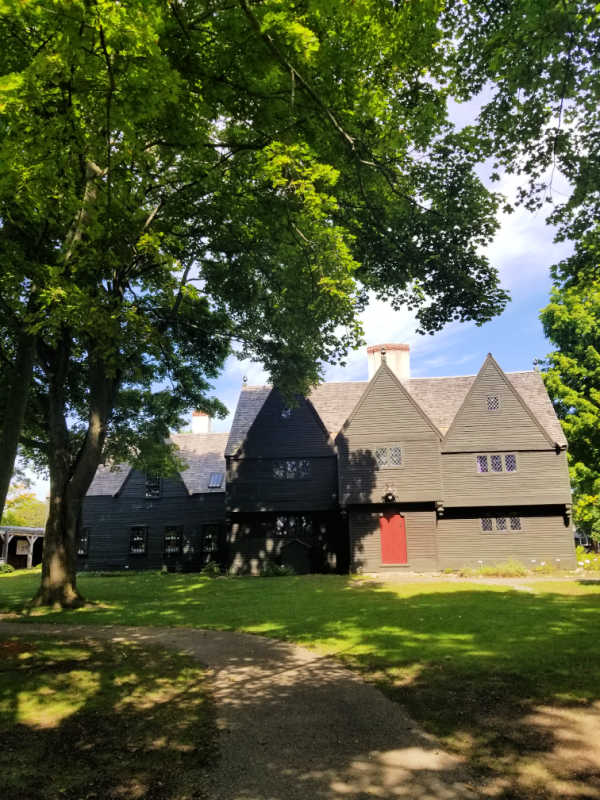 Is Saugus Iron Works National Historic Site worth visiting?
Yes! We were really impressed with this National Historic Site.
We visited on our way to the airport in Boston and wished we would have dedicated more time to exploring the park.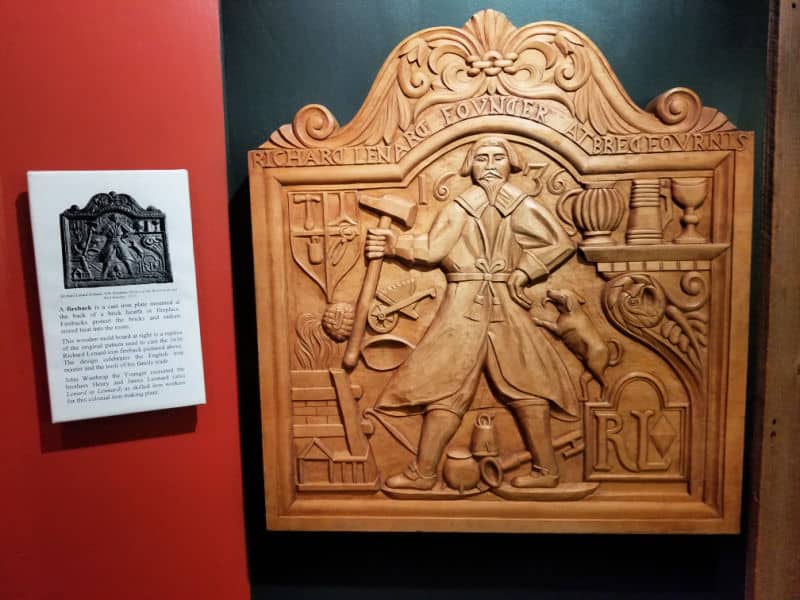 History of Saugus Iron Works National Historic Site
Saugus Iron Works National Historic Site is located in Saugus, Massachusetts, 10 miles outside of Boston. The site preserves the first integrated ironworks business in North America.
Although some work had been done to create iron in Virginia in the early 1600s, Saugus was the first ironworks established in New England.
The area that is now Saugus, Massachusetts was originally settled by Puritans around the year 1630.
At the time, Massachusetts was the only colony that was self-governing and the Puritans appreciated this.
Often, settlers were having to grow crops and mine resources to turn around and ship them back to England to be manufactured.
John Winthrop, Governor of Massachusetts, believed there was no reason the colonies should not be able to manufacture their own goods.
He knew the good that was in highest demand at the time was iron. The colonists did not want to rely on England to supply them with necessary tools like hammers, nails, and plows, all made of iron.
John Winthrop and his son, John Jr. discovered that a special type of iron – bog iron – was prevalent in the area. Bog iron was a mineral that was found at the bottom of swamps and ponds.
John Jr. traveled back to England in 1641 and secured enough money from investors to begin construction on North America's first integrated ironworks which would rival ironworks sites around the world.
A group called the Company of Undertakers for the Iron Workers in New England helped finance the project. The original site for the project was near Braintree, Massachusetts, but moved to present-day Saugus because of its proximity to the Saugus River.
Not only was access to bog iron in the water needed, but water energy was necessary to power machinery for the business.
The construction of the site included a blast furnace, forge, as well as a rolling and slitting mill. The main commodity needed was
merchant bars. These bars were able to be directly used by blacksmiths to make tools, wheels, and nails. The ironworks began business in 1641.
Although there was an abundance of raw materials, water power, and money available to make this business successful, the area did not have the number of skilled ironworkers needed.
These men were commissioned from Great Britain. The problem was these working-class men did not have the same morals as the strict Puritans; they were constantly complaining about the drinking, fighting, and swearing going on in town.
Less experienced men from the area were usually prone to worksite accidents that were sometimes even fatal. Indentured servants also served as a portion of the workers.
The provision Governor Winthrop put forth at the business' birth was that the Iron Works Company would hold the exclusive rights to manufacture the iron for 21 years, but that Massachusetts had to be supplied with its needed amount of the iron before it could be exported elsewhere.
The ironworks ran for 30 weeks out of the year and generated one ton of cast iron per day. The business changed hands in the way of managers over the years.
Winthrop was replaced by Richard Leader, a merchant from England who knew the iron business well.
When Leader left to go into the sawmill business, John Gifford and William Aubrey were appointed as managers.
By the late 1660s, the ironworks was facing many problems including not enough supplies of ore, rising labor costs, and lawsuits. The ironworks closed in 1670.
Centuries passed and the area where the operation was located fell into ruin and was covered over the years by thick brush.
In the early 1900s, interest in the area was renewed. In 1915, a man named Wallace Nutting bought the Appleton-Taylor-Mansfield Home, a farmhouse built in the late 1600s.
Historians believed this was the home of the ironmaster all those years ago. Nutting restored the home and area and eventually used it as a way to showcase examples of centuries-old ironwork.
In 1948, interest in the age-old iron works site itself was ignited.
Archeologist Roland W. Robbins was contacted about possibly doing a historical excavation in hopes of locating the original 1641 iron works site.
A high school dropout, living in the age of the Great Depression, Robbins started out as a wanderer jumping from job to job.
He had an interest and a knack for researching topics that intrigued him. In 1945, he published a book about a nationally famous World War I statue in which no one knew who the creator was.
Later that year, on the 100th anniversary of Henry David Thoreau's first day at Walden Pond, Robbins set out with a copy of Thoreau's book and descriptions of the forests of Massachusetts.
Over the next few months, he continued his search and eventually found the foundation for Thoreau's chimney in his cabin in the woods.
This led to his fame and notoriety as an archeologist. In 1948, Robbins was able to excavate and locate the remains of the blast furnace, ponds used, hammers from the forge, a water wheel, and its wheel pit of the Saugus Iron Works.
Altogether, the artifacts at the site totaled over 5,000 to showcase the rich history of the Saugus area.
Today, it is a treasure to see many of these 17th-century artifacts in the site museum and understand the innovation and determination of the colonists to create their own enterprises all those years ago.
The site today displays the reconstructed ironworks complex as well as much information about how this site shaped the early history of the nation.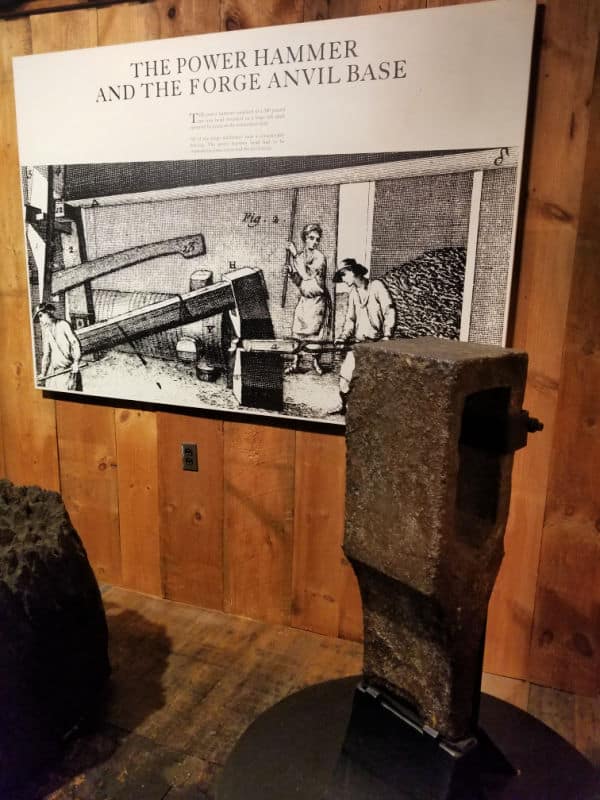 Things to know before your visit to Saugus Iron Works National Historic Site
Entrance fee
$0.00 - There is no entrance fee to visit the park.
Learn more about National Park Passes for parks that have an entrance fee.
Free Entrance Days -Mark your calendars with the five free entrance days the National Park Service offers annually.
Time Zone
Eastern Time
Pets
Pets are allowed on a leash no longer than 6 feet in length.
Cell Service
We had great cell service at the park.
Park Hours
The outdoor spaces and grounds are open 7 days a week.
Visitor Center hours depend on the season.
Wi-Fi
There is no wifi available at the park.
Insect Repellent
Insect repellent is always a great idea when outdoors, especially if you are around any body of water.
We use Permethrin Spray on our clothes before our park trips.
Water Bottle
Make sure to bring your own water bottle and plenty of water with you. Plastic water bottles are not sold in the park.
Parking
There is a nice parking area in front of the visitor center.
Food/Restaurants
There are no restaurants within the park. There are a lot of restaurants in the area.
Gas
There are no gas stations within the park.
Drones
Drones are not permitted within National Park Sites.
National Park Passport Stamps
National Park Passport stamps can be found in the visitor center.
Make sure to bring your National Park Passport Book with you or we like to pack these circle stickers so we don't have to bring our entire book with us.
Saugus Iron Works NHS is part of the 1996 Passport Stamp Set
Electric Vehicle Charging
The city of Saugus has at least 7 public EV Charging Stations.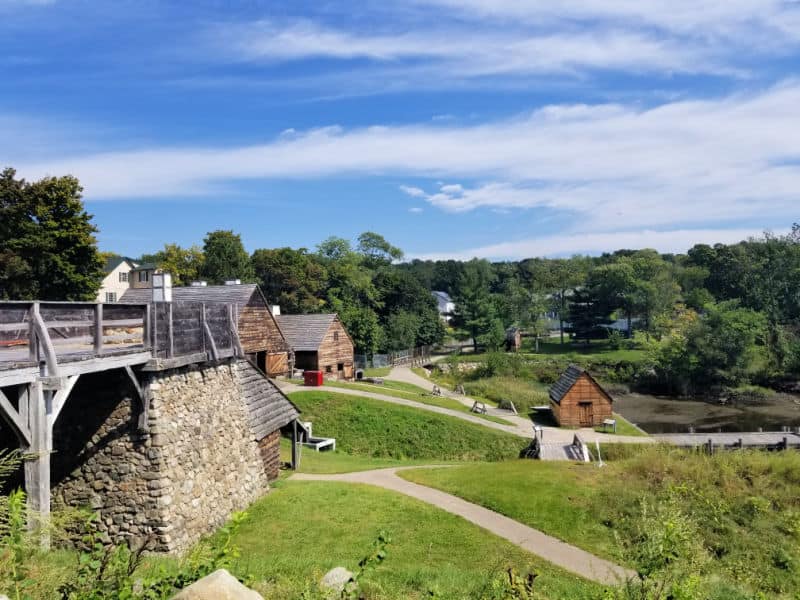 Details about Saugus Iron Works National Historic Site
Size - 12 acres
Check out how the park compares to other National Parks by Size.
Date Established
April 5, 1968
Visitation
In 2021, Saugus Iron Works NHS had 20,487 park visitors.
In 2020, Saugus Iron Works NHS had 16,928 park visitors.
In 2019, Saugus Iron Works NHS had 8,150 park visitors.
Learn more about the most visited and least visited National Parks in the US
National Park Address
244 Central St
Saugus, MA 01906
National Park Map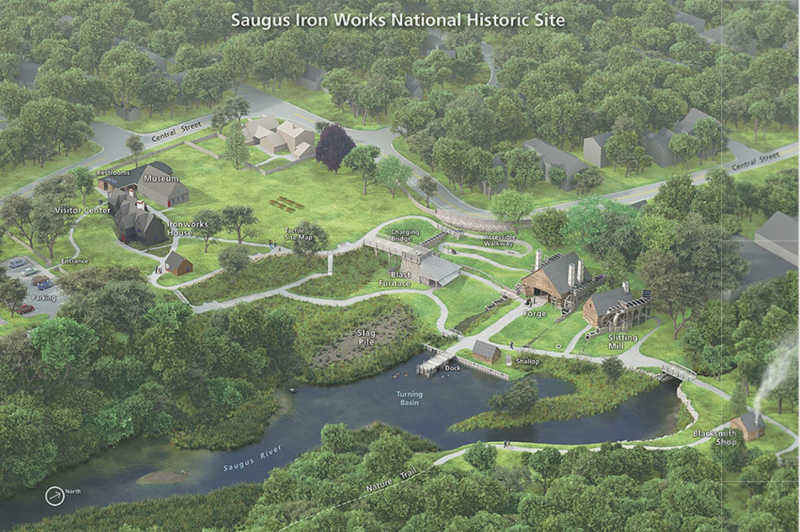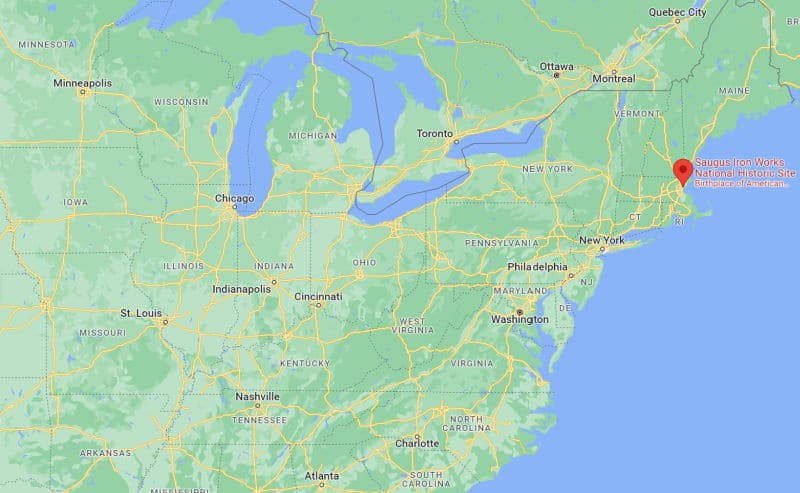 Where is Saugus Iron Works National Historic Site?
Saugus Iron Works NHS is located in Saugus, Massachusetts approximately 11 miles outside of Boston.
Estimated distance from major cities nearby
Boston, MA - 11.5 miles
New York, NY - 225 miles
Jersey City, NJ - 231 miles
Newark, NJ - 235 miles
Philadelphia, PA - 317 miles
Estimated Distance from nearby National Park
Acadia National Park - 270 miles
Cuyahoga Valley National Park - 659 miles
Shenandoah National Park - 519 miles
New River Gorge National Park - 748 miles
Indiana Dunes National Park - 950 miles
Where is the National Park Visitor Center?
The visitor center is located at the main entrance of the park.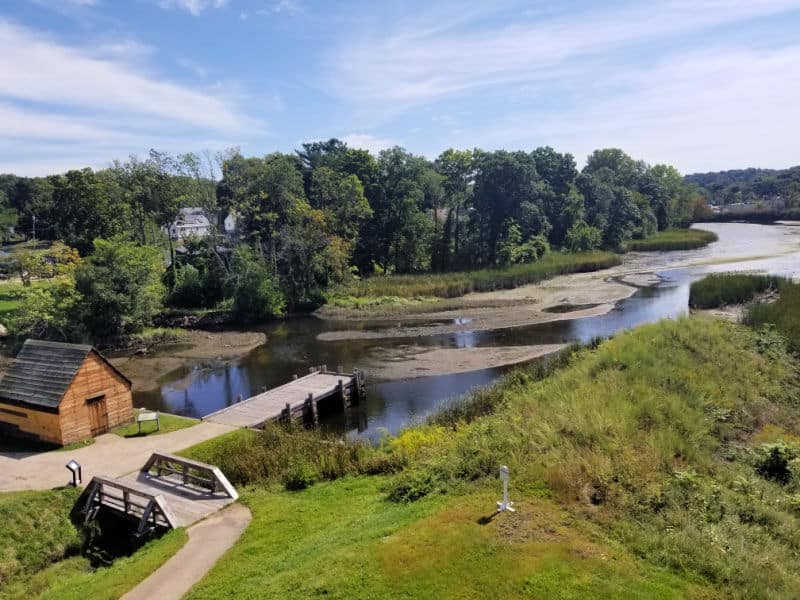 Getting to Saugus Iron Works National Historic Site
We visited the park on our way to Boston Logan Airport. It was a quick 20-minute drive to the airport from the park.
Closest Airports
Boston Logan International Airport
International Airports
Portsmouth International Airport at Pease
Driving Directions
From Interstate 95 Northbound: Take exit 43 to Walnut Street. Turn right onto Walnut Street.
Dive 2.3 miles, then turn right onto Central Street. Stay on Central Street for 1.1 miles. Turn left to stay on Central Street (the road makes a sharp turn).
From Interstate 95 Southbound: Take exit 43 to Walnut Street. Turn left onto Walnut Street.
Drive 2.3 miles and turn right onto Central Street. Stay on Central Street for 1.1 Miles.
Turn left to stay on Central Street (the road makes a sharp turn).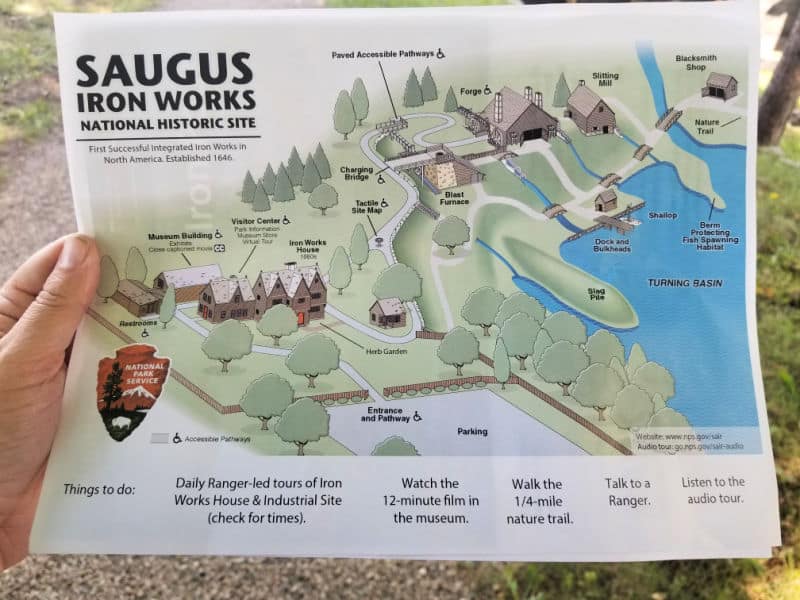 Best time to visit Saugus Iron Works National Historic Site
The best time of year to visit the park is anytime you are nearby. The winters can include snow so it is up to you if you want to visit then.
Weather and Seasons
Saugus, Massachusetts experiences warm summers and very cold snowy winters.
The warmest weather is from June 6th to September 15th with an average daily high above 72 degrees.
The coldest weather is from December 3rd to March 15th with an average temperature below 45 degrees.
Snow occurs on average from November 11 to April 12th with the most snow falling in January.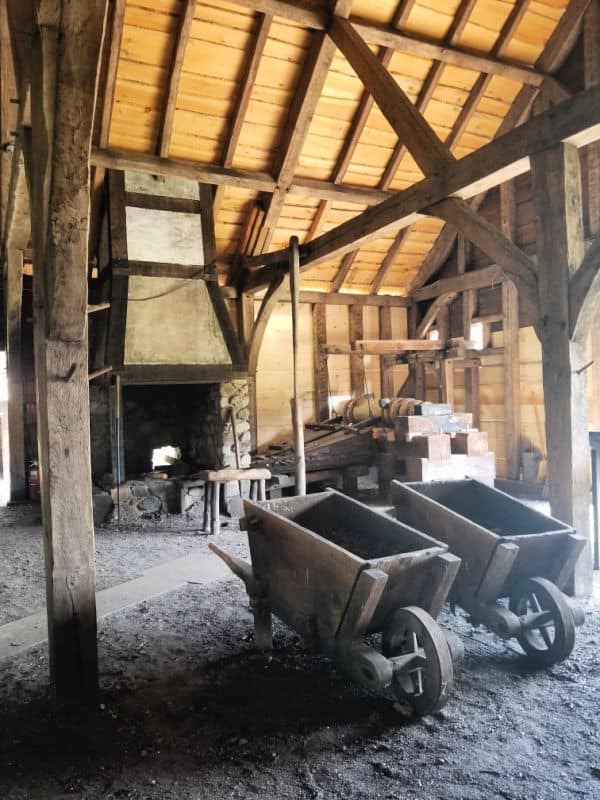 Best Things to do in Saugus Iron Works National Historic Site
We suggest planning at least a couple of hours if not longer to visit the park. There are a ton of buildings to explore and the grounds are gorgeous.
Visitor Center
The visitor center is housed in the 1680s Iron Works House mansion that is still standing in its original location.
There is a small store in the visitor center along with great info on the park. You can pick up some old-school candies including Horehound Slugs and Sassafras Slugs.
Park Museum
The museum showcases many of the artifacts that were found during the 1940-50s archaeological dig performed on-site.
Park Movie - Iron Works on the Saugus
The 12-minute park video does a great job explaining the history of Saugus Iron Works.
This is a really great way to learn more about the site and the history of the area. The video plays on demand in a couple of different languages.
The Saugus Iron Works Junior Ranger program is a bit different from other parks we have visited.
When you check in at the visitor center they give you an adventure backpack with binoculars, a bird id card, a notepad, info on the ironworks, and a few other things.
You are sworn in at the counter and given your badge before being sent out into the park to explore and learn more about the park.
Tour the Grounds
The grounds are ADA accessible and include a 1/4 mile nature trail. You can walk into the Forge and other buildings on the site.
Be prepared for the weather. There is shade in the buildings but the rest of the grounds are out in the open.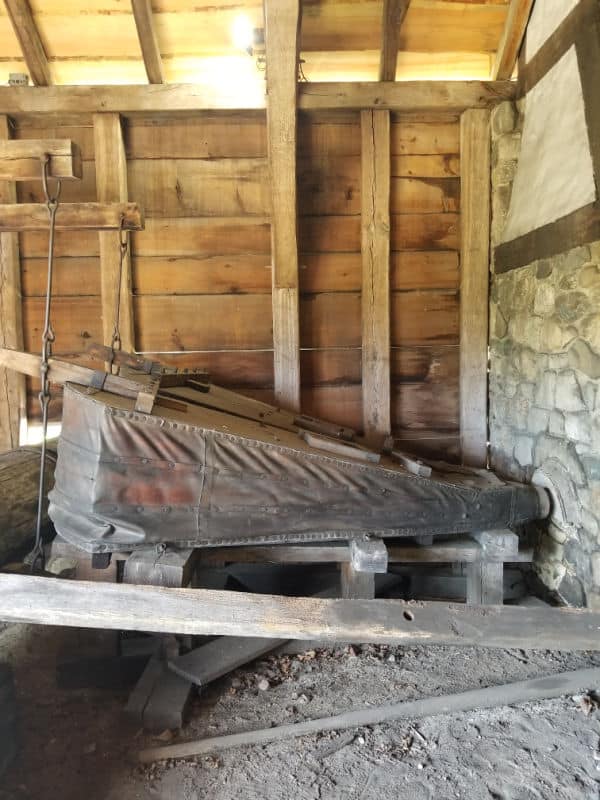 Hiking in Saugus Iron Works National Historic Site
Always carry the 10 essentials for outdoor survival when exploring.
Saugus Iron Work Nature Trail
The nature trail starts near the Blacksmith Shop and continues along the Eastern bank of the Saugus River for a 1/4 mile.

How to beat the crowds in Saugus Iron Works NHS?
We did not experience any large crowds while visiting the park.
There is ample room to maneuver around people while wandering the grounds.
Where to stay when visiting Saugus Iron Works National Historic Site
There are no National Park Lodges within the park.
Click on the map below to see current rates for lodging and vacation rentals:


Camping
There are no National Park Campground within the park.
Nearby campground options include:
Spacious Skies Minute Man Campground - Littleton, MA
This campground offers Lodging, RV and Tent Sites, a pool, dog park, and more.
Lone Tree Reservation - Kingston, NH
This campground offers lodging, RV and Tent Sites, hiking, fishing and more.
Winding River Campground - Exeter, NH
This campground offers Lodging, RV and Tent Sites, a waterfront, boating, a pool, and more.
Check out additional campgrounds in the area on CampSpot .
Parks Near Saugus Iron Works National Historic Site
Adams National Historical Park
Boston National Historical Park
Boston African American National Historic Site
Boston Harbor Islands National Recreation Area
Cape Cod National Seashore
Frederick Law Olmsted National Historic Site
John Fitzgerald Kennedy National Historic Site
Longfellow House Washington's Headquarters National Historic Site
Lowell National Historical Park
Minute Man National Historical Park
Salem Maritime National Historic Site
Check out all of the National Parks in Massachusetts along with neighboring National Parks in New Hampshire, National Parks in New York, Rhode Island National Parks, and Vermont National Parks