Castle Clinton National Monument is located in Lower Manhattan in New York City. The site has an incredible history and is where you pick up Statue of Liberty Ferry Tickets.

Castle Clinton National Monument
You may have visited Castle Clinton National Monument in New York City and not even realized it.
Castle Clinton NM is the ticket office for Statue of Liberty and Ellis Island boat tours. If you have visited either of these parks you most likely spent time at Castle Clinton.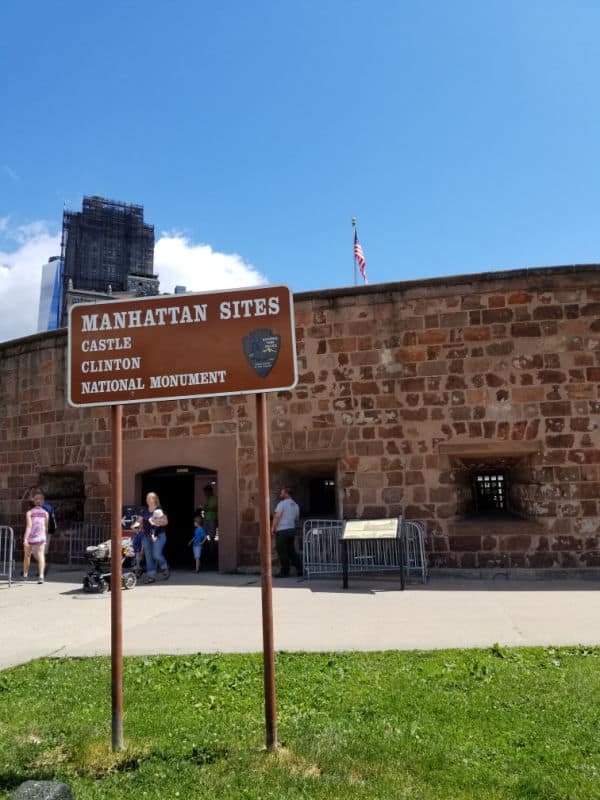 About Castle Clinton National Monument
Castle Clinton National Monument is located in Battery Park on the tip of Manhattan Island in New York City.
This historic Southwest Battery was one of more than a dozen fortifications built to defend New York Harbor from British Attacks during the War of 1812.
Over the past 100 years, the fort has been used as a restaurant, concert hall, theater, and more!
In 1855 it was converted to an immigration station and for thirty-four years more than 8 million people entered the United States through the monument.
In an odd change of uses, the fort became the New York City Aquarium for a few years until 1941.
In 1946 Castle Clinton was saved from demolition and restored to its original condition as an early 19th-century fort and given the designation as a National Monument.
Castle Clinton is an acre packed full of American history!
Make sure and check out one of the great Ranger programs showcasing the amazing history and ways this building has been used over the year
It is worth noting that the name Castle Clinton does not relate to President Clinton. The park was named after Governor Dewitt Clinton of New York State. The fort was originally called the Southwest battery but was soon renamed in honor of New York's popular leader.
Is Castle Clinton National Monument worth visiting?
Yes! Castle Clinton has a unique and interesting history and shows how one location can adapt to many changes throughout its lifetime.
It is also where you pick up your Statue of Liberty Ferry Tickets if you need them so that is fun bonus.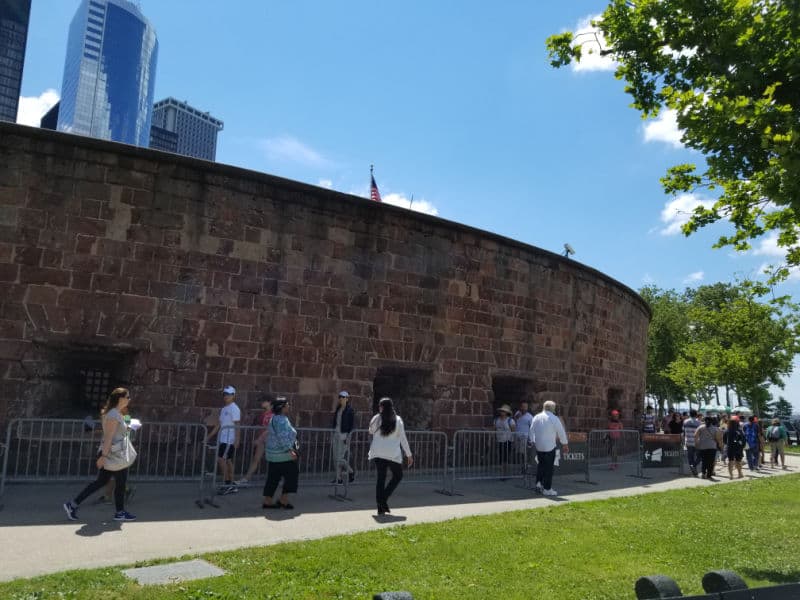 History of Castle Clinton National Monument
Castle Clinton is located in New York, at the southern tip of Manhattan Island.
As an impending war with Britain seemed a possibility in the early 1800s, U.S. harbor cities began building forts for protection.
During the Revolutionary War, New York was a common target of attack so they were not taking any chances.
Four forts were built between 1808 and 1811 with the purpose of defending the harbor.
These were: Castle Williams on Governor's Island, Fort Wood on Bedloe's Island (known today as Liberty Island), Fort Gibson on Ellis Island, and Southwest Battery on Manhattan Island.
Southwest Battery was armed with 28 cannons and an attack on the location did not seem possible. General Joseph Bloomfield was commander of all the forts in New York City and his headquarters was located at Southwest Battery.
The forts seemed to do their job to provide a presence of strong security, as the forts were never fired upon during the war of 1812.
In 1817, the name of the fort on Manhattan Island changed from Southwest Battery to Castle Clinton.
A name which honored New York City Mayor, who later became the 6th Governor of New York, DeWitt Clinton. Clinton was born in 1769, the second son of Major-General James Clinton and his wife Mary DeWitt.
Clinton was largely responsible for the construction of the Erie Canal. He was also a serious candidate for president in the election of 1812. Clinton ran as a member of the Federalist Party and for a small group of antiwar Democratic-Republicans.
He ultimately lost to James Madison. Clinton was the director of New York's first savings bank which served laborers and the poor.
During its long history imbedded on the banks of Manhattan, the building has served as a fort, an entertainment spot, an immigration station, an aquarium, and National Monument.
In the summer of 1823, the site was renamed Castle Garden which had become a restaurant and popular entertainment center.
A roof was added in the 1940s and then the site was enjoyed as a spot for theater and opera performances. Such a famous hub of display and performances, inventions such as the telegraph and Colt rifles were showcased at Castle Garden.
Between the years 1855 and 1890, Castle Garden opened as an immigration station. 8 million immigrants entered the United States through the doors of Castle Garden.
In 1890 it was decided that the number of immigrants was so great, a larger station was necessary for the epicenter of immigrants coming to America. Castle Garden was closed as an immigration center on April 18, 1890.
With the opening of Ellis Island, the Castle Garden building was open to creating a new attraction for New Yorkers to enjoy, as was its purpose prior to 1855.
On December 10, 1896, the site opened as the New York City Aquarium. The aquarium housed approximately 150 specimens, including a Beluga whale, in its first few years in business.
The New York Zoological Society assumed responsibility for the aquarium in 1902. The site quickly became one of New York's most famous attractions. In 1941, the aquarium was moved to Coney Island.
While work was being done on the Brooklyn Battery Tunnel, the specimens were kept briefly at the Bronx Zoo. The aquarium that began at Castle Clinton is now the oldest continually operating aquarium in the United States.
As the site sat desolate for nearly 5 years, the National Park Service took over the building and restored it to its original design, renaming it again as Castle Clinton.
The site reopened in 1975 and was dedicated as Castle Clinton National Monument.
Today, the building serves as the ticket site for the Statue of Liberty.
The changing purposes for this historic building are a testament to the changing needs and ideals of America.
Ironically, the stone fortress that was built to protect a city and keep people out is now essentially a large ticket booth to welcome all people to New York.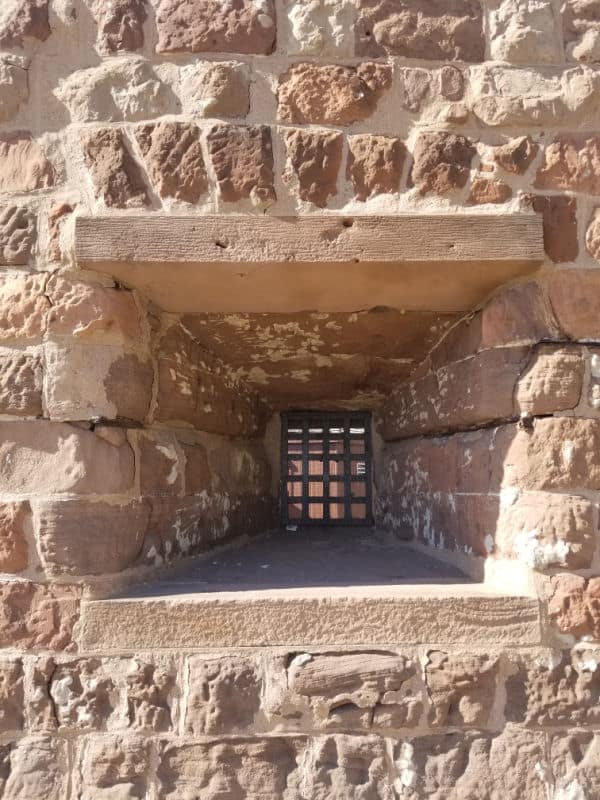 Things to know before your visit to Castle Clinton National Monument
Entrance fee
$0.00 - There are no fees to visit the park.
Planning a National Park vacation? America the Beautiful/National Park Pass covers entrance fees for an entire year to all US National Park Sites and over 2,000 Federal Recreation Fee Sites.
The park pass covers everyone in the car for per vehicle sites and for up to 4 adults for per-person sites.
Buy on REI.com and REI will donate 10% of pass proceeds to the National Forest Foundation, National Park Foundation and the U.S. Endowment for Forestry & Communities.
Learn more about National Park Passes for parks that have an entrance fee.
Free Entrance Days -Mark your calendars with the five free entrance days the National Park Service offers annually.
Time Zone
EST - Eastern Standard Time
Pets
Pets are not permitted in the park.
Cell Service
We had fantastic cell service while visiting the park.
Park Hours
Castle Clinton is open daily except for Thanksgiving day and Christmas Day.
Wi-Fi
Free Wi-Fi is available inside of Castle Clinton.
Insect Repellent
Insect repellent is always a great idea when outdoors, especially if you are around any body of water.
We use Permethrin Spray on our clothes before our park trips.
Water Bottle
Make sure to bring your own water bottle and plenty of water with you. Plastic water bottles are not sold in the park.
Parking
There are multiple NYC Parking garages in the area. That being said finding an open parking space can be nearly impossible and super expensive.
The park suggests taking public transportation to Battery Park.
Food/Restaurants
There are no restaurants within the park.
Gas
There are no gas stations within the park.
Drones
Drones are not permitted within National Park Sites.
National Park Passport Stamps
National Park Passport stamps can be found in the visitor center.
Make sure to bring your National Park Passport Book with you or we like to pack these circle stickers so we don't have to bring our entire book with us.
Castle Clinton NM is part of the 2021 Passport Stamp Set.
Electric Vehicle Charging
There are EV Charging Stations throughout New York City.
Accessibility
Castle Clinton National Monument is fully accessible. The exhibit room, gift shop and restrooms are accessible to all visitors including visitors with limited mobility.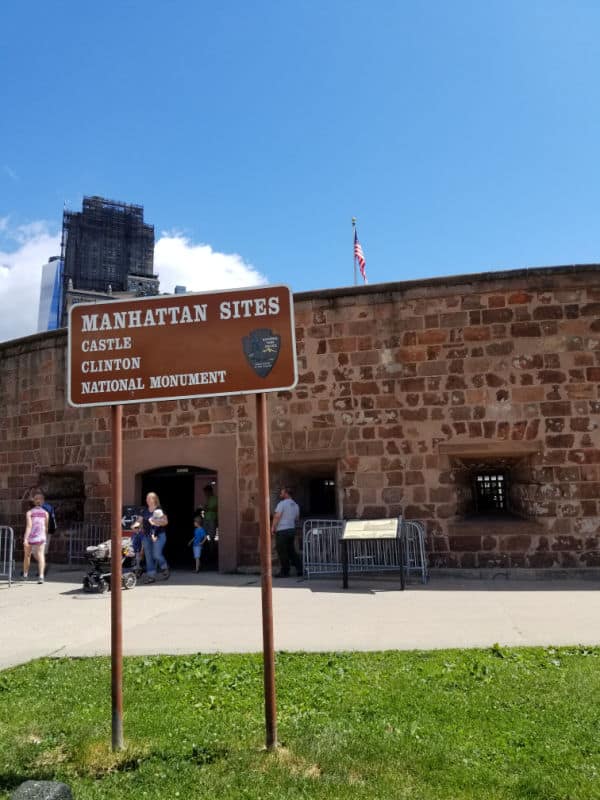 Details about Castle Clinton National Monument
Size - 1 acres
Check out how the park compares to other National Parks by Size.
Date Established
August 12, 1946
Visitation
In 2021, Castle Clinton NM had 1,665,660 park visitors.
In 2020, Castle Clinton NM had 633,793 park visitors.
In 2019, Castle Clinton NM had 4,361,034 park visitors.
Learn more about the most visited and least visited National Parks in the US
National Park Address
Battery Park
New York, NY 10004
National Park Map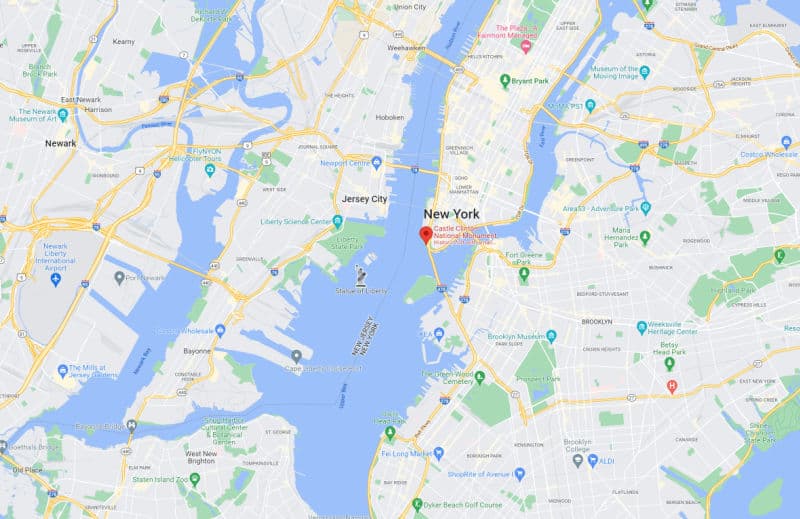 Where is Castle Clinton NM?
The park is located in Battery Park at the southern tip of Manhattan Island in New York City.
Estimated distance from major cities nearby
Newark, NJ - 7 miles
Philadelphia, PA - 78 miles
Baltimore, MD - 166 miles
Boston, MA - 194 miles
Washington DC - 199 miles
Virginia Beach, VA - 284 miles
Norfolk, VA - 290 miles
Estimated Distance from nearby National Park
Acadia National Park - 483 miles
Shenandoah National Park - 305 miles
Great Smoky Mountains National Park - 698 miles
Cuyahoga Valley National Park - 443 miles
Indiana Dunes National Park - 749 miles
Where is the National Park Visitor Center?
The visitor center is located inside of the fort.
Getting to Castle Clinton National Monument
Closest Airports
Newark Liberty International Airport (EWR) - 10 miles
Teterboro Airport (TEB) - 15 miles
LaGuardia Airport (LGA) - 17 miles
John F. Kennedy Airport (JFK) - 43 miles
International Airports
Philadelphia International Airport (PHL) - 100 miles
Regional Airports
Morristown Municipal Airport (MMU) - 26 miles
Westchester County Airport (HPN) - 42 miles
Closest Subway Stations
Bowling Green Station - 6-minute walk
Whitehall St - South Ferry - 8-minute walk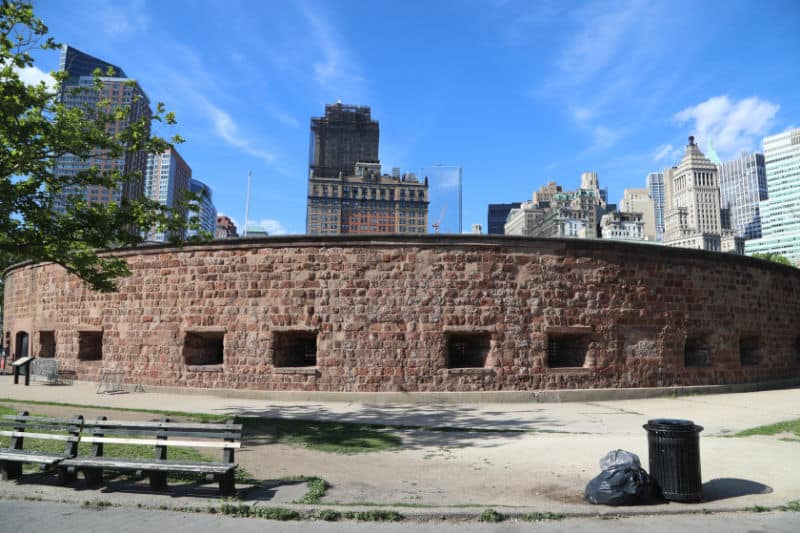 Best time to visit Castle Clinton National Monument
The best time to visit Castle Clinton NM is early in the morning. You want to get there before the large crowds line up to get their Statue of Liberty Tickets.
The park is not large so it doesn't take a ton of time to explore but you will enjoy it a lot more without the crowds of people.
Weather and Seasons
New York City experiences all four seasons with warm humid summers and cold snowy winters.
The warmest weather in New York City is from June 2 to September 16th with an average temperature above 76 degrees Fahrenheit.
The coldest weather in NYC is from December 3 to March 12 with an average daily temperature below 48 degrees Fahrenheit.
Snow often occurs between November 26 to April 2 with February being the snowiest month with an average of 6 inches.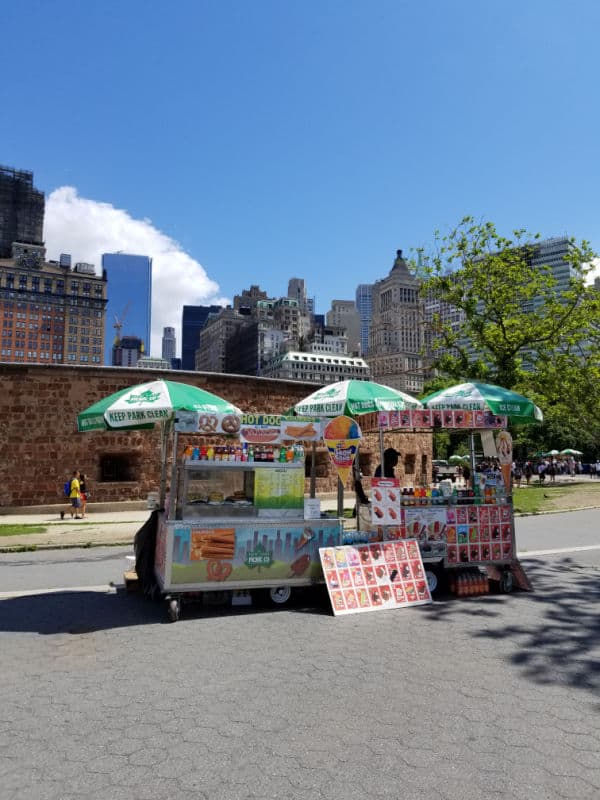 Best Things to do in Castle Clinton National Monument
Ranger Guided Tour
Free guided tours are available to the public Monday through Sunday at 10:00 AM, 12:00 AM, 2:00 PM, and 3:30 PM.
The 20-minute Park Ranger-guided tour illustrates the colorful history of Castle Clinton, including how it has served as a fort, entertainment center, immigration depot, and aquarium.
Become a Junior Ranger at Castle Clinton National Monument and learn more about early life in NYC.
Get ferry tickets to the Statue of Liberty
Castle Clinton NM is right next to the ferry dock for boat trips to the Statue of Liberty and Ellis Island.
You can enjoy checking out the outside of this historic fort while waiting in line for the boat.
How to beat the crowds in Castle Clinton National Monument
The park opens early offering the perfect opportunity to explore before the big crowds of people.
One thing we have found in our travels is most people do not enjoy getting up early and being the first ones in the door. This gives you the opportunity to enjoy parks while most people are still having breakfast or starting their day.
Where to stay when visiting Castle Clinton National Monument
There are no National Park Lodges within the park.
For a fun adventure check out Escape Campervans. These campervans have built in beds, kitchen area with refrigerators, and more. You can have them fully set up with kitchen supplies, bedding, and other fun extras. They are painted with epic designs you can't miss!
Escape Campverans has offices in Vancouver, Seattle, Portland, San Francisco, Las Vegas, Los Angeles, Phoenix, Salt Lake City, Denver, Chicago, New York, and Orlando
1 Hotel Brooklyn Bridge - 5-star luxury hotel in the heart of Brooklyn Heights, a neighborhood in Brooklyn. All 194 individually decorated rooms offer comforts such as premium bedding and air conditioning,
Holiday Inn Express New York City - Wall Street - Hotel located near One World Trade Center with rooms rejuvenated in 2017. located close to Battery Park and National September 11 Memorial, and provides free to-go breakfast, a grocery/convenience store, and dry cleaning/laundry services. Stay connected with free in-room Wi-Fi, and guests can find other amenities such as a gym and a business center.
Hilton Garden Inn NYC Financial Center/Manhattan Downtown - 3-star hotel revitalized in 2017 and located near One World Trade Center. Free in-room Wi-Fi is available to all guests, along with a 24-hour business center and a restaurant.
Moxy NYC Downtown - 4-star hotel near One World Trade Center. All guestrooms at Moxy NYC Downtown boast perks such as laptop-compatible safes and air conditioning, in addition to amenities like Wi-Fi and sound-insulated walls.
Click on the map below to find current rates for additional hotels and vacation rentals in New York City.


Additional Resources
Here are some additional tours available in New York City
New York CityPASS - Visit 5 major New York City attractions at significant savings including the Empire State Building, American Museum of Natural History, Statue of Liberty and Ellis Island, Intrepid air and space museum, and Guggenheim Museum.
1 hour cruise around the Statue of Liberty and Ellis Island - Sail within 100 feet of the Statue of Liberty and Ellis Island, Cruise under the Brooklyn Bridge and passed South Street Seaport, Marvel at the skyline of Lower Manhattan from both the east and the west sides.
NYC: SUMMIT One Vanderbilt Experience Ticket - Re-imagine New York City with a visit to SUMMIT One Vanderbilt. Transcend 93 floors above the concrete jungle and step into an immersive, multi-sensory art experience with sweeping 360 degree views of the city.
Chinatown and Little Italy Food Tour - Immerse yourself in the history and food of Little Italy and Chinatown
Manhattan Island Helicopter Tour - Experience the beauty of Central Park, Brooklyn Bridge, Hudson River, the Statue of Liberty, the Intrepid Air and Space Museum, and more
9/11 Memorial & Museum Timed-Entry Ticket - Reflect on the events of September 11, 2001 when visiting the poignant 9/11 Memorial & Museum. Listen to personal stories of remembrance & resilience following the attacks.
Parks Near Castle Clinton National Monument
Ellis Island
Federal Hall National Memorial
African Burial Ground National Memorial
Theodore Roosevelt Birthplace National Historic Site
Governors Island National Monument
Gateway National Recreation Area
Hamilton Grange National Memorial
Check out all of the National Parks in New York along with neighboring National Parks in Connecticutt, National Parks in Massachusetts, National Parks in New Jersey, National Parks in Pennsylvania, Rhode Island National Parks, and Vermont National Parks