Epic Guide to Theodore Roosevelt Birthplace National Historic Site in New York City including guided tours, history, how to get to the park, and so much more.

Theodore Roosevelt Birthplace National Historic Site
Theodore Roosevelt's Birthplace National Historic Site is located in the heart of New York City in Manhattan's Gramercy Park district.
About Theodore Roosevelt Birthplace National Historic Site
This site details what Theodore Roosevelt's life would have been like growing up.
This is not the house that Theodore Roosevelt grew up in but a great replica. This reconstructed 1848 brownstone townhouse is furnished as it would have been during his childhood.
We were really excited to plan our visit to this park. Theodore Roosevelt is one of the biggest pioneers of the National Park system and created the antiquities act.
As President from 1901 to 1909, he signed legislation establishing five new national parks: Crater Lake, Oregon; Wind Cave, South Dakota; Sullys Hill, North Dakota (later re-designated a game preserve); Mesa Verde, Colorado; and Platt, Oklahoma (now part of Chickasaw National Recreation Area).
In 1906 he proclaimed four national monuments: Devils Tower, Wyoming, El Morro, New Mexico, Montezuma Castle, Arizona, and Petrified Forest, Arizona.
Theodore Roosevelt is now commemorated at six units of the National Park System.
Theodore Roosevelt Birthplace National Historic Site in New York City
Sagamore Hill National Historic Site in Oyster Bay, New York
Theodore Roosevelt Inaugural National Historic Site in Buffalo, New York
Theodore Roosevelt National Park in North Dakota, and Theodore Roosevelt Island in Washington, DC.
Theodore Roosevelt is one of four Presidents gracing Mt. Rushmore National Memorial in South Dakota.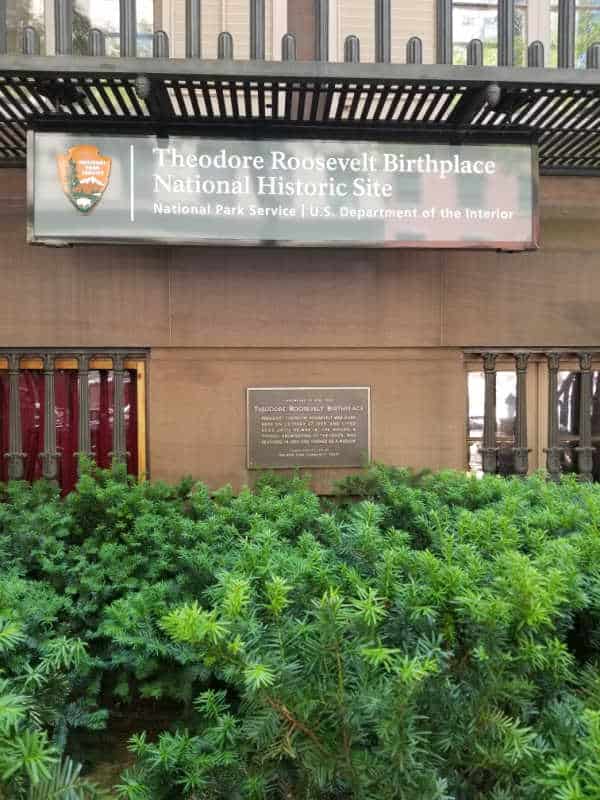 Is Theodore Roosevelt Birthplace National Historic Site worth visiting?
I went into my visit to Theodore Roosevelt Birthplace NHS with high hopes of learning more about this great president, the work he did for the National Parks, and his early life.
I came out of my visit a bit disappointed, unfortunately. This park site feels like it is partway done but not there yet and I honestly hate to say that.
The refinished rooms are great and well worth taking a guided tour. The ranger leading our tour was very new to the park and struggled a bit with the tour.
I totally get how this happens but it definitely put a damper on our visit and we left not as excited as we hoped to be.
The visitor center and museum have great potential but honestly need a bit of help.
The information is not laid out in a manner that is easily absorbed.
There is a great display showcasing the parks that Theodore Roosevelt created or had an impact on that was fantastic. The rest of the museum felt like it was still a work in process.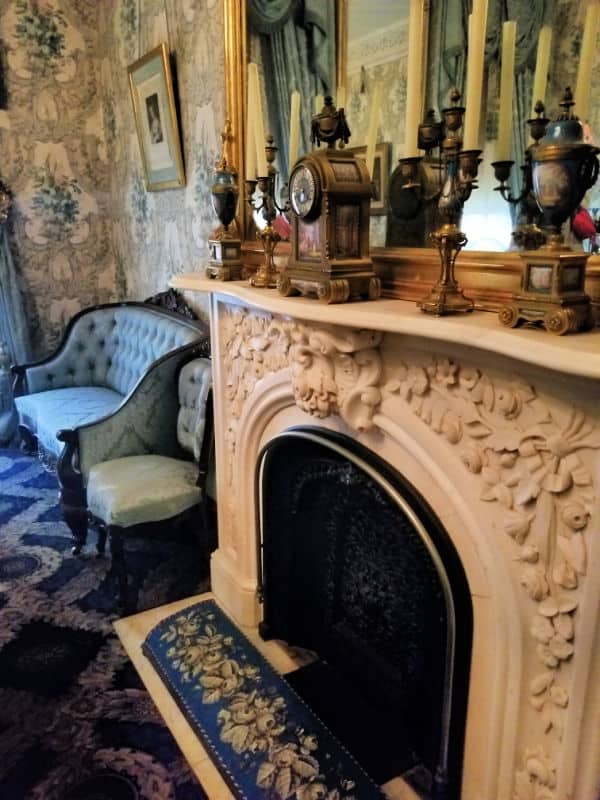 History of Theodore Roosevelt Birthplace National Historic Site
The Theodore Roosevelt Birthplace National Historic Site is located in the Flatiron District of Manhattan, New York City.
Theodore Roosevelt, the 26th president of the United States, was born on October 27, 1858. Born in a brownstone townhouse on East 20th Street in Manhattan, Theodore or "Teddy" was born to parents Theodore Sr., an American businessman and Martha Roosevelt, and American socialite.
Teddy was the second oldest of four children, along with an older sister Anne, and younger siblings Corrine and Elliott. The brownstone was bought by the Roosevelts in 1848 and the family lived at this location until 1872, when Teddy was 14 years old.
As a child, Teddy suffered from debilitating asthma and was a rather skinny and sickly child.
It was in this home that Roosevelt Sr. instilled a fire in Teddy to work hard to become physically strong and not let his illness hold him back.
The family traveled often which implanted in Teddy a love of nature and adventure.
Teddy was also homeschooled here by his mother and she created in him a love of learning and reading which eventually led to him authoring nearly 40 books during his lifetime.
The original brownstone was demolished in 1916 when the street was becoming more and more commercial and retail spaces were being added.
When President Roosevelt died in 1919, the lot was bought and a project was begun by the Women's Roosevelt Memorial Association.
Ohio born architect and philanthropist Theodate Pope Riddle was tasked with designing the replica of the Roosevelt brownstone. Riddle was one of the first female American architects.
The brownstone that sat next door would serve as the museum to the future National Historic Site. Riddle recreated the brownstone to look as it would have in 1865.
Teddy's widow and his sisters offered a number of antiques for the replica so visitors would be able to not only see the brownstone as Teddy had lived in it, but real furnishings from his childhood.
The house was dedicated in 1923 and was ultimately handed over to the National Park Service in 1963. In 2014, Riddle was recognized in a New York City initiative that identified locations in the city designed and engineered by women.
The site contains true-to-the-period rooms as well as exhibit rooms. One exhibit room, "The Lion's Room," is dedicated to the great legacy of the conservationist, adventurer, naturalist, and outdoorsman that Teddy was.
Roosevelt's hunting trophies are displayed as well as a smaller version of the famous statue depicting Teddy in his Rough Rider uniform riding a horse. The full scale version of this statue is located in Oregon.
The Rough Riders was a nickname given to the 1st United States Volunteer Calvary during the Spanish-American War.
Roosevelt served as second in command, and it was after the addition of Roosevelt that the group was nicknamed "Roosevelt's Rough Riders."
This term was borrowed from Buffalo Bill who was traveling the country with his famed show "Buffalo Bill's Wild West and Congress of Rough Riders of the World."
Also on display in the Lion Room is the desk Roosevelt used in 1897 as Assistant Secretary of the Navy.
The centerpiece of The Dining Room contains the dinner table and chairs that were gifted to Martha and Theodore Sr. for their wedding by Theodore's father Cornelius Roosevelt, a prominent member of the Roosevelt family who was born in New York in 1794.
The table came from Cornelius' home. Teddy grew up in the brownstone during the Civil War. Martha was born in Georgia and Theodore Sr. in New York City. Teddy likely witnessed many passionate political conversations around this dining room table.
The Library Room features a small red velvet chair that sits next to the fireplace.
This chair was created for little "Teedie" as his parents called him, because the horse hair on the other furniture scratched his little legs.
Above the fireplace, visitors see two black obelisks which were bought in Egypt.
In 1872, the Roosevelt family took a prolonged trip to Egypt and the Holy Land, even living on a houseboat on the Nile River for two months.
Teddy spent much of his time in the Library as he was an avid reader and appreciated stories that depicted cowboys, adventure, and the wild world of nature.
The Parlor Room was utilized for important gatherings. Theodore Sr. was the founder of the American Museum of National History and was also a philanthropist who worked to raise money for the impoverished, especially children.
Mrs. Roosevelt was always a wonderful entertainer and host.
The Nursery Room is the location where Teddy's father had the life-changing conversation with him regarding his illness.
Teddy's father explained to him that his mind was an impressive part of this identity but that his body would hold back the achievements of his mind if he did not grow stronger.
A gymnastic set was built on the patio right outside the nursery. It was this conversation and this new hobby of exercise that shaped Teddy into the remarkable leader he became.
The museum next door also displays a number of artifacts that provide a look into Roosevelt's historic life.
The most notable piece is the shirt he was wearing when an assassin attempted to take his life during a campaign speech in Milwaukee, Wisconsin in 1912.
The hole from the bullet is still visible in the shirt.
Lucky for the man who was nicknamed "Bull Moose," the bullet penetrated a glasses case and the folded 50-page speech that was in his pocket. Roosevelt was still wounded, but the case and speech saved his life.
The complete life of America's youngest and most adventurous president cannot be conveyed at one location. However, the Theodore Roosevelt Birthplace National Monument certainly expresses how Teddy developed the characteristics he carried throughout his amazing life.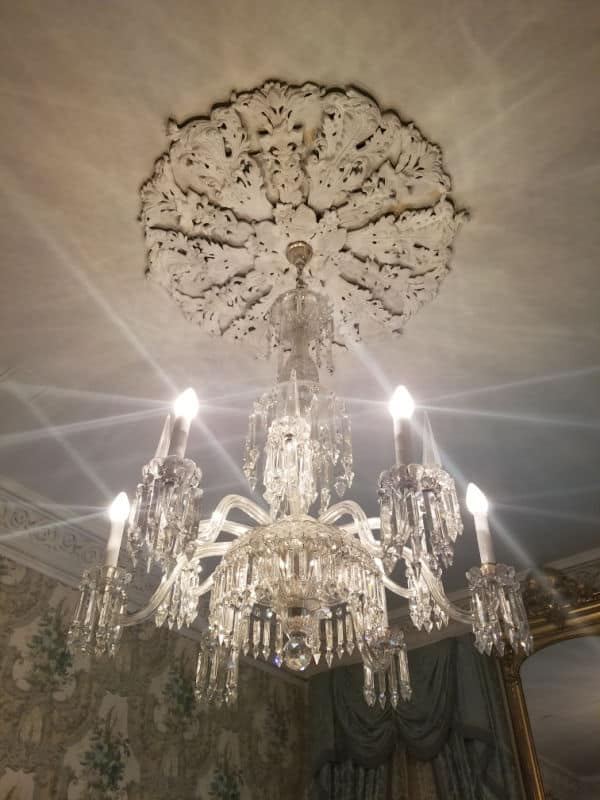 Things to know before your visit to Theodore Roosevelt Birthplace National Historic Site
Entrance fee
$0.00 - There is no entrance fee to visit the park.
Planning a National Park vacation? America the Beautiful/National Park Pass covers entrance fees for an entire year to all US National Park Sites and over 2,000 Federal Recreation Fee Sites.
The park pass covers everyone in the car for per vehicle sites and for up to 4 adults for per-person sites.
Buy on REI.com and REI will donate 10% of pass proceeds to the National Forest Foundation, National Park Foundation and the U.S. Endowment for Forestry & Communities.
Free National Park Entrance Days -Mark your calendars with the five free entrance days the National Park Service offers annually.
Time Zone
Eastern Time Zone
Pets
Pets are not allowed in the park.
Cell Service
We had great cell service while visiting the park.
Park Hours
Check the National Park Service website for current tour hours.
Wi-Fi
There is no Wi-Fi available at the park.
Insect Repellent
Insect repellent is always a great idea when outdoors, especially if you are around any body of water.
We use Permethrin Spray on our clothes before our park trips.
Water Bottle
Make sure to bring your own water bottle and plenty of water with you. Plastic water bottles are not sold in the park.
Parking
Parking in New York City can be a bit overwhelming. We suggest looking at public transportation or using an Uber/Lyft to reach the park.
Food/Restaurants
There are no restaurants within the park but there are many nearby.
Gas
There are no gas stations within the park.
Drones
Drones are not permitted within National Park Sites.
National Park Passport Stamps
National Park Passport stamps can be found in the visitor center.
Make sure to bring your National Park Passport Book with you or we like to pack these circle stickers so we don't have to bring our entire book with us.
Theodore Roosevelt Birthplace NHS is part of the 2008 Passport Stamp Set.
Electric Vehicle Charging
There are EV Charging Stations throughout New York City.
Accessibility
The park has an elevator or wheelchair lift to bring visitors from the street level tot the visitor center and also to the period rooms within the house.
Braille versions of the park brochures are available at the visitor center.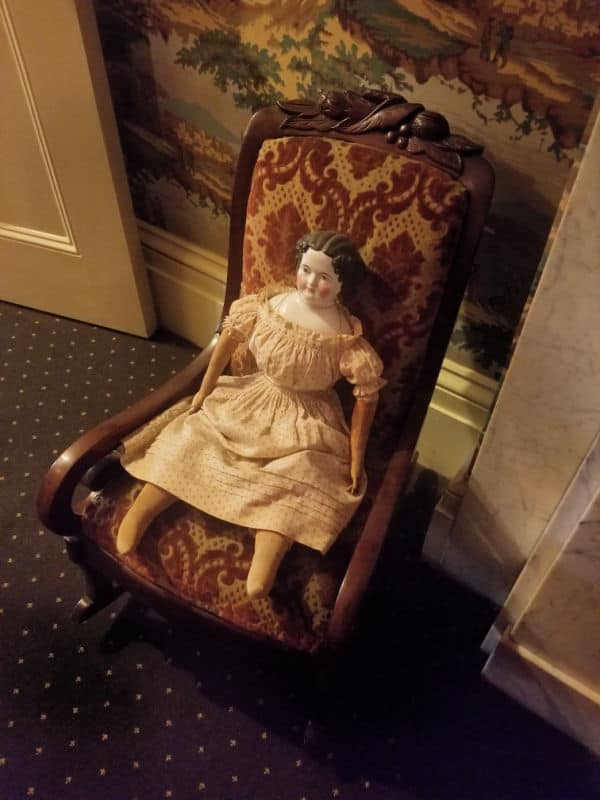 Details about Theodore Roosevelt Birthplace National Historic Site
Size - .11 acres
Check out how the park compares to other National Parks by Size.
Date Established
1963
Visitation
In 2021, Theodore Roosevelt Birthplace NHS had 1,720 park visitors.
In 2020, Theodore Roosevelt Birthplace NHS had 4,984 park visitors.
In 2019, Theodore Roosevelt Birthplace NHS had 25,978 park visitors.
Learn more about the most visited and least visited National Parks in the US
National Park Address
28 East 20th Street, New York, NY 10003
Park Phone number - 212-260-1616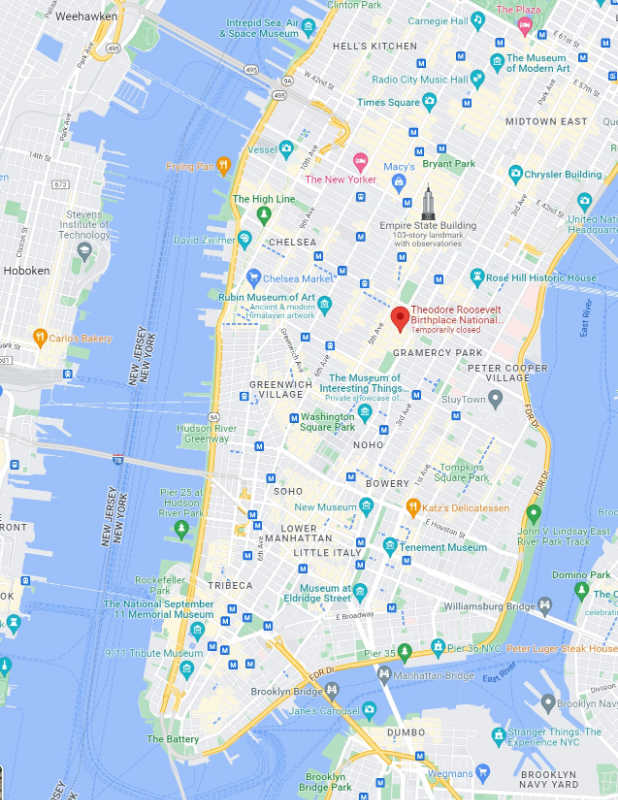 Where is Theodore Roosevelt Birthplace National Historic Site?
Theodore Roosevelt Birthplace is located at 28 East 20th Street, between Park Avenue South and Broadway in Manhattan's historic Gramercy Park District.
Estimated distance from major cities nearby
Newark, NJ - 7 miles
Philadelphia, PA - 78 miles
Baltimore, MD - 166 miles
Boston, MA - 194 miles
Washington DC - 199 miles
Virginia Beach, VA - 284 miles
Norfolk, VA - 290 miles
Estimated Distance from nearby National Park
Acadia National Park - 483 miles
Shenandoah National Park - 305 miles
Great Smoky Mountains National Park - 698 miles
Cuyahoga Valley National Park - 443 miles
Indiana Dunes National Park - 749 miles
Where is the National Park Visitor Center?
The visitor center is located on the first floor of the birthplace home.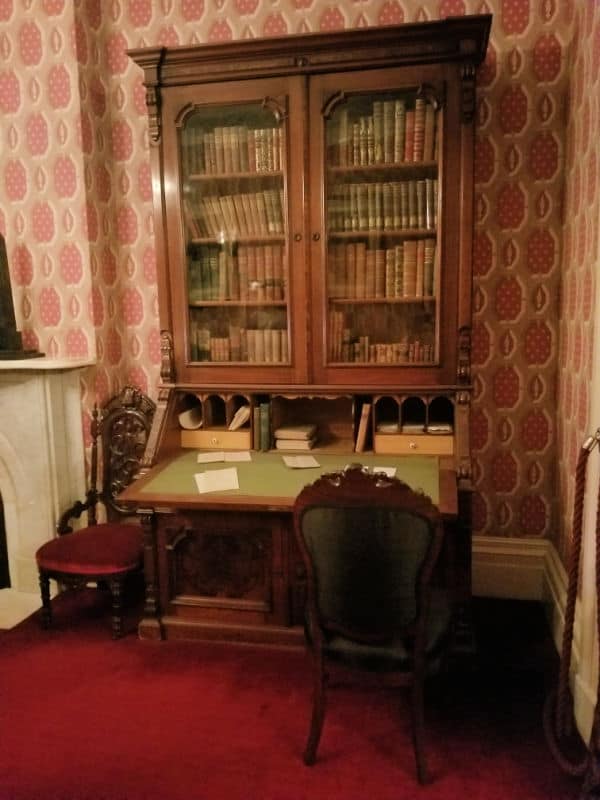 Getting to Theodore Roosevelt Birthplace National Historic Site
Closest Airports
Newark Liberty International Airport (EWR)
Teterboro Airport (TEB)
LaGuardia Airport (LGA)
John F. Kennedy Airport (JFK)
Best time to visit Theodore Roosevelt Birthplace National Historic Site
The park tour is inside the historic house so weather is not a huge factor in visiting.
That being said the weather can make getting to the historic house a process so visiting outside of winter is most likely the best time to visit.
Weather and Seasons
New York City experiences all four seasons with warm humid summers and cold snowy winters.
The warmest weather in New York City is from June 2 to September 16th with an average temperature above 76 degrees Fahrenheit.
The coldest weather in NYC is from December 3 to March 12 with an average daily temperature below 48 degrees Fahrenheit.
Snow often occurs between November 26 to April 2 with February being the snowiest month with an average of 6 inches.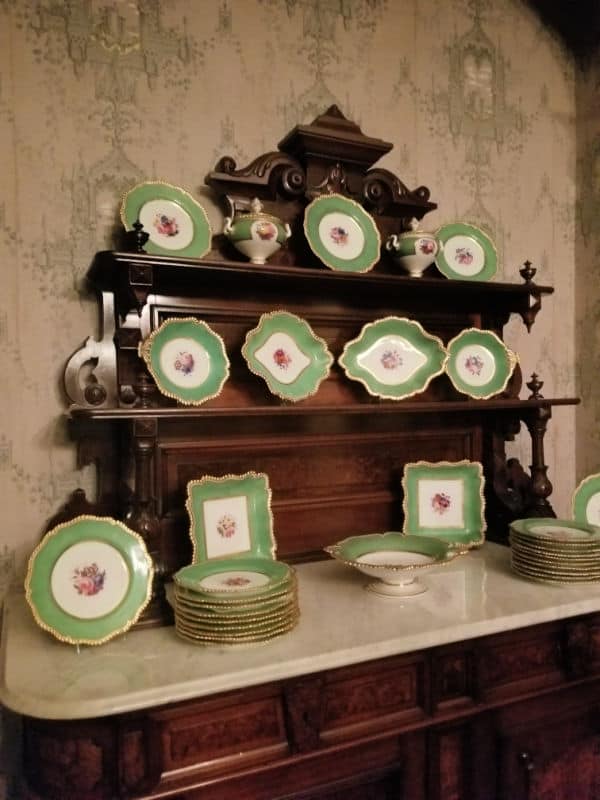 Best Things to do in Theodore Roosevelt Birthplace National Historic Site
We suggest planning a few hours for your visit to Theodore Roosevelt Birthplace NHS. You may be able to get in and out in an hour or so but just in case the tours are full you want to have extra time.
Guided Tour
Tours are limited to twenty persons and are offered on a first-come-first-served basis.
The guided tours lead you through five historically furnished rooms including many family-owned items. Be prepared to walk up and down stairs on this tour.
Strollers are not allowed on the tour, there is a small amount of storage on site.
Large bags, backpacks, etc. must be left with staff at the front desk! They will ask for all bags before the tour begins. A volunteer is at the desk to make sure that your bags are safe and secure. At the end of the tour make sure to pick up your bags.
Personal photography without flash is permitted
You can view and print out the booklet here if you want to start learning about the park before your visit.
The Junior Ranger booklet includes questions you can answer in the visitor center museum and during the tour.
Make sure you plan to attend the tour if you are looking to finish the junior ranger program.
A few of the questions we had to google because we were not sure of the answers after the tour and museum.
Film on the Early Life of Theodore Roosevelt
You can watch a 25-minute film that details the early life of Theodore Roosevelt in the visitor center. I am going to warn you that this is not a riveting blockbuster movie.
The film has a lot of good information but is super dry and honestly feels like the longest 25 minutes of your day.
I really hate to say that but I don't want you to plan for the movie and then plan how to tell me you hated it. 🙂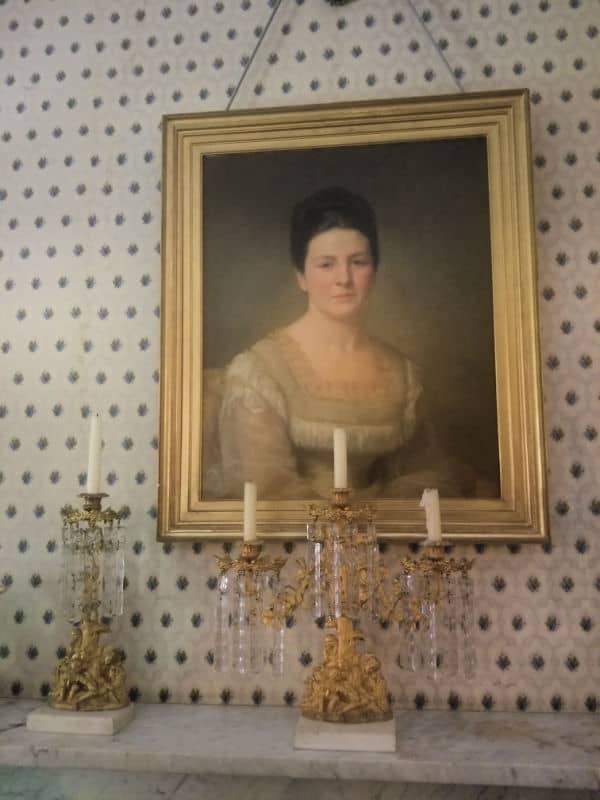 How to beat the crowds in Theodore Roosevelt Birthplace National Historic Site?
We did not experience any large crowds during our visit to the park.
Where to stay when visiting Theodore Roosevelt Birthplace National Historic Site
There are no National Park Lodges within the park.
The Dominick - 5-star luxury hotel near One World Trade Center. All 391 rooms have comforts such as 24-hour room service and premium bedding, as well as perks like laptop-friendly workspaces and air conditioning.
Hard Rock Hotel New York - A short walk from Broadway and Times Square, Hard Rock Hotel New York provides a nightclub, a coffee shop/café, and dry cleaning/laundry services. Enjoy a meal at the two onsite restaurants. In addition to a bar and a gym, guests can connect to free in-room Wi-Fi.
Best Western Premier NYC Gateway Hotel - Look forward to a grocery/convenience store, dry cleaning/laundry services, and a gym at Best Western Premier NYC Gateway Hotel. In addition to a 24-hour business center and a snack bar/deli, guests can connect to free Wi-Fi in public areas, with speed of 100+ Mbps (good for 1–2 people or up to 6 devices).
The Bowery Hotel - 4-star hotel in the heart of Manhattan. The Bowery Hotel is located close to New York University, and provides a terrace, dry cleaning/laundry services, and a fireplace in the lobby. The onsite restaurant, Gemma Restaurant, features brunch. Stay connected with free in-room Wi-Fi, and guests can find other amenities such as a gym and babysitting.
Renaissance New York Times Square Hotel - 4-star hotel near Times Square. A short walk from Broadway and Rockefeller Center, Renaissance New York Times Square Hotel provides dry cleaning/laundry services, a bar, and a 24-hour gym. Free Wi-Fi in public areas is available to all guests, along with a business center and a restaurant.
Click on the map below to find current rates for hotels and vacation rentals in New York City.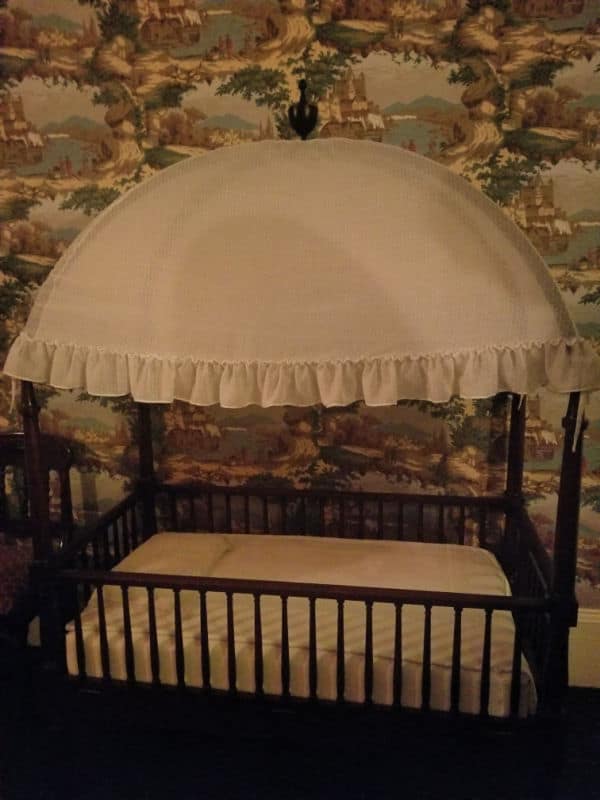 Camping
There are no National Park Campgrounds within the park or nearby.
For a fun adventure check out Escape Campervans. These campervans have built in beds, kitchen area with refrigerators, and more. You can have them fully set up with kitchen supplies, bedding, and other fun extras. They are painted with epic designs you can't miss!
Escape Campervans has offices in Vancouver, Seattle, Portland, San Francisco, Las Vegas, Los Angeles, Phoenix, Salt Lake City, Denver, Chicago, New York, and Orlando
Campgrounds in the area include:
Camp Wyanokie - West Milford, NJ
This campground includes tent sites, a waterfront, hiking, and more.
Turkey Swamp Park - Freehold, NJ
This campground offers lodging, RV and Tent Sites, a waterfront, boating, and more.
Sun Retreats Pleasant Acres Farm - Sussex, NJ
This campground has lodging and RV sites, fishing, a dog park, and more.
Check out additional campgrounds in the area on CampSpot.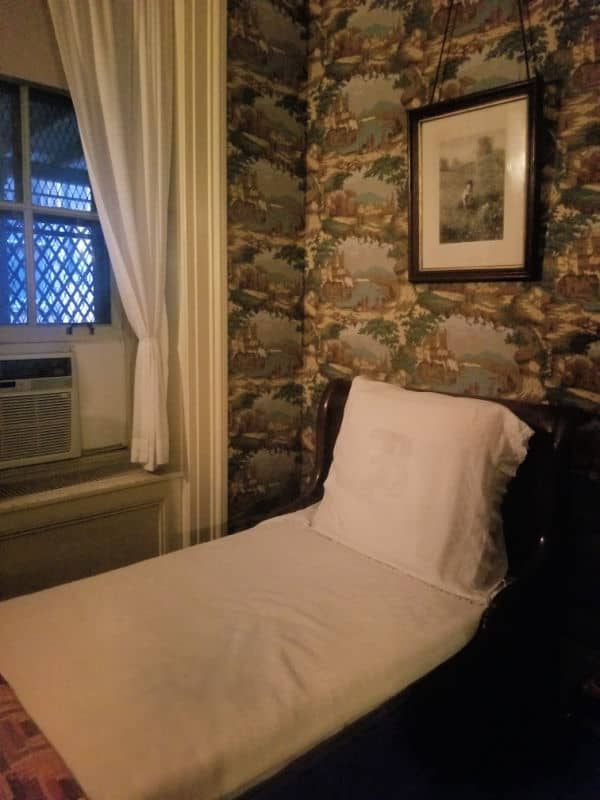 Additional Resources
Theodore Roosevelt: An Autobiography
The Rough Riders - Theodore Roosevelt
Theodore Roosevelt on Bravery - Lessons from the most courageous leader
The rise of Theodore Roosevelt
The Man in the Arena - Selected writing of Theodore Roosevelt
Parks Near Theodore Roosevelt Birthplace National Historic Site
African Burial Ground National Monument
Castle Clinton National Monument
Ellis Island – Part of Statue of Liberty National Monument
Federal Hall National Memorial
Gateway National Recreation Area
General Grant National Memorial
Governors Island National Monument
Hamilton Grange National Memorial
Lower East Side Tenement Museum National Historic Site
Statue of Liberty National Monument
Check out all of the National Parks in New York along with neighboring National Parks in Connecticut, National Parks in Massachusetts, National Parks in New Jersey, National Parks in Pennsylvania, Rhode Island National Parks, and Vermont National Parks