Montezuma Castle National Monument is one of the best National Park Sites to see a cliff dwelling. After a short walk from the visitor center, you can gaze in wonder at the historic cliff dwelling.

Montezuma Castle National Monument
Montezuma Castle National Monument is located fifty miles south of Flagstaff. The park is truly amazing!
I love knowing that it is one of the first four national monuments signed into law by President Theodore Roosevelt in 1906!
About Montezuma Castle National Monument
In years past visitors could climb ladders and enter the ruins. Unfortunately, due to vandalism and damage to the ruins, the park service had to close access to the ruins in 1951. Don't worry you can still admire the cliff dwellings from below.
There is a ⅓ mile loop that passes through a grove of sycamore trees and provides amazing views of the cliff dwelling. Montezuma Castle is a 19 room structure that may have housed between 30 to 50 people.
11 miles from Montezuma Castle you can also visit Montezuma Well. This portion of the park has a .5 mile loop trail that showcases the 1.5 million gallons of water that flows out of a limestone sinkhole at the constant temperature of 74 degrees. This water has been used for over a thousand years by residents of the area.
If you look up from Montezuma Well you can see smaller cliff dwellings on the bluff.
It's a mystery, really. Standing amidst thousand-year-old stone dwellings, you can't help wondering why the early inhabitants seemingly abandoned their homes, leaving behind fascinating ruins to pique travelers' curiosity.
Was it because of disease? Depletion of natural resources? Were they driven out? Or perhaps they didn't really disappear, but simply migrated somewhere else?
Who is easier to answer. The ruins at Montezuma Castle, Montezuma Well, Wupatki, and Tuzigoot National Monuments were once the home of the prehistoric Southern Sinaguans.
Located in Arizona's Verde Valley just 50 miles south of Flagstaff, these National Monuments are some of the best-preserved cliff dwellings and hilltop pueblos in the Southwest.
Although the exact fate of the Southern Sinaguans is unknown, archeologists have concluded quite a bit about their prehistoric culture and lifestyle thanks to tools, bones, pottery, and other physical evidence left behind.
The Sinagua were very skilled farmers and used advanced techniques such as irrigation canals to grow squash, corn, beans, and cotton. Local rivers and streams flowed freely back then, creating fertile land alongside the waterways, which in turn attracted deer, rabbits, ducks, and other game that supplemented the Sinaguan diet. Salt was also mined.
By the year 1150, underground pithouses were replaced by the building of large pueblos into cliffs and on hilltops. Covered in mud plaster, some of these sophisticated stone dwellings were large enough to house hundreds of people.
For unknown reasons, these dwellings were in use for only about three centuries, then it seemed everyone suddenly abandoned the area in the early 1400s.
To get insight into the Southern Sinaguan culture, which is Spanish for "without water," inquiring minds can formulate their own conclusions by visiting the sites.
No hard hiking or white-knuckle driving down dirt roads is required- all are easily accessible via highway, offer plenty of free parking, and the paved trails, while steep in some spots, making it easy to get out and explore. Take your camera because the scenery is first-rate!
Even though it's not really a castle and Montezuma never was there (early adventurers and settlers incorrectly thought the Aztecs had built it), the five-story cliff dwelling is undoubtedly stunning.
Perched 100 feet above the valley floor, the 20-room citadel is still 90 % intact, and one of the best maintained cliff dwellings in the united states.
Although tourists are no longer allowed to go up into the ruins, Montezuma Castle is easily noticed from the park's paved ⅓-mile loop trail, which also meanders through a sycamore grove and along Beaver Creek, one of only a few year-round streams in the state.
Interpretive signs along the walkway describe the Southern Sinaguan way of life.
Dogs on leashes are allowed on the park's trails, however, must be cleaned up after. Take your time inside the visitor center at Montezuma Castle, too. Stunning pottery and textiles are shown, as well as other artifacts.
Additionally, you may want to listen in on a ranger program or join a group walk. Check with the rangers for times and details when you arrive.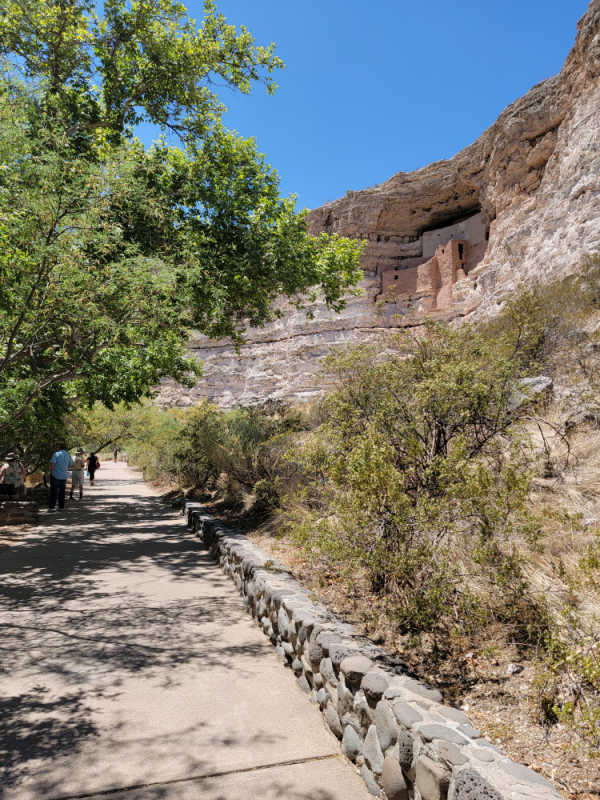 Is Montezuma Castle National Monument worth visiting?
Yes, The park provides the opportunity to look at an ancient cliff dwelling with only a short easy walk.
This is one of the easiest sites to see a cliff dwelling and learn more about the history of this area.
History of Montezuma Castle National Monument
A two-for-one national monument, this exciting spot is home to an impressive limestone cliff dwelling and an immense limestone sinkhole.
The cliff dwelling, named Montezuma's Castle, is nearly one thousand years old and perhaps the best-preserved cliff dwelling in North America.
The sinkhole, named Montezuma's Well, is wider than a football field and pumps out over 1.5 million gallons of water daily.
Neither the cliff dwelling nor the well had anything to do with Montezuma.
Both locations were important to the Sinagua people who occupied the area from roughly 650 CE to 1425 CE.
Geology/Geography
Just fifty miles south of Flagstaff, Arizona, Montezuma's Castle is built nearly 100 feet above Beaver Creek into an alcove of the Verde Valley.
Beaver Creek flows into the Verde River three miles south of Montezuma's Castle. The river flows into the other rivers, eventually draining into the Gulf of California.
Montezuma's Castle borders two great physiographic regions: the Colorado Plateau and the Basin and Range Province.
The geologic formation of these regions were both shaped millions of years in the past beneath an incredibly long, shallow inland sea.
This sea, the Western Interior Seaway, can be imagined to stretch from the Arctic Ocean to the Gulf of Mexico.
However, 100 million years ago the world's landmasses were incomprehensible when compared to modern maps.
For the tens of millions of years in which the Western Interior Seaway shaped the future of North America, it laid down massive beds of sandstone and limestone.
Sandstone beds created by successive layers of sand under immense pressure dominate the modern Colorado Plateau. Limestone, composed of compressed and pulverized crustaceans, forms much of the Basin and Range Province near Montezuma's Castle.
These differing bedrocks would go on to shape the lives of Native Americans millions of years later.
History
Montezuma's Castle bears a striking resemblance to the larger, more famous cliff dwelling structures at Mesa Verde. Mesa Verde was built by Ancestral Puebloans primarily out of sandstone while Montezuma's Castle was constructed from limestone by the Sinagua centuries later.
Archaeologists estimate that the Sinagua people entered Verde Valley in central Arizona around 650 CE.
Analysis of tree rings used in the construction of pit houses throughout the valley led archaeologists to this conclusion.
Pit houses were common across the American Southwest since at least 2000 BCE. Pit houses tend to be dug out areas, surrounded by wooden poles with various organic materials serving as sidewalls.
These homes eventually gave way to the stone structures seen at Montezuma's Castle and nearby Tuzigoot National Monument.
Artifacts from pit houses and excavations at Montezuma's Castle National Monument indicate that the Sinagua were part of a vast trade network.
Shells from distant sea coasts, cacao from Central America, and exotic bird feathers have all been discovered at Montezuma's Castle. The Sinagua were artists and expert craftsmen. Jewelry and gems have been uncovered within Montezuma's Castle.
The Sinagua people lived in the area around Montezuma's Well for several centuries. The burbling well's water was used to irrigate dozens of acres of farm land.
Prehistoric canal channels are still visible today and guide the well water to nearby Wet Beaver Creek.
The Sinagua inhabited the Verde Valley, including Montezuma's Castle, until 1425 CE. Archaeological evidence indicates that the last Sinaguas in the region held out in Montezuma's Castle until forced from the area.
Several reasons for departing the area have been suggested. The most likely suggestions include environmental change brought on by drought and cooling temperatures alongside the in-migration of a new competing group, the Yavapai.
US Exploration of the Verde Valley
The United States took control of the southwest immediately after the Mexican-American War (1846-1848). The first encounter of a European with Montezuma's Castle is unknown.
Nearby Tuzigoot was seen in the 1850s by a guide and mountain man named Antione Leroux.
By the time the impressive structure of Montezuma's Castle received public attention, the structure had been looted of its artifacts.
Becoming a National Monument
The park's entrance into the zeitgeist happened concurrently with its published discovery. Mesa Verde, Montezuma's Castle's more impressive architectural relative, was granted monument status in June of 1906.
Montezuma's Castle was the fourth site to gain national monument status. In December of 1906 President Theodore Roosevelt signed legislation declaring the 20-room cliff dwelling a national monument.
National monument status protected Montezuma's Castle from looters and made defacement punishable by law.
The park garnered attention from adventure seekers across the southwest. In the early years of the park, visitors were allowed to enter into the ruins of the cliff dwelling.
Then-and-now photos show that many attempts have been made over the years to preserve Montezuma's Castle.
A thick coating has been applied to the exterior of the castle to preserve and stabilize its limestone blocks.
Visitors have been barred from entering the structure since the early 1950s after the deleterious effects of thousands of visitors became too obvious to ignore.
In the 1930s the foundation of another cliff dwelling was identified nearby. Excavations at this new site yielded many Sinagua artifacts.
These artifacts greatly increased America's understanding of the regions, its history, and the Sinagua people.
Montezuma's Castle National Monument is one of the best preserved cliff dwellings in North America.
While smaller in scale compared to Mesa Verde National Park, its unique construction and separate cultural background make it well worth the visit.
The artifacts, particularly the pottery, baskets, and jewelry should be seen. Nearby Montezuma's well has its own ancient history and fascinating endemic wildlife.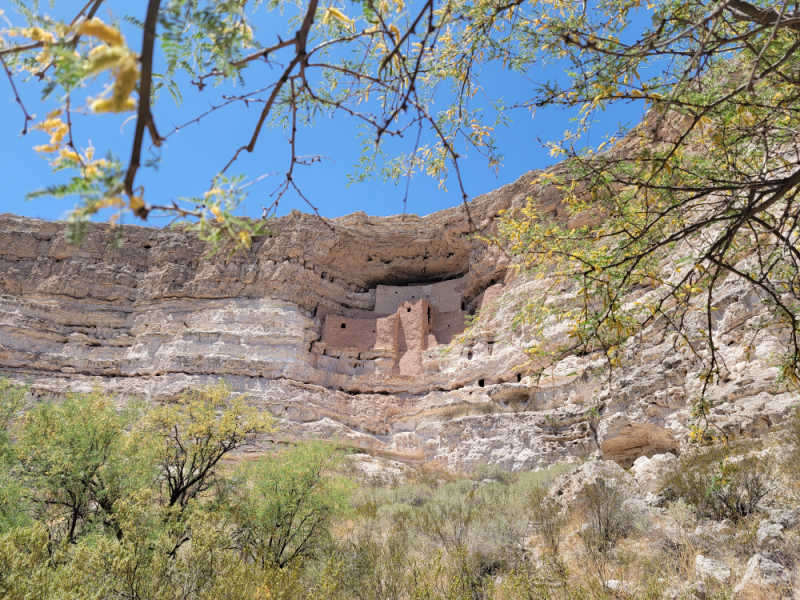 Things to know before your visit to Montezuma Castle National Monument
Entrance fee
Montezuma Castle Entrance Fee - Per Person - $10.00
Montezuma Castle Entrance Fee - Children - $0.00 Children aged 15 and under are free.
Montezuma Well - Free Entrance - $0.00
Montezuma Castle and Tuzigoot Annual Pass - $35.00 -Annual Pass covers the cardholder and 3 other adults (aged 16 and over) into both Montezuma Castle and Tuzigoot for one year from date of purchase.
Valid for one year through the month of purchase. Admits one private, non-commercial vehicle or its pass holder.
Planning a National Park vacation? America the Beautiful/National Park Pass covers entrance fees for an entire year to all US National Park Sites and over 2,000 Federal Recreation Fee Sites.
The park pass covers everyone in the car for per vehicle sites and for up to 4 adults for per-person sites.
Buy on REI.com and REI will donate 10% of pass proceeds to the National Forest Foundation, National Park Foundation and the U.S. Endowment for Forestry & Communities.
Learn more about National Park Passes for parks that have an entrance fee.
Free Entrance Days -Mark your calendars with the five free entrance days the National Park Service offers annually.
Time Zone
MST - Mountain Standard Time
Arizona does not observe Daylight Savings, with the exception of the Navajo Nation.
Pets
Dogs are allowed within the park but must be on a leash less than 6 feet in length. Dogs are not allowed in the visitor center and should not be left in vehicles.
With the extreme heat, the park can experience the car can quickly warm up to over 140 degrees and be deadly
Check with the visitor center to find out more about the park's Bark Ranger program.
Cell Service
Cell phone service is limited.
Park Hours
The park is open from 8 am to 5 pm seven days a week.
The park gate is one mile from the Visitor Center and closes at 4:45 pm.
The park is closed on Christmas Day and New Years Day. The park also closes at 2:00 pm on Thanksgiving Day and December 24th.
Wi-Fi
There is no public Wi-Fi available at Montezuma Castle National Monument.
Insect Repellent
Insect repellent is always a great idea when outdoors, especially if you are around any body of water.
We use Permethrin Spray on our clothes before our park trips.
Water Bottle
Make sure to bring your own water bottle and plenty of water with you. Plastic water bottles are not sold in the park.
Parking
There is a fairly good size parking lot near the visitor center. We did see people having to drive the parking lot a few times to find parking.
Food/Restaurants
There are no restaurants within the park. There is a SONIC Fast Food Restaurant down the street from the park.
Gas
There are no gas stations within the park.
Drones
Drones are not permitted within National Park Sites.
National Park Passport Stamps
National Park Passport stamps can be found in the visitor center.
Make sure to bring your National Park Passport Book with you or we like to pack these circle stickers so we don't have to bring our entire book with us.
The park is part of the 2001 Passport Stamp Set
Electric Vehicle Charging
1 electric vehicle (EV) charging stations within a 10-mile radius of the center of Camp Verde, AZ.
Accessibility
The loop trail and visitor center are 100% wheelchair accessible. The path is flat and paved.
The trail at Montezuma Well is challenging for wheelchairs. Half of the Main Overlook Trail is accessible.
The Swallet Trail and Outlet Trail are not accessible. The Pasture Trail is dirt and mud and not accessible.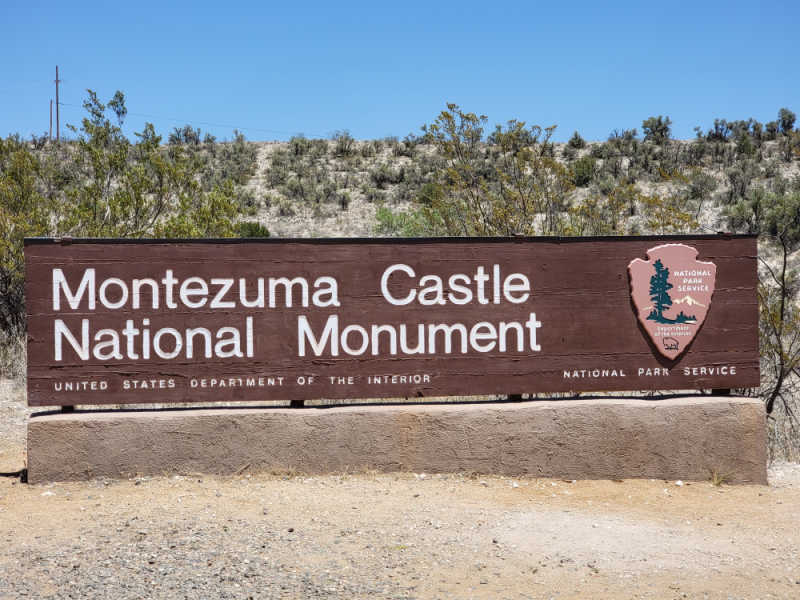 Details about Montezuma Castle National Monument
Size - 859.27 acres
Check out how the park compares to all of the other National Parks by Size.
Date Established
Established December 8, 1906, Montezuma Castle is the third National Monument dedicated to preserving Native American culture.
Visitation
In 2021, Montezuma Castle NM had 418,147 park visitors.
In 2020, Montezuma Castle NM had 242,028 park visitors.
In 2019, Montezuma Castle NM had 376,254 park visitors.
Learn more about the most visited and least visited National Parks in the US
National Park Address
Montezuma Castle Road
Camp Verde, Arizona 86322
Montezuma Well is located at 5525 Beaver Creek Road, Rimrock, AZ 86335
National Park Map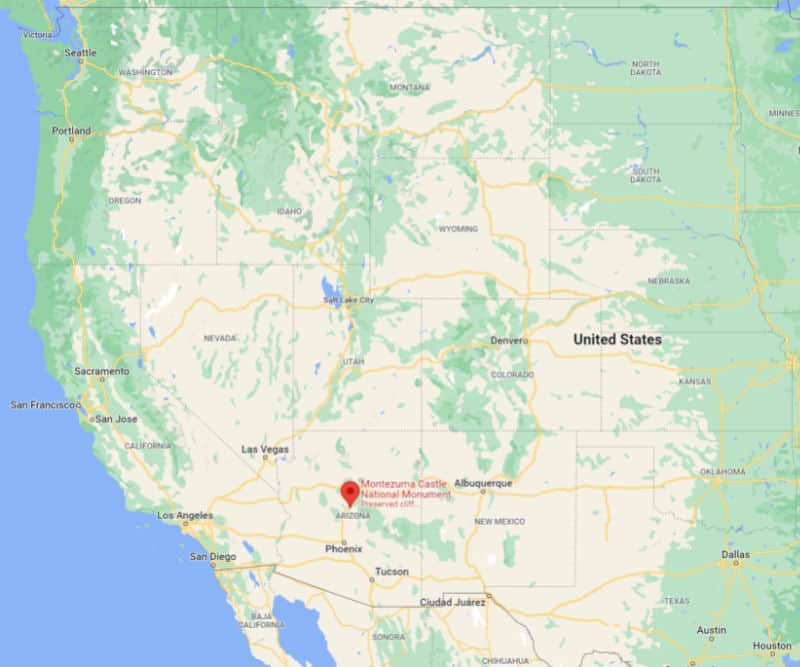 Where is Montezuma Castle National Monument?
Montezuma Castle NM is located in north central Arizona. The park is 90 minutes north of Phoenix and 45 minutes south of Flagstaff
Estimated distance from major cities nearby
Sedona, AZ - 25 miles
Glendale, AZ - 89 miles
Scottsdale, AZ - 102 miles
Phoenix, AZ - 93 miles
Tucson, AZ - 206 miles
Henderson, NV - 288 miles
Las Vegas, NV - 303 miles
Albuquerque, NM - 375 miles
Estimated Distance from nearby National Park
Petrified Forest National Park - 169 miles
Grand Canyon National Park - 135 miles
Saguaro National Park - 198 miles
Bryce Canyon National Park - 336 miles
Zion National Park - 301 miles
Where is the National Park Visitor Center?
The visitor center is located next to the main parking lot. You have to walk by the visitor center to reach the monument viewpoints.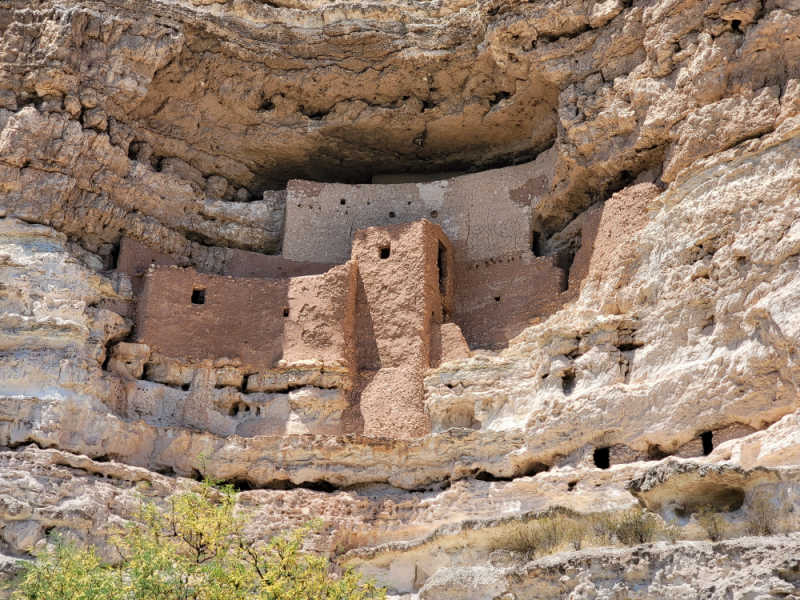 Getting to Montezuma Castle National Monument
Closest Airports
Sedona Airport (SDX)
Cottonwood Airport (CTW)
International Airports
Phoenix Sky Harbor International Airport (PHX)
Tucson International Airport (TUS)
Las Vegas McCarran International Airport (LAS)
Regional Airports
Flagstaff Pulliam Airport (FLG)
Prescott Municipal Airport Ernest A. Love Field (PRC)
Phoenix-Mesa Gateway Airport (AZA)
Page Municipal Airport (PGA)
Driving Directions
Montezuma Castle - Follow I-17 to exit 289 (90 minutes north of Phoenix, 45 minutes south of Flagstaff).
Drive east (through two traffic circles) for approximately ½ mile to the blinking red light. Turn left onto Montezuma Castle Road.
Montezuma Well - Follow I-17 to exit 293 (4 miles north of the exit for Montezuma Castle). Continue through the towns of McGuireville and Rimrock, following the signs for four miles to the entrance to the Well.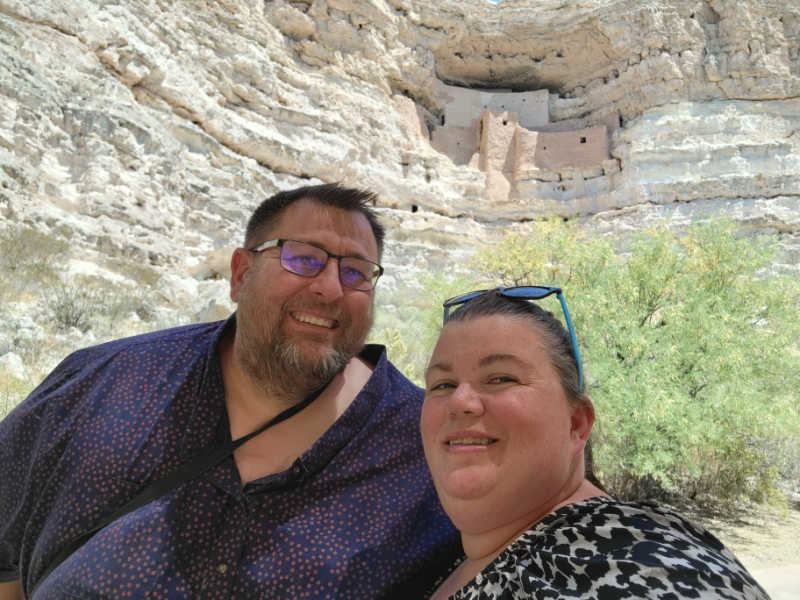 Best time to visit Montezuma Castle National Monument
Spring and Fall are a great time to visit Montezuma Castle in comfortable weather. We visited in May and it was warm/hot but not unbearable.
Weather and Seasons
Summers are extremely hot with temperatures ranging from 95 to 110 degrees Fahrenheit.
Heavy monsoon rain is common in the afternoon from late June through early August.
Winter temperatures are around 55 degrees Fahrenheit on average but can drop significantly colder.
Snow is rare but it does occur.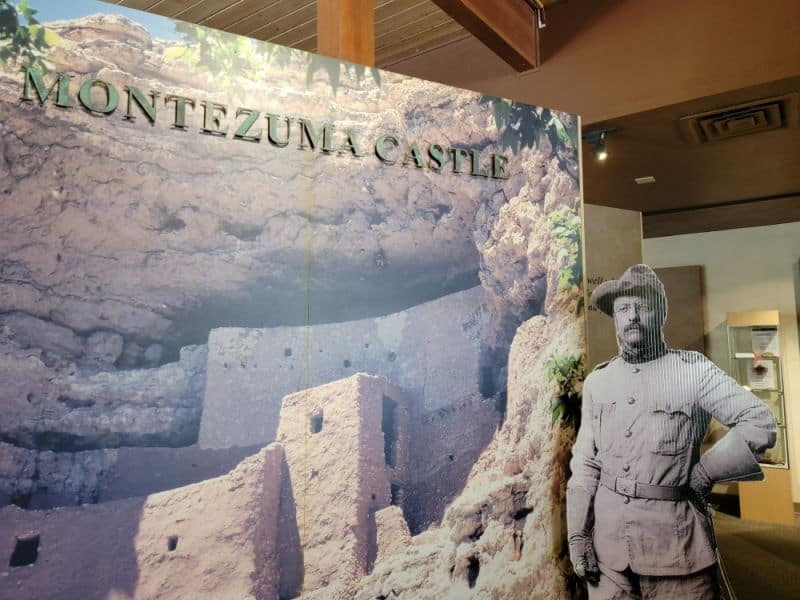 Best Things to do in Montezuma Castle National Monument
Bring binoculars with you if you want to see an up-close look at the cliff dwellings.
Visitor Center
The visitor center has a great Theodore Roosevelt cut-out you can pose for a selfie with. LOL
There is also an area with exhibits, a small store, and you can get your National Park Passport Book stamped.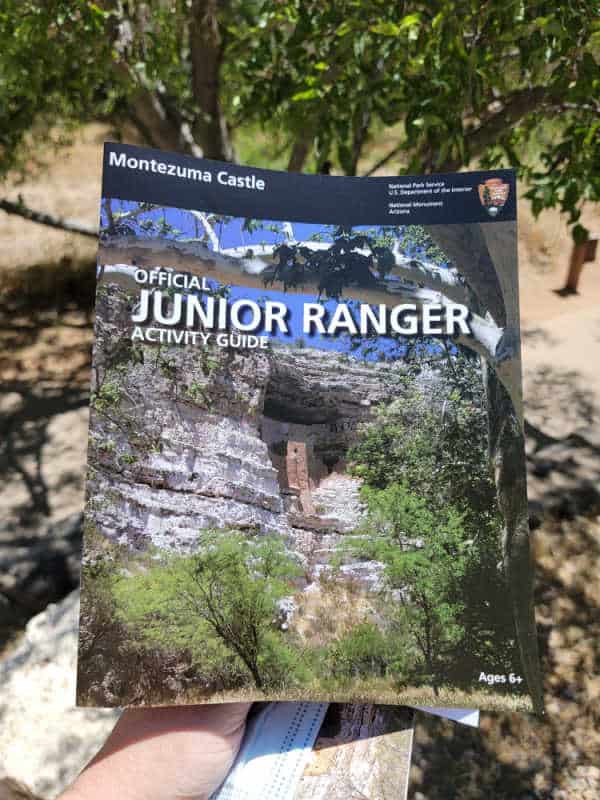 You can print a copy of the Montezuma Castle National Monument Junior Ranger program at home to start working on it before your trip.
Montezuma Well
Montezuma Well is a separate location, but part of the Montezuma Castle National Monument. Formed when a huge underground cavern collapsed thousands of years ago, the natural limestone sinkhole is 55 feet deep and 368 feet across.
Over one and a half million gallons of water a day flow into it from two underground springs. The pretty blue pool is rimmed with unreachable cliff dwellings, but a platform overlooking the site provides a nice aerial view.
For a closer look at 800-year old cave ruins, follow the path down to the water's edge. In addition to building homes into the cliffs, the Southern Sinaguans also took advantage of natural caves in the area and built some dwellings at ground level, too.
The trail also passes more stone ruins that were once the walls of free-standing pueblos. Step carefully in this area! Rattlesnakes avoid humans for the most part, but since they like to hang out in rocks and bushes near the trails, seeing one can be a bit startling if you're not expecting it.
One thing to know is the beginning of the trail is quite the incline. We ended up not visiting Montezuma Well since it was 100+ degrees out and we were not in the mood to deal with the heat and glaring sun.
Guided Tours
From Phoenix - Sedona, Jerome, and Montezuma Castle Day Trip
Visit one of the most remarkable areas in the Southwest, the Red Rocks of Sedona, on a day tour from Phoenix. Travel back in time to the Montezuma Castle National Monument.
From Phoenix - Full Day Sedona Small Group Tour
This Sedona full-day tour gives you a chance to explore the rich culture and history of the area's ancient Native American civilizations. Travel in a 9 or 13-seat vehicle on this small-group tour and enjoy a more personalized experience.
You'll also have 2 exploration options - either the ruins at Tuzigoot National Monument or Montezuma Castle National Monument.
From Scottsdale/Phoenix - Verde Valley Day Tour
Explore the majestic Native American monuments of Montezuma Castle and Tuzigoot
Learn about Arizona's mining history and walk around the old mining town of Jerome
Eat lunch in uptown Sedona and check out local shops and artwork
See the red rocks, taking in their large formations up close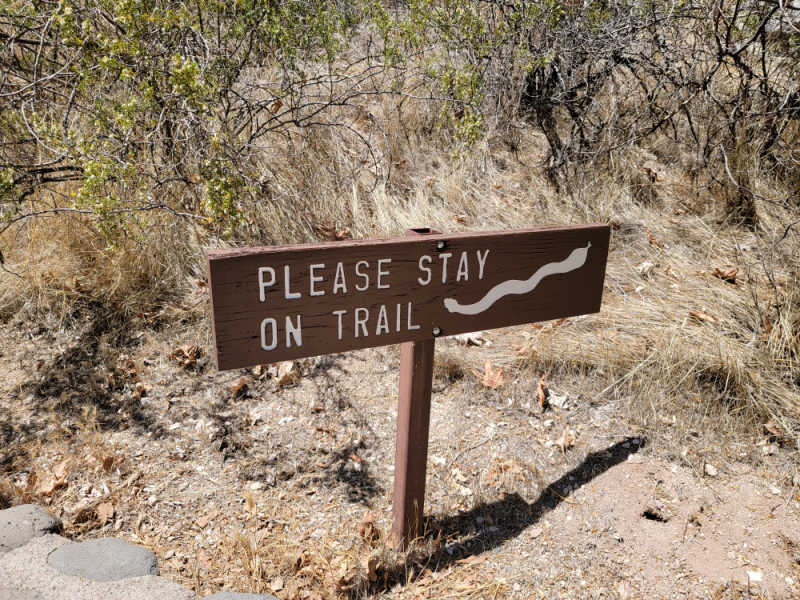 Hiking in Montezuma Castle National Monument
Always carry the 10 essentials for outdoor survival when exploring.
There is the main ⅓ mile trail that guides you past the Montezuma Castle A, a river overlook, and a diorama that talks about Montezuma Castle.
There are also a couple of trails around Montezuma Well.
How to beat the crowds in Montezuma Castle National Monument?
When we visited the park was semi-crowded but it was still easy to find a spot in the shade to gaze up at the ruins.
The only congestion was trying to get a parking space.
To beat the crowds we suggest showing up early in the morning when the park opens.
Where to stay when visiting Montezuma Castle NM
There are no National Park Lodges within the park.
Cliff Castle Casino Hotel - 1.5 miles from the park. At Cliff Castle Casino Hotel, you can look forward to a casino, a nightclub, and a coffee shop/café. For those looking to try their luck, this hotel boasts 8 casino gaming tables, 660 slot machines, and a casino VIP room. Stay connected with free in-room Wi-Fi, and guests can find other amenities such as a bar and a 24-hour gym.
Fort Verde Suites Motel - All guestrooms at Fort Verde Suites Motel have comforts such as premium bedding and air conditioning, in addition to amenities like free Wi-Fi and free bottled water.
Comfort Inn Camp Verde I-17 - Free full breakfast, dry cleaning/laundry services, and a gym are just a few of the amenities provided at Comfort Inn Camp Verde I-17. For some rest and relaxation, visit the hot tub. Free in-room Wi-Fi and a 24-hour business center are available to all guests.
Days Inn by Wyndham Camp Verde Arizona - You can look forward to a free breakfast buffet, a terrace, and a garden at Days Inn by Wyndham Camp Verde Arizona. For some rest and relaxation, visit the hot tub. Free in-room Wi-Fi, with speed of 100+ Mbps (good for 1–2 people or up to 6 devices), is available to all guests, along with laundry facilities and a fireplace in the lobby.
Click on the map below to see current rates for hotels and vacation rentals near Montezuma Castle.
Camping
There are no National Park Campground within the park.
For a fun adventure check out Escape Campervans. These campervans have built in beds, kitchen area with refrigerators, and more. You can have them fully set up with kitchen supplies, bedding, and other fun extras. They are painted with epic designs you can't miss!
Escape Campervans has offices in Vancouver, Seattle, Portland, San Francisco, Las Vegas, Los Angeles, Phoenix, Salt Lake City, Denver, Chicago, New York, and Orlando
There are no National Park Campgrounds within the park. Nearby campgrounds include
Verde Ranch RV Resort - 3 miles from the park
This campground offers RV and Tent Sites and other lodging options. A waterpark, pool, hot tub and more.
Rancho Sedona RV Park - 18 miles from the park
This campground offers RV Sites. They have a dog park, cable tv, horseshoes, and more.
Points of Rocks RV Campground - 33 miles from the park.
This campground offers RV Sites. They have canoeing, kayaking, showers, internet access, and more.
Check out additional campgrounds in the area on Campspot.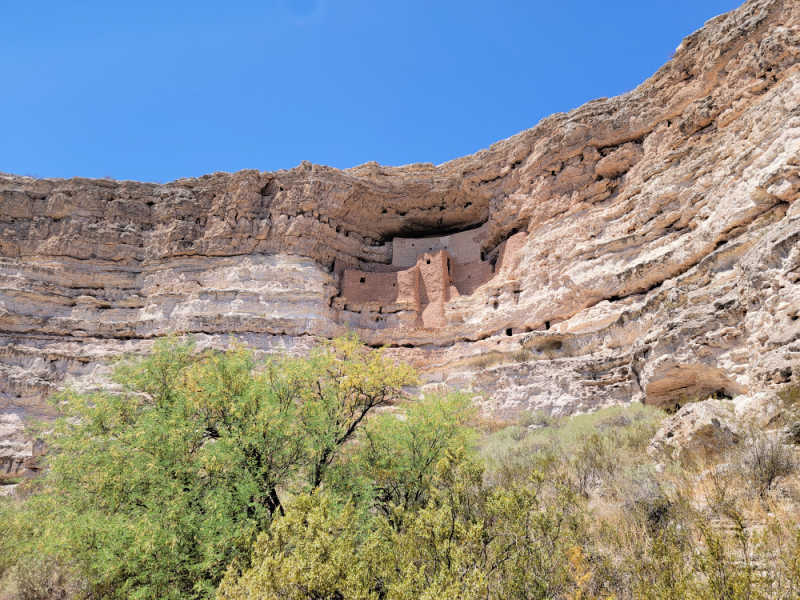 Parks Near Montezuma Castle National Monument
Tuzigoot National Monument - 22 miles
Tonto National Monument - 113 miles
Walnut Canyon National Monument - 61 miles
Sunset Crater Volcano National Monument - 72 miles
Wupatki National Monument - 83 miles
Canyon de Chelly National Monument - 221 miles
Navajo National Monument - 192 miles
Check out all of the Arizona National Parks along with neighboring National Parks in Utah, National Parks in New Mexico, California National Parks, Colorado National Parks, and Nevada National Parks
Check out all of the National Monuments within the National Park Service.
Arizona State Parks in the area include Dead Horse State Park, Fort Verde State Historic Park, Honanki Heritage Site, Jerome State Historic Park, Red Rock State Park, Slide Rock State Park, V-V- Ranch Heritage Site, and Palatki Heritage Site