Montezuma Castle National Monument is one of the best National Park Sites to see a cliff dwelling. After a short walk from the visitor center, you can gaze in wonder at the historic cliff dwelling.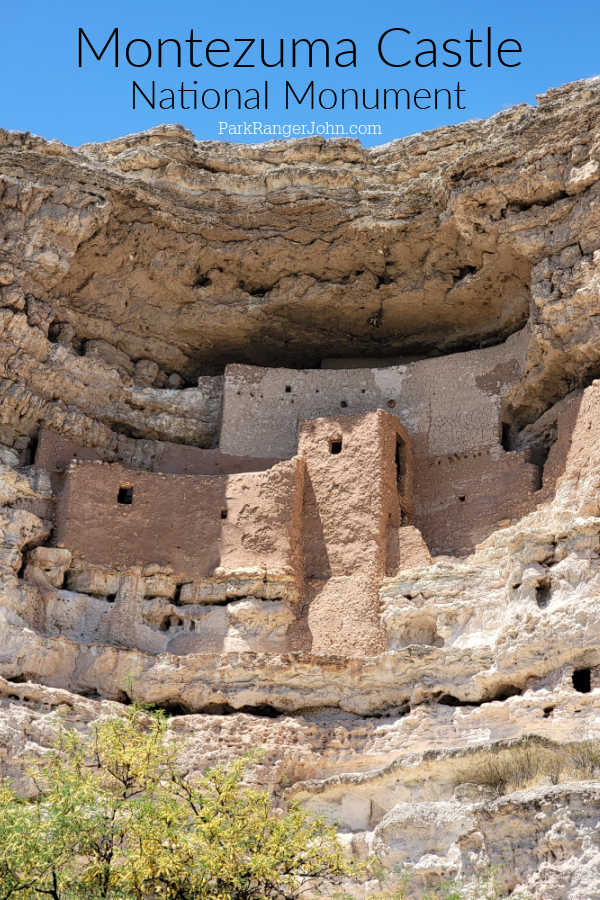 Montezuma Castle National Monument
Montezuma Castle National Monument is located fifty miles south of Flagstaff. The park is truly amazing! I love knowing that it is one of the first four national monuments signed into law by President Theodore Roosevelt in 1906!
In years past visitors could climb ladders and enter the ruins. Unfortunately, due to vandalism and damage to the ruins, the park service had to close access to the ruins in 1951. Don't worry you can still admire the cliff dwellings from below.
There is a 1/3 mile loop that passes through a grove of sycamore trees and provides amazing views of the cliff dwelling. Montezuma Castle is a 19 room structure that may have housed between 30 to 50 people.
11 miles from Montezuma Castle you can also visit Montezuma Well. This portion of the park has a .5 mile loop trail that showcases the 1.5 million gallons of water that flows out of a limestone sinkhole at the constant temperature of 74 degrees. This water has been used for over a thousand years by residents of the area.
If you look up from Montezuma Well you can see smaller cliff dwellings on the bluff.
It's a mystery, really. Standing amidst thousand-year-old stone dwellings, you can't help wondering why the early inhabitants seemingly abandoned their homes, leaving behind fascinating ruins to pique travelers' curiosity. Was it because of disease? Depletion of natural resources? Were they driven out? Or perhaps they didn't really disappear, but simply migrated somewhere else? Who would do that and why?
Who is easier to answer. The ruins at Montezuma Castle, Montezuma Well, Wupatki, and Tuzigoot National Monuments were once the home of the prehistoric Southern Sinaguans. Located in Arizona's Verde Valley just 50 miles south of Flagstaff, these National Monuments are some of the best-preserved cliff dwellings and hilltop pueblos in the Southwest.
Although the exact fate of the Southern Sinaguans is unknown, archeologists have concluded quite a bit about their prehistoric culture and lifestyle thanks to tools, bones, pottery, and other physical evidence left behind.
The Sinagua were very skilled farmers and used advanced techniques such as irrigation canals to grow squash, corn, beans, and cotton. Local rivers and streams flowed freely back then, creating fertile land alongside the waterways, which in turn attracted deer, rabbits, ducks, and other game that supplemented the Sinaguan diet. Salt was also mined.
By the year 1150, underground pithouses were replaced by the building of large pueblos into cliffs and on hilltops. Covered in mud plaster, some of these sophisticated stone dwellings were large enough to house hundreds of people.
For unknown reasons, these dwellings were in use for only about three centuries, then it seemed everyone suddenly abandoned the area in the early 1400s. To get insight into the Southern Sinaguan culture, which is Spanish for "without water," inquiring minds can formulate their own conclusions by visiting the sites.
No hard hiking or white-knuckle driving down dirt roads is required- all are easily accessible via highway, offer plenty of free parking, and the paved trails, while steep in some spots, making it easy to get out and explore. Take your camera because the scenery is first-rate!
Even though it's not really a castle and Montezuma never was there (early adventurers and settlers incorrectly thought the Aztecs had built it), the five-story cliff dwelling is undoubtedly stunning. Perched 100 feet above the valley floor, the 20-room citadel is still 90 % intact, and one of the best maintained cliff dwellings in the united states.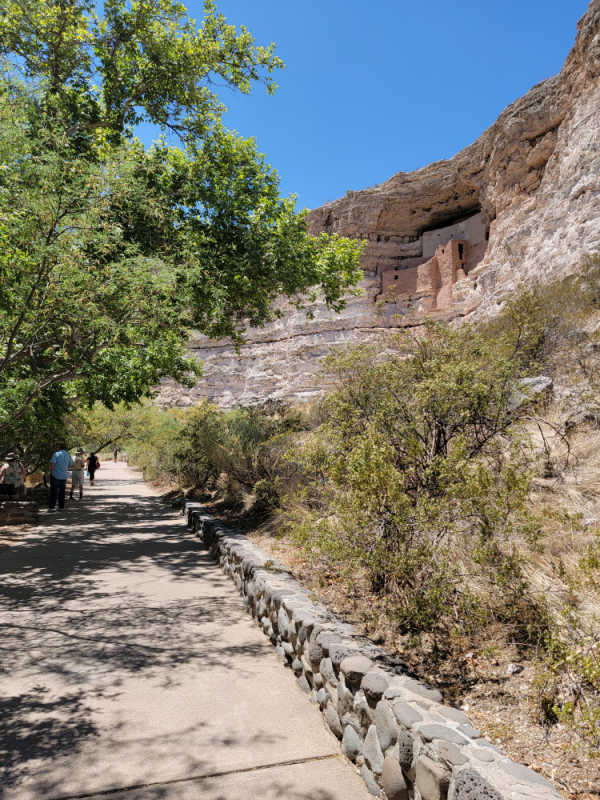 Although tourists are no longer allowed to go up into the ruins, Montezuma Castle is easily noticed from the park's paved 1/3-mile loop trail, which also meanders through a sycamore grove and along Beaver Creek, one of only a few year-round streams in the state.
Interpretive signs along the walkway describe the Southern Sinaguan way of life. You may also bring Fido on the walk if he's vacationing with you.
Dogs on leashes are allowed on the park's trails, however, must be cleaned up after. Take your time inside the visitor center at Montezuma Castle, too. Stunning pottery and textiles are shown, as well as other artifacts. Additionally, you may want to listen in on a ranger program or join a group walk. Check with the rangers for times and details when you arrive.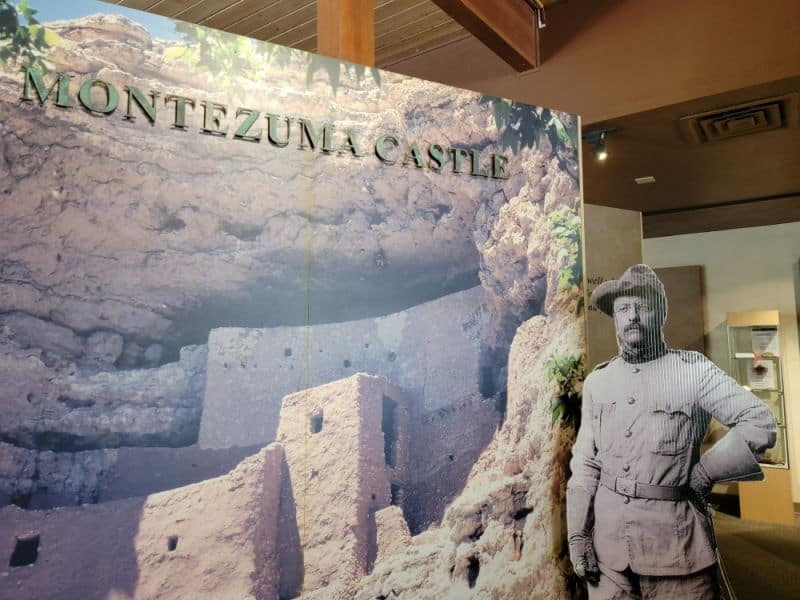 Visit the Visitor Center
The visitor center has a great Theodore Roosevelt cut-out you can pose for a selfie with. LOL
There is also an area with exhibits, a small store, and you can get your National Park Passport Book stamped.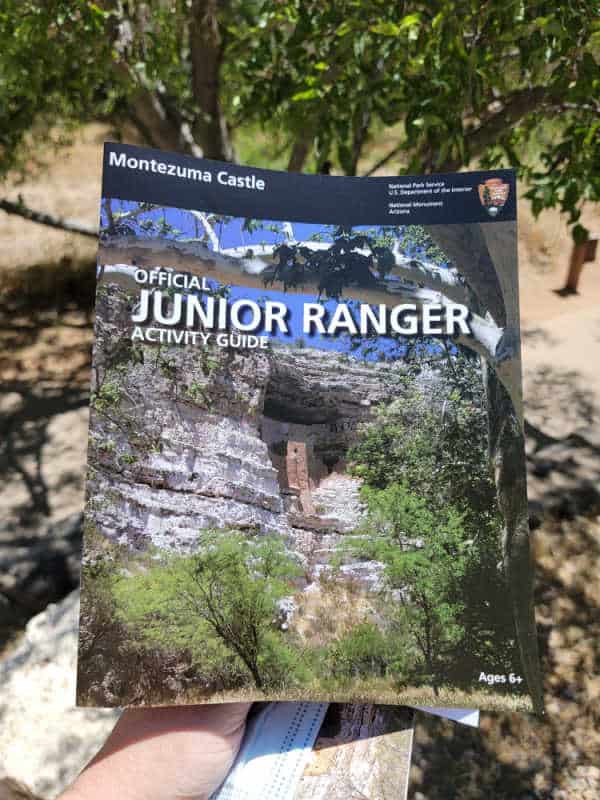 Become a Junior Ranger
You can print a copy of the Montezuma Castle National Monument Junior Ranger program at home to start working on it before your trip.
Check out all of the Junior Ranger programs you can do at home.
Montezuma Well
Montezuma Well is a separate location, but part of the Montezuma Castle National Monument. Formed when a huge underground cavern collapsed thousands of years ago, the natural limestone sinkhole is 55 feet deep and 368 feet across.
Over one and a half million gallons of water a day flow into it from two underground springs. The pretty blue pool is rimmed with unreachable cliff dwellings, but a platform overlooking the site provides a nice aerial view.
For a closer look at 800-year old cave ruins, follow the path down to the water's edge. In addition to building homes into the cliffs, the Southern Sinaguans also took advantage of natural caves in the area and built some dwellings at ground level, too.
The trail also passes more stone ruins that were once the walls of free-standing pueblos. Step carefully in this area! Rattlesnakes avoid humans for the most part, but since they like to hang out in rocks and bushes near the trails, seeing one can be a bit startling if you're not expecting it.
One thing to know is the beginning of the trail is quite the incline. We ended up not visiting Montezuma Well since it was 100+ degrees out and we were not in the mood to deal with the heat and glaring sun.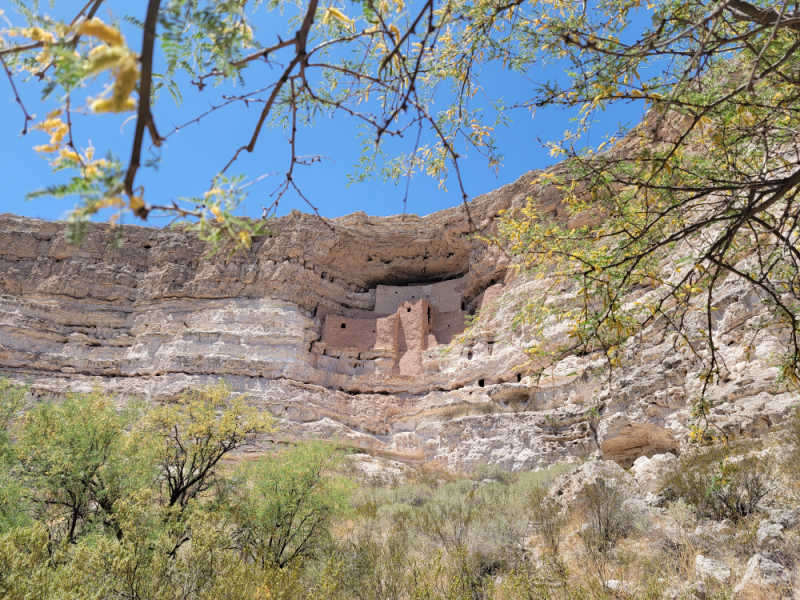 Things to know when planning a visit to Montezuma Castle NM
Bring binoculars with you if you want to see an up-close look at the cliff dwellings.
Address
Montezuma Castle Road
Camp Verde, AZ 86322
The park is 90 minutes north of Phoenix and 45 minutes south of Flagstaff
Montezuma Well is located at 5525 Beaver Creek Road, Rimrock, AZ 86335
Park Hours
The park is open from 8 am to 5 pm seven days a week.
The park gate is one mile from the Visitor Center and closes at 4:45 pm.
The park is closed on Christmas Day and New Years Day. The park also closes at 2:00 pm on Thanksgiving Day and December 24th.
Park Entrance Fees
Montezuma Castle Entrance Fee - Per Person - $10.00
Montezuma Castle Entrance Fee - Children - $0.00 Children aged 15 and under are free.
Montezuma Well - Free Entrance - $0.00
Montezuma Castle and Tuzigoot Annual Pass - $35.00 -Annual Pass covers the cardholder and 3 other adults (aged 16 and over) into both Montezuma Castle and Tuzigoot for one year from date of purchase.
Pets/Dogs
Dogs are allowed within the park but must be on a leash less than 6 feet in length. Dogs are not allowed in the visitor center and should not be left in vehicles. With the extreme heat, the park can experience the car can quickly warm up to over 140 degrees and be deadly
Check with the visitor center to find out more about the park's Bark Ranger program.
WiFi: There is no public wifi available at Montezuma Castle National Monument.
Cell Service: Cell phone service is limited.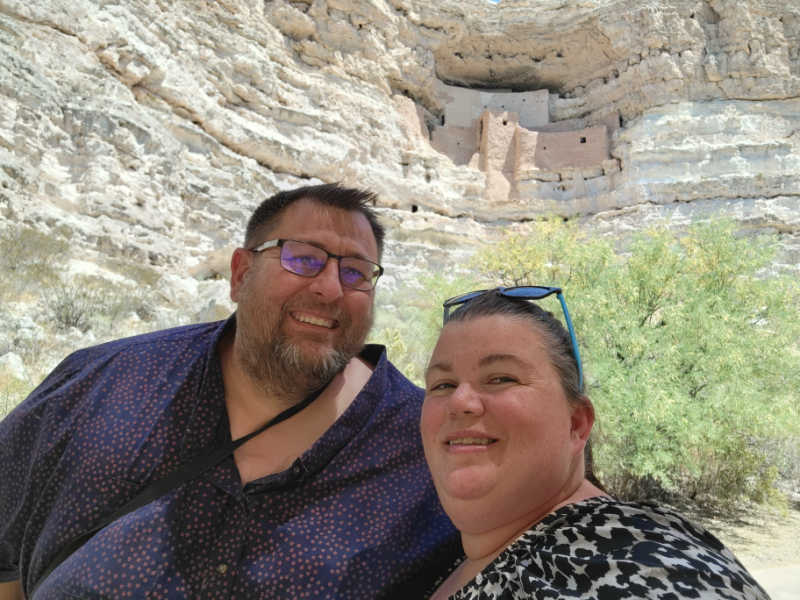 National Parks near Montezuma Castle National Monument
Tuzigoot National Monument - 22 miles
Petrified Forest National Park - 169 miles
Tonto National Monument - 113 miles
Walnut Canyon National Monument - 61 miles
Sunset Crater Volcano National Monument - 72 miles
Grand Canyon National Park - 135 miles
Check out all of the Arizona National Parks you can visit. Don't miss the amazing parks in neighboring New Mexico National Parks and National Parks in California.
Check out all of the US National Monuments managed by the NPS