If you're in the Tucson area, then don't miss out on one of the most incredible national parks in the system. Below you'll find the ultimate guide to Saguaro National Park, including the best things to do, where to stay, how to get there, when to visit, and so much more.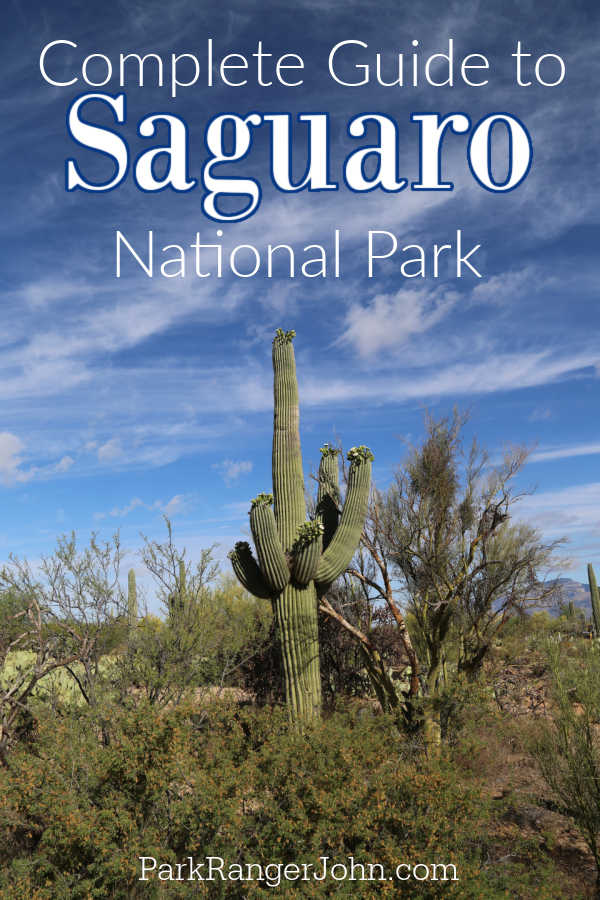 Saguaro National Park
About Saguaro National Park
Saguaro National Park is an icon of the Southwest located on the outskirts of Tucson, Arizona.
This 91,327-acre park is home to the rare Saguaro (pronounced suh-Wah-row) cactus, which is found in just a few other places on the planet.
These massive plants can grow up to 50 feet tall and can live up to 200 years! While some don't grow any extra extremities, some saguaros have sprouted as many as 49 arms.
The cacti are the main draw, and hiking is the best way to lay your eyes on these impressive plants - just be sure not to touch them!
There are over 171 miles of trails to explore at Saguaro NP, some of which are multi-use for horses and bikes in addition to hikers.
The park is split up into two different regions - the 25,391-acre Tucson Mountain District to the west and the more remote 67-476-acre Rincon Mountain District to the east.
Both districts boast hiking trails, visitor centers, picnic areas, and trailheads - though you may need multiple days to explore both districts as they are located about 30 miles apart.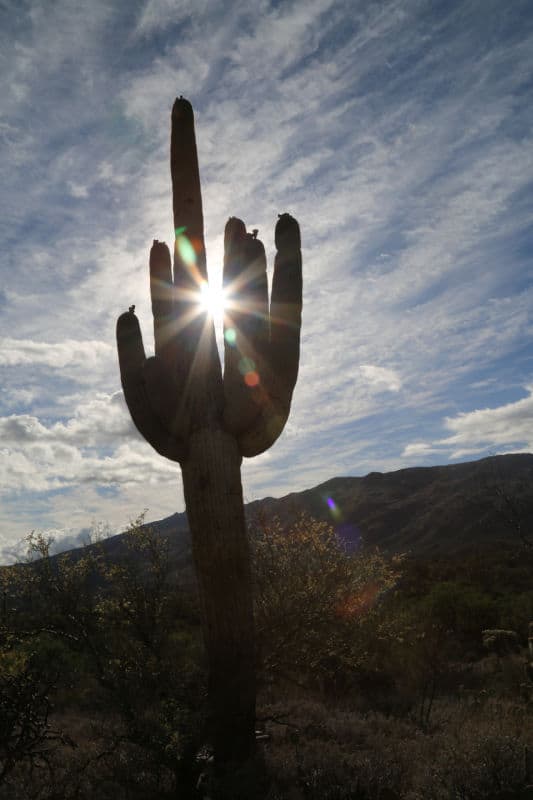 Is Saguaro National Park worth visiting?
While Saguaro may be one of the least-known national parks in the system, it is absolutely worth a visit.
The Sonoran Desert is absolutely beautiful and an incredible place to visit between fall through spring.
If you don't believe me, look at the millions of tourists that flock to areas like Palm Springs, California, Phoenix, Arizona, and Tucson, Arizona in the winter months to this hottest desert region in the US and Mexico.
The giant Saguaro cacti can be found in few other places on earth, and these towering plants can grow up to 50 feet high!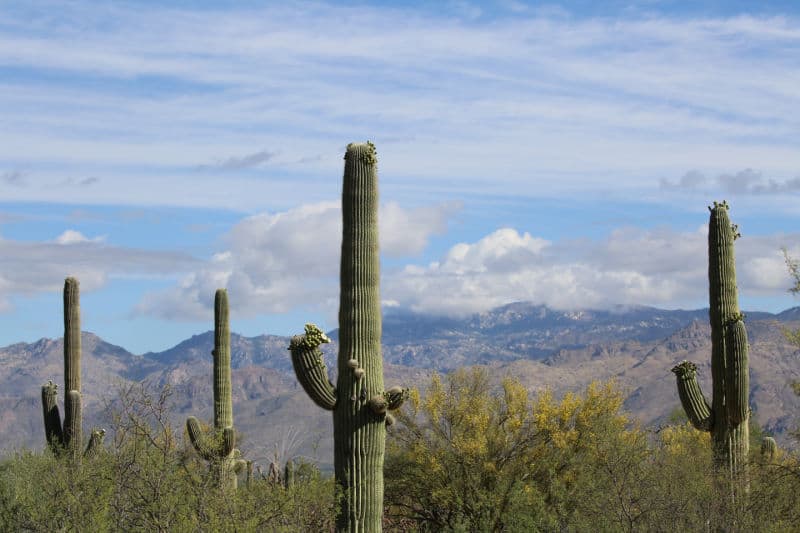 History of Saguaro National Park
When the great Apache leader Geronimo surrendered his people's land in 1886, it marked the end of a bloody chapter in the Tucson Basin (where the park is located).
Since the ceding of this land occurred, the area has seen many peoples come and go.
It has housed farms, homesteads, schools, ranches, mines, and lime kilns, but in 1933 the Civilian Conservation Corps began construction on Saguaro National Park.
The CCC was a public work relief program created under President Roosevelt's New Deal and operated from 1933 to 1942. During this time, 16 national parks were added to the system.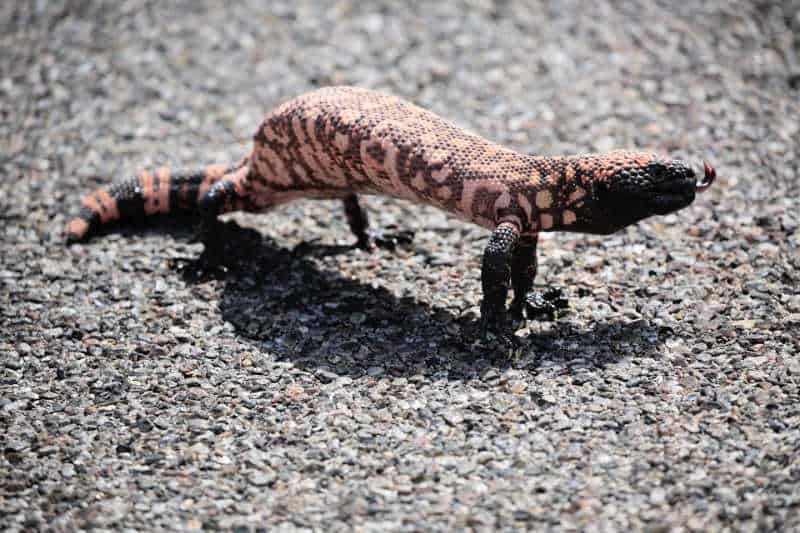 Things to know before your visit to Saguaro National Park
Entrance fee
7-day single-vehicle park pass - $25
7-day individual park pass - $15
7-day motorcycle park pass - $20
Annual Park Pass - $45
Valid for one year through the month of purchase. Admits one private, non-commercial vehicle or its pass holder.
Planning a National Park vacation? America the Beautiful/National Park Pass covers entrance fees for an entire year to all US National Park Sites and over 2,000 Federal Recreation Fee Sites.
The park pass covers everyone in the car for per vehicle sites and for up to 4 adults for per-person sites.
Buy on REI.com and REI will donate 10% of pass proceeds to the National Forest Foundation, National Park Foundation and the U.S. Endowment for Forestry & Communities.
Learn more about National Park Passes for parks that have an entrance fee.
Free Entrance Days -Mark your calendars with the five free entrance days the National Park Service offers annually.
Time Zone
MT - Mountain Time
Arizona does not participate in daylight savings time.
Pets
Pets are only allowed on roadways, and picnic areas except for the Mam-a-Gah picnic area and on paved trails.
Pets must be on a leash less than 6 feet in length.
Cell Service
Cell service is spotty and inconsistent.
Park Hours
The Tucson Mountain District (west) side of the park is open to vehicles from sunrise to sunset 365 days a year.
The Rincon Mountain District (east) side of the park is open to vehicles from 5:00 AM to 8:00 PM during the summer and from 5:00 AM to 6:00 PM during the winter.
Both sides of the park are open for pedestrians and cyclists 24 hours a day.
Wi-Fi
There is no public Wi-Fi in the park.
Insect Repellent
Insect repellent is always a great idea when outdoors, especially if you are around any body of water.
We use Permethrin Spray on our clothes before our park trips.
Water Bottle
Make sure to bring your own water bottle and plenty of water with you. Plastic water bottles are not sold in the park.
Parking
Each of the two visitor centers boasts a large parking lot, and there are some other smaller lots located around the park at various trailheads and lookout points.
Note that there is limited parking for RVs in the Tucson Mountains District (west) and NO RV parking in the Rincon Mountains District (east).
Food/Restaurants
There are no restaurants within the park. There are a ton of restaurants in Tucson.
Gas
There are no gas stations within the park.
Drones
Drones are not permitted within National Park Sites.
National Park Passport Stamps
National Park Passport stamps can be found in the visitor center.
Make sure to bring your National Park Passport Book with you or we like to pack these circle stickers so we don't have to bring our entire book with us.
Saguaro NP is part of the 2003 Passport Stamp Set.
Electric Vehicle Charging
There are 258 public EV charging stations in Tucson, Arizona including 54 DC fast chargers.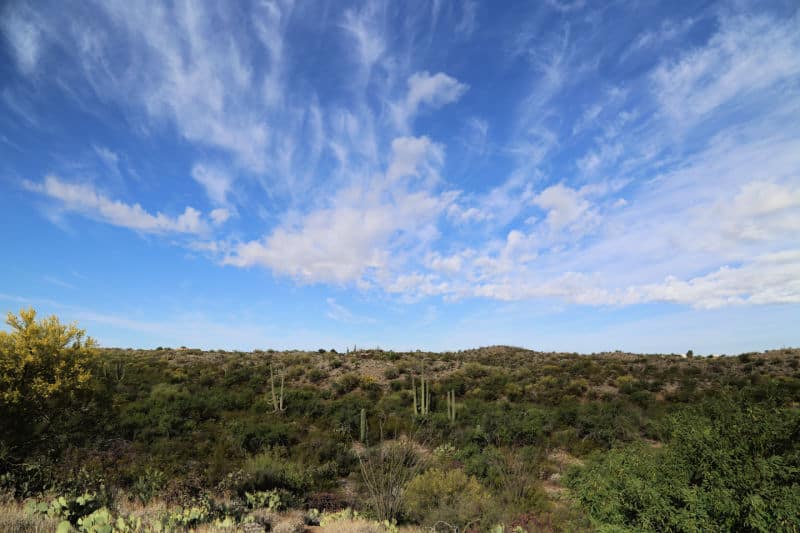 Details about Saguaro National Park
Size - 92,867 acres
Saguaro NP is currently ranked at 41 out of 63 National Parks by Size.
Date Established
March 1, 1933 - Herbert Hoover established Saguaro National Monument.
October 14, 1994 - The park was re-designated a National Park
Visitation
In 2021, Saguaro NP had 1,079,786 park visitors.
In 2020, Saguaro NP had 762,226 park visitors.
In 2019, Saguaro NP had 1,020,226 park visitors.
Learn more about the most visited and least visited National Parks in the US
National Park Address
Tucson Mountain District (west): 2700 N Kinney Rd, Tucson, AZ 85743, United States
Rincon Mountain District (east): 3693 S Old Spanish Trail, Tucson, AZ 85730, United States
Saguaro National Park Map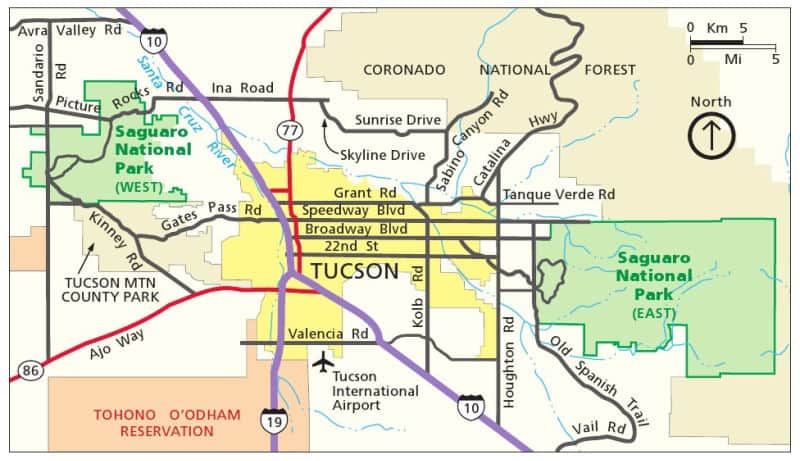 If you are looking for a detailed map check out the National Geographic Trails Illustrated Map for Saguaro NP on Amazon.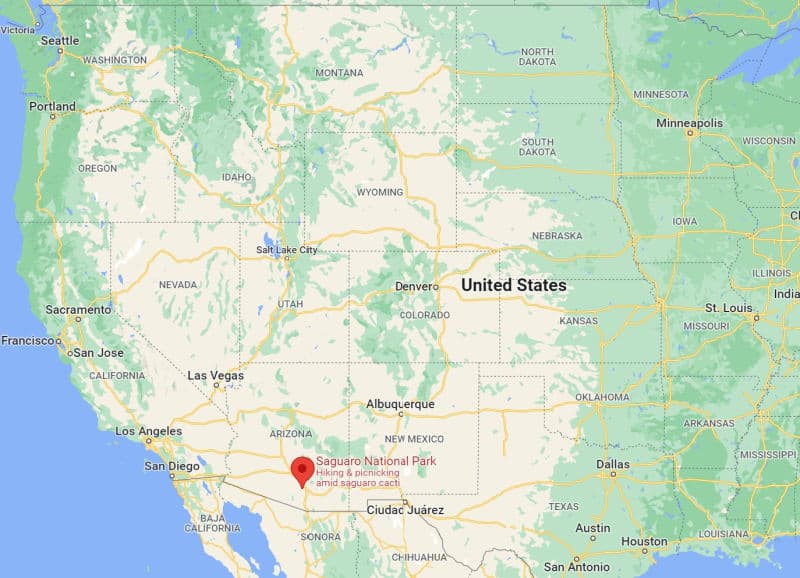 Where is Saguaro National Park?
Saguaro National Park is conveniently located on the outskirts of Tucson, Arizona.
The park is split in half by the city and therefore separated into two different zones: the Tucson Mountain District to the west, and the Rincon Mountain District to the east.
Note that these districts are about an hour's drive from one another.
Estimated distance from major cities nearby
Mileage calculated from the west region of Saguaro NP.
Chandler, AZ - 89 miles
Mesa, AZ - 105 miles
Scottsdale, AZ - 109 miles
Phoenix, AZ - 104 miles
El Paso, TX - 310 miles
Flagstaff, AZ - 248 miles
Albuquerque, NM - 442 miles
Estimated Distance from nearby National Park
Grand Canyon National Park - 336 miles
Petrified Forest National Park - 248 miles
White Sands National Park - 319 miles
Carlsbad Caverns National Park - 452 miles
Mesa Verde National Park - 523 miles
Big Bend National Park - 602 miles
Where is the National Park Visitor Center?
Rincon Mountain Visitor Center (East)
32.180323062020705, -110.73497464954761
Red Hills Visitor Center (West)
32.2548068792692, -111.19670387425981
Getting to Saguaro National Park
Closest Airports
Tucson International Airport (TUS)
International Airports
Phoenix Sky Harbor International Airport (PHX)
Regional Airports
Phoenix-Mesa Gateway Airport (AZA)
Show Low Regional Airport (SOW)
Grant County Airport (SVC)
Prescott Municipal Airport, Ernest A Love Field (PRC)
Driving Directions
Both park entrances are accessible from Interstate 10, running through Tucson.
The Tucson Mountain District (west) is located off Kinney Road.
The Rincon Mountain District (east) is located off of Old Spanish Trail.
Make sure to specify which entrance/district you are traveling to when using Google Maps, or better yet, put the actual address in instead.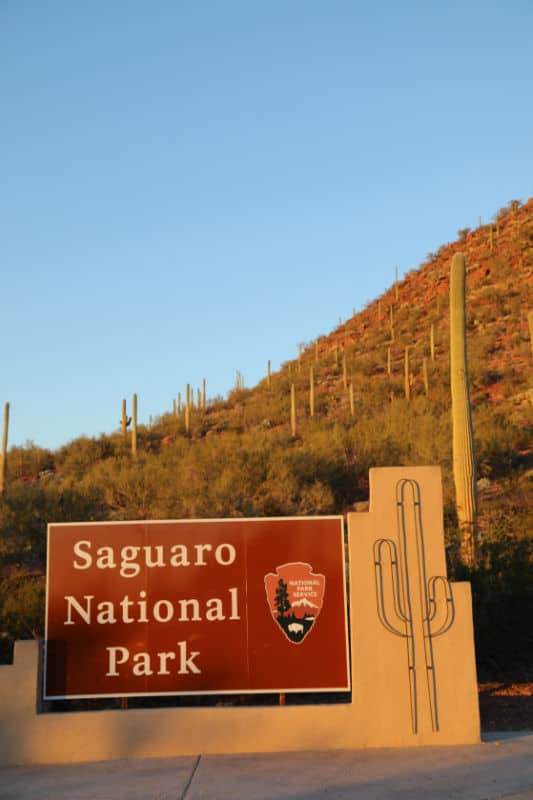 Best time to visit Saguaro National Park
Due to extreme temperatures in the late spring, summer, and early autumn, the best time to visit Saguaro National Park is between November and March.
Not surprisingly, these are also some of the busiest times of the year at the park. Keep reading to learn all about the seasons and how to avoid the crowds.
Weather and Seasons
Spring
Early spring is one of the best times to visit Saguaro National Park. Temperatures range from the low 50s to the high 70s, making conditions mild enough for hiking.
In addition, many park programs and events occur during these months.
Late spring (April in particular) can be a great month to visit if you are hoping to avoid the crowds. While temperatures begin to rise, the crowds thin out, and the famed Saguaro cacti begin to bloom.
Summer
Unlike many other parks in the system, summer is the worst time to visit Saguaro National Park. Temperatures often soar above 110 degrees Fahrenheit, making it hard to enjoy the hiking trails and other points of interest.
If you do visit during the summer months, stick to the scenic drives and crank the AC! If you want to get some hiking in, plan on starting your trek early in the morning and bring plenty of water and sun protection.
Autumn/Fall
Just like the spring, late autumn at Saguaro National Park sees mild temperatures, numerous park programs and activities, and of course, lots of crowds.
The busy season starts in November, so if you want to stay away from large hoards of visitors, consider planning your trip for October.
Temperatures can still be quite high even this late in the year, so be sure to arrive early and bring plenty of water and sun protection if you visit before November.
Winter
Technically, the winter season stretches from late fall to early spring. While temperatures are usually quite tolerable (between 50 and 70 degrees), snowfall is not uncommon at the peak of winter.
Even when the park does get a white dusting, the scenery is still incredible and worth checking out. The winter season also has the most programs and planned activities, in addition to the most crowds.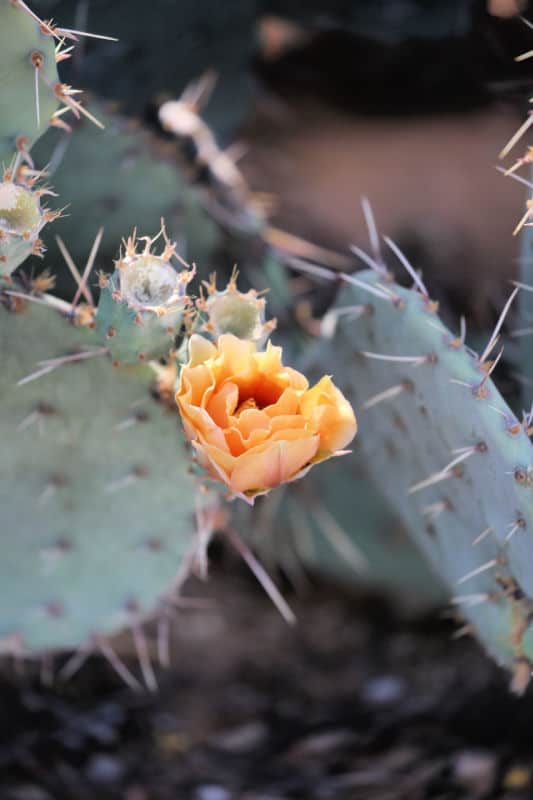 There are quite a few things to do in Saguaro NP depending on how much time you want to spend in the park.
Wildlife viewing
While exploring the park, you may encounter some of its full-time residents. Many of the critters that call the area home are nocturnal, but sightings of spot Roadrunners, horned lizards, kangaroo rats, Gila monsters, or collared peccaries are not uncommon.
If you brought the kids along to Saguaro National Park, be sure to enlist them in the Junior Ranger Program.
This hands-on experience is a fun and interactive way to learn about the park's animals, history, geology, and more. After they complete the program, your young ones will be rewarded with a cool badge to commemorate their time at the park.
Bird Watching
Arizona is a known paradise for bird watchers, and Saguaro National Park, in particular, boasts populations of species seen in a few other places in the country.
Some of these rare species include vermillion flycatchers and whiskered screech owls. As you hike, keep your eyes peeled for roadrunners, Gila woodpeckers, and Gambel's quail.
If you are exploring the park's high elevation areas, you may catch sight of northern goshawks, yellow-eyed juncos, and Mexican jays.
Scenic Drives
One of the best ways to see the park is by driving through it. There is one scenic drive in each district - the Bajada Loop Drive in the Tucson Mountain District and the Cactus Forest Loop Drive in the Rincon Mountain District.
Both loops have a variety of areas to stop off at to enjoy views, hiking trails, and picnic areas, so take your time and stop as frequently as your heart desires.
The Bajada Loop Drive is a 6-mile gravel road that traverses through the park's western foothills. This loop leads past scenic overlooks, various picnic areas, and a variety of trailheads.
While most vehicles can take on this rugged loop, vehicles wider than eight feet and longer than 35 feet are not allowed on the Bajada Loop Drive.
The Cactus Forest Loop Drive is an 8-mile loop that crosses through the park's eastern area, including the Javelina Wash, into the mountains, and back down into lower elevations.
If you have time to stop, be sure to check out the Desert Ecology Trail to see and learn all about the rare Saguaro cacti.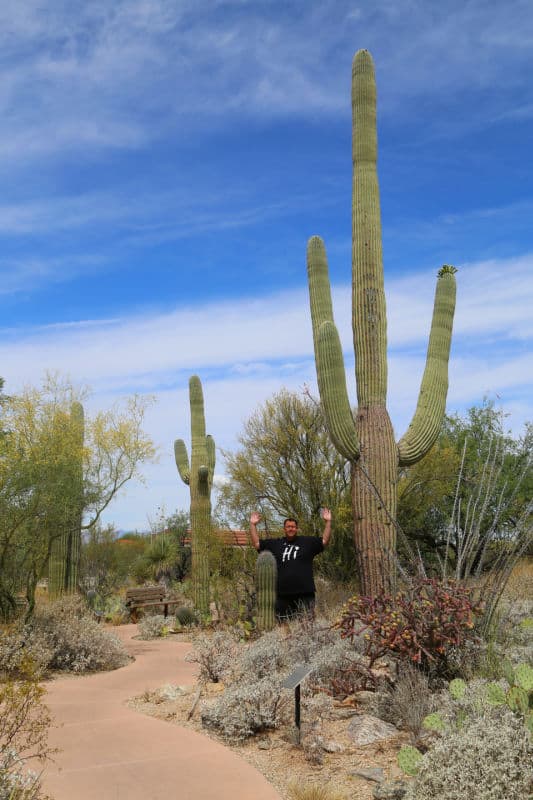 Hiking in Saguaro National Park
Always carry the 10 essentials for outdoor survival when exploring.
Hiking is one of the most popular pastimes at Saguaro National Park, and it's also one of the best ways to see the towering cacti for which the park is named.
Below we've highlighted some of the park's best trails, categorized by district. Happy hiking!
Rincon Mountain District Trails
Desert Ecology Trail - Easy - .3 miles - Loop
This self-guided trail is the only one that allows pets in the Rincon Mountain District. It is also wheelchair accessible.
The trail is located along the Javelina Wash and gives hikers insight into some of the park's most interesting inhabitants.
Freeman Homestead Trail - Easy - 1.1 miles - Loop
This easy loop leads hikers to an old homestead and a grove of massive saguaros. There are also interpretive signs and children's activities located along the loop.
When you get to the arroyo (a dry creek), look to the cliffs overhead and see if you can spot any great horned owls.
Loma Verde and Squeeze Pen Loop - Easy - 3.7 miles - Loop
This is one of the best trails in the park for viewing saguaros. In addition to cacti forests, you may even see a seasonally flowing stream if you visit during the spring or after heavy rainfall.
Garwood Dam and Wildhorse Tank - Moderate - 6.4 miles - Loop
Combining these two trails with others will form a loop, allowing you to see a large section of the Rincon Mountain District.
The main highlight of this loop is the Garwood Dam, which dates back to the 1950s. You will also trek past a large cactus forest and Little Wildhorse Tank, which is one of the only perennial sources of water in the park.
Hope Camp Trail - Moderate - 6.5 miles - Out & Back
This trail takes hikers on a tour of an old ranch road to two abandoned cowboy camps with sweeping views across Box Canyon. During the rainy season, you will even see waterfalls cascading down from the canyon.
Tucson Mountain District Trails
Desert Discovery Nature Trail - Easy - .4 miles - Loop
This short interpretive trail is located near the Red Hills Visitor Center. The route is short, sweet, and accessible.
Valley View Overlook Trail - Easy - .8 miles - Out & Back
This short trail leads to a beautiful viewpoint overlooking a valley full of Saguaro cacti. If you want an easy trek with a great payoff, this is the hike for you.
Wild Dog Trail - Easy - 1.9 miles - Out & Back
Continue along the Valley View Overlook Trail to access the Wild Dog trailhead.
This extra mileage will lead you to the Signal Hill picnic area, where you can look for ancient petroglyphs carved into the rocks by Native Americans about 800 years ago.
Packrat and Passey Loop Trail - Easy - 2.9 miles - Loop
This nearly three-mile loop begins at the northern edge of the park and is a flat and easy hike. Park at the lot off Iron Ridge Drive and arrive early to ensure you'll snag a spot.
Sendero Esperanza Trail - Moderate - 5 miles - Out & Back
For some of the best views in the park, scale the Sendero Esperanza Trail. You will have to work for this exceptional vantage point, but you won't mind the leg burn once you set sight on the panoramic desert views from the top.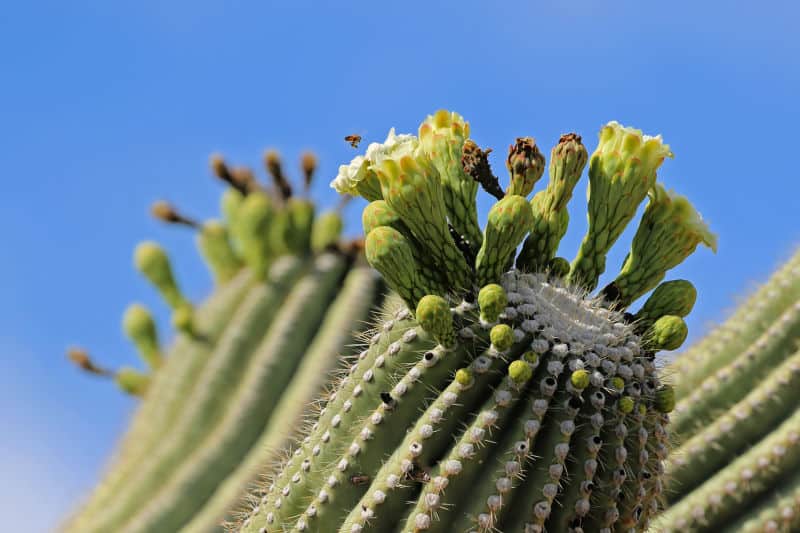 How to beat the crowds in Saguaro National Park?
Although Saguaro National Park may not be the busiest, the limited parking spaces available makes avoiding crowds extremely important.
Park officials encourage visitors to arrive before 10 AM or after 3 PM to avoid the busiest times of the day. Smaller crowds and early morning hikes or evening sunsets are certainly a win-win in our book!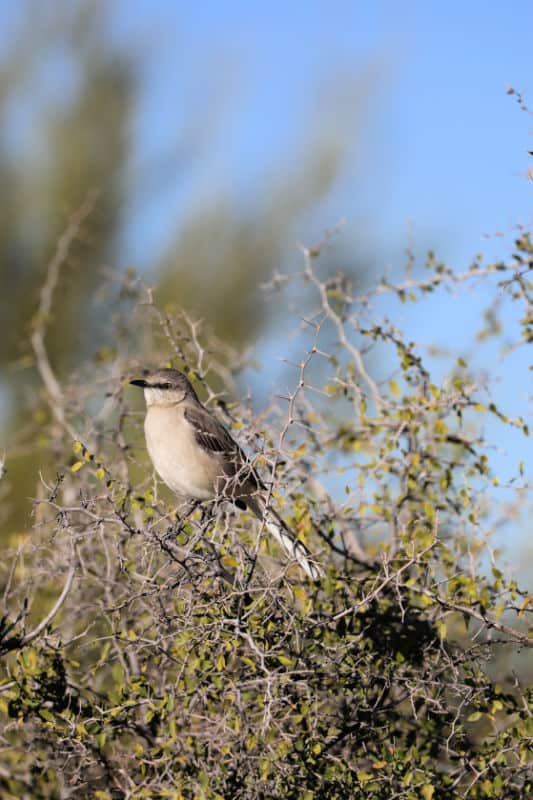 Where to stay when visiting Saguaro National Park
There are tons of accommodation options in the city of Tucson, and most of them are located less than a half-hour away from either entrance.
There are options for every budget, including motels, hotels (chain and boutique), vacation rentals, and even a few resorts.
Tanque Verde Ranch - Take advantage of a free breakfast buffet, a roundtrip airport shuttle, and a rooftop terrace at Tanque Verde Ranch. Indulge in aromatherapy, a massage, and a body scrub at La Sonora Spa, the onsite spa. Enjoy American cuisine and more at the two onsite restaurants. Yoga classes are offered at the 24-hour gym; other things to do include fishing, mountain biking, and horseback riding. Stay connected with free in-room Wi-Fi, and guests can find other amenities such as a garden and a playground.
Hilton Tucson East - Take advantage of a coffee shop/café, dry cleaning/laundry services, and a bar at Hilton Tucson East. The onsite fine-dining restaurant, Alloro D.O.C, features pool views and brunch. In addition to a 24-hour gym and a business center, guests can connect to free in-room Wi-Fi.
Hampton Inn & Suites Tucson East - At Hampton Inn & Suites Tucson East/Williams Center, you can look forward to a free breakfast buffet, a terrace, and dry cleaning/laundry services. In addition to a fireplace in the lobby and a gym, guests can connect to free in-room Wi-Fi.
TownePlace Suites Tucson - This smoke-free aparthotel features an outdoor pool, a 24-hour fitness center, and a 24-hour business center. Free full breakfast, free Wi-Fi in public areas, and free self parking are also provided. Other amenities include coffee/tea in a common area, dry cleaning, and laundry facilities. Each apartment provides a kitchenette with a refrigerator, a stovetop, a microwave, and a dishwasher. For a bit of entertainment, guests will find an LCD TV with digital channels and Netflix, and other amenities include free Wi-Fi and premium bedding.
Click on the map below to see current rates for hotels and vacation rentals near Saguaro NP!


Saguaro
NP Camping
There is no car/RV camping at Saguaro National Park.
For a fun adventure check out Escape Campervans. These campervans have built in beds, kitchen area with refrigerators, and more. You can have them fully set up with kitchen supplies, bedding, and other fun extras. They are painted with epic designs you can't miss!
Escape Campervans has offices in Vancouver, Seattle, Portland, San Francisco, Las Vegas, Los Angeles, Phoenix, Salt Lake City, Denver, Chicago, New York, and Orlando
Here are some of the nearby campgrounds:
Sentinel Peak RV Park - Tucson, AZ
This campground offers RV Sites
Miracle RV Resort - Tucson, AZ
This campground offers RV Sites, laundry and a clubhouse.
Silverado RV Resort (55+ over) - Eloy, AZ
This campground offers RV sites, a pool, dog park, and more.
Check out additional campgrounds nearby on CampSpot.
Backcountry Camping
6 designated campgrounds within the Saguaro Wilderness Area, a permit is required for all overnight stays.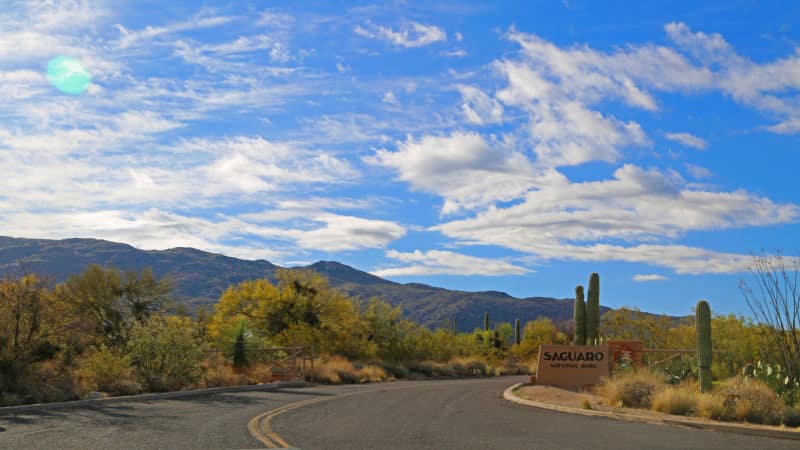 Parks Near Saguaro National Park
Tumacacori National Historical Park
Organ Pipe Cactus National Monument
Fort Bowie National Historic Site
Check out all of the National Parks in Arizona along with neighboring National Parks in California, National Parks in Colorado, National Parks in Nevada, New Mexico National Parks, and Utah National Parks