Carlsbad Caverns National Park in New Mexico is home to one of the most impressive cave systems in the world.
Below you'll find the ultimate guide to the park, including info about cave tours, other things to do, the park's history, how to get there, when to visit, and so much more.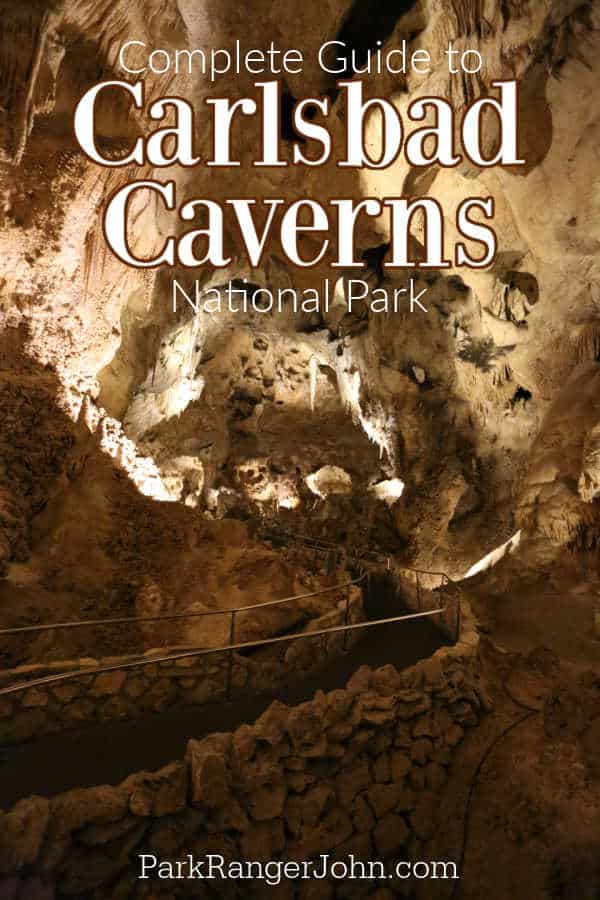 Carlsbad Caverns National Park
Carlsbad Caverns NP includes high ancient sea ledges, deep caverns and caves, rocky canyons, desert wildlife, and so much more.
Scientific expeditions continue to research the cave system. The National Park's primary caves include Carlsbad and Lechuguilla.
Lechuguilla Cave includes the largest accumulation of Gypsum Chandeliers some of which are more than 18 feet in length.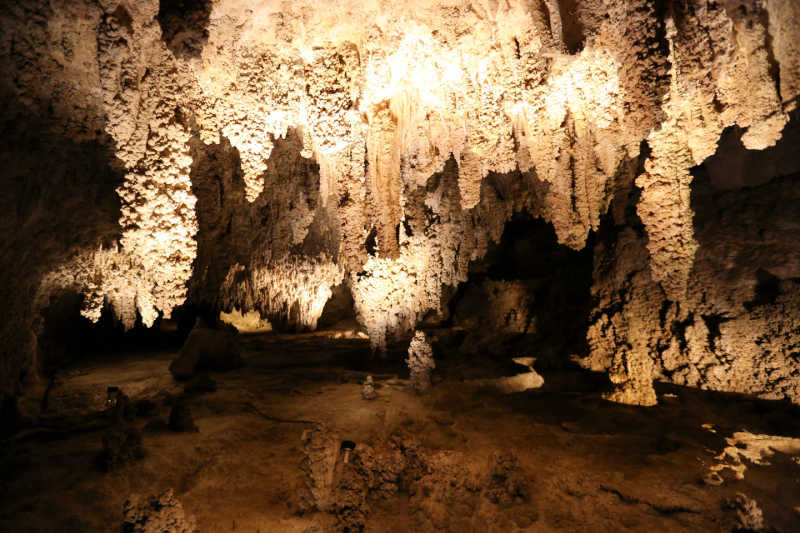 About Carlsbad Caverns National Park
Named for the impressive cave system that it houses, Carlsbad Caverns National Park is an absolute diamond in the rough.
The extensive cave system features mystical formations that took millions of years to form, including stalactites, stalagmites, draperies, soda straws, cave popcorn, rare speleothems, and more.
Of course, no visit to the park is complete without experiencing the caves, and you can do so on a self-guided or ranger-led tour.
There is also a fantastic bat flight program, incredible night skies, and a junior ranger program for the youngsters.
Keep reading to discover everything you need to know about planning a trip to Carlsbad Caverns National Park.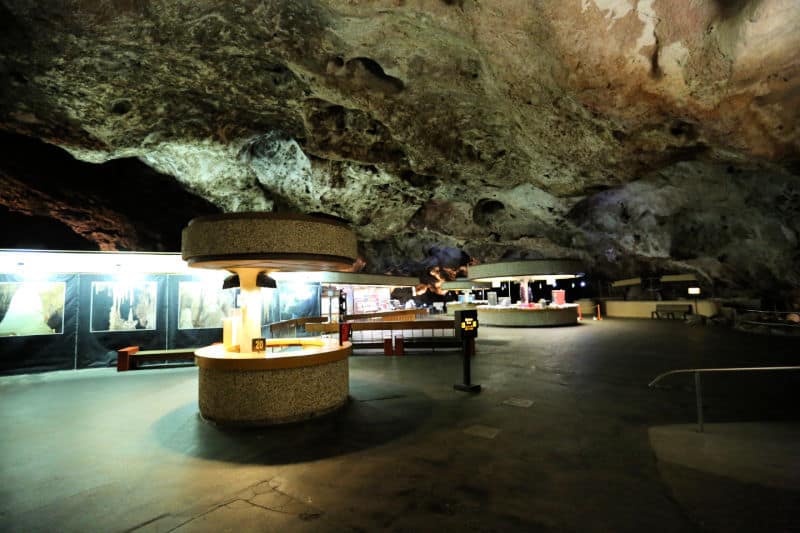 Is Carlsbad Caverns National Park worth visiting?
Although it is a bit off the beaten path, Carlsbad Caverns NP is absolutely worth a visit. You can even pair it with the nearby Guadalupe Mountains NP and White Sands NP and make this a great National Park Road Trip!
History of Carlsbad Caverns National Park
The history of Carlsbad Caverns National Park dates back millions of years, but the human history of this incredible area can be traced back to 1898 when Jim White discovered the caves.
The caverns were then explored extensively for years, and in 1923 the system was dubbed a National Monument.
In 1930, the area was upgraded to a National Park, and improvements have been made to the cave over the years including an elevator, walking paths, and lighting.
Limestone Caves are created when surface water flows down through cracks and slowly enlarges the passageways. An unusual ingredient that helped create Carlsbad Caverns is Sulfuric Acid.
How did Carlsbad Caverns get discovered?
It is believed that in 1898 16-year-old Jim Larkin White a Texas born cowhand entered the caverns for the first time.
The first person to find the entrance to the caverns is still disputed.
Jim White helped the General Land Office survey and map the caverns from April 6 to May 8th, 1923.
The caverns were photographed by Ray V. Davis. They recommended the establishment as a National Monument along with Robert Holley from the General Land Office.
Things to know before your visit to Carlsbad Caverns National Park
Carlsbad Caverns Tickets/Reservations Required
Reservations are required to enter the Cavern! Reservations have to be purchased PRIOR to visiting the park.
There are no reservations made in the park. Reservations must be purchased online or by calling 877-444-6777.
Once you arrive at the park for your entry time you will need to purchase a ticket.
Entrance fee
$15 - adults 16 and over
Free - Kids under the age of 15
Planning a National Park vacation? America the Beautiful/National Park Pass covers entrance fees for an entire year to all US National Park Sites and over 2,000 Federal Recreation Fee Sites.
The park pass covers everyone in the car for per vehicle sites and for up to 4 adults for per-person sites.
Buy on REI.com and REI will donate 10% of pass proceeds to the National Forest Foundation, National Park Foundation and the U.S. Endowment for Forestry & Communities.
Free Entrance Days -Mark your calendars with the five free entrance days the National Park Service offers annually.
Time Zone
Mountain Time
Pets
Pets are not allowed in the cavern, on unpaved trails, off road, during the bat flight program, and/or in the visitor center.
Pets must be on a leash less than 6 feet in length. Pets can not be left in vehicles and will need to be kenneled while in the park.
There is a kennel in the park run by Carlsbad Caverns Trading Company. They are day use only for $10.
Owners must provide proof of rabies vaccination with an expiration date when boarding their pet.
The kennel is open from 8 am to 3:30pm.
There are three sizes of cages, length x height x width:
49" x 37" x 44"
47" x 24" x 32"
47" x 24" x 24"
Pets are provided with water. Owners can bring bedding and food if desired.
Cell Service
Cell phone service is limited in the park.
Park Hours
Visitor Center - 8 am to 5 pm
Last Cavern ticket sold - 2:15 pm
Last Cavern Entrance - 2:30 pm
Last elevator out of the cavern - 4:45 pm
The park is open every day, except Thanksgiving, Christmas, and New Year's days, weather and road conditions permitting.
Wi-Fi
There is no public Wi-Fi in the park.
Insect Repellent
Insect repellent is always a great idea when outdoors, especially if you are around any body of water.
We use Permethrin Spray on our clothes before our park trips.
Water Bottle
Make sure to bring your own water bottle and plenty of water with you. Plastic water bottles are not sold in the park.
Parking
There are two parking lots available at the visitor center.
If you are driving or towing an RV, or driving a bus, pull into the first parking lot at the visitor center on your left and drive to the rear of the lot for RV/bus parking.
Food/Restaurants
Carlsbad Caverns Trading Company has a restaurant with limited food and drink options.
They are located within the visitor center complex.
While in the cavern there is a small snack bar open Friday, Saturday, and Sundays.
Gas
There are no gas stations within the park.
Drones
Drones are not permitted within National Park Sites.
National Park Passport Stamps
National Park Passport stamps can be found in the visitor center.
Make sure to bring your National Park Passport Book with you or we like to pack these circle stickers so we don't have to bring our entire book with us.
Carlsbad Caverns NP is part of the 1995 Passport Stamp Set.
Electric Vehicle Charging
There are EV Charging Stations in Whites City, Artesia, and Carlsbad.
These charging stations may be within campgrounds. There is also an EV Charging stations near the McDonald's in Carlsbad.
Accessibility
The park offers accessible parking, dining, picnicking, and visitor center services.
You can access the Big Room Trail inside the cavern via elevator, which is the only accessible area. Note that this trail is slippery, bumpy, and uneven, making it difficult to navigate.
For this reason, it is not ADA approved and should not be attempted without assistance.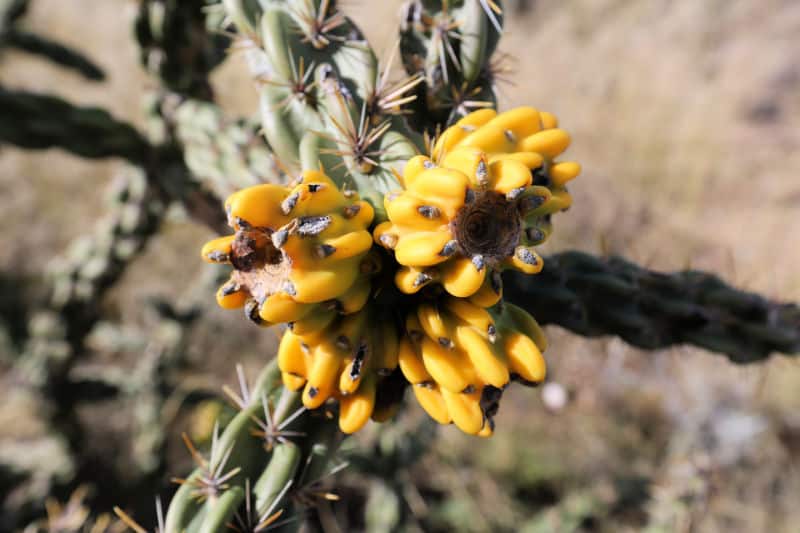 Details about Carlsbad Caverns National Park
Size - 46,766 acres
Carlsbad Caverns NP is currently ranked at 51 out of 63 National Parks by Size.
Date Established
October 25, 1923 - Established as a US National Monument
May 14, 1930 - Redesignated as Carlsbad Caverns National Park
December 1995 - The park was designated a UNESCO World Heritage Site.
Visitation
In 2021, Carlsbad Caverns NP had 341,244 park visitors.
In 2020, Carlsbad Caverns NP had 183,835 park visitors.
In 2019, Carlsbad Caverns NP had 440,691 park visitors.
Learn more about the most visited and least visited National Parks in the US
National Park Address
727 Carlsbad Caverns Highway
Carlsbad, NM 88220
GPS Coordinates - Longitude: 104.445855° W
Latitude: 32.174212° N
Carlsbad Caverns Map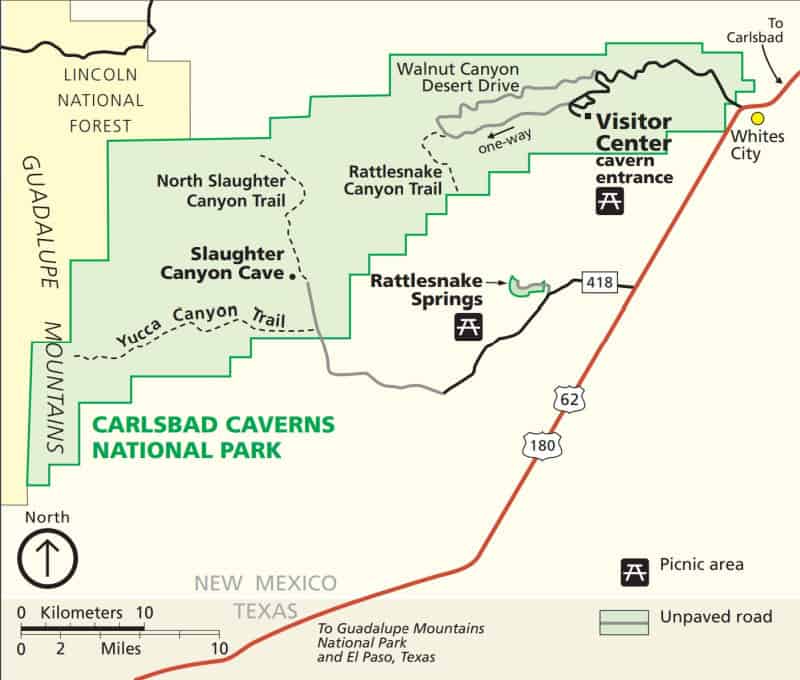 For a more detailed map, we like to use the National Geographic Trails Illustrated Maps available on Amazon.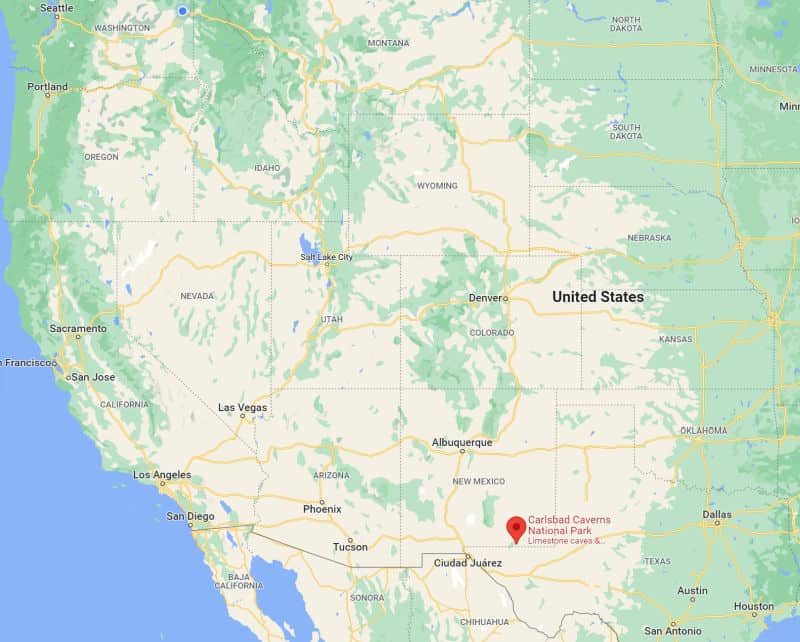 Where is Carlsbad Caverns National Park?
Carlsbad Caverns National Park is located in southeastern New Mexico near the Texas border. The park's location in the Chihuahuan Desert is somewhat remote and far from any major cities, but the effort it takes to get here is well worth it.
Estimated distance to Carlsbad Caverns from major cities nearby
Roswell, NM - 103 miles
El Paso, TX - 149 miles
Las Cruces, NM - 197 miles
Lubbock, TX - 198 miles
Albuquerque, NM - 302 miles
Amarillo, TX - 329 miles
San Antonio, TX - 455 miles
Tucson, AZ - 459 miles
Fort Worth, TX - 446 miles
San Antonio, TX - 461 miles
Austin, TX - 480 miles
Dallas, TX - 500 miles
Denver, CO - 626 miles
Estimated Distance from nearby National Park
Guadalupe Mountains National Park - 32 miles
White Sands National Park - 181 miles
Big Bend National Park - 242 miles
Saguaro National Park - 451 miles
Great Sand Dunes National Park - 464 miles
Grand Canyon National Park - 713 miles
Where is the National Park Visitor Center?
Carlsbad Caverns National Park Visitor Center
727 Carlsbad Cavern Hwy, Carlsbad, NM 88220, United States
32.1765345652798, -104.44277377840842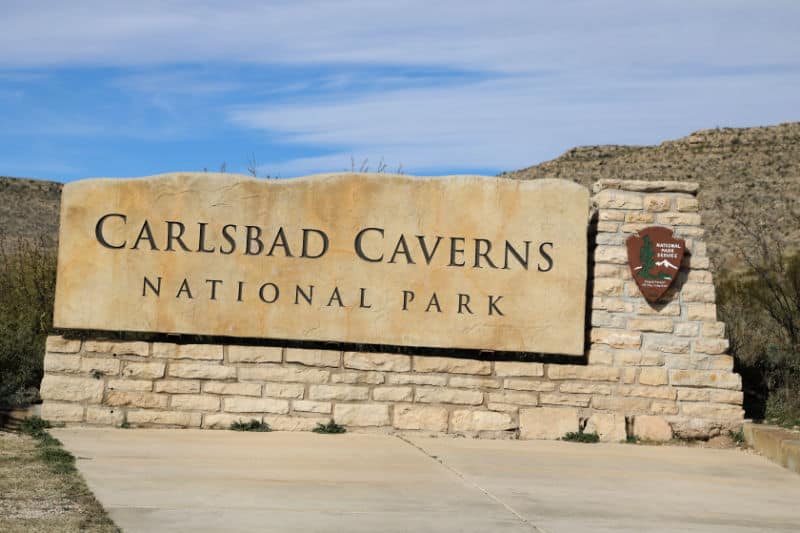 Getting to Carlsbad Caverns National Park
Closest Airports
Cavern City Air Terminal (CNM)
International Airports
El Paso International Airport (ELP)
Albuquerque International Sunport (ABQ)
Regional Airports
Artesia Municipal Airport (ATS)
Lea County Regional Airport (HOB)
Roswell International Air Center (ROW)
Midland International Airport (MAF)
Driving Directions
To access Carlsbad Caverns National Park's only entrance road, Carlsbad Caverns Highway, turn north from US Hwy 62/180 at White's City, New Mexico—20 miles (32 km) southwest of Carlsbad, New Mexico and 145 miles (233 km) northeast of El Paso, Texas.
The entrance road stretches a scenic seven miles (11 km) from the park gate at White's City to the visitor center and cavern entrance.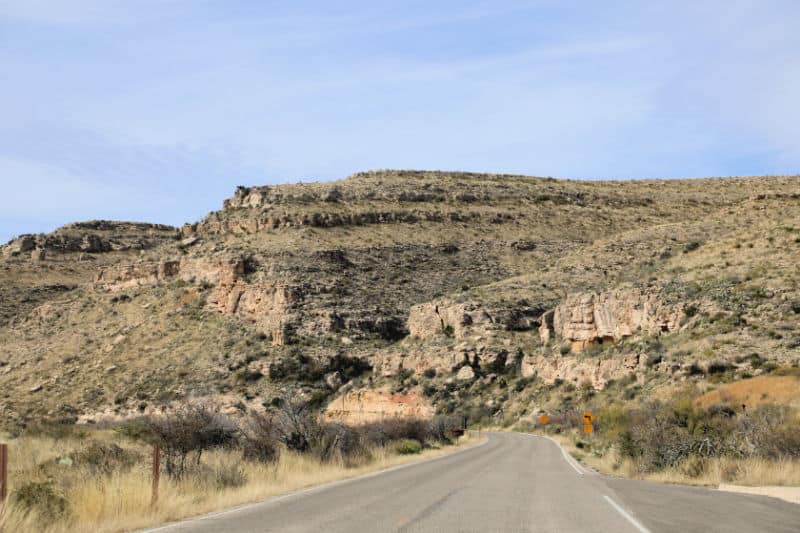 Best time to visit Carlsbad Caverns National Park
The park is open year-round, and the busiest time of year is between Memorial Day and Labor Day. However, that doesn't mean it's better to visit during these months.
The caves hover around a constant temperature of 56 degrees, so no matter what time of year you visit, you can count on a mild climate while underground.
That being said, there are more ranger tours available in the summer months, and if you're hoping to see the incredible bat flight, be sure to visit between early spring and October before the bats fly south for the winter.
Weather and Seasons
Spring
Spring is a lovely time to visit the park, and sunny days abound. Temperatures are mild and much more tolerable than summer months, though windy conditions are also common in the early spring.
Summer
Summers in the park is hot - this is a desert, after all! Highs can soar past 100 degrees Fahrenheit during these months, so bring lots of water and sun protection if you plan on spending any time outside of the caves.
Autumn/Fall
Fall is a great time to visit if you're hoping to escape the crowds and the heat. However, note that rain is common from late August into early fall.
Winter
Winter does get cold out in the desert, and occasionally there is even snowfall and icy conditions - so plan accordingly. The best part about visiting in the winter is that the park is nearly deserted, though there are fewer guided tours, and you'll miss out on the Bat Flight Program.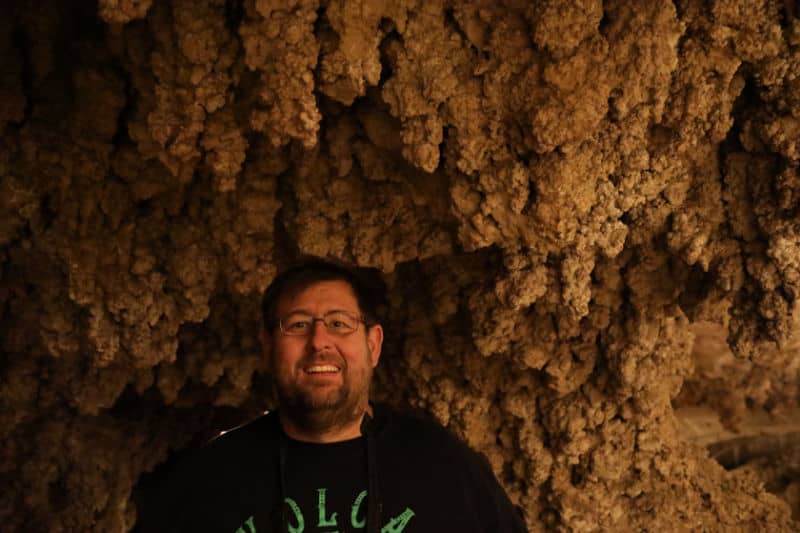 One of the top things to do in Carlsbad Caverns NP is exploring the cavern.
If you are wondering how much time to spend, it really is going to depend on how much time you want to spend deep underground.
We suggest planning at minimum a half a day for exploring the cave and making sure you have time for photos and to learn more about the cave system.
Going into the Cavern
The cavern itself is the main draw to Carlsbad Caverns National Park. You can choose to take the self-guided tour "choose your own adventure" through the main cavern, or explore deeper into the cave with a ranger-led tour.
Many of the ranger-led tours require advanced reservations, and tickets sell out fast, so be sure to book well in advance if you hope to snag a spot.
Self Guided tours include:
Natural Entrance
The best way to start exploring the caverns is by going through the Natural Entrance. First, you'll descend about 79 stories (1.2 miles) into the dark entrance of the cave.
Once inside, it may take a minute or two for your eyes to adjust, but there are lights and guard rails to assist you. Once you have acclimated to the dim lighting, you'll be able to see the incredible cave formations that surround you.
From here, you'll continue into the Big Room, where you can ascend back to the surface via elevator or continue your cave exploration journey.
The Big Room
The Big Room is the most popular area in the cave system. You can access this room via the Natural Entrance Trail (about 1.25 miles), or by taking the elevator from the Visitor Center.
The Big Room is the deepest spot in the main cave and features a 1.25-mile trail that leads you past the cavern's main attractions.
These cave formations are some of the most magnificent in the entire world, and some of the most popular viewpoints include the Temple of the Sun, the Caveman, Crystal Spring Dome, and the Chinese Theater.
The Big Room is the largest chamber in North America and the thirty-first largest in the world.
Park Ranger Guided Carlsbad Caverns Tours
For a more in-depth look at the caverns, you'll need to book a ranger-guided tour. While tours are offered year-round, the widest selection is available during the summer months.
Ranger Guided tours are booked through recreation.gov, tour fees are collected when making a reservation.
Lower Cave
This tour allows you to descend deeper into the cave and see more of the incredible formations. You will be required to wear a headlamp, helmet, and gloves, which are included in the price of the tour.
Note that this tour involves descending down a 60-foot ladder and abseiling down a steep section. This tour usually takes around three hours to complete.
Left-Hand Tunnel
This tour gives you a look into the past and allows you to explore undeveloped parts of the cave the same way as one of its founders - with nothing but a lantern! This tour usually takes around two hours to complete.
King's Palace
This tour is one of the most popular at the park. You'll be led to the deepest section of the cave available to the public, which features some of the most ornate cave formations across four different chambers.
Rangers also ask visitors to turn off all sources of lights for a brief moment so you can see what the cave looks like in its natural form - pure darkness! This tour usually takes around an hour and a half to complete.
Slaughter Canyon Cave
This tour is the longest and most remote tour available at the park. You'll start by caravanning from the visitor center to another one of the cave's natural entrances before descending into the cavern.
The highlight of this tour is the massive columns in this part of the cave, which are amongst the world's tallest! This tour usually takes around five and a half hours to complete.
Hall of the White Giant
This tour is for the real adventurers. Those who are brave enough (read - not afraid of extremely tight spaces) will have the chance to get down and dirty as they make their way through some small crevices and narrow passageways. This tour usually takes around four hours to complete.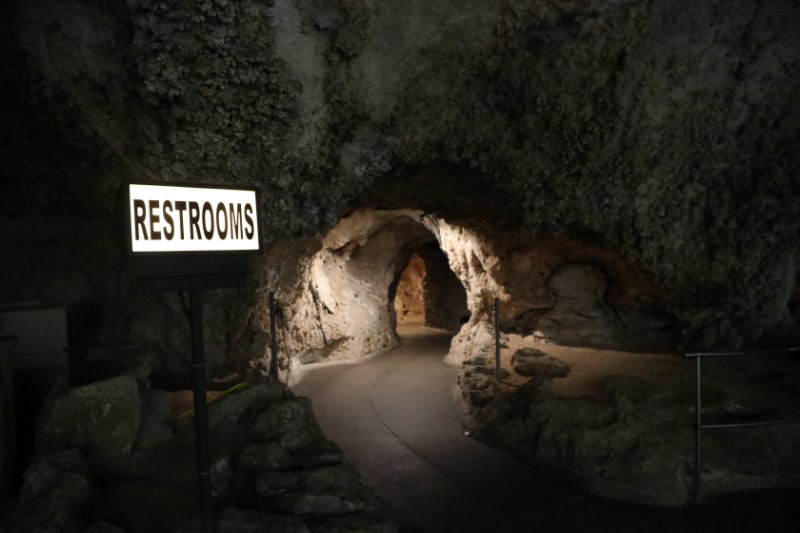 Carlsbad Caverns Restrooms
Let's be honest, where else will you have the chance to use a bathroom located 755 feet below the surface of the earth?
Carlsbad Caverns Bat Flight Program
The Bat Flight Program is another not to be missed attraction at Carlsbad Caverns NP. Each night between early spring and mid-October, visitors have the chance to see anywhere from 200,000 to 500,000 bats exiting the cave on their way to their nightly hunt.
While it may seem a bit eerie, it's actually an incredible sight, and you'll be a safe distance away from the cave entrance.
This event is free and takes place at the bat flight amphitheater outside of the Natural Entrance. The time changes throughout the season to correspond with the flight, so be sure to stop by the Visitor Center to check the current schedule.
The park is often referred to as the bat cave.
If you brought the kids along on your trip to Carlsbad Caverns National Park, be sure to enroll them in the Junior Ranger Program.
This is a fun and hands-on way to learn more about the park's history, geology, and more. Once your youngsters complete the program, they'll even receive a cool badge to commemorate their visit.
Bird / Desert Wildlife Watching
In addition to the bats, the park is home to a wide variety of wildlife. There are 67 species of mammals living in the park, some of which are commonly seen and some of which are more elusive.
Of course, the bats are the most famous, but you might also spot mule deer, Barbary sheep, eastern fox squirrel, and ringtails as you meander through the park.
Nearly 400 species of birds have been observed in the park. Some are full-time residents, while others use the area as a seasonal breeding ground. As you walk the trails, keep your eyes peeled for Ladder-backed woodpeckers, cactus wren, bell's vireo, and more.
Night Sky Program
If you stick around the park past sunset, you'll be treated to some stunning night skies. Thanks to its remote location, Carlsbad Caverns National Park is free from light pollution, making the night sky truly come alive.
The park offers a series of programs to observe the night sky, including moon hikes, star walks, meteor shower viewings, and telescope programs. Check-in at the Visitor Center to see what's happening during your visit.
Rattlesnake Springs Historic District Picnic Area
This lush oasis in the desert includes a large grove of cottonwood trees and a natural spring. It is a great place to enjoy a picnic and birdwatching.
The picnic area has shaded picnic tables, cooking grills, garbage cans, and pit toilets.
Swimming is not allowed in the spring.
Rattlesnake Springs Historic District is listed on the National Register of Historic Places along with the Cavern Historic District.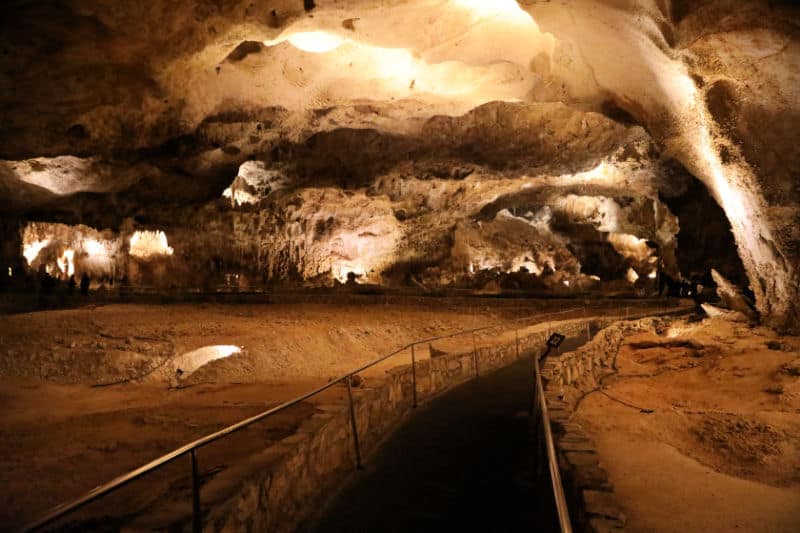 Hiking in Carlsbad Caverns National Park National Park
Always carry the 10 essentials for outdoor survival when exploring.
While most visitors stick to the cave when they visit Carlsbad Caverns National Park, there is plenty to explore above ground as well.
Hikers can traverse miles of trails through the Chihuahuan Desert and the Guadalupe Mountains during their time at the park - just be sure you are prepared for desert hiking!
Bring plenty of water and sun protection along for your hike, especially if you are hitting the trails in the hot summer months.
Below we've outlined some of the best trails along the park's surface. Happy hiking!
Yucca Canyon Trail - Moderate - 3.8 miles - Out & Back
While much of the park is about discovering what's under the surface, hiking the Yucca Canyon Trail will give you a panoramic view of the area from up high. The epic views come with an elevation gain of around 1,500 feet, so be prepared to feel the burn. Hikers should also note that there is very little shade along this route, so sun protection and lots of water are essential for tackling this trail.
North Slaughter Canyon Trail - Moderate - 11.2 miles - Out & Back
This long trek takes you over a dry, rocky river bed, and up to Guadalupe Ridge. You'll need to work for the views but rest assured they are well worth the effort. Pants are recommended along this route due to the Catclaw Acacia plants that grow along the trail.
Rattlesnake Canyon Trail - Moderate - 5.4 miles - Out & Back
This trail leads you through the lovely Rattlesnake Canyon and offers up-close views of desert shrubbery and mountainous scenery. Be sure to follow the cairns as you descend into the canyon as the path is not well marked. Pants are also a good idea along this route due to the thorny shrubs that intersect sections of the trail.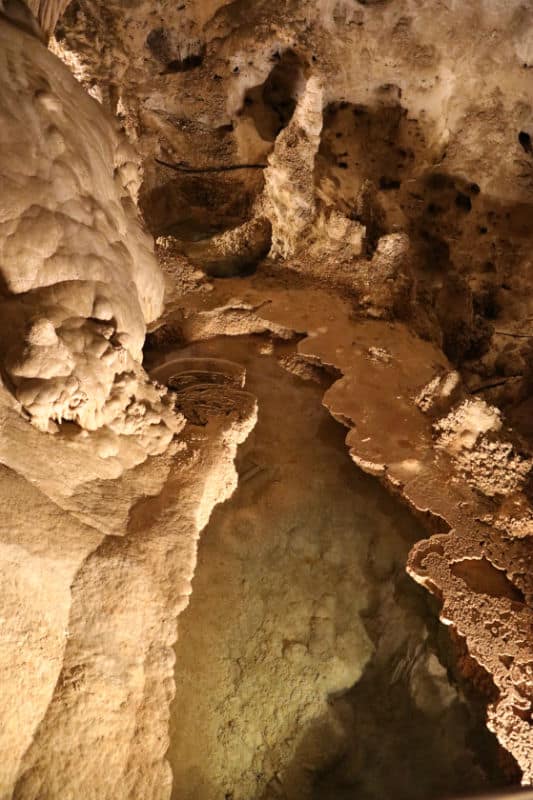 How to beat the crowds in Carlsbad Caverns National Park NP?
If you want to beat the crowds, consider visiting Carlsbad Caverns in the off-season. Winter is the least crowded time of year at the park, and while you won't be able to see the bat flights and ranger-led tours are limited, there are significantly fewer people wandering around the caves during these months.
In addition, the cave sits consistently at 56 degrees all year, so the experience will be very similar no matter what month you are visiting the park.
Another way to avoid the crowds is by exploring some of the surface-level attractions at Carlsbad Caverns National Park. Trails are often empty even in peak season, so be sure not to miss the above-ground attractions while you're here - especially if you're searching for solitude!
Where to stay when visiting Carlsbad Caverns National Park
There are no National Park Lodges within the park.
The closest lodging can be found in Carlsbad, New Mexico about 20 miles from the park.
Hotels near Carlsbad Caverns include:
White's City Cavern Inn - White's City Cavern Inn provides amenities like free continental breakfast and a restaurant. Guests can connect to free in-room Wi-Fi.
Quality Inn And Suites - A free breakfast buffet, a terrace, and a garden are just a few of the amenities provided at Quality Inn And Suites. Stay connected with free in-room Wi-Fi, and guests can find other amenities such as laundry facilities and a 24-hour gym.
La Quinta Inn & Suites by Wyndham - Take advantage of a free breakfast buffet, laundry facilities, and a fireplace in the lobby at La Quinta Inn & Suites by Wyndham Carlsbad. Stay connected with free in-room Wi-Fi, and guests can find other amenities such as a gym and a business center.
Hyatt House Carlsbad - free daily manager's reception, dry cleaning/laundry services, and a 24-hour gym at Hyatt House Carlsbad. In addition to a restaurant, guests can connect to free Wi-Fi in public areas.
Fairfield Inn & Suites by Marriott Carlsbad - Free to-go breakfast, laundry facilities, and a 24-hour gym at Fairfield Inn & Suites by Marriott Carlsbad. In addition to a 24-hour business center, guests can connect to free in-room Wi-Fi.
Click on the map below for additional vacation rentals and hotel options.
Carlsbad Caverns Camping
There are no established campgrounds within Carlsbad Caverns NP. Primitive camping is allowed in the backcountry only.
A free permit is required for backcountry camping and can be picked up at the visitor center.
The permits are not reservable in advance.
Backcountry camping is only allowed west of Rattlesnake Canyon trailhead off the Desert Scenic Loop Road and south of the Guadalupe Ridge Trail to the park boundary for approximately two miles, after which camping is allowed both north and south of the trail.
For a fun adventure check out Escape Campervans. These campervans have built in beds, kitchen area with refrigerators, and more. You can have them fully set up with kitchen supplies, bedding, and other fun extras. They are painted with epic designs you can't miss!
Escape Campervans has offices in Vancouver, Seattle, Portland, San Francisco, Las Vegas, Los Angeles, Phoenix, Salt Lake City, Denver, Chicago, New York, and Orlando
Camping near Carlsbad Caverns
The Camp at Cloudcroft RV Park - Mayhill, New Mexico
This campground offers Lodging, RV, and Tent Sites along with fishing, outdoor theater, and special events.
Zia RVillas RV Resort - Hobbs, New Mexico
This campground offers RV Sites along with a pool, cable tv, laundry, and more.
River Ranch RV Park - Ruidoso Downs, New Mexico
This campground offers RV Sites along with a waterfront, dog park, fishing, and more.
Check out additional campgrounds on CampSpot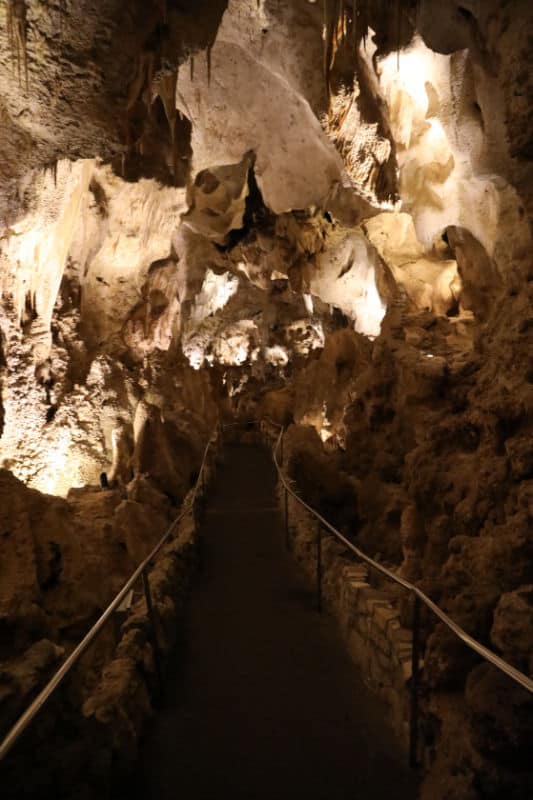 Additional Resources
Carlsbad Caverns Pool
In June 2020 the park shared the discovery of a pool deep inside Lechuguilla Cave in Carlsbad Caverns.
The natural pool was discovered by a team of explorers and may have never been seen by humans until the discovery. The team found the new pool when they ventured past the Lake of Liquid Sky which had been discovered in 1993.
It is worth noting that the park team did everything they could to not disturb the lake.
The pool was found 698 feet below the entrance to the cave. It is believed that the pool was formed by ancient rainwater that seeped through the limestone overhead and dropped or slid on the cave walls to create the pool.
How deep is Carlsbad Caverns?
The deepest level that has currently been measured is 1,027 feet below ground.
Visitors can explore the 755-foot level known as the Big Room.
Carlsbad Caverns Facts
Size - 46,766 acres (18,925 hectares), including over 33,000 acres (13,354 hectares) designated wilderness area.
Terrain - Guadalupe Mountains (primarily limestone) and Permian Basin (primarily gypsum).
Elevation - The park's elevation ranges from 3,596 feet to 6,368 feet above sea level. The visitor center is located at 4,406 feet.
Number of caves - There are more than 119 known caves at this time.
Mammal Species - 67 species
Bats - 17 known species, 3 of which roost in Carlsbad Cavern. The largest colony is Brazilian free-tailed bats with an estimated 400,000 bats.
Birds - 357 species including Cave Swallows that nest inside the cave entrance.
Amphibians and Reptiles - 54 species
Amelia Earhart visited the caverns in September 1928.
The 750 foot elevator shaft was drilled in 1931. The first elevator went into operation in January 1932.
Journey to the Center of the Earth was filmed in June 1959 in the King's Palace and Boneyard starring Pat Boone and James Mason.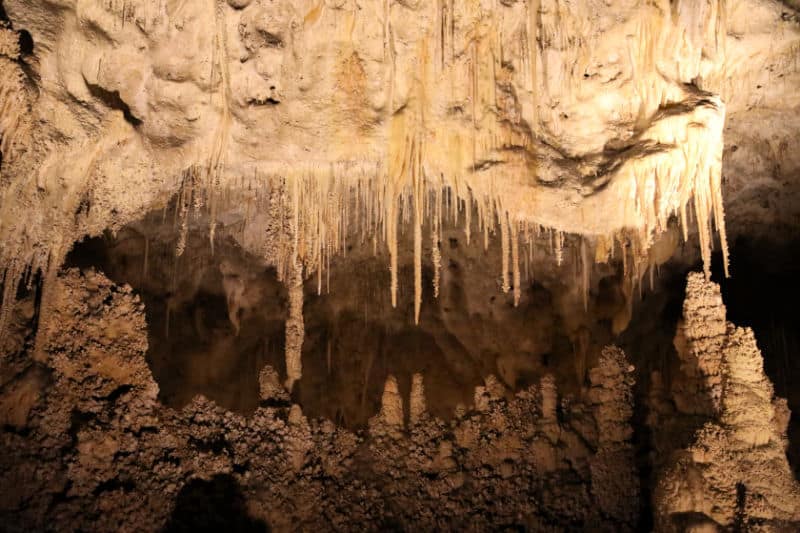 Largest Caves in Carlsbad Caverns
Lechuguilla Cave - 140 miles (225 km); 1,604.2 feet (489 m) deep. Access to this cave is limited to research and exploration only.
Carlsbad Cavern - 30 miles (48 km). Developed for public touring. The Big Room is 8.2 acres (3.3 hectares)-- the largest, readily accessible cave chamber in North America.
Spider Cave - 3.52 miles (5.7 km). Undeveloped. Guided adventure tour.
Slaughter Canyon Cave - 2.3 miles (3.7 km). Minimally developed. Guided adventure tour.
Other Cave National Parks
There are more than 4,700 caves in the National Park Service sites. These are the parks dedicated to caves.
Timpanogos Cave National Monument
Craters of the Moon National Monument
Parks Near Carlsbad Caverns National Park
Fort Davis National Historic Site
Gila Cliff Dwellings National Monument
Tumacacori National Historical Park
Check out all of the National Parks in New Mexico along with neighboring National Parks in Arizona, National Parks in Colorado, Oklahoma National Parks, Texas National Parks, and Utah National Parks