Carlsbad Caverns National Park will leave you awe-inspired by its sheer size, especially the Big Room. It is easy to see why it is the most famous New Mexico Caverns. A trip to Carlsbad Caverns would not be complete if you did not go inside and take one of the several cavern tours or simply explore it at your own leisure.
There are so many other fun things to do Carlsbad Caverns National Park so let's explore this fascinating park!

Things to do Carlsbad Caverns National Park
Lying beneath the arid Guadalupe Mountains of New Mexico is a marvelously arrayed system of underground chambers - Carlsbad Caverns. Established on May 14, 1930, Carlsbad Caverns National Park is famous both for its elaborately decorated caves and the colonies of bats found in them.
The caves form a maze about 23 miles (37 kilometers) long. The Big Room, as its name suggests, is the biggest chamber, occupying an area of 14 acres (5.67 hectares). The park also has an underground lake that does not support any life forms and, hence, water remains fresh there.
The caverns in this 46,766-acre (18,925-hectare) park contain an unequaled arrangement of remarkable limestone formations. These include stalactites, stalagmites, soda straws, epsomite needles, and cave pearls. About eleven different species comprise the colonies of bats that make their homes in the caves of the park.
The largest colony is made up of the Mexican free-tailed bats. Carlsbad Caverns is one of the best US national parks where hikers or backpackers can really enjoy the beauty of nature.
A disease known as White-nose Syndrome is killing bats in North America. To prevent it from spreading to the bats in Carlsbad Caverns, do not wear shoes, clothing, or bring any gear into any cave at Carlsbad Caverns National Park that was worn in another cave.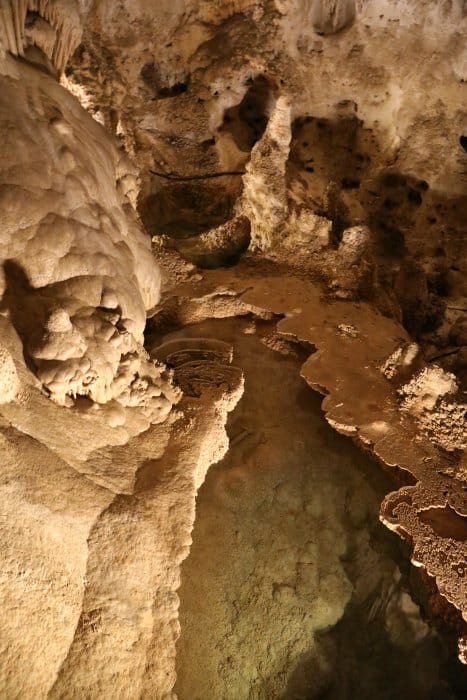 Take a Ranger Led Carlsbad Cavern Tours
Carlsbad Cavern Tours are a great way to explore Carlsbad Caverns! There are 8 different tours to choose from with names like King's Palace, Slaughter Canyon Cave, Spider Cave, Left Hand Tunnel, Lower Cave, Hall of the White Giant, Haunted History and King's Palace Photo Tour.
The best part is that you are able to make reservations online except for the photo tour which is available at the visitor center. The link also has detail about each of the caving tours including times, length of tour and trail difficulty.
Also, plan ahead as all the tours may not be available each day.
Tour tickets must also be picked up no later than 30 minutes before the time of the tour. If you purchased tour tickets for Spider Cave or Slaughter Canyon Cave you will need to pick up your tour tickets at the visitor center and meet at the visitor center and then caravan in your own vehicle to the trailhead.
Participants on guided tours (except King's Palace and Left Hand Tunnel) must bring 3-AA batteries with them. Gloves, knee and elbow pads will be provided if crawling is required on a tour to reduce the risk of White Nose Syndrome.
Children under 4 years old are not permitted on ranger-led tours. Make sure to read carefully about the tour you want to take as there may be additional restrictions.
Attend the Carlsbad Caverns Bat Flight Program
Every evening between Memorial Day through October something special happens at Carlsbad Caverns National Park. You have the opportunity to go outside to the amphitheater and attend a Ranger program and witness the Carlsbad Cavern bats (Brazilian Free-Tailed Bats) leave the cave in search of dinner.
Make sure to show up early as Rangers talk about bats before they leave the cave each night.
Park Ranger John Pro Tip: August and September are typically the best times to watch the bats as the baby bats that were born in early summer start joining in the evening flights. This is your best opportunity to see lots of bats leaving the cave.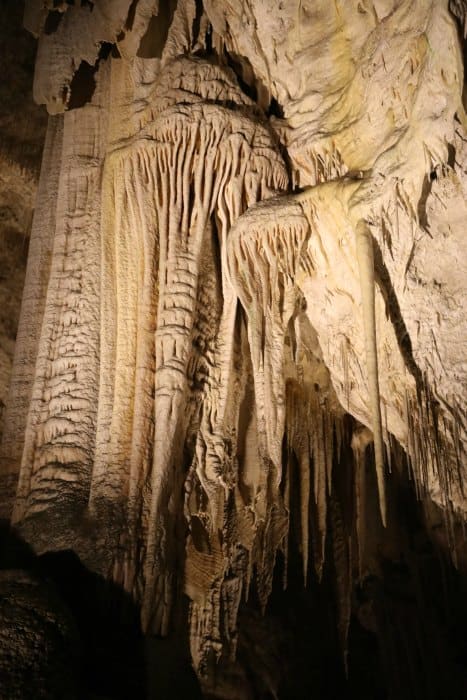 Explore Carlsbad Caverns on your own
Did you know that most of the cave trail is self-guided and included in your general admission fee?
It's also a lot of fun to explore Carlsbad Caverns at your own leisure. I personally like to take photos, look around and read the interpretative display panels and just soak in the experience, something hard to do on a tour.
You could always go back on your own after taking a tour and go at your own pace. You can also hike down into the cave from the natural entrance. This hike should not be taken lightly as you descent over 800' into the cave with an average of a 20% incline/descent!
Take the Walnut Canyon Scenic Drive
Most visitors come to Carlsbad Caverns to come to simply explore a cave and perhaps to see bats with no real intention to explore above ground. Let me introduce you to the Walnut Canyon Scenic Drive.
This 9-mile dirt road that gets you out into the Chihuahuan Desert wilderness area; home to over 750 plants, 67 mammals, 17 bats, 357 Bird and 54 species of amphibians and reptiles.
The crazy part is those who take this road generally don't see another park visitor the entire time, something hard to find so close to a visitor center in a National Park.
This means that the visitors who take the time to look around can very well be rewarded with solitude, breathtaking sunsets and a great chance to see wildlife along the way. Low clearance vehicles, RVs, and trailers not permitted so make sure to plan ahead.
Have a picnic at Rattlesnake Springs
Rattlesnake Springs makes a nice picnic stop when traveling between Carlsbad Caverns National Park and Guadalupe Mountains National Park.
A short detour off the road and you can enjoy a break from the sun with grass and trees and a small spring. It makes for a great place to spot wildlife.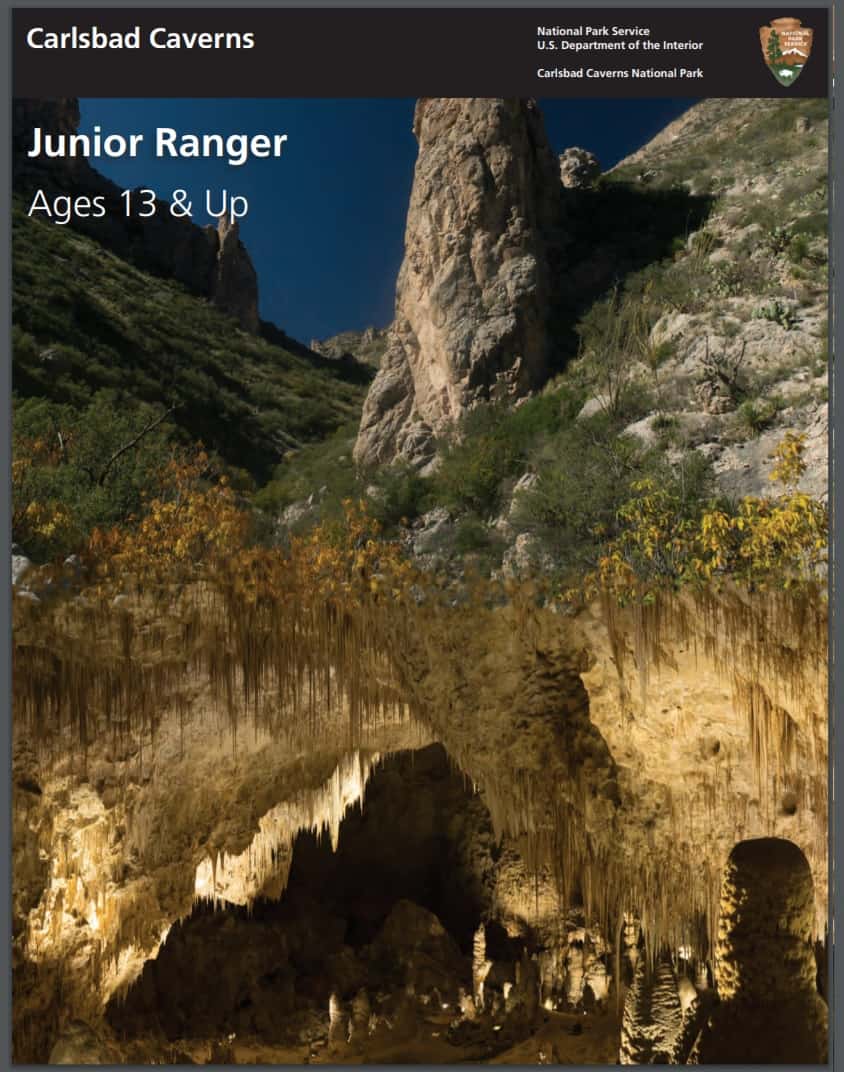 Become a Carlsbad Cavern Junior Ranger
We love doing the junior ranger programs when we visit parks. It is an amazing way to learn more about the park. You can request the junior ranger program at the visitor center.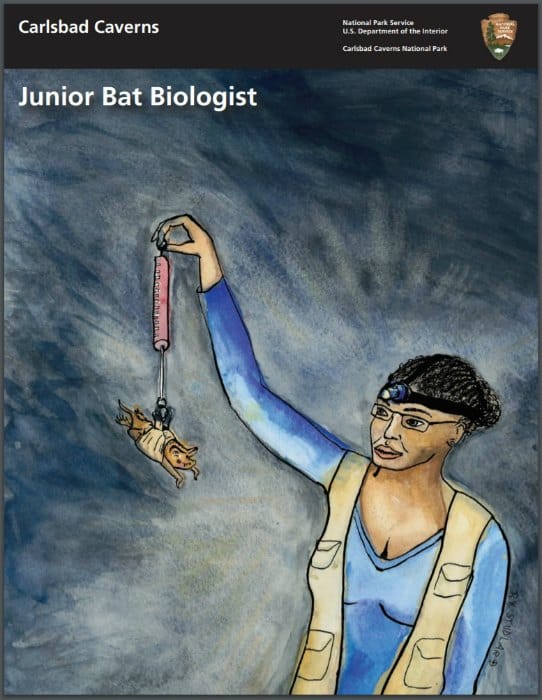 Become a Junior Bat Biologist
Carlsbad Caverns is an amazing place to learn more about bats!
You can request a Junior Bat Biologist program at the visitor center or print one ahead of time.
Explore National Parks near Carlsbad Canyon National Park
Guadalupe Mountains National Park
Fort Davis National Historic Site
Check out all of the National Parks in New Mexico and neighboring Arizona National Parks and National Parks in Texas.