Fort Davis National Historic Site in Texas is one of the best remaining examples of a frontier military post.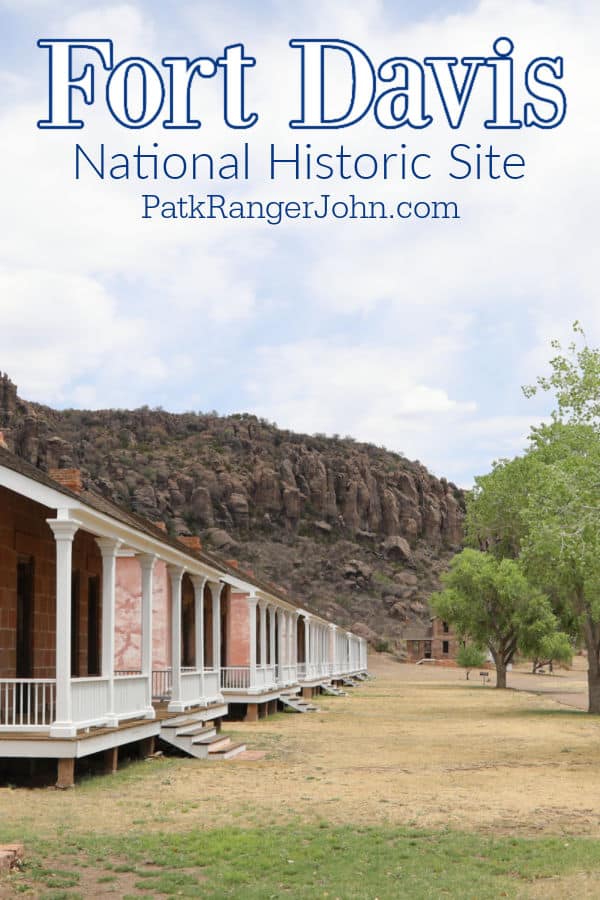 Fort Davis National Historic Site
When you visit Fort Davis NHS be prepared for it to be hot! We visited in the middle of May and it was in the high 90s during our visit.
The park is gorgeous but you want to make sure that you have water with you, a hat, sunscreen, and sunglasses.
The grounds are larger than we expected them to be and you can easily spend a fair amount of time under the burning sun.
Give yourself a minimum of an hour to two hours to visit the park. There is a great movie at the visitor center that details the history of the park.
You can then wander through the barracks, officers row, and hospital to learn about life at Fort Davis.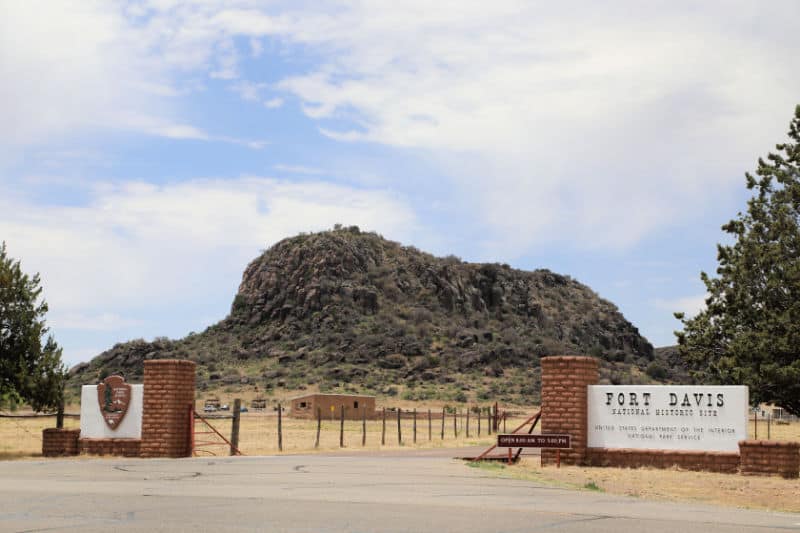 About Fort Davis National Historic Site
From 1854 to 1891 Fort Davis was strategically located to protect emigrants, mail coaches, and freight wagons on the Trans-Pecos portion of the San Antonio-El Paso Road and the Chihuahua Trail.
Fort Davis is one of the best surviving examples of an Indian wars frontier military post in the southwest.
Visitors can explore twenty four roofed buildings and historic ruins within the park.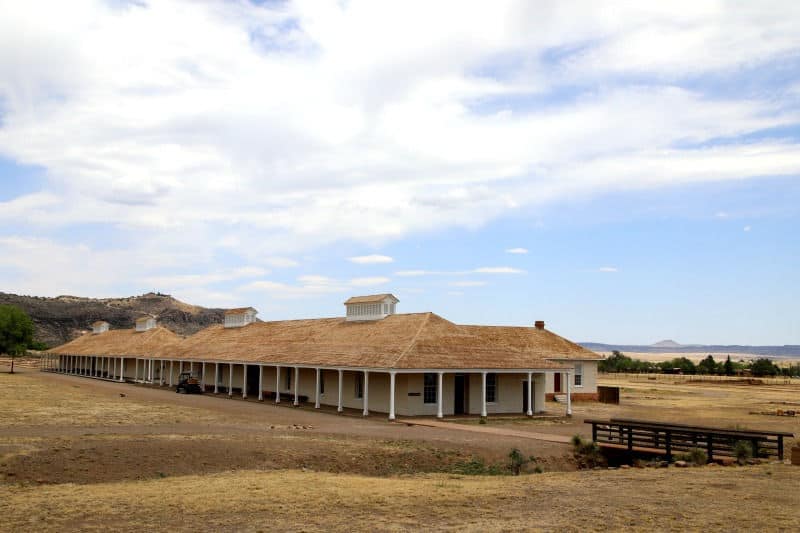 Is Fort Davis National Historic Site worth visiting?
Yes, especially if you are on your way to Big Bend NP and want to visit another park site during your trip.
The park offers an amazing opportunity to see one of the best-preserved Indian Wars frontier military posts in the Southwest.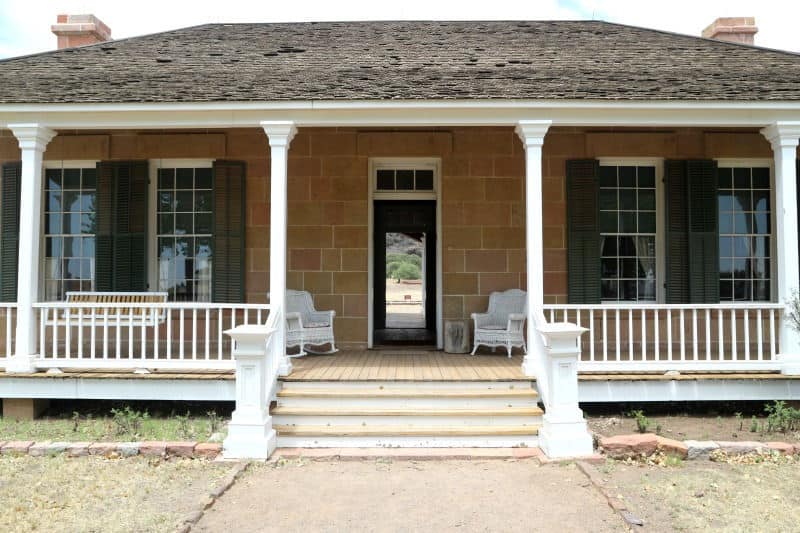 History of Fort Davis
The Fort Davis National Historic Site is located in the unincorporated town of Fort Davis in Jeff Davis County, Texas.
This is situated in the far west portion of Texas in the mountain and basin region of the state, otherwise known as "Big Bend Country."
Fort Davis was established on the eastern base of the Davis Mountains.
The War Department was interested in creating a safe route through the Southwest with availability to water.
Fort Davis was built along the Limpia Creek and was named Davis after Jefferson Davis, Secretary of War in 1854.
The site for the first fort was thought to be on land owned by the State of Texas, it was later discovered it was owned by John James, a surveyor from San Antonio.
So, the army began leasing the land from James. The location the department chose was strategic as the fort was built where water, grass, and wood was plentiful.
It was also built nestled into the wall of the mountain protecting it from wind, storms, and while not hidden, somewhat out of the way.
With Westward Expansion, the Gold Rush, and other dreams emigrants had in the mid-1800s, the tension between Native Americans and white settlers grew.
Mail stations and travelers had been attacked over the years and the War Department wanted this route on the San Antonio-El Paso route to be protected.
Many travelers heading towards California wanted to steer clear of treacherous mountain passes and chose trails further south, such as in Texas.
The first group stationed at Fort Davis was Lieutenant Colonel Washington Seawell and six companies of the Eighth U.S. Infantry. The Colonel and his men were up against native tribes such as the Kiowa, Apache, and Comanche.
At the beginning of the Civil War in 1861, the fort was abandoned by United States troops and replaced by Confederate soldiers. With the failure to capture New Mexico nearly a year later, Confederate troops left the fort to head east.
It is at this time that the fort resembled a ghost town. Uninhabited, the fort's buildings were used as a lumberyard for Native Americans to use as firewood.
When the fort was reoccupied in 1867 by federal troops, it is believed it was moved to a flatter area east of the canyon near the Davis Mountains.
Once the turmoil of the Civil War had cooled, Fort Davis was then taken over by Lieutenant Colonel Wesley Merritt in 1867.
Over the next 20 years, the vital fort was rebuilt and added onto, making it stronger than ever in sheer size. By the mid-1880s, the fort had room for 600 men and it contained over 60 adobe buildings.
It had quite literally become a town all its own. It was during this time in America that the fort's history conveys the prevalence of African Americans in the West.
After the Civil War, the lawless west saw famous black cowboys such as Nat Love and famous black lawmen such as Bass Reeves play important roles in shaping the western territories.
Just as white soldiers were trying to regain their lives after the Civil War, many African Americans were striving for an entirely new life outside of slavery.
Fort Davis housed the 24th and 25th U.S. Infantry, and the 9th and 10th Calvary, all which were entirely made up of black soldiers. These groups of soldiers have been called "Buffalo Soldiers" in history.
Historians believe the name actually came from the Native Americans comparing their hair to the fur of buffalo and considering them worthy rivals.
A man named Henry O. Flipper was the first African American to graduate from West Point and he served at Fort Davis from 1880-1881.
Towards the end of 1879, Apache warriors staged and carried out attacks on areas just west of Fort Davis. Colonel Benjamin Grierson led troops from Fort Davis to assist and fight off the Apache attackers.
After a series of battles, the Apache warriors were chased south to Mexico. The soldiers spent their years after these battles building and repairing roads and telegraph lines in the area as well as chasing outlaws running wild through the west.
Fortunately, for those wanting a quiet life in the Southwest, the fort was eventually abandoned in 1891, as the military purpose of the fort was no longer needed.
By this time, most Native Americans were living on reservations and therefore not as great a threat in numbers as in years prior.
The Fort Davis National Historic Site was created in 1963. It was dedicated in 1966 by President Lyndon B. Johnson.
As you walk the grounds today, you can witness the nearly 450 acres set aside for history and preservation of the adobe and stone buildings.
At the height of the fort's use, the area housed a hospital, officer homes, barracks for soldiers, corrals for horses, a storehouse and laundry, as well as a sawmill and jail. Some of these buildings have been restored today.
Visitors are able to partake in self-guided tours. Exhibits inside the buildings show artifacts from the time and in the summer, guides dressed in time-period attire will give you the sense that you have stepped back in time.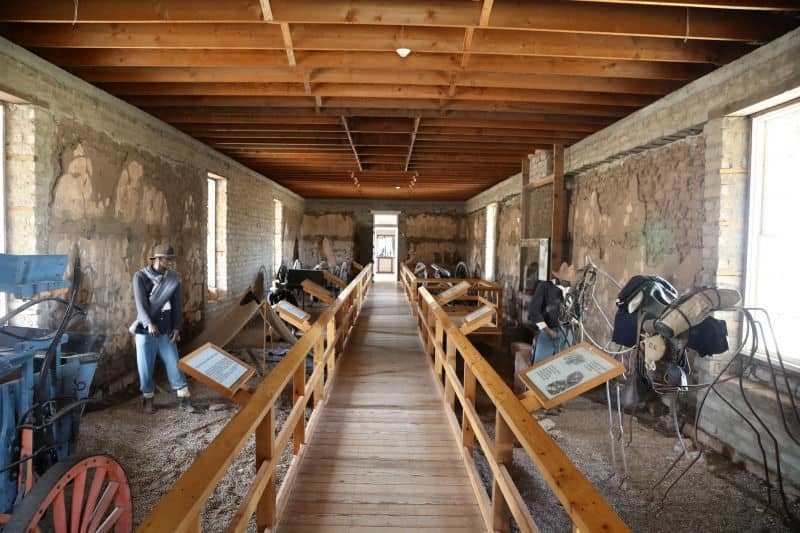 Things to know before your visit to Fort Davis National Historic Site
Entrance fee
7-day single-vehicle park pass - $20
7-day individual park pass - $10
7-day motorcycle park pass - $15
Annual Park Pass - $35
Valid for one year through the month of purchase. Admits one private, non-commercial vehicle or its pass holder.
Learn more about National Park Passes for parks that have an entrance fee.
Free Entrance Days -Mark your calendars with the five free entrance days the National Park Service offers annually.
Time Zone
CST - Central Standard Time
Pets
Pets must be on a leash that is shorter than 6 feet. They are allowed on trails and within the picnic area.
Pets are not allowed in buildings.
Cell Service
Cell service is not always reliable within the park.
Park Hours
The park is open from 8 am to 5 pm.
The park is closed on Thanksgiving, Christmas Day, New Year's Day, and Martin Luther King Jr Holiday.
Wi-Fi
Free wifi is available at the visitor center.
Insect Repellent
Insect repellent is always a great idea when outdoors, especially if you are around any body of water.
We use Permethrin Spray on our clothes before our park trips.
Water Bottle
Make sure to bring your own water bottle and plenty of water with you. Plastic water bottles are not sold in the park.
Parking
There is a large parking lot near the visitor center.
Food/Restaurants
There is no food available at the park.
Gas
There is no gas available at the park.
Drones
Drones are not permitted within National Park Sites.
National Park Passport Stamps
National Park Passport stamps can be found in the visitor center.
Make sure to bring your National Park Passport Book with you or we like to pack these circle stickers so we don't have to bring our entire book with us.
Fort Davis NHS is part of the 2011 Passport Stamp Set
Electric Vehicle Charging
There is 1 public EV Charging Station in Fort Davis, TX
Accessibility
Accessible parking spaces are available near the visitor center.
The visitor center has accessible restrooms, a large exhibit area, and height-compliant water fountains.
The park trails are pretty flat and made of crushed construction material making all trails wheelchair accessible.
The park has 1 wheelchair available for visitors.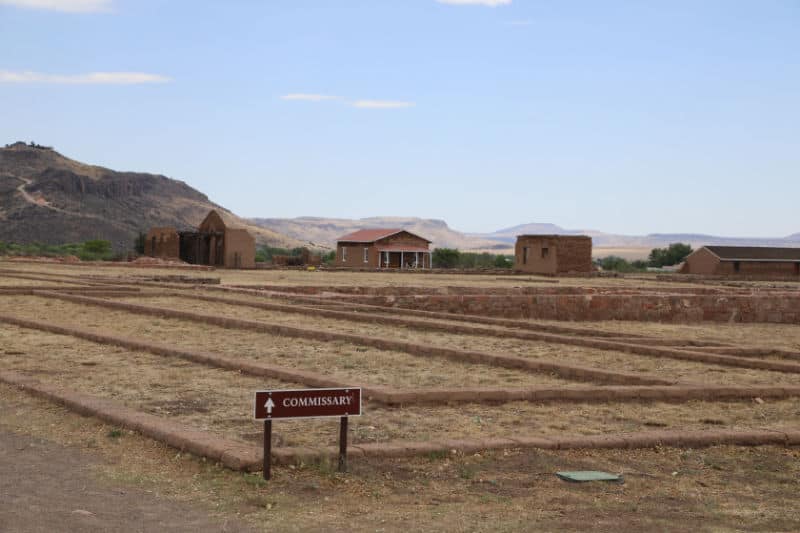 Details about Fort Davis National Historic Site
Size - 523 acres
Check out how the park compares to other National Parks by Size.
Date Established
The park was designated a National Historic Site in September 1961
Visitation
In 2021, Fort Davis NHS had 48,163 park visitors.
In 2020, Fort Davis NHS had 35,920 park visitors.
In 2019, Fort Davis NHS had 51,995 park visitors.
Learn more about the most visited and least visited National Parks in the US
National Park Address
101 Lt. Flipper Dr. #1379
Fort Davis, TX 79734
Fort Davis National Historic Site Map
Where is Fort Davis National Historic Site?
Fort Davis NHS is located in the western portion of Texas.
Estimated distance from major cities nearby
Marfa, TX - 22 miles
Alpine, TX - 25 miles
Fort Stockton, TX - 90 miles
Juarez, Mexico - 196 miles
El Paso, TX - 201 miles
Roswell, NM - 236 miles
Lubbock, TX - 287 miles
Laredo, TX - 409 miles
Sante Fe, NM - 433 miles
Albuquerque, NM - 466 miles
Estimated Distance from nearby National Park
Big Bend National Park - 130 miles away
Guadalupe Mountains National Park - 160 miles away
White Sands National Park - 296 miles
Carlsbad Caverns National Park - 179 miles
Saguaro National Park - 510 miles
Great Sand Dunes National Park - 604 miles
Where is the National Park Visitor Center?
The Fort Davis NHS visitor center is right next to the main parking lot.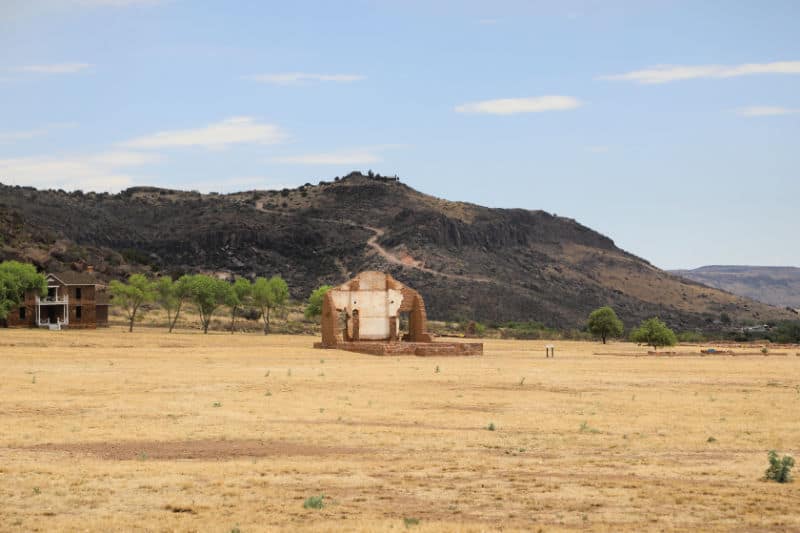 Getting to Fort Davis National Historic Site
Closest Airports
Marfa Municipal Airport (MRF)
Alpine-Casparis Municipal Airport (ALE)
International Airports
El Paso International Airport (ELP)
Regional Airports
Cavern City Air Terminal (CNM)
Midland International Airport (MAF)
Lea County Regional Airport (HOB)
Roswell International Air Center (ROW)
Amtrak Train Service
Amtrak has service from San Antonio to Los Angeles with a stop in Alpine, Texas.
Visitors can rent a car in Alpine and travel 30 minutes on Highway 118 to the park.
Driving Directions
From El Paso
Take I-10 east to Van Horn. At Van Horn take Highway 90 east. Just south of Valentine take Highway 505 and then 166 east.
Turn left on Highway 17 and follow it to Fort Davis or continue south on Highway 90 to Marfa and then turn left on Highway 17 to Fort Davis.
Or From Van Horn take I-10 east to Kent and then turn south on 118 to Fort Davis. (About 4 hours)
From Midland/Odessa
Take I-20 west to Pecos. From Pecos take Highway 17 south through Balmorhea to Fort Davis. (About 2.5 hours)

From San Antonio
Take I-10 west to Balmorhea. Then take Highway 17 south to Fort Davis. (About 7 hours)

From Del Rio
Take Highway 90 west to Alpine. From Alpine take Highway 118 north to Fort Davis. (About 3.5 hours)
Best time to visit Fort Davis National Historic Site
The best time of year to visit Fort Davis NHS is Spring and Fall.
The weather will be warm but also gorgeous. The rainiest season is during the summer.
Weather and Seasons
Summers are long and hot in Fort Davis while winters are short but very cold.
The hottest season is from May 11 to September 9th with an average daily high temperature over 82 degrees.
The hottest month is June with an average high of 88 and a low of 61.
The coldest season is from November 23 to February 17th with an average daily temp of 62 degrees.
The coldest month is January with an average low of 30 degrees and a high of 57.
Greatest Annual Precipitation 33.78" (2004)
Least Annual Precipitation 5.62" (2011) & 5.63" (1956)
Average Annual Precipitation 17.47"
Greatest One Day Snowfall 9.0" (Dec. 1, 1931)
Greatest Annual Snowfall 35.0" (1918)
Best Things to do in Fort Davis National Historic Site
Visitor Center
This should be your first stop when visiting the park. You can show your National Parks Pass or pay the entrance fee at the visitor center.
The visitor center is housed in one of the restored enlisted men's barracks.
Make sure and watch the 15-minute film narrated by Kareem Abdul-Jabbar.
Self Guided Walking Tour
You can walk and explore the five buildings that have been restored and refurbished to what life was like in the 1880s.
During the summer and spring break, you may be lucky enough to come across "locals" who are there to share their stories of the park.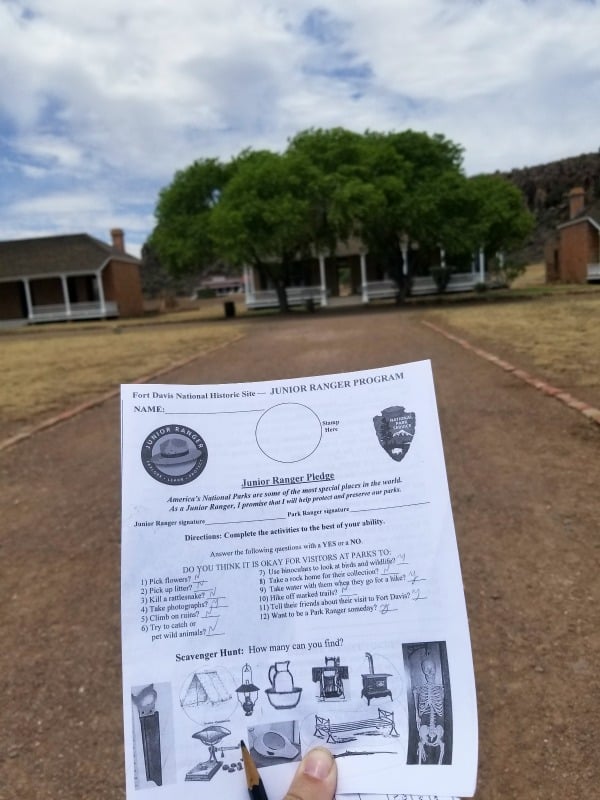 Pick up a Junior Ranger program at the visitor center and dive more into the park. This is a great way to learn more about the park and earn a Junior Ranger Badge.
The Junior Ranger pamphlet is available in a couple of different age groups.
The Rangers designed it to get you out in the park to find the answers.
Make sure you are prepared and have time to visit many of the buildings at the fort.
Bird Watching
The park is a hot spot for bird watching! 152 bird species have been recorded within the park's boundaries.
The park offers important habitat for both residents and migrant birds.
Birding Hot Spots in the park include the Historic Fort and Parade Grounds for wrens, phoebes, and swallows.
The Cemetery Trail and Historic San Antonio - El Paso Road are great places to look for Cactus Wrens.
The Tall Grass Loop and Hospital Canyon are great places to look for Red-Tailed Hawks, Great Horned Owls, Cactus Wrens, Scaled Quail, and Montezuma Quail.
Resident Species include White Winged Dove, Mourning Dove, Say's Phoebe, Common Raven, Black Crested Titmouse, Rock Wren, Canyon Wren, Bewick's Wren, Cactus Wren, Curve Billed Thrasher, Northern Mockingbird, House sparrow, House Finch, Rufous Crowned Sparrow, Black-throated Sparrow, Canyon Towhee, and Northern Cardinal.
Common summer species include Black-Chinned Hummingbird, Turkey Vulture, Cassin's Kingbird, and Summer Tanager.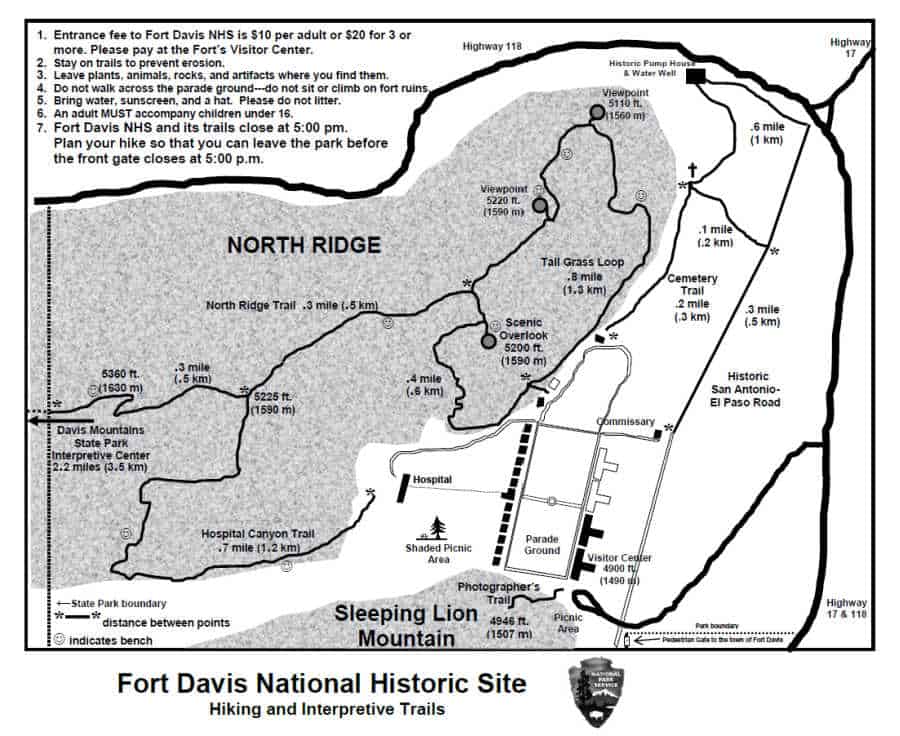 Hiking in Fort Davis National Historic Site
The park offers 4 miles of hiking trails.
Always carry the 10 essentials for outdoor survival when exploring.
Photographers Trail
Distance - Short
Elevation Change - 46 feet
Trailhead - NW of the parking lot
This short hike offers epic photos and is the only trail on Sleeping Lion Mountain.
Tall Grass Loop Trail
Distance - .8 miles one way
Elevation Change - 320 feet
Trailhead - After the wooden bridge on the NW Corner of the parade grounds
This hike is strenuous as it follows switchbacks and stairs.
Scenic Overlook Trail
Distance - .4 miles one way
Elevation Change - 320 feet
Trailhead - After the wooden bridge at the NW Corner of the Parade Grounds.
This trail goes through the south-facing palisades of eroded lava flow up to the scenic overlook.
Hospital Canyon Trail
Distance - .7 miles
Elevation Gain - 325 feet
Trailhead - Behind the Post Hospital
This trail is considered strenuous along switchbacks.
North Ridge Trail
Distance - .3 miles once reached from the Hospital Canyon Trail or the Scenic Overlook Trail.
This trail gives you the opportunity to walk between Rhyolite boulders and see a full-circle view of the Davis Mountains.
Cemetery Trail and Historic Pump House Trail
Elevation Change - none
Distance - .2 miles one-way Cemetery Trail
.6 mile one way past the cemetery.
Trailhead - bridge on the NW corner of the Parade Grounds
The Cemetery Trail takes you to the post-Civil War Cemetery. There are no longer any graves in the cemetery.
The Historic Pump House Trail continues north past the cemetery.
Historic San Antonio - El Paso Road
Elevation Change - none
Distance - 3,742 feet
This trail follows the historic San Antonio - El Paso Road that was at one time the southernmost road to California when gold was discovered.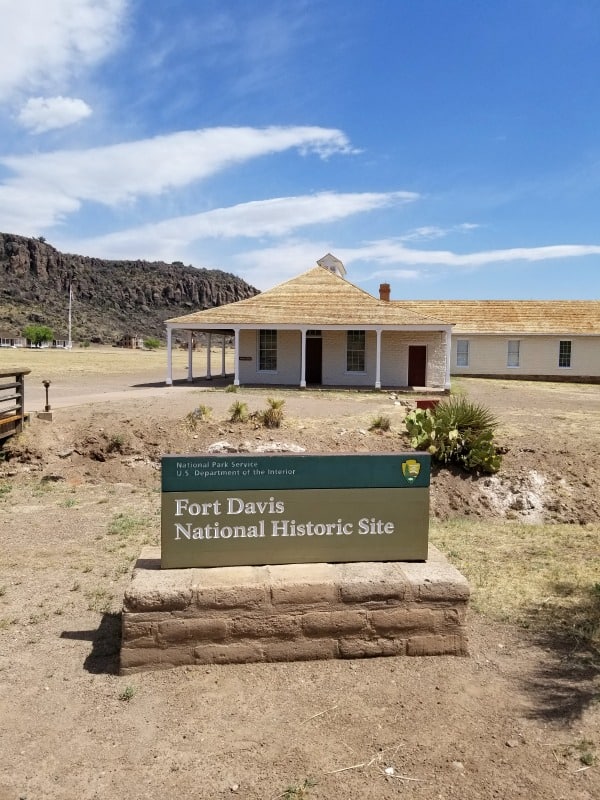 How to beat the crowds in Fort Davis NHS?
We did not encounter any crowds while visiting the park. There were maybe 5 or 10 people during our entire visit to the park.
Where to stay when visiting Fort Davis National Historic Site
There are no National Park Lodges within the park.
Click on the map below to see the current hotel and vacation rentals in Fort Davis, Marfa, and Alpine, Texas.


Camping
There are no National Park Campgrounds within the park. There are campgrounds near the park including:
Eco-Ranch Rustic Camping Area - Alpine, Texas
This campground offers lodging, RV, and Tent Sites
BJ's RV Park - Terlingua, Texas
This campground offers RV and Tent Sites, Wi-Fi
Roadrunners Travelers Campground - Terlingua, Texas
This campground offers RV Sites
Check out all of the campgrounds near the park on Campspot.
Additional Resources
Unburied Lives: The Historical Archaeology of Buffalo Soldiers at Fort Davis, Texas, 1869–1875
Fort Davis: Outpost on the Texas Frontier (Volume 8) (Fred Rider Cotten Popular History Series)
Frontier Crossroads: Fort Davis and the West (Canseco-Keck History Series Book 7)
Parks Near Fort Davis National Historic Site
Amistad National Recreation Area
Gila Cliff Dwellings National Monument
Lyndon B Johnson National Historical Park
San Antonio Missions National Historical Park
Check out all of the National Parks in Texas along with neighboring National Parks in Arkansas, National Parks in Louisiana, New Mexico National Parks, and Oklahoma National Parks
Nearby Texas State Parks include Davis Mountains State Park and Indian Lodge State Park.