Complete Guide to Coronado National Memorial in Arizona, including things to do, history, nearby lodging and camping, directions, and so much more.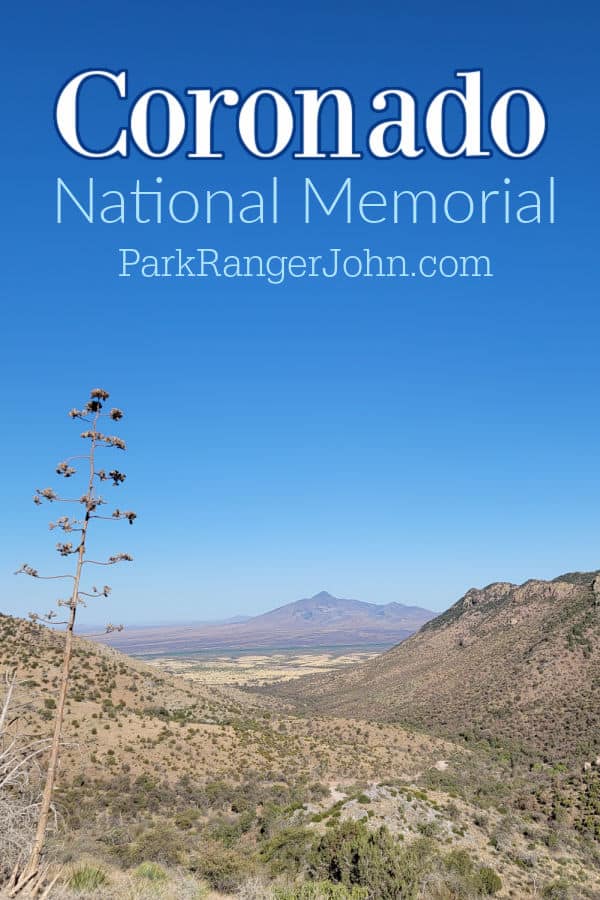 Coronado National Memorial
Coronado National Memorial commemorates the Coronado Expedition of 1540-1542 and its lasting impacts on the culture of northwest Mexico and the southwestern United States.
About Coronado National Memorial
This 16th-century Spanish colonial exploration of the Americas had a major impact on the cultural influences found through Arizona.
The park is a great combination of history and scenic beauty! You can learn about the Francisco Vásquez de Coronado's expedition in the visitor center, enjoy an amazing scenic drive up Montezuma Pass to see epic views of the San Pedro River Valley and San Rafael Valley, enjoy bird watching, or take a hike.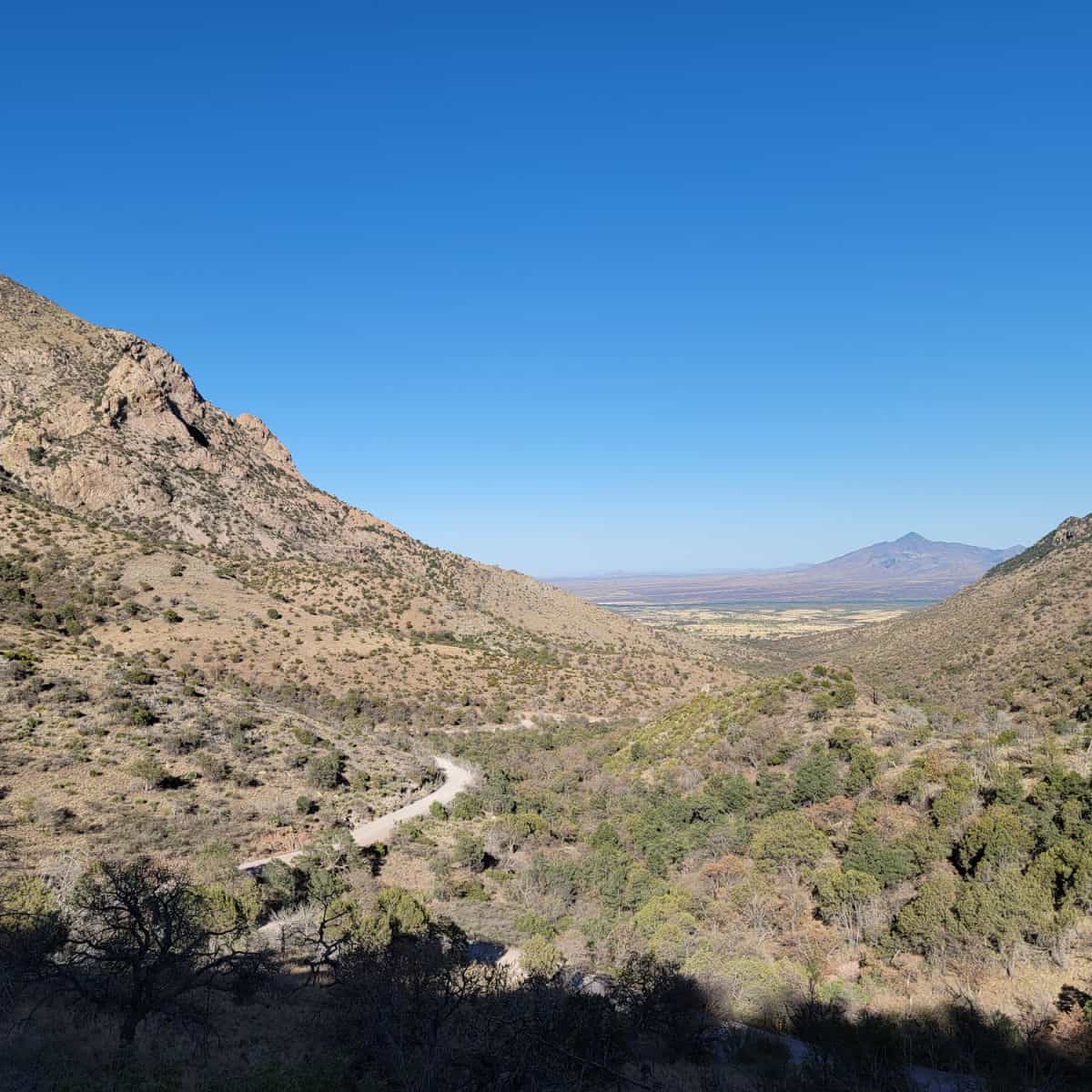 Is Coronado National Memorial worth visiting?
Visiting Coronado National Memorial is definitely worthwhile. It offers a rare chance to appreciate the natural charm and cultural roots of the vicinity.
Some of its main attractions include spectacular hiking paths, possibilities for birdwatching, and an informative visitor center that displays the area's fascinating history.
Furthermore, the memorial is home to a wide range of flora and fauna - some species you can't find anywhere else on Earth!
All in all, Coronado National Memorial is a must-see destination for nature lovers, history enthusiasts, and anyone wanting to experience the beauty and variety of the American Southwest.
We really enjoyed our time in the park! The views from the top of Montezuma Pass are amazing. The dirt road is a fun drive up the mountain.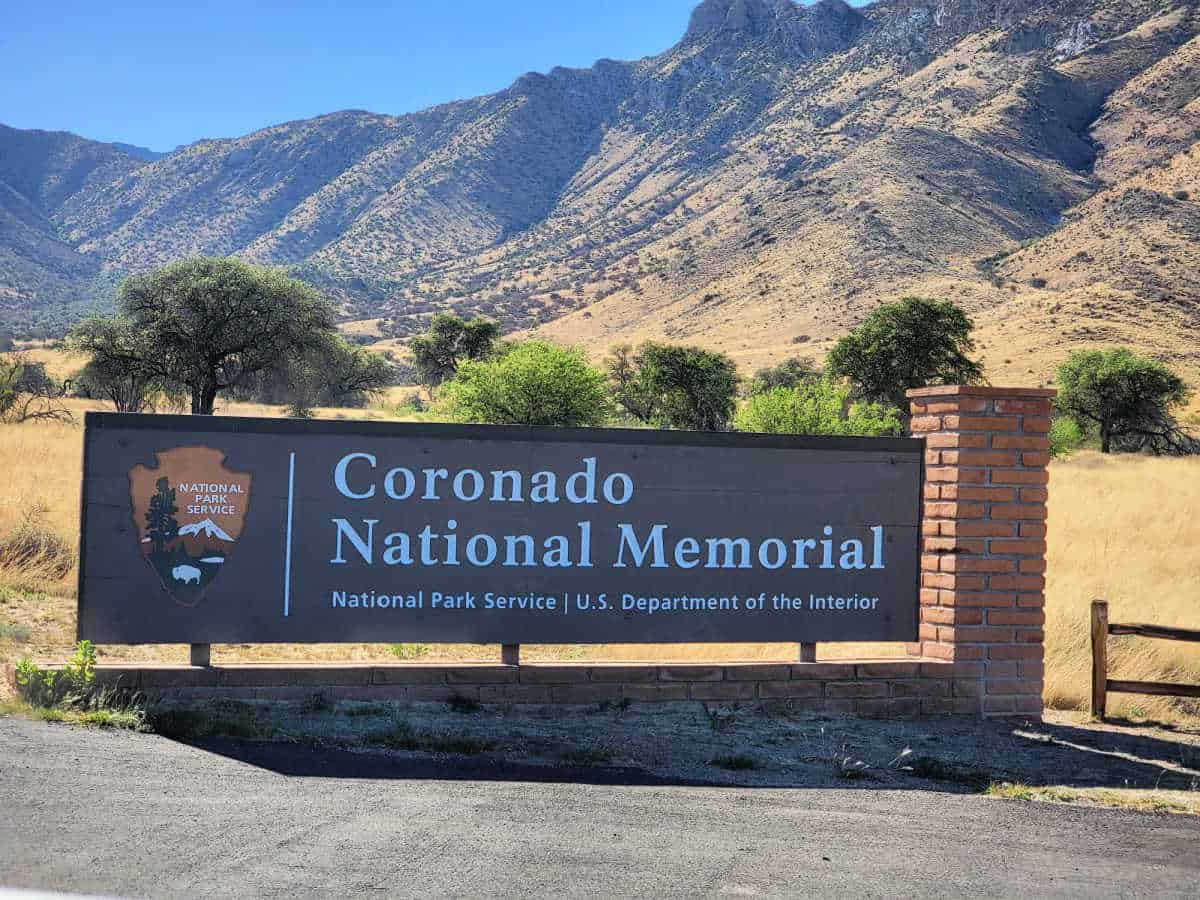 History of Coronado National Memorial
Coronado National Memorial explores the history of the first European expedition into the southwest of America in 1540. The expedition, known as the Coronado Expedition, was led by Spanish conquistador Francisco Vásquez de Coronado.
In 1540 over 300 armed Europeans, 1000 Aztec people, slaves, priests, and hundreds of cattle left New Spain (Mexico), and made their way into the Southwest United States. The purpose of the expedition was to find the Seven Cities of Cibola.
No evidence remains of the expedition, and the explorers' route is unknown. The National Park Service protects land that the Coronado expedition may have traveled on, and interpret's the history of the expedition. The National Memorial also explores the impact the expedition had on the cultural groups that called the Southwestern United States home.
Who Was Francisco Vásquez de Coronado?
Francisco Vásquez de Coronado was born in Spain in 1510 to a noble Spanish family. Coronado was not the firstborn son, meaning he did not stand to inherit any of his family's wealth. Francisco Vásquez de Coronado left Spain in 1535 to travel to the Spanish colonies in the New World where he hoped to make his fortune.
Gold and riches drew the Spanish to the New World in the early 1500s. The Spanish established several colonies in the Americas. They created a vast empire that stretched from the Caribbean Islands, including several territories in Southern and Central America, to Mexico. Their empire eventually included modern-day Florida.
A year after arriving in New Spain, Coronado married into a wealthy family who owned the largest estate in New Spain. A year after his match, Coronado successfully stopped a spate of slave rebellions in the region. This act gained him a prestigious title. Coronado became the governor of Nueva Galicia in 1537.
The Seven Cities of Cibola
In 1536 a group of Spanish explorers and a missionary returned to New Spain with tales of seven cities of gold situated north of the New Spain border. The explorers and missionaries were survivors of the failed Narvaez Expedition.
The survivors, Cabeza de Vaca and missionary Fray Marcos de Niza had spent eight years wandering through the Southwestern region of North America. When they finally made their way back to New Spain they told tales of seven large cities that had bejeweled buildings and unfathomable riches.
The Viceroy of New Spain, Antonio de Mendoza was intrigued enough by the survivors' accounts, that in 1539 he sent a small group into the Northern territory. The group returned, with fewer members. The group confirmed there were indeed Seven Cities of Cibola as they referred to them, but that the inhabitants North of the border were hostile.
The Coronado Expedition
Excited by the reports of his reconnaissance mission, Mendoza decided to fund a full expedition into the region. Mendoza chose Francisco Vásquez de Coronado to lead the expedition. The Coronado Expedition was not intended to be a military conquest of the Southwestern region of North America, it was to be a peaceful one.
The Coronado Expedition began in February 1540, making their way to the border from Compostela. Coronado had under his command 300 armed Spanish soldiers, several missionaries, 1000 Aztec allies, pigs, horses, and cattle.
It took Coronado four months to reach the first supposed city of Cibola. Coronado and 100 soldiers had eagerly pulled ahead of the group and reached the first city before the rest. What they found was not what had been described by Cabeza de Vaca. The Spaniards came across the Zuni town of Háwikuh in modern-day New Mexico. Háwikuh was made of rock, not gold.
Coronado attempted to negotiate with the Zuni but failed. Eventually, Coronado attacked the town, forcing the residents to abandon their homes. This town would be the base of the Coronado Expedition.
Determined to find the riches, Coronado sent men into the region to explore. Three expeditions traveled into the territory, one heading Northeast to the Hopi villages, one to the West, and another to the east. It was during one of these expeditions that García López de Cárdenas stumbled upon the Grand Canyon.
The expedition moved to the east after reports from a man known as The Turk claimed the land to the east of the Tiguex Indian territory was filled with immeasurable riches. Coronado and his men spent the winter between 1540-41 in a Tiguex town on the Rio Grande River.
The Failed Expedition
Relations between the Tiguex Indians and the Spaniards soon turned sour and erupted into open hostilities. Many battles were fought between the two groups. Many Tiguex towns along the Rio Grande were abandoned after the Spanish killed the residents of the town in which they had wintered.
The Spaniards once again set out into the interior in April 1541. The Turk led Coronado and his men to the town of Quivira. The expedition traveled for over 40 days, with Coronado sending many of his men back to the Rio Grande River.
When they arrived in Quivira, there were no riches, just grass shelters. The story had been a lie, made up by the Pueblo Indians in the hopes that the Spaniards would lose their way on the trek and die. This marked the end of the Coronado Expedition.
After the disappointment at Quivira, Coronado returned to New Spain empty-handed. The Coronado Expedition paved the way for future exploration of the American West.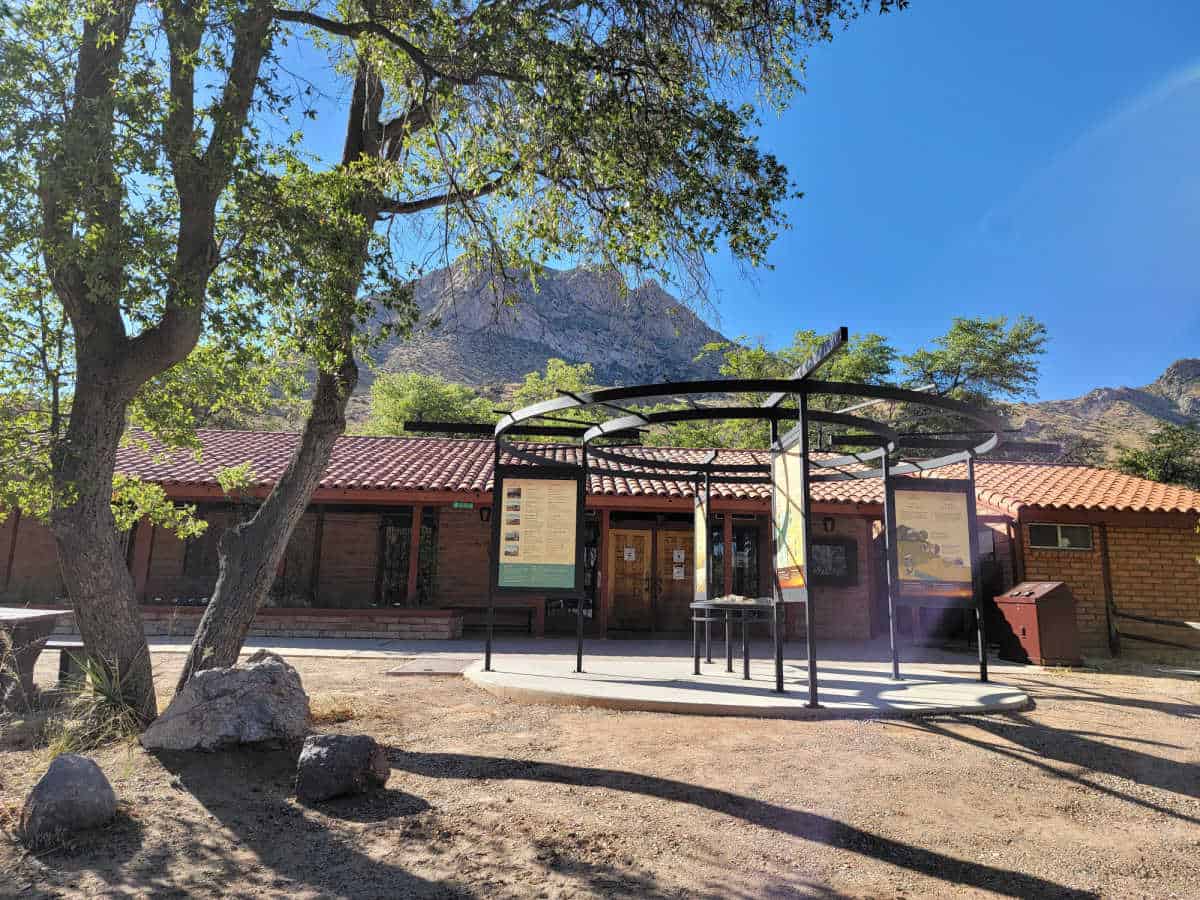 Things to know before your visit
Entrance fee
$0.00 - There is no entrance fee to visit the park.
Planning a National Park vacation? America the Beautiful/National Park Pass covers entrance fees for an entire year to all US National Park Sites and over 2,000 Federal Recreation Fee Sites.
The park pass covers everyone in the car for per vehicle sites and for up to 4 adults for per-person sites.
Buy on REI.com and REI will donate 10% of pass proceeds to the National Forest Foundation, National Park Foundation and the U.S. Endowment for Forestry & Communities.
Learn more about National Park Passes for parks that have an entrance fee.
Free Entrance Days -Mark your calendars with the five free entrance days the National Park Service offers annually.
Time Zone
Mountain Time Zone
Pets
Pets are allowed on a leash on the Crest Trail and the Nature Walk. As a guideline, you can bring your pet wherever a car can go -- this includes roads, road shoulders, picnic spots, and parking lots.

Pets are not permitted on hiking trails in the park (exceptions are listed above), or inside visitor centers or other park facilities.
Cell Service
We had intermittent service with T-Mobile in the park.
Park Hours
Coronado National Memorial is open all year round, from half an hour before sunrise to half an hour after sunset. Guests need to return from any activities they are doing by half an hour after sundown.
Wi-Fi
No public Wi-Fi is currently available.
Insect Repellent
Insect repellent is always a great idea when outdoors, especially if you are around any body of water.
We use Permethrin Spray on our clothes before our park trips.
Water Bottle
Make sure to bring your own water bottle and plenty of water with you. Plastic water bottles are not sold in the park.
Parking
The visitor center parking lot has accessible parking
Food/Restaurants
There are no restaurants or food vendors located within the park itself. However, there is a picnic area available for visitors to bring their own food and enjoy the scenic views.
The closest town with dining options is Hereford, Arizona, which is approximately a 20-minute drive away, where visitors can find several restaurants, cafes, and fast food chains.
Gas
There are no gas stations within the park
Drones
Drones are not permitted within National Park Sites.
National Park Passport Stamps
National Park Passport stamps can be found in the visitor center.
We use the Explorer Edition Passport Book that can be expanded and updated. This is a great way to track all of the parks you have visited over time.
Make sure to bring your National Park Passport Book with you or we like to pack these circle stickers so we don't have to bring our entire book with us.
Electric Vehicle Charging
The closest EV Charging stations are located in Sierra Vista, Arizona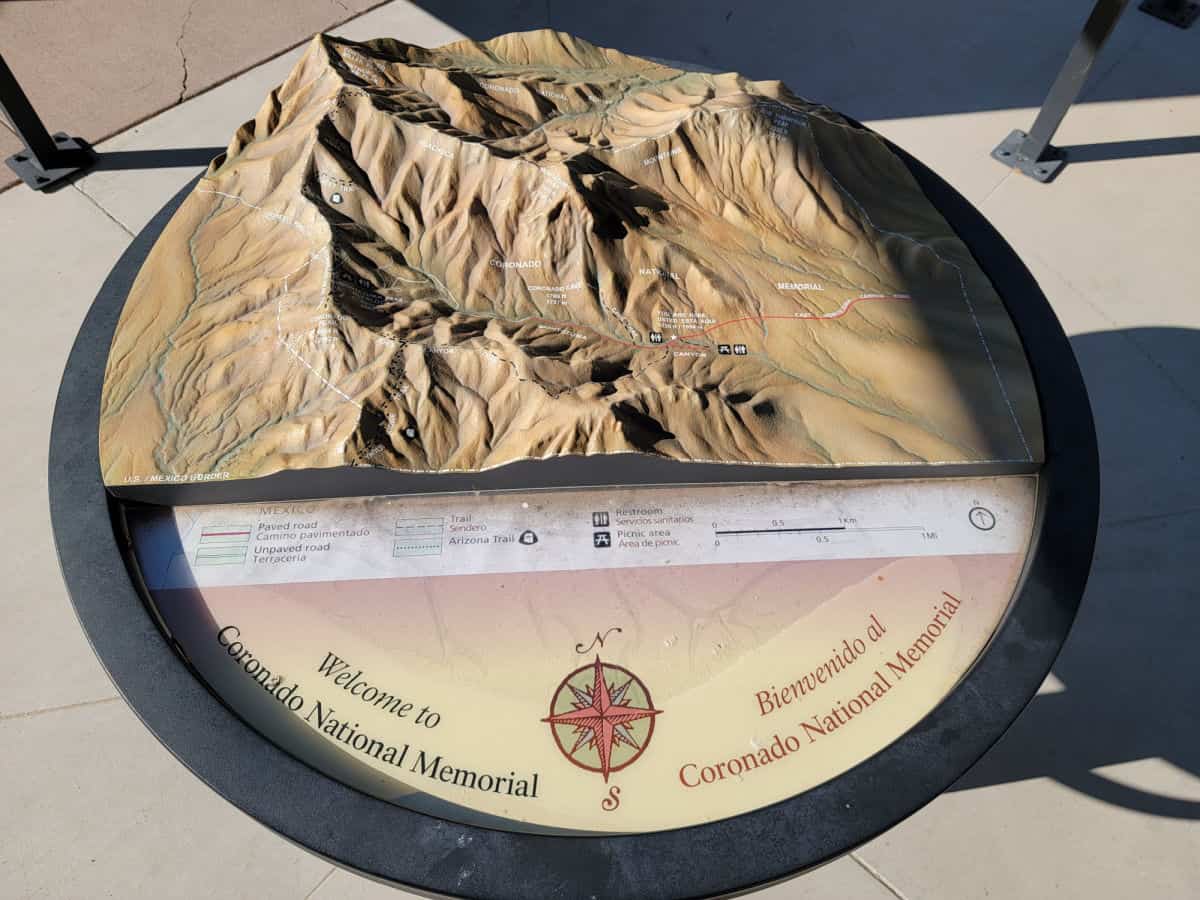 Details about Coronado National Memorial
Size - 4,750 acres
Check out how the park compares to other National Parks by Size.
Date Established
November 5, 1952
Visitation
In 2022, Coronado NM had 131,359 park visitors.
In 2021, Coronado NM had 129,758 park visitors.
In 2020, Coronado NM had 156,199 park visitors.
In 2019, Coronado NM had 130,328 park visitors.
Learn more about the most visited and least visited National Parks in the US
National Park Address
4101 E Montezuma Canyon Road, Hereford, AZ 85615
National Park Map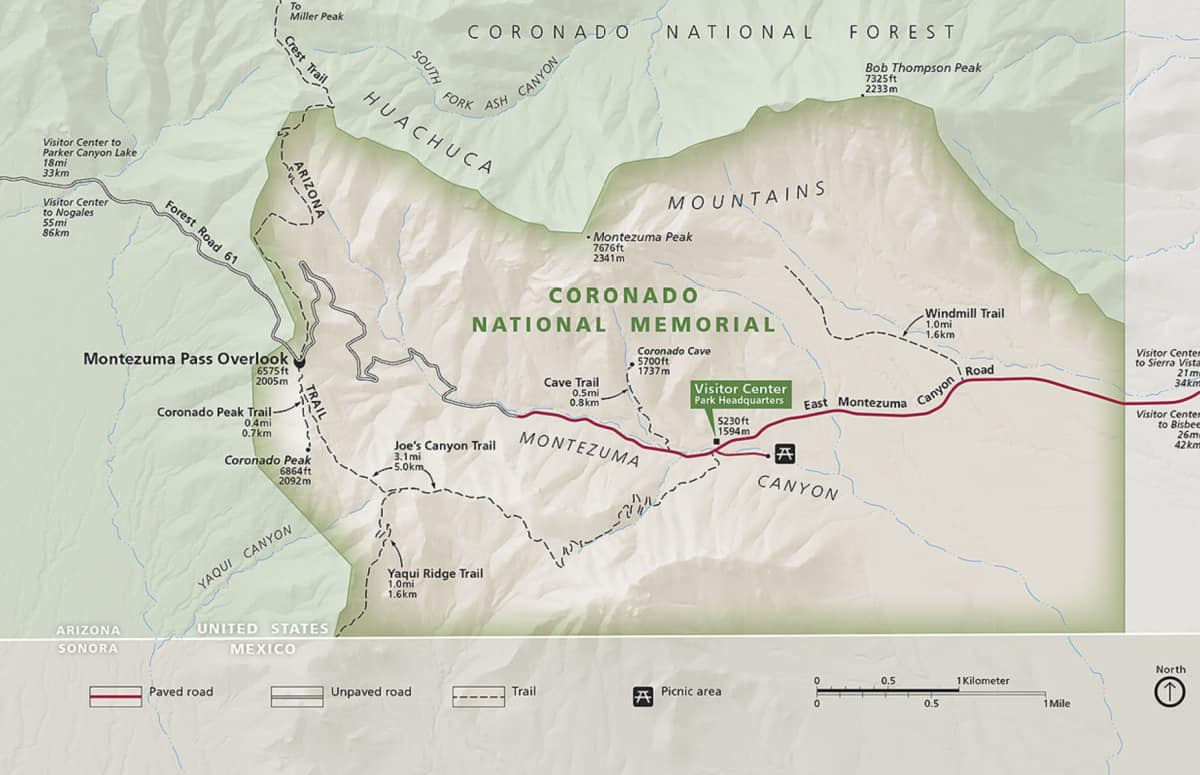 Where is Coronado National Memorial?
Coronado National Memorial is located in the southern part of Arizona, United States, near the border with Mexico.
Estimated distance from major cities nearby
Sierra Vista, AZ - 19 miles

Naco, AZ - 24 miles

Bisbee, AZ- 29 miles

Tombstone, AZ- 35 miles

Douglas, AZ- 49 miles

Benson, AZ- 53 miles

Patagonia, AZ- 62 miles

Nogales, AZ- 80 miles

Tucson, AZ- 96 miles

Phoenix, AZ - 206 miles
San Diego, CA - 500 miles
Estimated Distance from nearby National Park
Saguaro National Park- 86 miles
White Sands National Park - 322 miles
Guadalupe Mountains National Park- 382 miles
Grand Canyon National Park - 465 miles

Petrified Forest National Park - 342 miles
Big Bend National Park - 564 miles
Mesa Verde National Park - 554 miles
Where is the National Park Visitor Center?
The Coronado National Memorial Visitor Center is located at 4101 East Montezuma Canyon Road, Hereford, AZ 85615, United States.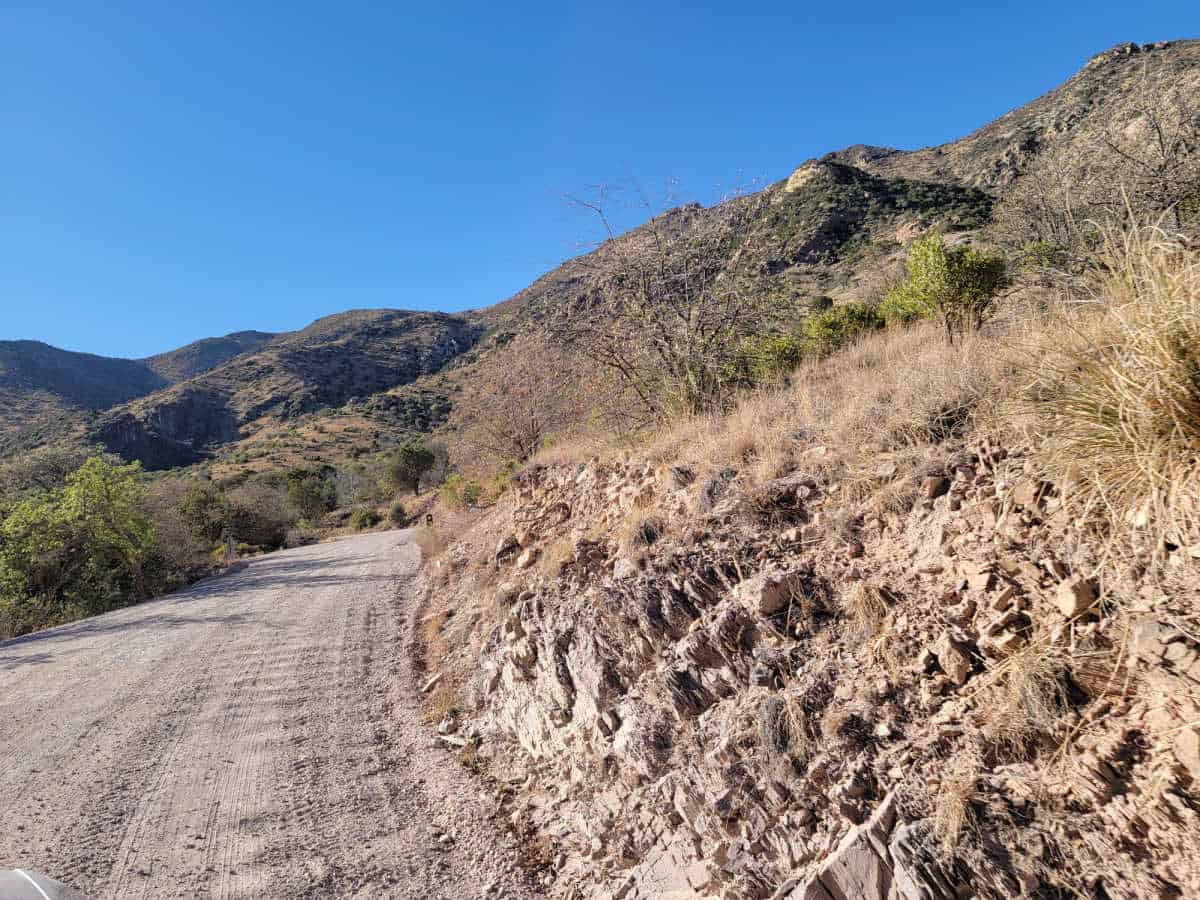 Getting to Coronado National Memorial
Closest Airports
Bisbee-Douglas International Airport- 46 miles
Nogales International Airport- 73 miles
International Airports
Tucson International Airport- 88 miles
Phoenix Sky Harbor International Airport (PHX)- 201 miles

Regional Airports
Sierra Vista Municipal Airport (FHU)- 24 miles
Bisbee Municipal Airport - 28 miles
Benson Airport - 56 miles
Marana Regional Airport-114 miles
Saffort Regional Airport- 139 miles
AK-Chin Regional Airport - 172 miles
Grant County Airport- 194 miles
Show Low Regional Airport - 284 miles
Prescott Regional Airport - 307 miles
Driving Directions
Start on I-10 E towards Tucson
Take Exit 302 for S. Highway 90 towards Sierra Vista/Fort Huachuca
Follow Highway 90 South for approximately 21 miles
Turn left onto Coronado Memorial Road
Follow Coronado Memorial Road to the visitor center parking lot
Best time to visit
Which season is the best time to visit Coronado National Memorial? Spring (March to May) and fall (September to November) are ideal when the weather is mild and cool. Summer can be scorching hot and dry, making it difficult to hike or explore the park.
In winter, snow and icy conditions can limit access to certain areas of the memorial. Regardless of the season, always make sure to bring plenty of water and sun protection, as well as proper hiking gear if you plan on exploring the park's trails.
Weather and Seasons
The warmest time of the year at Coronado National Memorial usually falls between June and September, with average high temperatures ranging from the mid-80s to the low 90 degrees.

The coolest weather is from December to February when temperatures can drop to around freezing at night and reach around 60 degrees during the day

It is not typically known for being a snowy location. Its average annual snowfall is only about 10 inches per year.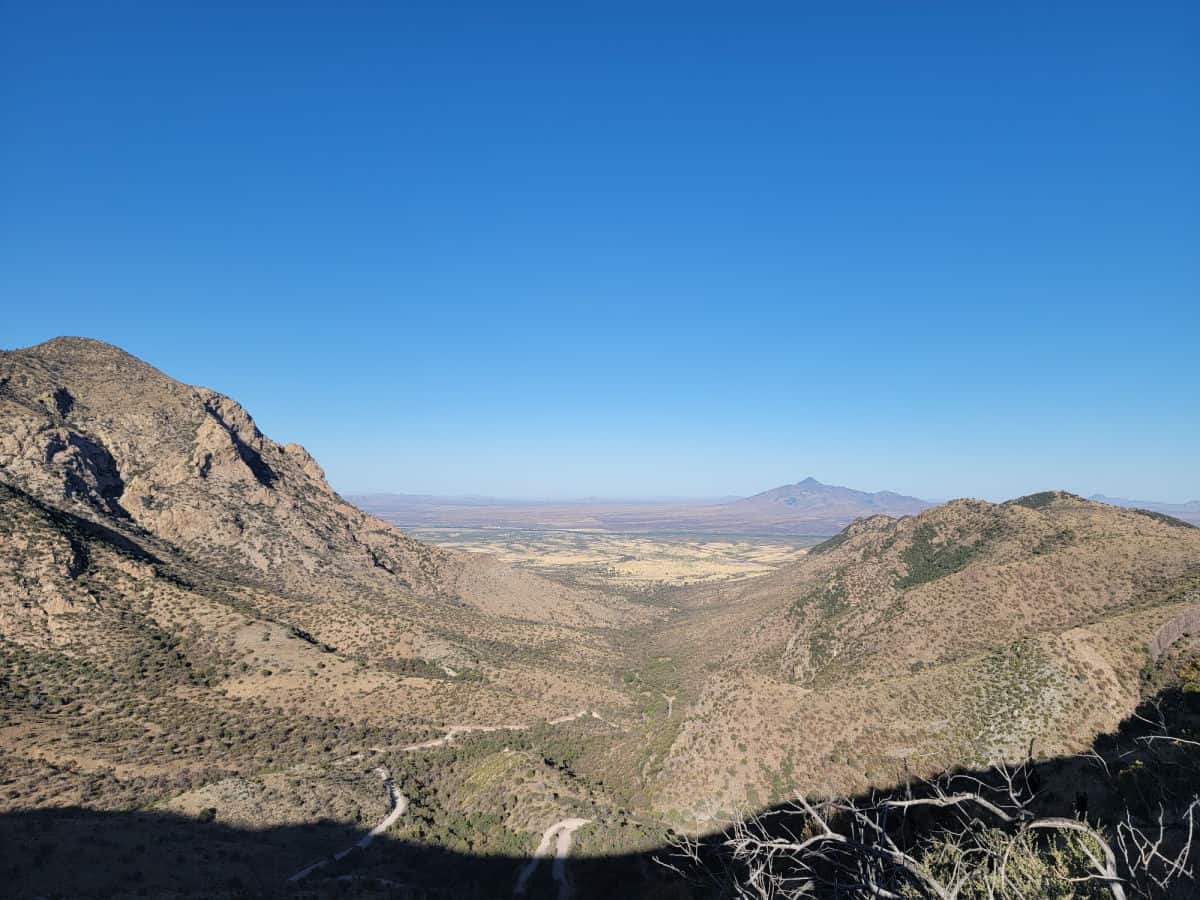 Best Things to do in Coronado National Memorial
There are lots of great things to do in Coronado National Memorial, including hiking, wildlife watching, and picnicking. If you're visiting during the summer, don't miss the opportunity to visit the park's visitor center for information about the history and geology of the site.
Visitor Center
The park visitor center has an amazing garden of native plants and flowers. It is truly gorgeous!
Outside of the visitor center, there are wonderful interpretive panels that explain the Coronado Expedition of 1540-1542 along with information on the park being on the border of Mexico and the United States.
We did not have a chance to visit inside of the visitor center due to it being closed while we were there.
We were sad to miss the hands-on display of 16th-century clothing and armor that visitors can try on.
The Junior Ranger program is a fantastic way for visitors of all ages to learn more about the park!
Bird Watching
Coronado is a bird watcher's paradise! The park gets a wide variety of birds and offers a great opportunity to see new to you birds.
A bird checklist (pdf 600KB) is available to help identify many of the different species in the park.
Picnic Area
There is a fantastic picnic area across the road from the visitor center. There are 25 picnic spots available within the picnic areas.
This is a great place to relax in the shade and watch for birds and wildlife.
Montezuma Pass
A dirt road travels to the top of Montezuma Pass. The scenic overlook sits at 6,575 feet above sea level and offers an amazing view over Texas and into Mexico.
Montezuma Pass is also the trailhead for the southern terminus of the great Arizona Trail.
The road is windy! If you have anyone who gets car sick you will want to be prepared. Please be careful on this dirt road with tight corners.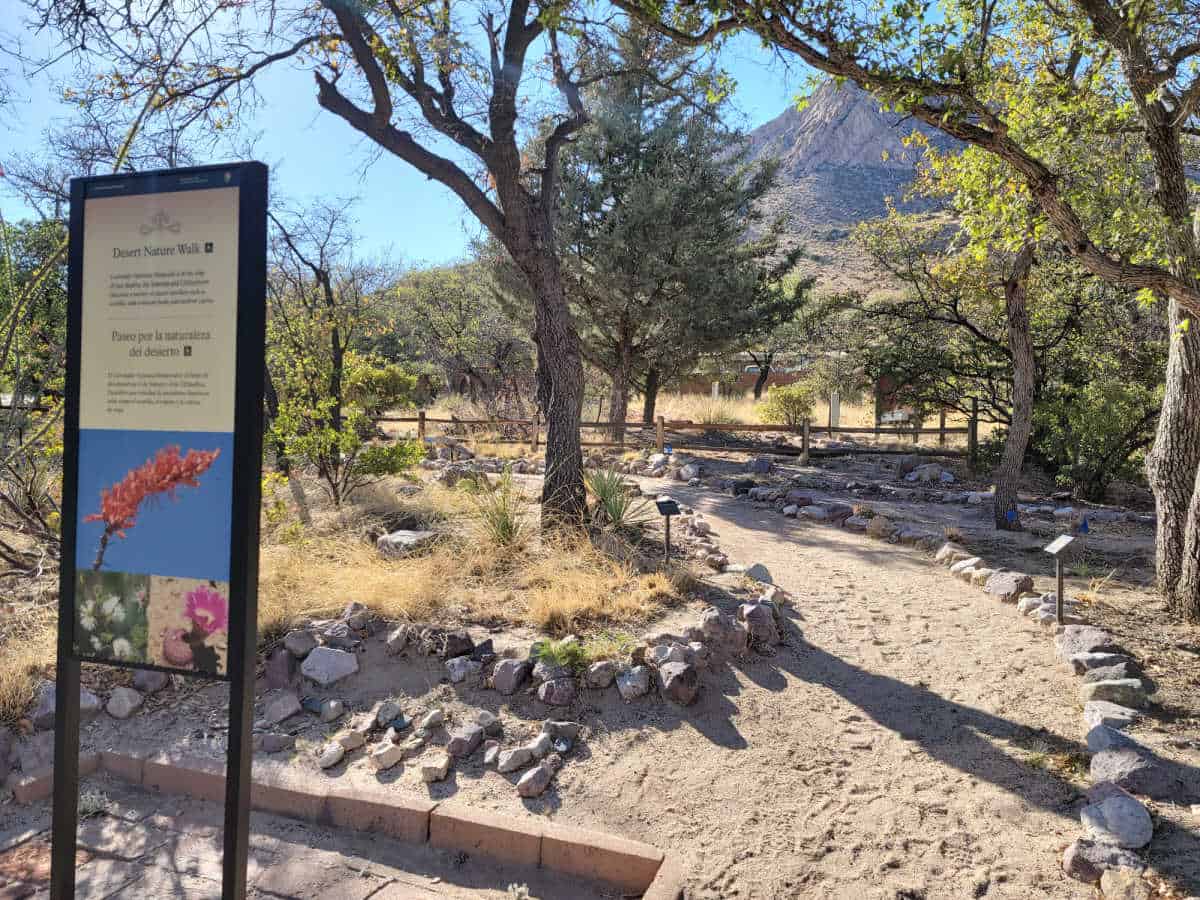 Hiking in Coronado National Memorial
One really cool option for exploring the miles of the trails in the park is to take the hikers shuttle to the top of Montezuma Pass and hike the 3-miles back down to the visitor center.
The park has a variety of terrain that showcases the American Southwest. You can hike through pinon, juniper pine forest, and oak woodlands.
Please make sure you are prepared with the ten essentials and have plenty of water with you.
You can earn an I Hike for Health pin to celebrate hiking in Coronado. To qualify you will need to hike a minimum of 3 miles in the park.
You will need to take a photo or selfie on each trail hiked and show it to the rangers at the visitor center. Make sure to record your hikes using a hiking log.
Always carry the 10 essentials for outdoor survival when exploring.
Coronado Cave
The Coronado Cave trail is a 1-mile round trip and is considered a moderate hike with a 500-foot elevation change.
The trailhead is a quarter-mile from the visitor center.
See the Coronado Cave page for more about the cave.
Arizona National Scenic Trail
Joe's Canyon Trail and the Coronado Peak Trail are both parts of the Arizona National Scenic Trail. This trail is part of the National Trails System and is classified as a National Recreation Trail.
Yaqui Ridge and Crest Trails are part of the larger Arizona National Scenic Trail (AZT) which stretches nearly 800 miles from the Arizona-Mexico border at Coronado National Memorial to the Arizona-Utah border.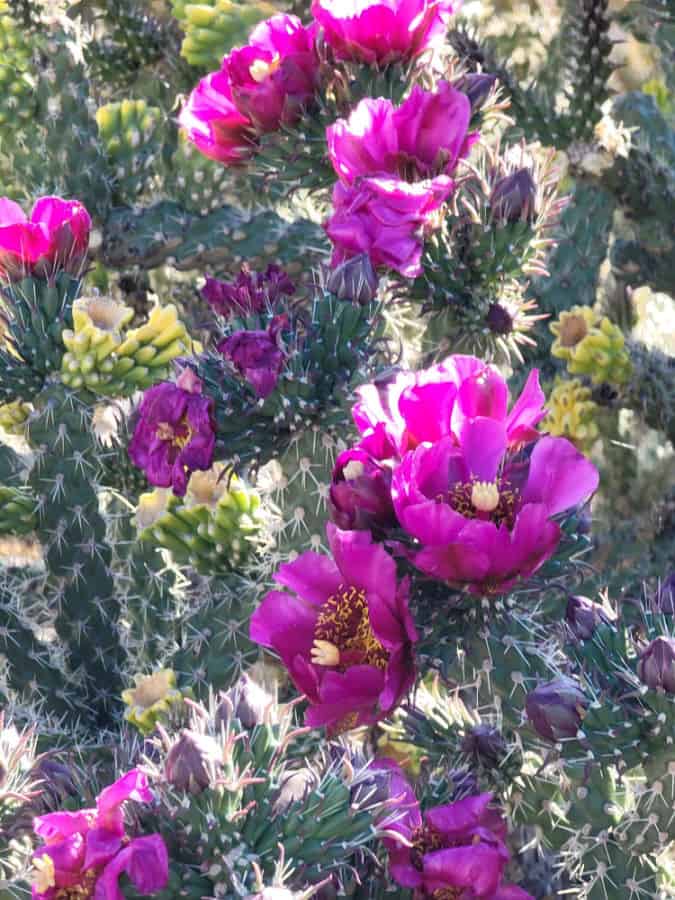 How to beat the crowds?
We did not experience any crowds during our visit to the park. There is tons of space to move around if you find yourself there on a crowded day.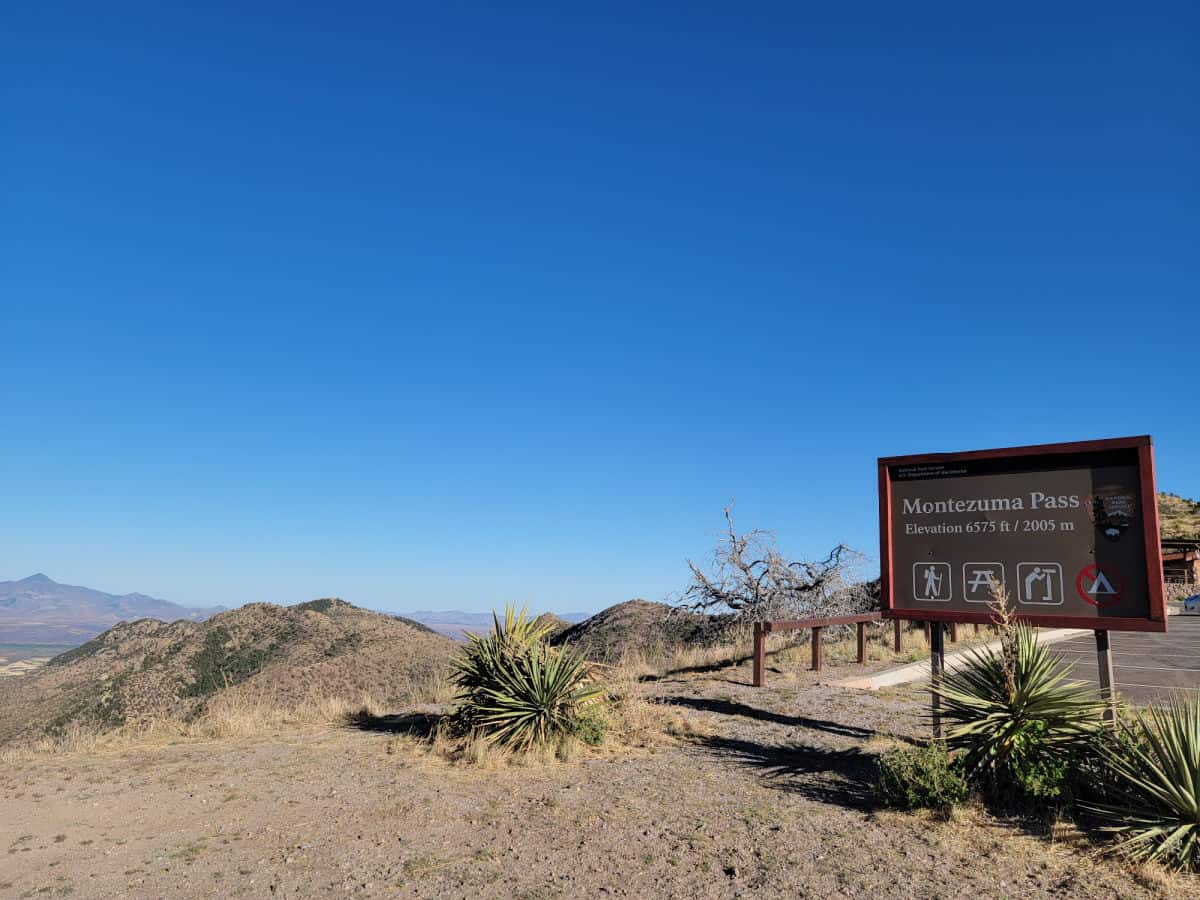 Where to stay when visiting
There are no National Park Lodges within the park.
Nearby Lodging includes:
Fairfield Inn and Suites by Marriott Sierra Vista- The hotel offers comfortable and spacious guest rooms and suites with modern amenities like free Wi-Fi, flat-screen TVs, mini-fridges, microwaves, and coffee makers. Guest facilities include an outdoor pool, fitness center, and complimentary delicious breakfast.

Holiday Inn Express Sierra Vista - It is a 3-star hotel that offers comfortable rooms and amenities such as free free breakfast , free Wi-Fi, outdoor pool,fitness center, business center and on-site parking.
Towneplace Suites by Marriott Sierra Vista- The hotel features spacious suites with fully equipped kitchens, free Wi-Fi, and separate living areas. Amenities include a fitness center, outdoor pool, and complimentary breakfast. The hotel is conveniently located near Fort Huachuca and many local attractions.

Hampton Inn Sierra Vista- It offers comfortable and convenient accommodations for travelers visiting the area. Amenities at the hotel include free breakfast, complimentary wireless internet, an outdoor pool, fitness center, and a 24-hour business center.

Click on the map below to see current vacation rentals and lodges near the park.


Camping
For a fun adventure check out Escape Campervans. These campervans have built in beds, kitchen area with refrigerators, and more. You can have them fully set up with kitchen supplies, bedding, and other fun extras. They are painted with epic designs you can't miss!
Escape Campervans has offices in Vancouver, Seattle, Portland, San Francisco, Las Vegas, Los Angeles, Phoenix, Salt Lake City, Denver, Chicago, New York, and Orlando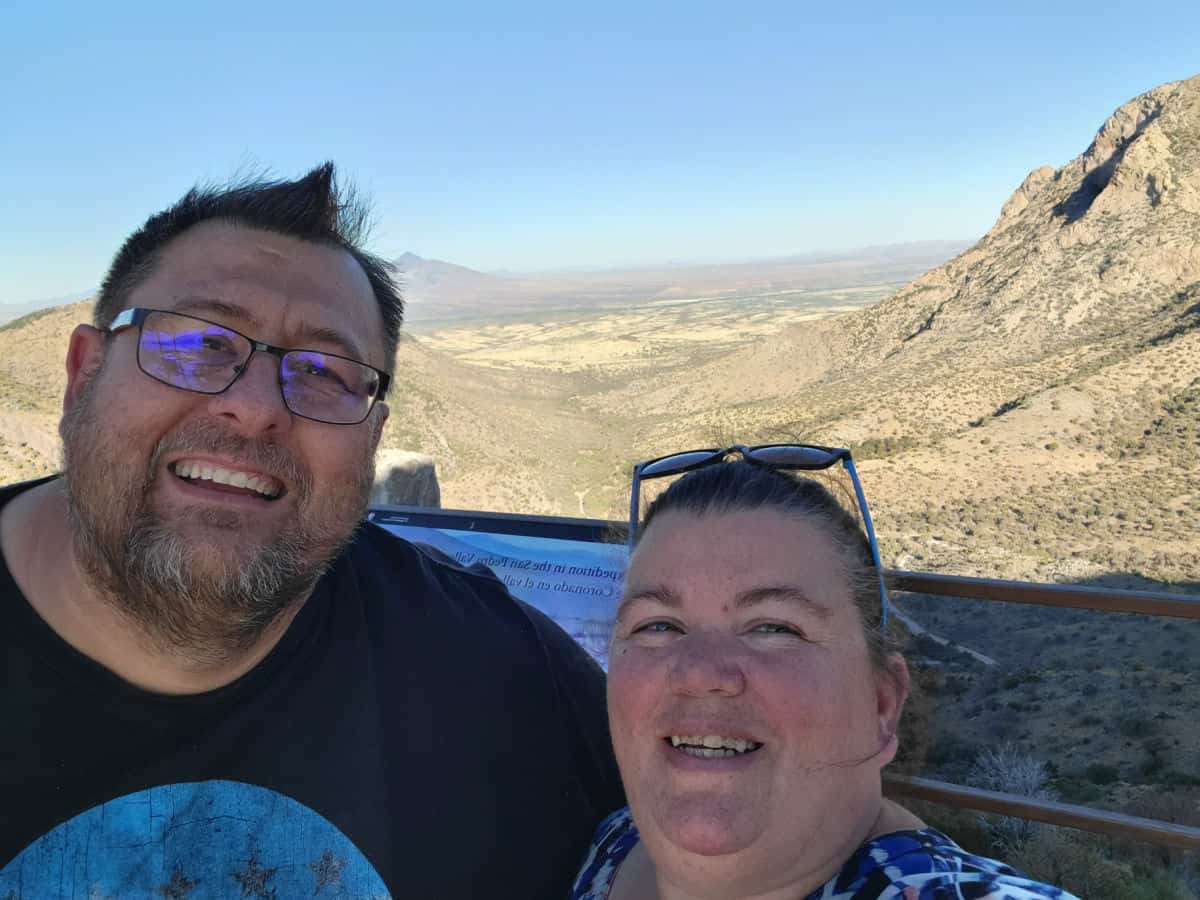 Parks Near Coronado National Memorial
Chiricahua National Monument - 94 miles
Fort Bowie National Historic Site- 109 miles

Tumacacori National Historical Park-103 miles

Organ Pipe Cactus National Monument -239 miles

Casa Grande Ruins National Monument -163 miles
Check out all of the Arizona National Parks you can visit. Don't miss the amazing parks in neighboring New Mexico National Parks and National Parks in California.