Visiting Craters Of The Moon National Monument and Preserve is like taking a step onto another planet! For good reason too, 15,000-2,000 years ago Lava started erupting from the Great Rift that starts by the parks Visitor center and extends over 50 miles to the Southwest covering over 600 square miles creating a surface more like something you would expect to see on the moon.
It is known for its spatter cones, some of the rarest volcanic features found on the face of the earth! The scenery is covered with lava that can reach over 150 degrees Fahrenheit on a hot summer day and can be completely covered in snow in the winter. It's truly a remarkable place to explore! Here is my list of things to do Craters Of The Moon National Monument and Preserve.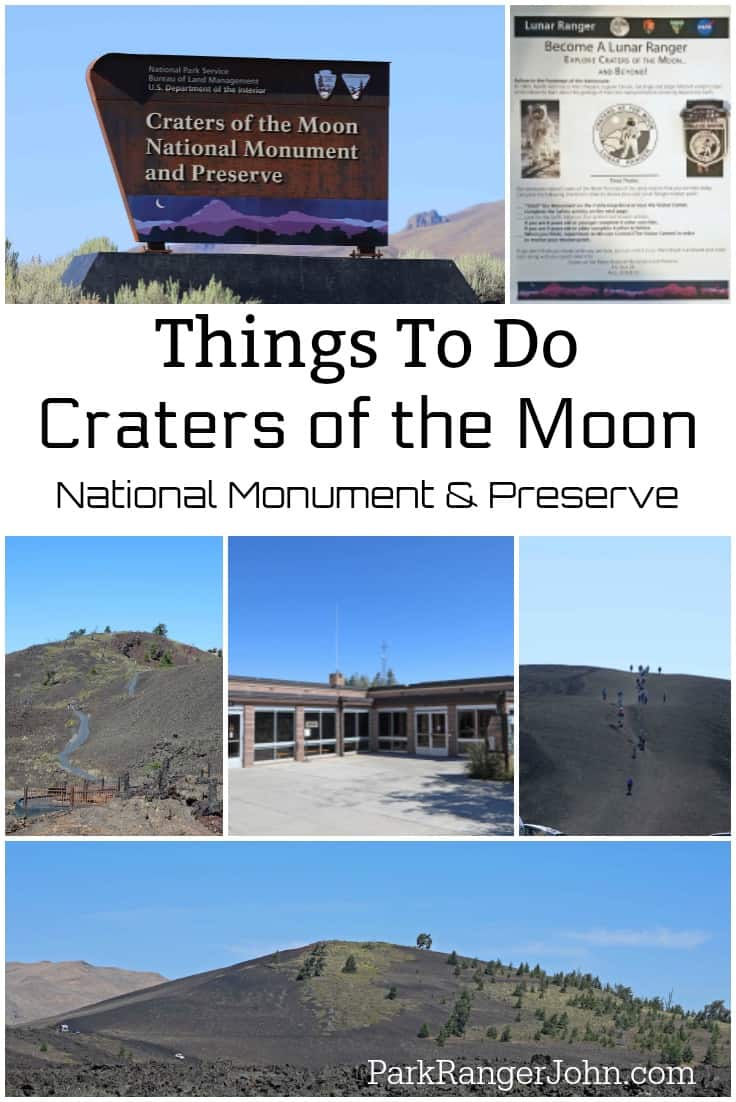 Things to Do Craters of the Moon National Monument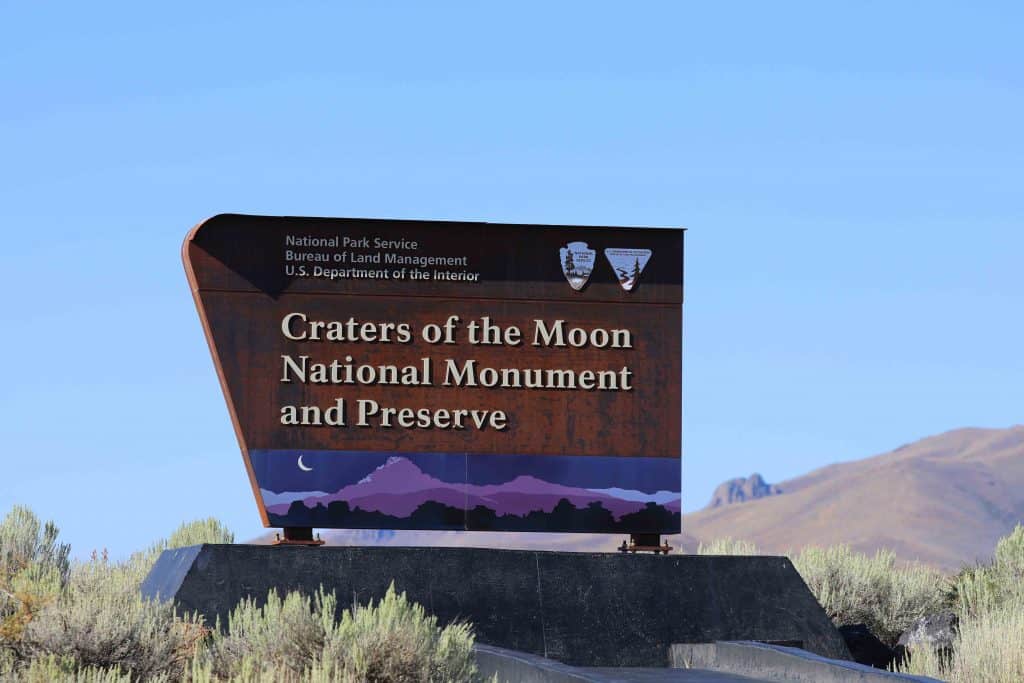 Visit the Craters Of The Moon Visitor Center
The park visitor center will be on your left as you enter the park. It's a great place to gather maps/park brochures, find out when there will be interpretative programs, see interpretative displays and watch the park movie.
The Park Visitor Center is also the place to obtain your free Cave Permit, a permit is required if you go to any of the parks 5 caves. I would recommend that you go ahead and get one because you know that you will arrive at the trailhead and wish you had.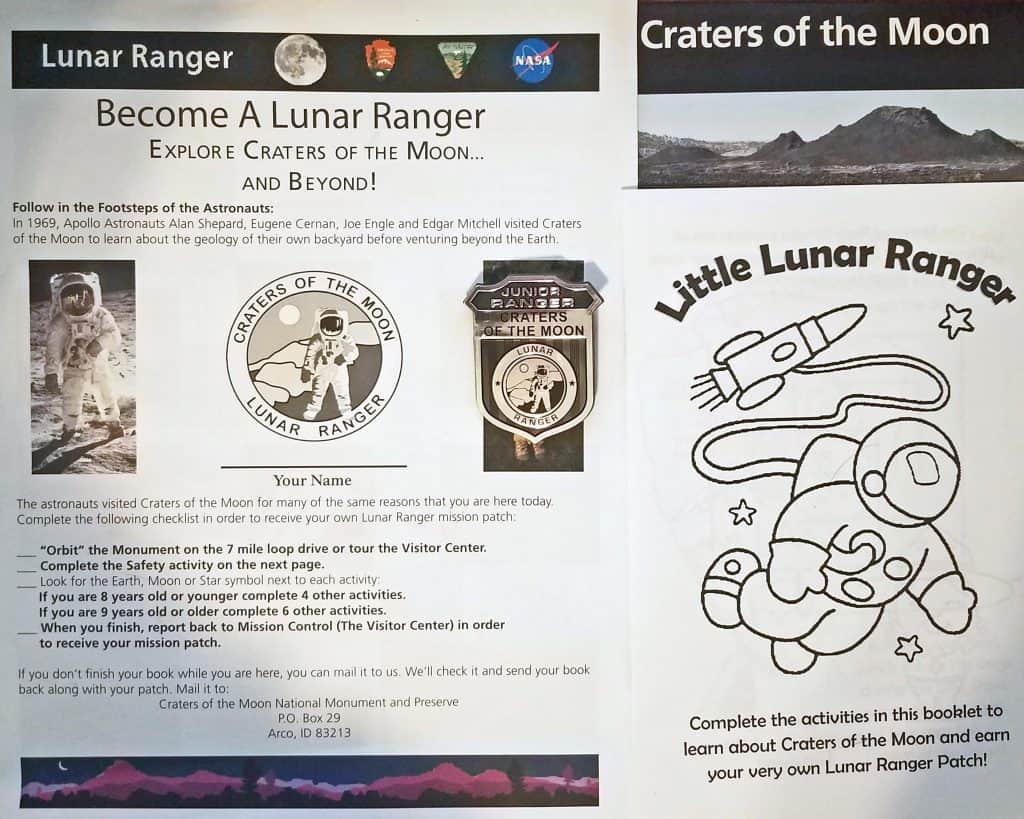 Become a Lunar Ranger
Craters of The Moon National Monument and Preserve does things a little different than the typical Junior Ranger Program. Craters of the Moon is the only place in the universe where you can become a Lunar Ranger! You may ask why a Lunar Ranger? First off, this park is named Craters of the Moon because it looks like you are actually looking at the surface of the moon while looking through a telescope!
Secondly, in 1969, Apollo Astronauts Alan Shepard, Eugene Cernan, Joe Engle, and Edgar Mitchel went to Craters of the Moon to learn about geology here on earth before landing on the moon. The badge is pretty darn cool too! Where else are you going to get a badge with an astronaut and the moon on it?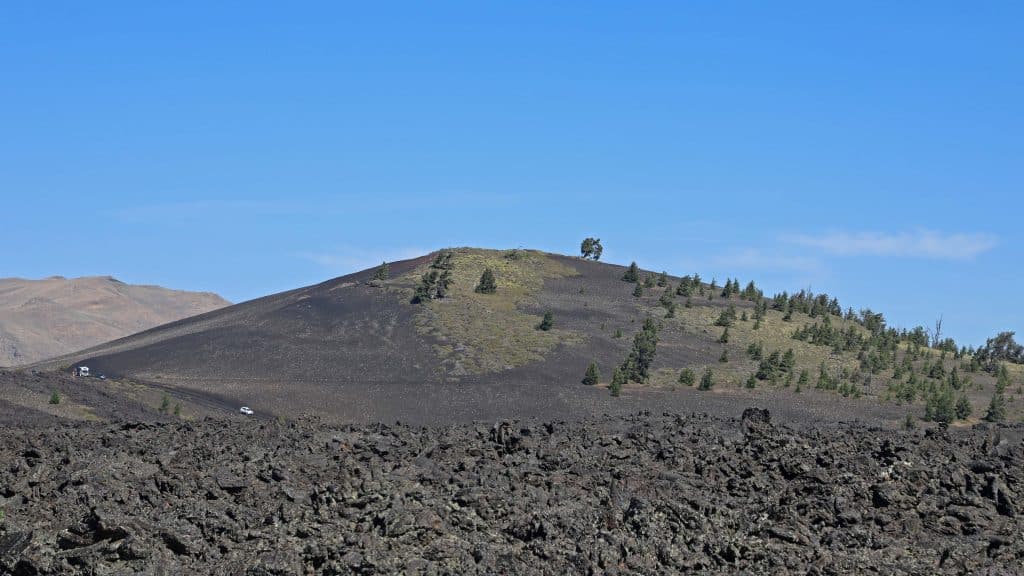 Drive the scenic 7-mile loop drive
As you can tell from the photo from above, this scenic drive is unlike many scenic drives you would expect to see in a national park. There are very few trees or any plant life for that matter, you are not going to see beautiful lakes or waterfalls flowing. What you are going to see is incredible geology! That's right, all your rock geeks are going to freak out seeing spatter cones from the great rift and this drive puts you in the middle of incredible views of these features.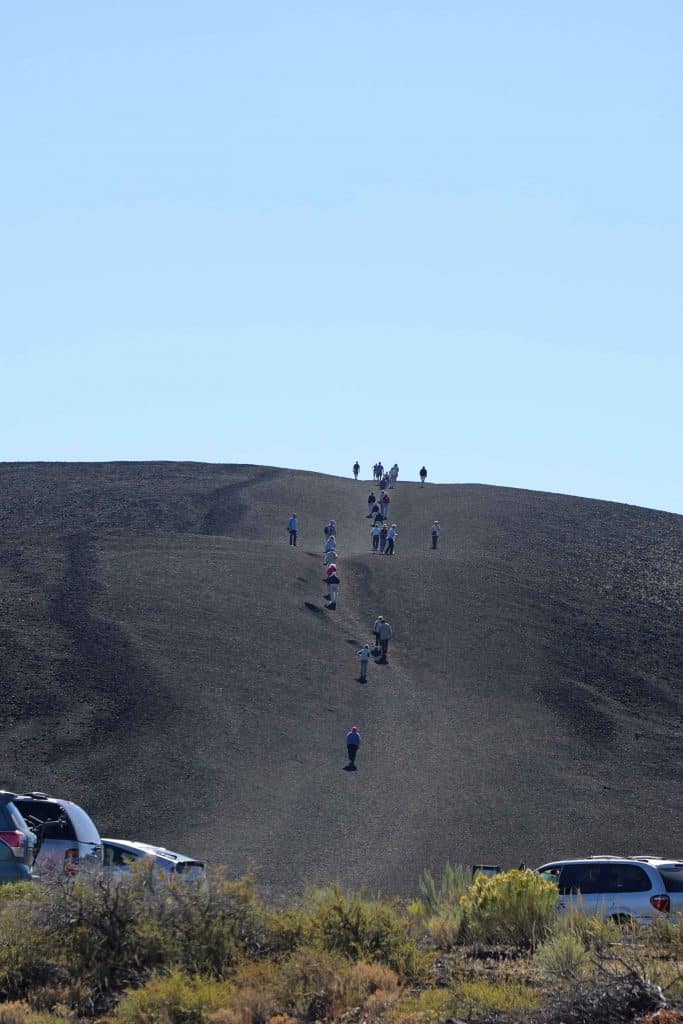 Go for a Hike!
Craters of the Moon has several great hikes! I really enjoyed every hike in this park and have to say my absolute favorite is the Inferno Cone Hike. A big part of this is the fact that the trail is hiking directly on 100% cinder. There is just something about hearing the crunch as you take each step on this unusual surface. This is a must do for anyone to get a true experience from craters of the moon whether you just take a few steps from the parking lot to hiking to the top.
While this trail is only 2/10 mile each way, the trail starts at about 6000 feet in elevation and climbs 164 feet at an average of a 14.9% grade. This means that this short hike can still kick your butt, especially for those living near sea level. The payoff is the spectacular view from the top of the Great Rift and cinder cones. On a clear day, you may be able to see The Teton Range that is 100 miles away!
Check out this video from one of my good friends on exploring Craters of the Moon and caves.
Explore a cave
There are five caves open to the public to explore at Craters of the Moon National Monument. Before entering any cave, you must first obtain a free Cave Permit and find out how you can prevent White Noise Syndrome that is affecting bats.
You will need to bring clothes and shoes that have not been worn in another cave. Food is not permitted inside any of the caves. There is a garbage can at the trailhead for garbage and food scraps.
The Caves Trail is 1.6 miles in length and considered a moderate hike. Four of the park's caves can be accessed from the Caves Trail. Make sure and pick up a cave guide near the trailhead.
Indian Tunnel: 800 ft long, stairs provided at entry, EASY
Dew Drop Cave: Open, bouldered entrance, MODERATE
Beauty Cave: Open, bouldered entrance, MODERATE
Boy Scout Cave: Tight, rocky entrance, DIFFICULT
The parks fifth cave the public can access is located on the Broken Top Loop Trail. This 1.8-mile hike is considered a moderate hike. Make sure and pick up a cave guide at the trailhead so you know more about the Buffalo Cave.
Buffalo Cave: Tight, rocky entrance, low ceilings, DIFFICULT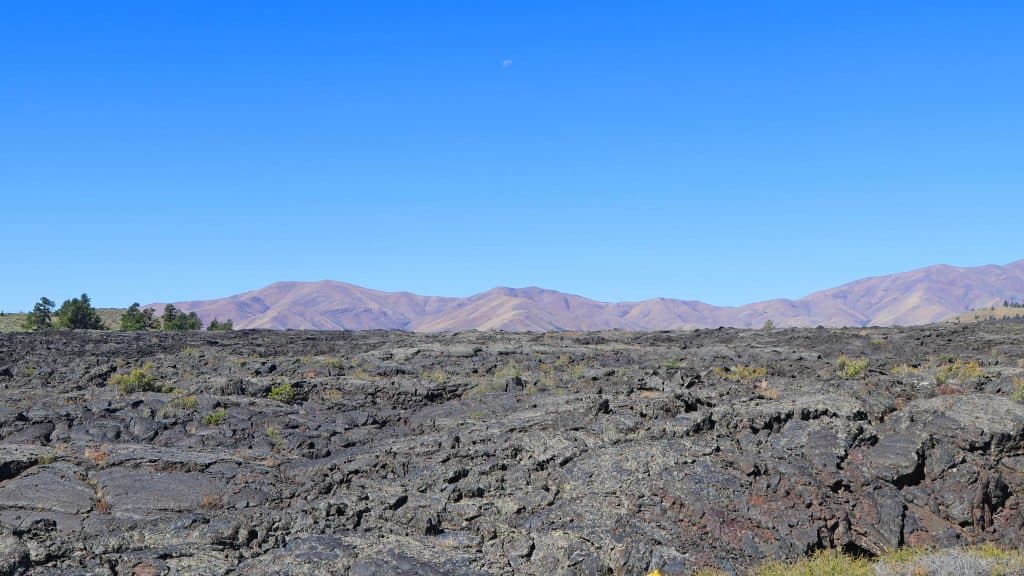 Explore the dark skies
Craters of the Moon National Monument was designated an International Dark Sky Park in 2017. It only seems logical as it is the only park named after a celestial body. The Idaho Falls Astronomical Society hosts a Star Party each spring a fall so make sure to plan ahead if you would like to visit during this time.
I have worked with several Astronomical Societies in the past hosting star parties and they are a blast! Members from the Astronomical Society will bring out their telescopes and invite people to look into them and have even invited people to bring their own telescopes and they were willing to help visitors get acquainted in using their own equipment.
Craters of the Moon also has Ranger Led Full Moon Hikes and take advantage of the light of the moon in the evening.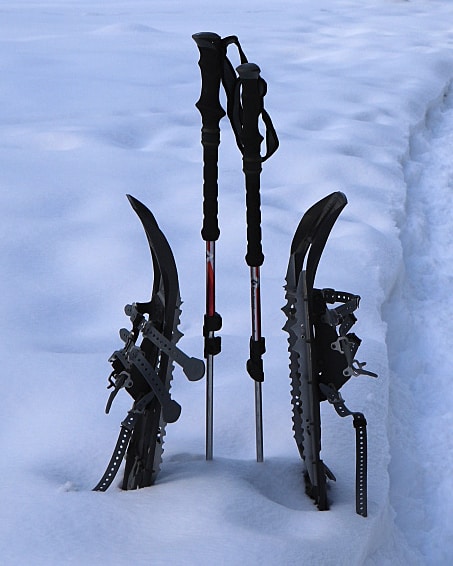 Snowshoeing and Winter Recreation at Craters of the Moon National Monument
Did you know that Craters of the Moon is open during the winter? Not only is it open but it is a fantastic place for winter recreation! There is a one-mile snowshoe trail in the park (just follow the orange snow poles) or venture off and climb a cinder cone.
There is also a guided 2-mile snowshoe hike on Saturdays in January-February. Make sure to call ahead to make reservations at (208)-527-1335 or email crmo_information@nps.gov. No prior experience is required for this but participants need to be at least 10 years of age for this moderately strenuous walk.
If Cross Country Skiing is more your thing, Craters of the Moon has you covered as well! They have a 4-7 mile groomed trail (depending on weather) and is typically available between December to March. The terrain is mostly flat with gentle hills and can take 2-4 hours to complete the loop.
Now you have a list of things to do at Craters of the Moon National Monument and Preserve, it's up to you now to go explore this incredible park.
Don't miss this article on Craters of the Moon Camping to see what to expect when planning a camping trip in the park.
Make sure to check the links below for National Parks near Craters of the Moon National Monument and Preserve.
Hagerman Fossil Beds National Monument
Minidoka National Historic Site
City of Rocks National Reserve
Check out all of the Idaho National Parks and neighboring National Parks in Oregon