Complete Guide to Minidoka National Historic Site in Southern Idaho and the Bainbridge Island Japanese American Exclusion Memorial on Bainbridge Island, Washington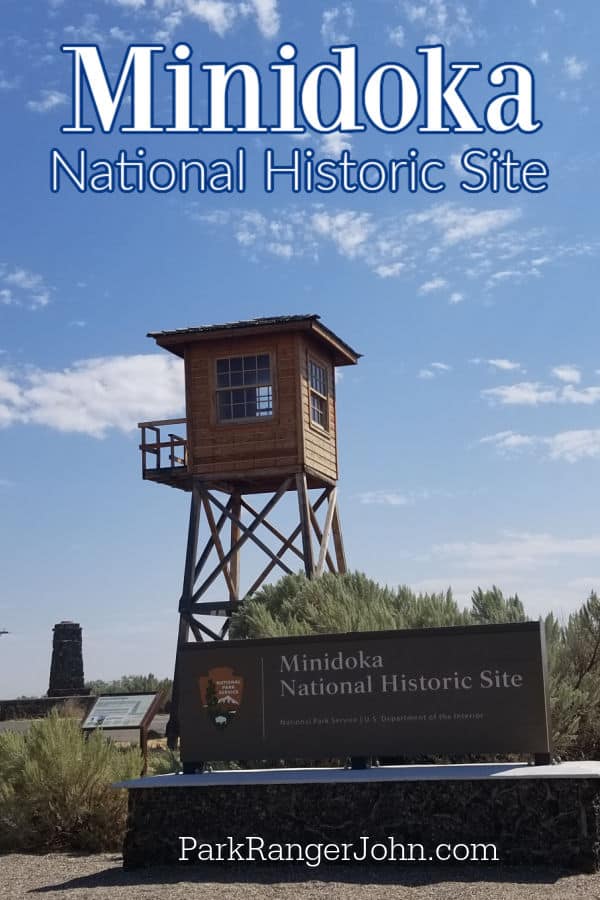 Minidoka National Historic Site
Minidoka National Historic Site in southern Idaho is a hard site to visit. It is hard to believe that as a country we forced 120,000 Japanese-American citizens and resident Japanese aliens into ten isolated relocated centers around the country.
It is even harder to believe that this happened in 1942. One thing we were surprised about visiting this site is there are no road signs guiding you to the park.
Of the 250+ parks, we have visited this is the first park we have experienced not having signs leading to the park.
When we asked at couple of other parks they couldn't tell us why this park doesn't have signs or isn't really talked about. The park has a temporary visitor center that is across the street from the main sign and guard tower.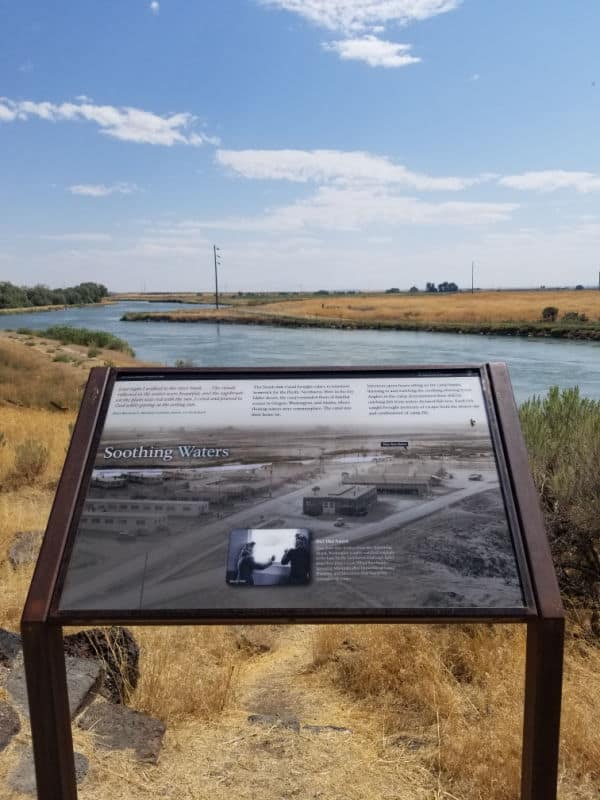 Is Minidoka National Historic Site worth visiting?
If you follow our Facebook page, and I hope you do, you may remember my post about how it felt visiting Minidoka NHS.
I'm typically a very upbeat and happy/positive person and always like to convey this online. Yesterday hit me especially hard as we visited the Minidoka National Historic Site.

It's a small park that many people have never heard of besides locals and crazy National Park Service Fans like myself with their Passport Books in hand getting another stamp from one of the 417 Sites. There wasn't even a single sign directing visitors from the highway.

Minidoka talks about one of the not so bright sides of American History when President Roosevelt signed executive order 9066 Shortly after Pearl Harbor. This forced over 120,000 Japanese Americans to leave their homes/jobs/business and move into one of 10 prison camps like Minidoka.


These were proud Americans that committed no crime besides having Japanese ancestry and were denied their constitutional rights as American Citizens and this happened a very short 75 years ago.


I feel this is very important to share as America continues to battle fear of people only because of their race. America is a country of immigrants and Ellis Island is another great National Park Service site that tells this story.
I am still trying to process our time at this park. It truly hit me hard and I am so glad that the National Parks preserves not just the beautiful parks but the important parks in our history even when they are not wonderful.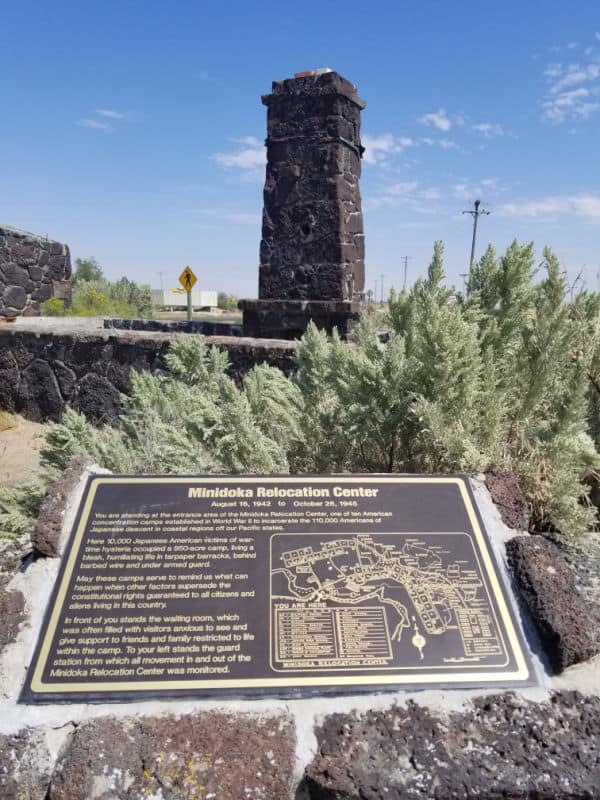 History of Minidoka National Historic Site
Minidoka National Historic Site is located in south-central Idaho in Jerome County. The site sits in a remote, high desert area north of the Snake River.
The village of Minidoka was located on the route the early pioneers took west. "Minidoka" is a Shoshone Indian term meaning "broad expanse."
In the early 1900s, many homesteaders arrived in the area to claim a plot of land. By 1932, there were not many families left as the years preceding had been full of droughts, wind, and pests that made farming extremely difficult.
An irrigation project was attempted but very few farmers and engineers alike had experience with irrigation and as a result, many left the area permanently.
On the infamous day of December 7, 1941, Japan succeed in bombing United States' Pearl Harbor on the islands of Hawaii. Americans were saddened, horrified, and almost immediately fearful and prejudice of Japanese Americans.
The federal government shared the same feelings and by February 1942 it began rounding up Japanese Americans and sending them to war relocation centers.
President Franklin D. Roosevelt signed Executive Order 9066 on February 19, 1942 which authorized the evacuation of all persons deemed a threat to national security from the west coast to relocation centers located further inland.
Between 1942 and 1945, a total of 10 relocation camps were opened in the United States. They held a combined total of approximately 110,000 Japanese Americans.
Without much notice, the government gave Americans of Japanese descent only a few days to figure out what to do with their homes, businesses and possessions.
Families were not told where they were going and for how long. They were loaded onto busses and driven to their specific location.
The people sent to be incarcerated at Minidoka totaled nearly 9,500 and they were mainly from Oregon, Washington and Alaska.
60% of detainees at Minidoka were American born Japanese, and 40% were born in Japan, but had been living in American and not able to obtain citizenship at the time.
The first detainees arrived on August 10th, 1942. At this time, the camp had not completed the sewage system and there was no running water.
One detainee later wrote of arriving at Minidoka:
"When we first arrived here we almost cried, and thought that this is the land God had forgotten. The vast expanse of nothing but sagebrush and dust, a landscape so alien to our eyes, and a desolate, woe-begone feeling of being so far removed from home and fireside bogged us down mentally, as well as physically." Another evacuee wrote, "We were simply and utterly disgusted with... the camp... we found no running hot water, no sewer system, a hot, dry, dusty climate. For how long would we have to endure these conditions?"
The administrative and residential areas were all located on roughly 950 acres at Minidoka. The barracks area contained 36 blocks for detainees.
Quarters were cramped, to say the least, and as mentioned earlier, climate at Minidoka could often be harsh and unforgiving. Residents were determined to make the camp as pleasing as possible.
Trees, shrubs, and flowers were planted and gardens supplying fresh produce was a resourceful way the detainees worked hard to make the best of their situation.
With their knowledge and hardworking nature, nearly 2,400 detainees proved vital to the area and actually assisted in nearby harvest work in 1943.
Along with Mexican-Americans, the detainees from Minidoka comprised the majority of the labor force in Idaho at the time.
As the months went by, Minidoka was actually considered one of the nicer relocation camps during the war. It eventually maintained two elementary schools, a high school, a gym, skating rink, baseball fields, a hospital, library, and a fire station.
The relationship between military personnel and detainees was pleasant. The biggest source of stress was the military draft, in which many men were nervous about. Like many other relocation camps during this time, sports played a big role in relieving stress for the detainees. Baseball and basketball were popular at Minidoka.
Despite their treatment by the United States and their current plight, most detainees remained extremely loyal to the United States.
In 1943, the U.S. Army created a segregated, all Japanese-American combat unit. There were approximately 1000 from Minidoka in this unit, the greatest number from all the relation camps. 87 of those soldiers died for their country during the war.
As the war came to a close in 1945, detainees from around the country began to be released from the relocation camps. The Minidoka camp officially closed on October 23, 1945.
Farmhouses and irrigation fields now encompass most of what was the site of the Minidoka Camp.
In January of 2001, the National Park Service established 72 acres of the site and created Minidoka National Historic Site.
Today, only a few re-constructed buildings and signs commemorate the history of the area, but the spirit of those detained there are forever remembered in history and shared by those who experienced it together.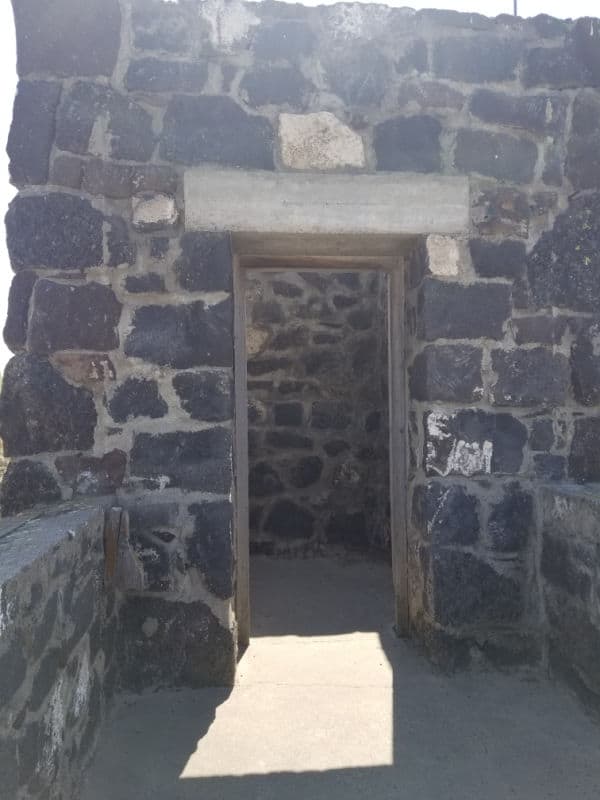 Things to know before your visit to Minidoka National Historic Site
Entrance fee
$0.00 - There is no fee to visit the park.
Planning a National Park vacation? America the Beautiful/National Park Pass covers entrance fees for an entire year to all US National Park Sites and over 2,000 Federal Recreation Fee Sites.
The park pass covers everyone in the car for per vehicle sites and for up to 4 adults for per-person sites.
Buy on REI.com and REI will donate 10% of pass proceeds to the National Forest Foundation, National Park Foundation and the U.S. Endowment for Forestry & Communities.
Learn more about National Park Passes for parks that have an entrance fee.
Free Entrance Days -Mark your calendars with the five free entrance days the National Park Service offers annually.
Time Zone
Mountain Time
Pets
Pets are not allowed on trails or in buildings. Pets are allowed in the parking lots.
Cell Service
We had fairly good service while visiting the park
Park Hours
The visitor center is open on weekends from Memorial Day weekend until Labor Day weekend.
Wi-Fi
There was Wi-Fi available in the visitor center during our visit.
Insect Repellent
Insect repellent is always a great idea when outdoors, especially if you are around any body of water.
We use Permethrin Spray on our clothes before our park trips.
Water Bottle
Make sure to bring your own water bottle and plenty of water with you. Plastic water bottles are not sold in the park.
Parking
There is an easy to reach parking lot near the visitor center.
Food/Restaurants
There are no restaurants within the park.
Gas
There are no gas stations within the park.
Drones
Drones are not permitted within National Park Sites.
National Park Passport Stamps
National Park Passport stamps can be found in the visitor center. A stamp is also available outside the visitor center next to the bathrooms in the "After Hours Information box".
A passport stamp is also available at the Bainbridge Historical Museum in Bainbridge Island, WA. The museum is located 3 miles from the Bainbridge Exclusion Memorial at 215 Erickson Avenue NE.
Make sure to bring your National Park Passport Book with you or we like to pack these circle stickers so we don't have to bring our entire book with us.
Minidoka NHS is part of the 2018 Passport Stamp Set.
Electric Vehicle Charging
The closest EV Charging Stations are located in Twin Falls, Heyburn, and Mountain Home, Idaho.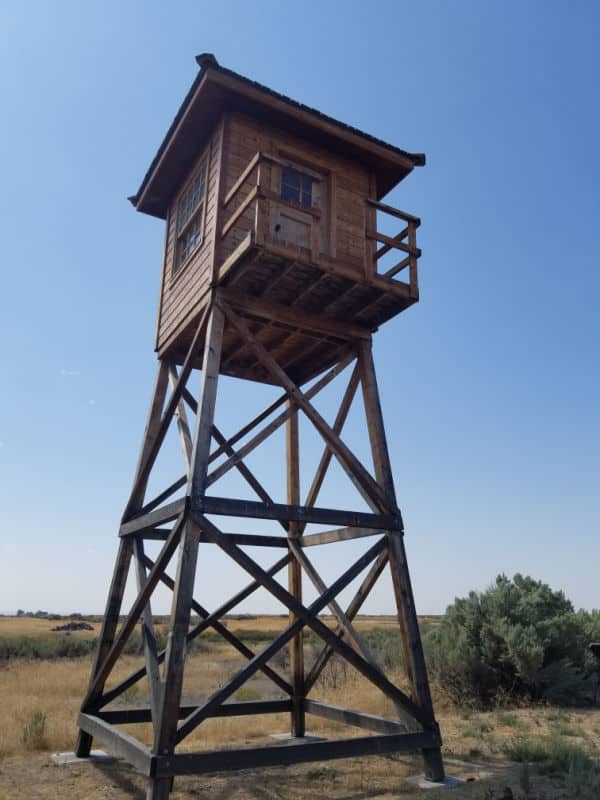 Details about Minidoka National Historic Site
Size - 210 acres
Check out how the park compares to other National Parks by Size.
Date Established
January 17, 2001 by President Clinton
The park was the 385th unit in the National Park Service.
Visitation
In 2021, Minidoka NHS had 15,040 park visitors.
In 2020, Minidoka NHS had 6,747 park visitors.
In 2019, Minidoka NHS had 13,647 park visitors.
Learn more about the most visited and least visited National Parks in the US
National Park Address
296 S 1400 E
Jerome, ID 83338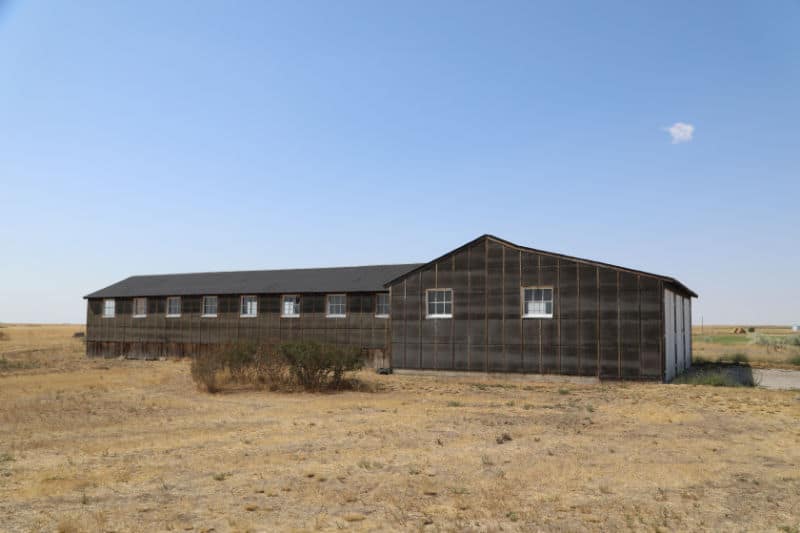 Where is Minidoka National Historic Site?
Minidoka National Historic Site is located between the towns of Twin Falls and Jerome, Idaho in south-central Idaho.
There is also a site on Bainbridge Island near Seattle, Wa
Estimated distance from major cities nearby
Boise, ID - 132 miles
Reno, NV - 473 miles
Las Vegas, NV - 515 miles
Salt Lake City, UT - 213 miles
Sacramento, CA - 605 miles
Portland, OR - 558 miles
Stockton, CA - 655 miles
Fresno, CA - 771 miles
San Francisco, CA - 691 miles
Estimated Distance from nearby National Park
Yellowstone National Park - 262 miles
Grand Teton National Park - 248 miles
Glacier National Park - 591 miles
Crater Lake National Park - 542 miles
Great Basin National Park - 338 miles
Arches National Park - 440 miles
Where is the National Park Visitor Center?
1428 Hunt Road Jerome, ID 83338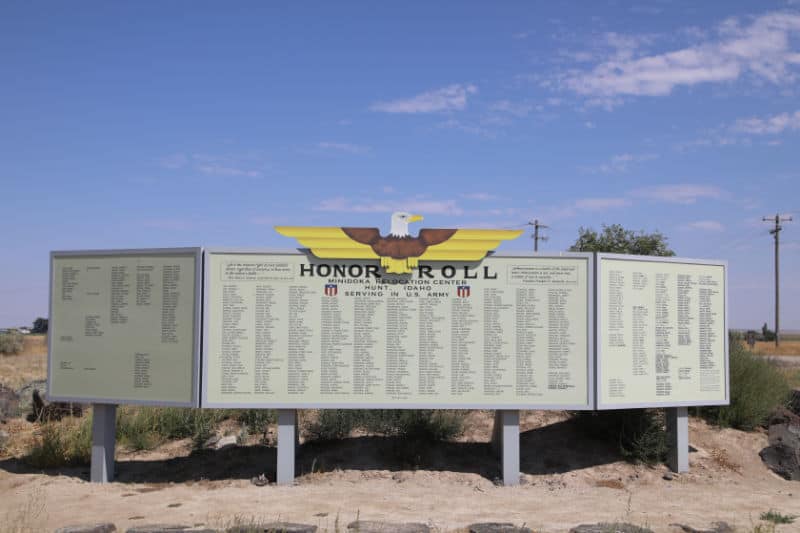 Getting to Minidoka National Historic Site
Closest Airports
Jerome County Airport (KJER)
Magic Valley Regional Airport (TWF)
International Airports
Salt Lake City International Airport (SLC)
Regional Airports
Pocatello Regional Airport (PIH)
Boise Airport (BOI)
Idaho Falls Regional Airport (IDA)
Driving Directions
To get to the Historic Site from the intersection of Interstate 84 (I-84) and U.S. Highway 93 (US 93):
Take exit 173.
Travel north on US 93 for 6 miles to the Eden exit/turnoff.
Travel east on Highway 25 for 10 miles to Hunt Rd.
Turn on to Hunt Rd. travel for 2 miles to the small parking area on your right.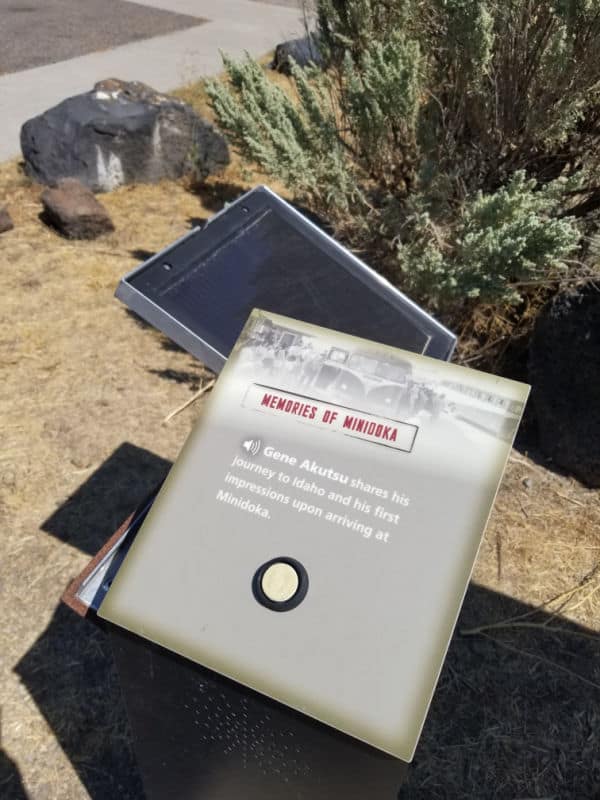 Best time to visit Minidoka National Historic Site
The best time to visit is Memorial Day through Labor Day on the weekends so you can experience the visitor center.
Weather and Seasons
Jerome, Idaho experiences hot dry summers and snowy cold winters.
The hottest weather is from June 11th to September 13th with an average daily temperature above 78 degrees.
The coldest weather is from November 21st to February 24th with an average daily temperature below 45 degrees.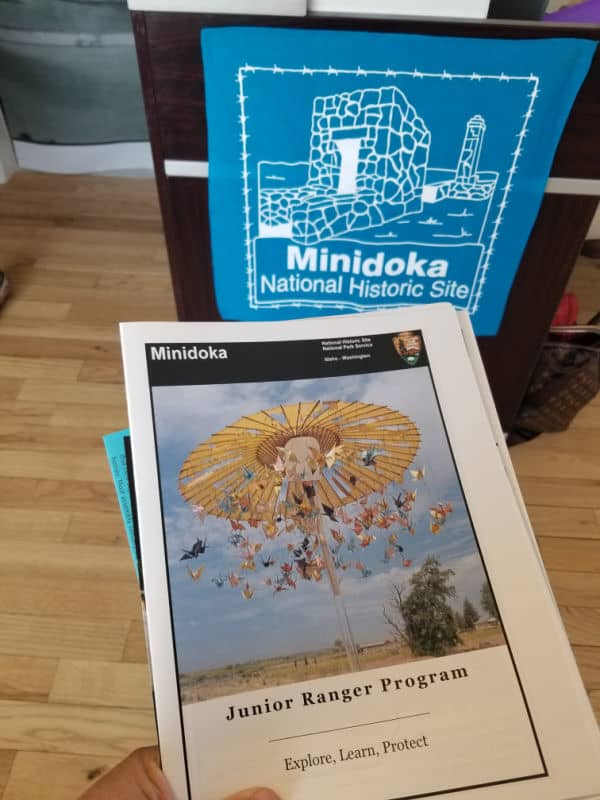 Best Things to do in Minidoka National Historic Site
Visitor Center
The Minidoka NHS Visitor Center is across the street from the guard tower and park sign.
There is a walking trail to the temporary trailer that houses the visitor center. There is no real parking lot except for 1 or 2 handicap parking spaces.
One thing to be aware of is there are snakes in the area. We saw a dead one in the middle of the road. You will want to make sure you have good shoes on and are aware of where you are stepping.
The Junior Ranger program is available at the visitor center. It will take between 30 to 60 minutes to complete. We were able to complete the program while inside the visitor center.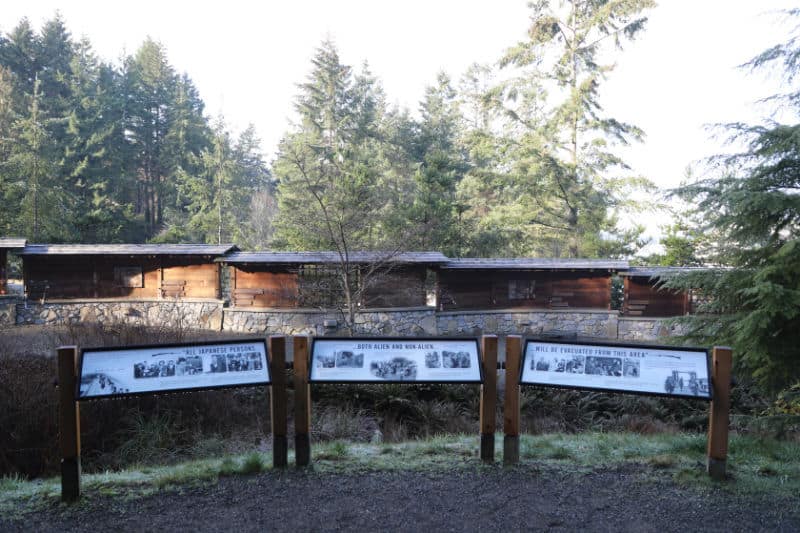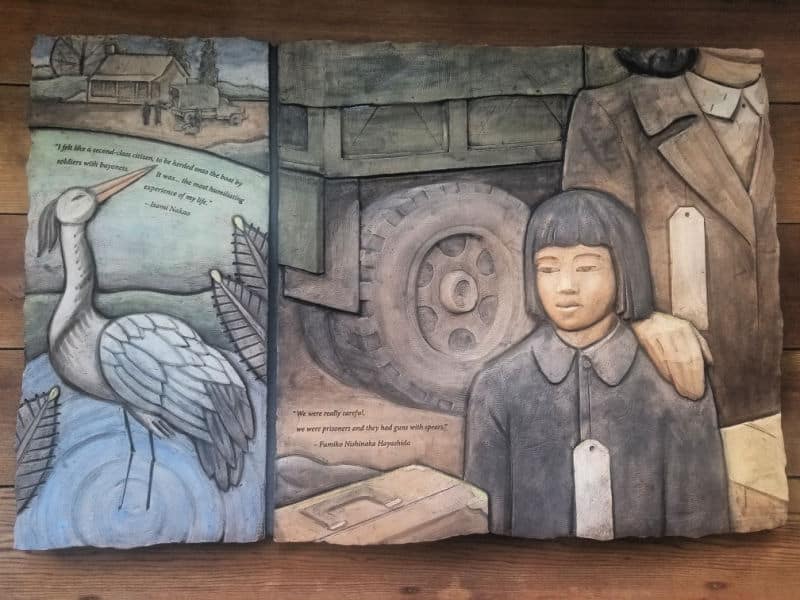 Bainbridge Island Japanese American Exclusion Memorial, Washington
There is also a memorial located on Bainbridge Island in Washington.
Mural sculptures lead visitors through the story of the Bainbridge Island community who were exiled and their island neighbors.
Paper cranes are left by visitors to honor the exiled Bainbridge Island residents and their friends who stood by them and welcomed them home.
Address - Pritchard Park - 4192 Eagle Harbor Drive, Bainbridge Island, WA 98110.
Hours - The park is open year round during daylight hours. The memorial is staffed by a Park Ranger each weekend during the summer months.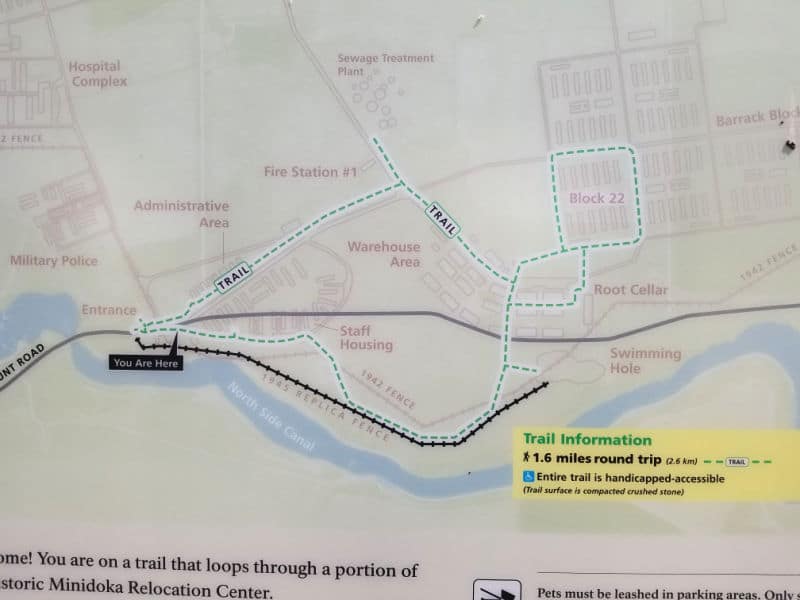 Hiking in Minidoka National Historic Site
Always carry the 10 essentials for outdoor survival when exploring.
1.6 mile Interpretive Trail
The interpretive trail guides you past historic houses along with interpretive signs. You can see how people lived here from 1942 to 1945.
How to beat the crowds in Minidoka National Historic Site?
We did not experience any crowds during our visit. We saw maybe 4 or 5 other visitors while we were there.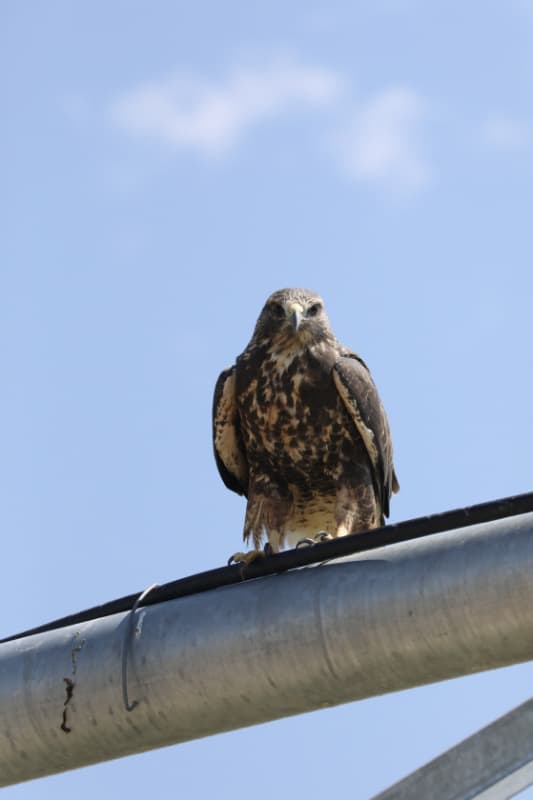 Where to stay when visiting Minidoka National Historic Site
There are no National Park Lodges within the park.
Nearby lodging includes:
Best Western Sawtooth Inn & Suites - At Best Western Sawtooth Inn & Suites, you can look forward to a grocery/convenience store, dry cleaning/laundry services, and a 24-hour business center. For some rest and relaxation, visit the hot tub. Guests can connect to free in-room Wi-Fi.
Sleep Inn & Suites Jerome- At Sleep Inn & Suites, you can look forward to free continental breakfast, laundry facilities, and a gym. Stay connected with free in-room Wi-Fi, and guests can find other amenities such as conference space.
Fairfield Inn & Suites by Marriott Twin Falls - We have stayed at this hotel a few times and enjoyed it every time. Free breakfast, a grocery/convenience store, and a terrace are just a few of the amenities provided at Fairfield Inn & Suites by Marriott Twin Falls. For some rest and relaxation, visit the hot tub. Stay connected with free in-room Wi-Fi, and guests can find other amenities such as dry cleaning/laundry services and a fireplace in the lobby.
Comfort Inn & Suites Jerome - Twin Falls - At Comfort Inn & Suites Jerome - Twin Falls, you can look forward to a free breakfast buffet, a grocery/convenience store, and laundry facilities. For some rest and relaxation, visit the hot tub. Free in-room Wi-Fi is available to all guests, along with a gym and a 24-hour business center.
Click on the map below to see additional vacation rentals and lodging near the park.


Camping
For a fun adventure check out Escape Campervans. These campervans have built in beds, kitchen area with refrigerators, and more. You can have them fully set up with kitchen supplies, bedding, and other fun extras. They are painted with epic designs you can't miss!
Escape Campervans has offices in Vancouver, Seattle, Portland, San Francisco, Las Vegas, Los Angeles, Phoenix, Salt Lake City, Denver, Chicago, New York, and Orlando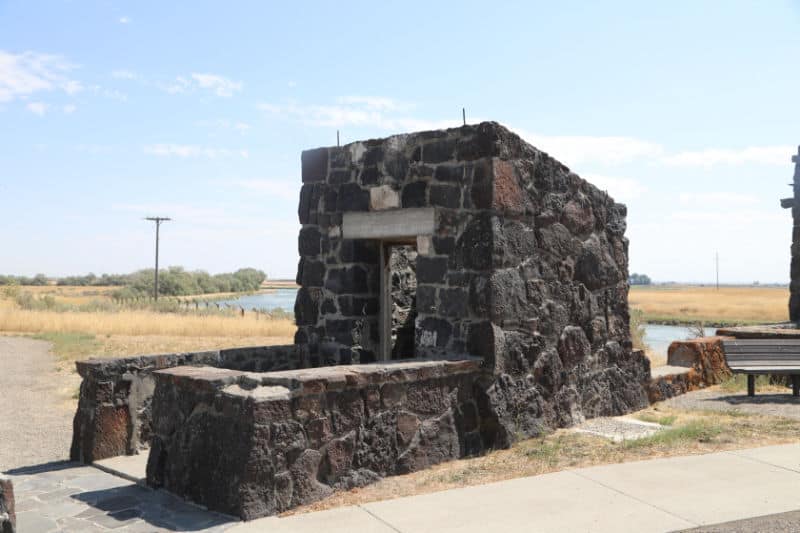 Parks Near Minidoka National Historic Site
Hagerman Fossil Beds National Monument - 40 miles
City of Rocks National Reserve - 100 miles
Craters of the Moon National Monument and Preserve - 100 miles
Golden Spike National Historic Site (Utah)
Fossil Butte National Monument (Wyoming)
Check out all of the National Parks in Idaho along with National Parks in Montana, Nevada National Parks, Oregon National Parks, National Parks in Utah, National Parks in Washington, and Wyoming National Parks