Minidoka National Historic Site in southern Idaho is a hard site to visit. It is hard to believe that as a country we forced 120,000 Japanese-American citizens and resident Japanese aliens into ten isolated relocated centers around the country. It is even harder to believe that this happened in 1942. One thing we were surprised about visiting this site is there are no road signs guiding you to the park. Of the 100+ parks we have visited this is the first park we have experienced not having signs leading to the park.
When we asked at couple of other parks they couldn't tell us why this park doesn't have signs or isn't really talked about. The park has a temporary visitor center that is across the street from the main sign and guard tower.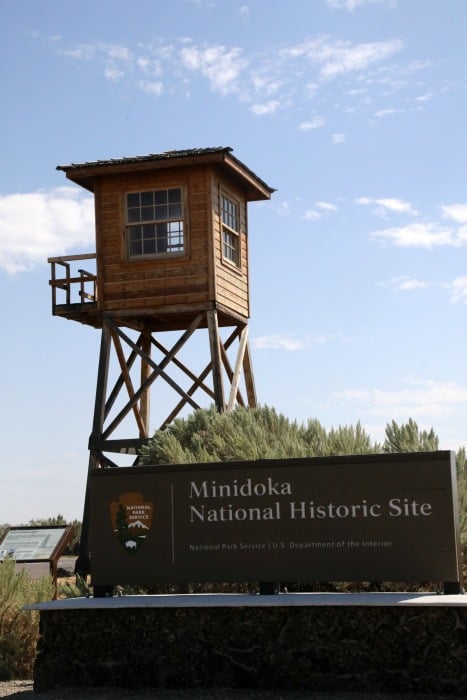 Minidoka National Historic Site
If you follow our Facebook page, and I hope you do, you may remember my post about how it felt visiting Minidoka NHS.
I'm typically a very upbeat and happy/positive person and always like to convey this online. Yesterday hit me especially hard as we visited the Minidoka National Historic Site. It's a small park that many people have never heard of besides locals and crazy National Park Service Fans like myself with their Passport Books in hand getting another stamp from one of the 417 Sites. There wasn't even a single sign directing visitors from the highway.
Minidoka talks about one of the not so bright sides of American History, when President Roosevelt signed executive order 9066 Shortly after Pearl Harbor. This forced over 120,000 Japanese Americans to leave their homes/jobs/business and move into one of 10 prison camps like Minidoka.
These were proud Americans that committed no crime besides having Japanese ancestry and were denied their constitutional rights as American Citizens and this happened a very short 75 years ago.
I feel this is very important to share as America continues to battle fear of people only because of their race. America is a country of immigrants and Ellis Island is another great National Park Service site that tells this story.
A few weeks later and I am still trying to process our time at this park. It truly hit me hard and I am so glad that the National Parks preserves not just the beautiful parks but the important parks in our history even when they are not wonderful.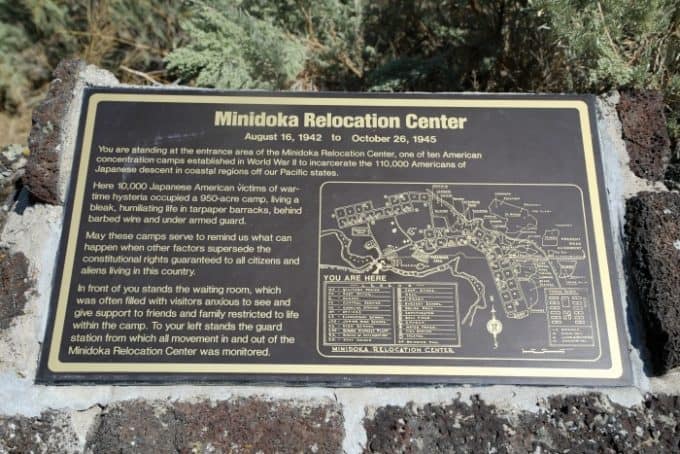 Top things to do at Minidoka National Historic Site
Minidoka NHS Visitor Center
The Minidoka NHS Visitor Center is across the street from the guard tower and park sign. There is a walking trail to the temporary trailer that houses the visitor center. There is no real parking lot except for 1 or 2 handicap parking spaces.
One thing to be aware of is there are snakes in the area. We saw a dead one in the middle of the road. You will want to make sure you have good shoes on and are aware of where you are stepping.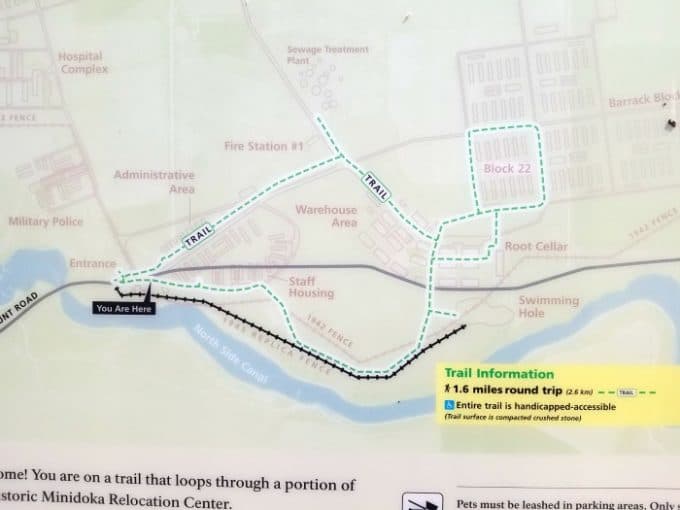 Walk the 1.6-mile interpretive trail
The interpretive trail guides you past historic houses along with interpretive signs. You can see how people lived here from 1942 to 1945.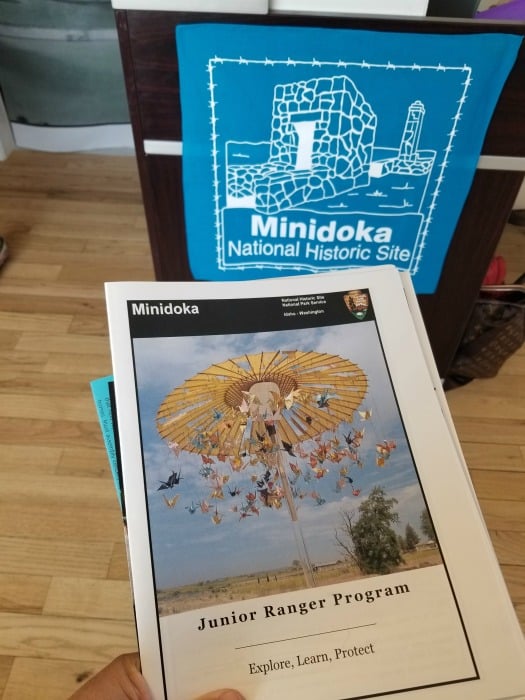 Become a Junior Ranger
The Junior Ranger program is available at the visitor center. It will take between 30 to 60 minutes to complete. We were able to complete the program while inside the visitor center.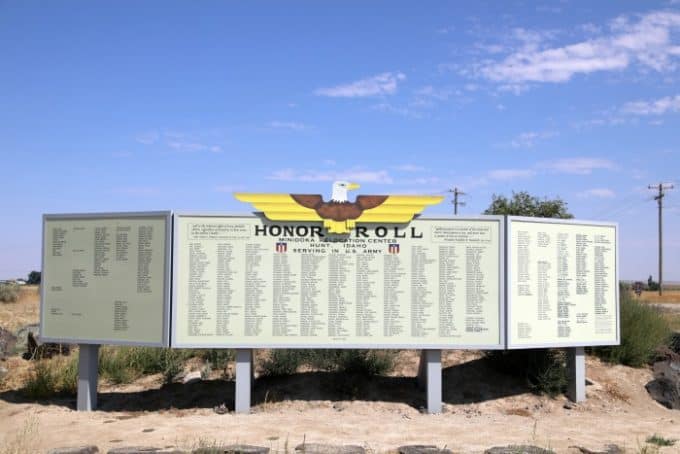 Minidoka National Historic Site Info and Things to Know
Park Address
296 S 1400 E
Jerome, ID 83338
Minidoka National Historic Site is located between the towns of Twin Falls and Jerome, Idaho in south-central Idaho.
To get to the Historic Site from the intersection of Interstate 84 (I-84) and U.S. Highway 93 (US 93):
Take exit 173.
Travel north on US 93 for 6 miles to the Eden exit/turnoff.
Travel east on Highway 25 for 10 miles to Hunt Rd.
Turn on to Hunt Rd. travel for 2 miles to the small parking area on your right.
Park Hours
The temporary visitor contact station is open from 10 am to 5 pm every day from June 1st to August 31st for the summer season.
Saturday and Sunday from 10 am to 5 pm as staffing and weather permits from Labor Day to Memorial Day for the winter season.
Park hours - Sunrise to Sunset
The grounds are open seven days a week from sunrise to sunset for self-guided tours on the 1.6 mile walking trail with outdoor exhibits telling the history of the site.
Entrance fees
There is no cost to enter the National Historic Site or the Visitor Center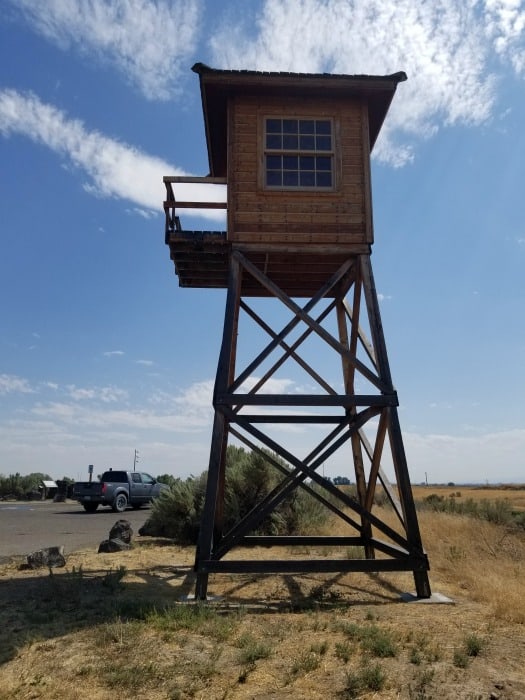 Minidoka NHS - Bainbridge Island, Washington State
There is also a site for this park located on Bainbridge Island. Here is a video from our visit.
National Parks near Minidoka National Historic Site
Hagerman Fossil Beds National Monument - 40 miles
City of Rocks National Reserve - 100 miles
Craters of the Moon National Monument and Preserve - 100 miles
Golden Spike National Historic Site (Utah)
Fossil Butte National Monument (Wyoming)