There is several things to do at Saguaro National Park located in Tucson Arizona. Beyond activities, the park itself protects one of the true icons of the American West, the giant Saguaro Cactus. The Saguaro is only found in a small portion of the United States in the Sonoran Desert and it is something special to stand next to one.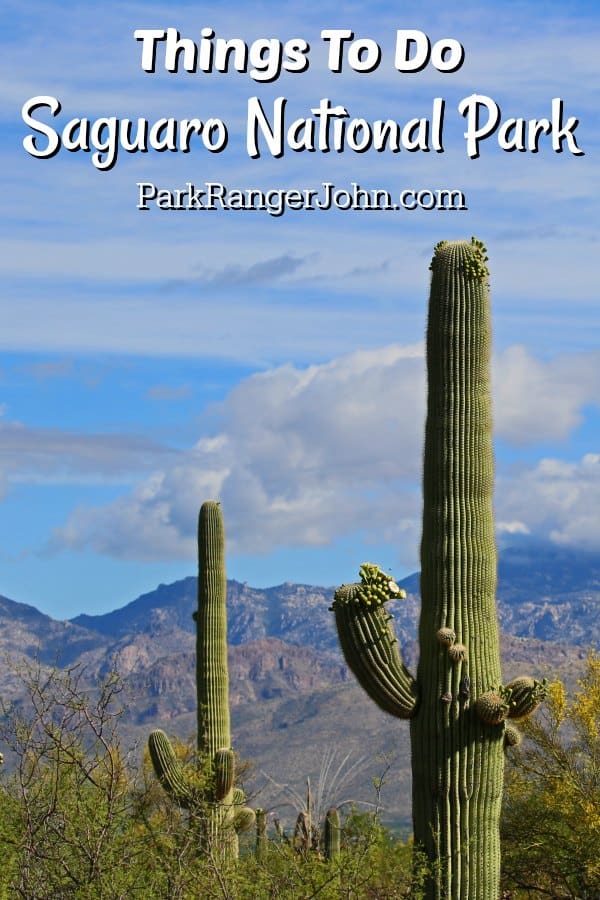 Things to do at Saguaro National Park
Saguaro National Monument was established by President Herbert Hoover in 1933. Hoover used the Antiquities Act to establish what we consider today the East section, or Rincon Mountain District of Saguaro National Monument.
In 1961, President John F. Kennedy added to the monument by adding what we call the West or Tucson Mountain District. In 1994, Congress changed the parks name to Saguaro National Park.
Today, both units make up Saguaro National Park. it takes approximately 1 hour to drive between each unit as visitors have to drive through the City of Tucson to get to each unit.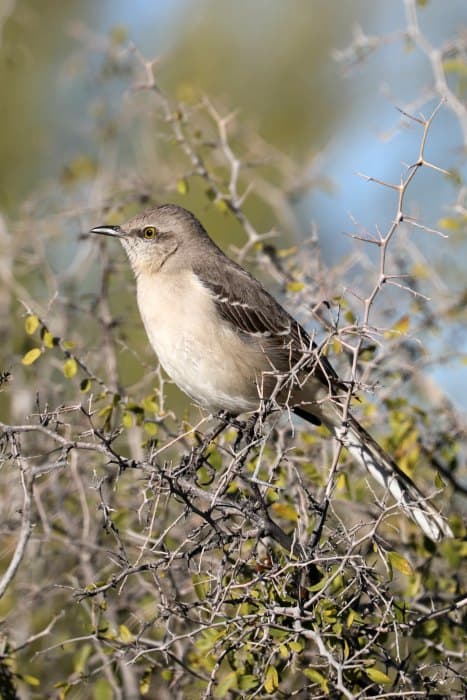 Wildlife viewing
I personally love wildlife viewing in the desert! I have worked in the desert for years and always tell visitors that you just need to slow down and look and you will be surprised with all the wildlife in the desert! It is common to see deer, rabbits, skunks, and the park is a birdwatching paradise. You can see roadrunners, vermilion flycatchers, and whiskered screech owls, species that are seldom seen in other parts of the United States.
Wildlife viewing can be unique and create special moments in Saguaro National Park. Here you can find reptiles like a desert tortoise and the Gila Monster, deer, and even a Mexican Spotted Owl!
The opportunities are endless but you have to be patient.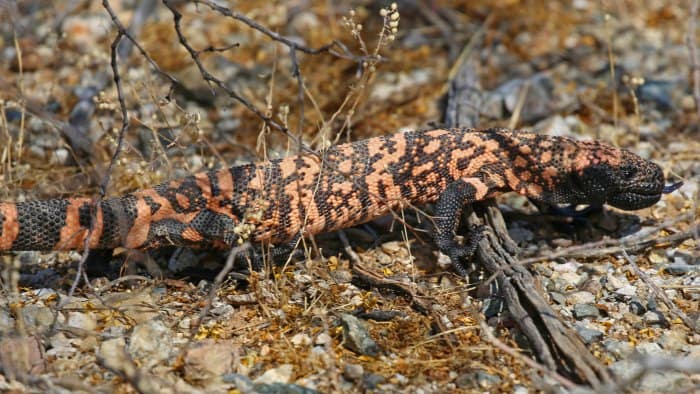 Gila Monsters
I wanted to visit Saguaro for a chance to see a Gila Monster alone! Gila Monsters are one of only two venomous lizards in the world! Gila Monsters are most active during daylight from spring through fall within Saguaro National Park. We were lucky to see a few of them during one of our visits to the park.
They spend 98% of their time in their burrows so seeing one was amazing. Keep an eye out for them during your visit but make sure you do not get too close. They cannot spit venom but you still don't want to get too close.
We took this photo with a large telephoto lens so we were not very close to the Gila Monster.
Things to do at Saguaro West (Tucson Mountain District)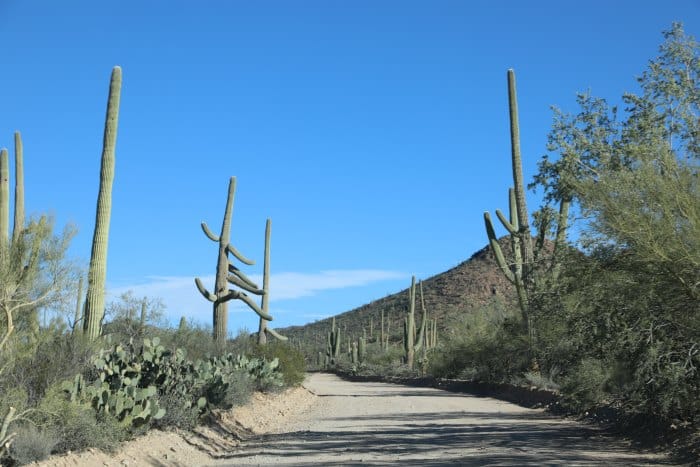 Bajada Loop Drive
The 6-mile Bajada Loop Drive is a dirt road northwest of the Red Hills Visitor Center. The road is suitable for most vehicles but I would check with the visitor center before taking off in an RV or you have a towed vehicle, etc. as road conditions can change, especially after a recent storm.
I personally loved this drive as you see a wide variety of cactus and Saguaros right up next to the roadway! Make sure to slow down as you will see more and keep the dust down, something that everyone will thank you for.
You do have a few options here. First, you could turn in at the northern entrance and go up to Signal Hill before heading back out. Second, you can take the southern entrance on Hohokam Road and drive the 6-mile loop (Hohokam Road is a one-way road). Last, you can take either entrance and continue through the Golden Gate Road. This road does require a High clearance 4X4, no longer than 25 feet long and not over 12,000lbs.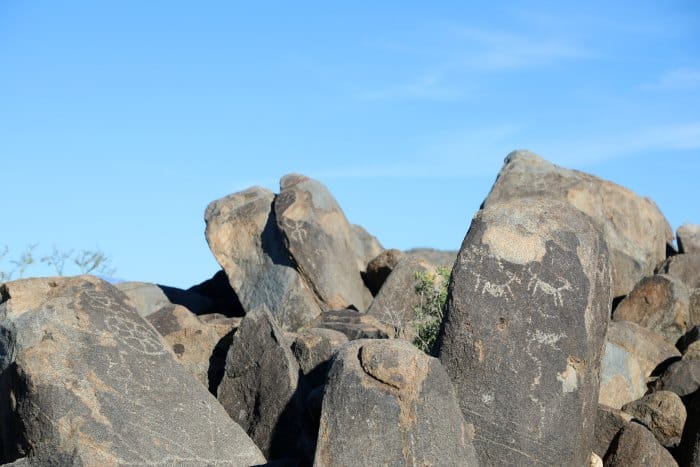 Signal Hill Trail
The Signal Hill trailhead is easily accessible off the Bajada Loop Drive. The area has a nice picnic area and access to several hiking trails. I would recommend Check out the petroglyphs trail where visitors can see hundreds of Petroglyphs! The trail is short but be prepared for the 150 stairs, especially in the heat of the day!
Red Hill Mountain Visitor Center
There are two visitor centers for Saguaro National Park. The Red Hill Mountain Visitor Center is the Saguaro West Visitor Center has a park video giving the Native American perspective of the Saguaro.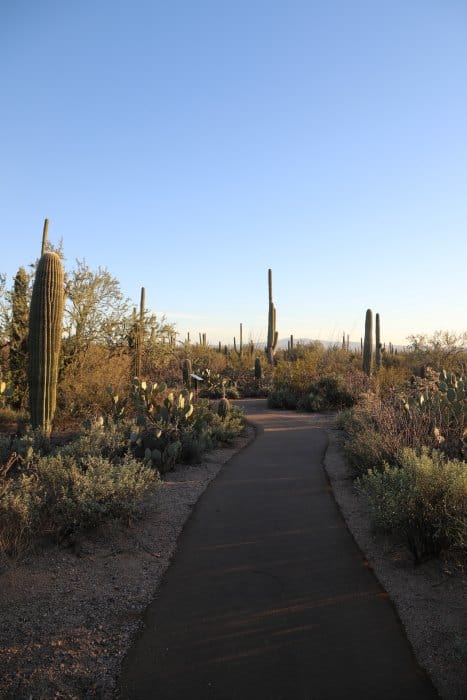 Walk the Desert Discovery Nature Trail
The Desert Discovery Nature Trail is a short, flat, .4 mile loop ADA accessible nature trail just northwest of the Red Hill Mountain Visitor Center. This trail has wildflowers, great for birdwatching, and has numerous interpretative panels to educate park visitors about the park.
Things to do in Saguaro East (Rincon Mountain District)
Cactus Forest Drive
Cactus Forest Drive is the main road through the Saguaro East portion of the park. This 8-mile, paved scenic drive makes a loop from the visitor center and leads to many of the trailheads. It's a one-way road for most of the way, making for stress-free driving and a chance to enjoy the scenery.
There are pull-outs and scenic overlooks all along Cactus Forest Drive, often with interesting signboards about the park's features and landscape. The park's two picnic areas are well signposted, and these have pit toilets, but no drinking water.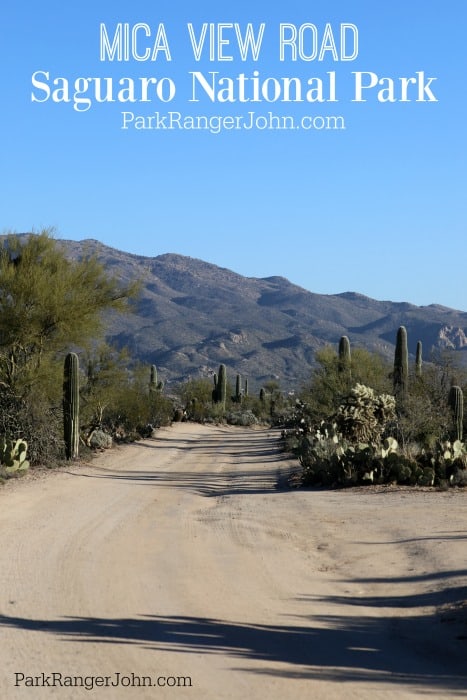 Mica View Road
Mica View Road is a short drive off the main loop that leads to a viewpoint, picnic area, and hiking trails.
This is a great area to go bird watching and enjoy a picnic.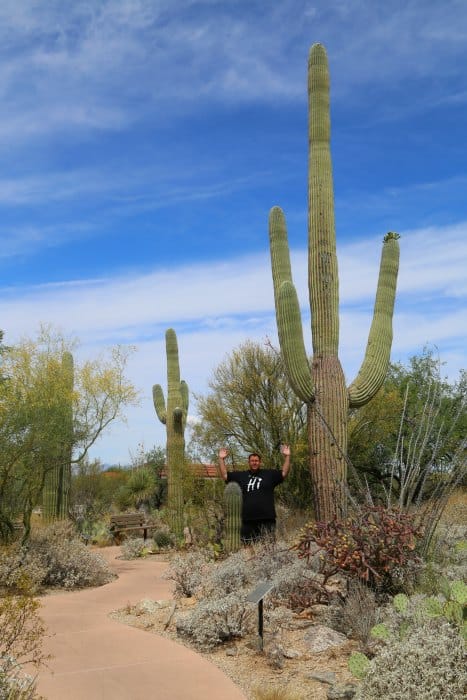 Rincon Mountain Visitor Center
The Rincon Mountain Visitor Center is the Park's East Visitor Center. It's a great place to get up to date information on trails and remote camping permits.
Desert Ecology Trail
A quarter-mile stroll on a paved walkway outside the visitor center and wheelchair accessible; the interpretive signs are good for learning about the desert plants. Of course, this means that I had to stand next to one and hold my hands up like the Saguaro.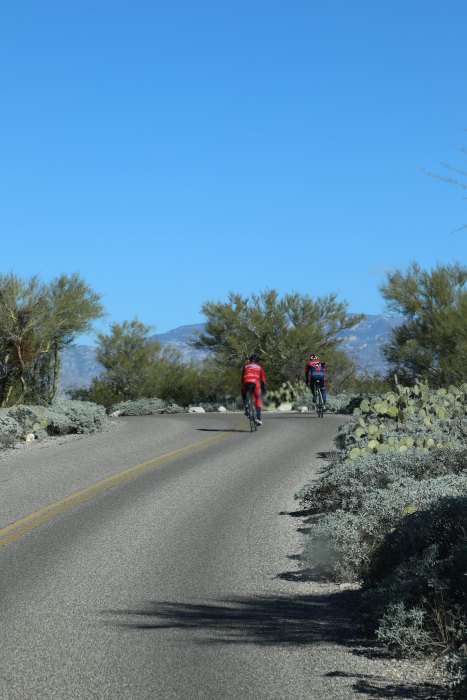 Cycling
The paved surface of Cactus Forest Drive makes it popular with cyclists. But it's no piece of cake. There are narrow stretches, with many tight turns, and the steep hills are both a challenge and a thrill.
For mountain biking, there is only one section of off-road riding on the Cactus Forest Trail. This 2.5-mile, multi-use stretch bisects the loop drive north to south. Cyclists can ride it in either direction but must follow the traffic pattern on the paved loop road.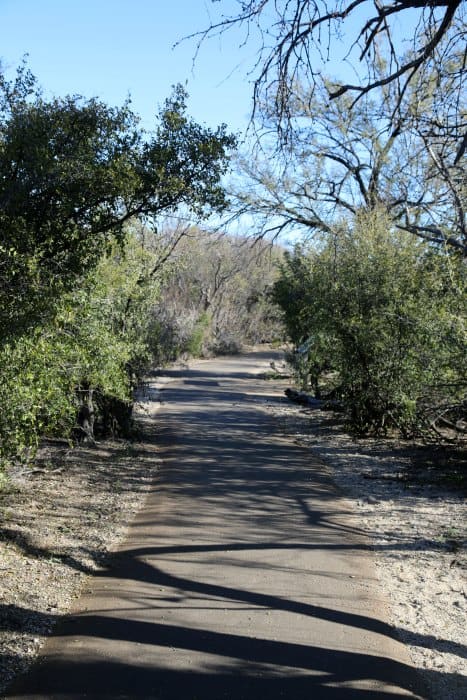 Saguaro East Hiking Trails
Park visitors must walk out on the trails to fully appreciate some truly amazing saguaro specimens and the variety of other desert plants and wildlife.
Saguaro National Park East is the only district where camping is allowed. These are backcountry campsites and a permit is required, available from the Rincon Mountain Visitor Center.
The loop road runs through only a small part of the park's western sector. From here, around 128 miles of trails spread north and east through the desert scrub and into the backcountry of the Rincon Mountains and saguaro wilderness.
There are easy walks that take less than an hour, moderate walks for a pleasant couple of hours in the desert, and strenuous hikes for those who like an all-day challenge.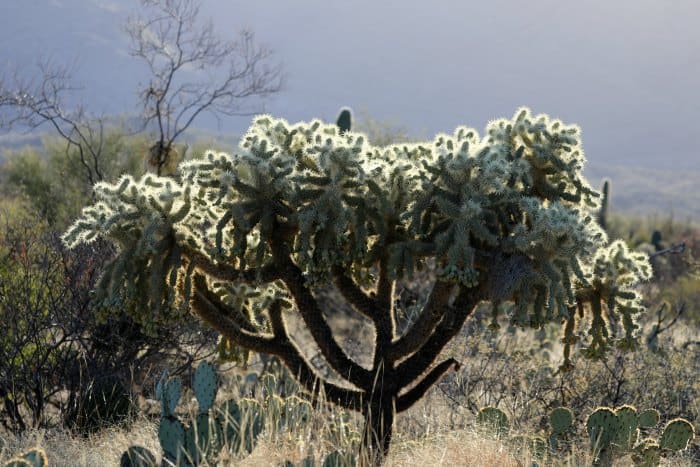 Hiking trails in Saguaro National Park East include:
Mica View Trail
The park's easiest loop trail starts at the Mica View picnic area and returns along the Cactus Forest Trail, with no elevation gain. 2 miles, approximately 1 hour.
Freeman Homestead Trail
An unpaved trail leads from the southern tip of the loop trail to an old pioneer homestead site and an impressive saguaro grove, with interpretive signs along the way. It has some moderate grades and rock stairways. 1 mile, approximately 1 hour.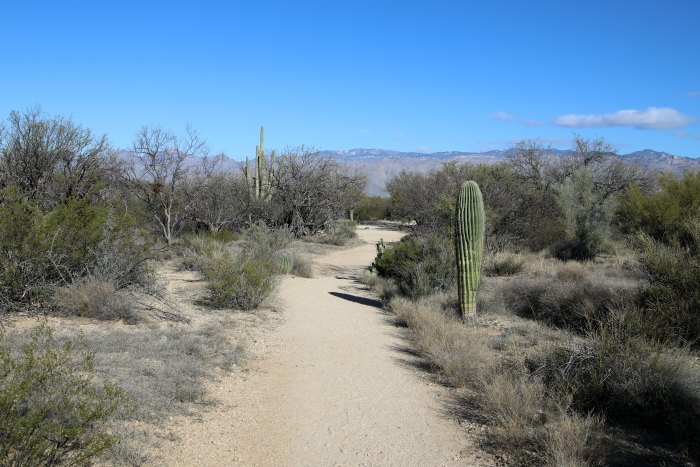 Loma Verde Loop
The best option for a long but easy hike, the Loma Verde Trail leads from the northeast end of the loop drive into a huge network of trails. A popular route runs north past an old copper mine, turns east up the Pink Hill Trail for a splendid vista over the cactus forest, and returns via the Squeeze Pen Trail through a lush, tree-lined stretch near the trailhead. 3 miles, approximately 2 hours.
Additional Arizona Travel Articles
Casa Grande Ruins Ruins National Monument
Petrified Forest National Park
Best places to Kayak in Arizona
Check out more articles on Arizona National Parks and neighboring National Parks in New Mexico and California National Parks.