Tuzigoot National Monument is located 40 miles southwest of Flagstaff, Arizona atop a 120-foot high limestone ridge above the Verde Valley.

Tuzigoot National Monument
The monument centers around a 110 room pueblo ruin built by a culture known as the Sinagua. The pueblo is thought to have been inhabited by 300 people from about A.D. 1000.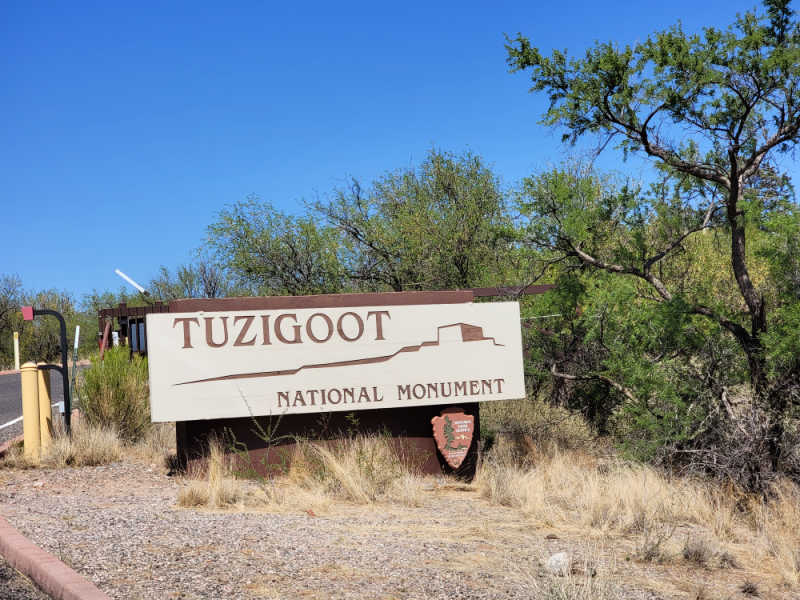 About Tuzigoot National Monument
Another impressive Sinaguan site nearby is Montezuma Castle National Monument. It is believed that the pueblo was abandoned in the early 1400s due to an unknown reason.
Common theories for why the pueblo was abandoned include disease, prolonged drought, and conflict. There is a great ⅓ mile trail that leads through the ruins and to an overlook at Tavasci Marsh. The park is open year-round and a great place to visit en-route to the Grand Canyon.
The stone ruins here and the visitor experience are very different from the cliff dwellings found at Montezuma Castle and Well.
Tuzigoot is the remains of a 110-room pueblo that sits on a long limestone ridge 150 feet above the Verde River floodplain. And what's especially nice for history buffs is that you can get up close and personal with the dwelling and may even walk inside some of the rooms.
Tuzigoot is an Apache word that means "crooked water" and also aptly describes the zigzag appearance of what's left of the structure's walls.
Although the stones are original, the park service has reinforced the crumbling mortar with cement.
To see the entire pueblo, climb the circular trail that winds up the hill. At the top, you'll be treated to a panoramic view across the wide Verde Valley.
The Tuzigoot visitor center provides even more information on these significant ruins.
With rugged mountains to the north and scorching deserts to the south, you'd expect descendants of the Southern Sinaguans to have remained and flourished in the fertile Verde Valley.
Since no separate Sinagua tribe exists today, we'll never know for sure why these stone villages have been left abandoned for 600 years or what became of that ancient culture. Does the mystery pique your curiosity?
If so, then join the other travelers who explore these fascinating ruins every year. The remnants are fragile and irreplaceable, and you'll be glad you didn't miss this important piece of America's cultural heritage.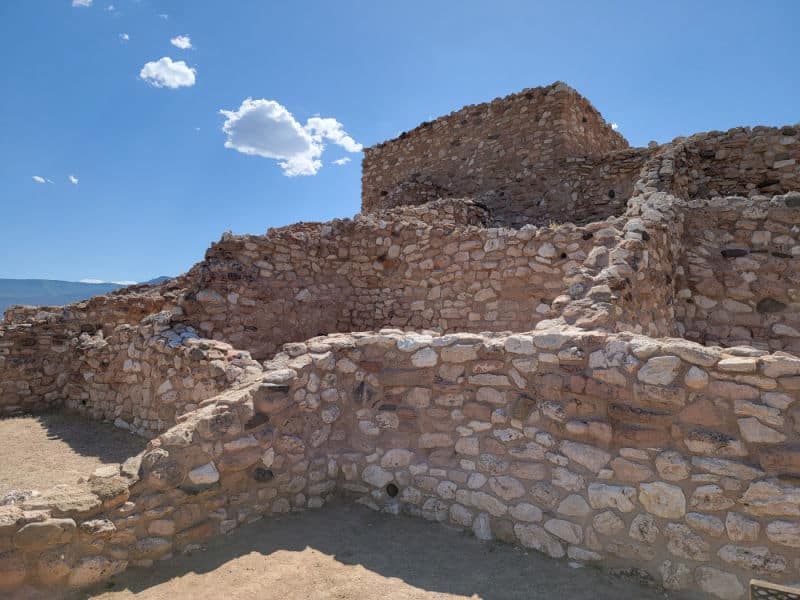 Is National Park worth visiting?
Yes, the park offers the opportunity to walk in and around an ancient Pueblo.
History of Tuzigoot National Monument
Tuzigoot National Monument is home to a partially reconstructed pueblo built by the Sinagua people in central Arizona.
The pueblo had over one hundred rooms with the potential to temporarily house hundreds. Tuzigoot was built and continuously inhabited between the 12th and late-15th centuries.
Compared to Nearby Pueblos
Tuzigoot is built atop a hill alongside the Verde River. The Verde River joins other rivers to eventually drain into the Gulf of California.
The construction techniques used to build Tuzigoot bear a resemblance to larger, more well-known structures such as the cliff dwellings at Mesa Verde or the immense Pueblo Bonito great house.
Mesa Verde and Pueblo Bonito structures were built by Ancestral Puebloans while Tuzigoot was built by the Sinagua.
Tuzigoot, while similar in style, is different in substance. The Colorado Plateau is famous for its sandstone formations.
The Colorado Plateau is the geological region comprising the Four Corners region of Utah, Colorado, New Mexico, and Arizona.
Tuzigoot is located on the extreme southwestern edge of the plateau, and the people of Tuzigoot had different building materials than the Chacoan groups located nearer the interior of the plateau.
Ancient Tuzigoot Region
The Tuzigoot pueblo is constructed of sandstone which is common across the Colorado Plateau. Alongside sandstone, the Sinagua used limestone to build Tuzigoot.
Building blocks were chiseled from sandstone beds and limestone deposits created by an ancient inland sea.
The Western Interior Seaway existed millions of years ago. This sea swelled and shrank over hundreds of millennia. Shifting shorelines created layers of sand and soil.
Pressure and time turned those layers into sandstone. As millions of years of accumulated crustaceans were crushed by weight and time, they became limestone.
Both of these abundant sedimentary rocks were shaped, stacked, and stuck together by the Sinagua to create the impressive Tuzigoot structure.
Sinagua at Tuzigoot
The Sinagua people likely entered central Arizona around 650 CE. Archaeologists estimate this arrival time based on excavations and analyses of Sinagua pit houses throughout the Verde Valley.
Artifacts from pit houses and Tuzigoot indicate the Sinagua were part of a vast trade network.
This trade network, along with shells, birds, and chocolate, transported ideas. These ideas include architecture. Tuzigoot is modeled after Ancestral Puebloan architecture which predates Tuzigoot by more than a century.
The Sinagua people left the area around Tuzigoot in the early-14th century. Drought had forced out-migration for many Colorado Plateau groups in the late 1100s.
Continued climatic change may have encouraged the Sinagua in Tuzigoot to depart the area in the mid-14th century.
The Sinagua left behind an impressive legacy through artifacts. Intricate baskets, pottery, jewelry, and crystals have been uncovered at Tuzigoot.
American Eyes on Tuzigoot
Immediately after the Mexican-American War (1846-1848), we have the first recorded account of an American encountering Tuzigoot.
A respected mountain man, Antoine Leroux, helped guide surveyors from the US military in reconnoitering possible paths for the transcontinental railroad.
It was on one of these survey trips in 1854 that Leroux first saw the Tuzigoot ruins, later noting the impressive, tall-but-crumbling walls on a hilltop.
Like other archaeological sites across the Southwest, official explorations were put on hold while the Civil War and Reconstruction were reshaping the United States.
After Reconstruction ended in 1877, more rugged, academic adventurers headed West. The Smithsonian funded digs in the Southwest.
These reports brought the Sinagua, their history, and Tuzigoot into the national spotlight.
Time was spent painstakingly reconstructing the topmost portions of the pueblo. Today, visitors can walk into the highest room of the pueblo and notice the joinery and ladders unique to the Sinagua.
A ladder is available to climb to the rooftop of the pueblo and look down on the Verde River and the rare birds of the surrounding scrubland.
Becoming a Park
Waves of archaeologists continued to conduct digs at Tuzigoot and to widely publish their findings. During the Great Depression, government-funded digs were carried out under the auspices of the Works Project Administration (WPA). The Civil Works Administration (CWA) helped to construct a visitors center.
As the number of field reports on Tuzigoot grew, the pressure to set aside Tuzigoot as a national monument reached the pinnacle of the U.S. government in 1939.
At the tail end of the Great Depression, President Franklin Delano Roosevelt created Tuzigoot National Monument. Since 1939, millions have visited the monument.
Tuzigoot is a unique pueblo within the hundreds of prehistoric structures built across the Colorado Plateau.
Constructed by the Sinagua using sandstone and limestone blocks, Tuzigoot is a small national monument worth a short visit. Explore the site, view the intricate artifacts, and enter its ancient rooms.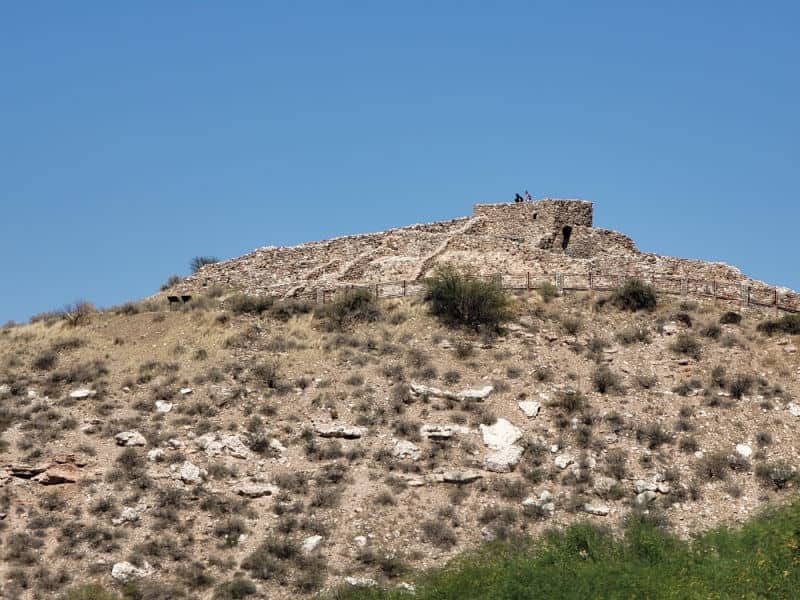 Things to know before your visit to National Park
Entrance fee
Tuzigoot Entrance Fee - Per Person - $10.00
Tuzigoot Entrance Fee - Children - $0.00 - Children aged 15 and under are free.
Tuzigoot and Montezuma Castle Annual Pass - $40.00
The Montezuma Castle and Tuzigoot Annual Pass cover the cardholder and 3 other adults (aged 16 and over) into both Montezuma Castle and Tuzigoot for one year from the date of purchase. Children 15 and under are free.
Planning a National Park vacation? America the Beautiful/National Park Pass covers entrance fees for an entire year to all US National Park Sites and over 2,000 Federal Recreation Fee Sites.
The park pass covers everyone in the car for per vehicle sites and for up to 4 adults for per-person sites.
Buy on REI.com and REI will donate 10% of pass proceeds to the National Forest Foundation, National Park Foundation and the U.S. Endowment for Forestry & Communities.
Learn more about National Park Passes for parks that have an entrance fee.
Free Entrance Days -Mark your calendars with the five free entrance days the National Park Service offers annually.
Time Zone
MST - Mountain Standard Time
Arizona does not observe Daylight Savings, with the exception of the Navajo Nation.
Pets
Dogs are allowed on the trail but they must be on a leash no longer than 6 feet long.
Cell Service
Cell service is spotty in this area.
Park Hours
The park is open from 8 am to 5 pm daily, The last car allowed at the gate is at 4:45 pm
The park is closed on December 25th and January 1st
Wi-Fi
There is no public Wi-Fi at Tuzigoot National Monument.
Insect Repellent
Insect repellent is always a great idea when outdoors, especially if you are around any body of water.
We use Permethrin Spray on our clothes before our park trips.
Water Bottle
Make sure to bring your own water bottle and plenty of water with you. Plastic water bottles are not sold in the park.
Parking
There is a small/medium-sized parking lot in front of the visitor center.
Food/Restaurants
There are no restaurants within the park. The nearest restaurants are located in Cottonwood, AZ
Gas
There are no gas stations within the park. The nearest gas stations are in Cottonwood, AZ
Drones
Drones are not permitted within National Park Sites.
National Park Passport Stamps
National Park Passport stamps can be found in the visitor center.
Make sure to bring your National Park Passport Book with you or we like to pack these circle stickers so we don't have to bring our entire book with us.
Electric Vehicle Charging
1 EV Charging Station is located in Cottonwood, AZ
There is 21 electric vehicle charging stations within a 30-mile radius of Cottonwood, AZ 86326.
Accessibility
The visitor center, restrooms, and the trail to the Tavasci Marsh Overlook are fully wheelchair accessible.
The Tuzigoot Pueblo Trail is paved but STEEP near the beginning.
Service animals are permitted in buildings and on the trails.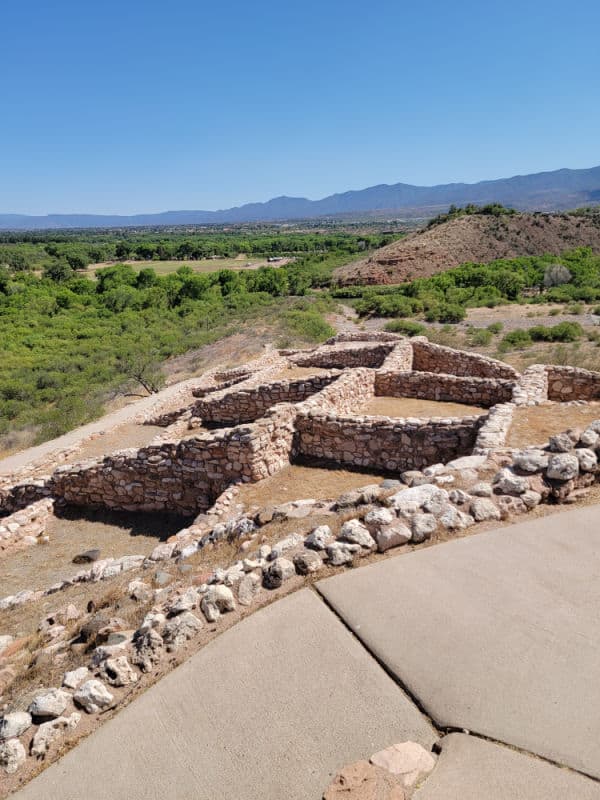 Details about Tuzigoot National Monument
Size - 811.89 acres
Check out how the park compares to other National Parks by Size.
Date Established
July 25, 1939, President Franklin D. Roosevelt established the park.
Visitation
In 2021, Tuzigoot NM had 124,406 park visitors.
In 2020, Tuzigoot NM had 78,358 park visitors.
In 2019, Tuzigoot NM had 98,538 park visitors.
Learn more about the most visited and least visited National Parks in the US
Tuzigoot National Monument Address
25 Tuzigoot Rd
Clarkdale, AZ 86324
Tuzigoot NM Map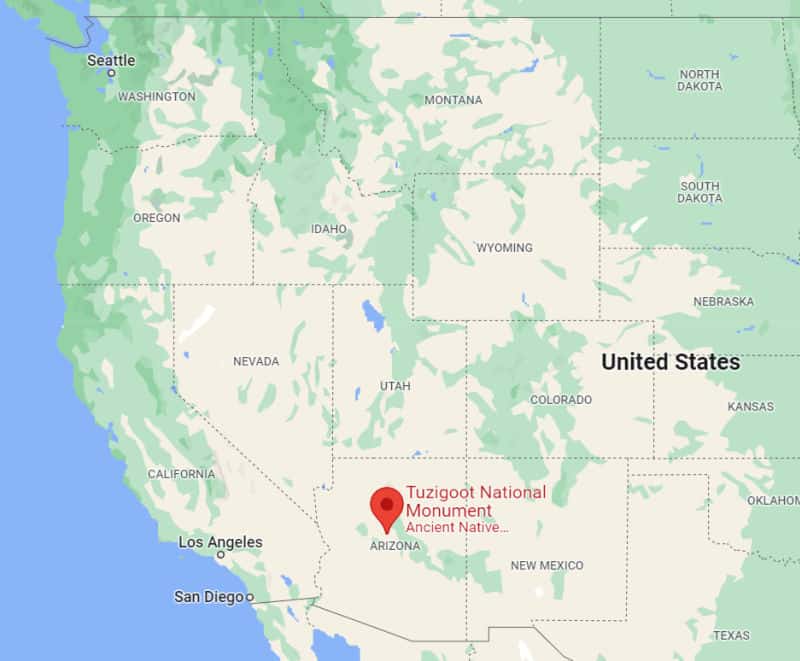 Where is Tuzigoot National Monument?
Tuzigoot NM is located in north-central Arizona
Estimated distance from major cities nearby
Sedona, AZ - 22 miles
Glendale, AZ - 103 miles
Scottsdale, AZ - 116 miles
Phoenix, AZ - 107 miles
Tucson, AZ - 220 miles
Henderson, NV - 265 miles
Las Vegas, NV - 280 miles
Estimated Distance from nearby National Parks
Grand Canyon National Park (South Rim) - 154 miles
Petrified Forest National Park - 174 miles
Saguaro National Park - 215 miles
Bryce Canyon National Park - 349 miles
Zion National Park - 314 miles
Where is the Tuzigoot Visitor Center?
The visitor center is located next to the parking lot at the entrance to the park.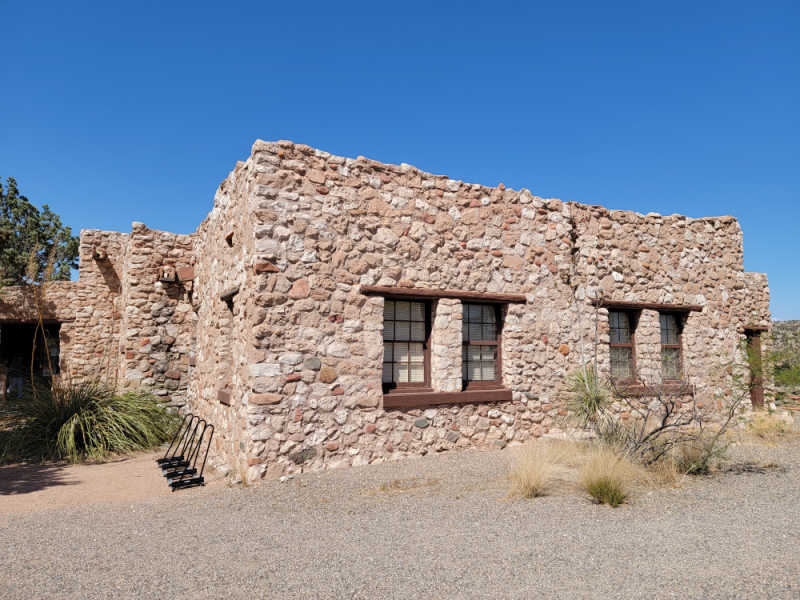 Getting to Tuzigoot NM
Closest Airports
Sedona Airport (SDX)
Cottonwood Airport (CTW)
International Airports
Phoenix Sky Harbor International Airport (PHX)
Tucson International Airport (TUS)
Las Vegas McCarran International Airport (LAS)
Regional Airports
Flagstaff Pulliam Airport (FLG)
Prescott Municipal Airport Ernest A. Love Field (PRC)
Phoenix-Mesa Gateway Airport (AZA)
Page Municipal Airport (PGA)
Driving Directions
Tuzigoot National Monument is 52 miles south of Flagstaff, Arizona via U.S. Highway 89A, or 90 miles north of Phoenix.
From I-17, take exit 287 for Highway 260 West to Cottonwood. At the junction with 89A, turn left. Continue all the way through the town of Cottonwood on 89A.
Once you pass through Old Town Cottonwood, you will see a sign telling you where to turn for Tuzigoot Road.
Tuzigoot National Monument is located at the end of this road.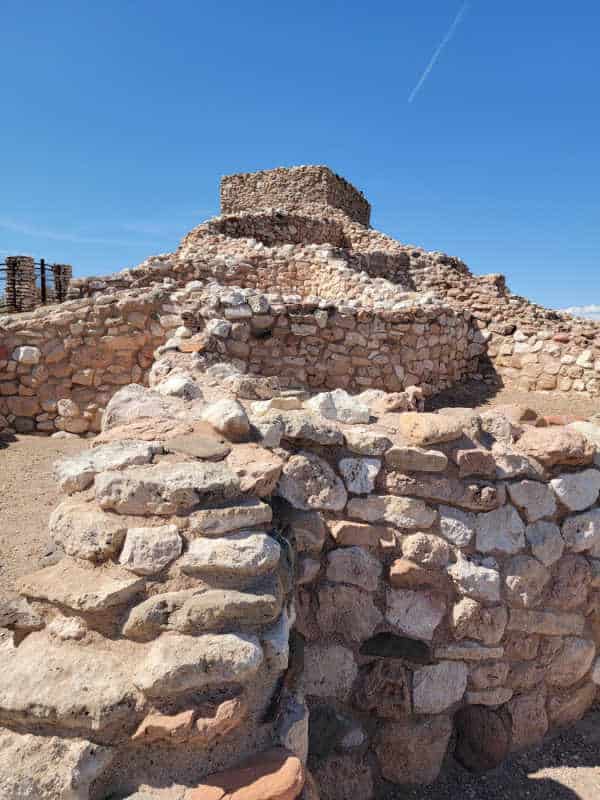 Best time to visit Tuzigoot NM
Spring and Fall are a great time to visit Tuzigoot in comfortable weather. We visited in May and it was warm/hot but not unbearable.
Our phones did get really hot and stopped recording video. We had to cool them down before we could continue taking pics of the park.
Weather and Seasons
Summers are extremely hot with temperatures ranging from 95 to 110 degrees Fahrenheit.
Heavy monsoon rain is common in the afternoon from late June through early August.
Winter temperatures are around 55 degrees Fahrenheit on average but can drop significantly colder.
Snow is rare but it does occur.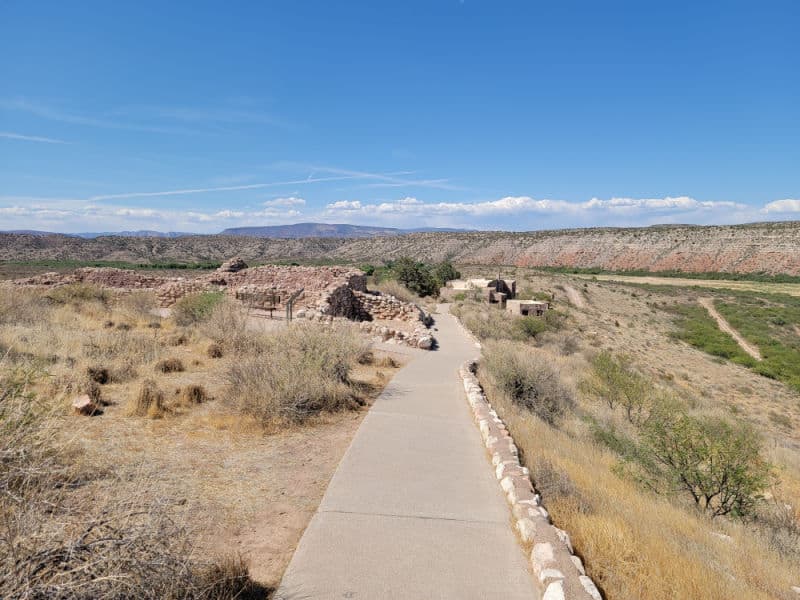 Best Things to do in Tuzigoot National Monument
The best thing to do in Tuzigoot NM is to walk up the hill to see the Pueblo. It is a bit of an uphill walk but so worth it to see not only the Pueblo but the views from the top.
Visit the Visitor Center
The visitor center is the first thing you enter when you arrive at the park. There is a small gift shop, ranger contact area, and interpretive information.
You can also get your National Park Passport Stamp in the visitor center.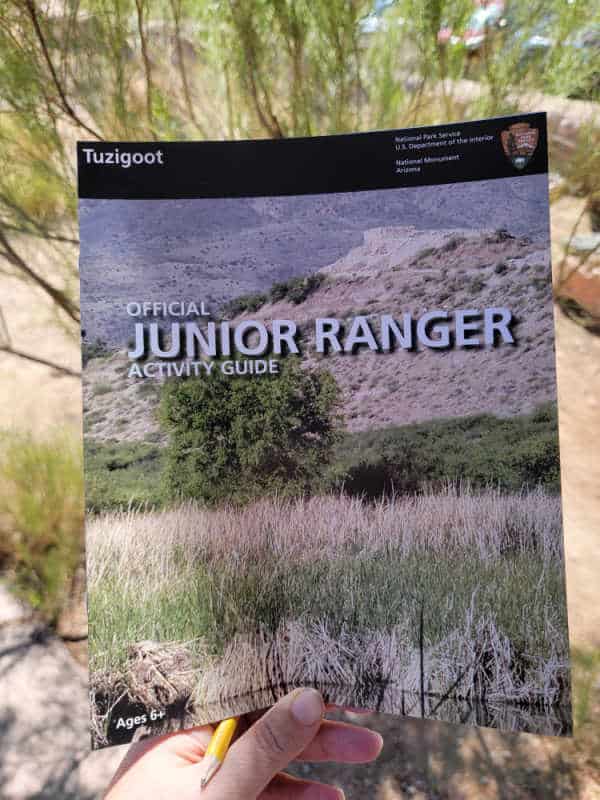 You can pick up the Junior Ranger program at the Tuzigoot Visitor Center, or you can download it here and turn it into a ranger when you visit.
This is a great way to learn more about the park and earn your Junior Ranger Badge!
Check out all of the Junior Ranger Programs you can do from home.
Wildlife/Birding
The year-round water source within the park creates a great environment for a large array of animals and birds.
The park's wildlife is mostly nocturnal including woodrats, mice, skunks, bobcats, pocket gophers, owls, and bats.
Other wildlife that may be seen during the day include deer, elk, coyotes, black-tailed jackrabbits, desert cottontails, ground squirrels, and songbirds.
Around 50 species of mammals are known to live in or near Tuzigoot NM. Mountain Lions have been spotted on the property but are very rare.
Guided Tours
From Sedona: Jerome and Tuzigoot National Monument Day Trip - Discover Arizona's unique heritage on a day trip from Sedona. After pickup at your hotel, head to the Tuzigoot National Monument by the Verde River.
From Phoenix: Full-Day Sedona Small-Group Tour - This Sedona full-day tour gives you a chance to explore the rich culture and history of the area's ancient Native American civilizations.
From Scottsdale/Phoenix: Verde Valley Day Tour - Get picked up at 8 AM from your hotel in Scottsdale or Phoenix. From there, drive to Montezuma Castle in a private SUV or Van. Detailed narration of all the historical sites and areas along the way will be provided.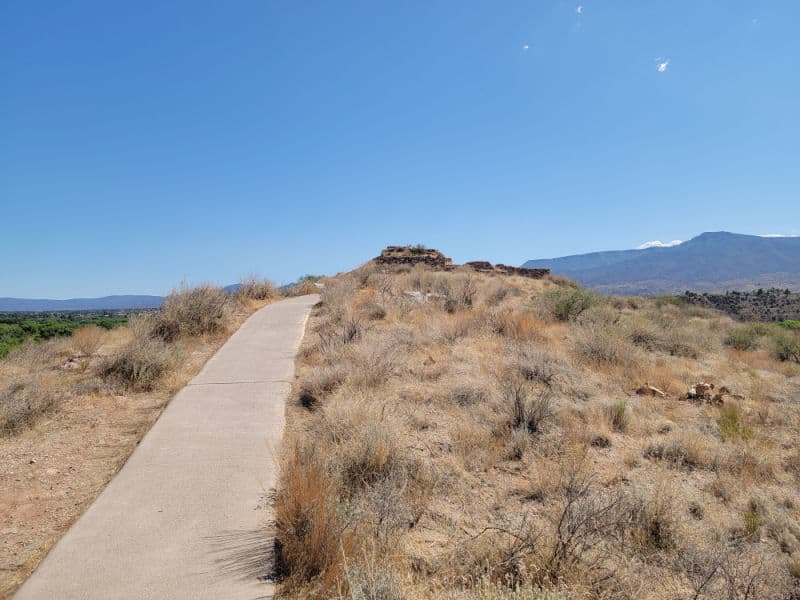 Tuzigoot National Monument Trails
Always carry the 10 essentials for outdoor survival when exploring.
⅓-mile loop trail to the Pueblo
The ⅓ mile trail leads you to and through the 110 room hilltop pueblo along with giving you amazing views of the Verde River and the Tavasci Marsh.
The trail starts with a steep incline and then continues up a hill to reach the ruins. There is no shade along the trail. You will want to be prepared for the bright hot sun!!!
There is one area on the trail where you can walk upstairs to explore the upper levels of the ruins if you feel comfortable.
Like most Southwest National Parks there are signs warning about snakes on the trail.
Marsh Trail
The marsh trail will lead you along the Verde River, to the edge of Tavasci Marsh.
The Marsh Trail is dirt/gravel with portions being on an old dirt roadbed.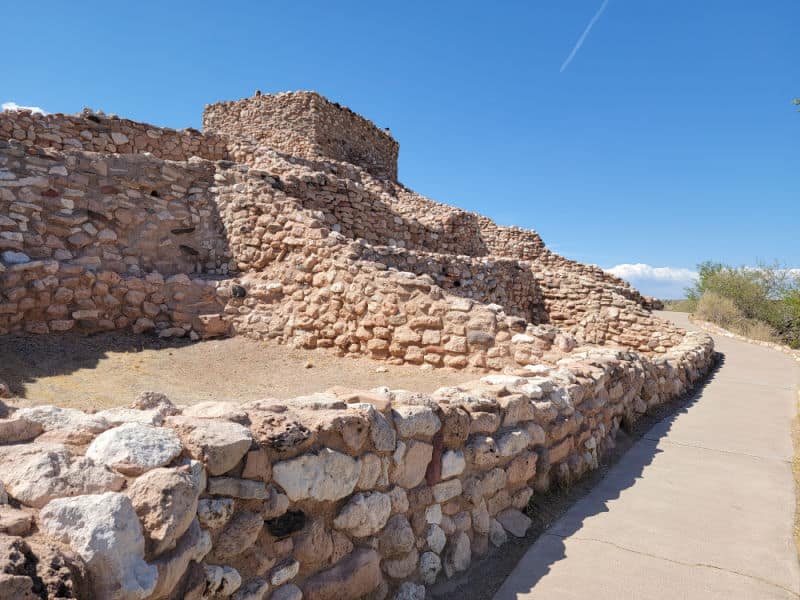 How to beat the crowds in Tuzigoot NM?
The best way to beat the crowds is to arrive early in the morning.
We did not find the park overly crowded but there were definitely other visitors enjoying the park while we were there.
Where to stay when visiting Tuzigoot National Monument
There are no National Park Lodges within the park.
The Tavern Hotel - 1.6 miles from the park
3-star hotel in the historical district. Consider a stay at The Tavern Hotel and take advantage of free continental breakfast, a terrace, and a bar. Stay connected with in-room Wi-Fi, and guests can find other amenities such as a 24-hour gym and a restaurant.
SpringHill Suites by Marriott Cottonwood provides amenities like laundry facilities and a 24-hour gym. Stay connected with free Wi-Fi in public areas.
Lux Verde Hotel - 2.66 miles from the park
Consider a stay at Lux Verde Hotel and take advantage of free self-serve breakfast, a terrace, and a firepit. For some rest and relaxation, visit the hot tub. In addition to laundry facilities and a conference center, guests can connect to free in-room Wi-Fi, with speed of 25+ Mbps.
Best Western Cottonwood Inn - 3.64 miles from the park
Consider a stay at Best Western Cottonwood Inn and take advantage of free full breakfast, a roundtrip airport shuttle, and laundry facilities. For some rest and relaxation, visit the hot tub. The onsite restaurant, Plaza Bonita, features Mexican cuisine and happy hour. Stay connected with free in-room Wi-Fi, and guests can find other amenities such as a 24-hour business center and a bar.
Click on the map below to see current rates for hotels and vacation rentals near the park.


Camping
There are no National Park Campgrounds within the park.
For a fun adventure check out Escape Campervans. These campervans have built in beds, kitchen area with refrigerators, and more. You can have them fully set up with kitchen supplies, bedding, and other fun extras. They are painted with epic designs you can't miss!
Escape Campervans has offices in Vancouver, Seattle, Portland, San Francisco, Las Vegas, Los Angeles, Phoenix, Salt Lake City, Denver, Chicago, New York, and Orlando
Nearby campgrounds include
Verde Ranch RV Resort - 15 miles from the park
This campground offers RV and Tent Sites and other lodging options. A waterpark, pool, hot tub and more.
Rancho Sedona RV Park - 16 miles from the park
This campground offers RV Sites. They have a dog park, cable tv, horseshoes, and more.
Points of Rocks RV Campground - 25 miles from the park.
This campground offers RV Sites. They have canoeing, kayaking, showers, internet access, and more.
Check out additional campgrounds in the area on Campspot.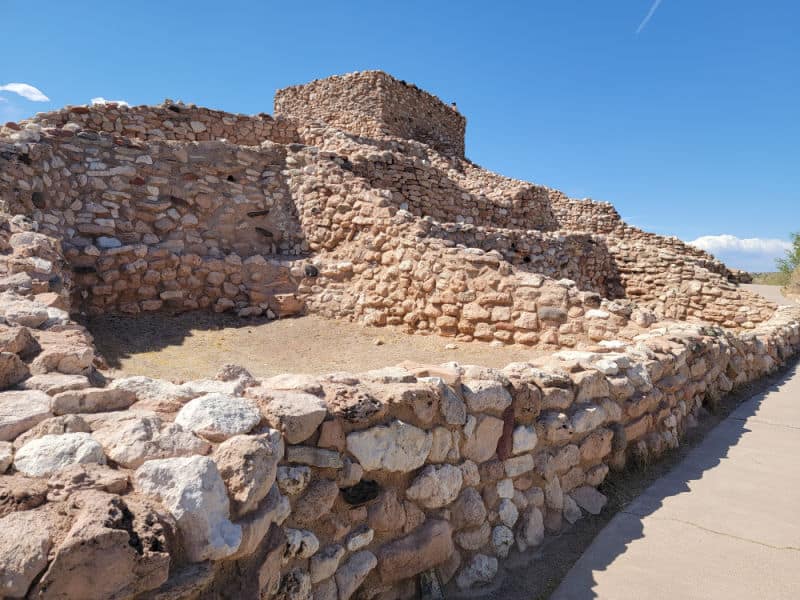 Additional Resources
Parks Near Tuzigoot National Monument
Montezuma Castle National Monument - 22 miles
Walnut Canyon National Monument - 74 miles
Sunset Crater Volcano National Monument - 85 miles
Wupatki National Monument - 97 miles
Canyon de Chelly National Monument - 234 miles
Navajo National Monument - 205 miles
Tonto National Monument - 129 miles
Check out all of the Arizona National Parks along with neighboring National Parks in Utah, National Parks in New Mexico, California National Parks, Colorado National Parks, and Nevada National Parks
Check out all of the National Monuments within the National Park Service.
Arizona State Parks in the area include Dead Horse State Park, Fort Verde State Historic Park, Honanki Heritage Site, Jerome State Historic Park, and Palatki Heritage Site