Crater Lake National Park is located in southern Oregon and has views that are so incredible and so worth visiting! We are excited to share this Crater Lake National Park Travel Guide to help you plan the best trip possible to the park.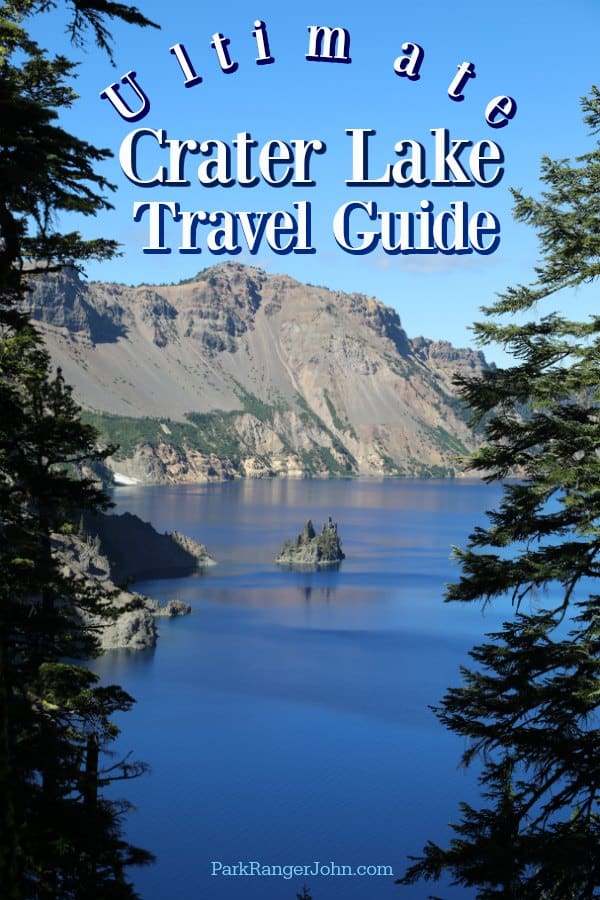 Crater Lake National Park
Crater Lake is located in the Mount Mazama caldera or volcanic basin. It was created when the 12,000 foot Mount Mazama last exploded 7,700 years ago then fell in upon itself.
Today we see the remnants of this glorious volcano that towers over the area. What remains from the old cone of the caldera sits inside the lake known as Wizard Island and rises roughly 900 feet above the level of the lake.
It is surrounded by some of the purest water in the States up to 1943 feet (590 meters) deep! . The lake itself is held in by 2000 foot towering cliffs surrounding the lake at an average of over five miles wide.
Since there are no rivers to feed into the crater, the water in this lake is 100% snowmelt and rain. Luckily for Crater Lake, they receive on average 43 feet of snow each year which incidentally makes it one of the snowiest places in the US.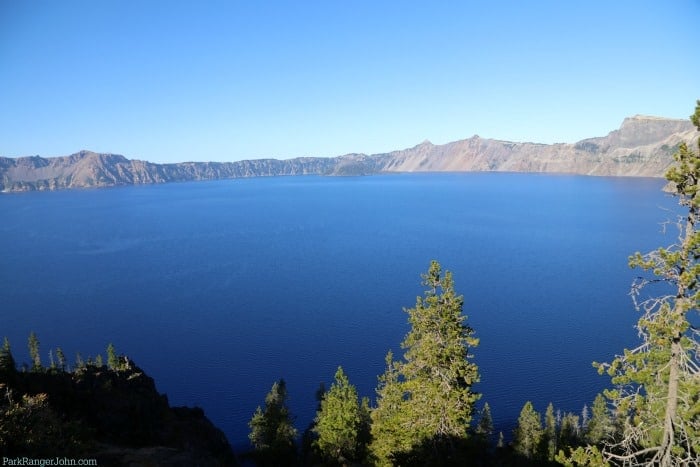 About Crater Lake National Park
Crater Lake was formed following several eruptions on Mount Mazama, with the main eruptions occurring approximately 7,700 years ago. The eruption produced over 150 times as much ash as did Mount St. Helens in Washington State, on May 18, 1980.
Ash scattered over eight states and three Canadian Providences. Six inches of ash covered over 5000 square miles. When all the eruptions settled down, a huge bowl-shaped caldera had been formed.
Over time water from springs, snows and rain began to collect and fill the caldera, producing what is thought to be the cleanest large body of water in the world, ranging from four and a half to six miles wide and 1,943 feet deep.
The mountain is full of history and the lake is the main attraction, however, there is so much more that is available to do and see once you arrive.
As a visitor, you can see all Crater Lake has to offer in a day but the more adventurous can take advantage of campground facilities, hiking trails, and ranger-guided activities.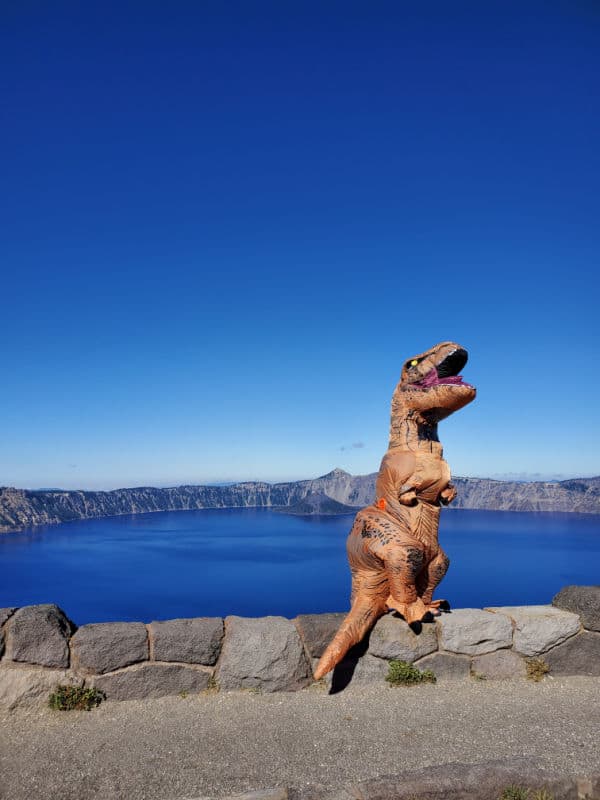 Is Crater Lake National Park worth visiting?
YES! The park is so amazing you may even see a dinosaur enjoying the view. On our last visit, we just so happened to see the indigenous Homo Sapienius ala dressesupasa Tyrannosaurus rex! What a day at the park!
On a serious note, Crater Lake is located in southern Oregon approximately 100 miles from the Pacific Ocean, and is a must-visit for any park lover. It is one of those places you have heard and seen in photos but the real thing far exceeds your expectations! It's kinda like the Grand Canyon for the fact they are both hard to capture their sheer size in a photo.
I have to admit that every time I go and see this park, there is just something so beautiful about that first moment you see the lake. The size, the deep blue color, and the views are simply amazing! It is much more than a big beautiful lake. Sightseers from far and wide stand in awe of its beauty from the moment they arrive in the park.
History of Crater Lake National Park
There was once a volcano called Mount Mazama where Crater Lake is today. Mount Mazama took roughly 500,000 years to reach its estimated peak height of 12,000 feet.
Around 7,700 years ago the volcano suffered a massive collapse after a particularly explosive eruption.
The collapse caused a large depression. That depression is now home to Crater Lake. Volcanic activity continued in the caldera following the collapse.
One of the most notable formations that were caused by this post-collapse activity is Wizard Island, a cinder cone volcano that is thought to have been formed before the caldera filled with water.
There are other similar formations that are hidden beneath the surface of the lake.
Crater Lake is not connected to any other sources of water and is only able to fill itself with water because of the heavy snowfall in the area.
Because Crater Lake is cut off from other water supplies there are no naturally occurring fish in the lake however, in 1888 people began stocking the lake with various types of trout and salmon.
Crater Lake was not officially discovered until 1853. However, there is evidence that the native American Klamath tribe was aware of the area as far back as the collapse of the volcano. The tribe has passed down legends of the collapse of the volcano for thousands of years.
The first settlers to come across Crater Lake were a group of men that were prospecting for gold in the area.
One of the men suggested naming the lake "Deep Blue Lake," but the name never stuck. A second group came across the lake nearly ten years later. They were also prospecting for gold.
One of these men suggested calling it "Blue Lake," but once again the name did not stick.
Three years later a group of U.S. Army soldiers came across the lake. The name suggested this time was "Lake Majesty." The name persisted until 1869.
In 1869 a newspaper editor visited Crater Lake and even went to Wizard Island by boat.
When he wrote the story of his adventure, he called the lake "Crater Lake" after the crater that sits atop Wizard Island. This time the name stuck.
In 1902, president Theodore Roosevelt officially named Crater Lake National Park.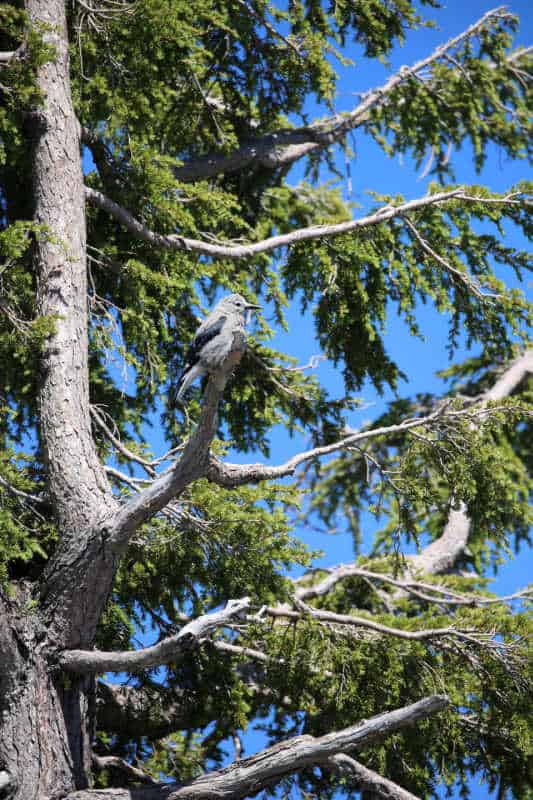 Depth and clarity
At approximately 1,943 feet deep, Crater Lake is recognized as the deepest lake in the United States, and the seventh deepest in the world.
Due to the exceptional purity and the depth of the water, the lake appears very deep blue.
General statistics
Crater Lake is the fifth oldest national park in the nation, and the park contains the deepest lake, for which the park is named, in the United States.
The deep blue lake is more than 1,943 feet deep, according to the U.S. Park Service, which estimates that it holds more than 4.5 trillion gallons of water.
The water owes its dark blue color mostly to the depth and purity of the lake, the water primarily coming from snow melt-off and rain.
The park itself isn't large in comparison to some other national parks and it contains a little more than 183,000 acres.
It became a national park when President Theodore Roosevelt signed a bill for that purpose on May 22, 1902.
The surface of Crater Lake is at an altitude of more than 6,100 feet, with the rim, overlooking the lake, at about 1,000 feet higher.
The highest point in the park is Mount Scott, the top of which is nearly 9,000 feet in elevation.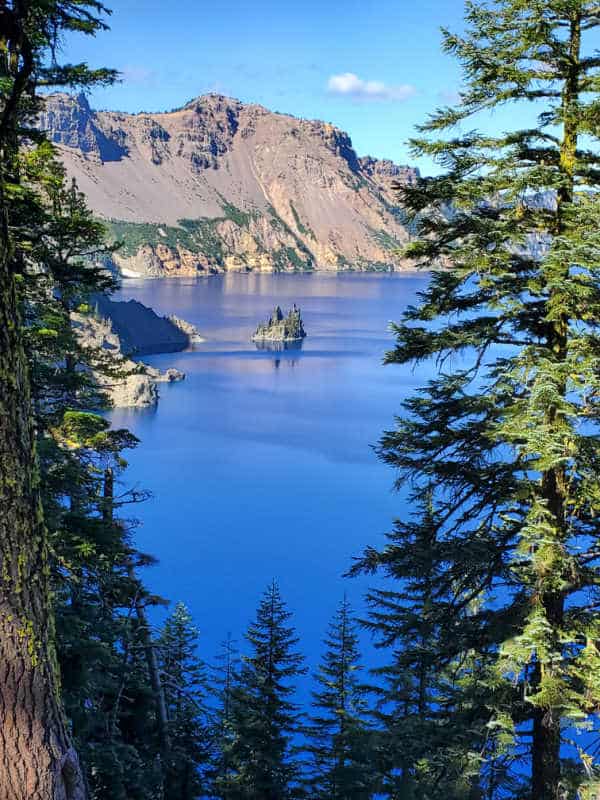 Things to know before your visit to Crater Lake National Park
Entrance fee
7-day single-vehicle park pass - $30 in the summer (May 22-October 31), $20 in the winter (November 1-May 21).
7-day individual park pass - $15 per individual. Admits one individual with no motor vehicle (bicyclist, hiker, pedestrian).
7-day motorcycle park pass - $25 in the summer (May 22-October 31), $15 in the winter (November 1-May 21).
Annual Park Pass - $55
Valid for one year through the month of purchase. Admits one private, non-commercial vehicle or its pass holder.
The Annual Park Pass covers both Crater Lake NP and Lava Beds National Monument.
Planning a National Park vacation? America the Beautiful/National Park Pass covers entrance fees for an entire year to all US National Park Sites and over 2,000 Federal Recreation Fee Sites.
The park pass covers everyone in the car for per vehicle sites and for up to 4 adults for per-person sites.
Buy on REI.com and REI will donate 10% of pass proceeds to the National Forest Foundation, National Park Foundation and the U.S. Endowment for Forestry & Communities.
Learn more about National Park Passes for parks that have an entrance fee.
Free Entrance Days -Find the five free entrance days the National Park Service offers annually.
Time Zone
PST - Pacific Standard Time
Pets
Pets are welcome at Crater Lake National Park, but only in certain areas.
Pets on a leash are allowed on paved roads and in parking lots, and up to 50 feet away from paved areas.
Leashes must be no more than 6 feet in length, and only one pet per person is allowed.
Pets are also allowed on a few of the park's hiking trails, none of these trails have a view of the lake:
- The Godfrey Glen Trail
- The Lady of the Woods Trail
- The Grayback Drive
- The Pacific Crest Trail (the official PCT, not the "alternate" PCT along the rim of the lake)
There are no kenneling services in the park. The closest kennels are one hour away in Klamath Falls.
In the winter and spring, pets are allowed only on one park trail: the Pacific Crest Trail, which is open to cross-country skiing and snowshoeing.
Cell Service
Cell reception in the park and surrounding areas is limited.
Park Hours
The park is open year-round, 24 hours a day.
But many of the park's roads, trails, and facilities are closed seasonally due to snow.
Wi-Fi
Wi-Fi can be found at Crater Lake Lodge, Rim Café, Mazama Cabins, Annie Creek Cafe, Mazama Convenience Store (no charge for lodging guests)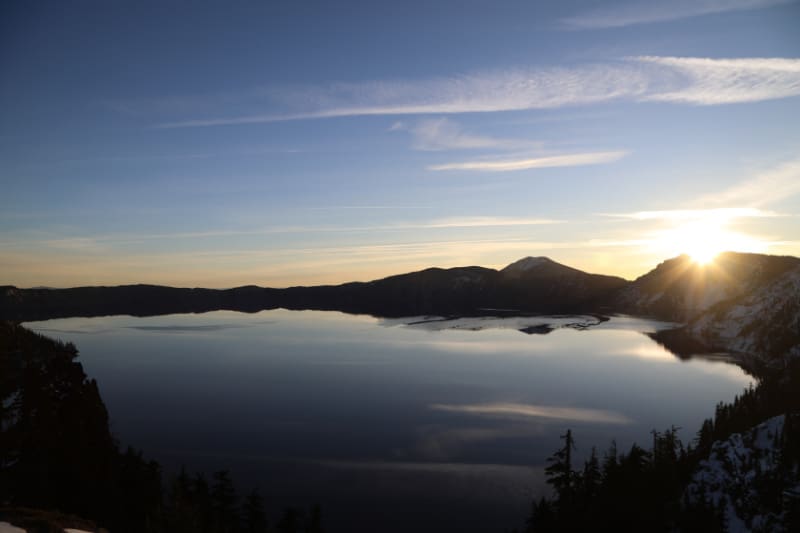 Insect Repellent
Insect repellent is always a great idea when outdoors, especially if you are around any body of water.
We use permethrin bug spray that can be applied to your clothes before you leave for your trip.
Water Bottle
Make sure to bring your own water bottle and plenty of water with you. Plastic water bottles are not sold in the park.
Large RV's, Trailers, Buses
There are no restrictions on the size of RVs, trailers, or buses allowed in the park.
Food/Restaurants
The park has three restaurants. The Rim Village Café is open year-round. The other facilities are open seasonally.
Rim Village Café - grab-and-go sandwiches and salads
Annie Creek Restaurant - Located in Mazama Village. Grab-and-go sandwiches and salads for lunch and serves pizza, burgers, and other entrees for dinner.
Crater Lake Lodge Dining Room - casual dining with a lake view.
Groceries/Stores
The Mazama Village Store sells groceries, camping supplies, firewood, and gasoline.
Gas
Unleaded gas is available seasonally at the Mazama Village Store.
The closest gas stations are in the towns of Prospect (33 miles west of Park Headquarters) and Chiloquin (34 miles south of Park Headquarters).
Drones
Drones are not allowed to be used within the park.
National Park Passport Stamps
National Park Passport stamps can be found in the visitor center.
Make sure to bring your National Park Passport Book with you or we like to pack these circle stickers so we don't have to bring our entire book with us.
Crater Lake NP is featured in the 1989 Passport Stamp Set
Crater Lake's stamp is currently available during business hours at the Rim Village Café & Gift Shop and at the Post Office at Park Headquarters.
It's the same design at each location.
Electric Vehicle Charging
There are EV Chargers available at Mazama Village.
1 Tesla Connector, up to 16kW.
Available to the public. Self-park.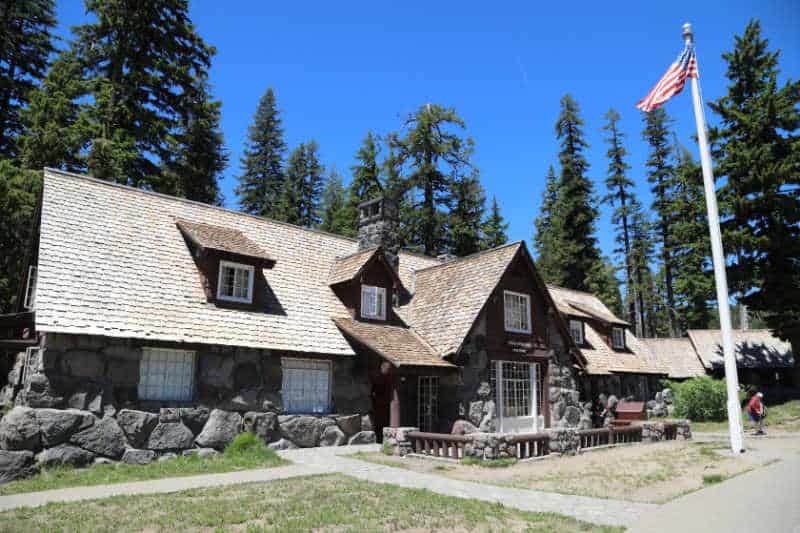 Details about National Park
Size - 183,224 acres
Crater Lake is currently ranked at 34 out of 63 National Parks by Size.
The lake is situated in the center of the park and comprises just a small part of the park which is 183,224 acres large.
Some 95 percent of the park is a wilderness of mountainous peaks and dense forests with only a handful of hiking trails.
Date Established
Established on May 22, 1902
Established in 1902 as the nation's sixth National Park.
Visitation
In 2021, Crater Lake NP had
In 2020, Crater Lake NP had 670,500 park visitors.
In 2019, Crater Lake NP had 704,512 park visitors.
Learn more about the most visited and least visited National Parks in the United States.
National Park Address
The park does not have a physical street address, so it can be hard to locate us using GPS.
Try entering "Crater Lake" or "Rim Village" as a town or waypoint, or entering the coordinates for Park Headquarters, which is 3 miles south of Rim Village:
42° 53' 48.91" North
122° 08' 03.08" West
Crater Lake National Park Map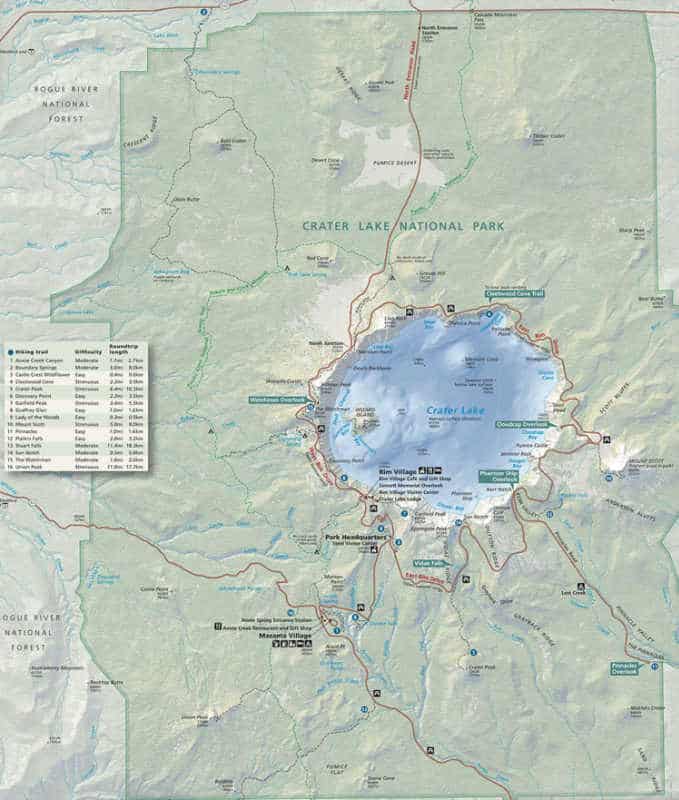 For a detailed map of the park, we use the National Geographic Trails Illustrated Maps available on Amazon.
Where is Crater Lake National Park?
Crater Lake is located in central Oregon approximately 75 miles from Medford, Oregon.
Estimated distance from major cities nearby
Klamath Falls, Oregon - 69 miles
Bend, Oregon - 130 miles
Eugene, Oregon - 139 miles
Portland, Oregon - 236 miles
Seattle, Washington - 405 miles
San Francisco, California - 397 miles
Estimated Distance from nearby National Park
Redwood National Park - 206 miles
Lassen Volcanic National Park - 238 miles
Olympic National Park - 462 miles
Mt. Rainier National Park - 387 miles
North Cascade National Park - 511 miles
Yellowstone National Park - 791 miles
Glacier National Park - 745 miles
Where is the National Park Visitor Center?
There are currently two visitors centers located within the park.
Both are staffed with park rangers that can aid you in planning your trip as well as obtaining the weather forecasts. Books, maps, and other educational materials are available for sale at both locations.
The Steel Visitor Center is located at Park Headquarters and is open from 9:00 a.m. to 5:00 p.m. daily.
It was named after William Steel who first viewed the lake in 1885 and was instrumental in the campaign for National Park status.
The Rim Village Center is located at rim Village, with operational hours of 9:30 a.m. to 5:00 p.m. every day from June through September.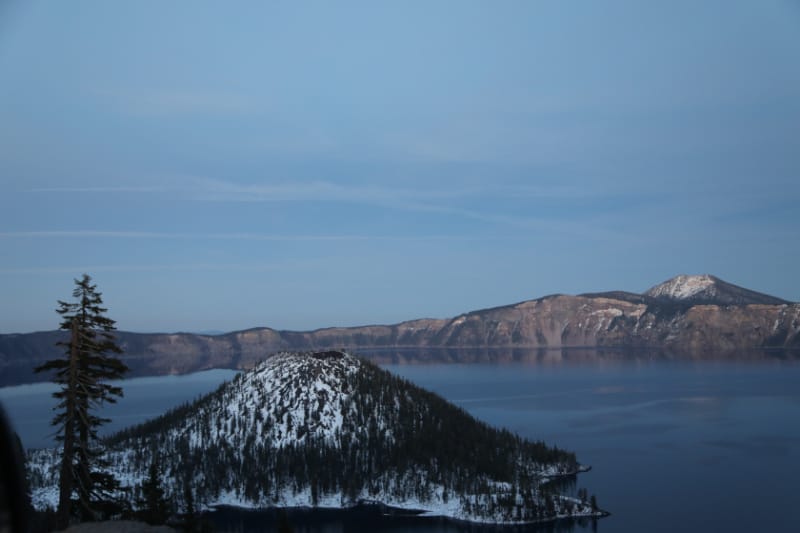 Getting to National Park
Closest Airports
We flew into the Medford, Oregon airport which is 75 miles from the park. You can also fly into Klamath Falls which is 63 miles from the park.
The North Entrance is closed for about 7 months each year. It closes on November 1 (or earlier, if there is significant snowfall). The entrance normally opens from Mid-May to Late June depending on snowfall during the winter.
The Rogue Valley-Medford Airport is served by Alaska, Allegiant, American, Delta, and United.
International Airports
Portland International Airport - PDX
Regional Airports
Klamath Regional Airport - LMT
Closest Train Service
Amtrak provides daily service to Klamath Falls, Oregon (63 miles from Park Headquarters). From July to early September, a shuttle runs from the Amtrak station to Rim Village.
Public Transportation
There is no public transportation in the vicinity of the park.
Driving Directions
From the west (Medford) - Follow Highway 62 to the park's West Entrance. Open year-round.
From the south (Klamath Falls) - Take Highway 97 to Highway 62 and the park's South Entrance. Open year-round.
From the north (Eugene, Portland) - Leave Interstate 5 just south of Eugene. Take Highway 58 to Highway 97. If the North Entrance is open, turn west on Highway 138 to the park's North Entrance. If the North Entrance is closed, continue south on Highway 97 toward the town of Chiloquin. Take Highway 62 to the park's South Entrance.
From the northwest (Roseburg) - Follow Highway 138 east to the park's North Entrance. If the North Entrance is closed, continue on Highway 230 to Highway 62, entering the park through the West Entrance.
Best time to visit Crater Lake National Park.
The most popular months to visit Crater Lake are July, August, and September.
While there are crowds during this time most of the park services are open and available to explore.
May and June are the slow progressions to summer. Lingering snow can prevent the entire rim road from being open.
With all of this being said the best time to visit the park is when you can get there and have time to explore.
Even if the entire Crater Rim Road isn't open you will still have amazing opportunities to view the lake.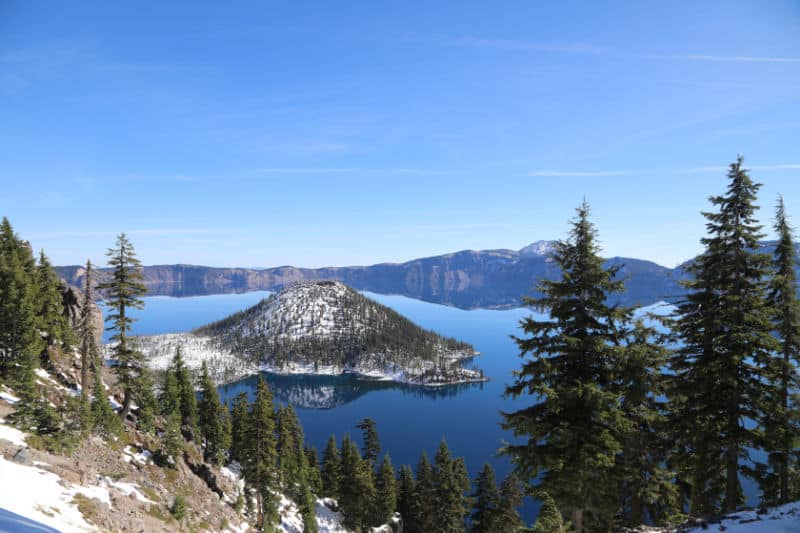 Crater Lake National Park Weather and Seasons
Crater Lake receives on average 43 feet of snow at the park headquarters. In 2017 they experienced over 48 feet of snow. Crater Lake receives so much snow because of its position at the crest of the Cascade Mountains.
For the most up-to-date weather report check out the National Weather Service.
Spring
Spring in Crater Lake is still winter. The park will still be covered in snow and many trails will be closed.
In May the average daily high is 50 degrees. The snow is slowly melting. On average the park still gets 20 inches of new snow in May.
There is normally at least 6+ feet of snow at the park headquarters.
Summer
By June the daily average temperature rises to 58 degrees. The snow continues but is down to 4 inches on average during the month.
It is worth noting that the lake is completely invisible about 20% of the time in May and 10% in June.
Autumn/Fall
Crater Rim Drive is usually open into October depending on the weather.
The lodges and campgrounds within the park will close by mid-October.
Winter
The National Park Service closes much of Crater Lake down during the winter, but the parts that remain open are ideal for snowshoe hiking, cross country skiing, and a variety of other winter sports.
During periods of fair weather, trails and viewing points are accessible to the public. The NPS does monitor for heavy snowfall and will shut the park down if the accumulations reach dangerous levels.
It's estimated that over 530 inches of snowfall in a year's time at Crater Lake. That is an annual average of 43 feet of snow!
This makes it one of the heaviest hit areas of the country when it comes to winter precipitation. Even though much of the park is closed during the winter months, the park still offers many opportunities for education.
Crater Lake National Park is one of the most popular scenic vistas in the country. Almost 500,000 people visit the park each year. A fifth of those, almost 100,000 people, do so in the offseason.
The winter months offer some of the most beautiful vistas in the country.
The national forest surrounding the lake itself is full of hiking and skiing trails that lead to scenic viewpoints.
Visiting during the winter months provides a scenic view that reminds one of a picturesque winter wonderland.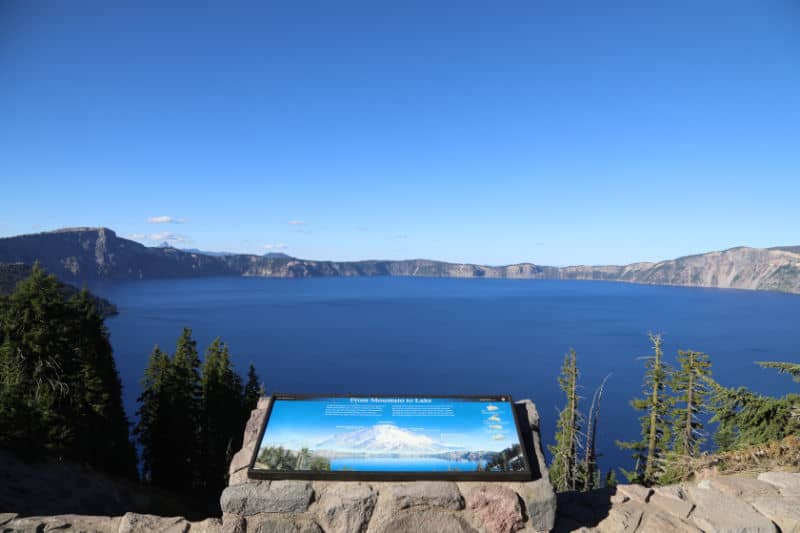 There are so many amazing things to see and do while visiting Crater Lake NP!
From the Rim Road drive to taking a great boat tour you can see the lake in a few different ways.
Crater Rim Drive
The historic Crater Rim Drive includes 33 miles of epic views! There are more than 30 scenic pullouts on the drive around Rim Road.
The Rim Drive mostly circles the edge of the caldera, affording spectacular views of the lake that lies over a thousand feet below.
Partway around the drive, a parking lot allows people to stop and walk down Cleetwood Cove trail to the lake itself.
The speed limit is 35 mph but you will want to plan a few hours to complete the drive.
The full loop of Rim Drive (East and West) is typically open from July through October.
Boat Tours
During the summer, there are regular boat tours around the lake and to Wizard Island. On those tours, Park Rangers explain the history of the lake.
A person can get a boat schedule from the Rangers at Rim Village or from the information center.
Visitors should allow themselves plenty of time to walk down to the water, and much more to walk back up.
To reach the dock for boarding the boats, visitors must be capable of descending and ascending the Cleetwood Cove Trail. It is a one-mile trail that drops 700 feet (213 meters) to the lakeshore. The steep, dusty trail is challenging.
Trolley Tours
Crater Lake Trolley, a concessioner for the park, offers daily trolley tours.
Tours typically begin in July and run through mid-September.
The trolley tours travel the 33-mile Rim Drive making five to seven stops at main overlooks during the tour.
A Park Ranger provides information on the lake, history, and fun.
Trolleys are wheelchair accessible and seat 25 passengers. The tours are 2 hours and there are no bathroom stops.
What birds can I see while visiting Crater Lake?
The most common birds seen within the park include Raven, Clark's Nutcracker, Gray Jay, Steller's Jay, Dark-Eyed Junco, and Mountain Chickadee.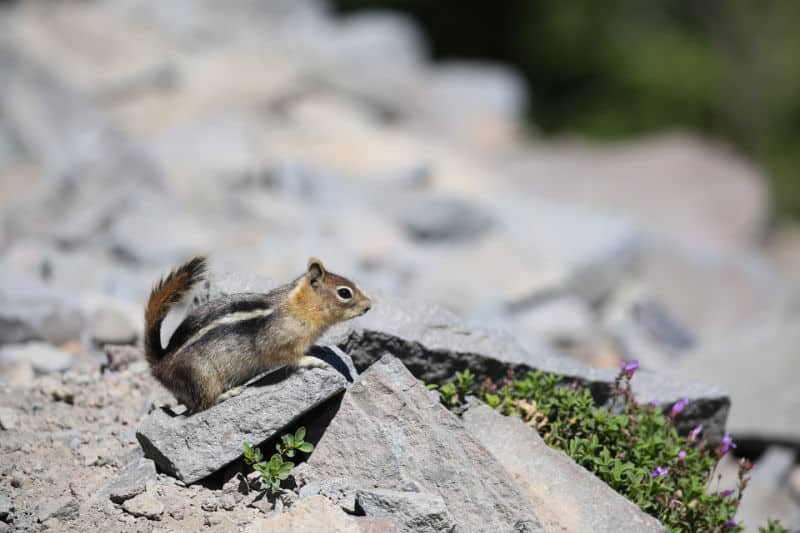 What animals/wildlife can I see while visiting Crater Lake?
The most common wildlife seen within the park includes Roosevelt Elk, Mule Deer, Black Bear, Coyote, Bobcat, Porcupine, Yellow-bellied Marmot, Pine Marten, Snowshoe Hare, Pika, Golden-mantled Ground Squirrel, and Townsend Chipmunk.
Crater Lake is also home to a huge number of animal species.
Black bears, deer, and elk frequent the park and it is hard to find a place inside the park boundary where there aren't golden-mantled ground squirrels and chipmunks, at least in warmer weather.
Ravens, hawks, owls, and eagles tend to be plentiful. If a person is exceptionally lucky, they might even glimpse a cougar, though these shy but majestic animals rarely stick around long enough to be photographed.
Steller's Jays, Clark's nutcrackers, and ravens are common.
Small and inconspicuous animals are also abundant, though sometimes not noticed: Hummingbirds, mice, chickadees, pine martins, lemmings, voles, and pikas.
Note: Though many of these animals appear tame and many are not concerned about people, they are still wild animals and should be treated with respect and caution.
You can earn both a Junior Ranger Badge and Junior Ranger Patch at Crater Lake.
The Junior Ranger Patch is available for kids ages 6 - 12 who join a ranger-led activity. These ranger-led activities normally take about 20 minutes and happen several times during the day.
Ask at the Rim Village Visitor Center for a current schedule of activities. They are normally held from Late June to September 4th. Patches are not available outside of this date range.
Junior Ranger Badges can be earned by kids ages 6 - 12 who complete at least 7 pages of the park's Junior Ranger activity book.
The Junior Ranger books are free and can be picked up at the visitor center.
Rim Village
At the Rim Village, a visitor can purchase mementos or dine at the café, which offers a breathtaking view of the lake.
Other attractions
There are also other sites worth seeing when a person visits this park. These include Castle Crest wildflower trail, an eighth-mile nature walk near the bottom of Rim Drive that includes many of the wildflowers found in the park.
Lady of the Woods, a statuette of a sitting woman carved out of the solid volcanic rock by a lonely and love-struck worker, many decades ago.
There are also numerous streams and waterfalls to be seen within the park. Among the most beautiful are Munson Creek, Goodbye Creek, Castle Creek, and Anne Creek.
Plant life
The park is home to an enormous number of wildflowers, trees, and bushes.
Mountain hemlock, ponderosa pines, towering firs, huckleberries, wild onions and chives, honeysuckle, wild columbine, and pussy willows are only a few of the many plant species living here.
An area was even set up, by transplanting some of these plants, to let visitors view some of these species. It is called Castle Crest Flower Gardens and consists of a looped trail of about one-eighth mile.
Trees at the park include enormous Ponderosa pines, sugar pines, hemlocks, noble, Shasta, Douglas, and white firs, cedars, lodgepole pines, and spruces.
The wildflowers and plants include columbine, bleeding hearts, wild chives, huckleberry, mountain cranberry, alpine lupine, Oregon grape, bearberry, trillium, and honeysuckle.
Fish
According to the park service, all of the fish in the lake itself was planted. These were fingerlings that were carried, arduously, down to the lake in collapsible canvas buckets, before a trail was created down to the lake.
The effort was discontinued after only a few years, but there appear to be breeding populations of both rainbow trout and kokanee in the lake now, and they occasionally grow to great sizes.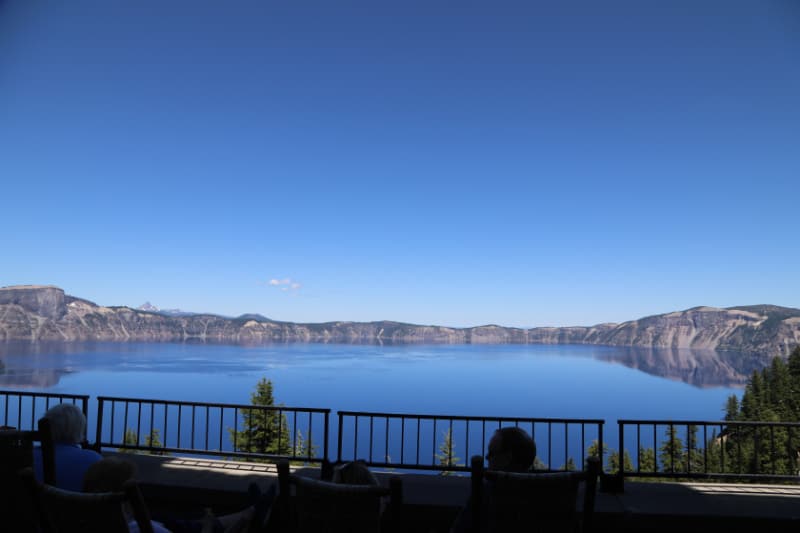 Hiking in Crater Lake National Park
Crater Lake has 90 miles of hiking trails to explore and has everything from easy to strenuous. You can find a short half-mile trail to the Pacific Crest Trail that spans 2,650 miles one way! Always carry the 10 essentials for outdoor survival when exploring.
Top 10 Crater Lake Hiking Trails:
Sun Notch Trail
Trail Length: 0.8-mile loop trail
Trail Difficulty: Easy
Starting Point: 4.4 miles east of Park Headquarters along East Rim Drive
This is a short uphill hike through a meadow to the rim of Crater Lake. You will have incredible views of the lake and the Phantom Ship.
The Pinnacles Trail
Trail Length: 0.8 miles out and back trail
Trail Difficulty: Easy
Starting Point: End of the Pinnacles Road
This hike gives you incredible views of the Pinnacles which are actually ash that was formed when the hot ash cooled.
Plaikni Falls Trail
Trail Length: 2 miles
Trail Difficulty: Easy
Starting Point: located on Pinnacles Road 1.2 miles southeast of the Phantom Ship Overlook.
This is a nice hike taking you through an old-growth forest and leading you to an Oregon waterfall. You can also find many flowers along the way around July!
Wizard Island Trail
Trail Length: 2.3 miles out and back trail that loops around the summit.
Trail Difficulty: Moderate
Starting Point: Take the boat shuttle to Wizard Island
This is a hike to get the blood pumping with a little scrambling and a 700-foot climb to the top. It is more than worth the hike for the incredible panoramic views of Crater Lake from the close to lake level!
Discovery Point Trail
Trail Length: 2 miles roundtrip
Trail Difficulty: Moderate
Starting Point: West end of Rim Village where the paved walk becomes a dirt path.
You can walk to the point where the first white man, a gold prospector named John Wesley Hillman, placed eyes on this incredible lake in 1853. This trail takes you along the rim of the lake with incredible views as you hike through white bark Pines and Mountain Hemlocks.
Watchman Peak Trail
Trail Length: 1.6 miles roundtrip
Trail Difficulty: Moderate
Starting Point: Watchman Overlook
Hike your way up to a historic fire lookout that is still used today! Warning, Incredible views, and spectacular sunsets await you here.
Amie Creek Trail
Trail Length: 1.7-mile loop trail
Trail Difficulty: Moderate
Starting Point: Mazama Campground behind the Amphitheater between camp loops D and E.
This hike takes you through a deep canyon with rushing water, wildflowers, and wildlife.
Cleetwood Cove Trail
Trail Length: 2.2 miles roundtrip
Trail Difficulty: Strenuous
Starting Point: North side of the Lake. 11 miles from rim village if traveling clockwise on rim road.
The Cleetwood Cove Trail is a steep trail descending 700 feet to the lake itself. This is the only way to the lake and to catch the boat tours.
It is a very steep trail and will be treacherous for those with bad knees, especially going down. The way back up will give you a good workout as well, especially since the trail is mostly exposed.
The great news is there are several benches along the way back up.
Garfield Peak Trail
Trail Length: 3.6 miles roundtrip
Trail Difficulty: Strenuous
Starting Point: East end of Rim Village. Follow the paved Promenade behind Crater Lake Lodge
A nice but rocky climb to Garfield Peak. The trail climbs 1,000 feet and may not be clear of snow until July.
It is a great place to see yellow-bellied marmots and American Pikas, these small rodents are easily identified because of their stout bodies, big ears, and no visible tails.
They are normally found in boulder fields above the tree line in the western US and are widely regarded as an indicator species that has had a dramatic decline in population in recent years due to a loss of habitat due to climate change.
Mount Scott Trail
Trail Length: 4.4 miles roundtrip
Trail Difficulty: Strenuous
Starting Point: East Rim Drive, 14 miles east of park headquarters.
Here you can climb to the park's highest peak at 8,929 feet in elevation.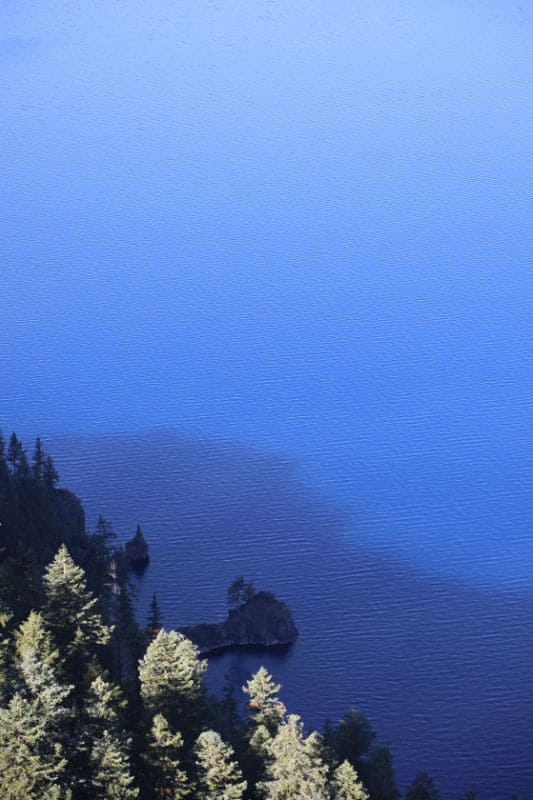 How to beat the crowds in Crater Lake?
The majority of park visitors go to Crater Lake in the summer months of June, July, and August. I feel that September is an excellent time to visit. Typically most schools are back in, and the weather is perfect while fall is creeping in. Winter is fantastic for those who enjoy winter recreation.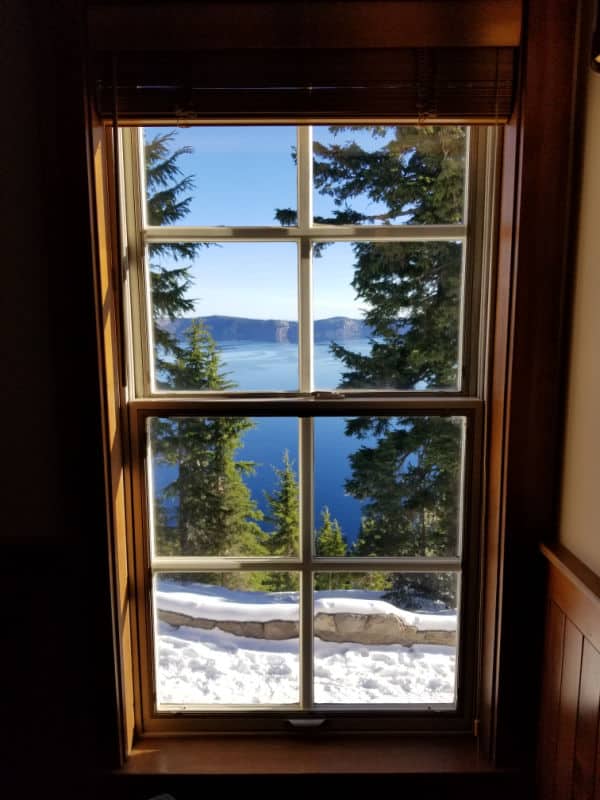 Where to stay when visiting Crater Lake National Park
There are a couple of National Park Lodges located within Crater Lake NP.
Crater Lake Lodge is perfectly placed at the lake's edge giving visitors sweeping views of the deep blue water of Crater Lake surrounded by tall cliffs that become covered in snow for several months each year.
This is one of the Historic Hotels of America, a title given to only six hotels in Oregon. The combination of the National Park Rustic design, also known as Parkitecture, and jaw-dropping views of Crater Lake alone will leave you wanting to come back again and again.
Crater Lake Lodge is open from May to October 15th. Opening dates depend on weather and conditions. Reservations are highly recommended.
The lodge has 71 rooms including six which are accessible.
The Cabins at Mazama Village
There are also 40 cabins at Mazama Village that are 7 miles south of the Rim Village.
The cabins are available from May through October 1st.
There are no lodges or campgrounds open in the park between mid-October and late May.
The closest towns with lodging include Fort Klamath, Union Creek, Diamond Lake, Prospect, Chiloquin, Chemult, Shady Cove, Klamath Falls, and farther out.
Lodging near Crater Lake NP
Eagle Crater Lake Inn - Eagle Crater Lake Inn provides amenities like a garden and a business center. Guests can connect to free in-room Wi-Fi.
Dawson House Lodge - Dawson House Lodge provides a fireplace in the lobby and more. Active travelers can enjoy amenities like ecotours and rowing/canoeing at this hotel. Guests can connect to free in-room Wi-Fi.
Crater Lake Resort - This smoke-free cabin features a snack bar/deli, conference space, and laundry facilities. Free Wi-Fi in public areas and free self parking are also provided. Additionally, a library, wedding services, and a convenience store are onsite. All 15 individually furnished cabins feature free Wi-Fi and private yards. Other amenities that guests will find include furnished balconies or patios and sitting areas.
Edgewater Inn Shady Cove - At Edgewater Inn Shady Cove, you can look forward to laundry facilities, a gym, and a hot tub. Stay connected with free in-room Wi-Fi.
Best Western Crater Lake Highway White City/Medford - Dry cleaning/laundry services, a fireplace in the lobby, and a gym are just a few of the amenities provided at Best Western Crater Lake Highway White City/Medford. For some rest and relaxation, visit the hot tub. Stay connected with free Wi-Fi in public areas, and guests can find other amenities such as a business center.
Comfort Inn & Suites Klamath Falls - Consider a stay at Comfort Inn & Suites Klamath Falls and take advantage of a free breakfast buffet, a terrace, and laundry facilities. In addition to a gym and conference space, guests can connect to free in-room Wi-Fi.
Fairfield Inn & Suites by Marriott Klamath Falls - free breakfast buffet, a grocery/convenience store, and a firepit at Fairfield Inn & Suites by Marriott Klamath Falls. In addition to dry cleaning/laundry services and a gym, guests can connect to free in-room Wi-Fi.
The map below shows current rates and options near Crater Lake NP.

There are 2 campgrounds in Crater Lake National Park; Mazama Village Campground and Lost Creek Campground.
Both campgrounds are open seasonally as both campgrounds are located at 6000 feet in elevation.
Mazama Village Campground is considered the main campground at Crater Lake National Park with 214 campsites and has most of the amenities that you would expect while camping in the front country (car camping).
The Lost Creek Campground has only 16 tent-only campsites that are available first-come, first-served basis.
Camping Games - Check out all of the great games you can bring camping
A backcountry camping permit is required year-round for all overnight trips in the park. Permits must be obtained in person, during business hours, from the Ranger Station at Park Headquarters.
For a fun adventure check out Escape Campervans. These campervans have built in beds, kitchen area with refrigerators, and more. You can have them fully set up with kitchen supplies, bedding, and other fun extras. They are painted with epic designs you can't miss!
Escape Campervans has offices in Vancouver, Seattle, Portland, San Francisco, Las Vegas, Los Angeles, Phoenix, Salt Lake City, Denver, Chicago, New York, and Orlando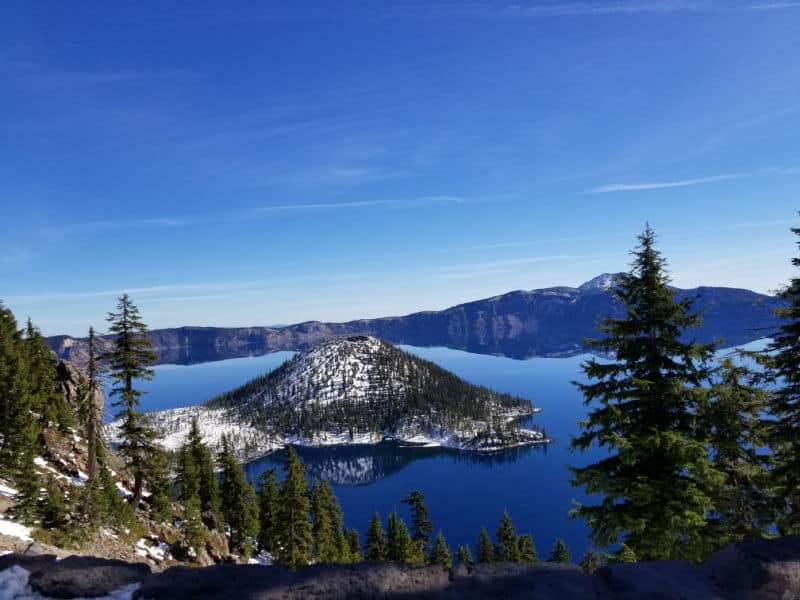 Crater Lake National Park Travel Tips
Check for park road status before heading to Crater Lake. When we visited in late summer only ⅔ of the road was open due to snow. The road may also be closed due to fires and other weather conditions.
There is little to no cell phone reception in the park. We were able to get cell phone reception on the deck of the Crater Lake Lodge and in one of the first pull-outs as you head around the lake. Outside of those two places we did not have any service on our phones.
Make sure you have a full tank of gas. Seasonally gas is available at the Mazama Village Store but the rest of the year the closest gas is about 33 miles outside the park.
For More information on Crater Lake, visit my Things To Do Crater Lake article
Reader tips
We asked the members of the Park Ranger John Facebook group for their best tips for visiting Crater Lake. Here are some of the answers to help you plan a great visit!
We stayed at crater lake RV park - it was awesome - quick access to the park and town. Nice place to chill and enjoy a lazy river behind the campsite.~ Dave F.
I regret not planning ahead and reserving a boat trip to the island. ~ Stephen B.
Be prepared for an unforgettable experience!!! ~ Russ V.
Be sure and allow a lot of time. ~ Lona B.
We really enjoyed hiking down and taking a dip in the lake. It's an unforgettable experience, but the water is really cold, even in the summer. ~ Chrissie R.
Go late in July. We were there in June and roads were not open due to snow. Said probably not open until around July 4. ~ Pam W.
Try to stay at the lodge. Sunset and sunrise are so amazing. ~ Anne
Wear good shoes. It is awesome to see all the lava, etc. ~ Carol
Drive the entire rim. Be careful near the edge. Be sure to see the Pinnacles. Don't forget the viewpoint up by the Rim which pretty much overhangs the lake. ~ Joe
Get there early for parking! Take lots of pics. The last time I went we weren't able to drive the entire rim due to roads being cleared of debris. Do the trolley tour. ~ Cindy
If you can swing it spend at least one night at the lodge preferably two and do the trip down to the water's edge in the boat ride to Wizard Island. ~ Eric W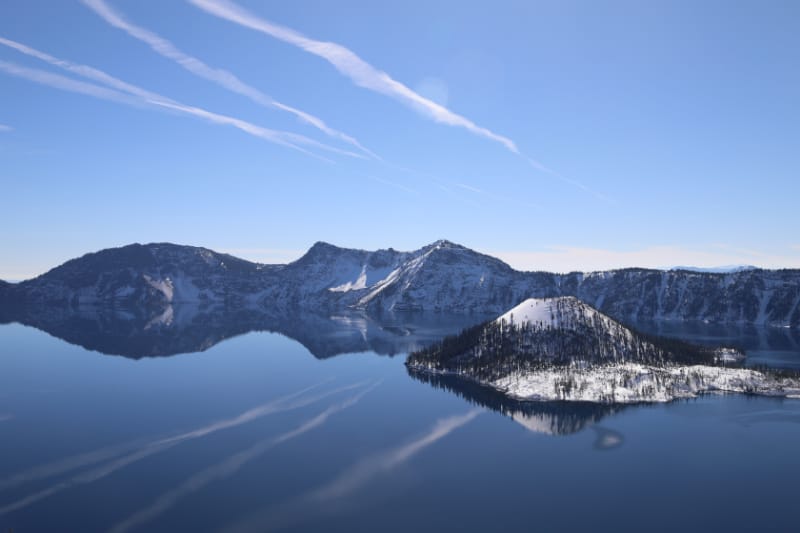 How Deep is Crater Lake?
With a depth of 1,943 feet (594 m), Crater Lake is the deepest lake in the United States.
Crater Lake is the ninth deepest lake in the world!
How much water is in Crater Lake?
4.486 cubic miles
4.6 trillion gallons of water in the lake
Can you swim in Crater Lake?
There is only one place in the park where you can swim in Crater Lake. The Cleetwood Cove Trail is the only access to the lake and shoreline where you can swim.
The trail is 1.1 miles long and drops nearly 700 feet down to the lakeshore.
The average temperature (below 300 feet deep) is 38°. In the summer, the surface can warm up to 55° or 60°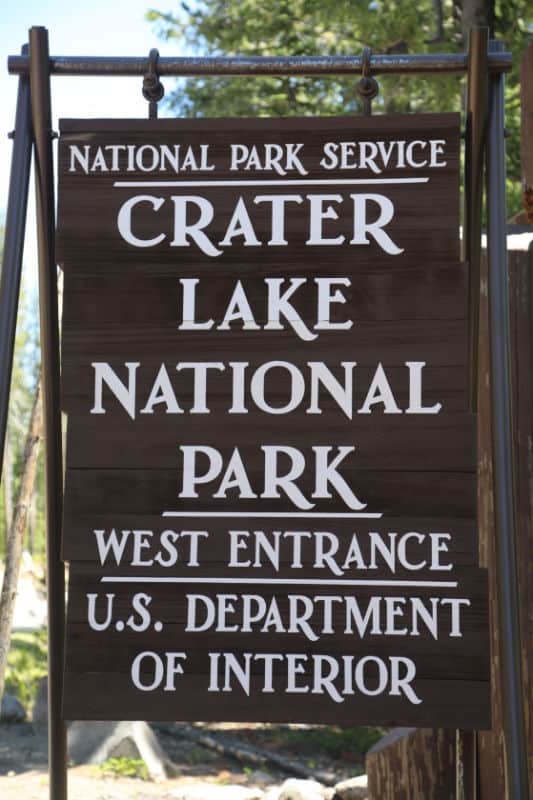 How was Crater Lake Formed?
Crater Lake was formed by the collapse of a volcano causing a caldera.
It is worth noting that a crater or moon rocks did not cause the crater to form. I have read a lot of people believe it the lake was formed by a giant meteor but this is not true.
Are there fish in Crater Lake?
The lake did not originally have fish but was stocked with six types of fish from 1888 to 1941.
Currently, there are two fish species that thrive in the lake, Kokanee Salmon and Rainbow Trout.
Can you go fishing in Crater Lake National Park?
No fishing license is required within park boundaries.
There are no size restrictions or catch and possession limits for rainbow trout or kokanee salmon from the lake, or brook trout and brown trout from streams.
Crater Lake National Park Facts
Crater Lake National Park was established in 1902
The park averages 44 feet of snow a year
Crater Lake is 1,943 feet deep, the deepest in the USA and one of the 10 deepest in the world
Parks near Crater Lake National Park
Oregon Caves National Monument
John Day Fossil Beds National Monument
Hagerman Fossil Beds National Monument
Lewis and Clark National Historical Park
Whiskeytown National Recreation Area
Check out all of the National Parks in Oregon along with neighboring Washington National Parks, National Parks in California, and Idaho National Parks
Oregon Coast Camping - Check out some of the amazing parks you can camp in on the coast.
National Park Service Website