Mount Rainier National Park was the fifth of sixty-three National Parks in the United States of America and was established in 1899.
Located in Washington State, Mount Rainier is also the fifth tallest mountain peak in the Continental U.S.
This travel guide will have everything you will need to know to plan an epic trip including travel tips, lodging, camping, hiking, and what to expect when visiting this amazing park.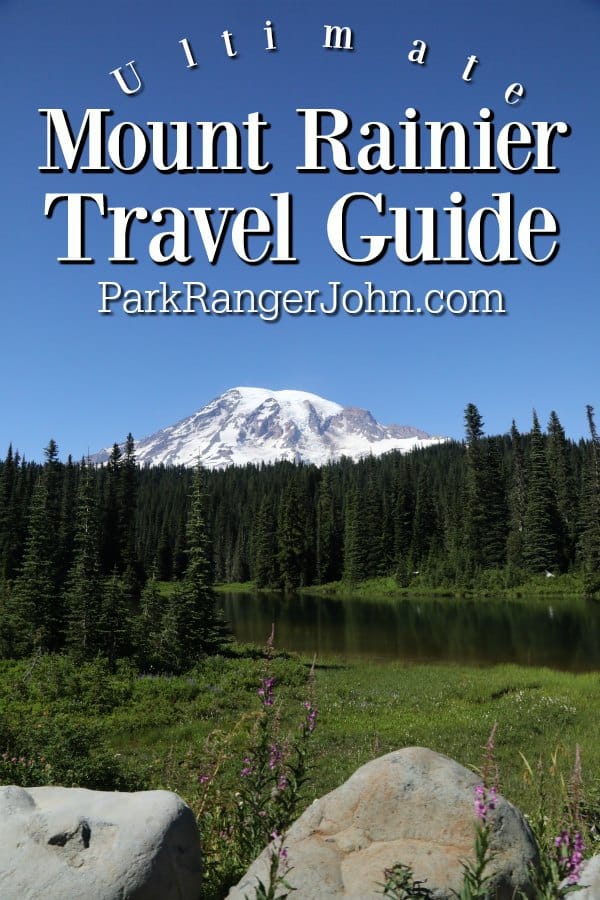 Mount Rainier National Park
Mount Rainier is the oldest and smallest of Washington's three designated national parks and also contains an active stratovolcano.
It is the highest point in the Cascade Range and its immediate surroundings. This includes the two largest glaciers by area and volume in the continental United States.
Mount Rainier itself is the tallest volcano in the continental United States and its fifth tallest peak. Because Mount Rainier has the 21st highest topographical prominence in the world (13,210 feet), it is distinct from its surrounding range, which makes it the dominant landmark for the Seattle-Tacoma-Bellevue metropolitan area. On clear days, it can be seen as far away as Victoria, Canada.
New research has found Mount Rainier to be much more active than previously thought. Although no eruption is imminent, Mount Rainier has erupted as recently as 1854, and in the past, its lahars ( destructive mudflow on the slopes of a volcano) have reached all the way to Puget Sound.

About Mount Rainier National Park
This is an important mountain to the people of Washington State and has been a popular destination for over one hundred and twenty years. Needless to say, the upkeep is extremely important not just for the beauty, but also for the economy.
This national park brings millions to its base and beyond every year. The financial implications are huge, explaining the many hotels, motels, camping areas and resorts nearby.
While facilities and roads are updated and maintained, the natural beauty of the park has been around for longer than can be imagined.
It has lush forests, wildlife, lakes, and beautiful floral meadows. Its picturesque scenery has served as an inspiration to many. Interestingly, Mount Rainier is also an active stratovolcano.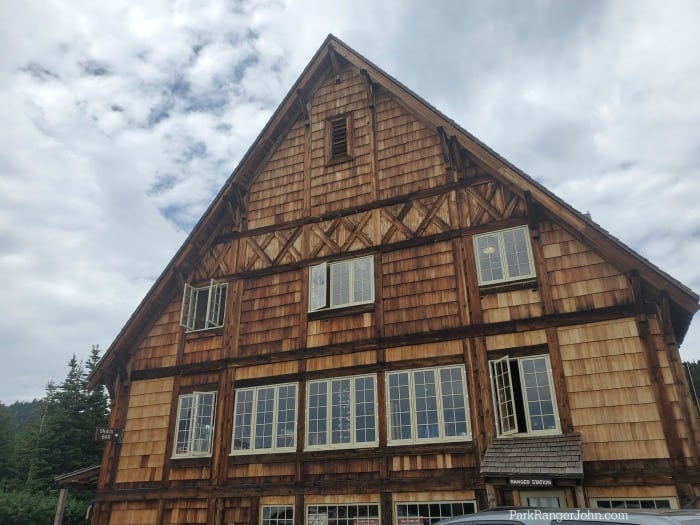 History of Mount Rainier NP
The area was used by Native American tribes, including the Puyallup, Nisqually, Yakima, Cowlitz, and Klickitat for hunting and gathering.
Originally, Mount Rainier was known by local Native Americans as Mount Tahoma, Takhoma, or Tacobet.
While the mountain has been around for what seems like forever, the park got its start when Captain George Vancouver decided to name the mountain after a friend.
The friend, who never even visited the mountain, was named Peter Rainier, and he was a Rear Admiral for the British Navy, while Vancouver was a British explorer. The year was 1792.
As time went by, Seattle gained a population of about 1,000 by the late 1800s. It was in this time period when the mountain had its first climbers to its summit: Philemon Beecher Van Trump and Hazard Stevens.
These two gentlemen made it to the top in 1870 and made headlines in Seattle. During the 1800s a farmer had created a pathway (Packwood Trail) to Rainier from the coast. Soon after a call of protection was issued to keep the natural beauty of the Mount Rainier area.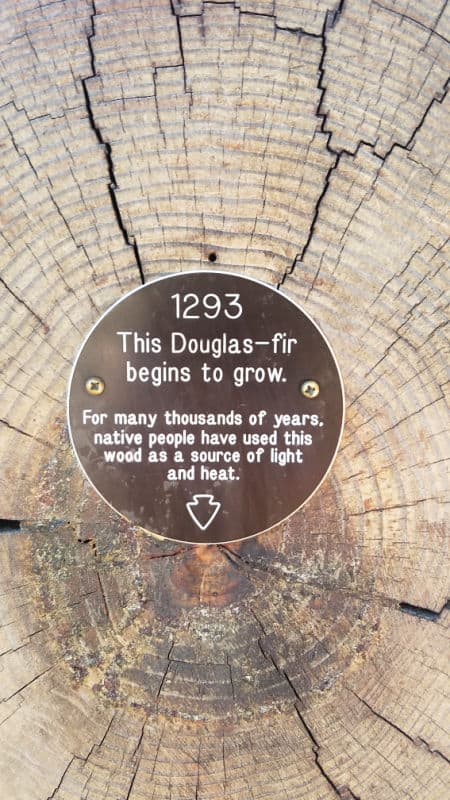 James Longmire, an early Washington pioneer, discovered the area that is now known as Longmire in 1884. He homesteaded in the area and established the Mineral Springs Resort.
Longmire later would become the site of the park's former headquarters. In 1997 it was designated a National Historic Landmark district for its 1920's and 1930's style architecture called "National Park Service Rustic style".
With the invention of cars and railways, millions of people visited the National Park (the 5th National Park ever created in the United States), and millions still do today. In fact, Mount Rainier is so popular a mountain that those headed to Mount Everest have trained by climbing to the summit of Mount Rainier.
The mountain is such an icon of Washington State life that it graces the license plate of every Washington State registered vehicle. People from the state of Washington are so familiar with Mount Rainier that when they ask "Is the mountain out today?" a true native understands they are talking about Rainier.
There has even been a beer claiming the name "Rainier" for decades: Rainier Beer. Which is just one of the really cool beers inspired by our National Parks!
Mount Rainier maintains several historical collections, many of which focus on ecology and vegetation. One of these is the H.E. Bailey Vegetation collection that documents vegetation from the early 1930's.
There is also the C. Frank Brockman Ecological Study Collection which shows human impacts to vegetation near trails and campsites, with information studied between 1932 until 1964.
One of the most interesting collections is documentation put together by Dr. Alton Lindsey who was a seasonal naturalist at Longmire and a biology professor at Purdue University. He took many photos in the park in the 1930's and returned in 1974, forty years later, to re-photograph exactly the same locations to document landscape changes and natural succession.
Throughout the history of the park, hundreds of people have lost their lives on Mount Rainier. Glacial ice holds the remains of 65 men who succumbed to the dangers of mountain climbing, snowshoeing, rafting, hiking or plane crashes on the mountain. According to the website Ghosts of Rainier, the bodies of these 65 men have not been recovered.
Today, Mount Rainier National Park serves many visitors. It is full of history as well as beauty. It is as beautiful today as it was one hundred years ago.
It serves as a place for family recreation, hiking, camping, climbing, or studying nature.
The National Park Service has a museum with many records on microfiche which the public is welcome to use by appointment.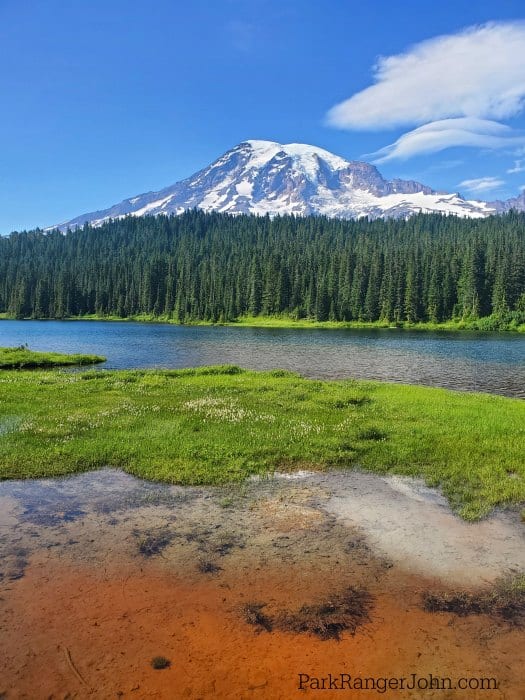 Is Mount Rainier National Park worth visiting?
YES!!! We may be a bit biased since we live in Washington State but Mount Rainier is one of our favorite West Coast National Parks.
There is something magical about seeing the Mountain in all of its glory.
You can see it some days while exploring around the area but driving closer and closer to the mountain and realizing just how big it is....epic!

Things to know before your visit to Mount Rainier National Park
The park is open all year, although emergency conditions such as flooding or fire may require temporary closing of some areas. Some roads, campgrounds, and visitor facilities also close in winter.
Entrance fee
7-day single-vehicle park pass - $30
7-day individual park pass - $15
7-day motorcycle park pass - $25
Mount Rainier Annual Park Pass - $55
Learn more about National Park Passes for parks that have an entrance fee.
Free Entrance Days -Find the five free entrance days the National Park Service offers annually.
Time Zone
PST - Pacific Standard Time
Pets
Pets are prohibited on ALL Mount Rainier National Park trails and wilderness areas.
Pets are NOT allowed on trails, in the wilderness and/or off-trail areas, inside buildings, in amphitheaters, on roads closed for winter, or on snow (service animals excepted).
At all times, pets must be on a leash, not more than six feet (1.8 meters) in length or in a crate/cage.
Mount Rainier National Park does not have kennel facilities.
Cell Service
Cell service is limited availability within the park. We have had great service in the Paradise parking lot but then lose it in all other areas of the park.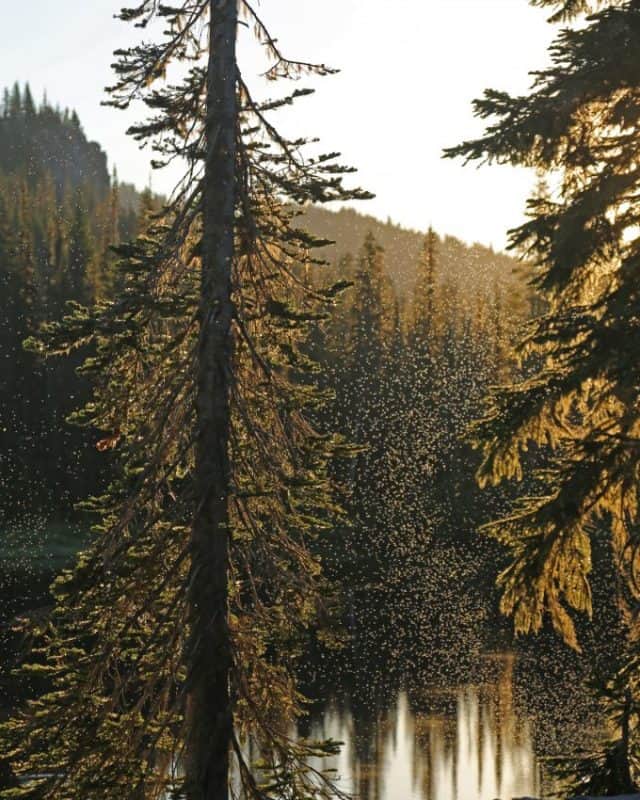 Insect Repellent
Insect Repellent is always a good idea especially if you plan to spend time near Reflection Lake, Tipsoo Lake, or any area of the park where there is sitting water.
We have seen swarms of mosquitoes at Reflection Lake that made us not want to get out of the car.
Park Hours
The park is open year-round. Many areas of the park close for the winter.
Wi-Fi
Public Wi-Fi is available in the Jackson Visitor Center at Paradise. The Wi-Fi has limited bandwidth and can be slow during times of high volume.
Water Bottle
Make sure to bring your own water bottle and plenty of water with you. Plastic water bottles are not sold in the park.
Parking
There are large parking lots at the major attractions within the park - Paradise, Sunrise, Narada Falls, and near National Park Inn.
There are smaller parking lots at other attractions that may be a tight fit for large RVs.
Food/Restaurants
There are two restaurants, two snack bars, a café, and a general store located within the park.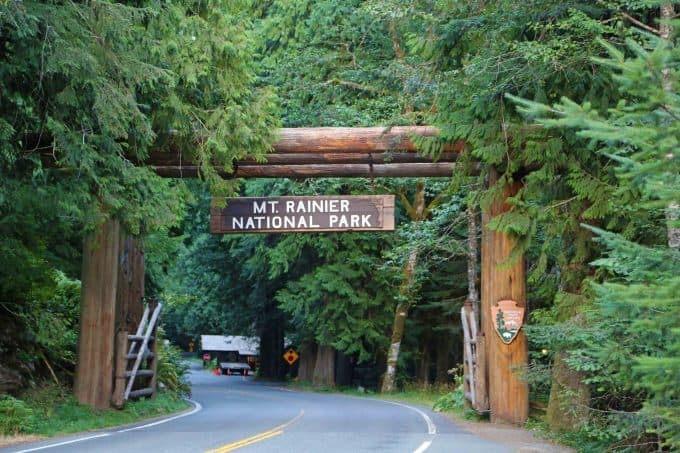 Longmire Area
The National Park Inn restaurant serves breakfast, lunch, and dinner. They are open year-round.
The Longmire General Store offers a limited selection of groceries.
Paradise Area
The Paradise Inn has a restaurant and a small cafe. They are open from May to early October.
The restaurant serves breakfast, lunch, and dinner, as well as Sunday brunch.
The cafe offers hot drinks, grab-and-go meals, and other quick food items.
The Paradise Camp Deli is located in the Jackson Visitor Center and is open on weekends and holidays in the winter along with daily from May through Early October.
Sunrise Area
The Sunrise Day Lodge has a snack bar that is open from July through September.
Gas
Gas is NOT available in the park, but there are gas stations in nearby communities.
National Park Passport Stamps
National Park Passport stamps can be found in the visitor centers.
Make sure to bring your National Park Passport Book with you.
Electric Vehicle Charging
Charging stations have been installed at the Longmire Inn and Paradise Inn thanks to a donation from BMW and the National Park Foundation.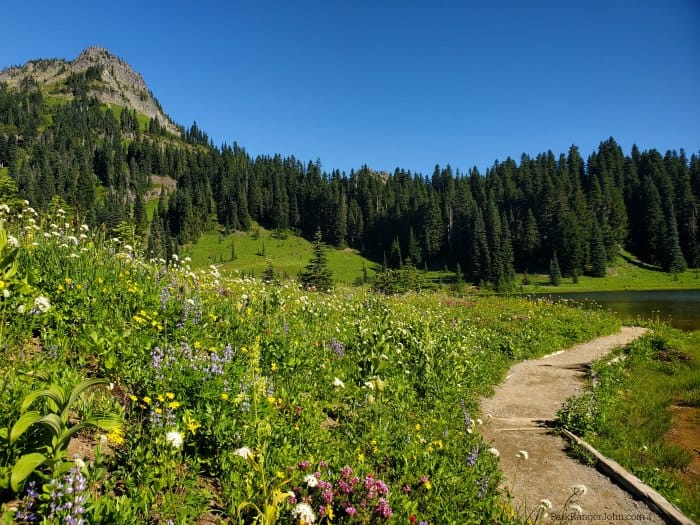 Details about Mount Rainier National Park
Size
Mount Rainier covers 236,381 acres and is currently ranked at 30 out of 63 National Parks by Size
228,480 acres (97% of the park) have been designated by Congress as Wilderness.
Date Established
On March 2, 1899, President William McKinley signed legislation creating Mount Rainier National Park
According to the National Park Service, Mount Rainier National Park was formed by an act of Congress in 1899.
Many people and groups were involved in the push to get Mount Rainier status as a national park. The effort started as a local movement within the newly formed Washington State. There were local groups, mountaineering clubs, business associations, and geologists involved.
The effort soon gained national supporters like naturalist John Muir, the Sierra Club, National Geographic Society, and the Northern Pacific Railway.
It is America's fifth oldest national park, after Yellowstone (established in 1872), Yosemite, General Grant (now part of Kings Canyon), and Sequoia (all established in 1890).
Visitation
In 2021, Mount Rainier NP had 2,477,826 park visitors.
In 2020, Mount Rainier NP had 1,160,754 park visitors.
In 2019, Mount Rainier NP had 1,501,621 park visitors
With over a million visitors Rainier is one of the most visited National Parks in the United States.
National Park Address
39000 State Route 706 E
Ashford, WA 98304
This address will take you on SR 706 east past the Administration Building to the Nisqually Entrance.
National Park Map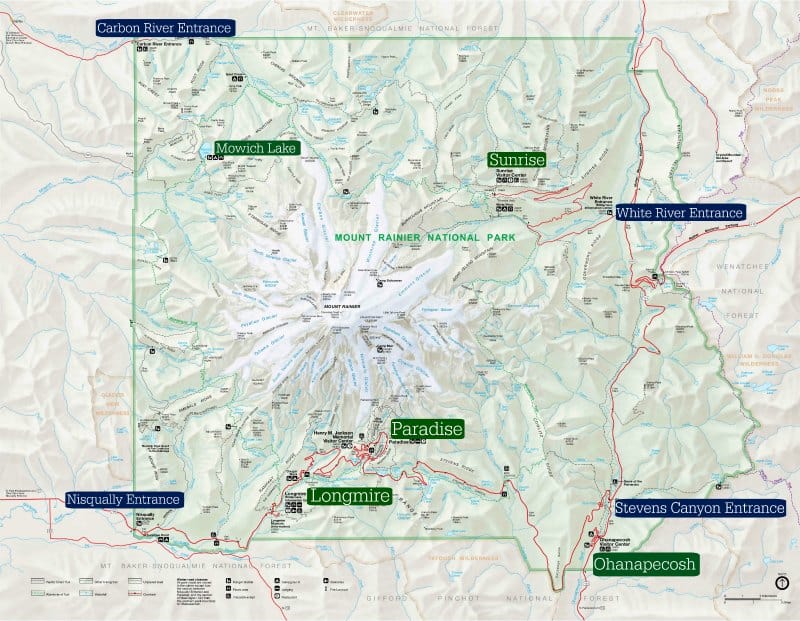 Where is Mount Rainier National Park?
Mount Rainier is located in Washington State.
Gateway communities include Eatonville, Ashford, Elbe, Packwood, Enumclaw, Buckley, and Carbonado, Washington.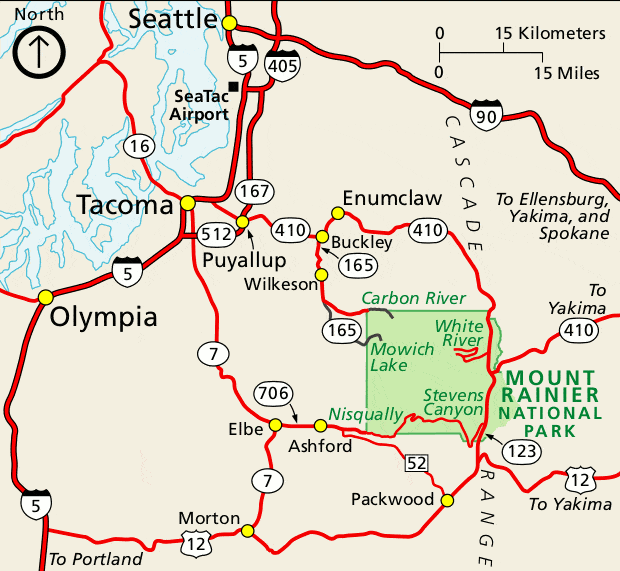 Estimated distance from major cities nearby
Seattle to Nisqually Entrance - 85 miles
Seattle to Paradise via SR 706: 107 miles
Seattle to Paradise via SR 410 and Enumclaw: 109 miles
Tacoma to Nisqually Entrance - 57 miles
Olympia to Nisqually Entrance - 51 miles
Portland to Nisqually Entrance - 149 miles
Yakima to Nisqually Entrance - 100 miles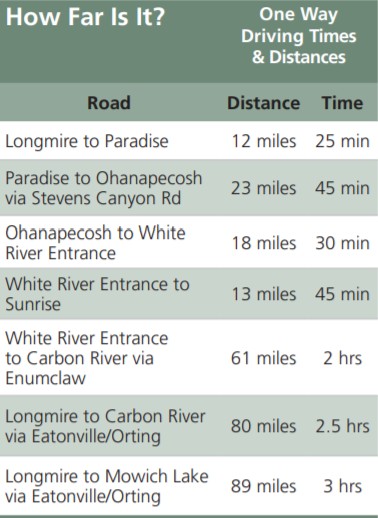 Estimated Distance from nearby National Parks
Directions are estimated from the National Park Inn in Longmire near the Nisqually entrance to the park.
North Cascades National Park - 196 miles
Olympic National Park - 167 miles
Crater Lake National Park - 376 miles
Glacier National Park - 613 miles
Yellowstone National Park - 817 miles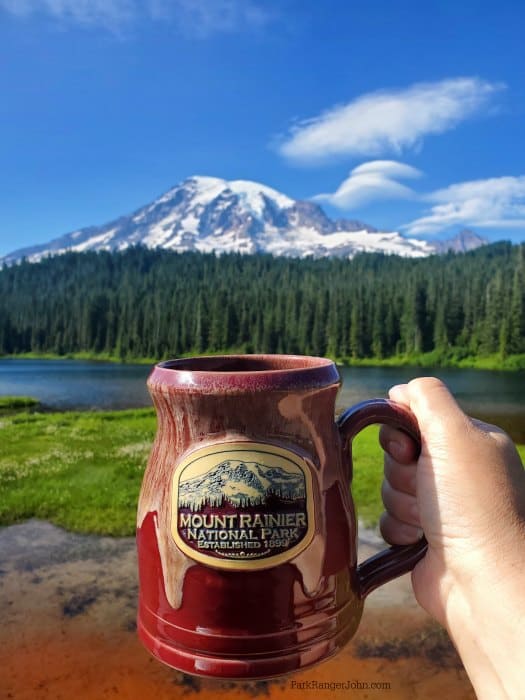 Getting to Mt. Rainier National Park
Mount Rainier is open year-round though not all portions of the park are open.
Portions of the park are closed in the winter due to snow levels. In the winter the only entrance station is the Nisqually entrance in the southwest corner of the park on the way to Paradise.
There are five entrances to Mount Rainier National Park.
It can take hours to drive to different areas of the park. This is a National Park that you want to have a plan before heading to the park.
Expect traffic congestion at entrances and the main visitor areas. Visit on weekdays or come early or late in the day to minimize wait times.
Wait times at the Nisqually and White River Entrances can be over an hour on the very busiest summer weekends and holidays.
All park roads have a speed limit of 35 mph unless posted otherwise.
Closest Airports
The closest major airport is Sea-Tac (Seattle-Tacoma International Airport) which is approximately 85 miles away.
The closest regional airport is the Yakima Air Terminal which is approximately 100 miles away.
Portland International Airport (PDX) is approximately 150 miles away.
Driving Directions
Mount Rainier National Park can be reached from the west by SR 706, and from the east by SR 123 and 410. In the northwest, SR 165 also gives access to the park, but vehicle access is limited to the ranger station, with only bicycles and pedestrians permitted on the Carbon River Road. This access point is in summer only.
From Seattle - Travel south on I-5 to State Route 512 (Exit 127) then go east on State Route 512 to State Route 7. South on State Route 7 (Pacific Avenue exit) to State Route 706 in Elbe. Travel east on State Route 706 through Ashford to the Nisqually Entrance.
From Tacoma - Travel east on State Route 512 to State Route 7. South on State Route 7 (Pacific Avenue exit) to State Route 706 in Elbe. Travel east on State Route 706 through Ashford to the Nisqually Entrance.
From Yakima - Travel west on U.S. 12 to State Route 7 in Morton. Travel north on State Route 7 to Elbe. Travel east on State Route 706 through Ashford to the Nisqually Entrance.
From Portland - Travel north on I-5 to State Route 12 (exit 68) Travel east on State Route 12 to State Route 7 in Morton. Travel north on State Route 7 to State Route 706 in Elbe. Travel east on State Route 706 through Ashford to the Nisqually Entrance.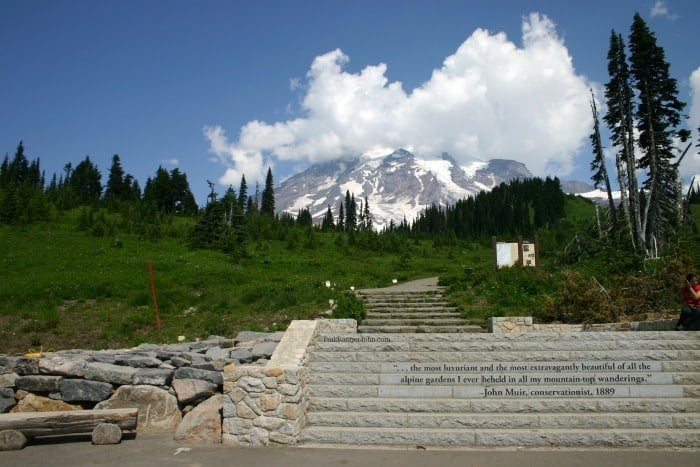 Where are the Mount Rainier National Park Visitor Centers?
Jackson Visitor Center at Paradise
The main visitor center is the Henry M Jackson Memorial Visitor Center located at Paradise. This visitor center is open throughout the summer and then for limited days in the winter.
There are bathrooms located near the visitor center, an information desk, food services, gift shop, park movie, and exhibits about the park.
The Jackson Visitor Center at Paradise is open on weekends and holidays in the winter and daily from early May through early October.
Ohanapecosh Visitor Center
This small visitor center offers restrooms, a ranger available for questions, and a few exhibits.
This visitor center is located in the southeast corner of the park on State Route 123, 12 miles north of the town of Packwood.
It is next to the Ohanapecosh Campground and near the trailhead for the Natural Hot Springs and Silver Falls.
Sunrise Visitor Center
The Sunrise Visitor Center has park exhibits, a bookstore, and rangers available to answer questions.
Located on the northeast flank of Mount Rainier, this visitor center is at the end of Sunrise Road, 15 miles after the turn-off from State Route 410.
Only open and accessible in summer.
Carbon River Ranger Station
When open the Carbon River Ranger Station has rangers or volunteers available to answer questions, wilderness camping permits, and climbing permits.
Located in the northwest corner of the park, the ranger station is staffed by rangers or volunteers. Building hours may vary so call ahead for hours 360-829-9639.
Longmire Wilderness Information Center
Open during the summer, the Longmire Wilderness Information Center (WIC) is located in the lobby of the historic Longmire Administration Building.
Rangers at the WIC assist with wilderness permits, trip planning, and providing maps and trail condition updates.
White River Wilderness Information Center
Open during the summer, the White River Wilderness Information Center (WIC) located at the Winter River Entrance.
Rangers at the WIC assist with wilderness permits, trip planning, and providing maps and trail condition updates.
Paradise Wilderness Information Center
Open during the summer, the Paradise Wilderness Information Center (WIC) is located in the main room of the historic Guide House.
Rangers at the WIC assist with wilderness permits, trip planning, and providing maps and trail condition updates.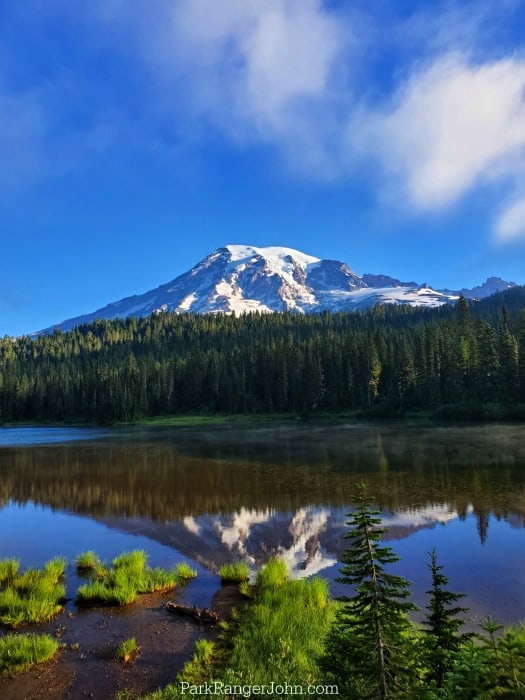 Best time to visit Mt Rainier National Park.
The best time to visit depends on what activities you enjoy! Most visitors visit during the summer once most of the snow has melted.
The busiest times in the park are from July to October, especially while the Wildflowers are blooming.
If you can visit mid-week you will escape some of the crowds that hit the park on the weekends. Mount Rainier is an easy drive from Seattle and Portland which brings in a lot of visitors on the weekend.
Wait times at the Nisqually, Sunrise, and White River Entrances can be over an hour on the very busiest summer weekends and holidays.
Entering the park before 10:00 am or after 2:30 pm can help avoid delays when visitation is heavy.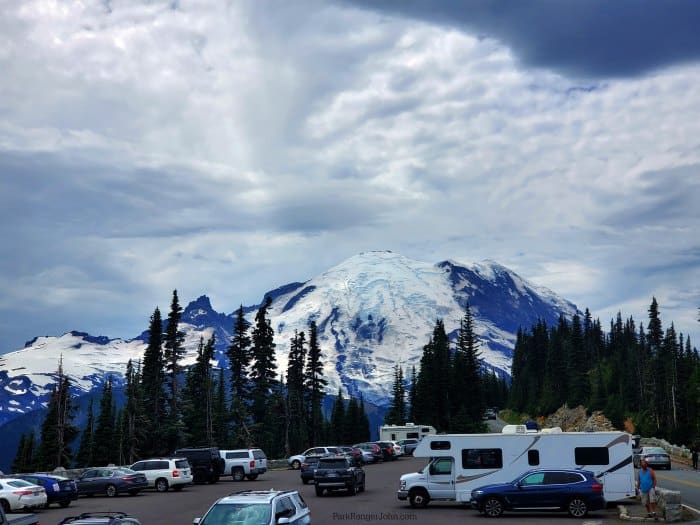 Mount Rainier National Park Weather and Seasons
Hikers should be prepared for precipitation and sudden changes in weather. Like most parts of Washington state, the western slopes of Rainier receive more rainfall than its eastern slopes.
In particular, Paradise is notorious for its 126 annual inches of rain and snowfall that has never been less than 26 feet. In 1971-72, it set a world record for snowfall with 93.5 inches. The driest time of year is high summer from July to September, during which Paradise is usually snow-free.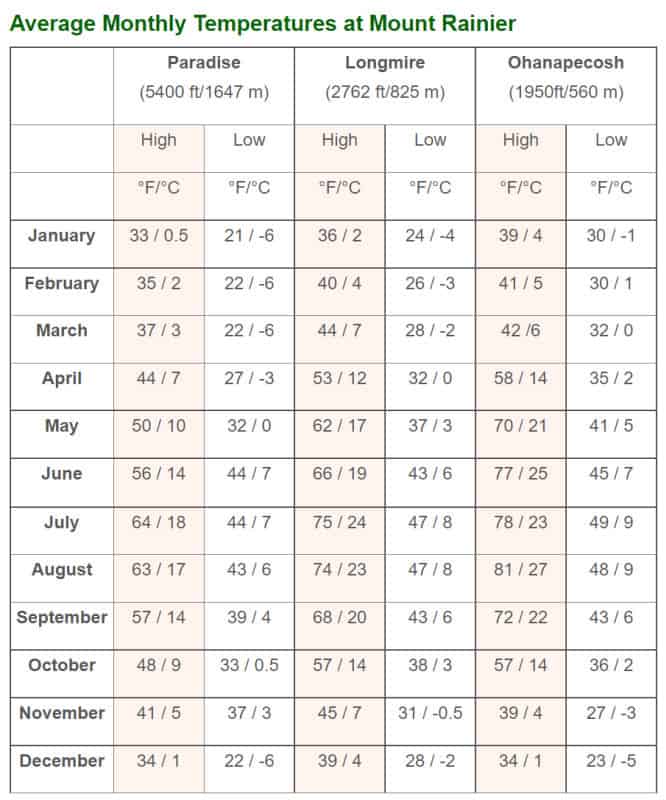 Average Rainfall
At Paradise (elevation 5400 feet) an average of 126 inches of precipitation falls annually.
At Longmire (elevation 2761 feet) an average of 87 inches of precipitation falls annually.
At Ohanapecosh (elevation 1900 feet) an average of 75 inches of precipitation falls annually.
Spring
Spring is a great time to visit! This is when the snow recedes in late spring, the park really starts to come to life with epic waterfalls, wildlife starting to search for food as the grass begins to pop through the snow.
Mountain lakes start to reappear from the snow that blanketed them during the summer and the early wildflowers start to bloom along the road shoulders. This is a chance to go explore the park without the huge crowds that you see on the weekends and throughout the summer.
Summer
Summer is bar none, the best time to visit Mount Rainier. Be prepared though as you will not be alone!
In fact, the great John Muir said that Mount Rainier was "the most luxuriant and most extravagantly beautiful of all the alpine gardens I ever beheld in all my mountain-top wanderings" and these words can be seen today as you start to climb the steps into Paradise from the visitor center.
Autumn/Fall
Fall means warm sunny days, cool evenings, huckleberries are ripe for the picking, and fall colors emerge. The crowds get smaller with each passing day towards winter as park staff works hard to winterize the park and get ready for the winter recreation season.
With smaller crowds, wildlife becomes more visible, and you should always keep an eye out for bears around those delicious huckleberries as they love them too!
Winter
The park is open year-round, receiving most of its visitors in the summertime. But those who explore Mount Rainier during the cold months of the year will find unmatched solitude and beauty.
There are plenty of winter activities to choose from: skiing, snowboarding, snowshoeing and even winter camping are possible at Mount Rainier. Only the Nisqually and Carbon River entrances are open during the snowy season, though.
Winter visitors should always prepare for the worst. It's a good idea to carry tire chains, extra food, water, and warm clothes.
From November to late May, expect to find 10 to 20 feet of snow on the ground.
All vehicles are required to carry tire chains when traveling in the park during the winter season (Nov 1 - May 1). This requirement applies to all vehicles (including four-wheel drive), regardless of tire type or weather conditions.
Maximum annual snowfall: 1,122 inches (93.5 ft/28.5 m) fell during the winter of 1971-1972, an amount that held the world record for annual snowfall from 1972 until 1998.
Minimum annual snowfall: A new record was set in 2014-2015 with only 266 inches (22.2 ft/6.7 m) of snow. The previous minimum record for Mount Rainier was 313 inches (26 ft/7.9 m) during the winter of 1939-1940.
Maximum snowpack: 357 inches (30 feet) in March 1955.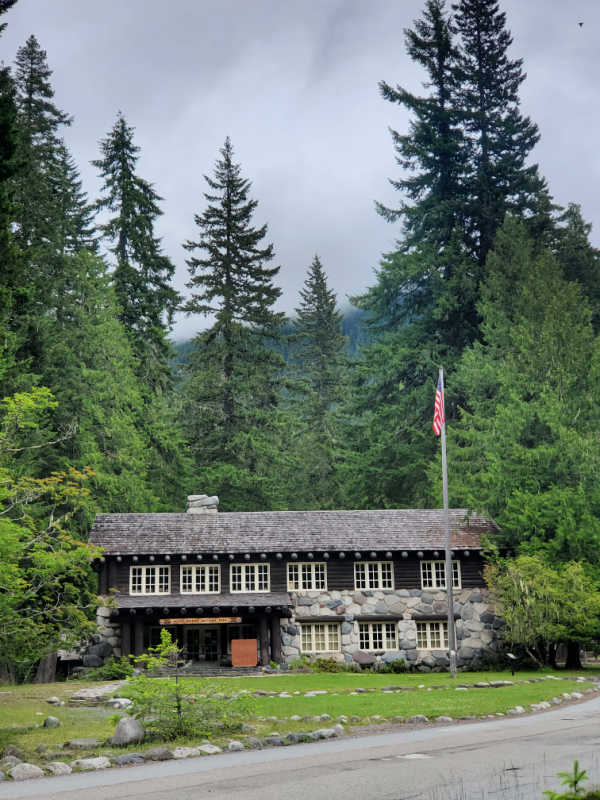 Five main areas of Mount Rainier
There are five major visitor areas in the park:
• Longmire (southwest)
• Paradise (south side)
• Ohanapecosh (southeast)
• Sunrise/White River (northeast)
• Carbon River/Mowich Lake (northwest)
Longmire
Longmire was the park's headquarters when it was established in 1899. Prior to this, it was James Longmire's homestead, lodging, and mineral springs resort. The Longmire Historic District is 6.5 miles from the Nisqually Entrance.
Longmire includes the National Park Inn, a museum, wilderness center, and small store.
The Longmire Museum is the starting point for the self-guided walking tour of the Longmire Historic District.
Picnic tables and restrooms can be found at Kautz Creek, Longmire, and three miles up the road at Cougar Rock Picnic Area.
Paradise is located 19 miles east of the Nisqually Entrance. You will find the gorgeous Paradise Jackson Visitor Center here. Along with the Paradise Inn, the Guide House, and Paradise Ranger Station.
There is a large parking lot for the visitor center and heading out on the trails. This is where you want to park to head up and see wildflowers.
Paradise WIC is the one-stop-shop for climbing and backcountry camping permits, and hiking and climbing information. Stop by to view the climbing exhibits or to talk with a ranger.
Cougar Rock Campground is the closest campground to Paradise.
Ohanapecosh
Ohanapecosh is located in the Southeast corner of Mt. Rainier NP. This area includes the Ohanapecosh Campground, Grove of the Patriarchs trail, and a park visitor center.
Picnic among the big trees at the Ohanapecosh Picnic Area, or stop at the picnic area west of Box Canyon.
Sunrise is the highest point you can reach with a vehicle in Mount Rainier NP. Sunrise sits at 6,400 feet in elevation. Washington's highest paved highway ends at the Sunrise Visitor Center.
From Sunrise you can enjoy epic views of the mountain, Emmons glacier, and the Cascade Range. There is a visitor center, day lodge with foods and gifts, and great trails.
Sunrise is approximately 60 miles northeast of the Nisqually Entrance and 14 miles northwest of the Sunrise/White River turnoff of Highway 410.
The White River Campground is located at the intersection of White River Road and Sunrise Road.
Carbon River and Mowich Lake
Carbon River and Mowich Lake can be reached via State Route 165. This area receives a high amount of rainfall that creates a temperate rainforest.
Mowich Lake is the largest and deepest lake within the park. The Mowich Lake Campground is a hike in tent-only campground.
The Carbon River Entrance is the least visited entrance to the park.
There are so many amazing things to do within the park. From wildlife viewing to hiking trails you will find something for everyone.
One day in Mount Rainier National Park is just enough to get you ready to plan a return visit. We know that it is not always an option to spend multiple days in a National Park but we do suggest a long weekend if possible.
Mt Rainier packs so much in a one-day visit! Waterfall lovers will rejoice as there are numerous waterfalls in the area, many are easily accessible from the road.
Wildlife is also abundant and can be seen everywhere including deer, bears, and many different birds including the Ptarmigan.
Whether you have a day or a week, there is plenty of trails, abundant wildlife even winter recreation to keep you full of recreational activities.
The power of glaciers is evident as they continue to carve away at this giant mountain. You can also see and feel this evidence from the rivers that flow down.
They are grayish in color from the glacial till or rock sediment in the water and extremely cold. Beware as this is no place to swim as this water is swift and extremely cold.
The mountain is spectacular from a distance and even more so up close. The lower fields are covered in Wildflowers in the summer for a short time.
The ability to watch mountain climbers hike to the top from the visitor center. Mount Rainier National Park is one of our favorite parks in the US. I may be a bit biased since it is so close to my heart from growing up near it.
Wildlife watching and Bird Watching
Approximately 54 species of mammals, 126 species of birds, and 17 species of amphibians and reptiles can be found within the park.
We have honestly had some of the best wildlife viewings in Mount Rainier outside of Yellowstone, Grand Teton, and Glacier.
The park is not really known for its wildlife but we have had epic wildlife viewing within the park. Some of our favorite wildlife views have included black bears, Cascade Red Foxes, and epic bird watching.
The early bird definitely gets the worm in Mt. Rainier when it comes to seeing animals in the park. We have seen Black Bear, Red Fox, Coyotes, Sage Grouse, Ptarmigan, and more while exploring the park.
Black Bear
Black Bears are seen especially in spring when snowmelt clears the grass closer to the main road.
Always remember to practice bear safety! Keep at least 100 yards away from bears.
During one of our last visits to the park, we were really worried about a few visitors and their interaction with a Black Bear. The bear was being a bear and munching away on grass as it worked its way up the side of the road.
Multiple park visitors started walking towards the bear and even sitting down near the bear to watch it. We were really worried as the bear's neck hair started going up and it was looking directly at a few people.
Thankfully the bear went back to eating and didn't decide to have a close-up conversation with the visitors.
I am going to put my park ranger flat hat on for a second and remind you that not only the bears in Mt Rainier but all wildlife in the park is wild.
Elk
If you are hoping to see elk you may want to visit Packwood near the main entrance to the park. This town is known for having elk in town.
Red Fox
We have seen foxes a couple of times along the road to Paradise. In the summer look for their golden-red fur while in winter look for grey/brown winter fur.
Please do not feed the foxes or any of the wildlife in Mt. Rainier. I know they are cute and have the puppy dog please feed look down but we have to help keep them wild.
Feeding them not only causes them to become used to humans it also makes them more apt to be hit by cars or injured.
Mule Deer
Mule deer are frequently seen throughout the park.
Bird Watching
Sage Grouse – Look for Sage Grouse along the sides of the road as you are heading towards Paradise. In the late spring, you can hear their mating calls and see them puff up.
We have seen the majority of Mount Rainier wildlife along the main road leading up to Paradise. Early mornings and late afternoon/evening have provided the best wildlife viewing during our trips.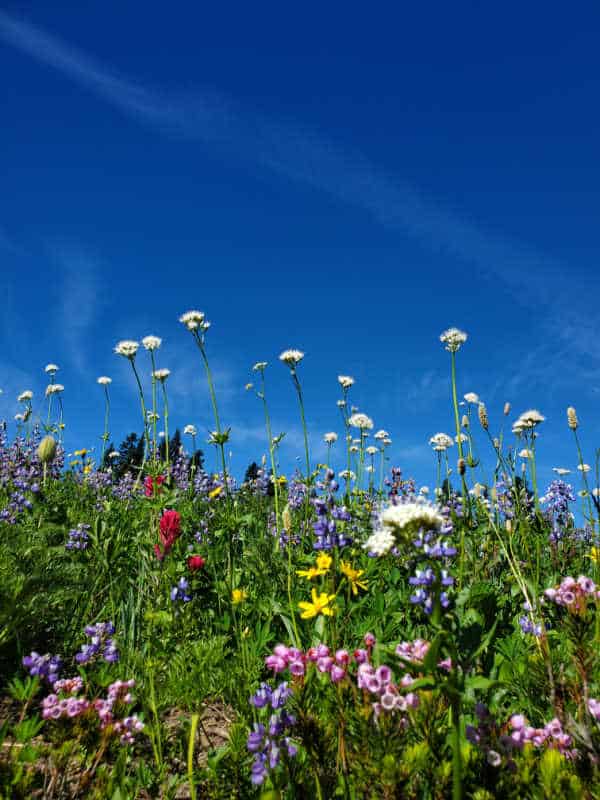 Wildflowers
There are approximately 900 plant species in the park, including over 100 exotic species.
The "peak" bloom for wildflowers is heavily dependent on weather and precipitation patterns, so accurate predictions are difficult. However, by mid-July, many flowers will be blooming in most years, and by the first of August, the meadows should be very impressive.
Paradise is the most heavily visited area within the park for good reason. World-famous for its views and wildflower meadows.
A visit to Sunrise Mount Rainier National Park offers the opportunity to enjoy amazing views of the mountain, great hiking trails, and wildflowers.
The Junior Ranger Program can be picked up at the visitor center. This is a great way for visitors of all ages to learn more about the park.
Tipsoo Lake is one of our favorite places to visit with the park especially in late summer when it is surrounded by wildflowers.
Once the snow melts the area becomes filled with amazing wildflowers. You can hike around the lake to experience an epic view of the mountain.
Reflection Lake is one of the most photographed views in Mount Rainier National Park, Washington.
Cycling
Mount Rainier is a veritable playground for bicycling enthusiasts. Riders roam the park on smooth, paved roads, enjoying a challenging and scenic ride.
The NPS suggests several cycling routes, including the Carbon River Road, the Mowich Lake Road, and the Westside Road.
Cyclists should be forewarned: Any route in Mount Rainier National Park will be a strenuous affair.
Most of the roads climb toward a high spot of some sort, especially the thoroughfares to Paradise and Sunrise. But a tough climb always leads to an exhilarating descent.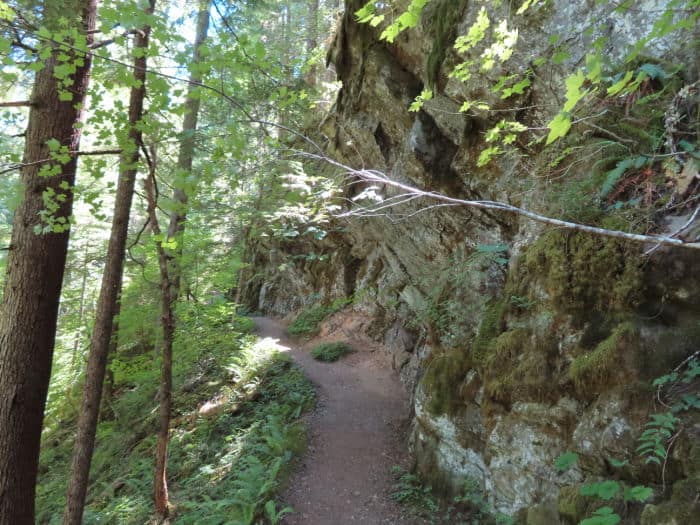 Mount Rainier National Park boasts 260 miles of hiking trails. For day-trippers, several scenic trails begin at Longmire, Paradise, Ohanapecosh, Sunrise, and the Carbon/Mowich areas.
These routes offer a wide variety of scenery: Dripping rain forests, windswept mountain ridges, cold alpine lakes, and high meadows filled with wildflowers. Many trails give hikers a splendid view of Mount Rainier itself.
The National Park Service website provides detailed hiking information and displays a handy guide for day hikers who want to plan the ideal trip.
Backpackers looking for a multi-day trek should consider the Wonderland Trail, a famous 93-mile loop that circumnavigates Mount Rainier. Backcountry campsites are conveniently scattered along the route, and with the proper gear and experience, backpackers can travel the Wonderland circuit from beginning to end, sleeping only at remote and beautiful sites.
The Grove of the Patriarchs Trail in Mount Rainier National Park is a must-see for visitors.
This 1.3-mile trail gives you the opportunity to walk through an old-growth forest with trees that are over 300 feet tall and have lived for over 1,000 years.
Wonderland Trail
Mount Rainier is completely circumnavigated within park boundaries by the Wonderland Trail. This strenuous trail consists of 93 miles of continual climbs and descents.
Because of this, the trail is almost never completed in less than 10 days during the best weather.
The Wonderland Trail is so popular that backcountry permits are only available by lottery before May.
Wilderness camping reservations are $20 for the hiking group and are valid for up to 14 days. However, booking the entire Wonderland Trail route during July and August is virtually impossible.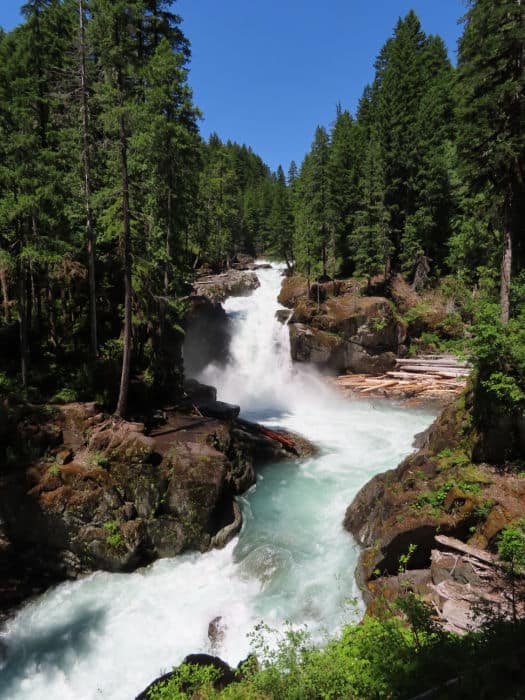 The Silver Falls Loop Trail is an epic hike that takes you to the beautiful Silver Falls in the Ohanapecosh area.
Climbing Mount Rainier
While Rainier's easiest routes are not especially technical, the mountain is not easily ascended, and climbers must possess adequate gear, skills, and knowledge or suffer the consequences. Hazards include freezing temperatures, unpredictable weather, avalanches, and crevasses. Ropes, crampons, and ice axes are essential.
The mountain is open to climbers year-round, but winter is especially fierce. Guided climbs are available through multiple guide services.
All climbers must register for a climbing permit. The fee is $30 per person. Before receiving their permits, climbers must fill out and submit a climbing registration card. More information is available on the climbing web page.
Accessibility
Most restrooms, visitor centers, picnic areas, amphitheaters, and designated campsites are accessible or accessible with help by wheelchair.
Accessible lodging is available inside the park and in local communities.
At the Sunrise and Paradise visitor centers, the audiovisual programs are captioned; audio described tours of the exhibits are available, and the exhibits are accessible by wheelchair.
Assistive listening devices are available for the park film at the Paradise Visitor Center.
The dining rooms in the National Park Inn and the Paradise Inn, and the deli in the Jackson Visitor Center at Paradise are fully accessible. The Sunrise Lodge snack bar is accessible by ramp.
Picnic areas offering accessible tables and restrooms are located at:
• Kautz Creek
• Paradise
• Grove of the Patriarchs
• White River
• Paul Peak
• Mowich Lake
You can view the Accessibility Information online.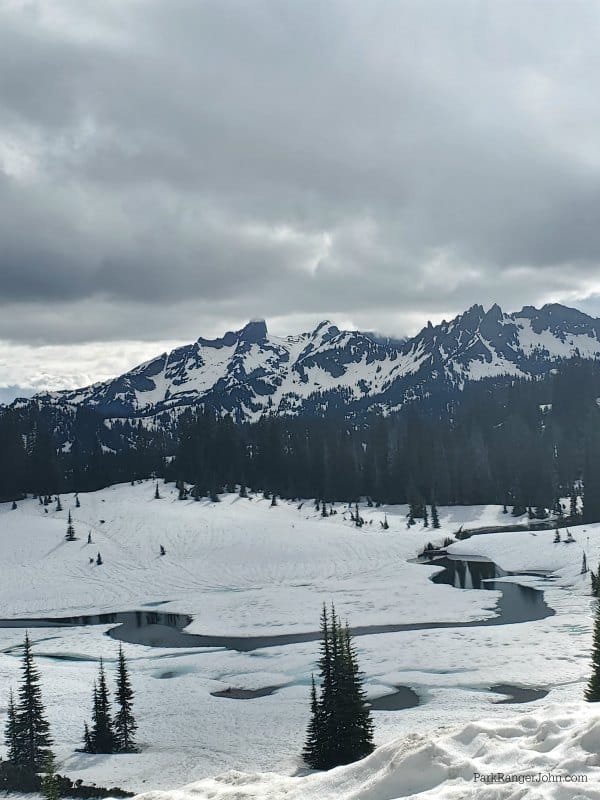 How to beat the crowds in Mount Rainier NP.
The best way to beat the crowds is to visit during mid-week and skip visiting on busy summer weekends.
Arriving in the early morning or late afternoon can help with getting through the entrance stations.
Check road status for closures or other delays that may affect your travel plans.
Check Twitter (account not required to view) for congestion updates. The park tweets frequently wait time information on weekends and holidays to assist with trip planning.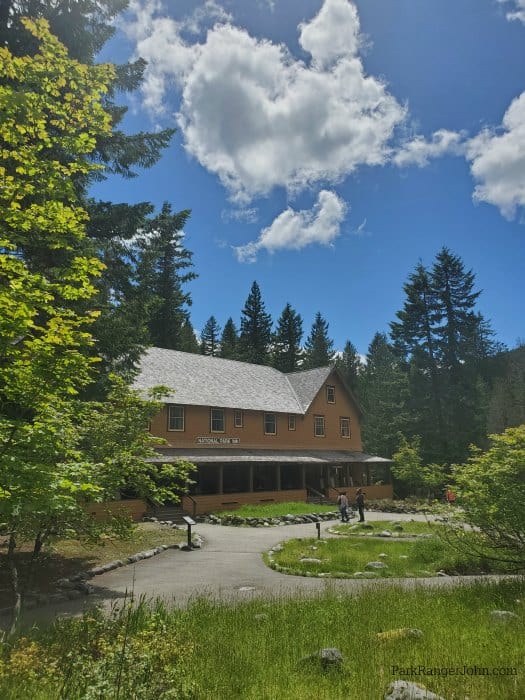 National Park Lodging
There are two National Park Lodges located within the park.
Mount Rainier National Park is home to the historic National Park Inn located at Longmire, which was built in 1907.
The National Park Inn was built across the road from James Longmire's hot springs hotel. There is also a general store there located in a vintage 1911 log cabin.
The National Park Inn at Longmire is open year-round.
The Paradise Inn is open from mid-May to October only.
This lodge is so grand that it has been designated as a National Historic Landmark and placed on the National Register of Historic Places.
Lodging near Mount Rainier
There are three campgrounds located within the park. They offer a total of 480 campsites during the summer.
There are no RV hookups or showers available within the campgrounds.
Sites - 173
Season - Late May to Late September
Reservations - Yes
The campground is less than two miles from the historic Longmire District and only five miles from Paradise.
Sites - 188 campsites
Season - Late May to Late September
Reservations - Yes
Ohanapecosh Campground is the most popular campground in the park.
The campground offers easy access to both the Paradise and Sunrise areas of the park.
Sites - 112 campsites
Season - Late June to Late September
Reservations - No, all sites are first come first served.
If you are visiting White River Campground with a large vehicle you will want to check for any length restrictions. Some of the camping sites have short parking pads.
You can also check out the nearby La Wis Wis Campground.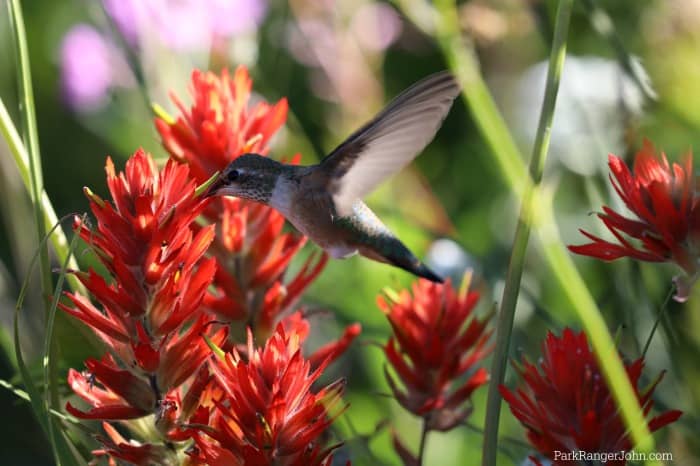 Travel Tips
Dress in layers and bring extra clothes. It can rain/snow when you least expect it. Having extra clothes will prevent having to drive in clothes that are damp.
Give yourself time to get to the park. It can take a while longer than what the GPS says due to construction and crowds.
Check Facebook for wildflower updates and on Instagram to see what is blooming.
Be bear aware!
Carry the ten essentials even on a short sightseeing hike!
Stop at the visitor centers to learn more about the park.
Bring binoculars to look for hikers who are on top of the mountain.
The proper spelling = Mount Rainier, we have seen it spelled Mt. Rainier, Mt Rayner, Mt. Rainer, and so many other versions.
Most locals just call it The Mountain. If you hear someone mention the Mountain is out they are talking about Mount Rainier.
You can't just hike to the top! Know your physical abilities and if you plan to hike to the top talk with the backcountry visitor guides for assistance.
Don't miss all of the top things to do at Mount Rainier National Park!
Don't forget to enjoy a Rainier Beer at Mt. Rainier! It is a great National Park inspired beer moment!
While limited recreational use of marijuana is now legal in Washington State, possession of any amount of marijuana or other illegal drugs remains illegal in Mount Rainier National Park.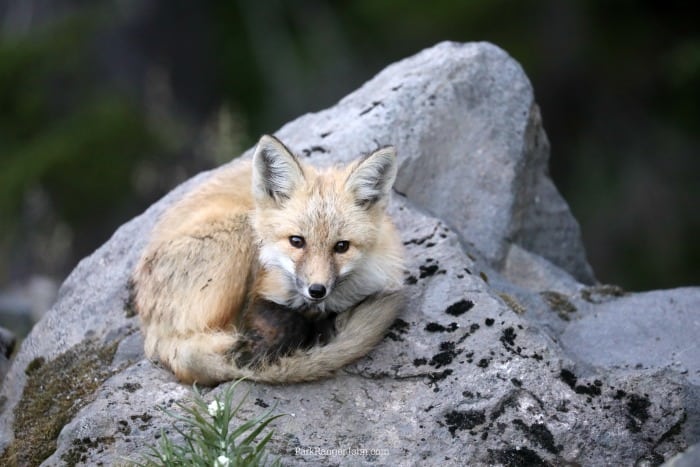 Mount Rainier National Park Facts
How tall is Mount Rainier?
The official measurement is 14,410 feet above sea level.
How many people climb the mountain each year?
In 2021, 9,138 people attempted to climb Mount Rainier; approximately half of them typically reach the summit.
When did the volcano last erupt?
The last estimated eruption was about 1,000 years ago.
How much snow and ice is on Mount Rainier?
Over 35 square miles of permanent ice and snow cover Mount Rainier. Of all the glaciers in the contiguous U.S., Mount Rainier's Emmons Glacier has the largest surface area (4.3 square miles). Carbon Glacier is the longest (5.7 miles), thickest (700 feet), and has the lowest terminus elevation (3,500 feet) in the contiguous U.S.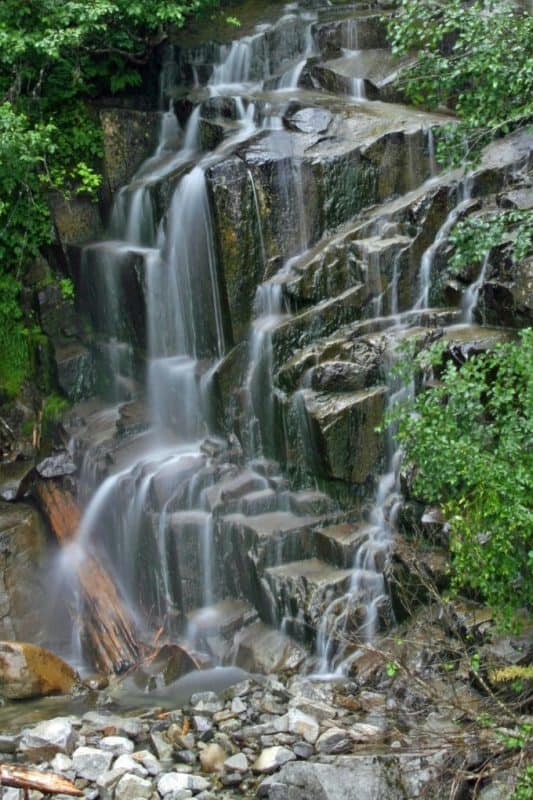 National Parks near Mount Rainier National Park
San Juan Island National Historical Park
Whitman Mission National Historic Site
Fort Vancouver National Historic Site
Lewis and Clark National Historical Park
Check out all of the National Parks in Washington along with neighboring Oregon National Parks, and Idaho National Parks.
National Park Service Website
Additional Resources Information
Mount Rainier National Park (National Geographic Trails Illustrated Map)
Day Hike! Mount Rainier, The Best Trails You Can Hike in a Day
A Landscape Photographer's Guide to Mount Rainier National Park
Hiking Mount Rainier National Park: A Guide to the Park's Greatest Hiking Adventures