Established as a national park in 1899, Mount Rainier National Park in Washington State is one of 60 national parks all across the United States of America. This volcano, which has remained dormant for 150 years, seems like a far off place when viewed from downtown Seattle, Bellevue, Kirkland, or any of the other cities surrounding the beautiful mountain.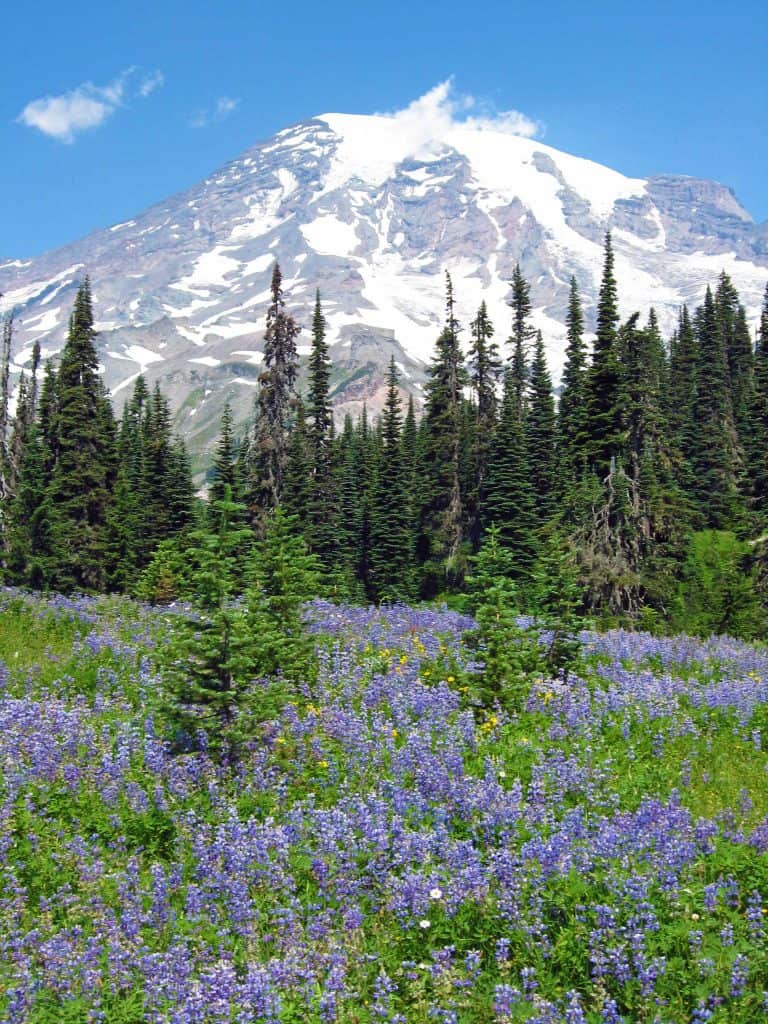 Mount Rainier National Park
If you are planning a visit to Mount Rainier make sure and check out our Top Things to do at Mount Rainier for ideas on what not to miss during your visit.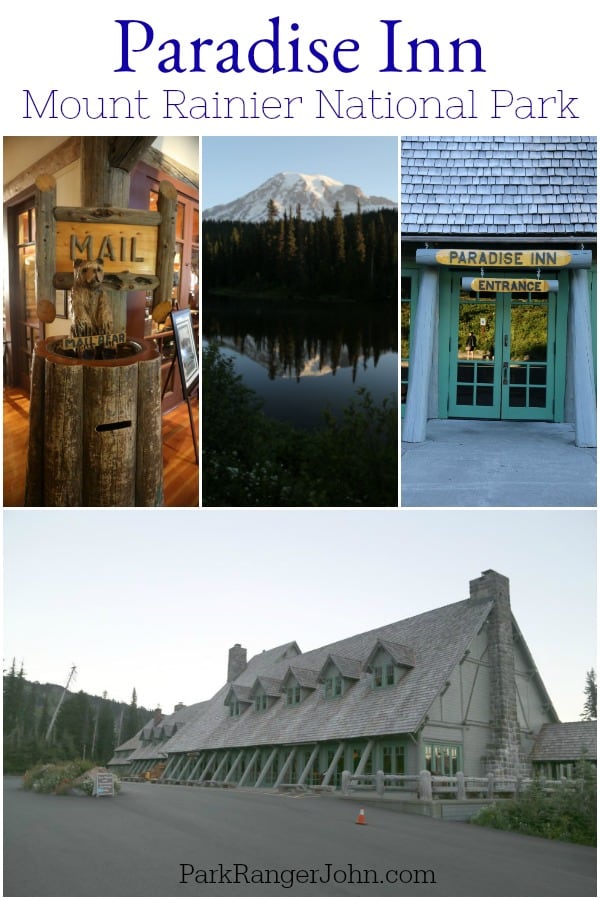 We stayed at the beautiful Paradise Inn Lodge located in the heart of wildflowers and near the Paradise Visitor Center. This is the perfect place to stay while visiting the park. You can wake up and be hiking a great trail a few minutes later.
Mount Rainier History
The area was used by Native American tribes, including the Puyallup, Nisqually, Yakima, Cowlitz and Klickatat, for hunting and gathering. Originally, Mount Rainier was known by local Native Americans as Mount Tahoma, Takhoma or Tacobet.
While the mountain has been around for what seems like forever, the park got its start when Captain George Vancouver decided to name the mountain after a friend. The friend, who never even visited the mountain, was named Peter Rainier, and he was a Rear Admiral for the British navy, while Vancouver was a British explorer. The year was 1792.
As time went by, Seattle gained a population of about 1,000 by the late 1800's. It was in this time period when the mountain had its first climbers to its summit: Philemon Beecher Van Trump and Hazard Stevens. These two gentlemen made it to the top in 1870, and made headlines in Seattle. During the 1800's a farmer had created a pathway (Packwood Trail) to Rainier from the coast. Soon after a call of protection was issued to keep the natural beauty of the Mount Rainier area.
James Longmire, an early Washington pioneer, discovered the area that is now known as Longmire in 1884. He homesteaded in the area and established the Mineral Springs Resort. Longmire later would become the site of the park's former headquarters. In 1997 it was designated a National Historic Landmark district for its 1920's and 1930's style architecture called "National Park Service Rustic style".
According to the National Park Service , Mount Rainier National Park was formed by an act of Congress in 1899. Many people and groups were involved in the push to get Mount Rainier status as a national park. The effort started as a local movement within the newly formed Washington State. There were local groups, mountaineering clubs, business associations and geologists involved. The effort soon gained national supporters like naturalist John Muir, the Sierra Club, National Geographic Society and the Northern Pacific Railway. According to an article in National Parks Traveler, Philemon B. Van Trump, the first white man to reach the summit of Mt. Rainier, was also one of the early supporters who helped gain national park status for Mount Rainier.
With the invention of cars and railways millions of people visited the National Park (the 5th National Park ever created in the United States), and millions still do today. In fact, Mount Rainier is so popular a mountain that those headed to Mount Everest have trained by climbing to the summit of Mount Rainier.
The mountain is such an icon of Washington State life that it graces the license plate of every Washington State registered vehicle. People from the state of Washington are so familiar with Mount Rainier that when they ask "Is the mountain out today?" a true native understands they are talking about Rainier. There has even been a beer claiming the name "Rainier" for decades: Rainier Beer. Which is just one of the really cool beers inspired by our National Parks!
This is an important mountain to the people of Washington State; therefore, the upkeep is extremely important not just for the beauty, but also for the economy. This national park brings millions to its base and beyond every year. The financial implications are huge, explaining the many hotels, motels, camping areas and resorts nearby. While facilities and roads are updated and maintained, the natural beauty of the park has been around for longer than can be imagined.
Mount Rainier National park is located in the northwestern United States in Washington state, and it has been a popular destination for over one hundred and twenty years. It has lush forests, wildlife, lakes and beautiful floral meadows. Its picturesque scenery has served as an inspiration to many. Interestingly, Mount Rainier is also an active stratovolcano.
Mount Rainier National Park is home to the historic National Park Inn located at Longmire, which was built in 1907. The National Park Inn was built across the road from James Longmire's hot springs hotel. There is also a general store there located in a vintage 1911 log cabin.
Mount Rainier maintains several historical collections, many of which focus on ecology and vegetation. One of these is the H.E. Bailey Vegetation collection that documents vegetation from the early 1930's. There is also the C. Frank Brockman Ecological Study Collection which shows human impacts to vegetation near trails and campsites, with information studied between 1932 until 1964. One of the most interesting collections is documentation put together by Dr. Alton Lindsey who was a seasonal naturalist at Longmire and a biology professor at Purdue University. He took many photos in the park in the 1930's and returned in 1974, forty years later, to re-photograph exactly the same locations to document landscape changes and natural succession.
Throughout the history of the park hundreds people have lost their lives on Mount Rainier. Glacial ice holds the remains of 65 men who succumbed to the dangers of mountain climbing, snowshoeing, rafting, hiking or plane crashes on the mountain. According to the website Ghosts of Rainier, the bodies of these 65 men have not been recovered.
Today, Mount Rainier National Park serves many visitors. It is full of history as well as beauty. It is as beautiful today as it was one hundred years ago. It serves as a place for family recreation, hiking, camping, climbing or studying nature. The National Park Service has a museum with many records on microfiche which the public is welcome to use by appointment.