La Wis Wis Campground is located near Mount Rainier National Park. This incredibly popular campground is just outside of the park at the Ohanapecosh Entrance.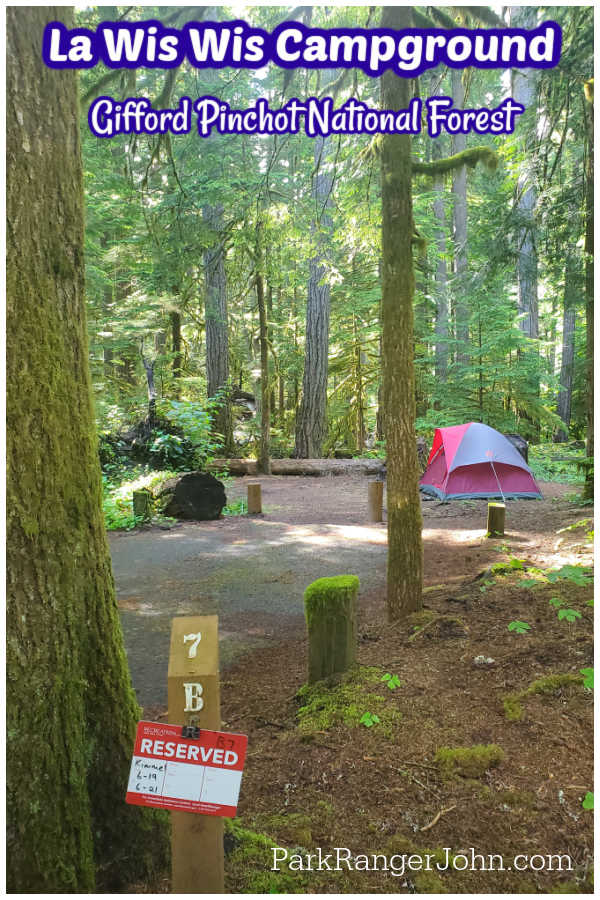 La Wis Wis Campground near Mount Rainier National Park
The road through La Wis Wis is not large and can be really tight for large vehicles. The campground is filled with a ton of trees, moss and is truly beautiful.
Hikers can easily access the Blue Hole Trail and Purcell Falls Trail from La Wis Wis campground.
You can fish for rainbow trout, cutthroat trout, and whitefish at either Butter Creek or Skate Creek. The campground is situated at the confluence of three waterways near Mount Rainier.
The campground is surrounded by a canopy of towering Douglas Firs and Red Cedars. This campground is an excellent base for exploring Mount Rainier National Park. The close proximity to Mount Rainier makes it perfect for exploring.
This campground is a popular destination for long-stay camping but there is a limit of 14 days.
Check out our Mt Rainier Camping Guide for all of the camping options within the park.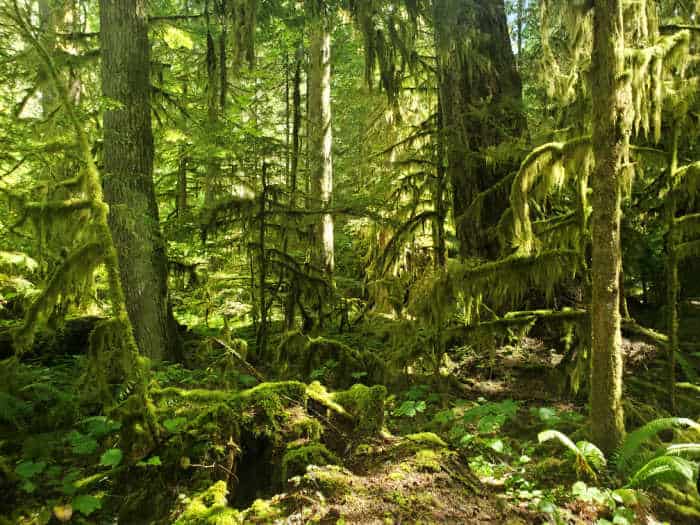 Number of Sites: 122 sites, including walk-in tent camping.
Season: Normally open: Early June through Labor Day Weekend (weather permitting). Closed during the winter.
Location: Just outside of Mount Rainier National Park right off of US Highway 12 at the junction of the Clear Fork of the Cowlitz and the Ohanapecosh Rivers.
The campground is located within the Gifford Pinchot National Forest in the Tatoosh Wilderness area of the Cowlitz Valley Ranger District.
The campground is approximately 7 miles from the Grove of the Patriarch trailhead.
Campsite Cost: Single Site/$20, Multi Site/$38, Group/$90, Extra Vehicle/$10
A $10.00 service fee will apply if you change or cancel your reservation. Late cancellations are subject to additional fees.
Senior/Access Camping Fee: 50% discount for single site camping fee, or day-use fee, with any of these passes: Interagency Senior, Interagency Access, Golden Age, or Golden Access.
Reservations: Yes, sites open on a 6-month rolling basis.
Latitude
46° 40' 26.0000" N
Longitude
121° 35' 16.0001" W
Elevation: 1243 feet
Accessible Sites: There are 2 accessible sites
Pets Allowed: Yes,
Campground Reservations
Are campground Reservations Available? Yes,
Phone Number? reserved by calling Toll Free 1-877-444-6777 (International 518-885-3639 or TDD 877-833-6777)
Online? Recreation.gov
How Far Ahead can you make a reservation? Individual sites at this campground operate on a 6-month rolling basis: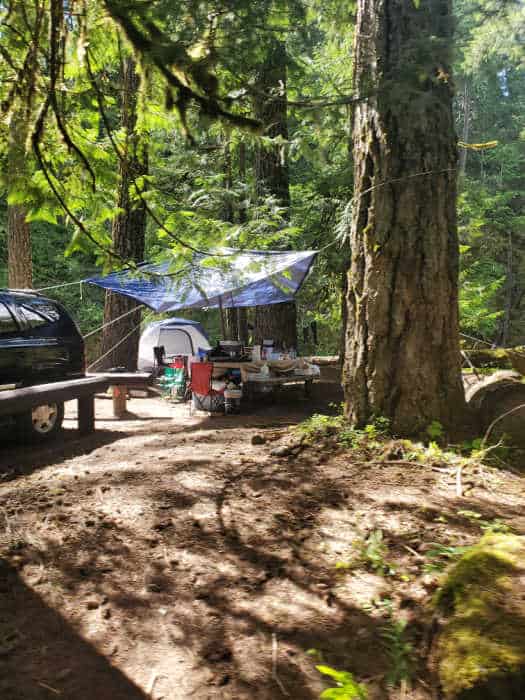 Campground Amenities
The campsites that dot the riverbank enjoy wonderful sunshine and light. Some of the campsites around the loop are quite shaded.
There is an abundance of activities nearby including hiking, wildlife viewing, Mount Rainier, and more.
Dump Station: No
Bear Boxes: Yes
Flush Toilets: Yes
Firewood: Firewood is available in nearby towns.
Is wifi available? No
Is cellular Phone Service Available? No
Is camp host available on site? Yes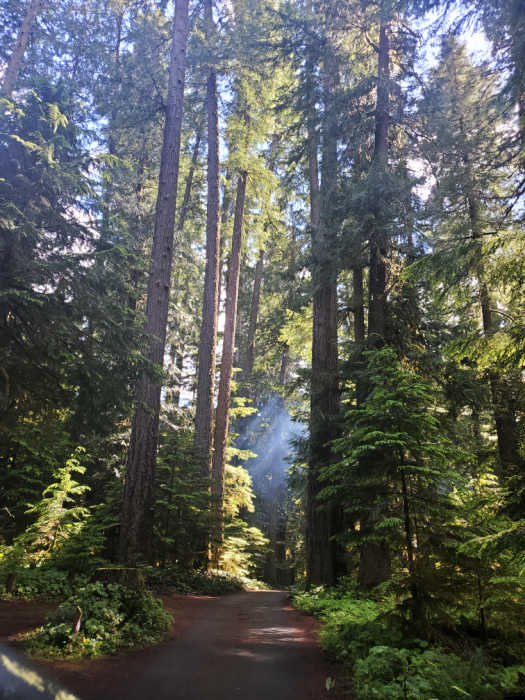 Amenities at each campsite:
Fire pit in the site? Yes
Picnic Table in the site? Yes
Bear Box in site/area? Yes
Potable Water? Yes
Laundry and Showers: Laundry facilities are located outside the park in Ashford and Packwood. There are no public shower facilities in the park.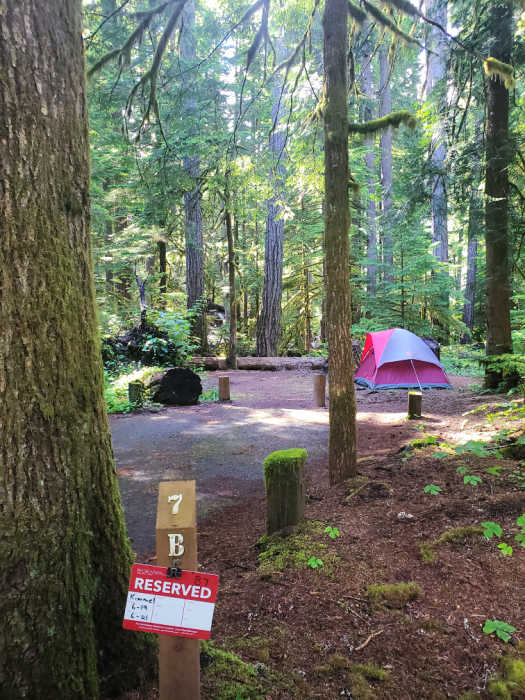 RV Camping
There are no electrical, water, or greywater hookups. There are no dump stations.
Max Length: Maximum vehicle length is 18-40 feet.
Some sites are large enough for RVs. Pay attention to signs and do not enter loops that are too small.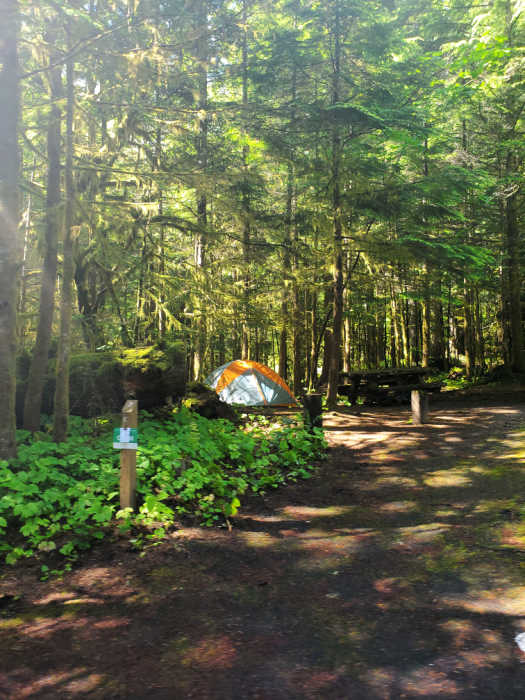 Don't forget to pack these camping essentials
Picnic Table Cover
Coleman Lantern
Smores Kit
Camp Coffee
You will want to dress in layers and have extra clothes with you. This part of Mount Rainier can be cool and damp.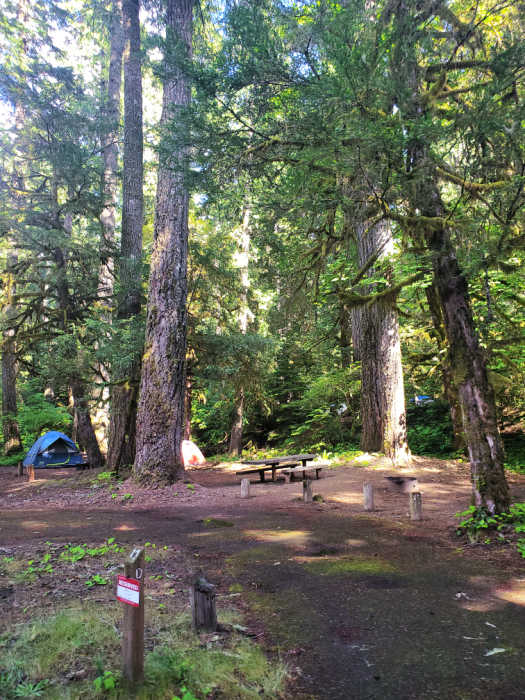 How to get to La Wis Wis Campground
Located on State Route 123, four miles north of State Route 12.
From Packwood, Washington, go 5 miles east on State Route 12 to Campground.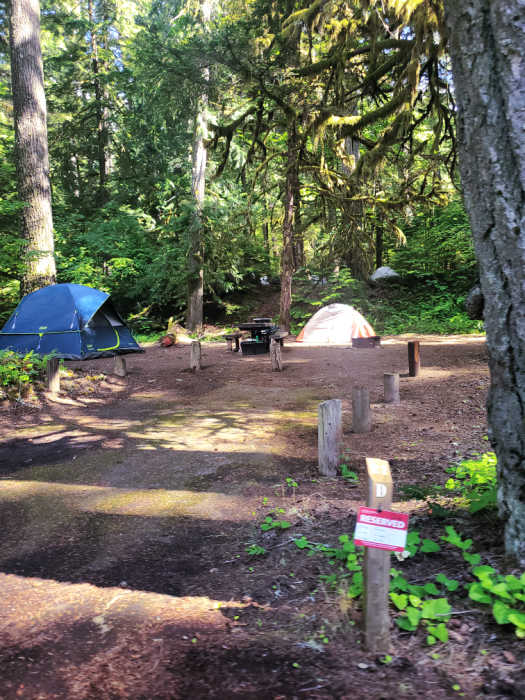 Campground Regulations
The maximum number of people in a campsite: 6
The number of cars per campsite: Reservation includes up to 1-2 vehicles. Any additional vehicles must be paid for within 30 minutes of arrival.
Checkout time: 2 pm
Quiet Hours: 10 pm-8 am
14 day stay limit
Photos of La Wis Wis Campground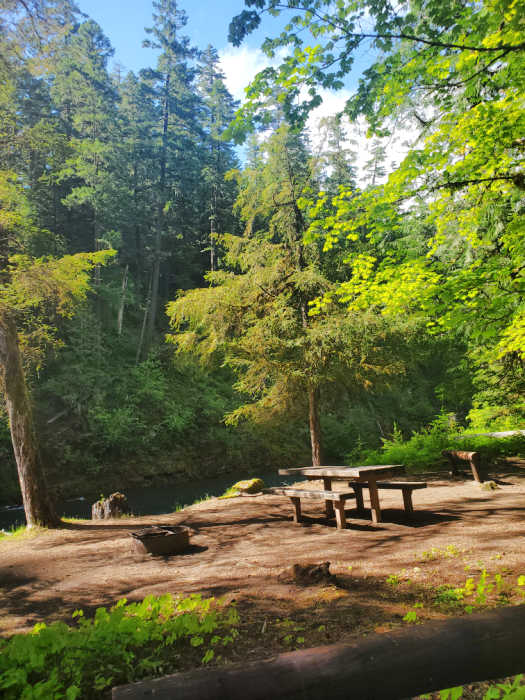 Additional Resources
Top things to do Mount Rainier National Park - All the things you don't want to miss while in the park.
Paradise Inn - Find out what it is like to stay in this epic National Park Lodge
National Parks in Washington - Check out all of the parks you can visit in Washington
Most Visited National Park Sites - Find out if Mount Rainier made it on the most visited national parks list.
National Park Bucket List - How many bucket list national park adventures have you taken?