There is something special about staying in a National Park Lodge, especially when the lodge is grand like the Paradise Inn at Mount Rainier National Park! This lodge is so grand that it has been designated as a National Historic Landmark and placed on the National Register of Historic Places. Here you are not going to find the typical luxuries of a chain brand hotel like USB plugins or even a bar/lounge for an evening cocktail. Instead, you will be staying 5400′ up on one of America's Icons, Mount Rainier! You may be asking why would I pay so much to stay here if it does not have modern-day luxuries? First, I will give you some basic information about Paradise Inn, history of the Paradise Inn then let you know what makes this place so special and why we loved my stay at the Paradise Inn Lodge at Mount Rainier National Park.
Paradise Inn general Information
Open seasonally from May 24-October 2, there are 121 rooms, Check-In is 4 pm, Check-Out is 11 am
You will need a National Park Pass to get to the lodge.
Phone: (360)569-2275
Address:52807 Paradise Rd. E.
Ashford, Wa.98304
GPS Coordinates: 46′ 47'5.93″ North, 121'43'51" West
Website/how to make reservations: Mount Rainier Guest Services
Parking Available, no additional fee.
No pets allowed except for service animals
There is no phone, T.V, air conditioning, WIFI available
All Rooms and the lodge is designated as Non-Smoking
Some rooms have a private bath while some rooms have a shared bathroom for men and women.
Toiletries are available in your room.
Cribs are available for $17 rental fee
There is a gift shop on site and my favorite find was a Mount Rainier National Park Bobblehead!
There are 2 restaurants on site. The Taoosh Cafe which is a coffee shop and has ready to go sandwiches and Ice Cream. The Main dining room has sit down dining with Northwest Cusine.
Cancellation policy states there is a $15 fee for cancellations with at least a seven-day notice. Cancellations with less than a seven-day notice will be charged for the first night including taxes.
History of Paradise INN
The Paradise Inn was constructed in 1916. It fits the National Parks Rustic Architecture and is one of the true great lodges of the West! Building materials were locally sourced like native rock, cedar shingles and timbers salvaged for the 1885 fire that blazed through 30 years earlier and had developed a silver sheen.
It was originally built as two rooms. The great room was 50′ by 112′ with a wrap-around mezzanine level and two impressive4′ by 6′ fireplaces, one on each side. They also added furniture in this room that was equally impressive! There was two 1500 lb. tables, a 14′ Grandfather clock and a rustic piano that President Harry S. Truman played during his visit to the Inn in 1945. All of this grandeur makes for an entrance that will impress almost anyone. Any visitor to the Inn should plan on spending time in the impressive room and sit on the massive lag furniture and feel its coziness.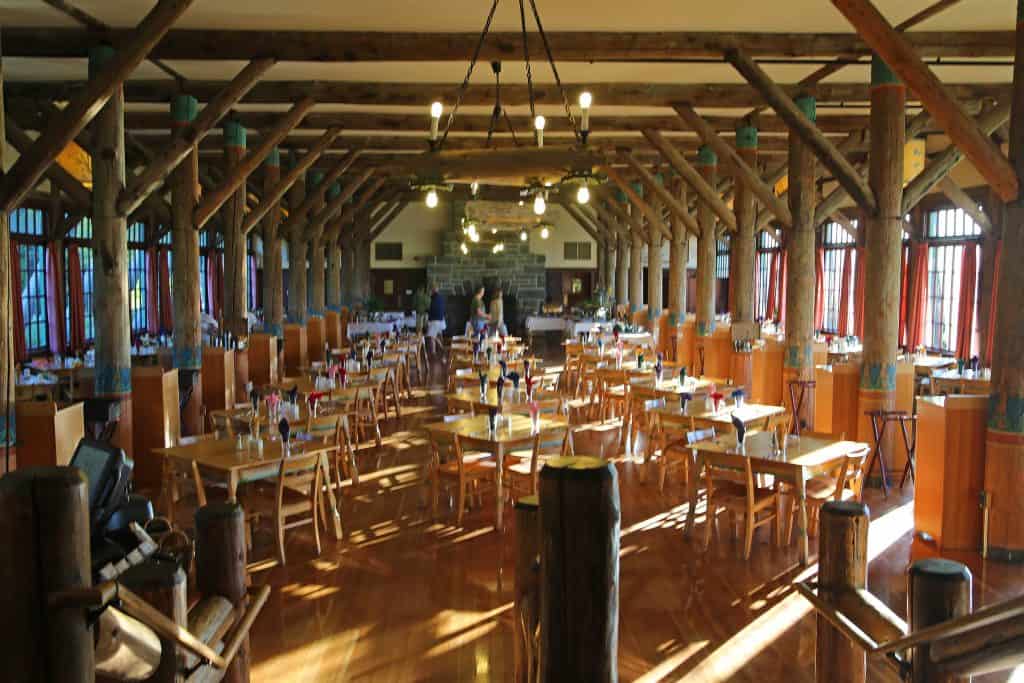 The dining room is equally as impressive at 50′ by 105″ and has a 50′ stone fireplace! Huge windows let in all the natural light you need and give impressive views of the mountain. The restaurant serves traditional Northwest cuisine and can expect dinner to be something like Pacific Northwest Salmon, Pacific Northwest Cherry Chicken, and Bourbon Bison Meatloaf. All I can say is YUM!
The original rooms sat above the dining room and were a modest 8′ by 8′ room. Needless to say, there have been additions throughout the years and the Inn was eventually sold to the National Park Service. The National Park Service thought about tearing down this historic lodge but there was such a public outcry they decided to restore the historic Inn and the operations were leased out.
Why stay at Paradise Inn
There are several great reasons to stay here. The first is location! You are located on one of the most beautiful spots on all of Mount Rainier! There is no traveling to get to the visitor center and hiking trails. Wildlife and wildflowers can easily be seen just outside the Inn. We thoroughly enjoyed hanging out in the great room with a cup of coffee and there was even a Ranger program here in the evening!  The rooms were small and definitely not the King bed we have at home but then again all we did was store our stuff and slept in our room. Everything about this area draws you away from your room and to go outdoors!
ParkRangerJohn Pro Tip: Do not expect an epic sunrise here, you would need to go to the Sunrise visitor center which is a 1.5 hr. drive away! Instead, see if there is wind early in the morning and if not hurry up and get to the Reflection Lakes area! It is a truly a memorable experience to see the reflection of the mountain on reflection Lake in the early morning light and will most likely be one of the few people there this early.
What I enjoyed most was the fact that it forced us to turn off electronics and enjoy the moment. Your cell phone is not going to work here, there is no WIFI to connect to and you are going to be hard-pressed to find an open outlet in your room to charge all of your electronics! Forget about these things for one day and enjoy the company of who you are with, read a book & have a cup of coffee by the fireplace, grab a board game and play on the huge tables in the great room or take in the ranger program. If you become bored then go for a walk, smell the wildflowers, watch the hummingbirds bounce between flowers or just sit outside and smell the fresh mountain air! Remember the famous John Muir Quote "In every walk with nature one receives far more than he seeks"'
Don't forget to check out my post on things to do at Mount Rainier National Park.