There is something special about staying in a National Park Lodge, especially when the lodge is grand like the Paradise Inn at Mount Rainier National Park in Washington State!
This lodge is so grand that it has been designated as a National Historic Landmark and placed on the National Register of Historic Places.
Here you are not going to find the typical luxuries of a chain brand hotel like USB plugins or even a bar/lounge for an evening cocktail. Instead, you will be staying 5400' upon one of America's Icons, Mount Rainier!
The Inn offers 121 guest rooms, a 200-seat dining room, a gift shop, the Tatoosh Café, and the magnificent lobby.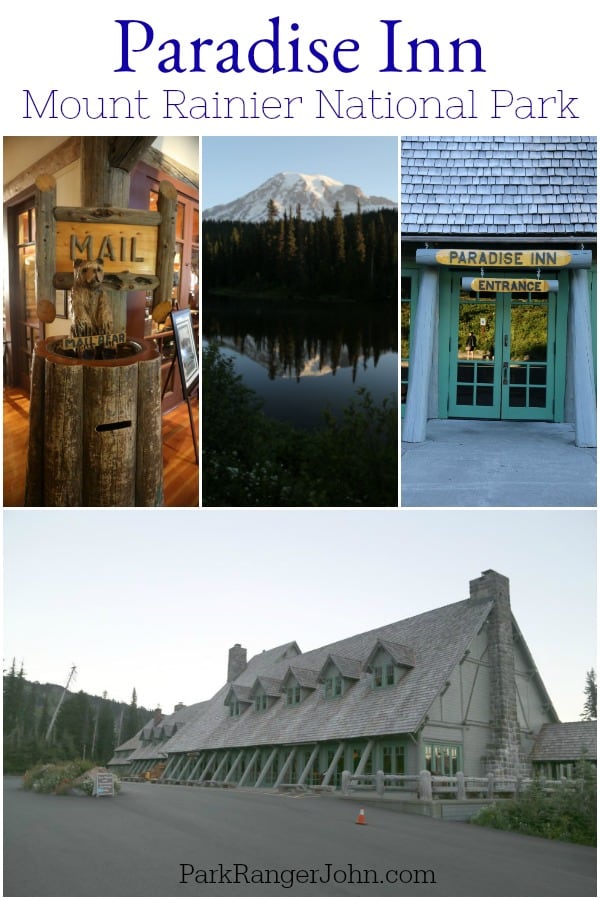 Paradise Inn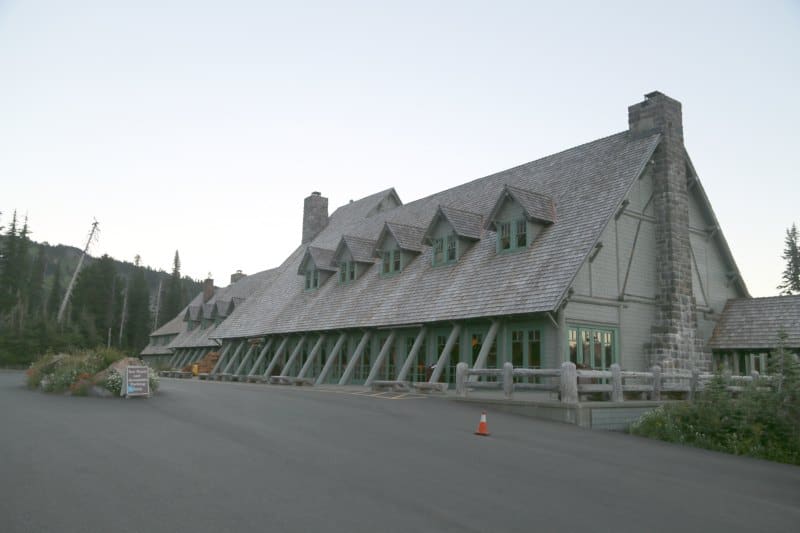 History of Paradise Inn
Paradise Inn is located in Mt. Rainier National Park in the eastern section of Washington state.
The Inn sits on the south slope of Mt. Rainier, the highest mountain in the state of Washington and in the Cascade Mountain Range.
Mt. Rainier is an active stratovolcano with a peak elevation of 14,411 feet. Stratovolcanoes are generally much steeper than volcanoes and have a "cone" shape to them.
Evidence of native existence in the area of Paradise Inn dates back nearly 9,000 years. Indigenous history is important to the area as tribes are honored for the generations of care and respect they had for the land.
Tribes such as the Muckleshoot, Puyallup, Yakama, and Cowlitz made their homes here. These tribes traditionally came to the mountain seasonally to hunt and gather resources.
The tribes rarely approached Mt. Rainier or climbed much above its slopes.
One such example of the native's fear and respect of this area comes from 1933. A Native American guide led a group of European climbers to the base of Mt. Rainier.
When he discovered their plan to climb the great mountain, he warned that he feared he would never see the men again.
Days later, the guide was astonished to see the climbers return and believed they were ghosts. For the Native Americans, Mt. Rainier possessed an incredible power to be feared respected always.
The interest in the area of Paradise Valley has been popular for centuries. In the early 1800s, mountain climbers used the valley as a resting point before scaling the steep peeks.
The wildflower meadows were a beautiful point of interest for sightseers long before Mt. Rainier became a National Park.
As with many areas that eventually become recognized as National Parks, someone with an interest in the area and a goal of accommodating visitors entered the narrative.
John Reese decided to stay in the area in the 1890s and create tent camps for visitors. As more and more visitors came to Paradise, it was recognized that nicer accommodations would be a great benefit. Mt. Rainier National Park was created in 1899 and the Rainier National Park Company began to make plans for a hotel.
Construction began on the Inn during the summer of 1916. The lobby, dining rooms and a section of guestrooms were completed that summer.
The design was created by Frederick Heath of Heath, Grove and Bell. An architect in Tacoma, Heath designed numerous schools, churches and stadiums in the area.
As common for what we know call "Parkitecture" in the creation of National Park Inns, construction utilized native building materials for Paradise Inn. Cedar shingles, native rock and salvageable lumber from trees damaged in a forest fire in 1885 were all utilized.
The Inn officially opened its doors on July 1, 1917. The cost of the initial construction was a little over $90,000.
At that time the Inn had 37 guest rooms and a dining area that could hold 400 people. A few years later the Inn believed more guest rooms would be a great benefit. Soon after, however, World War I began and affected the amount of visitors coming to the area.
The Paradise area was also known for long, snowy and frigid winters so the Inn decided to close for nearly 6 months out of every year.
By 1920, business had increased again and the Inn more than tripled their amount of guest rooms.
Just as it seemed that Paradise was vibrant again, the Great Depression and World War II caused a standstill in business. In 1942-1943, the Inn was used as temporary living quarters for the US Army as they conducted trainings on winter mountain conditions.
Winters were still long and harsh at Paradise, and the advancements of road construction and the automobile let the visitors come enjoy a day at the park and leave without needing accommodations.
By the 1950s, Mt. Rainier Park Company could not justify ownership due to low profits so they sold the property to the National Park Service.
In the 1980s, a $2 million dollar project funded needed renovations to the Inn due to years of extreme weather wear and tear.
The Inn was closed from 2006-2008 to complete structural work on buildings in the event of an earthquake happening in the area. The $30 million project also included the construction of a new visitor center at Paradise.
The feeling at Paradise Inn is quite notably more unique than any other National Park Inn.
The remote location, "Parkitecture" theme, and humble quaintness of the rooms, makes it feel as though you are visiting during the early 1900s.
Another notable observation that should be made by all visitors is the intricate craftsmanship in the tables, clocks, mail drop and other items in the dining room and lobby. Quiet but passionate, German carpenter Hans Fraehnke worked on the exquisite materials and details of the Inn from 1916 to 1923.
As recently as 2018, more work has been done to ensure the safety of the buildings. The National Park Service is hoping for many years of visitors and appreciation of the Inn's history and surrounding area.
In 1987, the Paradise Inn was listed on the National Register of Historic Places and forms an integral part of the Mount Rainier National Historic Landmark District.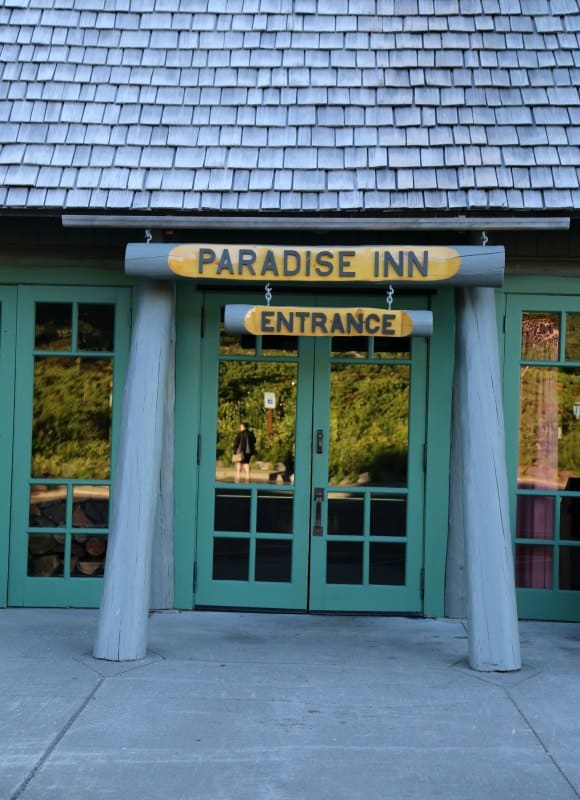 Why stay at Paradise Inn
There are several great reasons to stay here. The first is the location! You are located on one of the most beautiful spots in all of Mount Rainier National Park!
There is no traveling to get to the visitor center and the miles of hiking trails. Wildlife and wildflowers can easily be seen just outside the Inn.
We thoroughly enjoyed hanging out in the great room with a cup of coffee and there was even a Ranger program here in the evening!
You also get to experience an epic National Park Inn that is filled with history!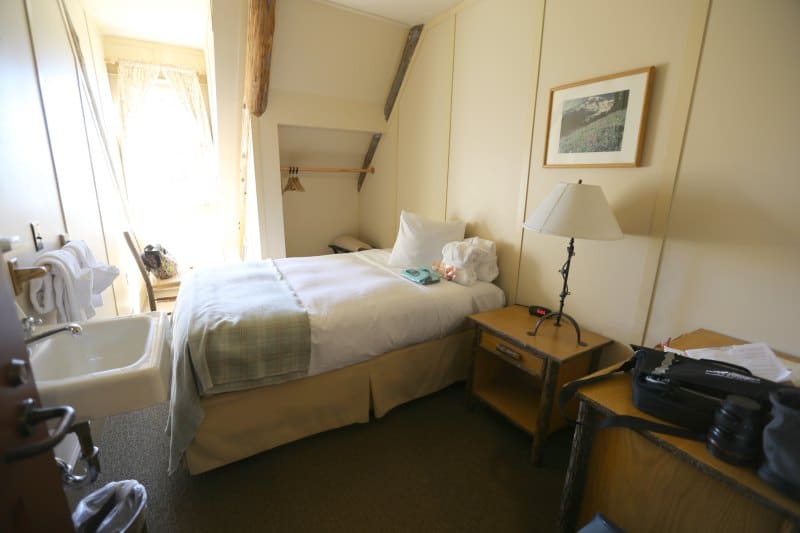 Guest Rooms
Lodge Rooms
The rooms are small and definitely not the king bed we have at home but then again all we did was store our stuff and slept in our room. Everything about this area draws you away from your room and to go outdoors!
Our room had a double bed, single chair, sink, mirror, small desk, and closet area. The bathroom was down the hall and shared with other rooms on our floor.
The bed was not big and I did find myself with my feet hanging over the edge of it or in the sink depending on how I was lying on the bed. I am 6 foot 4 for reference.
Robes and slippers are provided in the room for walking to the bathroom and shower area.
Annex Rooms
To help accommodate additional guests and request for private bathrooms the Annex Rooms were built in 1920. These rooms are located behind the main lodge.
These rooms are undergoing renovations and will be re-opening to guests during the 2019 season. There are four floors in the Annex that are accessed by stairs.
Rooms are available with a queen, double and twin beds with private bathrooms. There are also two-room Annex Rooms that share a private bathroom.
One room has a double bed while the other room has two twin beds.
Annex Room Suites are available with a bedroom and a sitting room with a private bath. The bedroom has one queen bed while the sitting room has a futon.
ADA-Accessible Rooms
ADA Accessible Rooms are located on the main floor of the Paradise Inn. These rooms come with either a queen or a double bed.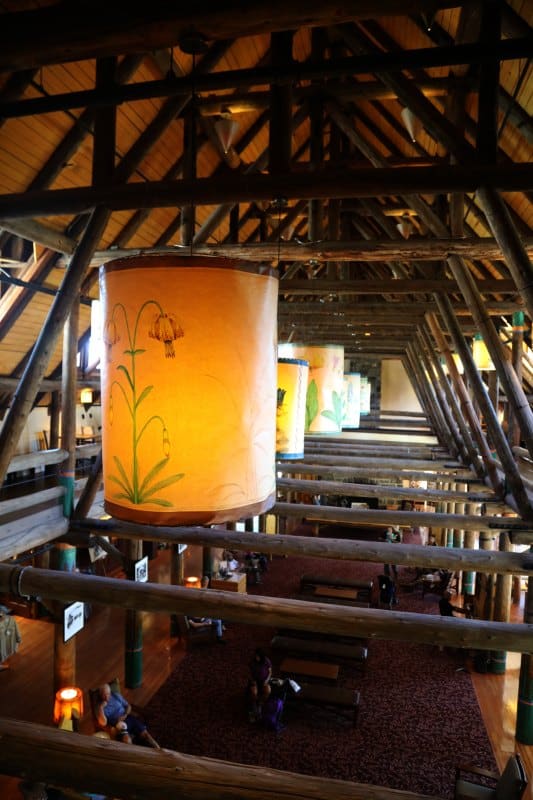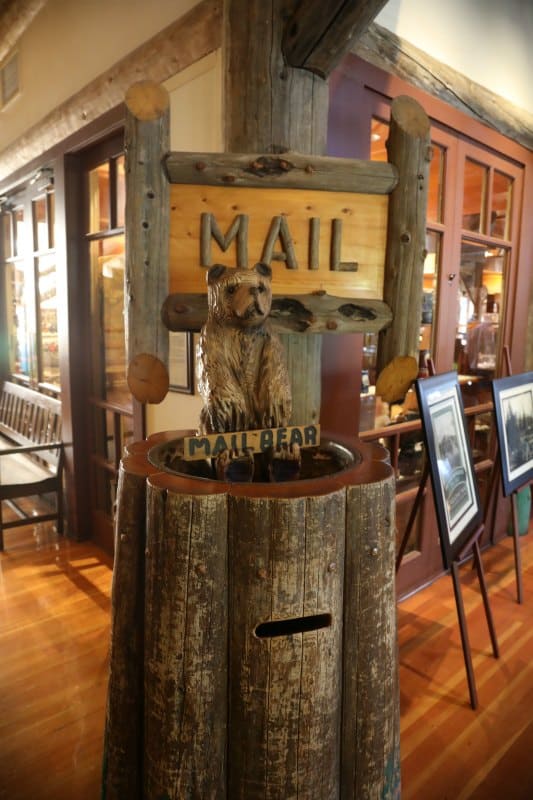 ParkRangerJohn Pro Tip: Do not expect an epic sunrise here, you would need to go to the Sunrise visitor center which is a 1.5 hr. drive away!
Instead, see if there is wind early in the morning and if not hurry up and get to the Reflection Lakes area! It is truly a memorable experience to see the reflection of the mountain on reflection Lake in the early morning light and will most likely be one of the few people there this early.
What I enjoyed most was the fact that it forced us to turn off electronics and enjoy the moment. Your cell phone is not going to work here, there is no WIFI to connect to and you are going to be hard-pressed to find an open outlet in your room to charge all of your electronics!
Forget about these things for one day and enjoy the company of who you are with, read a book & have a cup of coffee by the fireplace, grab a board game and play on the huge tables in the great room or take in the ranger program.
If you become bored go for a walk, smell the wildflowers, watch the hummingbirds bounce between flowers or just sit outside and smell the fresh mountain air! Remember the famous John Muir Quote "In every walk with nature one receives far more than he seeks"'
Don't forget to check out my post on things to do at Mount Rainier National Park.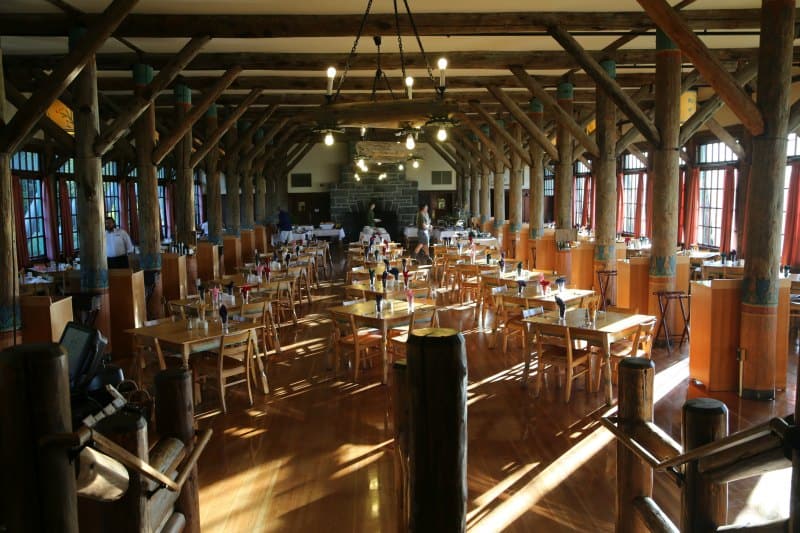 Paradise Inn Dining Room
Paradise Inn dining room is the perfect place to enjoy a great meal with an amazing atmosphere. You can start your day with breakfast in the dining room and then a short walk takes you right out to the amazing trails and views of Mt. Rainier.
The dining room is equally as impressive at 50' by 105" and has a 50' stone fireplace! Huge windows let in all the natural light you need and give impressive views of the mountain. The restaurant serves traditional Northwest cuisine and you can expect dinner to be something like Pacific Northwest Salmon, Pacific Northwest Cherry Chicken, and Bourbon Bison Meatloaf. All I can say is YUM!
Make sure and look up while dining to see the original beams and pillars above you. Can you believe these Alaska Yellow Cedar logs were hand hoisted using ropes and pulleys? No power equipment or cranes were used during construction. Even the massive rock fireplace was done by hand.
Open daily from mid-May to early October
Breakfast: 7am–9:00am
Lunch: Noon–2:30pm
Dinner: 5:30pm–8pm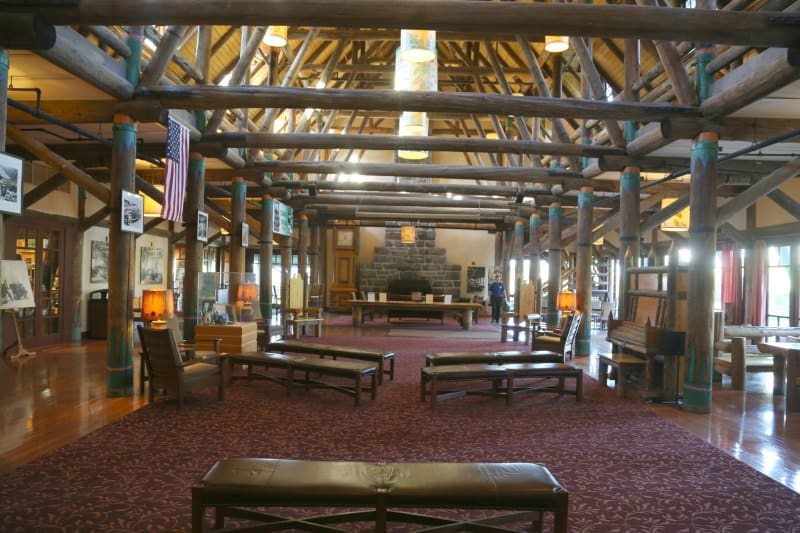 Paradise Inn Information
Season: Open seasonally from May 24-October 2, there are 121 rooms,
Check-In is 4 pm
Check-Out is 11 am
You will need a National Park Pass or have paid the entrance fee to get to the lodge.
Phone: (360)569-2275
Address: 52807 Paradise Rd. E. Ashford, Wa.98304
GPS Coordinates: 46' 47'5.93" North, 121'43'51" West
Make reservations for a room online
Parking Available, no additional fee.
No pets allowed except for service animals
There is no phone, T.V, air conditioning, or WIFI available
All Rooms and the lodge is designated non-smoking
Some rooms have a private bath while some rooms have a shared bathroom.
Toiletries are available in your room.
Cribs are available for $17 rental fee
There is a gift shop on-site!
Cancellation policy states there is a $15 fee for cancellations with at least a seven-day notice. Cancellations with less than a seven-day notice will be charged for the first night including taxes.
Additional Resources
The National Park Inn is located in the Longmire District of Mount Rainer NP. This historic lodge is open year-round.
Top things to do at Mt. Rainier – Check out all the things you don't want to miss while exploring Mount Rainier.
National Park Lodges – Check out all of the National Park lodges you can stay in.
National Parks in Washington – Check out all of the parks you can visit while in Washington.