Epic Guide to John Muir National Historic Site in California including things to do, history, tours, nearby camping and lodging, and so much more.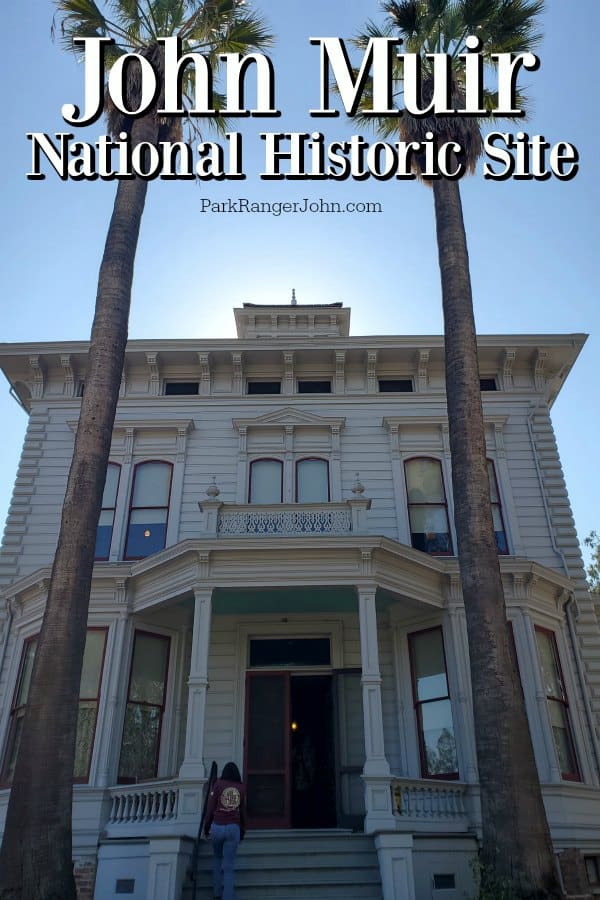 John Muir National Historic Site
John Muir is often called the father of the National Park Service.
Muir also started the Sierra Club and was the president until his death in 1914.
John Muir NHS preserves the house that John Muir lived in for the last 24 years of his life. The house was built by Dr. John Strentzel who was John Muir's father-in-law.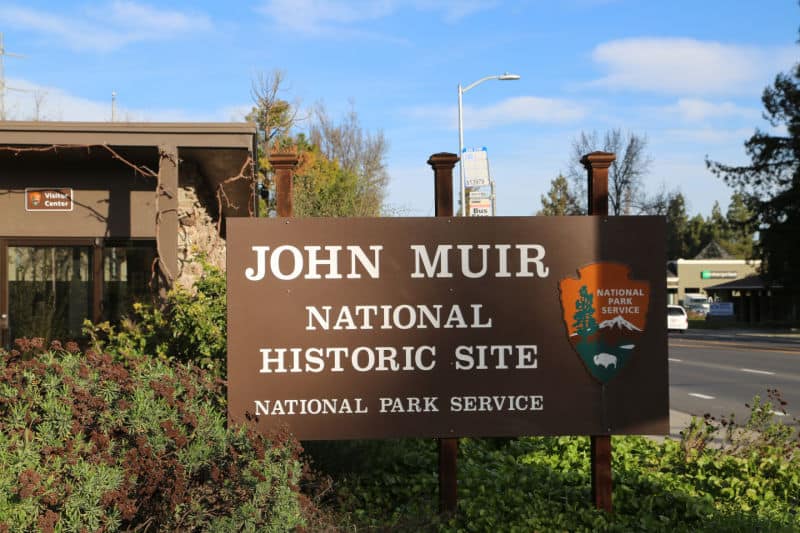 About John Muir National Historic Site
The John Muir National Historic Site was declared a National Historic Site in 1964. John Muir is one of the most influential conservationists in United States history.
He was a prolific writer writing books and magazine articles about natural history.
If you are in the area make sure and visit Muir Woods National Monument which is also named after John Muir.
John Muir is the father of American conservation. The Scottish born Muir was heavily influenced by the writings of Henry David Thoreau and Ralph Waldo Emerson and himself became one of the greatest of nature writers.
He was a pioneer in recognizing the havoc man was inflicting upon the wilderness and that led to his greatest achievements which were founding the Sierra Club in 1892 and leading the campaign for conservation, preserving Yosemite, and establishing National Parks.
Muir Woods National Monument just north of San Francisco is one of many places named after him.
From 1880 to his death in 1914 at 76, Muir resided in Martinez which is less than an hour's drive northeast of San Francisco. John Muir National Historic Site provides visitors the opportunity to tour his home and fruit farm.
John Muir's efforts were key to establishing Yosemite, Grand Canyon, Sequoia and Kings Canyon, and Mount Rainier National Park.
Located at 4202 Alhambra Ave., the site is literally right off State Hwy 4 which would be much to Muir's chagrin.
There is a bell tower atop the house and the glorious view of farmlands and wilderness in all directions once observed by Muir is now despoiled by the human contribution of roads, gas stations, houses, and aircraft.
Muir married into the property. Originally a Spanish land grant, Dr. John Strentzel purchased a 2,600-acre section of Alhambra Valley land from the Spanish family owners and established a fruit farm. Muir had traveled to California and eventually married Strentzel's daughter Louisa in 1880.
The Italianate house on the hill was contracted in 1882. Muir managed the fruit farm from 1882 to 1887 after which his family urged him to pursue his passion full time.
For the remainder of his life, Muir concentrated on conservation efforts, travel, and writing.
Following his death, the property passed to his daughters who promptly sold it to another family in 1915. The 1960s saw the house and farm becoming a national historic site.
Visitor parking is free though somewhat limited. There is an admission charge to enter the grounds and a ranger provided a self-guided tour booklet to be returned at the conclusion of the tour. The guide is simple to follow with points of interest numbered along the path.
The outdoor numbers identify the various fruit groves. A flaw is no identification is given the myriad of trees and plants. The carriage house was preserved and it is not stated whether or not the carriage inside belonged to Muir or not.
The house has been maintained in excellent condition and is a typical lovely example of houses from that time period. To the right of the front entrance is a sitting room flowing into the living room. On the left side are the dining room and kitchen.
The second floor contains the bedrooms and Muir's study. There are no drapes or shades in Muir's bedroom and the guidebook reveals that Muir always wanted to see the outside view.
Visitors are allowed to ascend into the large attic and finally up the narrow stairs into the bell tower which offers excellent photo opportunities with the views. You are allowed to ring the bell.
All of the rooms including the attic are filled with wonderful antique furniture and things and supposedly these are original furnishings. But were they collected to recreate Muir's time period or did they actually belong to the family?
There is no actual museum and a lack of personal memorabilia to look at though his saddle is on display. The tour concludes at the rear of the property with a two-story adobe house built by the original owners
in 1849. A section of the wall has been removed to reveal the adobe bricks. For a time, Muir's daughter lived there and Muir often dined and visited his grandchildren there.
John Muir National Historic Site is a pleasant place to visit on a nice sunny day because of the grounds and opportunity to step back into time.
Visitors should study the photos of how the house and farm once looked and contrast what is seen now from the same perspectives.
The inevitable conclusion will be reached that Muir was a visionary in comprehending the damage man would inflict upon the environment.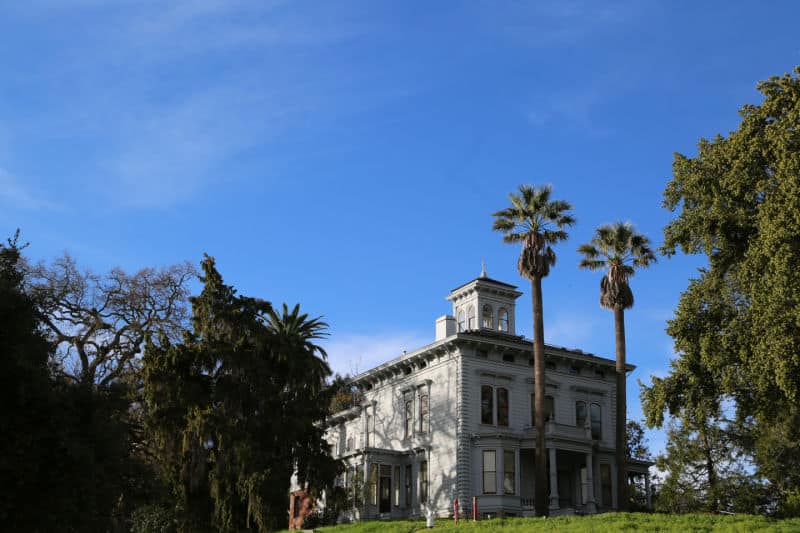 Is John Muir National Historic Site worth visiting?
Yes! We truly enjoyed this site and have visited a couple of times. It is well worth planning time to explore the John Muir House and the grounds.
History of John Muir National Historic Site
Johns Muir National Historic Site is located in the San Francisco Bay area in Martinez, California. The site preserves the Victorian mansion that Muir lived in from 1890 until his death in 1914.
The house displays and informs visitors of Muir's many contributions to nature and the park service during his lifetime.
John Muir was born in 1838 in Dunbar, Scotland, the third of eight children. At 11 years old Muir's family immigrated to America, settling on a farm near Portage, Wisconsin.
Because he was older at the age of their move, Muir always held dear his Scottish heritage.
Muir's father was a strict man and his sons were expected to work hard on the farm from dawn until dusk. When the boys did enjoy free time it was always spent in the woods; John became a lover of nature.
In 1861 Muir entered the University of Wisconsin and studied there for two and a half years. The institution had been established just 13 years earlier and John was one of only 77 students there.
It is believed that the geology and botany classes he took there played an important role in his interest of the natural world.
After Muir left the University, he traveled around a large expanse of the northern United States. While working at a wagon wheel shop in Indianapolis, Muir suffered a life changing eye injury that nearly left him blind. Soon after began his years of wandering.
Muir walked a thousand miles from Indianapolis to the Gulf of Mexico, he sailed to Cuba and Panama and eventually San Francisco.
Although his travels continued all over the world throughout his lifetime, it was California, particularly the Sierra Nevada and Yosemite, that became his home and his true love.
Muir herded sheep and spent much of his time exploring the area and creating theories about the land's geological history.
In 1880, Muir married Louisa Wanda Strentzel and moved near Martinez, California. The couple lived in a small cabin built by Muir, John and Louisa would eventually have two daughters.
He worked on his father-in-law Dr. John Strentzel's fruit ranch and continued to travel the world as well. In 1882, Dr. Strentzel built a mansion on the property.
When Dr. Strentzel died in 1890, Mrs. Strentzel invited John and Louisa to move into the mansion with her.
After years of ranching, Muir was eager to wander again.
He spent time in Alaska, Africa, Japan and even Australia. His notoriety throughout the country grew as he published articles and books describing his travels and explaining his love of nature through his naturalist and conservationist philosophies.
America fell in love with Muir's passion for nature. Through his writings he drew attention to problems with land devastation around the country.
In 1890, due in large part to Muir, Yosemite National Park was created.
Additionally, Muir was involved in helping to create Mount Rainier and Grand Canyon National Parks. He is often referred to as the "Father of Our National Park System." Muir also created the Sierra Club – an environmental preservation organization.
Although Muir preferred to be in the valleys and mountains, it is believed that much of his influential writings were completed in the mansion in which he lived in for 24 years.
During hiatuses from his travels, Muir enjoyed walking the hills and valleys with his two daughters. Many of his writings state the grand view he loved from the house – that of Carquinez Strait and Mount Diablo.
As stated, the home was designed for Mr. and Mrs. Strentzel in 1882 by architects Wolf and Son and built by contractors Slyvester and Langabee, all from San Francisco.
The mansion contained 17 rooms, with 6 bedrooms on the second floor. In 1882, the house cost $20,000 to build and furnish.
One large bedroom was converted into a study by Muir. As early as 1885, a telephone was installed by Muir and soon after an electrical system installed.
Always the conservationist, water for the indoor plumbing was supplied by rainwater collected on the roof. At some point after 1890, Muir added a large addition which held a steel water tank.
The house originally contained seven marble fireplaces, although only three remain today.
One of these is the large parlor fireplace which Muir had replaced after the historic April 1906 earthquake which destroyed nearly 500 blocks of nearby San Francisco.
The historic site has been restored to mimic as close to Muir's time period as possible and true family heirlooms have been used when possible.
The house was declared a US National Historic Site in 1964 and ever since the National Park Service has continually restored the house and grounds of the area.
Louisa Muir died in 1905 and John died in 1914. John's funeral was held in the mansion and he was then buried beside his wife in a small family cemetery a mile from the home.
Even a century after his death, John Muir's writings are still loved by many who are zealous about nature. His countless passionate quotes are added to photos in homes around the world.
The Muir's graves, surrounded by quiet forest, just a mile from his home, visitors might hear his words "And into the forest I go, to lose my mind and find my soul."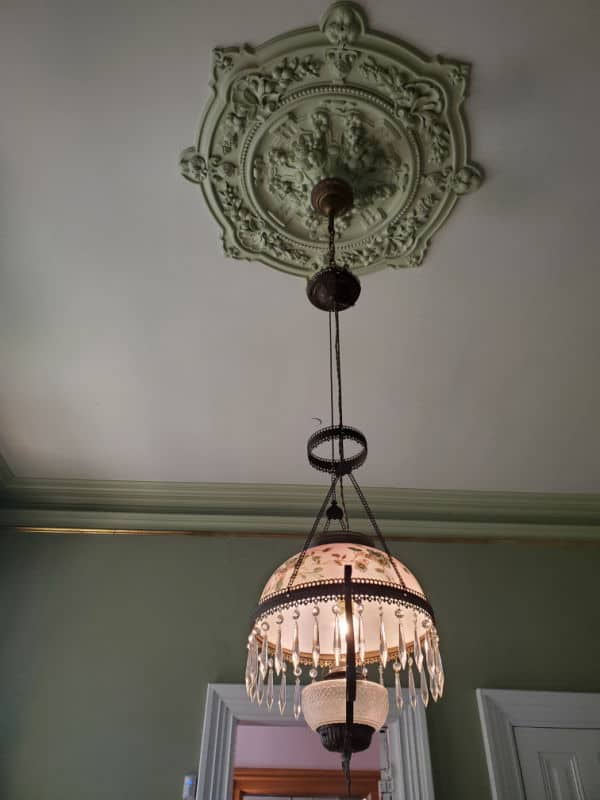 Things to know before your visit to John Muir NHS
Entrance fee
$0.00 - There is no fee to visit the John Muir National Historic Site
Planning a National Park vacation? America the Beautiful/National Park Pass covers entrance fees for an entire year to all US National Park Sites and over 2,000 Federal Recreation Fee Sites.
The park pass covers everyone in the car for per vehicle sites and for up to 4 adults for per-person sites.
Buy on REI.com and REI will donate 10% of pass proceeds to the National Forest Foundation, National Park Foundation and the U.S. Endowment for Forestry & Communities.
Free Entrance Days -Mark your calendars with the five free entrance days the National Park Service offers annually.
Time Zone
Pacific Time Zone
Pets
Pets are allowed on park ground as long as they are on a leash. Pets are NOT allowed in the Muir House or in the Martinez Adobe.
Cell Service
We had great cell service while in the park.
Park Hours
Muir Home Site: Open 7 days a week from 10:00 am to 5:00 pm, year-round, except closed on Thanksgiving Day, Christmas Day, and New Year's Day.
Wi-Fi
There is no free wi-fi at the park.
Insect Repellent
Insect repellent is always a great idea when outdoors, especially if you are around any body of water.
We use Permethrin Spray on our clothes before our park trips.
Water Bottle
Make sure to bring your own water bottle and plenty of water with you. Plastic water bottles are not sold in the park.
Parking
There is a small parking lot near the visitor center. There is no parking available for RV's at John Muir NHS.
Food/Restaurants
There are no restaurants within the park.
Gas
There are no gas stations within the park.
Drones
Drones are not permitted within National Park Sites.
National Park Passport Stamps
National Park Passport stamps can be found in the visitor center.
Make sure to bring your National Park Passport Book with you or we like to pack these circle stickers so we don't have to bring our entire book with us.
Electric Vehicle Charging
There are at least 34 public EV Charging ports in Martinez, California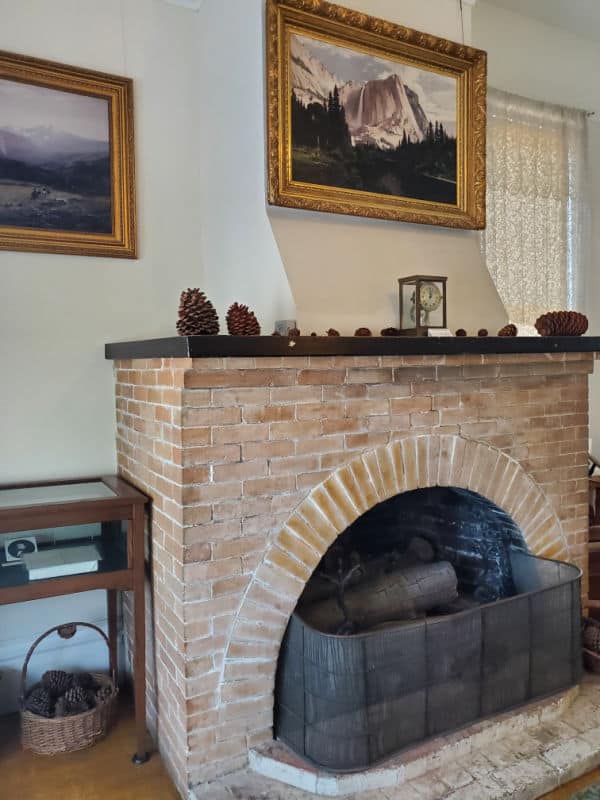 Details about John Muir National Historic Site
Size - 345 acres
Check out how the park compares to other National Parks by Size.
Date Established
August 31, 1964
Visitation
In 2021, John Muir NHS had 36,904 park visitors.
In 2020, John Muir NHS had 33,603 park visitors.
In 2019, John Muir NHS had 40,725 park visitors.
Learn more about the most visited and least visited National Parks in the US
National Park Address
4202 Alhambra Ave, Martinez, CA 94553
National Park Map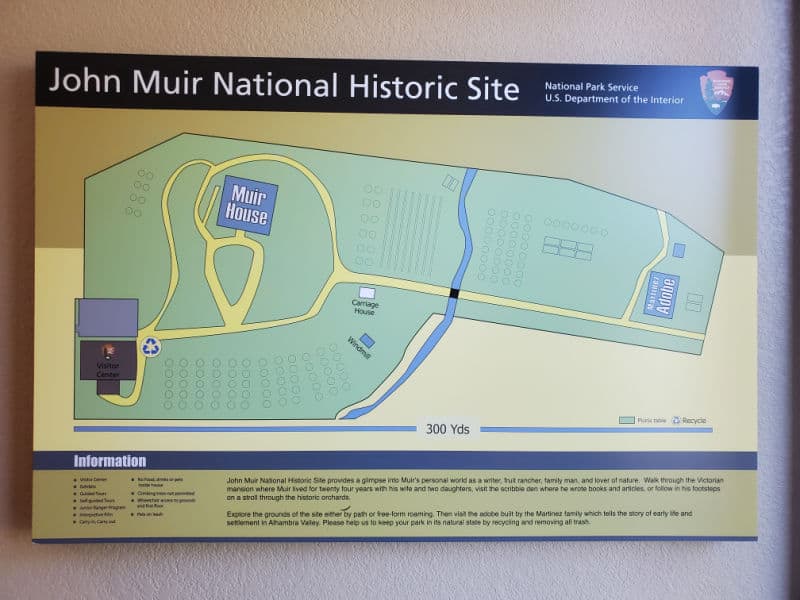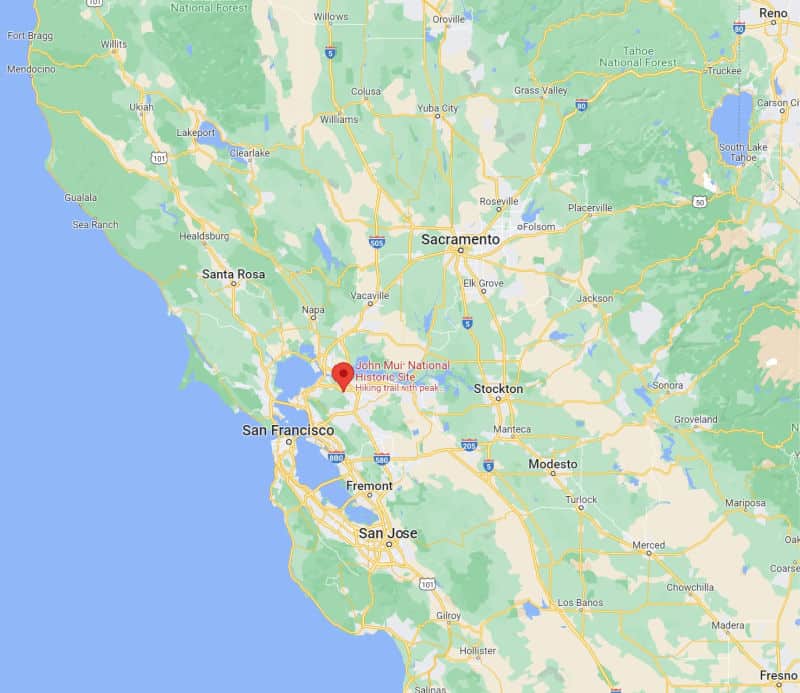 Where is John Muir National Historic Site?
John Muir NHS is located in the San Francisco Bay Area in Martinez, California
Estimated distance from major cities nearby
Oakland, CA - 26 miles
San Francisco, CA - 33 miles
Fremont, Ca - 45 miles
Stockton, CA - 55 miles
Sacramento, CA - 67 miles
Fresno, Ca - 179 miles
Reno, NV - 199 miles
Bakersfield, CA - 275 miles
Los Angeles, Ca - 374 miles
San Diego, Ca - 500 miles
Estimated Distance from nearby National Park
Yosemite National Park - 151 miles
Sequoia National Park - 255 miles
Kings Canyon National Park - 230 miles
Pinnacles National Park - 130 miles
Redwood National Park - 319 miles
Lassen Volcanic National Park - 216 miles
Where is the National Park Visitor Center?
The visitor center is located at the front entrance to the park.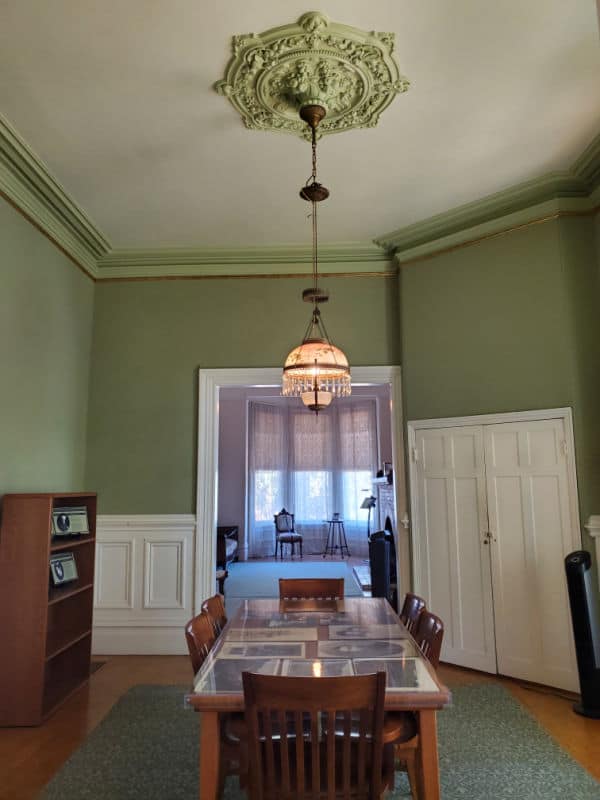 Getting to John Muir National Historic Site
Oakland International Airport (OAK)
San Francisco International Airport (SFO)
San Jose International Airport (SJC)
Sacramento International Airport (SMF)
Driving Directions
From San Francisco: Eastbound I-80 (Oakland - San Francisco Bay Bridge) to eastbound Highway 4. Exit at Alhambra Avenue, turning left at bottom of the ramp. Cross beneath highway. The park is immediately on your left.
From San Jose: Take I-680 northbound or (From Sacramento) southbound I-680 to Highway 4 westbound. Exit at Alhambra Ave. Turn right at bottom of ramp. The park is located immediately on your left.
Best time to visit John Muir National Historic Site
The weather is great year-round making any time a great time to visit the park.
Weather and Seasons
Martinez, California experiences long warm summers and short cold winters.
The warmest weather is from June 4th to October 10th when the average daily temperature is above 78 degrees.
The coldest weather is from November 28th to February 12th with an average daily temperature below 60 degrees.
The coldest month is January with a low of 41 and a high temperature of 56 degrees.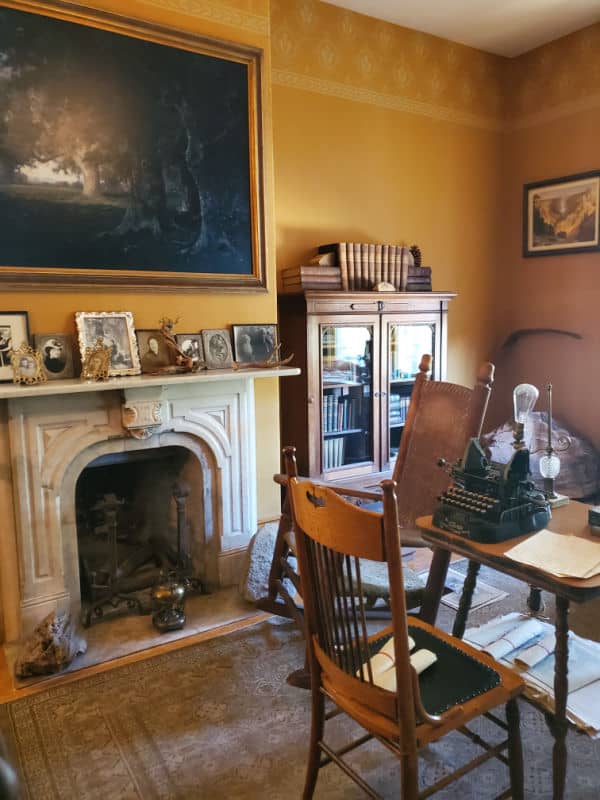 Best Things to do in John Muir National Historic Site
We suggest planning a few hours to visit the park. It is well worth spending time exploring the grounds and historic house.
Visitor Center
The visitor center is the perfect place to start your visit to John Muir NHS. Make sure and watch the 20-minute video A Glorious Journey to learn more about John Muir's work.
You can pick up a Junior Ranger program at the visitor center. Explore the park and learn more about John Muir.
Historic House Tour
You can tour the 14 room Victorian-style house on your own or on a ranger tour. You can view the writing desk that John Muir called his "scribble den".
Ranger Guided Programs
Tour of the first floor of the Strentzel-Muir House - Tours of the first floor fo the Strentzel-Muir house are offered daily at 2 pm. On the weekend's additional tours are also offered at 11 am.
Muir/Strentzel Family Gravesite Tour- Learn more about where John Muir is buried along with his family. Tours are offered every Wednesday, Saturday, and Sunday at 3:00 pm and leave from the visitor center.
Cell Phone Tour
There are wooden posts around the grounds that provide information about the historic site. There is no cell phone tour inside the house.
Martinez Adobe
Learn more about the Juan Bautista de Anza National Historic Trail at the Martinez Adobe located on the western edge of John Muir's orchards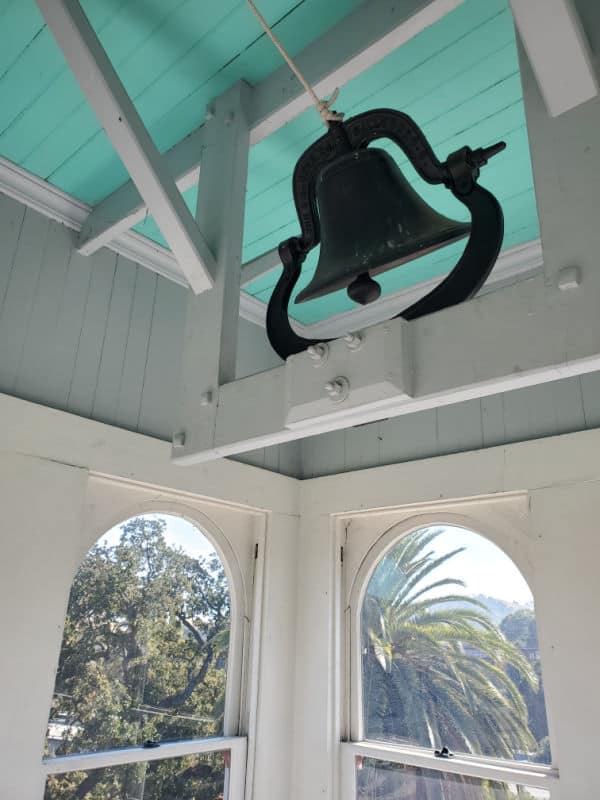 Hiking in John Muir National Historic Site
Always carry the 10 essentials for outdoor survival when exploring.
Mount Wanda
Mt. Wanda is 326 acres of oak woods and grasslands that John Muir named after his eldest daughter. If you plan on exploring Mount Wanda please be prepared with water. There are no bathrooms on the mountain.
How to beat the crowds in John Muir National Historic Site?
We have not experienced any crowds while visiting the park.
Where to stay when visiting John Muir National Historic Site
There are no National Park Lodges within the park.
There are great hotels and vacation rentals available in Martinez, California and the surrounding area.
Concord Plaza Hotel - A terrace, a garden, and laundry facilities are just a few of the amenities provided at Concord Plaza Hotel. For some rest and relaxation, visit the hot tub. The onsite restaurant, Vineyards Restaurant/Bar, features American cuisine and happy hour. Stay connected with free in-room Wi-Fi, and guests can find other amenities such as a fireplace in the lobby and a bar.
Sonesta Select Pleasant Hill - look forward to a grocery/convenience store, a coffee shop/café, and dry cleaning/laundry services at Sonesta Select Pleasant Hill. Stay connected with free in-room Wi-Fi, and guests can find other amenities such as a fireplace in the lobby and a 24-hour gym.
Best Western Plus Heritage Inn - look forward to free full breakfast, a garden, and dry cleaning/laundry services at Best Western Plus Heritage Inn. For some rest and relaxation, visit the hot tub. In addition to a gym and a 24-hour business center, guests can connect to free in-room Wi-Fi.
Holiday Inn Express Walnut Creek - Take advantage of a free breakfast buffet, a terrace, and a garden at Holiday Inn Express Walnut Creek, an IHG Hotel. In addition to dry cleaning/laundry services and a gym, guests can connect to free in-room Wi-Fi.
HYATT house Pleasant Hill - Consider a stay at HYATT house Pleasant Hill and take advantage of a free breakfast buffet, a free grocery shopping service, and dry cleaning/laundry services. The onsite restaurant, H Bar, features light fare. Stay connected with free in-room Wi-Fi, and guests can find other amenities such as a bar and a 24-hour gym.
Click on the map below to see additional hotels and vacation rentals near the park.


Camping
There are no National Park Campgrounds in the park.
For an epic adventure check out Escape Campervans! They have a location right in San Francisco.
Nearby Campgrounds include:
Delta Marina Yacht Harbor - Rio Vista, CA
This campground offers RV sites, a waterfront, boat launch, playground, and more.
Yogi Bear's Jellystone Park - Tower Park - Lodi, CA
This campground offers Lodging, RV and Tent Sites, a beach, waterpark, boating, and more.
Casini Ranch Family Campground - Duncan Mills, CA
This campground offers lodging, RV and tent sites, a beach, waterfront, boating, and more.
Check out additional campgrounds in the area on CampSpot.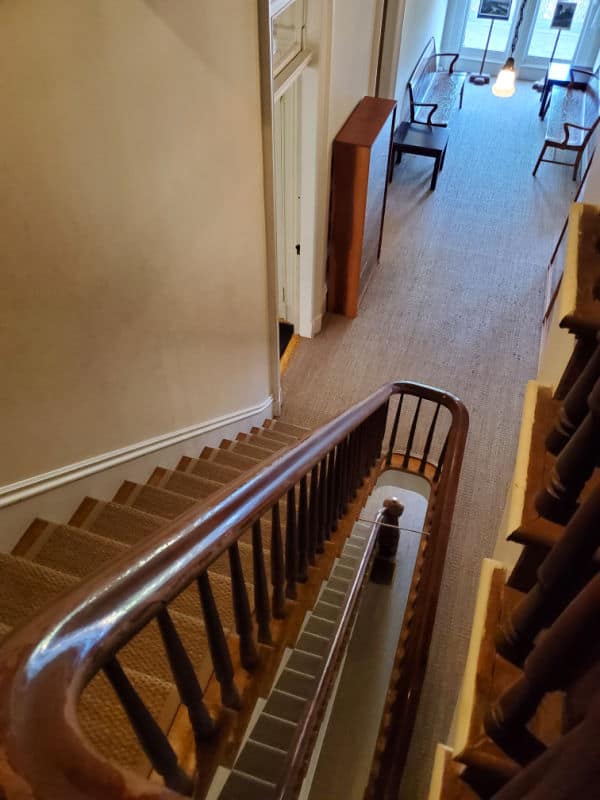 Additional Resources
Our National Parks by John Muir
The Wilderness Essays by John Muir
The Mountains of California by John Muir
Parks Near John Muir National Historic Site
Rosie the Riveter National Historic Site
Golden Gate Recreation Area
San Francisco Maritime National Historical Park
Port Chicago Naval Magazine National Memorial
Eugene O'Neill National Historic Site
Check out all of the National Parks in California along with neighboring National Parks in Arizona, Nevada National Parks, and National Parks in Oregon.