Pinnacles National Park is one of the newest in the National Park system. If you've ever wondered about the stunning rock formations for which this area is named, or if you're just hearing about this California park for the first time, keep reading to discover the ultimate guide to Pinnacles National Park.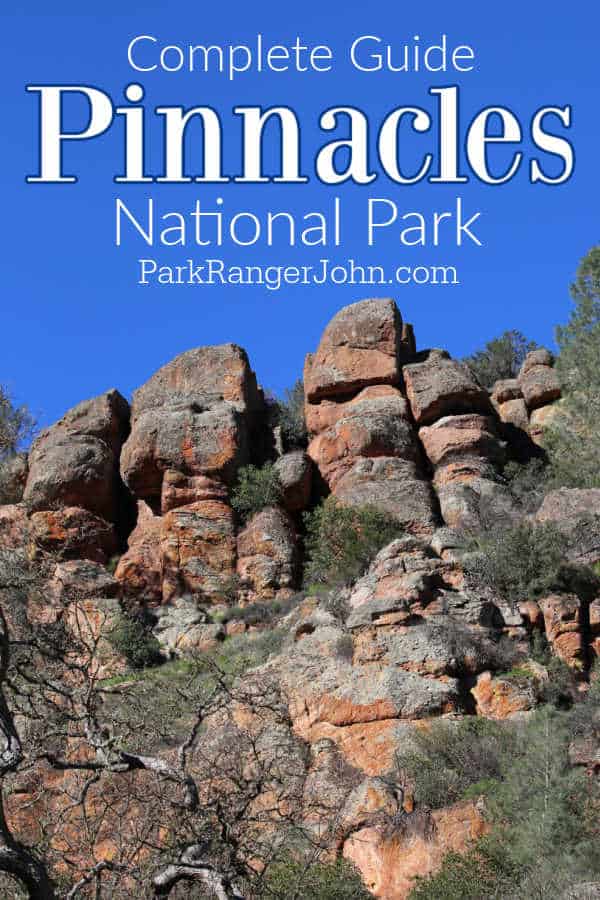 Pinnacles National Park
It is no secret that California is blessed with nine incredible National Parks! It started over 150 years ago when President Lincoln signed the Yosemite Grant in 1864 giving protection to Yosemite Valley and the Mariposa Grove of Giant Sequoias.
There's no denying that Pinnacles National Park is far from the most famous National Park in California. But what this hidden gem lacks in repute, it more than makes up for in rugged beauty.
About Pinnacles National Park
The rock formations from which Pinnacles National Park got its name were formed by an extinct volcano located along the Andreas Fault, meaning that these soaring peaks have moved nearly 200 miles since their formation! The Pinnacles are best viewed along the aptly named High Peaks Trail, but there are over 30 miles of hiking trails to choose from within the park.
The park is also home to two talus caves - caves formed by massive boulders crashing into narrow canyons. While the park is a geological masterpiece, the flora and fauna that inhabit this area are also noteworthy.
The park plays host to the endangered Condor, one of the largest and rarest birds in North America. The chance to see these incredible creatures is a huge draw to Pinnacles, and you might also see deer, foxes, turkey vultures, and tarantulas - depending on what time and which season you visit the park.
One of the best things about Pinnacles National Park is that it's oftentimes overlooked because of its proximity to some of the iconic and well-established parks that have made the National Parks Service so celebrated.
This means that the park is not typically crowded. Trailhead parking can be a challenge during the busy season and weekends but it is entirely possible to hit the trail and feel like you have the park mostly to yourself.
So, whether you're interested in the impressive geological formations and epic hiking trails or more charmed by the park's solitude and the wildlife that calls this area home, Pinnacles National Park has more than enough to see and do for an afternoon or an entire weekend.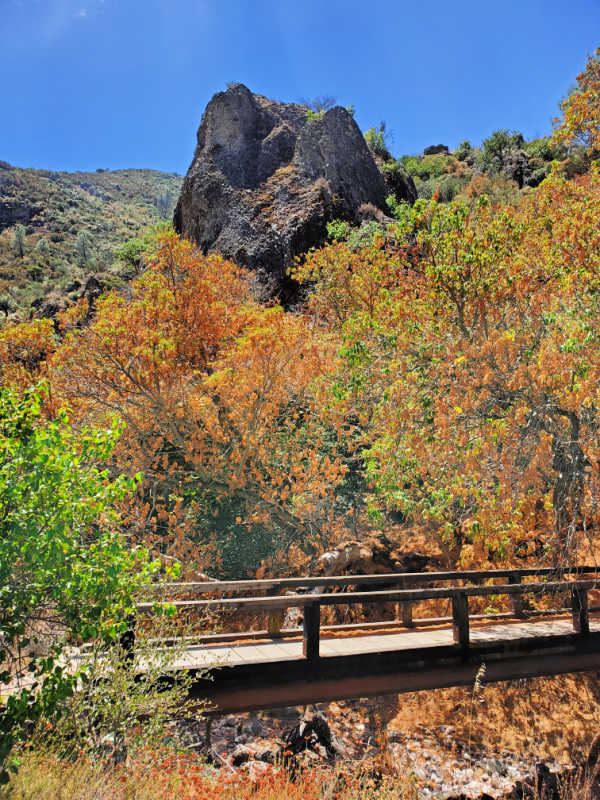 Is Pinnacles National Park worth visiting?
I personally love Pinnacles National Park! Of course, I enjoy hiking and love birdwatching and Pinnacles is a great place for both! If you have a bird nerd in your group, hold on, you will see them squeal in excitement if they come across a California Condor!
Many park visitors opt for the more established parks like Yosemite, Sequoia, and Kings Canyon. I feel this is a wise decision for your first trip to California but if you have time, Pinnacles is beautiful too!
History of Pinnacles National Park
Although Pinnacles National Park is the 59th U.S. National Park in the U.S., it was Theodore Roosevelt who established the park as a National Monument in 1908.
On January 10, 2013, President Barack Obama signed into law upgrading Pinnacles to the prestigious National Park designation. This made Pinnacles California's ninth and newest national park in addition to being the smallest.
Long before Pinnacles had any national recognition, this area was home to countless native tribes. Then came the Spanish missionaries in the nearby community of Soledad, then the white homesteaders - who were the first to advocate for the protection of this beautiful area.
There are also myths of outlaws hiding amongst the pinnacles of this area, though there aren't enough facts to back up this whimsical legend.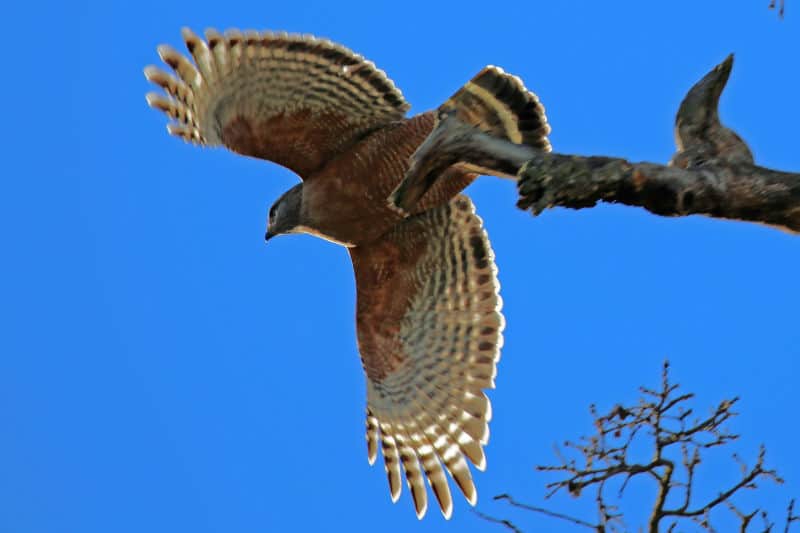 Things to know before your visit to Pinnacles National Park
Entrance fee
7-day single-vehicle park pass - $30
7-day individual park pass - $15
7-day motorcycle park pass - $25
Pinnacles NP Annual Park Pass - $55
Valid for one year through the month of purchase. Admits one private, non-commercial vehicle or its pass holder to Pinnacles.
Planning a National Park vacation? America the Beautiful/National Park Pass covers entrance fees for an entire year to all US National Park Sites and over 2,000 Federal Recreation Fee Sites.
The park pass covers everyone in the car for per vehicle sites and for up to 4 adults for per-person sites.
Buy on REI.com and REI will donate 10% of pass proceeds to the National Forest Foundation, National Park Foundation and the U.S. Endowment for Forestry & Communities.
Learn more about National Park Passes for parks that have an entrance fee.
Free Entrance Days -Find the five free entrance days the National Park Service offers annually.
Time Zone
PST - Pacific Standard Time Zone
Pets
Pets are allowed in the picnic areas, campground, parking lots, and on paved roads.
Pets must be physically controlled on a six-foot leash.
Cell Service
There is no cell phone service in the park.
Park Hours
East Side: 24-hour access to trails. No overnight parking.
West Side: Trail access is from 7:30 am to 8:00 pm.
Wi-Fi
Wi-Fi is available for purchase at the east Pinnacles Visitor Center through the campground store.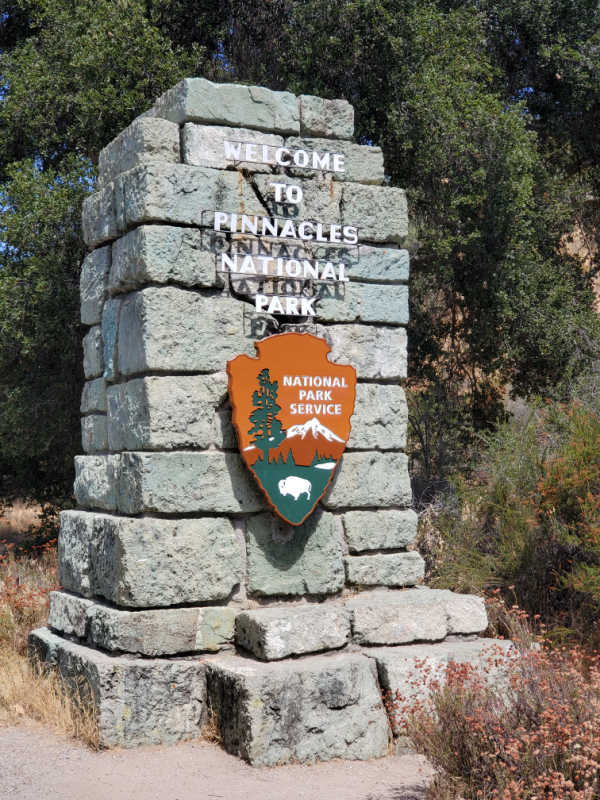 Insect Repellent
Insect repellent is always a great idea when outdoors, especially if you are around any body of water.
We use Permethrin Spray on our clothes before our park trips.
Water Bottle
Make sure to bring your own water bottle and plenty of water with you. Plastic water bottles are not sold in the park.
Parking
Parking can be EXTREMELY Difficult within Pinnacles NP.
Visitors hiking the High Peaks, Condor Gulch, or the Moses Spring trail, should arrive before 8:00 am. This is just an estimate. Parking may fill-up earlier.
Food/Restaurants
There are no restaurants within Pinnacles National Park.
There are some snacks available at the visitor center.
Gas
There are no gas stations within Pinnacles NP
National Park Passport Stamps
National Park Passport stamps can be found in the visitor center.
Make sure to bring your National Park Passport Book with you or we like to pack these circle stickers so we don't have to bring our entire book with us.
Pinnacles National Monument was featured before it became a National Park in the 2008 Passport Stamp Set.
Electric Vehicle Charging
There is an EV Charging station within the campground.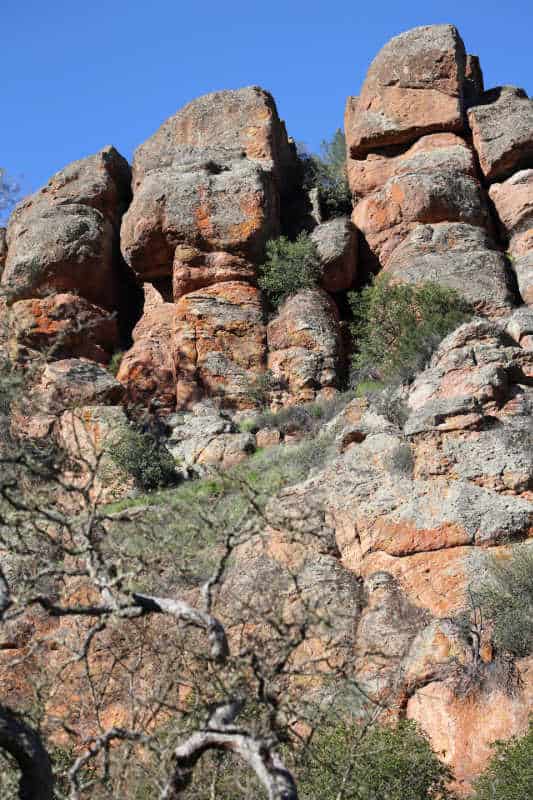 Details about National Park
Size - 26,685 acres
Pinnacles is currently ranked at 57 out of 63 National Parks by Size.
Date Established
Pinnacles were originally established as a national monument in 1908 by President Theodore Roosevelt.
The park was re-designated as a national park by Congressional legislation in 2012 that was then signed into law by President Barack Obama on January 10, 2013.
Visitation
In 2020, Pinnacles NP had 165,740 park visitors.
In 2019, Pinnacles NP had 177,224 park visitors.
Learn more about the most visited and least visited National Parks in the US
National Park Address
5000 East Entrance Road
Paicines, CA 95043
United States
National Park Map
Where is Pinnacles National Park?
Pinnacles National Park is located just east of the Salinas Valley in Central California. While the park is an easy day trip from some major cities in California including the Bay Area, this hidden gem flies well under the radar.
It is important to note that the park has two entrances - the East Entrance and the West Entrance. However, there is NO road connecting the two sides of the park.
That means that you will have to plan which area you're going to explore and set the GPS to one of the two entrances. Keep in mind that they are about an hour away from each other!
Which entrance you choose depends on what you hope to see and do while in Pinnacles.
The eastern side of the park is less primitive and therefore more popular. This area includes attractions like Bear Gulch Cave, Chalone Peak Trail, and High Peaks Trail. The campground is also situated on this side of the park.
The East Entrance is located off of CA-146 E via CA-25.
The park's western side is more remote and wild, but there is still plenty to see and do, including Jawbones Trail, High Peaks Trail, and Balconies Cave.
Visitors should note that the roads on this side of the park are known for their twists and turns, and meandering an RV through this area is not recommended.
The West Entrance is located off of CA-146 E via US-101.
Estimated distance from major cities nearby
San Jose - 76 miles
San Francisco - 123 miles
Sacramento - 180 miles
Los Angeles - 268 miles
San Diego - 387 miles
Las Vegas - 454 miles
Phoenix - 638 miles
Estimated Distance from nearby National Parks
Yosemite National Park - 178 miles
Sequoia National Park - 166 miles
Kings Canyon National Park - 195 miles
Lassen Volcanic National Park - 351 miles
Redwood National Park - 431 miles
Death Valley National Park - 342 miles
Where is the National Park Visitor Center?
Pinnacles National Park has two visitors centers - one on each side of the park:
West Pinnacles Contact Station
East Pinnacles Visitor Center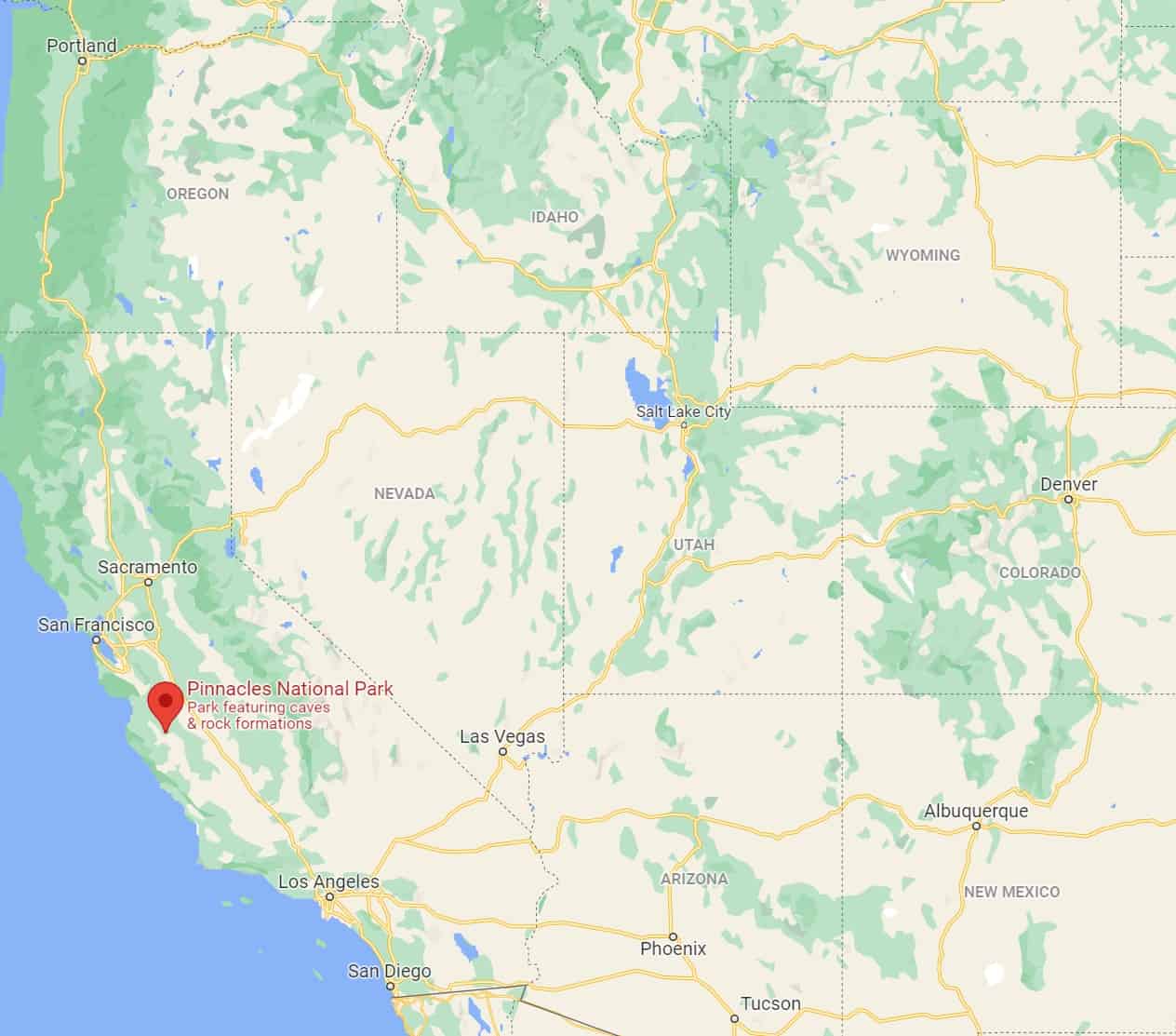 Getting to Pinnacles National Park
Closest Airports
International Airports
San Francisco, California (SFO): 117 Miles, 2 hours and 50 minutes
Oakland, California (OAK): 115 Miles, 2 hours, and 45 minutes
San Jose, California (SJC): 84 miles, 2 hours
Regional Airports
Monterey Regional Airport (MRY): 73 miles, 1 hour and 50 minutes
Airlines servicing this airport include United, American Airlines, Alaskan Airlines, Allegiant, and JSX
Driving Directions
Pinnacles National Park is accessible through highway 101 for the West entrance and highway 25 for the East entrance.
From Highway 101 you must pass through the City of Soledad to find highway 146 which will lead to West side of Pinnacles.
To enter East Pinnacles you must find highway 25 through the City of Hollister coming from the North, and King City through Bitter Water Road (G-13) when coming from the South.
NOTE: There is no through road between the east and west entrance.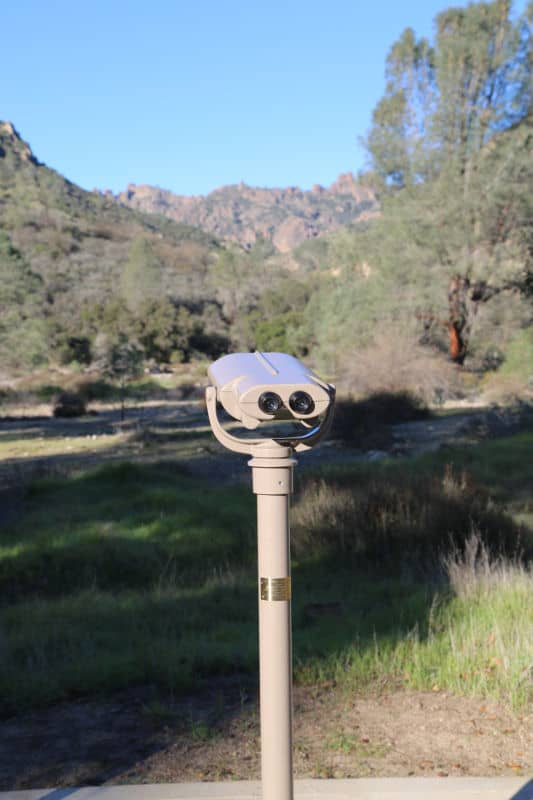 Best time to visit Pinnacles National Park.
Spring and fall is the best time to visit Pinnacles National Park.
National Park Weather and Seasons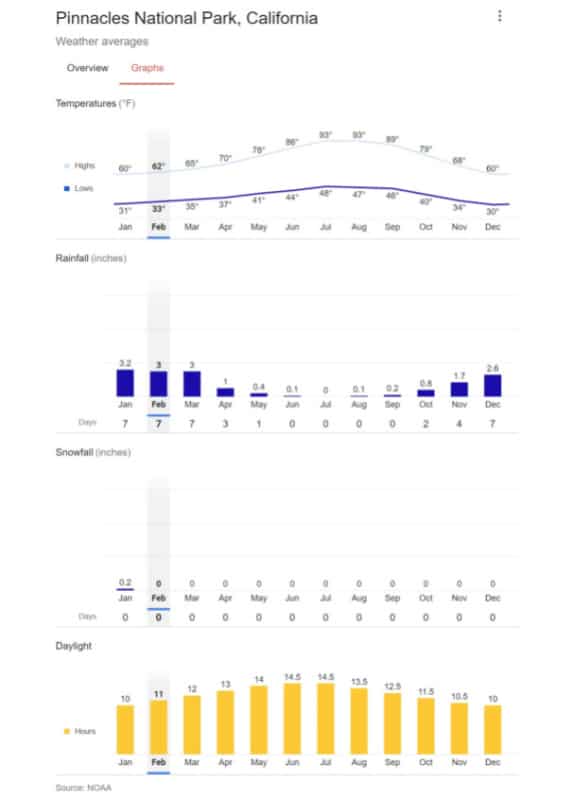 Due to the extreme heat and drought in the summer months, a visit to Pinnacles National Park is only really comfortable in the colder months.
The highlight of the season is spring when the highlands between the rocks are littered with flowering plants.
Spring
If you can, visit Pinnacles National Park in the spring. Not only is the weather just right, but the wildflowers in the highlands between the rocks are in full bloom.
For good reason, this is the busiest time of year at Pinnacles National Park. However, unlike some of the more famous California parks, Pinnacles is never overly crowded, even in its busiest season.
Summer
Due to extreme temperatures, it is not recommended to visit Pinnacles National Park in the summer.
Hiking in the triple digits is downright dangerous, so if you do happen to be around these parts in the summer, make sure to avoid any strenuous activity and don't plan to be outside for extended periods of time!
Autumn/Fall
Fall is another great time to visit the park. Early fall is often still too hot for hiking, but the latter end of the season is just right.
There are also fewer visitors than in the spring, so those looking to avoid the crowds may find that autumn is a better option.
Winter
Aside from the summer, winter is the least popular time to visit Pinnacles. As long as you dress in layers, the chilly temperature is bearable.
It's downright pleasant when the sun is out, and hiking the trails will have you sweating in no time.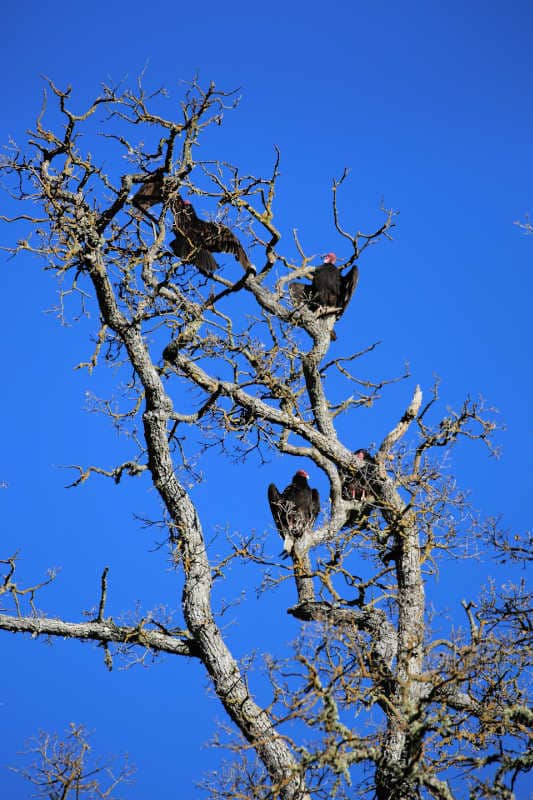 Best Things to do in Pinnacles National Park
Wildlife viewing
Because of the relatively low human impact of the area, Pinnacles National Park is teeming with wildlife.
The most common critters spotted are lizards, but you might also see deer, foxes, or bobcats if you're here around sun up or sundown.
Mountain Lions also call this area home, but sightings in the park are scarce.
If it's warm during your visit, you might encounter a rattlesnake, and if you're visiting in September or October, you'll likely see tarantulas out in the open.
Pinnacles is also home to one of the most diverse bee populations on the planet, with over 400 different species living in the park.
No matter what type of wildlife you encounter, always keep your distance - for your safety and the animals'!
If you're visiting Pinnacles National Park with your kiddos, sign them up for the Junior Ranger Program. It's an excellent way for both the young and the young of heart to learn about the park, and the kids will even get a cool badge once they complete the program!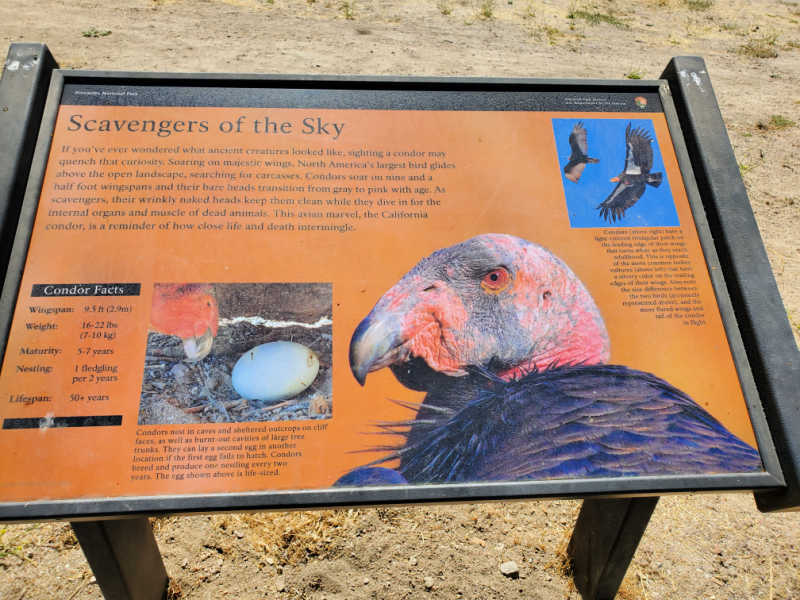 Bird Watching
Condors!
Bird watching is one of the most popular activities at Pinnacles National Park. The park is home to the endangered Condor, a unique bird of prey that is as fascinating as it is intimidating.
For nearly two decades, Pinnacles has acted as a release and monitoring site for Condors born in captivity.
Today, there are only around 300 wild condors on the entire planet, so catching a peak of one of these magnificent birds is truly something special.
The best place to see the condor is from up high, so keep your eyes peeled as you hike the trails.
They are especially numerous along the High Peaks Trail soaring around the pinnacles of the aptly named Condor Gulch.
There are plenty of other bird species to be seen around the park as well, including Golden Eagles, Turkey Vultures, Roadrunners, California Thrashers, and Canyon Wren, to name just a few.
Rock Climbing
There are plenty of opportunities for rock climbing inside the park; after all, it was named for its rock formations!
However, the rock at Pinnacles is volcanic breccia, a much weaker rock than granite.
Therefore, even with more than 200 routes, there are no truly easy climbs in the park. Even expert rock climbers should tread lightly here, move slowly, and lead below your usual level.
Talus Caves
Along with the pinnacles for which it is named, the park is also known for its talus caves. These unique caves were not formed by lava but massive boulders tumbling down into narrow caves.
There are two major talus caves inside Pinnacles National Park: Bear Gulch Cave and Balconies Cave. Both caves are accessible via short trails.
The good news is that each cave is located on a different side of the park (Bear Gulch to the east and Balconies to the West), so no matter which side you are exploring, you can check out one of these incredible caves.
Note that a flashlight or headlamp is recommended for both caves.
Ranger Programs
It's not just the young ones who can benefit from the ranger programs - adults will have plenty of opportunities to learn about the park from rangers as well during their time at Pinnacles.
Aside from the regularly scheduled programs available on weekends throughout fall and winter, Pinnacles also has special events like star parties, night hikes, and more planned throughout the year.
Check-in at one of the Visitor Centers or the Nature Center to learn more.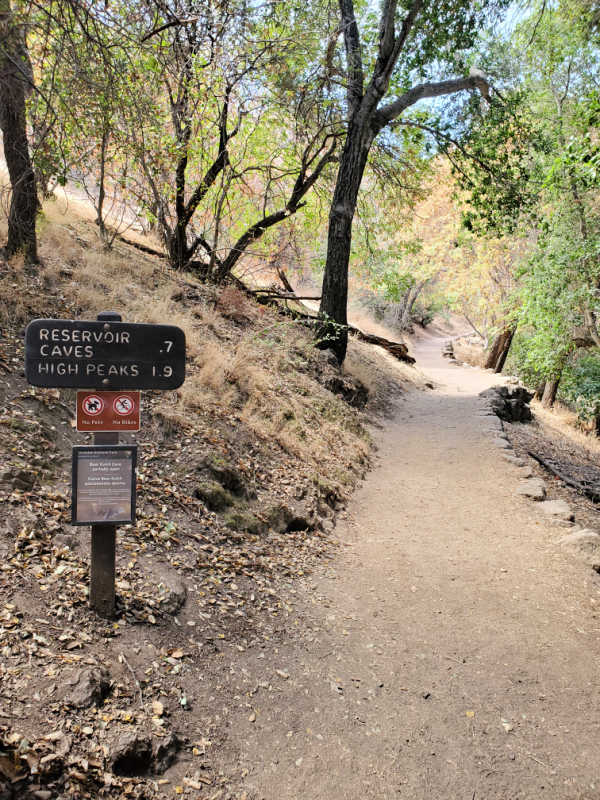 Hiking in Pinnacles National Park
Always carry the 10 essentials for outdoor survival when exploring.
For such a small park, you may be surprised to learn that Pinnacles has over 30 miles of hiking trails.
Hiking is one of the best ways to experience the park's beauty, and the trails vary in difficulty, length, and terrain. From flat grassy expanses to steep cave climbs, these treks pack a serious punch.
There are trails on both sides of the park, so no matter which entrance you choose, you'll be able to hike during your time at Pinnacles. We've highlighted some of the most popular routes below.
High Peaks Trail to Bear Gulch Reservoir Loop
Trail Length: 6.7 miles roundtrip
Trail Difficulty: Strenuous
Starting Point: Bear Gulch
If you're up for a challenge, don't miss the iconic Hight Peaks Trail. This is one of the most difficult loops in the park, but those who take it on will be rewarded with incredible panoramic views.
There are many connecting trails to this loop, and you can start either on the east side of the park via the Bear Gulch Cave Trailhead or on the west side of the park via Juniper Canyon and Tunnel Trail.
Balconies Cave
Trail Length: 2.4 miles Round Trip
Trail Difficulty: Moderate
Starting Point: Old Pinnacles Parking Area
This trail will lead you to and through the aforementioned Balconies Cave. Located near the West Entrance, the trail is relatively flat and easy to hike for the average visitor.
The highlight is the beautiful views within the cave, so make sure you have a flashlight or headlamp with you. This cave is sometimes closed for various reasons, so be sure to check if it is open before heading out.
Condor Gulch Trail
Trail Length: 1.7 miles one-way
Trail Difficulty: Moderate to overlook, strenuous beyond
Starting Point: Bear Gulch
This is another one of the most popular routes inside Pinnacles, and at just under 3.5 miles, you should be able to complete the hike relatively quickly.
The highlight of this hike is the chance to see Condors soaring high above the Pinnacles, but even if you don't happen to see any birds in flight, the views from the high peaks along the trail are impressive all by themselves.
How to beat the crowds in Pinnacles National Park?
Although there has been an uptick in visitors since Pinnacles was dubbed a national park, it is still wildly underrated and, therefore, never overly crowded.
If you're looking for some true solitude, try to visit this park in the shoulder seasons - winter and fall. Spring is by far the busiest season, as this is when temperatures are just right and the wildflowers are in bloom.
You should also avoid holiday weekends and stick to the weekdays if you want to avoid the crowds.
Where to stay when visiting Pinnacles National Park
There are new tent cabins available within the campground for lodging.
Some of the tent cabins have electricity while others do not. There is a small price difference between the two types of cabins.
Rates - $109 to $119 a night
Lodging options near Pinnacles NP include:
San Benito RV & Camping Resort - Along with an outdoor pool, this cabin has a restaurant and laundry facilities. Free Wi-Fi in public areas and free self parking are also provided. Other amenities include an arcade/game room, a library, and a convenience store. All 50 cabins provide conveniences like kitchens and coffee makers, plus Wi-Fi and TVs with satellite channels.
Quality Inn Near Fort Hunter Liggett - free breakfast buffet and more. Guests can connect to free in-room Wi-Fi.
Motel 6 King City - look forward to a terrace, laundry facilities, and a snack bar/deli. Stay connected with free in-room Wi-Fi.
Ridgemark Golf Club & Resort - look forward to 18 holes of golf, a garden, and a bar at Ridgemark Golf Club & Resort. Get out on the links at this resort and enjoy amenities such as a driving range. The onsite restaurant, Public House Restaurant, features American cuisine. Stay connected with free in-room Wi-Fi.
Click on the map below to see additional vacation rental and lodging options near the park
National Park Camping
There is only one campground inside of Pinnacles National Park. The campground is located on the eastern side of the park near the entrance. Sites are available for both RVs and tents.
Check out our Pinnacles Campground Guide for site photos and information on camping in Pinnacles.
For a fun adventure check out Escape Campervans. These campervans have built in beds, kitchen area with refrigerators, and more. You can have them fully set up with kitchen supplies, bedding, and other fun extras. They are painted with epic designs you can't miss!
Escape Campervans has offices in Vancouver, Seattle, Portland, San Francisco, Las Vegas, Los Angeles, Phoenix, Salt Lake City, Denver, Chicago, New York, and Orlando
Additional Resources
Hiking Pinnacles National Park: A Guide to the Park's Greatest Hiking Adventures
Best Easy Day Hikes Pinnacles National Park
Pinnacles National Park California Vintage Distressed Retro T-Shirt
Pinnacles National Park, California, WPA Formations and Condor - 9x12 Wall Art Poster
Pinnacles National Monument Trails Map
Parks near National Park
Cesar Chavez National Memorial
Eugene O'Neill National Historic Site
Rosie the Riveter National Historical Park
Devils Postpile National Monument
Check out all of the California National Parks along with neighboring Arizona National Parks, Oregon National Parks, and National Parks in Nevada
National Park Service Website