Epic guide to Cesar E. Chavez National Monument in California including history, things to see and do, how to get to the park, and so much more.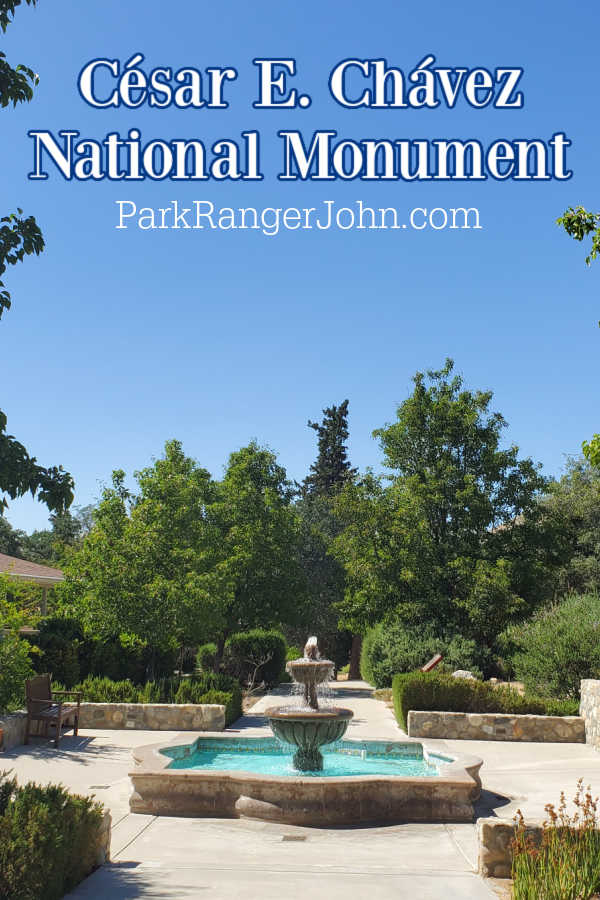 Cesar E. Chavez National Monument
The César E. Chávez National Monument was created in 2012 by President Barack Obama. The monument was created to honor Cesar Chavez and the the historic work during the farm worker movement, labor movement, and by the Chavez Foundation.
On the same day that President Obama created César E. Chávez National Monument, Secretary of the Interior Ken Salazar announced the designation of the Nuestra Señora Reina de la La Paz site as a national historic landmark.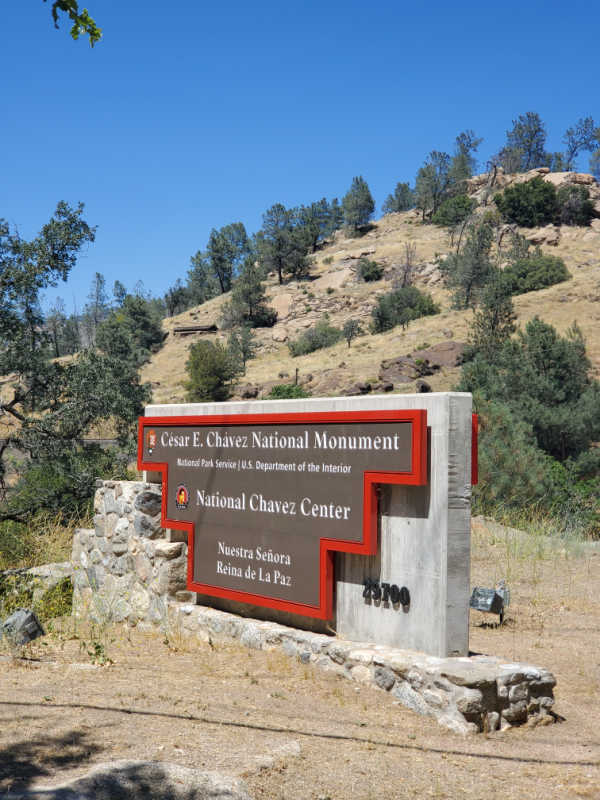 About Cesar E. Chavez National Monument
"When the man who feeds the world by toiling in the fields is himself deprived of the basic rights of feeding, sheltering, and caring for his own family, the whole community of man is sick." ~César E. Chávez
Cesar Chavez became the leading figure for the fight for better pay and safer working conditions for agricultural workers starting in the 1960s.
These political efforts led to the formation of a labor union that would eventually become the United Farm Workers of America.
Mr. Chavez also worked to create legislation that gave agricultural workers the right to organize and negotiate for better conditions in the farm fields and pension benefits.
Is Cesar E. Chavez National Monument worth visiting?
Yes! The park amazed us and we hope that more people visit to learn about the work that Cesar Chavez did that continues to impact lives today.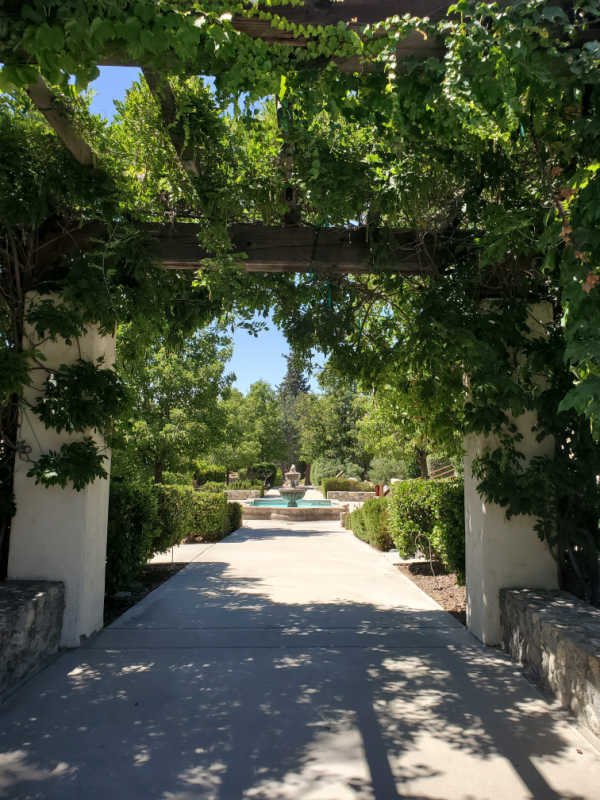 History of Cesar E. Chavez National Monument
César Chávez National Monument is located in Keene, California. It is a 116-acre National Monument about 35 miles southeast of Bakersfield, California.
This property was the main office of the United Farms Workers (UFW) and was the home of activist César Chávez from the 1970s until his death in 1993.
Césario Estrada Chávez was born in 1927 in Yuma, Arizona. His Mexican grandfather, Césario, whom César was named after, had crossed over into Texas in 1898 with his wife and eight children. He bought a farm in Yuma and established a successful wood hauling company in the early 1900s.
César was raised in the same area with six brothers and sisters. He was raised Roman Catholic and had a comfortable, loving childhood in a typical extended Mexican family.
In 1944, Chávez joined the United States Navy and once honorably discharged, became an agricultural laborer and joined the National Farm Labor Union in 1947.
Chávez married Helen Fabela in 1948 and they eventually had eight children together.
The couple soon moved to San Jose, California where Chávez became friends with two social justice activists, Fred Ross and Father Donald McDonnell.
Chávez helped Ross create community service groups and helped Father McDonnell establish the Our Lady of Guadalupe Church.
In turn, Father McDonnell invigorated Chávez to become passionate about books. He loved reading about non-violent activists such as St. Francis of Assisi and Mahatma Gandhi, men whose lives greatly spoke to Chávez.
In 1962, Chávez founded the National Farm Workers Association and in 1972, this group joined with another to form the United Farm Workers.
Chávez fought the grape growers for years to champion for fairer compensation and better work conditions.
In 1965, he organized a nationwide boycott of California grapes. He even led a 340-mile march from Delano to Sacramento in 1966.
In 1968, he undertook a 25-day hunger strike which was highly publicized around the country. In 1970, the boycott finally ended when grape workers were granted higher pay and the right to unionize.
Chávez spent the rest of his life working for what he called "la causa" (the cause).
He was passionate about helping struggling farm laborers and securing improved working and living conditions by peaceful protests and negotiating with employers.
During the 1970s, Chávez continued his efforts, mainly in Arizona and California, to fight for worker's rights.
In the 1980s, Chávez focused on the issue of pesticide dangers for agricultural workers and their children. It was in 1988 that he went on his third hunger strike, lasting 36 days.
It is believed that the hunger strikes at this age contributed to his failing health and in 1993, at the age of 66, Chávez passed away in his sleep.
Many considered him a champion activist throughout his life including Robert Kennedy and Jesse Jackson.
A year after Chávez's death, President Bill Clinton awarded him the posthumous President Medal of Freedom. When Barack Obama campaigned for President he used the famous Chávez slogan: Si, se puede or "Yes we can!"
It was during Obama's presidency in 2012 that the César Chávez National Monument was established. Funding for the establishment was given by the National Park Service and also the American Latino Heritage Fund.
The National Monument encompasses the headquarters for the United Farm Workers, the home where Chávez lived for nearly 20 years, and also the gravesites of Chávez and his wife Helen.
Known by the Chávez family as Nuestra Señora Reina de la Paz, or "La Paz," certain areas of the monument are not accessible because family members still reside there.
The history of the area itself is long and historic. Before it was home to Chávez and the UFW, it included subsistence activities for native peoples, a quarry, and also a California State Hospital that specialized in tuberculosis.
Chávez traveled continually during his fight for civil rights, but it was known that the land of La Paz and being with his family always gave him renewed strength. He enjoyed walking the mountainsides, praying, meditating, attending Mass, and gardening.
During the 1970s, all of the UFW's administration staff moved on to the La Paz property.
Other organizations eventually opened offices at La Paz also including the NFWSC (National Farm Workers Service Center), a union newspaper, a training school for labor contract negotiators, and even a radio station.
The entire spectrum of groups which achieved many accomplishments in the space of civil rights is evident at La Paz.
To its most famous activist, the profound effect this "retreat" property had greatly supported his life and passionate fight for civil rights.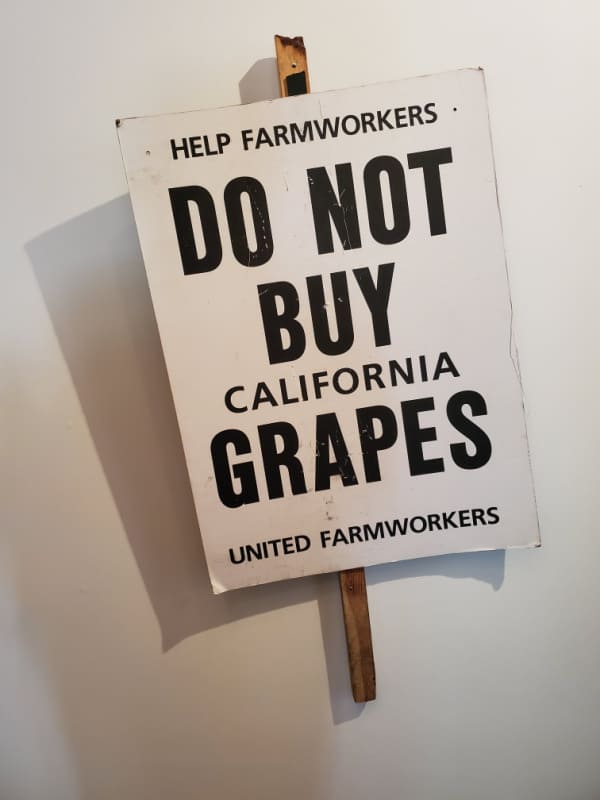 Things to know before your visit to Cesar E. Chavez National Monument
Entrance fee
$0.00 - There is no entrance fee to visit the park.
Learn more about National Park Passes for parks that have an entrance fee.
Free Entrance Days -Mark your calendars with the five free entrance days the National Park Service offers annually.
Time Zone
Pacific Time
Pets
Pets are permitted on paved surfaces, including footpaths, parking lots, and roads.
Cell Service
Cellular access is available through Verizon and AT&T.
Park Hours
Open daily from 10:00 am to 4:00 pm
Closed on Easter Sunday, Thanksgiving Day and the Friday after, Christmas Eve and Christmas Day, and New Year's Eve and New Year's Day
Wi-Fi
Free WiFi is offered at the park's visitor center by the National Chavez Center.
Insect Repellent
Insect repellent is always a great idea when outdoors, especially if you are around any body of water.
We use Permethrin Spray on our clothes before our park trips.
Water Bottle
Make sure to bring your own water bottle and plenty of water with you. Plastic water bottles are not sold in the park.
Parking
There is a nice parking area near the visitor center.
Food/Restaurants
There are no restaurants within the park.
Gas
There are no gas stations within the park.
Drones
Drones are not permitted within National Park Sites.
National Park Passport Stamps
National Park Passport stamps can be found in the visitor center.
Make sure to bring your National Park Passport Book with you or we like to pack these circle stickers so we don't have to bring our entire book with us.
Cesar Chavez NM is part of the 2014 Passport Stamp Set.
Electric Vehicle Charging
There is at least 1 EV Charging Station in Keene, California.
Details about Cesar E. Chavez National Monument
Size - 116 acres
Check out how the park compares to other National Parks by Size.
Date Established
October 8, 2012 - Established by President Barack Obama
Visitation
In 2021, Cesar Chavez NM had 9,164 park visitors.
In 2020, Cesar Chavez NM had 5,668 park visitors.
In 2019, Cesar Chavez NM had 16,490 park visitors.
Learn more about the most visited and least visited National Parks in the US
National Park Address
29700 Woodford-Tehachapi Road, Keene, CA 93531
National Park Map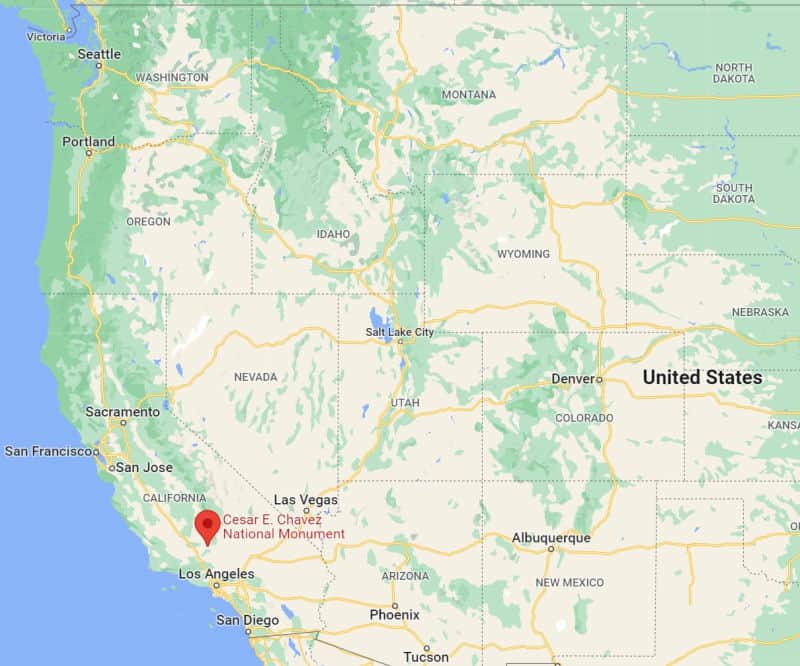 Where is Cesar E. Chavez National Monument?
Cesar Chavez NM is located north of Los Angeles in Keene, California.
Estimated distance from major cities nearby
Bakersfield, CA - 30 miles
Glendale, CA - 121 miles
Los Angeles, CA - 124 miles
Long Beach, CA - 150 miles
Anaheim, CA - 150 miles
San Bernadino, CA - 133 miles
Riverside, CA - 143 mile
Santa Ana, CA - 158 miles
San Diego, CA - 244 miles
Estimated Distance from nearby National Park
Pinnacles National Park - 201 miles
Yosemite National Park - 235 miles
Channel Island National Park - 124 miles
Joshua Tree National Park - 188 miles
Sequoia National Park - 125 miles
Kings Canyon National Park - 163 miles
Where is the National Park Visitor Center?
The visitor center is located near the parking area.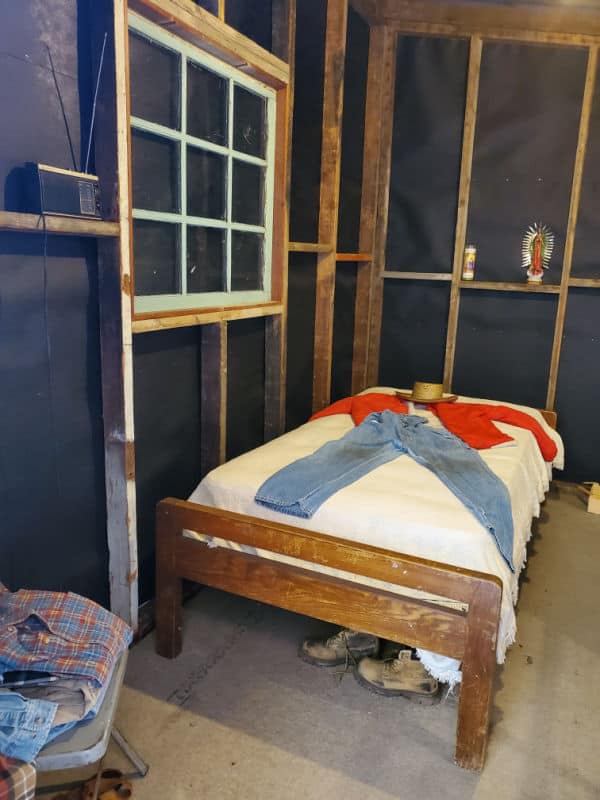 Getting to Cesar E. Chavez National Monument
Closest Airports
Meadows Field (BFL)
International Airports
Los Angeles International Airport (LAX)
Fresno Yosemite International Airport (FAT)
LA/Ontario International Airport (ONT)
John Wayne Airport (SNA)
Driving Directions
The monument is located near the town of Keene, California, on Highway 58. Take exit 138 toward Keene, then turn right on Woodford-Tehachapi Road. César E. Chávez National Monument will be on your left.
Best time to visit Cesar E. Chavez National Monument
The best time to visit the park is honestly any time you can get there. Summers will be hot but this park is worth visiting no matter what the weather is.
Weather and Seasons
The park experiences hot summers and cold winters.
The hottest weather is from June 8th to September 20th with the average daily temperatures above 91 degrees.
The coldest weather is from November 19th to February 23rd with an average daily temperature below 66 degrees.
The rainiest weather is from October 25th to April 22nd.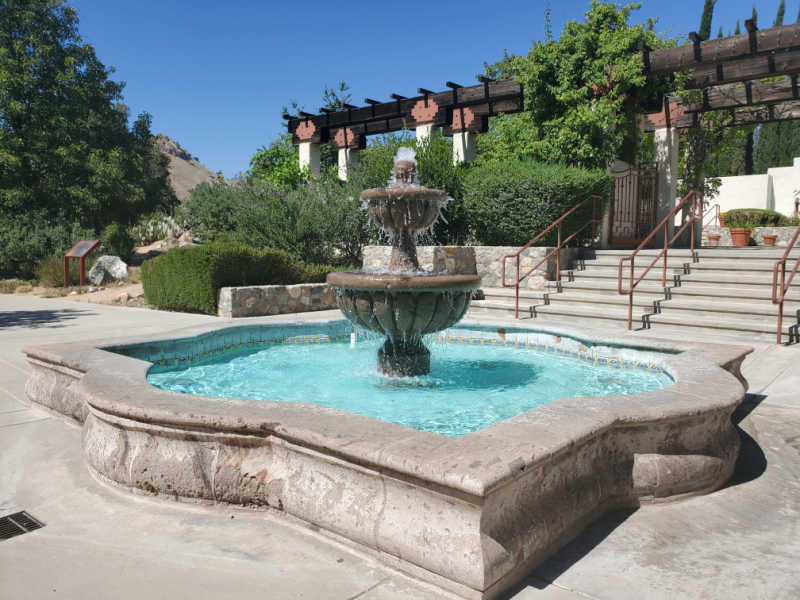 Best Things to do in Cesar E. Chavez National Monument
We suggest planning at least a few hours for visiting the park.
Visitor Center
The Visitor Center contains César Chávez's office (which still houses original furnishings and artifacts), César's office remains as it was when he was active at La Paz from 1970 to 1988.
Park Film
There is a 12-minute video available in the visitor center that talks about why the national monument was built at La Paz and the work that was done on the land.
The Junior Ranger program can be completed while visiting the visitor center. The activities that need to be completed are based on the age of the participant.
Migrant Workers House
Don't miss the replica of a Migrant Worker home. This replica gives you an idea of what life was like for farmworkers in California. This home showcases the horrible conditions workers lived in during the 1960s.
Cesar Chavez Office
César's office remains as it was when he was active at La Paz from 1970 to 1988. The administrative building that housed the office had deteriorated to such a degree that it could not be saved.
Experts from the Smithsonian Institution cataloged each object and its precise location before the building was demolished
The walls were left in place when the building was demolished. Upon completion of the new building, each object was returned to its previous spot, and a window was installed to allow visitors to view the office and its contents.
You can listen to Cesar Chavez's granddaughter talk about the lessons she learned from her grandfather in both Spanish and English.
Memorial Garden
The Chávez Memorial Garden contains the gravesite of César Chávez and his wife Helen along with their two dogs.
There is a beautiful fountain along with a rose garden with roses named after Mr. Chavez.
Desert Garden
There is a great desert garden with a pathway through it filled with plants native to Arizona where Cesar Chavez grew up.
How to beat the crowds in Cesar E. Chavez National Monument?
We did not see another visitor during our time in the park. Our best suggestion for beating the crowds at any National Park Site is to visit mid-week.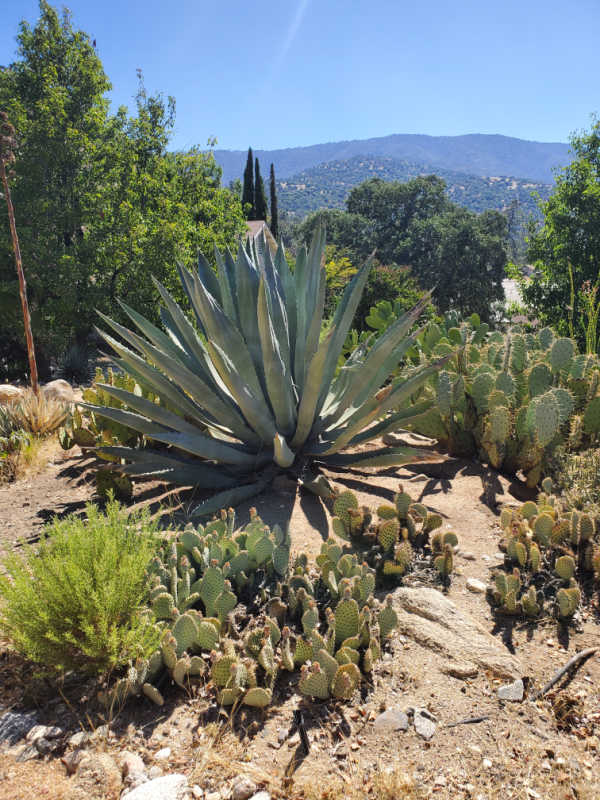 Where to stay when visiting Cesar Chavez National Monument
There are no National Park Lodges within the park.
Nearby lodging can be found in Bakersfield, California and surrounding communities.
There are vacation rentals available in Keene and Tehachapi, California.
Click on the map below to see current rates for vacation rentals and hotels near the park.


Camping
There are no National Park Campgrounds within Cesar E. Chavez National Monument.
There are campgrounds nearby in Bakersfield and Acton, California. Here are a few of the campgrounds near the park.
Orange Grove RV Park - Bakersfield, CA
This campground offers RV Sites, a pool, dog park, and cable tv.
Los Angeles RV Resort - Acton, CA
This campground offers lodging, RV and Tent Sites, a pool, and more.
Nelson Falls RV Park - Springville, CA
This campground offers lodging and RV sites, hiking, and more.
Check out additional campgrounds in the area on CampSpot.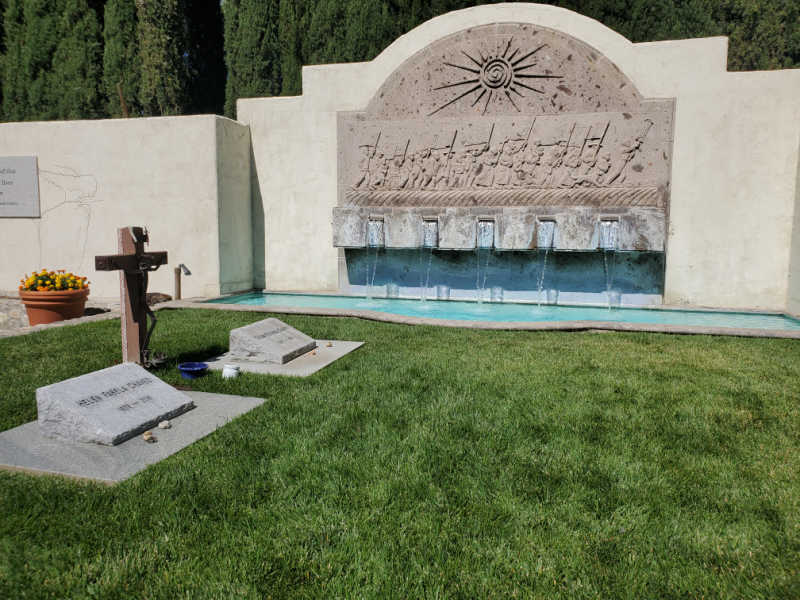 Additional Resources
Who Was Cesar Chavez? Paperback
Who Was the Voice of the People?: Cesar Chavez: A Who HQ Graphic Novel
Cesar Chavez (On My Own Biography)
The Crusades of Cesar Chavez: A Biography
Harvesting Hope: The Story of Cesar Chavez
Cesar Chavez: Autobiography of La Causa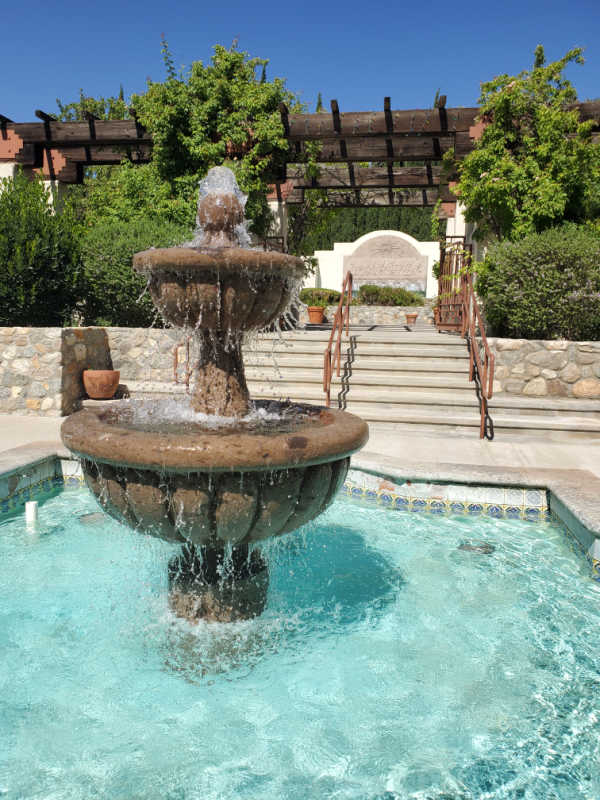 Parks Near Cesar E. Chavez National Monument
Santa Monica National Recreation Area
Tule Springs Fossil Beds National Monument
Castle Mountains National Monument
Lake Mead National Recreation Area
Check out all of the National Parks in California along with neighboring National Parks in Arizona, Nevada National Parks, and National Parks in Oregon.