Cabrillo National Monument is located near San Diego, California. In 1542, Juan Rodriguez Cabrillo stepped into history as the first European to set foot on what is now the West Coast of the United States.
Cabrillo NM tells the story of 16th-century exploration along with providing cultural and natural resources for guests to explore.

Cabrillo National Monument
Cabrillo NM offers guests amazing opportunities to explore the park including viewing tide pools, epic views of San Diego and San Diego Bay, gray whale watching, and so much more.
Cabrillo National Monument was established on October 14, 1913 to commemorate the September 28, 1542 landing of Juan Rodriguez Cabrillo. This landing was the first European Expedition to make landfall on the west coast of what would become the United States.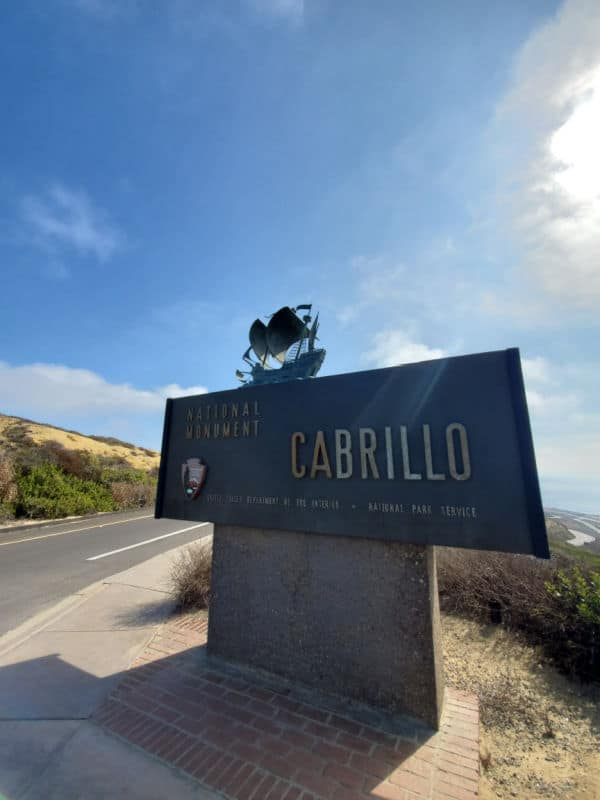 About Cabrillo National Monument
Cabrillo National Monument is located in the Southwestern United States on a peninsula that protects the bay coming into San Diego California.
The Peninsula is shared between the US Military and the National Park Service. This site was dedicated to commemorating and telling the story of 16th century exploration and the first European explorer, Juan Rodriguez Cabrillo, who first stepped foot onto California in 1542.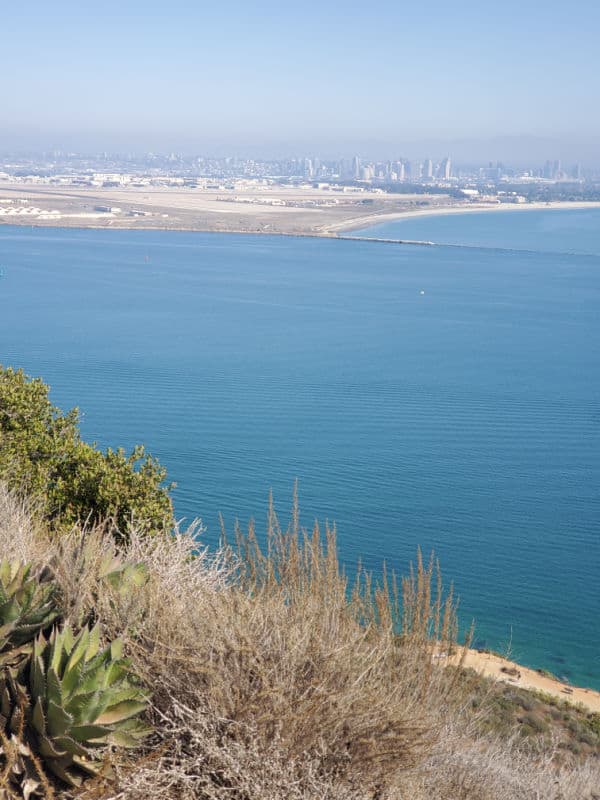 Is Cabrillo National Monument worth visiting?
Cabrillo is a great park to visit! You can see whales in the spring, has amazing tidepools, a lighthouse, some nice trails, and an epic view of San Diego and the Pacific Ocean!
History of Cabrillo National Monument
Cabrillo National Monument is located at the southern tip of the Point Loma Peninsula in San Diego, California.
Not much is known about Juan Rodriguez Cabrillo's early life. It is believed he was born around 1475. It has been debated whether he was of Portuguese or Spanish descent. It is believed he was a soldier in the Portuguese army and served the Spanish empire.
As Cabrillo grew into a young man, he became an experienced and passionate seaman. In 1502 he sailed with an impressive expedition to begin colonizing the island of Cuba. Cabrillo eventually settled in Guatemala.
During the 1530s, Spain wished to expand its empire to the north. Christopher Columbus had believed that North America was India, but Spain knew better. Although, they had no idea of the actual size of the land.
Cabrillo was hired by the Viceroy of New Spain to explore the west coast. Since Cabrillo had built and owned his own ship for the expedition, any trade or treasure made during the trip was technically his to keep.
For nearly 50 years before 1542, many explorers had tried to do what Cabrillo finally did – discovered the western coast of America, more specifically, California. It could be argued, however, that his success became possible with his knowledge of the mistakes of the explorers who tried before him.
It is believed that Cabrillo left from Navidad, a Mexican port, sometime in June 1542. Cabrillo sailed his ship, the San Salvador, and two other ships in the expedition – the La Victoria and the San Miguel.
According to journals from the expedition, it is suggested that the fleet of ships docked at a harbor just past San Diego at Point Loma. It was written that the Indigenous people feared the visitors and eventually a deadly incident ensued between the men from the expedition and a few native Indians, in which the Indians were killed.
Cabrillo visited islands that included Santa Cruz, Catalina, and San Clemente. Along the way Cabrillo and his expedition discovered small villages of indigenous people along the coasts and took note of their populations.
The expedition moved rather slowly at this point and in November they came upon land which they named "Cabo de Pinos" (today Point Reyes). As the expedition was moving deeper into the autumn months, weather forced them to turn back and travel south.
They sailed along Monterey Bay, calling it "Behia de los Pinos." They eventually made it back to San Miguel to settle for the winter season.
Sometime around Christmas, the Spaniards were attacked by a group of Indigenous Tongva warriors. During this attack, Cabrillo fell on jagged rocks and broke his leg.
This injury eventually became infected and Cabrillo developed gangrene. He died a few days into the new year of 1543. History is not certain, but suspects he was buried on Catalina Island.
After his death, the expedition set sail once again between February and April of that year and it is believed they traveled as far as Oregon.
Cabrillo did not make valuable trades or find riches as he had hoped, but the expedition he lead did discovery new land for Spain to claim. This land would be colonized and settled nearly 200 years later.
The credit for the discovery of California is given to Cabrillo and his expedition. The actual monument at Point Loma commemorates Cabrillo's arrival at the port in September 1542.
The location was established as a national monument on October 14, 1913. A large statue of Cabrillo stands and the views of the city, harbor, and ocean are impressive.
During the winter is has become known as an ideal spot to witness the migration of the grey whales on their trip from the Arctic to Mexico. An annual festival is held each year which reenacts Cabrillo's landing at the harbor.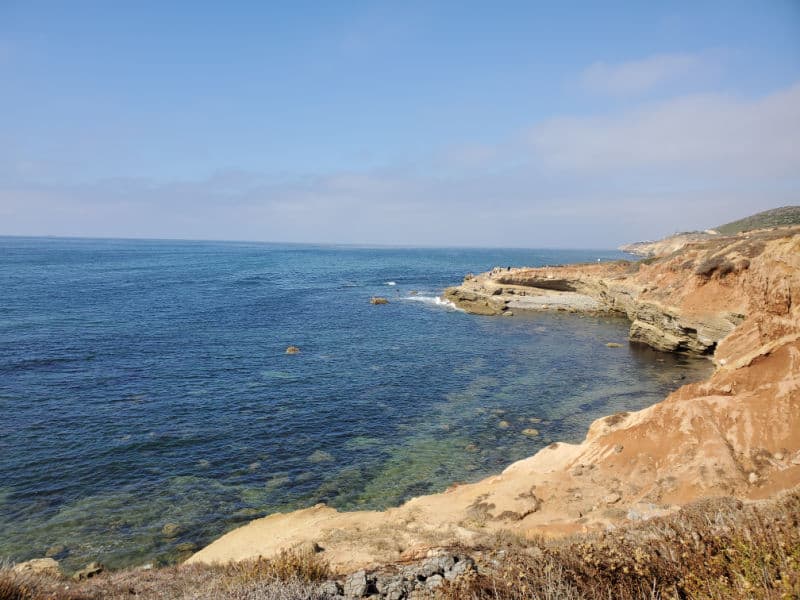 Things to know before your visit to Cabrillo National Monument
Entrance fee
$20 for non-commercial vehicles.
$15 for motorcycles
$10 for bicycles and walkers.
$35 for a Cabrillo Annual Pass
Planning a National Park vacation? America the Beautiful/National Park Pass covers entrance fees for an entire year to all US National Park Sites and over 2,000 Federal Recreation Fee Sites.
The park pass covers everyone in the car for per vehicle sites and for up to 4 adults for per-person sites.
Buy on REI.com and REI will donate 10% of pass proceeds to the National Forest Foundation, National Park Foundation and the U.S. Endowment for Forestry & Communities.
Learn more about National Park Passes for parks that have an entrance fee.
Free Entrance Days -Mark your calendars with the five free entrance days the National Park Service offers annually.
Time Zone
PST - Pacific Standard Time
Pets
Pets are only allowed in the tidepool area of the park. They must be on a leash less than 6 feet long.
Cell Service
There is cellular service in the upper part of the Park and along the Bayside Trail. However, there is no cellular service or Wi-Fi in the tidepool area.
Park Hours
The park is open from 9 am until 5 pm. The tidepools close at 4:30 pm.
Cabrillo NM is open every day of the year, from 9:00 AM to 5:00 PM. They do not close for holidays.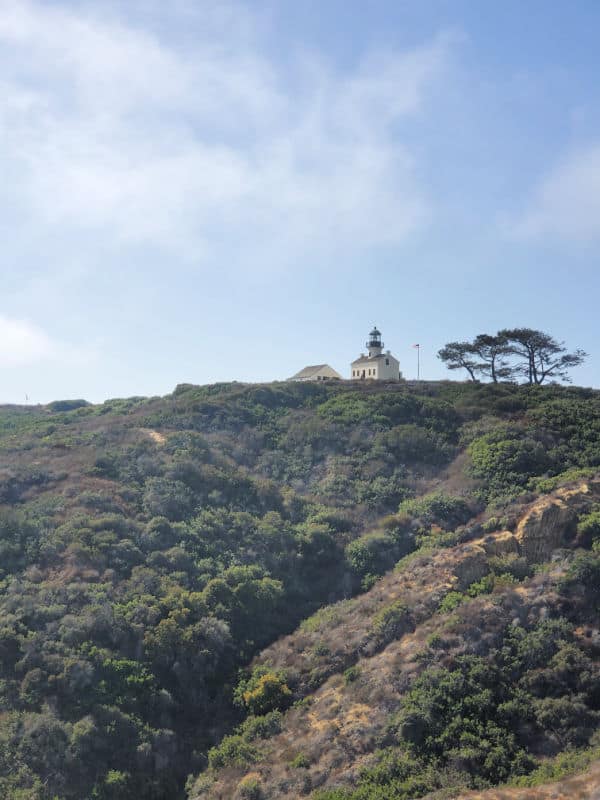 Wi-Fi
There is free Wi-Fi available in the Visitor Center area.
Insect Repellent
Insect repellent is always a great idea when outdoors, especially if you are around any body of water.
We use Permethrin Spray on our clothes before our park trips.
Water Bottle
Make sure to bring your own water bottle and plenty of water with you. Plastic water bottles are not sold in the park.
Parking
There is a large parking area near the visitor center. Smaller parking areas are available at the tidepools
Smoking
Cabrillo National Monument is a smoke-free park. Smoking is not permitted anywhere on the park grounds, including the tidepools, trails, and parking lots. Smoking is also prohibited in all buildings.
Food/Restaurants
There are no restaurants located within the park. There are tons of San Diego restaurants nearby.
We enjoyed an In n Out Burger for lunch since we were in Southern California.
Gas
There are no gas stations within the park.
Drones
Drones are not permitted within National Park Sites.
National Park Passport Stamps
National Park Passport stamps can be found in the visitor center.
Make sure to bring your National Park Passport Book with you or we like to pack these circle stickers so we don't have to bring our entire book with us.
Cabrillo NM is part of the 1992 Passport Stamp Set
Electric Vehicle Charging
The City of San Diego has 57 electric vehicle charging stations (68 ports) at 15 locations to make charging more convenient for EV drivers.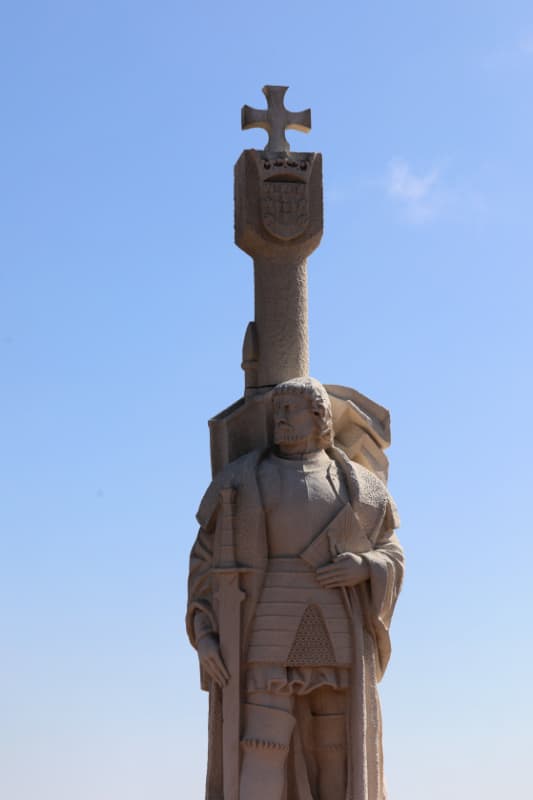 Details about Cabrillo National Monument
Size - 144 acres
Check out how the park compares to other National Parks by Size.
Date Established
October 14, 1913
Visitation
In 2021, Cabrillo NM had 683,613 park visitors.
In 2020, Cabrillo NM had 523,878 park visitors.
In 2019, Cabrillo NM had 761,485 park visitors.
Learn more about the most visited and least visited National Parks in the US
National Park Address
1800 Cabrillo Memorial Drive, San Diego, CA 92106
Cabrillo National Monument Map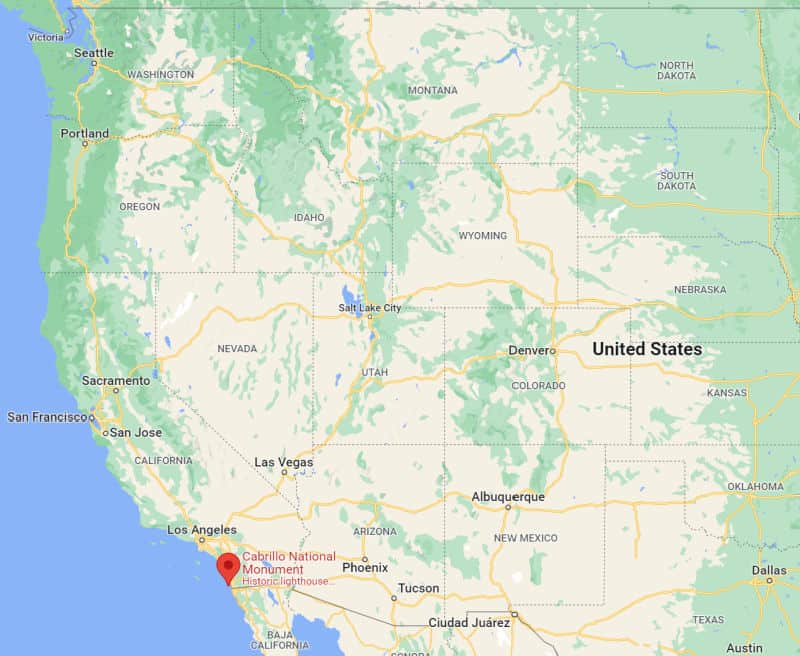 Where is Cabrillo National Monument?
Cabrillo NM is located near San Diego, California on the Pacific Coast.
Estimated distance from major cities nearby
San Diego, CA - 6 miles
Los Angeles, CA - 121 miles
Tijuana, Mexico - 24 miles
Anaheim, CA - 96 miles
Long Beach, CA - 107 Miles
Estimated Distance from nearby National Park
Joshua Tree National Park - 167 miles
Death Valley National Park - 290 miles
Channel Islands National Park - 193 miles to the visitor center
Sequoia National Park - 328 miles
Kings Canyon National Park - 368 miles
Saguaro National Park - 411 miles
Grand Canyon National Park - 563 miles
Where is the Visitor Center?
Cabrillo National Monument Visitor Center Address
1800 Cabrillo Memorial Drive
San Diego , CA 92106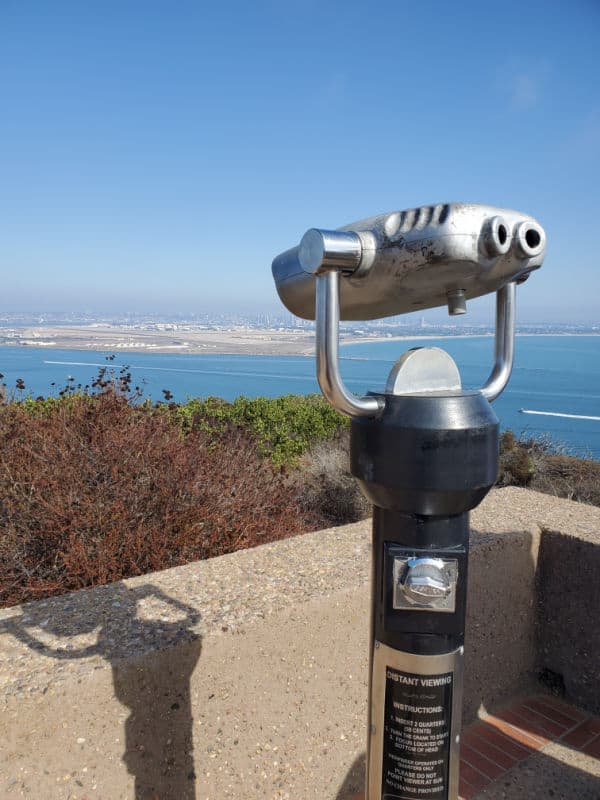 Getting to Cabrillo National Monument
Closest Airports
San Diego International Airport - 6 miles
International Airports
Tijuana International Airport (TIJ) Mexico - 37 miles
Los Angeles International Airport (LAX) - 128 miles
Palm Springs International Airport (PSP) - 149 miles
Regional Airports
John Wayne Airport (SNA) - 90 miles
McClellan-Palomar Airport (CLD) - 37 miles
Driving Directions
From downtown San Diego - Take Harbor Drive past the airport, Turn left onto Rosecrans Street. Turn right onto Canon Street then turn left onto Catalina Blvd. (also known as Cabrillo Memorial Drive) Follow Catalina Blvd. all the way to the end
Please be aware that the monument is surrounded by Navy property, and access to those areas is strictly limited.
Public Transportation
San Diego Metropolitan Transit System (MTS) offers bus service via Route 84. The bus stop is located right at the Visitor Center complex.
Please note that the bus does not go to the tidepool area on the west side of the park. For more information on Route 84, click here to access the Metropolitan Transit System website.
Best time to visit Cabrillo National Monument
With Cabrillo National Monument lying on the Pacific Coast, it is subject to a marine layer at any time of the year but is more common in the spring.
Weather and Seasons
Unlike most places you visit in the spring, there is little chance of rain at Cabrillo National Monument. That's the bright side because visitors can expect to see the marine layer settle in plus cool, windy, and foggy conditions and temperatures rarely exceed 70 degrees.
Summer in San Diego is absolutely beautiful as the temperatures hover in the 80s.
Fall is generally very pleasant in San Diego but it is also the time the Santa Ana winds can pick up that produces hot, dry air with virtually no humidity.
Winters can be downright cold in San Diego. High humidity and temperatures in the '50s-'60s are nice on sunny days but this is the rainy season and heavy rainstorms can happen.
This is one of the best places to visit in California in spring!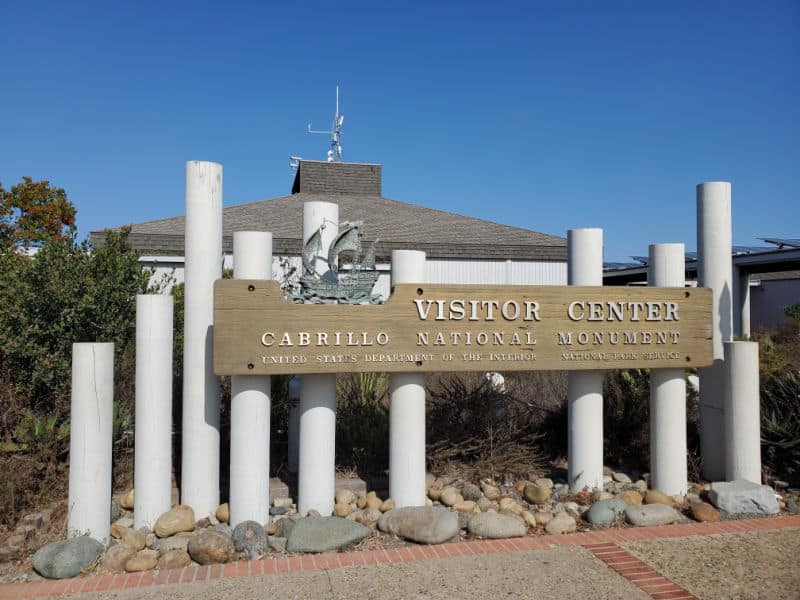 Best Things to do in Cabrillo National Monument
Visitor Center
The visitor center at Cabrillo NM is the perfect place to start your visit to the park. There is a fairly large parking lot near the visitor center complex that provides access to the visitor center and statue of Cabrillo.
The Cabrillo store is located next to the visitor center information desk and is filled with great books and other souvenirs. There are great interpretive displays that talk about the area right outside of the visitor center.
The view from the visitor center is amazing! Don't miss the interpretive panels that describe the boats you can see and the scenic view. The visitor center sits 300-400 feet above sea level offering a truly epic view of the San Diego skyline.
One cool thing to know about the visitor center is it was built as part of the National Park Service's Mission 66 Program. This program was an effort to revitalize the National Parks nationwide after WWII.
The visitor center was designed to reflect the Park Service's modern image. The visitor center showcases the "California school of landscape design".
This design took the modernist forms and ideas and adapted them to California's Mediterranean climate and tradition of utilizing outdoor space.
There is a theater located just down from the visitor center that shows a rotation of park films including In Search of Cabrillo, On the Edge of Land and Sea, and First Breath: Gray Whales.
Each of the productions rotates throughout the day to give visitors a chance to see them.
Age of Exploration exhibit room
Located next to the visitor center the Age of Exploration" exhibit room gives guests the opportunity to learn more about Juan Rodriguez Cabrillo and his voyage of discovery.
Statue of Juan Rodríguez Cabrillo
The grey sandstone statue overlooks San Diego Bay. The statue depicts Juan Rodriquez Cabrillo as he may have looked in 1542.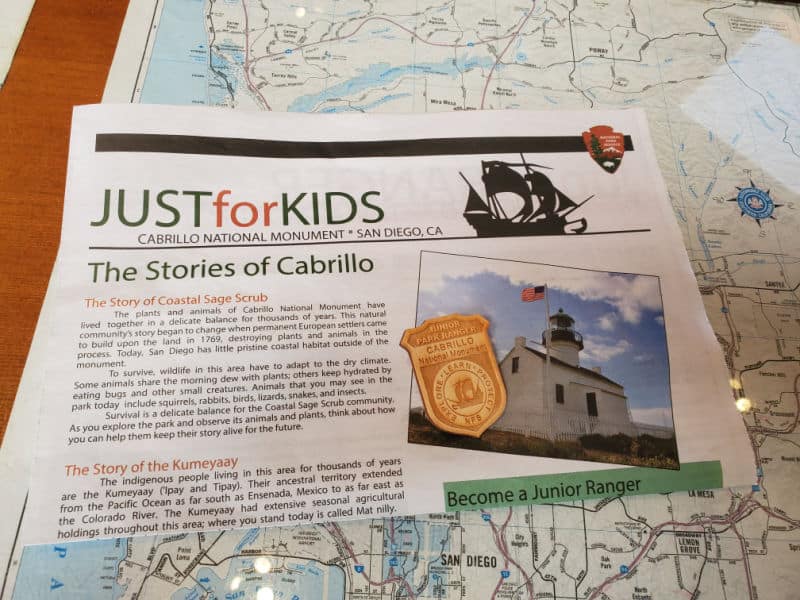 The Cabrillo NM Junior Ranger is fantastic! Make sure to pick it up right when you get to the park.
The Just for Kids paper is broken into different sections of the park. You will want to have the paper with you when you are out exploring to find all of the answers.
Tidepools
The tidepools are best viewed during the winter when the low tides are during the day.
One thing to know is the road to the tidepools may be closed periodically when tidepool parking lots are full to capacity. This happens on weekends and holidays most often.
The only access to the tidepool area is via car. There is a small parking lot and then it is a short walk/scramble down rocks to get to the tidepools.
The walk down to the tidepools can be slippery from water and algae. Make sure to plan ahead for your adventure to the tidepools. Shoes with good grip that can handle walking on rocks. Also bring a water bottle, hat, and sunscreen.
There is no cell phone service down by the tidepools. Please keep in mind that the tidepool area closes at 4:30 p.m.
Make sure to check tide charts for the best time to visit if you are planning on exploring the tide pools. You will want to give yourself time to enjoy the tide pools before the tide comes back in.
You can check the low tide times and levels by calling the park telephone at (619) 557-5450, extension "0", use this link to look at our tide charts, or searching the Web for online tide charts for the Point Loma area.
The park has a great intertidal field guide if you want to check what you may be able to see while visiting the tidepools. We were able to pick up laminated copies of the tide pool guide near the parking lot entrance to the trail.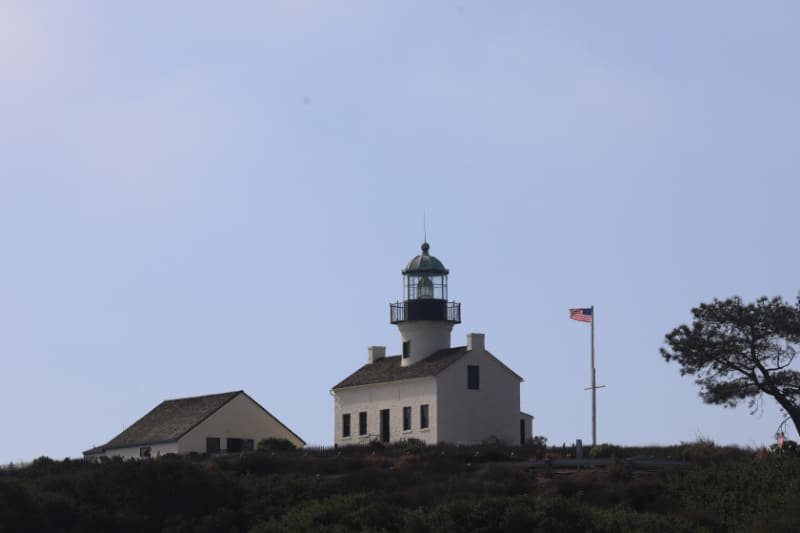 Old Point Loma Lighthouse
The Point Loma Lighthouse was built in 1855. November 15, 1855, keeper James P. Keating lit the oil lamp for the first time. The Old Point Loma Lighthouse had a Fresnel lens which was the best technology of 1855.
The Fresnel Light welcomed sailors for 36 years except on foggy nights. A dedicated keeper was on-duty 24 hours a day, seven days a week, with no vacations. On March 23, 1891, keeper Robert Israel extinguished the lamp for the last time.
Adjacent to the Old Point Loma Lighthouse make sure to visit the reconstructed assistant keeper's quarters to learn about lighthouses in the "Lighthouses of Point Loma".
Whale Overlook
Whales are often seen from here in January and February. Grey Whales migrate from the waters off of Alaska and the Bering Sea to the lagoons of Baja, Mexico. Visitors can look for the whales from the whale overlook while exploring the park.
A good pair of binoculars will help you get a great view of the whales.
You can also book a San Diego Whale Watching cruise if you want to see the whales up close.
Birdwatching
Cabrillo NM is a great park for birdwatching! The bird checklist for both the monument and Point Loma peninsula lists 346 species, with over 200 spotted at Cabrillo National Monument alone.
Check out some of the great birds you can see.
Great Blue Heron
Brown Pelican
Scrub Jay
Rufous-sided Towee
Snowy Egret
Forster's Tern
Wrentit
Western Gull
Anna's hummingbird
Click here for your own Cabrillo Birding Guide.
Wildlife Watching
There is quite a bit of wildlife within Cabrillo NM. A large part of the wildlife is nocturnal and comes out after visitors have left for the day.
California Striped Racer
Southern Pacific Rattlesnake
San Diego Gopher Snake
Great Basin Fence Lizard
Calif. Side-blotched Lizard
San Diego Alligator Lizard
Brush Rabbit
Calif. Ground Squirrel
Gray Fox
The park has a fantastic Reptile Field Guide if you want to learn more about the reptiles that inhabit the park.
Cabrillo Above the Fireworks
If you are going to be in the San Diego area for the Fourth of July check out the Cabrillo Above the Fireworks Event. Guests can see fireworks displays all over San Diego County from high above at Cabrillo.
This event is put on by the Cabrillo National Monument Foundation.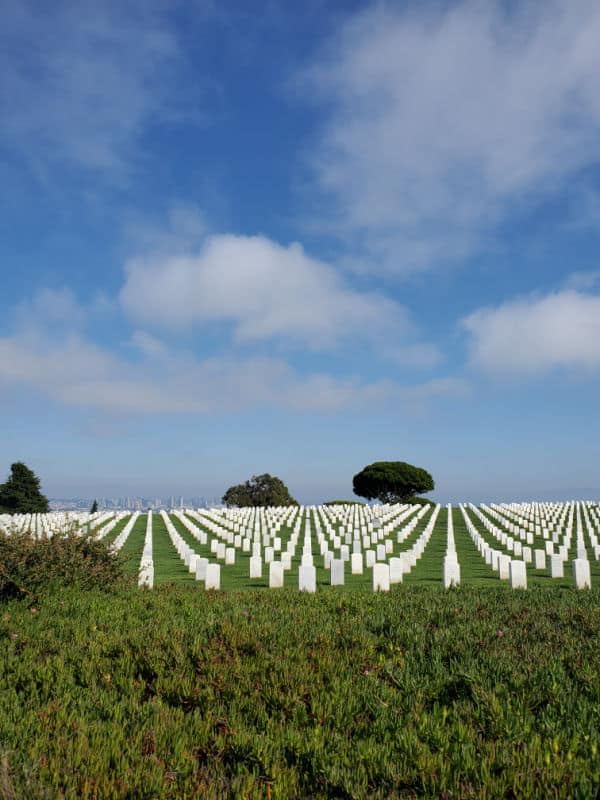 Fort Rosecrans National Cemetery
Fort Rosencrans National Cemetery is located just outside of Cabrillo NM. This military cemetery has been in use since 1882. The cemetery includes more than 100,000 graves spread over 77 acres.
Hiking in Cabrillo National Monument
Always carry the 10 essentials for outdoor survival when exploring.
Bayside Trail
The Bayside Trail is 2.5-mile roundtrip. The trail offers gorgeous views of the Pacific Ocean, Ballast Point, Downtown San Diego, and more. The trail is a combination of paved trail and gravel/dirt path.
There are interpretive panels along the trail sharing information about the flora and fauna found along the trail.
Plan 1 to 2 hours for exploring and enjoying the trail. There are no restrooms or water available along the trail so please plan accordingly.
The Bayside Trail is open daily from 9 am to 4 pm.
Coastal Trail
The Coastal Trail is a one-mile round trip hike that ranges from easy to moderate difficulty. There are a few steep slopes along the trail that can be difficult. The Coastal Trail offers amazing views of the coastline and a great opportunity to see different landscapes within the park.
This trail can be started from the entrances at Lot 1 or Lot 2 off of Gatchell Rd.
Restrooms are located at Lot 1.
How to beat the crowds in Cabrillo National Monument?
The best way to beat the crowds in Cabrillo is to arrive early, avoid weekends and holidays, especially in the spring.
Where to stay when visiting Cabrillo National Monument
There are no National Park Lodges within Cabrillo NM.
There are a ton of lodging options in San Diego, California.
Best Western Plus Island Palms Hotel & Marina - 3 miles from the park
Along with a marina, this smoke-free aparthotel has 2 outdoor pools and a restaurant. Wi-Fi in public areas is free. Additionally, a fitness center, outdoor tennis courts, and a 24-hour business center are onsite. Each apartment provides a refrigerator and a microwave, plus free Wi-Fi and an LCD TV with cable channels.
Kona Kai Resort & Spa, A Noble House Resort - 2.6 miles from the park
Noble House Resort's private sand beach, relaxing by one of the aparthotel's 2 outdoor swimming pools, or pampering yourself at the full-service spa. Each apartment offers comforts like premium bedding and a pillow menu, plus free Wi-Fi and a flat-screen TV with digital channels.
Bay Club Hotel & Marina - 3 miles from the park
Along with a marina, this aparthotel has an outdoor pool and a restaurant. Wi-Fi in public areas is free. Additionally, a fitness center, a bar/lounge, and a poolside bar are onsite. Each apartment provides a refrigerator and a coffee/tea maker, plus free Wi-Fi and an LCD TV with cable channels.
Sea Harbor Hotel - 3.5 miles from the park
Sea Harbor Hotel provides amenities like a marina and a snack bar/deli. Stay connected with free in-room Wi-Fi.
Glorietta Bay Inn Coronado Island - 3.8 miles from the park
3.5-star hotel near San Diego Convention Center. Glorietta Bay Inn Coronado Island provides amenities like dry cleaning/laundry services and a 24-hour business center. This hotel is a great place to bask in the sun with beach umbrellas and beach towels. Guests can connect to free in-room Wi-Fi.
Click on the map below to see current rates for hotel and vacation rentals near the park.


Cabrillo National Monument Camping
There are no campgrounds located within the monument.
For a fun adventure check out Escape Campervans. These campervans have built in beds, kitchen area with refrigerators, and more. You can have them fully set up with kitchen supplies, bedding, and other fun extras. They are painted with epic designs you can't miss!
Escape Campervans has offices in Vancouver, Seattle, Portland, San Francisco, Las Vegas, Los Angeles, Phoenix, Salt Lake City, Denver, Chicago, New York, and Orlando
There are campgrounds near San Diego including:
This campground offers RV sites and lodging along with a pool, dog park, and more
This campground offers RV Sites with waterfront access, a pool, fishing, and more.
Paradise by the Sea Beach RV Resort
This campground offers RV Sites along with a pool, dog park, and canoeing/kayaking.
Check out additional campgrounds in the area on Campspot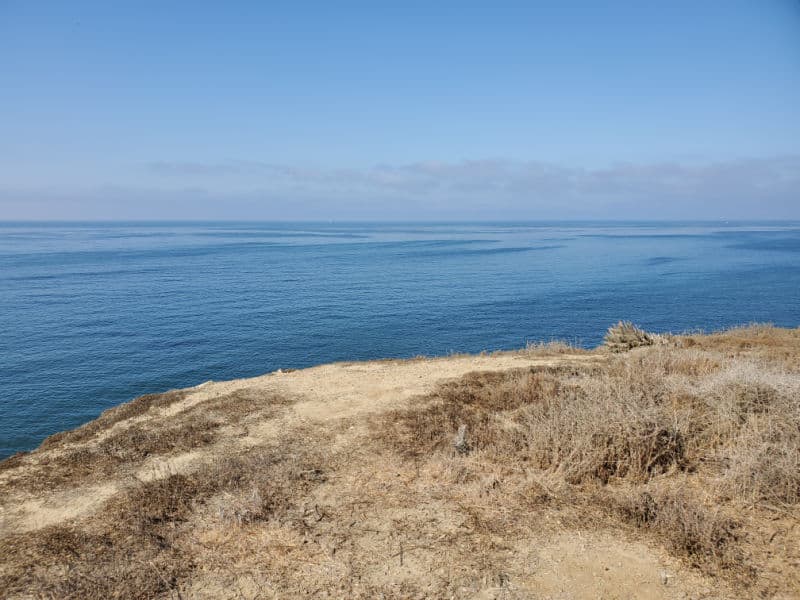 Parks Near Cabrillo National Monument
Santa Monica Mountains National Recreation Area
Cesar Chavez National Monument
Castle Mountains National Monument
Check out all of the California National Parks along with neighboring Arizona National Parks, Oregon National Parks, and National Parks in Nevada
Don't miss all of the great things to do in San Diego with Kids.