Castle Mountains National Monument was established on 2/12/2016 by President Obama. Almost 21,000 acres of the eastern Mojave desert landscape was set aside for protection in San Bernardino County filled with Joshua Tree Forests, Native American history and wildlife viewing.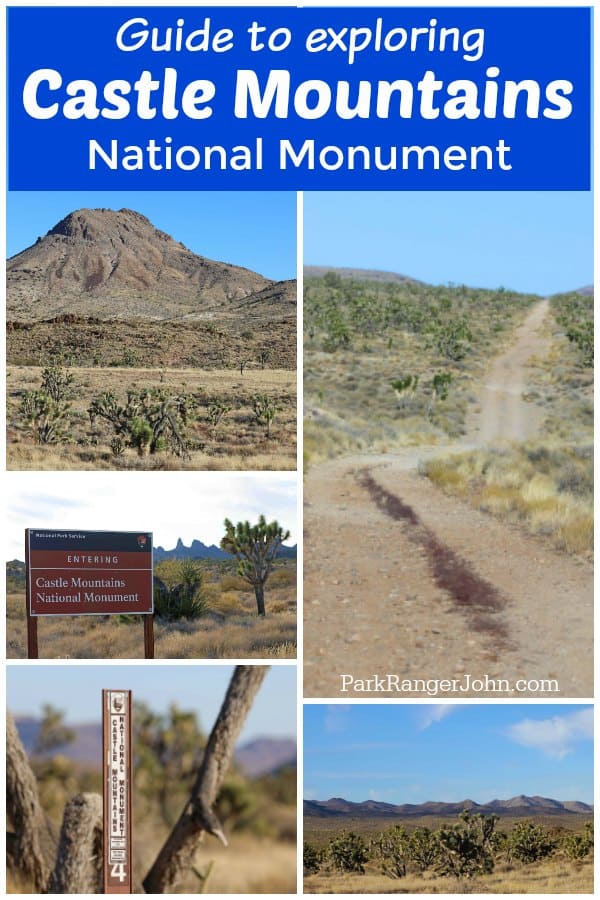 Castle Mountains National Monument
The Mojave National Preserve surrounds Castle Mountains NM on three sides. It is also the only place that you will find any visitor services including restrooms, visitor centers, brochures, and campgrounds.
During our visit to the park wildlife sightings far exceeded human sightings, in fact, we did not see another human all day!
I personally loved spending a day in this park! It was so much fun getting out and exploring where there were no crowds, no agenda, no tick marks of what we had to see or do. There was jaw-dropping scenery everywhere you looked and it was literally up to us what we wanted to see and do. This was such a refreshing way to see a park! I felt like a kid again seeing things for the first time and being out with nature.
It is easy to spend a couple of hours to a full day wandering in this isolated desert paradise. It is here that you will find solitude from the city, wildlife, stunning mountain views, and of course Joshua Trees. How you spend your time here is up to you but the one thing is for sure, you will tell all of your friends about the time you spent in this magnificent park.
How to get to Castle Mountains National Monument
The easiest way to get to the main road in the park is to take Interstate 15 to exit 286 and turn onto Nipton Road and drive to Nipton, Ca. (10 miles away). Nipton Road turns into Highway 164 when you enter Nevada. Continue until you see Walking Box Ranch Road on the right-hand side of the road. Turn onto Walking Box Ranch Road and drive until you reach the entrance sign for Castle Mountains National Monument. Now it's time to explore.
Auto Touring
There is no real infrastructure to Castle Mountains besides a few dirt roads. For this reason, auto touring is perhaps the best way to see a good portion of this park in a day. The main road is relatively easy to navigate in good weather but please remember that this is a dirt road that is seldom maintained. Any big storm can create difficult driving conditions even on the main road.
It is highly recommended that if you plan on taking any of the side roads to have a high clearance 4X4 vehicle. The road pictured above seems relatively easy to navigate but remember this was during good weather. We still ran into a couple of technical areas that could have easily got us into trouble if we were not prepared.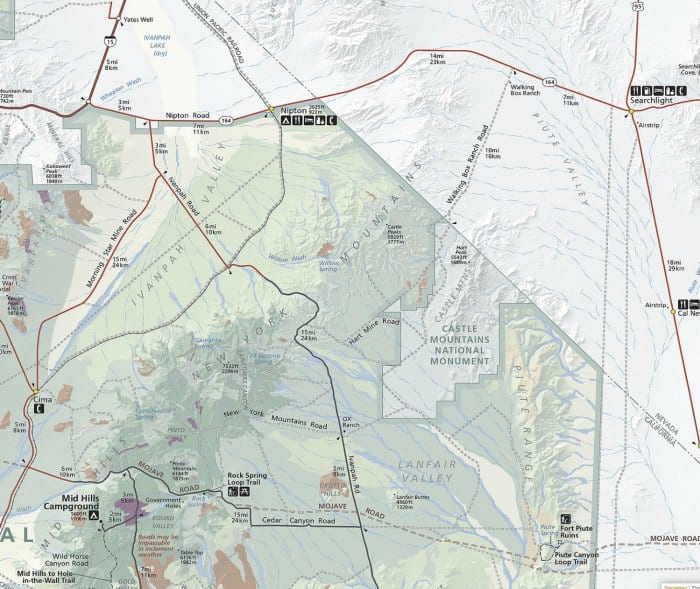 We decided to take the back way into the park. We took exit 286 off of Interstate 15 and traveled 3 miles towards Nipton, Ca. We then took a right-hand turn onto Ivanpah Road and continued for approximately 15 miles to Hart Mine Road on the left. This way we had the opportunity to see more of the Mojave Natural Preserve.
Remember this is a very remote area and cellular service is spotty. There are no services within the park so make sure to fill up with gas before heading out and make sure your vehicle is in good operational condition with a full-size spare tire and a jack. (Many rental cars have a small spare tire referred to as a"donut". This will be completely useless to you on rough roads in the middle of the desert.
Park rules state that you must stay on designated roads at all times and all vehicles into the park must be street legal. Make sure to call ahead (760) 252-6108 to check the road conditions within Castle Mountains and Mojave National Preserve as these roads wash out in bad weather.
regularly.
Wildflower Bloom
Anyone who has heard of social media in the past 5 years can tell you all about the wildflower bloom that happens in southern California in early spring. It is by no means an annual event but when you get the timing of a few storms lined up the desert fills with colors and comes alive in March-April. Plants like yucca, Joshua Trees, and other cacti start to bloom. Wildflowers like the desert paintbrush, desert five spot, and desert Mariposa lily comes to life. Those who come at the right time and on a wet year are treated to something truly spectacular!
Wildlife Viewing
I have worked numerous years in forest and desert type environments and the one thing I can say is that I always saw more wildlife in the desert. The Mojave is no exception and you can see things like bighorn sheep, mountain lions, desert tortoises, bobcats, roadrunners, Gila Monsters, jack rabbits, and golden eagles. In fact, we saw lots of wildlife on our trip.
Hiking
There are no developed trails within Castle Mountains, you will have to go to Mojave National Preserve to find developed trails into the desert. If you do decide to go for a hike, be extremely careful where you walk. The Mojave Desert can be a very unforgiving place with cacti, poisonous snakes including the Mojave Green and Africanized Honey Bees.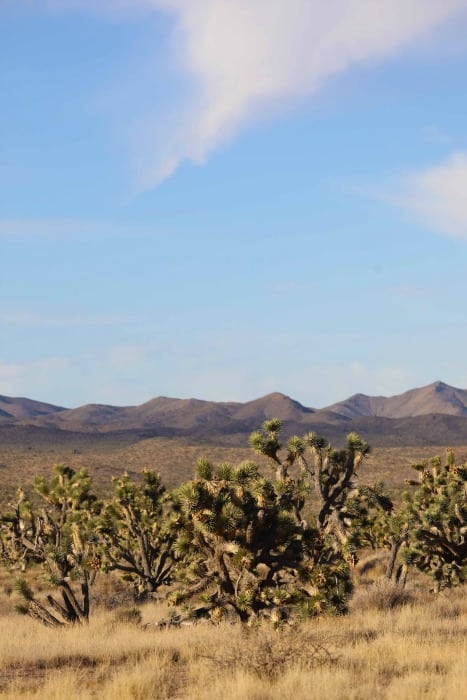 Camping Options
Backcountry camping
Backcountry camping is allowed within the monument.
Developed Campgrounds
Mid-Hills Campground (Mojave National Preserve)
Mid-Hills Campground has 26 tent sites that are first-come, first-serve. This is a high elevation campground at 5,600 feet so come prepared for cooler temperatures.
Hole-in-the-Wall Campground (Mojave National Preserve)
This is a first-come, first-served campground has 37 campsites. The busiest times are October-November and March through April. This campground is at 4300 feet elevation and is easily accessible by a paved road to the campground.
Group and equestrian campsites are available at Black Canyon
Open, two sites with up to 50 guests per site. Reservations required; call (760) 928-2572 for more information.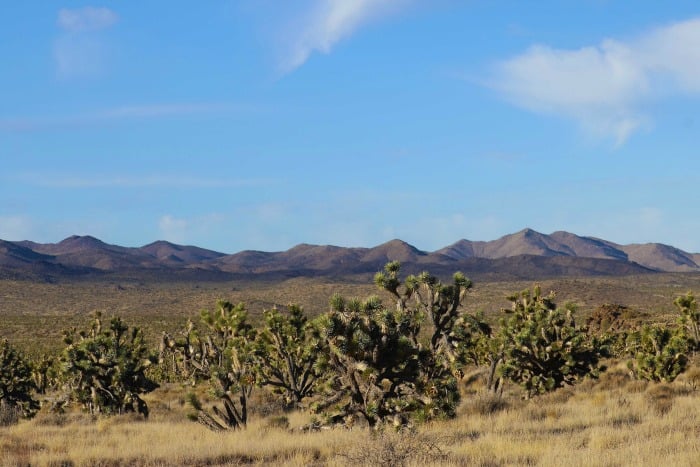 Things to know and what to Bring
There are no visitor services within the park. this means no restrooms, no visitor center, no parking lots, no garbage cans, no fuel, etc.
Come well prepared to ensure a great stay. This includes carrying the 10 essentials, carry an emergency vehicle repair kit for vehicle repairs, a full-size spare and a jack.
Carry plenty of food and water
Sun Protection: Sun Glasses, sunscreen, hat, lightweight long-sleeved shirt.
Insect repellent to deter mosquitoes and ticks.
Toilet Paper and a garbage bag.
Make sure to stop by a visitor center at the Mojave National Preserve first to get a map of the park or go online and print a park map online. I have found two different versions; the first map is from Mojave Monuments and the second map is from the National Park Service.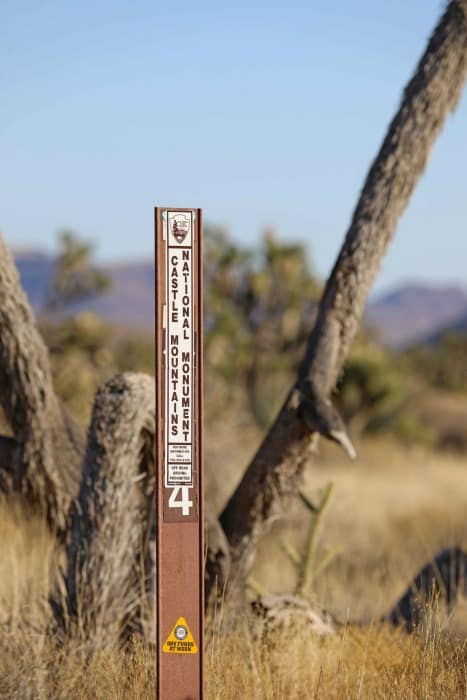 National Park Sites near Castle Mountains National Monument
Lake Mead National Recreation Area
Cesar E Chavez National Monument
Check out all the amazing National Parks in California, National Parks in Nevada, and Arizona National Parks.