Mojave National Preserve offers the opportunity to explore everything from sand dunes to Joshua Trees. This California desert park isn't one you hear of often but it is truly amazing. The Mojave Desert is located between Los Angeles and Las Vegas.
The park offers solitude and serenity away from the city.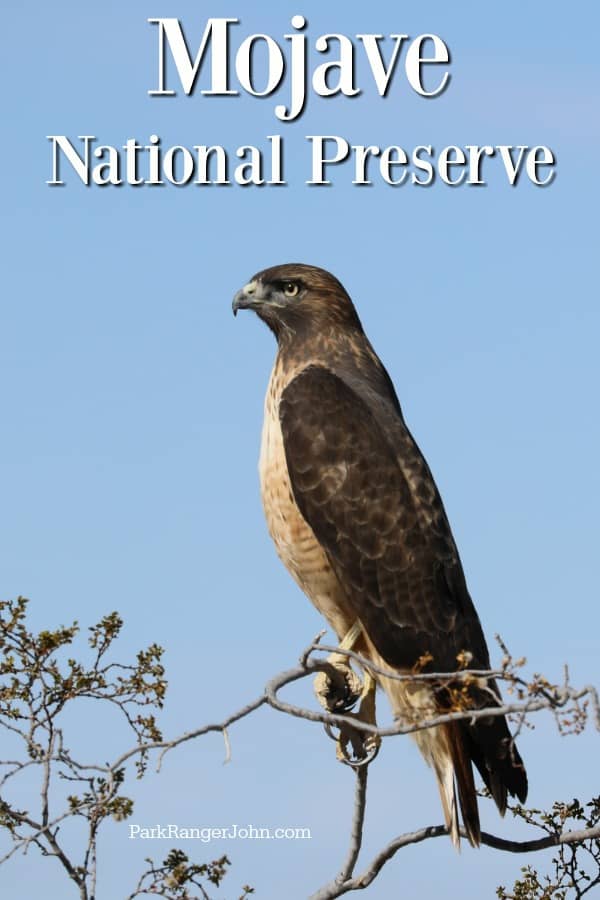 Mojave National Preserve
Mojave National Preserve is the 3rd largest National Park Service Site in the lower 48 states. It includes 1.6 million acres of protected lands.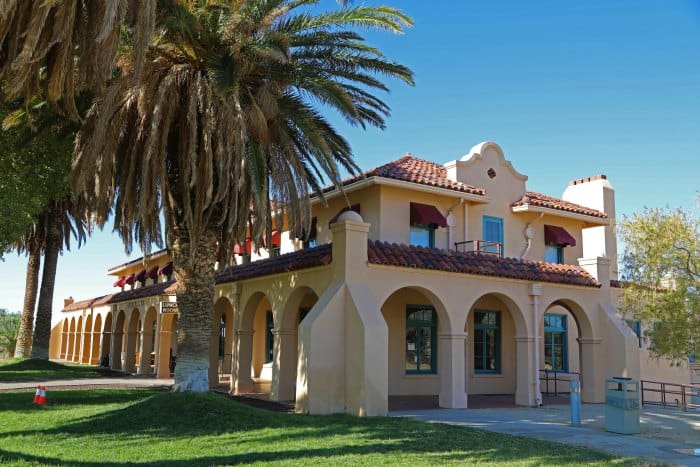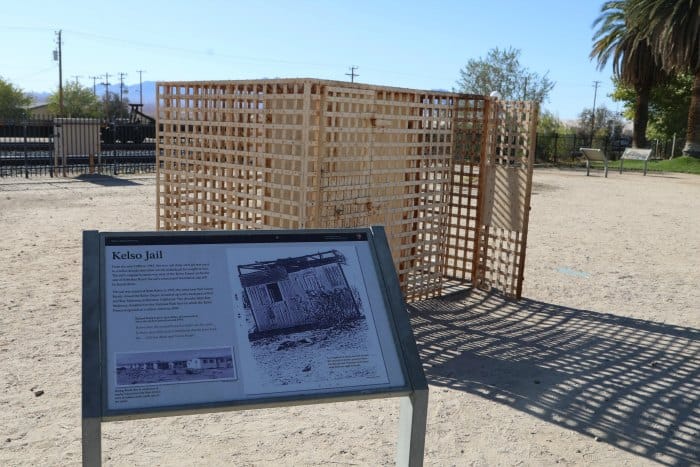 Kelso Depot
The Kelso Depot feels like a beautiful mirage in the middle of the desert. You come around a corner and see a 1924 train station.
The Kelso Depot was built by the Union Pacific Railroad as they tried to get a hold on train travel in California.
I thought it was fun to learn that the Kelso Depot was named after two workers put their names and a co-worker's name in a hat and drew out the name Kelso.
Over time the Kelso Depot grew and evolved as it became busier with train travel. Today you can check out the visitor center, see a jail cell, and more.
Guided Ranger Programs
The park offers a few different guided ranger programs. The programs are held starting in September. Most guided programs are on Friday, Saturday, and Sundays. It is worth checking the events page on the National Park Service website for current programs.
They also offer full moon hikes and other special events during the year.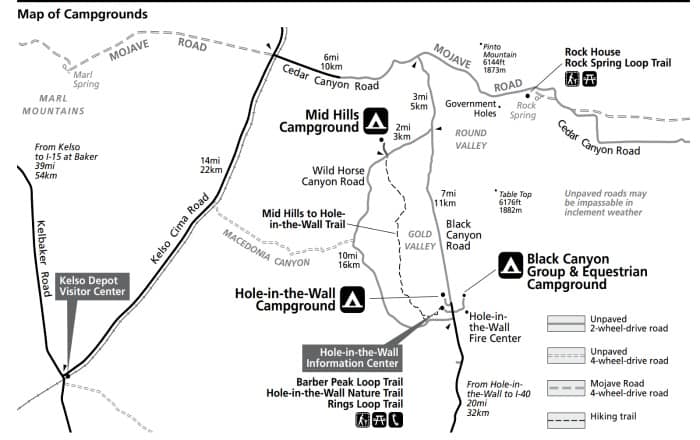 Camping
Mojave National Preserve has two developed campgrounds - the Mid Hills Campground and Hole-in-the-Wall Campground. These campgrounds have pit toilets, potable water, fire rings, and picnic tables. There are no utility hook-ups or showers available at the campground. Hole-In-The-Wall Campground does have a dump station.
One cool thing about the park is you can also offer roadside camping in certain areas. Camping on roadsides is not allowed along paved roads, in day-use areas, on private property, or within ¼ mile of any water source or cultural site. Roadside camping is allowed in previously used or disturbed sites outside of the day use areas.
Find out more about camping here.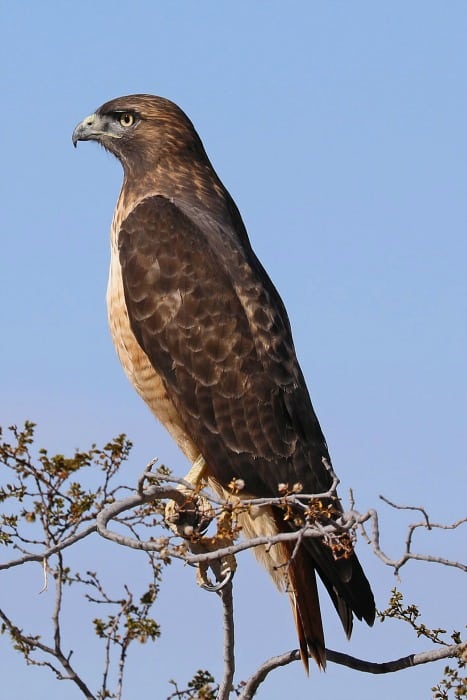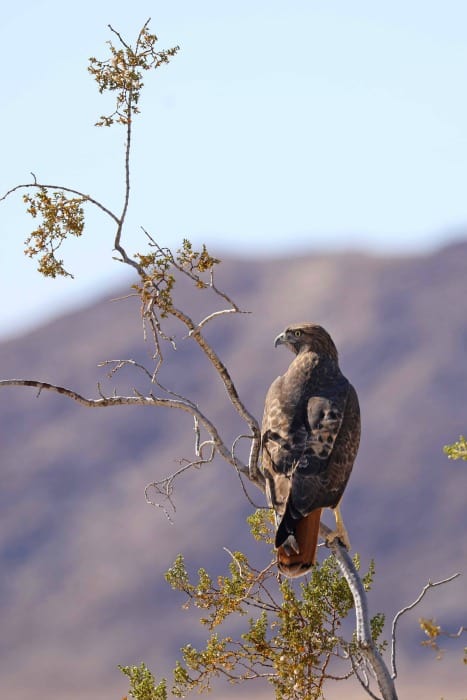 Bird Watching
We saw a ton of hawks while we were in the park including what we think was a pair of Golden Eagles. The hawks were nice enough to pose for some epic photos. We used a 100-400 Canon Telephoto Lens so we did not have to get really close to them.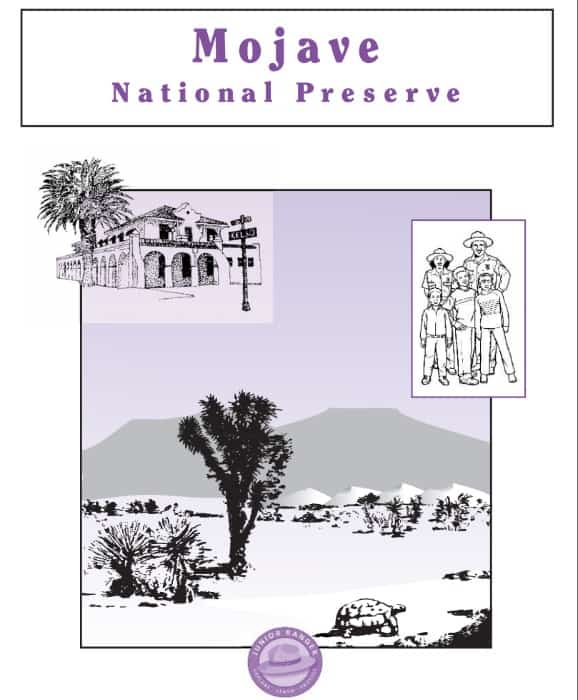 Become a Mojave Junior Ranger
You can pick up a Junior Ranger booklet at the visitor centers or download it ahead of time and print a copy before leaving home.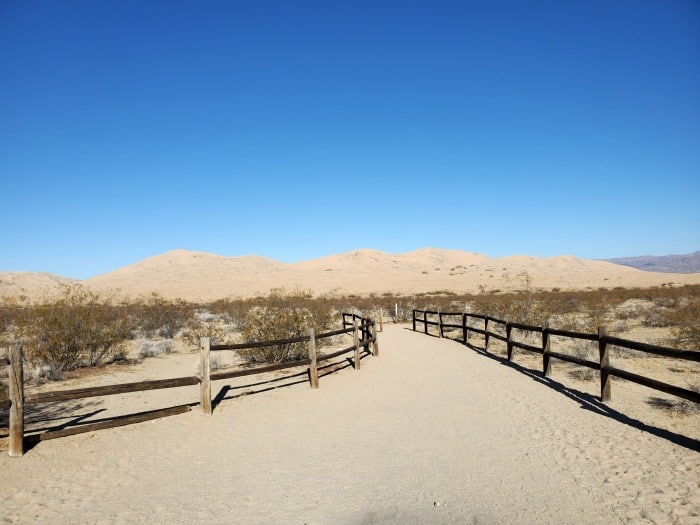 Kelso Dunes
The Kelso Dunes rise over 600 feet tall and you can't miss them as you drive in the park. They are some of the tallest sand dunes in North America.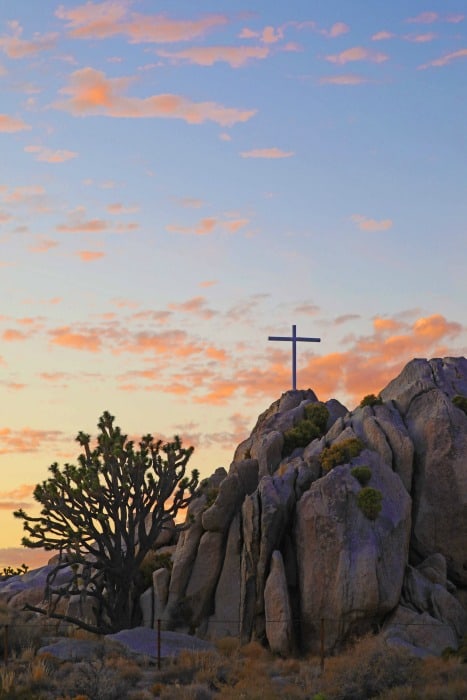 Mojave Cross
The Mojave Cross was erected in 1934 as a memorial to war veterans. There is a small parking lot if you want to get a photo of the Mojave Cross.
It looked amazing at sunset with the Joshua Trees and skyline lit up by the sunset.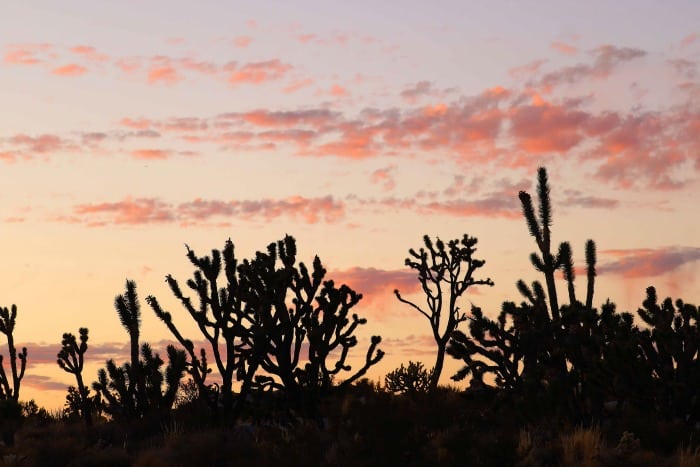 Joshua Tree Forest
Yes, I know you are thinking wait we are not talking about Joshua Tree National Park you are talking about Mojave National Preserve!
Funny thing Mojave is packed full of Joshua Trees! You will be amazed at how many Joshua Trees there are in this park.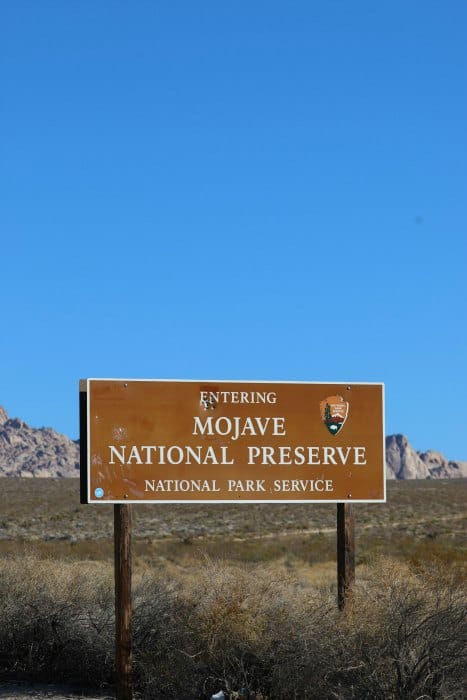 Hiking
There are some great established trails within the park.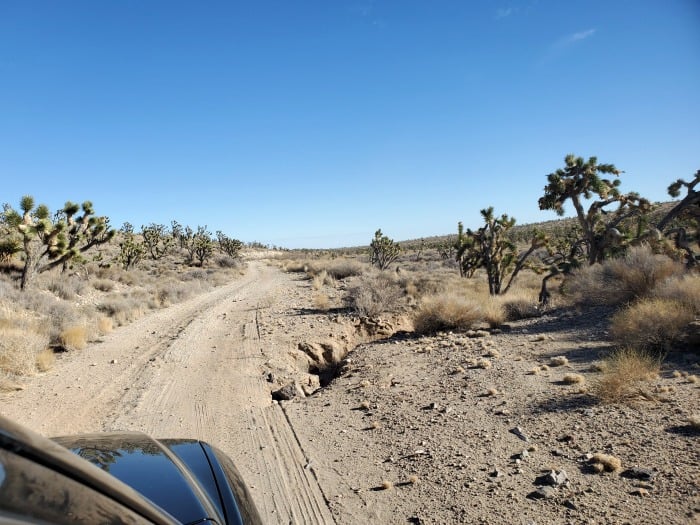 Take the road less traveled
Get away from the main road and take a dirt road adventure. Please make sure you are prepared with water and food. We took this dirt road to Castle Mountains National Monument and it was amazing.
The entire time we were on it we didn't see a single other car or person.
Many dirt roads in the Preserve require high clearance of 8" or more and 4-wheel drive. Road conditions can change quickly.
Check with a Park Ranger for vehicle requirements and conditions on the specific roads you plan to travel before you leave the pavement.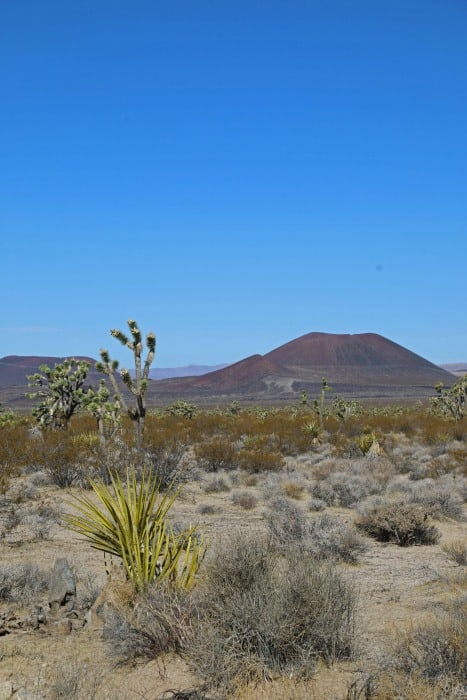 Cinder Cone
As you drive along Kelbaker Road or Interstate 15 you can see mounds of red and black rock rising from the desert. There are 32 conical mounds of volcanic rock in Mojave. These small volcanoes are known as cinder cones that erupted into existence 7.6 million years ago.
In 1973 this area was designated Cinder Cone National Natural Landmark.
Lava Tubes
A lava tube in the park is accessible via a 5-mile drive on the unpaved Aiken Mine Road from Kelbaker Road. Visitors can carefully climb through a collapsed hole in the lava tube's roof and view the lava tube from the inside.
A high clearance vehicle is recommended. It is also recommended that you check with the visitor center to get current road conditions. The lava tube is not regularly maintained by the park service. Visitors enter at their own risk.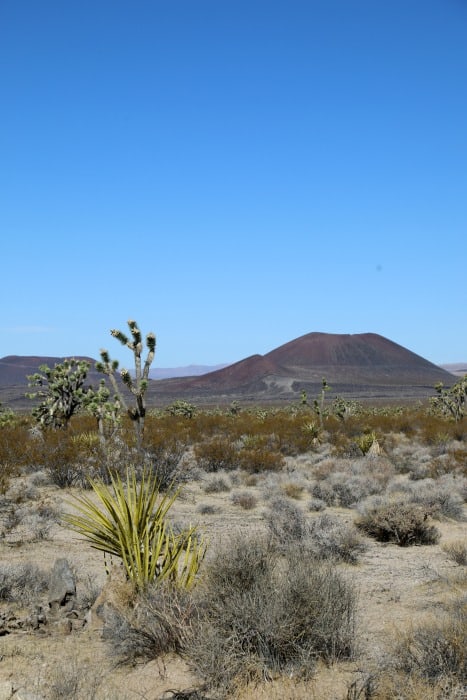 Things you need to know when planning a trip to Mojave National Preserve
Gas - There is no fuel inside the Preserve. Make sure you have gas before entering the park.
Be careful on the road - We heard that the road through the park can be used at times as a high-speed freeway as people head towards Las Vegas and Nevada. We saw a few people speeding but not as fast as we had heard people go.
Please be careful on the road and pay attention to what is happening.
GPS - Please do not trust that your GPS is going to track and be able to tell you where you are while in Mojave. We could barely bring up a map on our phones and all we could see was that we were still in the park in a few places.
We HIGHLY suggest having a park brochure and map with you at all times. If you are visiting on days that the visitor center is closed you can print the Map of Mojave National Preserve from official National Park Service brochure
You can also print the Map of Mojave National Preserve highlighting principal roads and facilities
Address - The address for the park that shows Barstow, California is actually the park headquarters. This is 60 miles from the actual park.
Entrance Fee - $0.00, There is no fee to visit the park
Visitor Center
Kelso Depot Visitor Center
The Kelso Depot Visitor Center is closed on Tuesday and Wednesday! The rest of the week the visitor center is open from 10 am to 5 pm.
Hole in The Wall Visitor Center
The Hole in the Wall Visitor Center is only open on Friday, Saturday and Sundays from 9 am to 4 pm.
Cell Phone Service - Cell phone service is super spotty in the park. When you are near the main highways you may pick up some service.
Food - Make sure you pack snacks and food with you. There is no food available within the park.
Water - Bring more water with you then you think you will need! There are not really places to fill up your water other than the visitor centers.
How far is Los Angeles to Mojave National Preserve?
It is about two and a half hours from Los Angeles to the preserve. This does depend on the traffic in Los Angeles and Southern California.
How far is Palm Springs to Mojave National Preserve?
It takes a little over two hours to drive from Palm Springs to Mojave.
National Park Sites near Mojave National Preserve
Castle Mountain National Monument
Cesar Chavez National Historic Site
Lake Mead National Recreation Area
Santa Monica Mountains National Recreation Area
Check out all of the California National Parks along with neighboring National Parks in Nevada, Arizona National Parks and Oregon National Parks.