Epic Guide to Joshua Tree National Park in California includes things to do, hiking trails, history, camping, nearby lodging, and so much more.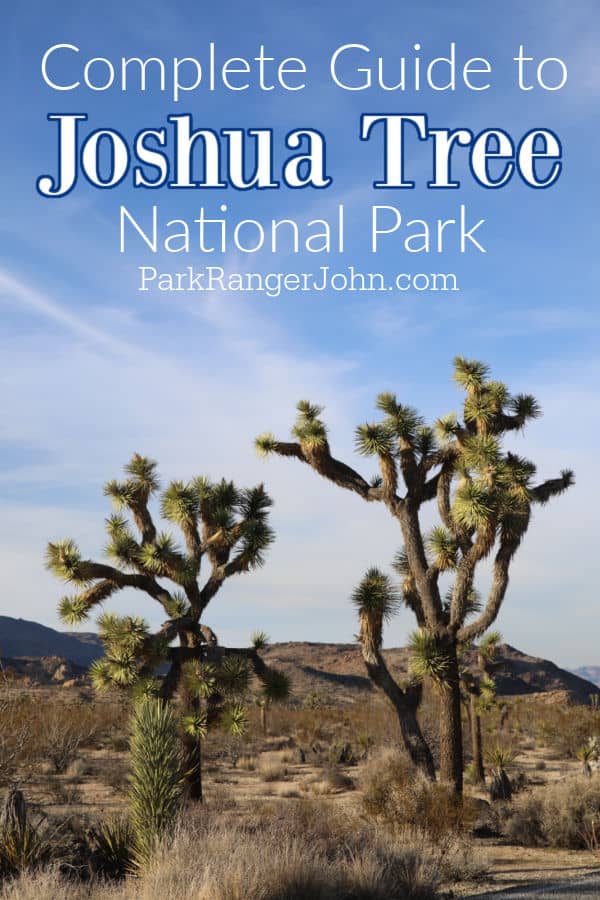 Joshua Tree National Park
Joshua Tree is a classic Californian park, with hundreds of miles of hiking trails, epic vistas, and incredible night skies.
But the park is in its own league when it comes to whimsical attributes.
About Joshua Tree National Park
Known for the wacky trees for which it is named, Joshua Tree National Park is an accumulation of impressive landscapes, other-worldly rock formations, and unique desert vegetation.
The views alone make it worth a visit, but there are TONS of fun activities here for every type of visitor, including rock climbing, horseback riding, stargazing, and much more.
Joshua Tree NP is a desert area that includes parts of the deserts of Colorado and Mojave. Its name comes from a species of Yucca, found almost exclusively in this area, called Joshua Tree.
The Joshua tree grows primarily in the Mojave Desert at elevations above 3000 feet and is abundantly scattered in the upper elevations parts of the Park.
The twisted, spiky Joshua tree is not actually a tree but a giant yucca plant that can grow up to 40 feet high with trunks up to 4 feet in diameter.
It is believed that the Joshua tree can get as old as 700 years, however, because the plant does not have growth rings like a regular tree, it is difficult to tell its age.
Joshua Trees produce huge white flowers in the spring, pollinated by the yucca moth, which spreads pollen and laying her eggs inside the flowers.
Joshua Tree National Park extends for about 1234 square miles, or 789,745 acres and a large part of the park dedicated to a wilderness area.
Elevation ranges from nearly 2000 feet to over 5000 feet. Quail Mountain, at 5813 feet above sea level is the highest point within the park, while the lowest is 1780 feet at the Colorado River Aqueduct in the southern edge of the Park.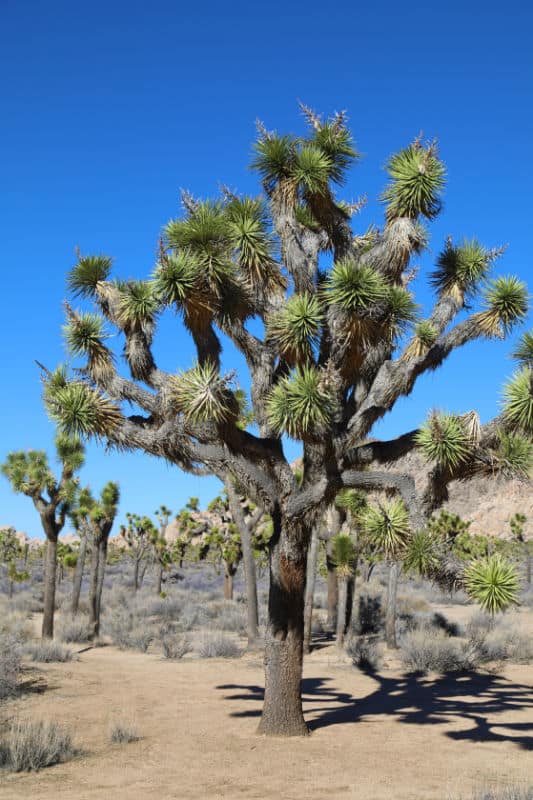 Is Joshua Tree National Park worth visiting?
Joshua Tree National Park may be far from a hidden secret, but it certainly deserves every accolade it receives.
There's nowhere else on earth like Joshua Tree, so add this national park to your bucket list!
History of Joshua Tree National Park
There are signs of human presence from five thousand years ago. At the end of the Ice Age, a hunter-gatherer people inhabited the area known as the Pinto river basin, now dry.
It is proven that this basin was also dry when the first towns were built in the region. Later, Amerindian peoples (Serrano, Cahuilla, and Chemehuevi) moved to the area and left behind a legacy of cave paintings and ceramic artifacts.
The gold rush of the late 19th century brought explorers such as miners, ranchers, and farmers that built dams and dug mines, now abandoned and maintained only for historical interest.
Although humans have inhabited the area for more than 5,000 years, it wasn't until the late 1800s that this area really came into the national spotlight.
Gold miners and ranchers tried to exploit this uninviting terrain, and by the 1920s, there was a network of new desert roads leading to the area.
This also brought hoards of cactus poachers, which got the attention of Pasadena resident Minerva Hoyt.
She is single-handedly credited as the reason the park exists today. She fought tirelessly for this incredible area to be protected for years, and in 1936 it finally became a national monument.
The monument was elevated to national park status in 1994 and has been a beloved addition to the system ever since.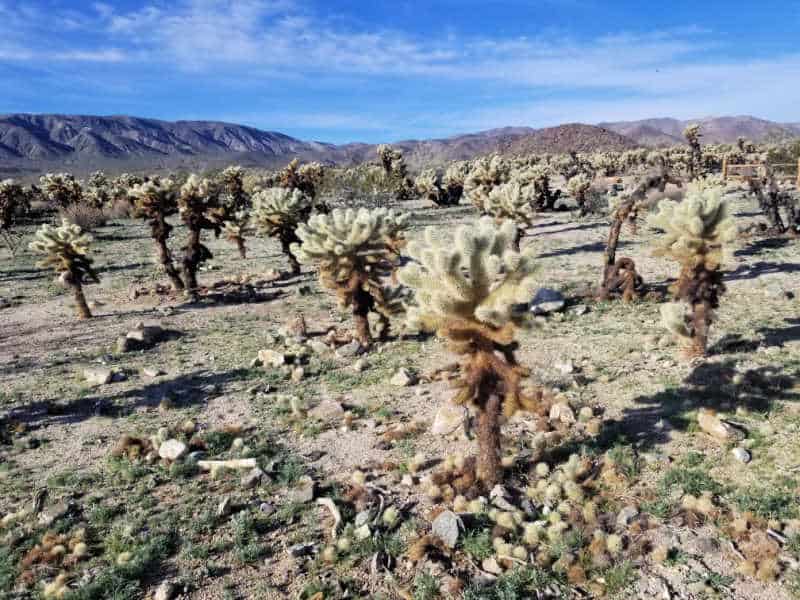 Things to know before your visit to Joshua Tree National Park
Entrance fee
7-day single-vehicle park pass - $30
7-day individual park pass - $15
7-day motorcycle park pass - $25
Planning a National Park vacation? America the Beautiful/National Park Pass covers entrance fees for an entire year to all US National Park Sites and over 2,000 Federal Recreation Fee Sites.
The park pass covers everyone in the car for per vehicle sites and for up to 4 adults for per-person sites.
Buy on REI.com and REI will donate 10% of pass proceeds to the National Forest Foundation, National Park Foundation and the U.S. Endowment for Forestry & Communities.
Learn more about National Park Passes for parks that have an entrance fee.
Free Entrance Days -Mark your calendars with the five free entrance days the National Park Service offers annually.
Time Zone
Pacific Time Zone
Pets
Pets are allowed in the park but must be on a leash less than 6 feet in length.
Pets are allowed within 100 feet of roads, picnic areas, and campgrounds.
Cell Service
The majority of the park does not have cell service.
Park Hours
The park is open 24 hours a day. Visitor services hours depend on the season.
Wi-Fi
Wi-Fi is provided at Oasis Visitor Center, in Twentynine Palms and at the Joshua Tree Visitor Center, in Joshua Tree.
Insect Repellent
Insect repellent is always a great idea when outdoors, especially if you are around any body of water.
We use Permethrin Spray on our clothes before our park trips.
Water Bottle
Make sure to bring your own water bottle and plenty of water with you. Plastic water bottles are not sold in the park.
Parking
There are large parking lots at the park visitor centers and campgrounds, in addition to smaller lots and pull-off areas at trailheads and other attractions.
Try to arrive early in the day, as parking lots fill up quickly at this busy park.
Food/Restaurants
There are no restaurants or food services within the park. We highly suggest packing food and snacks with you.
Water is available at only a few locations around the park:
Oasis Visitor Center in Twentynine Palms
West Entrance Station
Indian Cove Ranger Station
Gas
There are no gas stations within the park.
Drones
Drones are not permitted within National Park Sites.
National Park Passport Stamps
National Park Passport stamps can be found in the visitor center.
Make sure to bring your National Park Passport Book with you or we like to pack these circle stickers so we don't have to bring our entire book with us.
Joshua Tree NP is part of the 1999 Passport Stamp Set.
Electric Vehicle Charging
There are EV Charging Stations available in Twentynine Palms and in Yucca Valley.
Accessibility
All of Joshua Tree's visitor centers and restrooms are wheelchair accessible.
Most parking lots also have accessible spaces, but out-of-state residents must apply for a temporary California placard.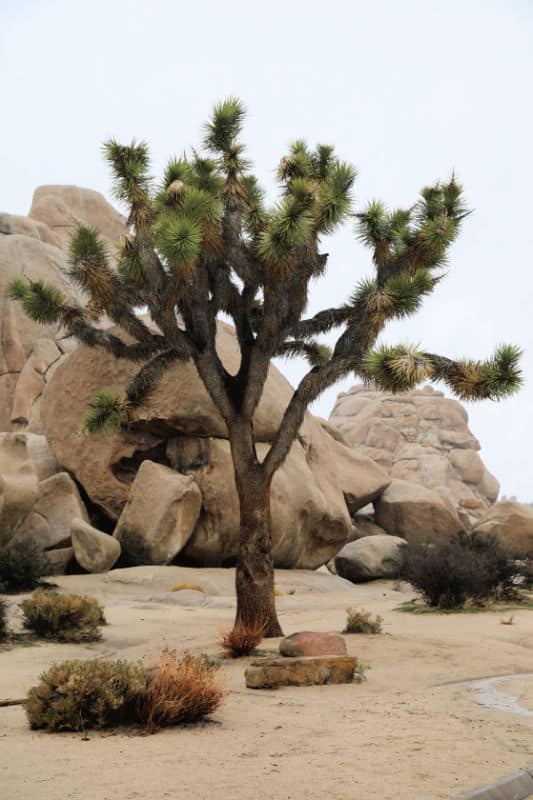 Details about Joshua Tree National Park
Size - 792,623 acres, 591,624 is designated wilderness.
Joshua Tree NP is currently ranked at 15 out of 63 National Parks by Size.
Date Established
August 8, 1936 - President Franklin D Roosevelt designated the park a National Monument.
The current preservation of the ecosystems of this park is largely due to Minerva Hamilton Hoyt (an American activist), passionate about the vegetation of the desert, who got President Franklin D. Roosevelt to proclaim the area as a national monument on August 8, 1936.
In 1976, the United States Congress designated about 420079 acres as a wild area and later in 1994, when the area was declared a national park, the protected area expanded by about 130,966 acres.
October 31, 1994 - Redesignated as a US National Park
Visitation
In 2021, Joshua Tree NP had 3,064,400 park visitors.
In 2020, Joshua Tree NP had 2,399,542 park visitors.
In 2019, Joshua Tree NP had 2,988,547 park visitors.
Learn more about the most visited and least visited National Parks in the US
National Park Address
74485 National Park Drive
Twentynine Palms, CA 92277-3597
Joshua Tree National Park Map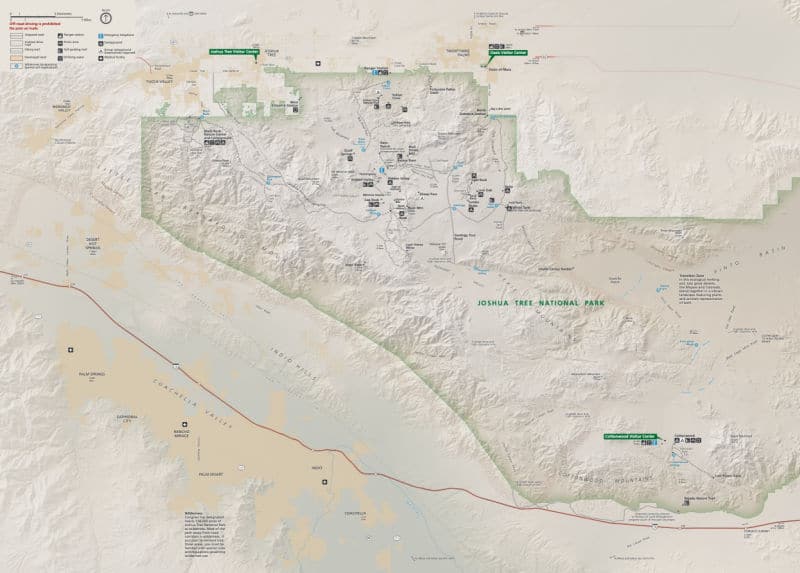 For a more detailed map we really like the National Geographic Trails Illustrated Maps available on Amazon.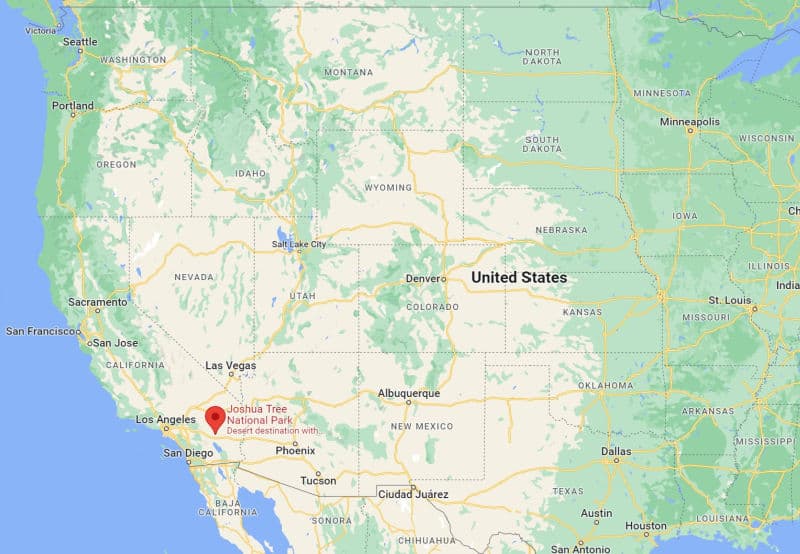 Where is Joshua Tree National Park?
Joshua Tree National Park straddles the Colorado and Mojave deserts in southern California.
Estimated distance from major cities nearby
Palm Springs, CA - 38 miles
Los Angeles, CA - 131 miles
San Diego, CA - 164 miles
Las Vegas, NV - 187 miles
Phoenix, AZ - 223 miles
Tucson, AZ - 333 miles
San Francisco, CA - 501 miles
Estimated Distance from nearby National Park
Death Valley National Park - 228 miles
Sequoia National Park - 311 miles
Kings Canyon National Park - 349 miles
Channel Islands National Park - 200 miles
Grand Canyon National Park - 371 miles
Yosemite National Park - 375 miles
Pinnacles National Park - 387 miles
Where is the National Park Visitor Center?
Joshua Tree Cultural Center
6533 Freedom Way, Twentynine Palms, CA 92277
Joshua Tree Visitor Center
6554 Park Boulevard, Joshua Tree, CA 92252
Cottonwood Visitor Center
Pinto Basin Rd, Twentynine Palms, CA 92277
This is a small visitor center/store. They do have postcards, t-shirts and some souvenirs. There is a $5 minimum for credit/debit card purchases. You can buy a park pass at this location.
Black Rock Nature Center
9800 Black Rock Canyon Road, Yucca Valley, CA 92284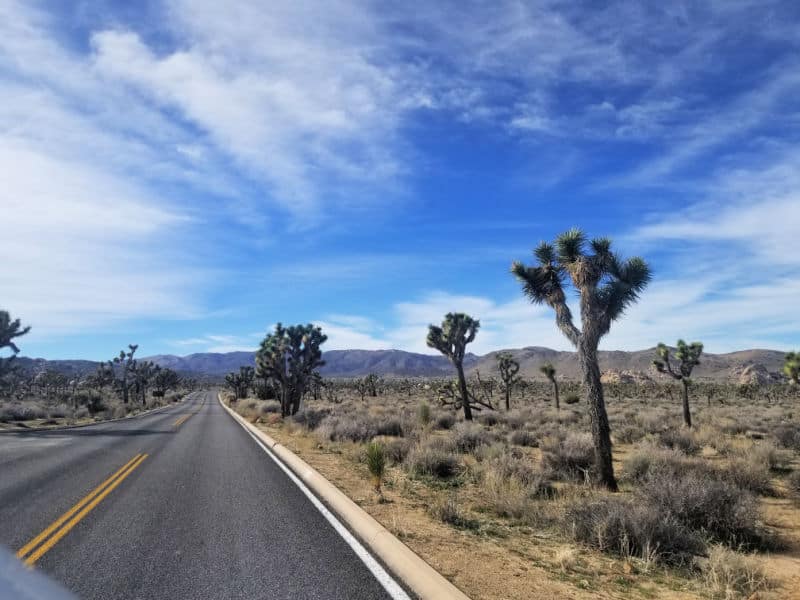 Getting to Joshua Tree National Park
Closest Airports
Palm Springs International Airport
Jaqueline Cochran Regional Airport
International Airports
Los Angeles International Airport
San Diego International Airport
Regional Airports
Yucca Valley Airport
Twentynine Palms Airport
Driving Directions
The park is located between two major routes: Interstate 10 and Highway 62 (or Twentynine Palms Highway).
There are three park entrances:
The West Entrance and the North Entrance are both located off of Highway 62. The North entrance is located off of Interstate 10 near Cottonwood Spring.
Best time to visit Joshua Tree National Park
The park is open year-round, but the best time to visit Joshua Tree is during the spring or fall when the weather is at its finest.
These are also the busiest months for day visits, so consider visiting during the summer or winter if you want to avoid the crowds.
Weather and Seasons
Spring
Spring at Joshua Tree brings rising temperatures, making it one of the best times to visit.
However, March through May is a busy time at the park, so you may want to avoid the spring if you hope to find some solitude during your visit.
Summer
Summers at the park are HOT. Temps often rise into the triple digits, which can make park activities like hiking, rock climbing, and biking downright dangerous.
Still, summer is a popular time to visit, especially for overnight stays.
Campgrounds fill up extremely quickly during the summer, so try to book a space in advance or arrive early in the day if you want to snag one of these hard-to-come-by spots.
Fall
Joshua Tree may not be known for its vibrant fall leaves, but autumn is still a great time to visit the park.
Temperatures become milder, though visitation is fairly high from October through November.
September is a little less crowded, though temperatures may still be quite high, so plan accordingly.
Winter
Winter is a great time to visit the park. Daytime temperatures are usually mild, though light snowfall is not out of the ordinary at Joshua Tree this time of year.
If you're just visiting for the day, dress in layers, and you should be just fine. Camping is not as popular during this time due to near-freezing nighttime temps, so if you're searching for solitude, this is the season for you.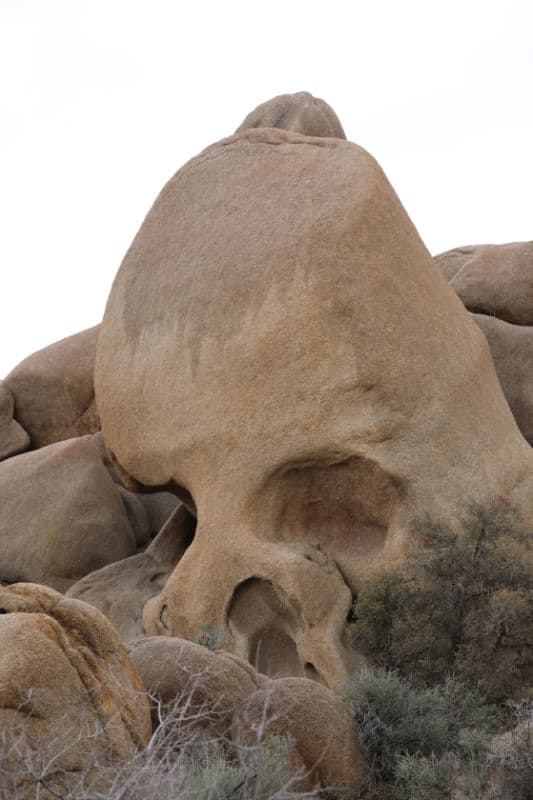 We suggest planning a couple of days if possible to visit the park especially if you plan to do any hiking.
The park can be done in a day but it will be a whirlwind adventure.
Photography
The park's eclectic assortment of bizarre Joshua Trees, unique rock formations, and stunning desert landscapes make it the perfect place to whip out your camera.
Whether you're a novice or a professional, you'll find plenty of willing subjects to document during your time here.
The Junior Ranger Program is a fun way to explore the park more in depth.
Both the young and the young at heart can learn about the park's flora and fauna, the other-worldly rock formations, and more by participating in this hands-on program.
Once you've completed it, you'll even get a cool badge to commemorate your time at Joshua Tree.
Cholla Cactus Garden
No matter if it's your fist time visiting the park or your fiftieth, a trip to the Cholla Cactus Garden is a must.
The fuzzy cholla cacti are not common in many places, so seeing a large swath of them is really something special.
There is a short, flat .25-mile trail that winds through the garden and a parking lot located nearby.
Pro tip - visit the garden between January and August to sese the cacti in bloom!
Please do not try to pick up a piece of Cholla Cactus!!!
My wife Tammilee had to help a family in the parking lot of the Cholla Cactus Garden remove a chunk of cactus from their hands.
The cactus not only has spikes but barbs at the end of the spikes that really do not feel great being pulled out.
The visitor center showed us a photo of someone who was covered in cactus head to toe. I can't imagine how much this would hurt.
Rock Climbing
All those interesting boulder piles that Joshua Tree is known for make the park a paradise for rock climbers. There are over 9,000 routes within the park for beginner, intermediate, and experct climbers.
Trashcan Rock is one of the most popular routes in the park thanks to its shady disposition and relative ease for novice and intermediate climbers.
Note that you may have to wait in line to climb this much-loved bad boy. Those in search of a challenge can tackle Big Moe, Lost Horse Wall, or Saddle Rock.
Biking
There are no designated biking trails at Joshua Tree, but don't let that keep you from exploring the park via bicycle.
You can ride on all the park roads, and the seldom-trodden backcountry roads often feel like they were made for cyclists.
There are even three bike campsites at Ryan Campground. Be sure to bring plenty of water with you, as there is little shade and few areas to refill in the park.
Bird Watching
The desert may not seem like the most hospitable place for wildlife, but there are actually tons of bird species here - both full-time residents and migratory species.
Year-round park residents include roadrunners, cactus wren, red-tailed hawk, and many more.
Some part-time visitors include orioles, warblers, buntings, and ospreys, among others.
If you're lucky, you may spot the occasional horde of turkey vultures that have been known to show up en masse during their spring migration.
What birds can I see in Joshua Tree National Park
Over 250 species of birds have been identified at Joshua Tree, Some of the birds you may find in the park include
Cactus Wren
Greater Roadrunner
Gambel's Quail
Scott's Oriole
Red-Tailed Hawk
American Kestrel
Western Scrub Jay
You may want to bring the Western United States Audubon Book on Birds or Peterson Field Guide with you.
The wildlife of the park is diverse and adapted to life in the desert. Some of the most representative land species are hares ( Lepus californicus ), kangaroo rats, coyotes, rattlesnakes, red lynxes (Bobcat) and antelope squirrels among others.
Ranger Programs
Joshua Tree offers a wide variety of ranger programs, including guided walks, evening talks, and more.
You can learn about various topics by participating in a ranger program, from the park's geology and history to its flora and fauna and more.
Check the park website to see what kind of programs are happening during your visit.
Dark Sky Park
Joshua Tree is a designated Dark Sky Park, which means that the stargazing here is truly out of this world.
The central part of the park is especially great for seeing stars and constellations, specifically around Pinto Basin Road.
Horseback Riding
Horseback riding is one of the best ways to explore the park, and there are over 250 miles of designated equestrian trails to traverse.
If you and your horse want to stay in the park for more than just an afternoon, there are designated campsites at Ryan and Black Rock campgrounds.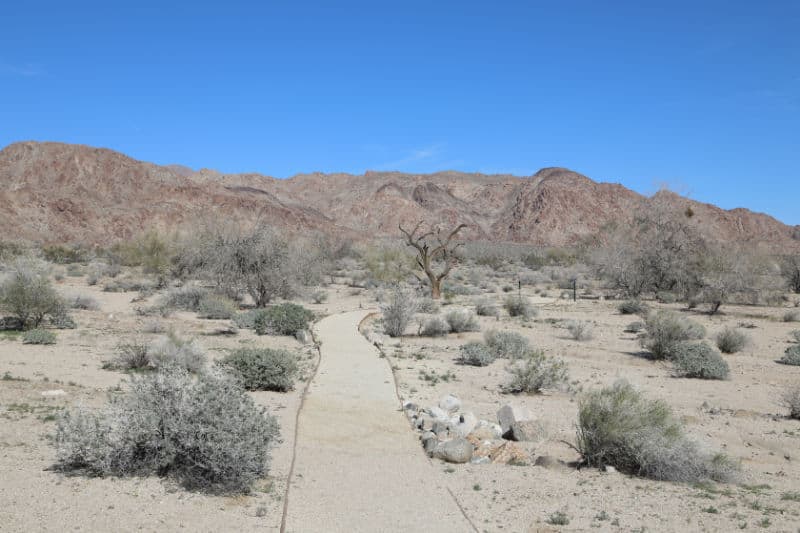 There are tons of epic trails within Joshua Tree National Park, but below you'll find some of the best of the best.
No matter what time of year you are hiking, be sure to bring plenty of water with you - there are very few water sources within the park!
Sunscreen is also a good idea as there is very little shade in the park.
Always carry the 10 essentials for outdoor survival when exploring.
Barker Dam:
Distance - 1.1 miles
Trail Difficulty - Easy
Time Required - 1 hour
Trailhead - Barker Dam parking area
This easy one-mile loop is one of the best hikes in the park. You'll wander past cool boulders and ancient rock art, and at the end, you'll see Barker Dam - a ranching era project that remains to this day.
There isn't always a lot of water in the dam (sometimes it's completely dry), but the informational signs along the way make hiking this route well worth it.
Skull Rock Nature Trail:
Distance - 1.7 miles
Trail Difficulty - Easy
Time Required - 1 hour
Trailhead - Jumbo Rocks Campground
Skull Rock is one of the most iconic boulders at Joshua Tree National Park.
The short and easy trail that leads to the boulder is dotted with informational signage and other cool rock formations, so you won't be bored along the way.
Skull Rock is an extremely popular landmark, so try to arrive early before it gets overcrowded.
Lost Horse Mine Trail:
Distance - 4.1 miles
Trail Difficulty - Moderate
Time Required - 2 hours
Trailhead - Lost Horse Mine Trailhead
The California gold rush reached all the way to Joshua Tree, and when you hike the Lost Horse Mine Trail you'll get to see the remnants of a preserved gold mine from the late 1800s.
Of course, there are also plenty of fun rock formations and Joshua Trees along the way.
Fortynine Palms Oasis:
Distance - 3 miles
Trail Difficulty - Hard
Time Required - 2 hours
Trailhead - Fortynine Palms parking area (Highway 62)
This stunning trail winds through rocky mountain terrain and ends in a beautiful oasis of palm trees.
The views along the way are spectacular, but the oasis at the end is the real star of the show.
The trees were planted in the early 1900s by ranchers as a way to remember the location of the natural springs located here.
Once you reach the secluded oasis, rest a while and enjoy the shade - there is little along the rest of the trail.
While you should avoid hiking all of Joshua Tree's more difficult trails when it's hot, this one deserves an extra warning. Bring more water than you think you'll need!
Wonderland of Rocks:
Distance - 5.5 miles
Trail Difficulty - Hard
Time Required - 3 hours
Trailhead - Boy Scout Trailhead
Unsurprisingly, the Wonderland of Rocks is all about rocks!
Those who want to get up close and personal to the odd-shaped boulders that cover Joshua Tree should check this trail out, but be warned: this is no easy walk in the park.
There will be lots of scrambling and using your brain to figure out how to get down and around the rocks, so only the most seasons of hikers should attempt this trail.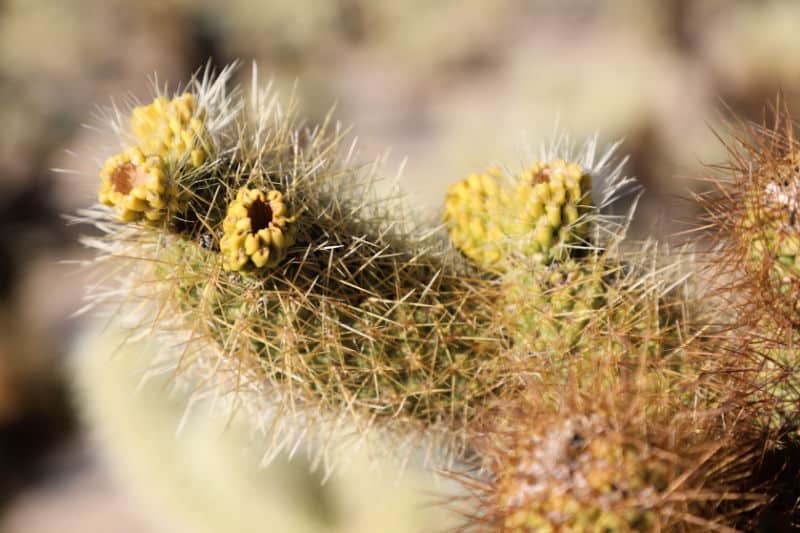 How to beat the crowds in Joshua Tree National Park?
Joshua Tree is a popular park, but avoiding large crowds is still possible. The best way to do so is to avoid the busy seasons - March through May and October through November.
Just be aware of extreme temperatures in both directions during the summer and winter. You could also explore the park's backcountry areas, as these receive far fewer visitors than the main attractions.
Where to stay when visiting Joshua Tree National Park
There are no National Park Lodges within the park.
The closest lodging is in Joshua Tree, Twentynine Palms, Yucca Valley, and surrounding areas.
Fairfield Inn & Suites Twentynine Palms - We have stayed at this hotel our last few visit to the park and it has been great. Free continental breakfast, shopping on site, and laundry facilities are just a few of the amenities provided at Fairfield Inn & Suites Twentynine Palms-Joshua Tree NP. Free in-room Wi-Fi is available to all guests, along with a 24-hour gym and a 24-hour business center.
Holiday Inn Express Hotel & Suites Twentynine Palms - Consider a stay at Holiday Inn Express Hotel & Suites Twentynine Palms, an IHG Hotel and take advantage of a free manager's reception, dry cleaning/laundry services, and a 24-hour gym. For some rest and relaxation, visit the hot tub. Free in-room Wi-Fi and a 24-hour business center are available to all guests.
Oasis Inn & Suites - A grocery/convenience store, a terrace, and a coffee shop/café are just a few of the amenities provided at Oasis Inn & Suites Joshua Tree - 29 Palms. For some rest and relaxation, visit the hot tub. Enjoy the gym, as well as activities like hiking/biking. Stay connected with free in-room Wi-Fi, and guests can find other amenities such as laundry facilities and a business center.
Hampton Inn & Suites Indio - provides amenities like free full breakfast and a gym. Guests can connect to free in-room Wi-Fi.
Click on the map below to see additional lodging and vacation rentals near the park.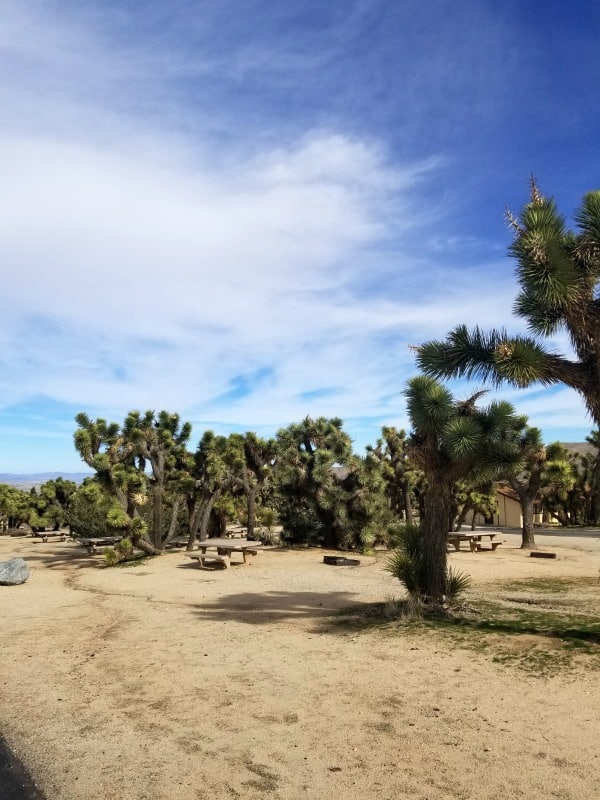 Joshua Tree has more than 500 campsites scattered across eight different campgrounds. Each campground is equipped with pit toilets, fire grates, and picnic tables.
Black Rock and Cottonwood campgrounds also have flush toilets, dump stations, and potable water available. There are no hookups available at any of the sites in the park.
Sites fill up extremely quickly (especially in the summer months), so reserve a spot in advance when possible or arrive early to try to score a first-come-first-served site.
For a fun adventure check out Escape Campervans. These campervans have built in beds, kitchen area with refrigerators, and more. You can have them fully set up with kitchen supplies, bedding, and other fun extras. They are painted with epic designs you can't miss!
Escape Campervans has offices in Vancouver, Seattle, Portland, San Francisco, Las Vegas, Los Angeles, Phoenix, Salt Lake City, Denver, Chicago, New York, and Orlando
18 sites. First-come-first served. Open Labor Day - May 31.
99 sites. Reservations Required. Open year-round.
62 sites. Reservations Required. Open year-round.
44 sites. First-come-first served. Open year-round.
101 sites. Reservations Required. Open year-round.
124 sites. Reservations Required. Open year-round.
31 sites. Reservations Required. Open year-round.
6 group campsites. Reservations required.
15 Sites. First-come-first served. Open Labor Day - May 31.
Camping Near Joshua Tree NP
There are multiple campgrounds located just outside of the National Park. Here are a few options:
Joshua Tree RV Campground - Joshua Tree, CA
This campground offers RV and Tent Sites
Wagner RV Park (age 55+) - Desert Hot Springs, CA
This campground offers RV sites, a pool, horseshoes, and more.
Indian Wells RV Resort - Indigo, CA
This campground offers Lodging and RV Sites, a pool, dog park, and more.
Check out additional campgrounds near Joshua Tree on CampSpot.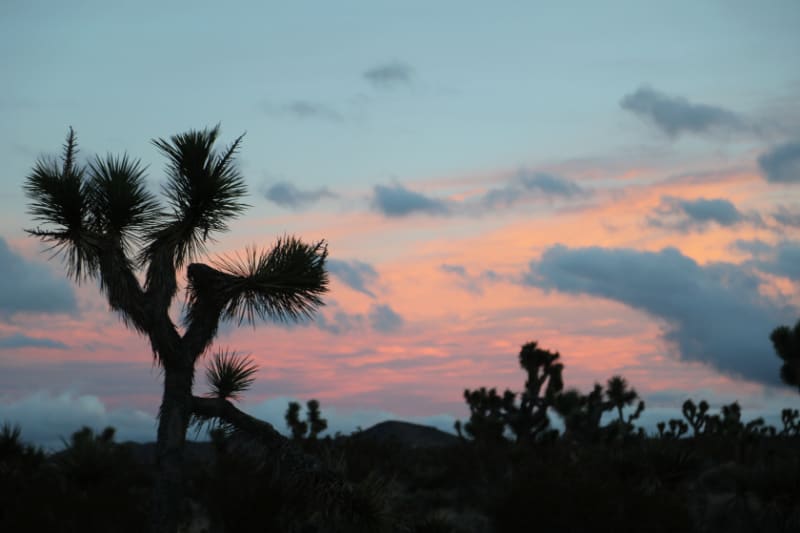 Travel Tips
There are snakes in the park! Be cautious where you place your hands and feet! Joshua Tree is home to seven species of rattlesnakes, as well as venomous scorpions and spiders.
Joshua Tree National Park Facts
The highest point in the park is 5,814 ft (1,773 m) at the summit of Quail Mountain
The lowest point in the park is 536 ft (163 m) at the southeastern boundary of the park
Joshua Tree became a National Monument in 1936. In 1994 as part of the California Desert Protection Act, Congress renamed Joshua Tree a national park.
More than 80% of the 792,510 acres of the park are wilderness.
The park covers where the Mojave Desert and the Colorado Desert converge.
Joshua Tree National Park is named after the Joshua tree, an iconic plant of the Mojave Desert
The tallest Joshua tree in the park is called the "Barber Pole." It stands about 43 ft (13 m) tall along the park road in Queen Valley
A Joshua tree has spiky, succulent leaves, but it is not a cactus. It is a member of the agave family
Some researchers think a typical lifespan for a Joshua tree may be 150 years.
The cover photo for the 1987 U2 album The Joshua Tree was not taken in Joshua Tree National Park, but closer to Death Valley.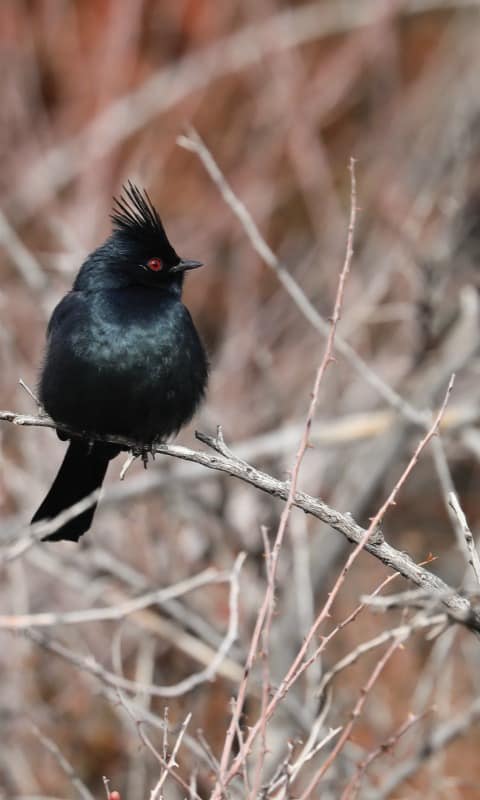 Parks Near Joshua Tree National Park
Castle Mountain National Monument
Santa Monica Mountains National Recreation Area
Cesar E Chavez National Monument
Casa Grande Ruins National Monument
Organ Pipe Cactus National Monument
Check out all of the California National Parks along with neighboring Arizona National Parks, Oregon National Parks, and National Parks in Nevada