There are so many things to do in Yosemite it can be hard to decide where to start. Once you enter the Yosemite Valley you may find yourself parked just staring in awe at the beauty that surrounds you.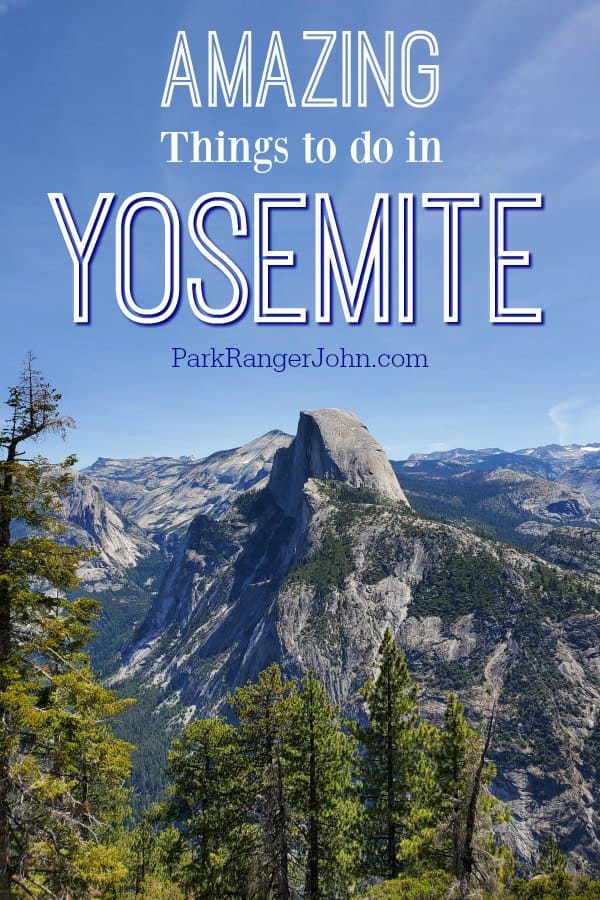 Best Things to Do in Yosemite
There is something so magical about that first look down the valley and realizing just how special Yosemite National Park is.
This year we are working with Visit Yosemite Madera County to bring you all the best info on the park, Oakhurst, Bass Lake, and the surrounding area! We will be sharing a ton of tips and tools for making the most of your visit to Yosemite.
These are some of our favorite must-see things in Yosemite National Park.
Let us know what your favorite things to do are in the park!
One thing to know about Yosemite NP is the park is huge! You will want to have a plan for your trip to Yosemite going into the park of what your must-see things to do and see are.
This is a park that can be really easy to lose track of time because the views are that epic. Even John Muir was enchanted with Yosemite.
Even after many visits to the park, there are still areas we have not been able to get into due to weather, crowds, or lack of time. This is the perfect park to plan return visits too.
If you are planning a visit in the winter check out our Yosemite Winter Guide. There are a few seasonally specific things to do that are not in this post. Plus what to expect when there is a ton of snow.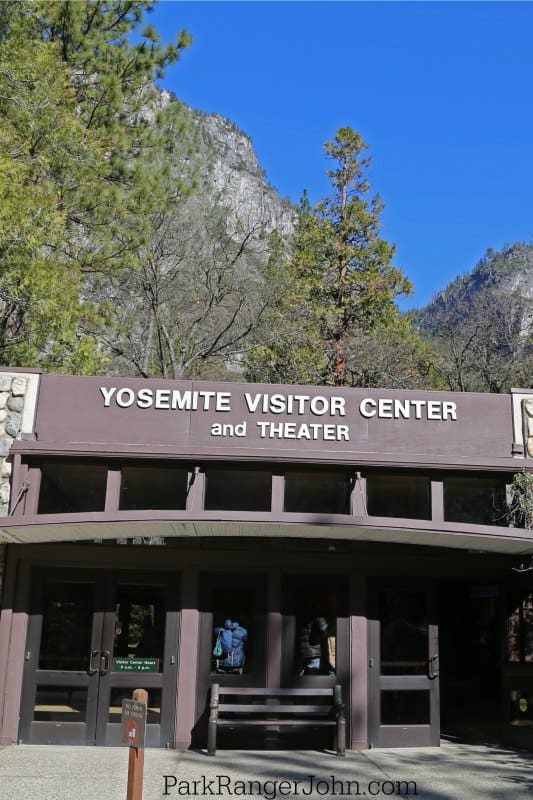 Yosemite Visitor Center
I know this is probably not what you expected me to say for one of the must-see things to do in Yosemite National Park but trust me! The visitor center is the place to go for up to date information on the park, the park gift store, and more.
One thing to know is it is a bit of a walk from the parking lot to the visitor center. You will want to arrive early to grab a parking spot before the lot fills up. Once you are parked you can take the free Yosemite shuttle all over the park and not have to worry about moving your car.
Make sure and pick up a Sandy the Squirrel trading card at the Yosemite Conservancy counter!
You can win a return trip to Yosemite from the Yosemite Madera Visitor Bureau!
Collect the Welcoming Committee Member trading cards at specific locations around Yosemite and Madera County.
Collect 2 or more trading cards for a chance to win one of three Yosemite Adventure Vacations.
Locations of trading cards
Mr. Mead the Saber-Toothed Cat - Fossil Discovery Center
Honey Bee- Madera Wine Trail
Sierra the Bear - Oakhurst at the Visitor Bureau
Blake the Bald Eagle - Bass Lake
Ricky the Raccoon - Yosemite Mountain Sugar Pine Railroad
Galen the Great-Horned Owl - Mariposa Grove (see below)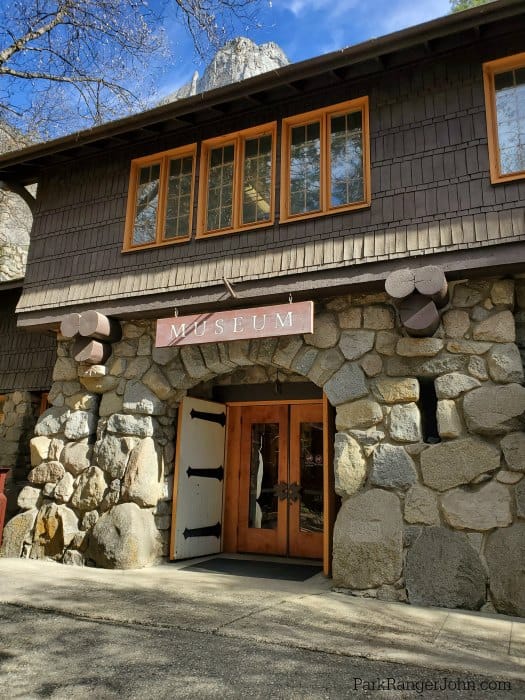 Yosemite Museum
Located next to the visitor center is the Yosemite Museum which offers a changing display of famous Yosemite Artwork.
Make sure and visit the Ansel Adams Gift Store!
The Ansel Adams Gallery - 9 am to 6 pm
Yosemite Art Center - 9 am to 4 pm, closed for lunch from 12 pm, closed on Sundays
Yosemite Bookstore - Inside Yosemite Visitor Center - 9 am to 5 pm
Yosemite Museum Store - 9 am to 5 pm
The visitor center is near shuttle stops #5 and #9.
Make sure and pick up a Junior Ranger program if you are traveling with kids. This is a great way to learn more about the park!
Yosemite is one of the most visited National Parks for a reason! This park is epic!
Yosemite Waterfalls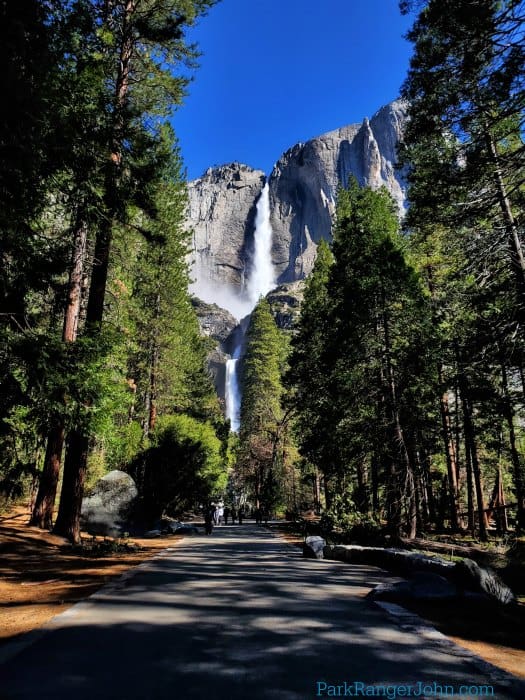 This walk is about a ¼ of a mile and so worth it! Plan at least 30 minutes for the walk and then a little more time to soak up the view and take a ton of photographs!
Yosemite Falls drops 2,525 feet and is considered the tallest waterfall in the United States. Some people question this clam since the falls is actually three distinct tiers of waterfalls.
Either way, you do not want to miss seeing Yosemite Falls during your visit.
You can take a bit of a grueling hike up to the top if you really want to or you can enjoy the view from down below.
This is one of those hiking trails that makes you work for the great view at the top.
In spring you can even experience seeing and photographing Moonbows in Yosemite. When the moon is bright it creates a moonbow that is amazing.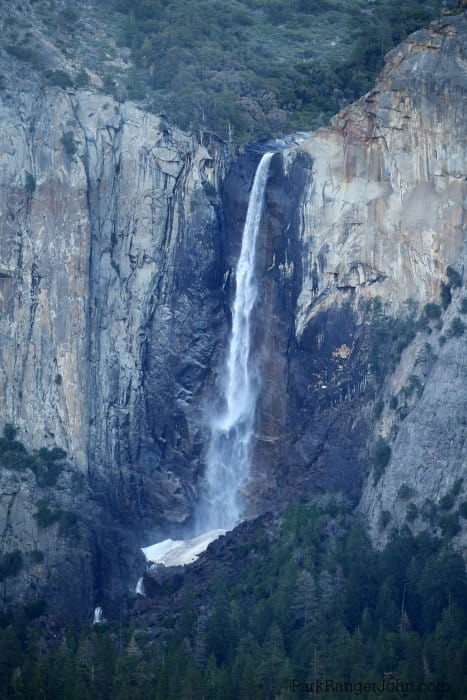 A 15-minute walk from the parking lot leads you to a viewpoint that is truly jaw-dropping.
Look up at the 620 foot tall Bridalveil Falls! This waterfall is active year-round making it a great waterfall to visit in the summer and fall when many waterfalls have dried up in the park.
Be prepared to get soaked when Bridalveil Falls is roaring. During the summer the falls can be reduced down to a whisper of water.
El Capitan
El Capitan is nearly 3600 feet from base to summit and ranks as one of the world's largest granite monoliths. El Capitan is a bucket list climb for experienced rock climbers but definitely not for beginners.
If you bring binoculars or look closely you may be able to see climbers working their way up the cracks and ledges of El Capitan.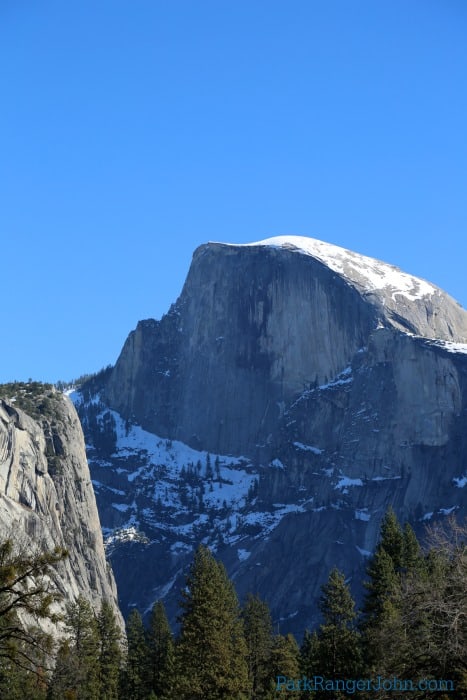 Half Dome
Half Dome rises 8,842 feet above sea level and nearly a mile above the Yosemite Valley floor.
On most days you can't miss seeing Half Dome but there are days that the weather is grey and ugly that you may not get a clear view.
You can stop into Half Dome Village to see a great view of Half Dome.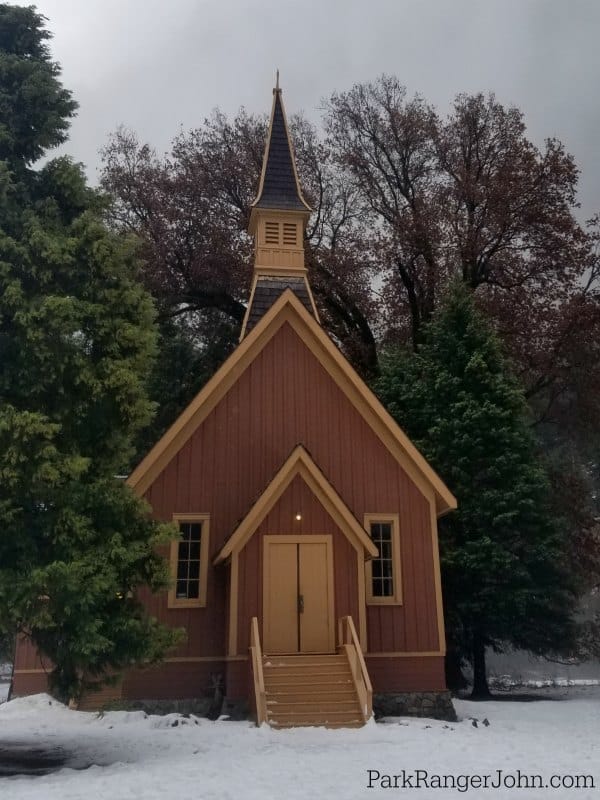 Yosemite Valley Chapel
Yosemite Valley Chapel is the oldest structure in the park that is still in use.
The church originally stood near the base of Four-Mile-Trail but was moved in 1901 a mile to its present spot in Yosemite Valley.
There are Sunday morning services held each week that are nondenominational. You can also have your wedding at the church if you wish.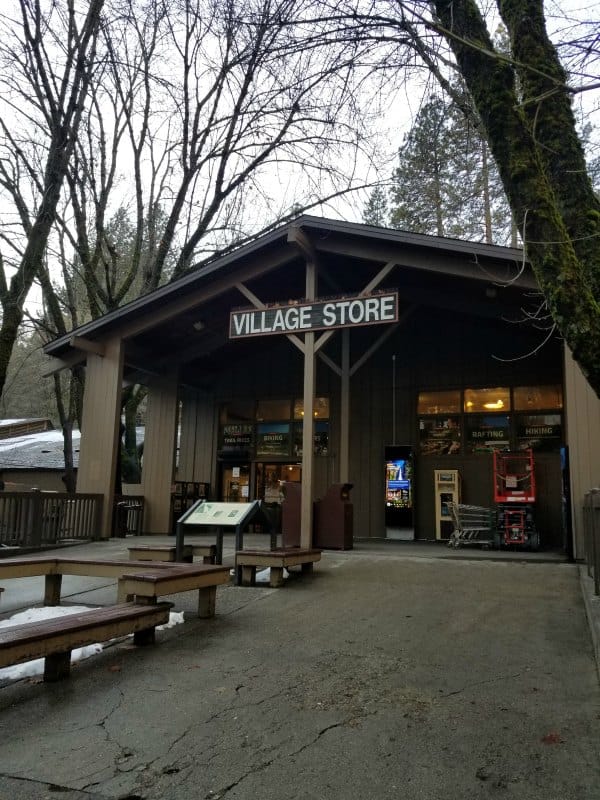 Yosemite Village
Yosemite Village is the perfect place to stop for lunch or a snack break. You can check out the Village Store which is filled with Yosemite souvenirs, snacks, and camping supplies.
Degnan's Kitchen offers deli sandwiches, breakfast items, artisan pizza, and an espresso stand.
The Village Grill has sandwiches, burgers, hot dogs, and vegetarian options.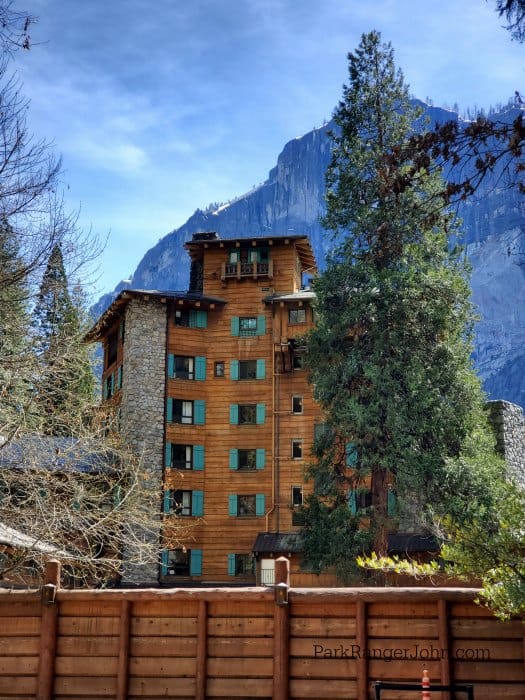 The Ahwahnee Hotel which was formerly known as the Majestic Yosemite Hotel is an amazing National Park Lodge!
Don't worry you don't have to be a guest of the hotel to enjoy its finery!
You can enjoy lunch in the lounge, warming up by the giant fireplace, staring out in wonder from the 10-foot windows in the solarium, or make dinner reservations for a truly amazing experience.
The hotel was built entirely with local granite, pine, and cedar. The hotel is a National Historic Landmark.
Mirror Lake
This walk is about a half-mile from the shuttle stop. The lake offers a great view of Half Dome.
I like Big Trees and I can not lie...HA! A little 80's humor to go with a great walk among well big trees.
This is Yosemite's largest grove of giant Sequoias and not to be missed.
Located near the South Entrance keep an eye out for wildlife as you drive through the park. We saw a pair of coyotes along the way and some great bird watching.
This is one of my favorite places to visit in Yosemite. It is hard to describe the awe-inspiring view as you pull out of the Wawona tunnel and see Yosemite Valley.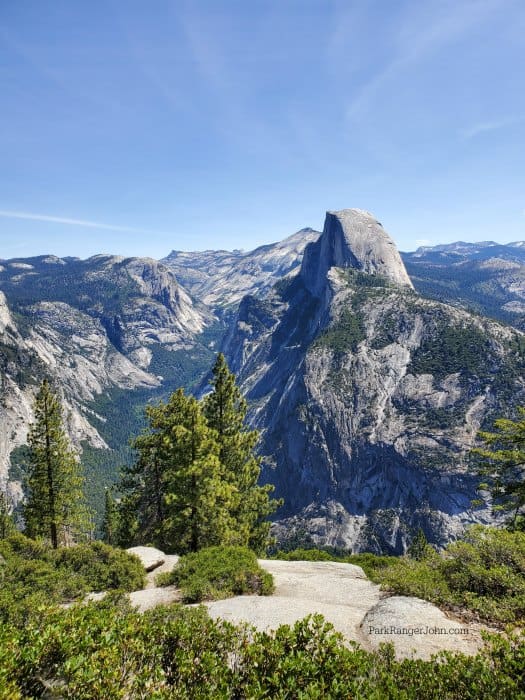 Glacier Point offers amazing views of Half Dome and Yosemite Valley. The road to Glacier Point is opened seasonally based on snow levels.
The views from the 7,214 foot Glacier Point are honestly breathtaking.
If you are scared of heights make sure you take a deep breath and prepare yourself but the views are so worth it!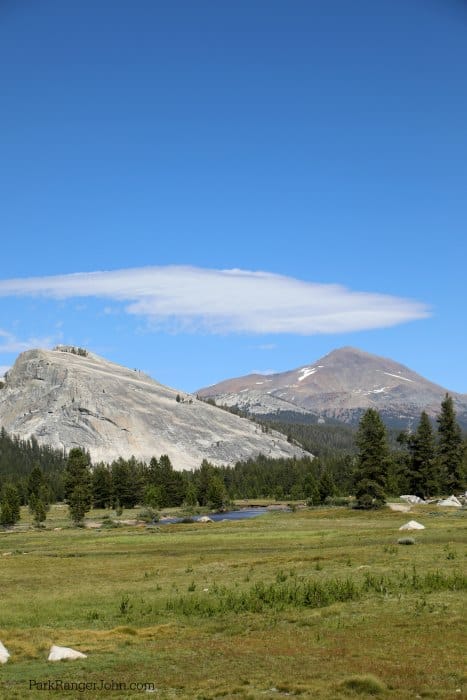 Tuolumne Meadows
Tuolumne Meadows is located 55 miles from Yosemite Valley! This is definitely something to be aware of when planning your visit to the park.
Tuolumne Meadows is a sub-alpine wonderland surrounded by jagged peaks and smooth granite domes. If you are visiting in July make sure and check out the wildflowers.
This area is a paradise for hikers and climbers. The meadow is located deep in the high country of the Sierras and may only be accessible from June through November. This all depends on snow along Tioga Road.
You can stay at the Tuolumne Meadows Lodge in tent cabins.
Reader Favorites
We asked on the Park Ranger John Facebook page for your suggestions on your favorite things to do in Yosemite and they included:
Vernal Falls is a favorite of Kevin H.
Climbing Half Dome with the cables down and to have the rock to ourselves.
So many things to see in my favorite national park. From Vernal and Nevada Falls along the Mist Trail. Glacier Point views are amazing.
The hike up to Upper Yosemite Falls. Snowshoeing to DeweyPoint. The trek to Clouds Rest Trail.
Yosemite and all its gifts, leave with nothing but the presence of a smile on your lips are all
Favorites of Rafael M.
We love hiking Hetch Hetchy with our kids! It is such a gorgeous part of the park. ~ Rob
How many of the National Parks in California have you been to?
Check out these Yosemite National Park Travel Tips for more info on planning your trip to this gorgeous park!
Looking for more information about Yosemite National Park? Check out these great books and maps!
Looking for a place to stay? Check out the Pines Resort on Bass Lake
I love this