If you are looking to stay in the heart of Yosemite National Park then you will love Yosemite Valley Lodge. The lodge is located close to Yosemite Falls which makes it a great base for a Yosemite vacation.
Yosemite Valley Lodge rooms are spread over fifteen buildings. We stayed in the Manzanita Building close to the pool.
The pool is available for hotel guests free of charge. They do have a daily rate if you are not staying at the lodge but want to cool off in the pool.
One thing to know about staying in Yosemite is the hotels do not have air conditioning. We stayed in the Yosemite Valley Lodge on a day it was 95 degrees in Yosemite Valley. I am not going to lie the room was warm.
There are screen doors on both sets of doors so that air can flow through the room. We ended up taking cold showers and sitting on the bed with cold wet towels over us and the fan going to cool off.
The room was still warm at night but it definitely cooled off compared to during the day.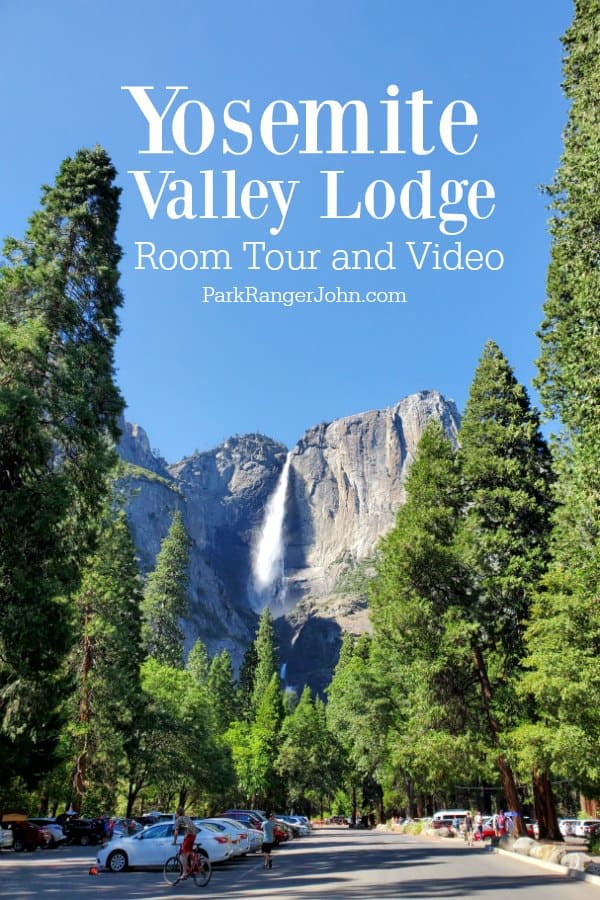 Yosemite Valley Lodge
Yosemite Valley Lodge has great dining options available on-site including Base Camp Eatery, Starbucks and the Mountain Room Restaurant.
Starbucks and Base Camp Eatery open early so you can get breakfast and snacks before hitting the trails for the day.
The gift shop has a small grocery section with beer, some food choices and lots of souvenirs.
Yosemite Valley Lodge Room - Traditional Room 1 King
We booked a traditional room with one king bed for our stay at the hotel. When you book you do not get to choose what building you stay in. We did read that people ask for Yosemite Falls views but we did not ask during our stay. We honestly were so hot with the weather we just wanted to get into the room and cool off for a while.
Our room was in the Manzanita building which is near the swimming pool. There was parking near the building that thankfully had space. There are no set parking spaces for hotel guests so you may have to walk a bit once you find a parking spot.
We would suggest parking and using the Yosemite free shuttle (YARTS) during your stay.
Our room was on the 2nd floor of the building with around 15 stairs to reach it. The room was clean and comfortable. The room was larger than we expected it to be. There was room to stretch out and relax.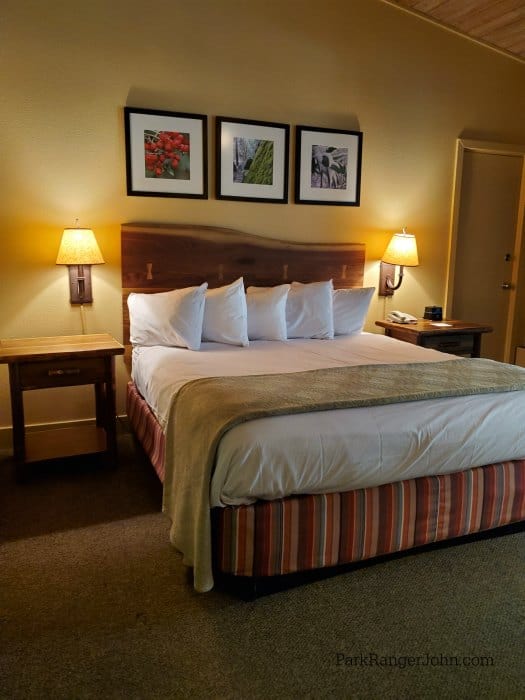 We found the bed to be comfortable and easy to sleep on. It was actually hard to leave the next morning but we knew we wanted to have a full day exploring the Tioga Road and Tuolumne Meadows.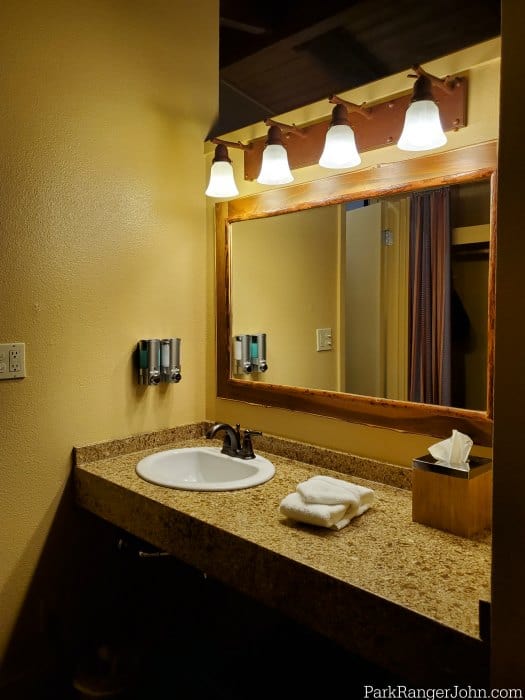 The sink and mirror are separate from the toilet and shower making it really easy for two people to get ready in the morning. There is a small college dorm size refrigerator below the sink that was large enough to hold drinks and snacks.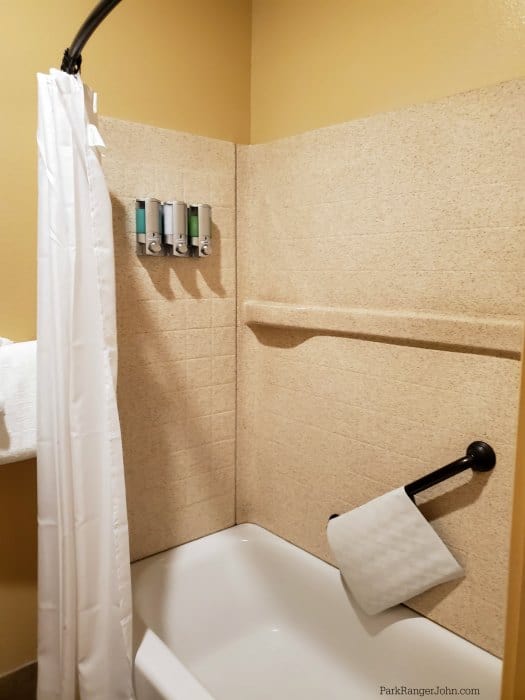 The shower has shampoo, conditioner, and soap so you don't need to pack them if you are ok with hotel amenities.
Amenities
Private bathroom
Hairdryer
Small table and chairs
Small refrigerator
Coffee Maker
TV
Fan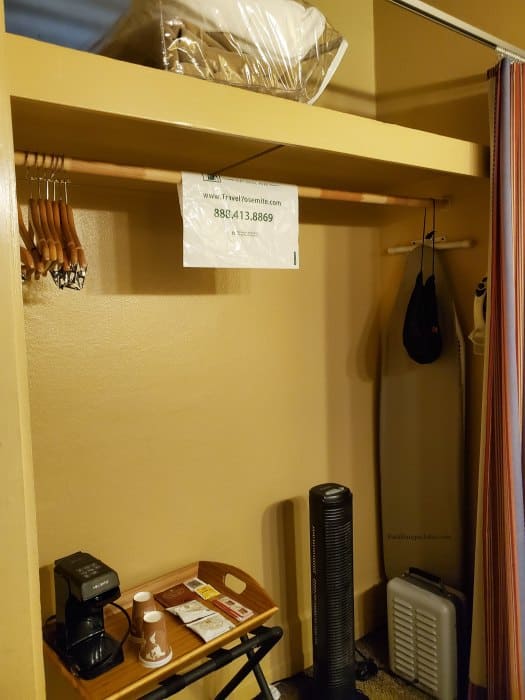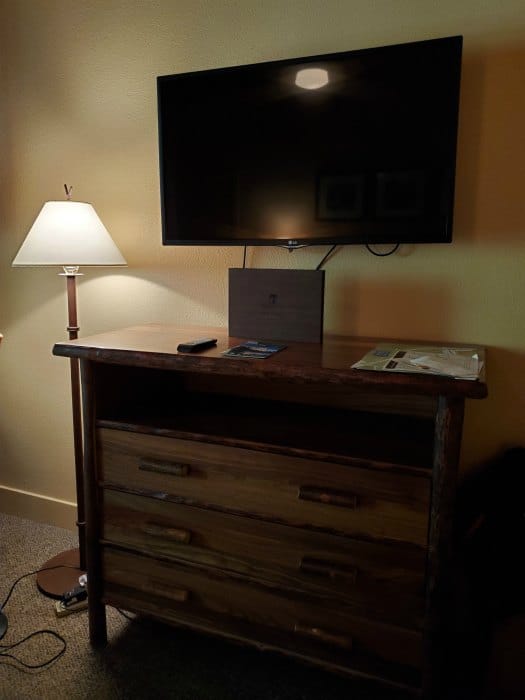 Things to know when planning a stay at the Yosemite Valley Lodge
Check-In at 4:00 pm
Check-Out by 11:00 am
Smoking is strictly prohibited at all accommodations and buildings in Yosemite.
Pets: no pets allowed on the property.
WIFI: WiFi bandwidth is limited in Yosemite National Park. The WiFi is only recommended for checking email or some (very) light web browsing.
Phone number:
Reservations: Can be made online or by calling 888.413.8869 or International 602.278.8888
Yosemite Resources
Best things to do in Yosemite - All the epic sites, hikes and things to do you don't want to miss within this great park.
Yosemite Falls - Detailed information on visiting Yosemite Falls in Yosemite Valley
Yosemite camping guide - detailed information on each of the campgrounds in Yosemite, how to make a reservation, site photos, and more.
Mariposa Grove - all the info you need to enjoy your time in the Mariposa Grove of Giant Sequoias.
California National Parks - check out all of the great parks you can visit en-route to Yosemite.
One day in Yosemite Itinerary - All of the epic things you can do in one day in the park.
Yosemite Valley Guide - An epic guide to all of the things to see, do, places to stay, camping and more in Yosemite Valley.