One thing to know about camping in Yosemite is it is crazy popular! Tamarack Flat Campground is located off the Tioga Road and offers 52 first come first serve tent camping.
We pulled into the campground at 740 am on a weekday to see if we could check it out. There were more than 20 cars lined up waiting to see if they could get a campsite!!!!
The first car arrived before 3 am to try and get in line for a spot.
This was before most of the other Tioga Road campgrounds had opened so getting a site was a bit intense.
If you are planning a Yosemite National Park Camping trip you will want to be prepared!
Especially during the late spring-early summer when campgrounds are slowly opening depending on snow and staffing. If you can get a reservation for at least your first couple of nights you will at least know you have a place to stay!
Tamarack Flat Campground offers amazing access to Tuolumne Meadows via the Tioga Road!
Each campsite contains a fire ring, picnic table, and food locker. The campground does not have running water so you will want to be prepared with a water jug.
There is a vault toilet available for campers.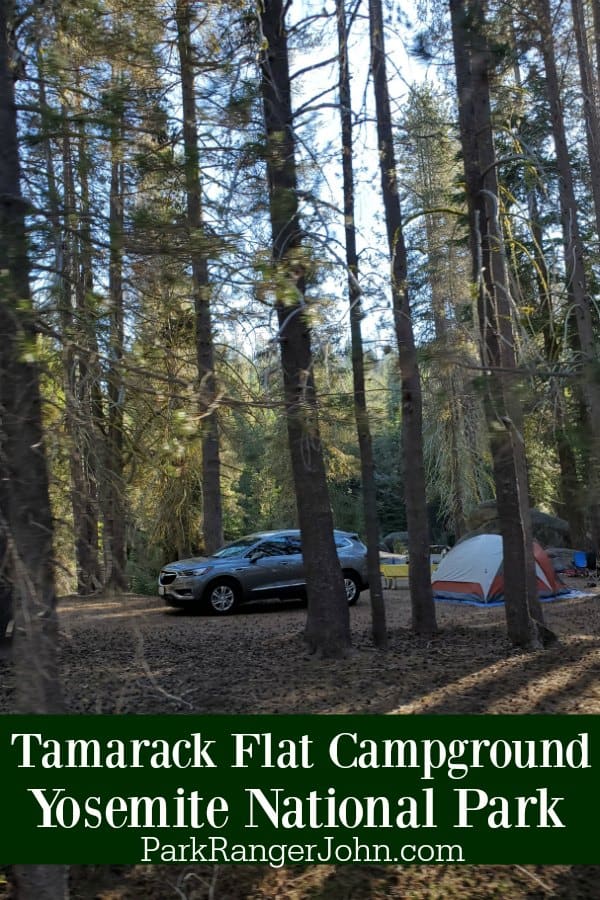 Tamarack Flat Campground
Season: approximately late June through September
Number of Sites: 52 Tent sites (RVs and trailers are not recommended)
Location in the park: Off the Tioga Road (Highway 120), about 45 minutes north of Yosemite Valley and Yosemite Village
Campsite cost: $12/night
Payments accepted:
Reservations: No reservations are available; the campground operates on a first-come, first-served basis
Campground Address: Tioga Pass, Tuolumne County, CA
Latitude/Longitude: 37.7503° N, 119.7352° W
Elevation: 6,300 feet (1,900 m)
Accessible Sites: Sites 21, 22, 23, 24, and 38
Campsites are suitable for wheelchairs and include picnic tables with extended tops. The closest restrooms to these campsites are also wheelchair accessible.
Pets Allowed: Pets are allowed but they must be on a leash less than 6 feet long.
Pets are not allowed inside park buildings or on specific trails.
Campground Reservations
Are campground Reservations Available? No reservations are available; the campground operates on a first-come, first-served basis
First Come, First Served? Yes
Campground Amenities
Flush Toilets: Yes
Payphone: No
Is wifi available? No
Is cellular Phone Service Available? No
Is camp host available on site? Yes
Is firewood available for purchase? Yes, firewood can be purchased at the Yosemite Valley grocery store or Crane Flat gas station.
Amenities at each campsite:
Fire ring in the site? Yes, Wood and charcoal fires are permitted
Picnic Table in the site? Yes
Bear Box in site/area? Yes,
You are required to store food properly in order to protect Yosemite's bears. Bear storage lockers are provided in all campsites 35"(D)x43"(W)x28"(H)
Potable Water? No, Stream water must be treated (by boiling, using a filter, or using iodine). No potable water available.
Closest Showers: Yosemite Valley (Curry Village and Housekeeping Camp)
RV Camping at Tamarack Flat Campground
RVs and trailers are not recommended due to the road leading to the campground.
Tamarack Flat Campground Regulations
The maximum number of people in a campsite: A maximum of six people (including children) are allowed per campsite. There is no limit on the number of tents (as long as they all fit into the campsite).
The number of cars per campsite: Two motorized vehicles per campsite. A valid campground car pass must be displayed.
Checkout time: 12 noon
Quiet Hours: Quiet hours are from 10 pm to 6 am
Maximum Stay: 7-day maximum stay limit.
Tamarack Flat Campground Map
Photos of Tamarack Flat Campground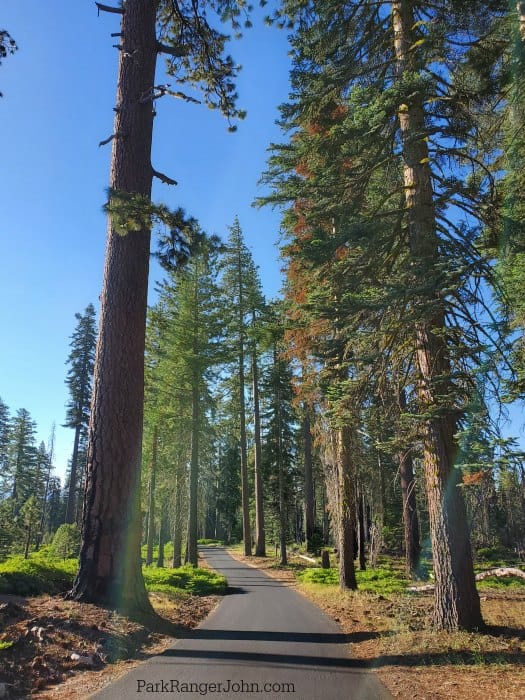 The road leading into Tamarack Flat Campground is not very wide!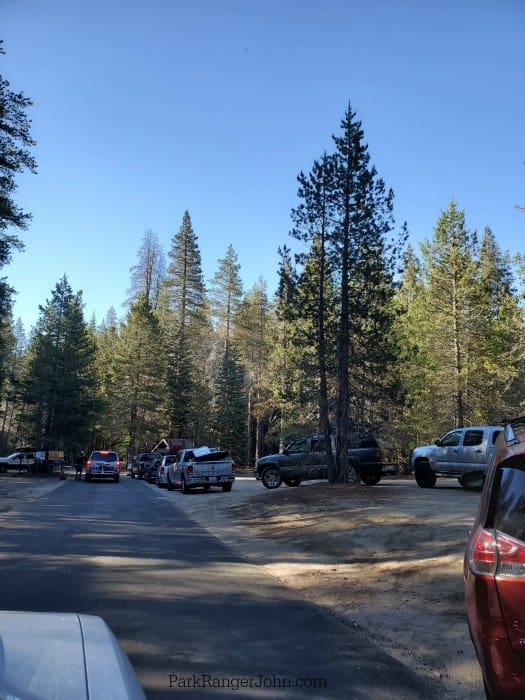 Cars lined up at 8 am hoping to get a site! The camp host was there directing traffic and keeping the campground quiet for sleeping campers.
Check out our complete Yosemite NP Travel Planning Guide for all the info you need to plan a visit.