If you are looking to stay in the heart of Yosemite Valley in Yosemite National Park and not bring your own tent you will love Housekeeping Camp.
You don't have to worry about packing an air mattress or tent just your sleeping bag and travel gear.
Housekeeping Camp is located near Curry Village with easy access to the free Yosemite Shuttles to explore the park. You can wake up and hit the park early to see as much as possible.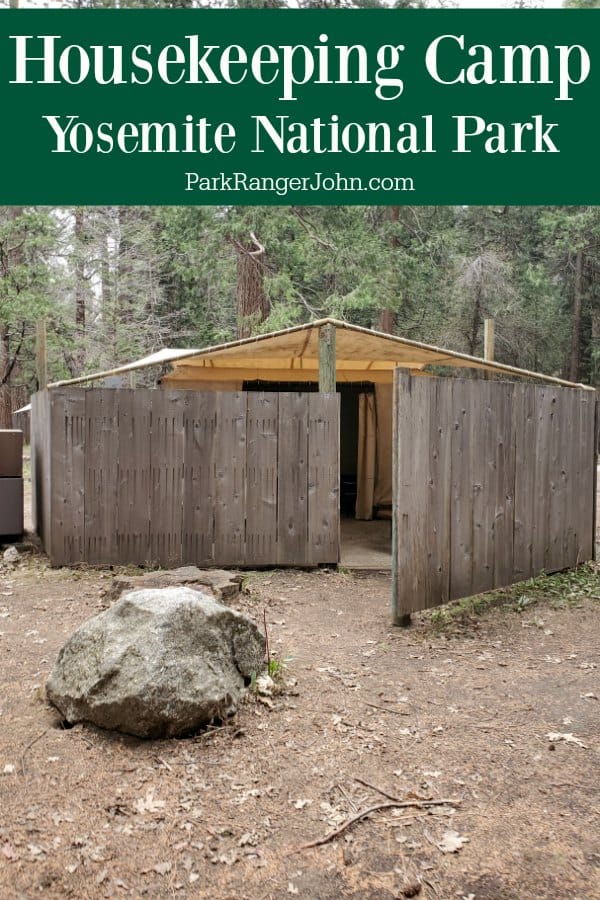 Housekeeping Camp
This is sort of glamping but in a very basic form. The Housekeeping Camp features three-sided concrete structures and a canvas flap at the front. There are roofs and privacy curtains.
Within the tent structures are a double bed and a bunk bed along with an electrical outlet and a small shelf.
These are VERY BASIC but you do not have to pack a tent with you and you are in the heart of Yosemite.
If you are looking for privacy or a quiet space you may want to look at booking a room in one of the Yosemite Lodges (Ahawanee, Yosemite Valley Lodge or Wawona Hotel).
If you are looking to enjoy more of nature, being outside, and close to everything than you will love Housekeeping Camp.
I feel like I need to repeat mentioning that this is not fancy and you will want to be prepared to be outside.
We have heard from people that they were surprised by how cold it was at night and were glad they brought a good sleeping bag. You can rent sheets and a blanket from Housekeeping Camp but remember you are at 4,000 feet and it can get cold at night.
There are Standard Units and River Units that are nearby sandy beaches perfect for relaxing and soaking in views of Yosemite Falls
You honestly get to enjoy unmatched views of Yosemite from the moment you wake up in the morning. The Merced River is your backyard and easy to get to especially if you book a river unit.
No stress setting up a tent, you just pull up and unload into your covered patio. If you love camping outdoors you will love the sights and sounds of Housekeeping Camp.
Truly a Yosemite favorite for many visitors to Yosemite National Park!
Plus if the weather turns you have a canvas roof to listen to the rain all night long.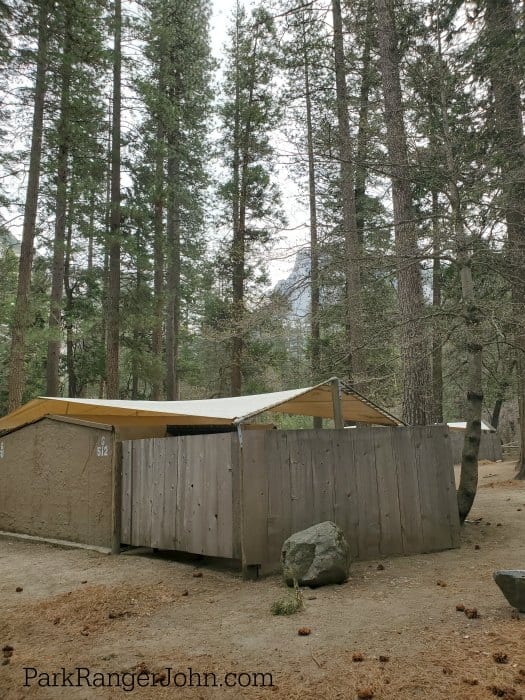 Season: April 12 - October 14, 2019
Number of Sites: 266 units in the Housekeeping Camp
Location in the park: Near Curry Village in the heart of Yosemite Valley
Campsite cost: $108.00 a night
Reservations: Yes (see how and when to make a reservation below)
Latitude/Longitude: 37.7409° N, 119.5795° W
Elevation: 4,000 feet (1,200 m)
Pets Allowed: There are no pets allowed on the property.

Housekeeping Camp Reservations
Are campground Reservations Available? Yes
Phone Number? 888.413.8869
Online? Travel Yosemite Website
How Far Ahead can you make a reservation? Reservations are available 366 days in advance and are strongly recommended, especially from spring through fall and during holidays.
Deposit: A deposit of 100% of the first night at the time of booking if paid by credit or debit card.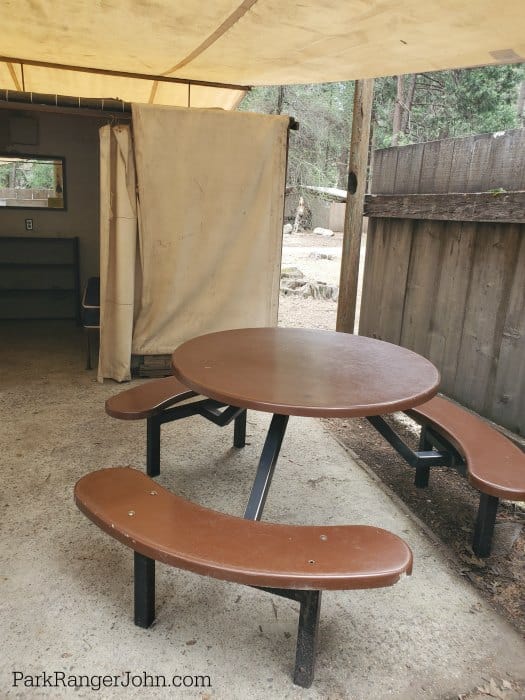 Housekeeping Camp Amenities
Flush Toilets: Yes
Payphone: Yes
Is wifi available? No (Complimentary WiFi is available at Degnan's Kitchen near the visitor center (bandwidth is limited)
Is cellular Phone Service Available? Maybe, It will depend on your carrier. Some trips we have service with T-mobile in this area of the park.
Is firewood available for purchase? Yes, You can buy charcoal and firewood at the Housekeeping Camp Store.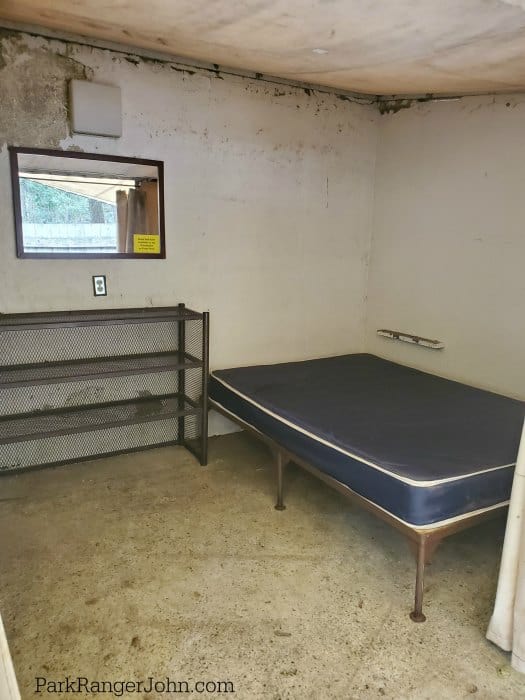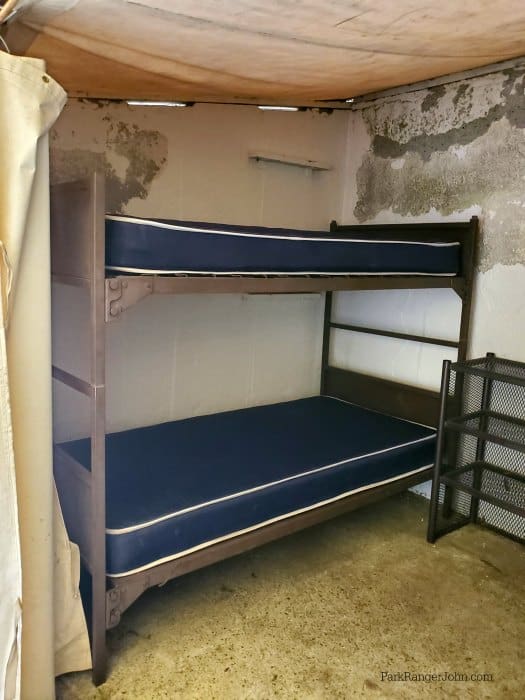 Amenities at each Housekeeping Camp Tent
Each Housekeeping Camp unit features two electrical outlets, one inside the sleeping area and one outside. Each outlet has one plug.
You may want to pack a charging bar if you have camera batteries and multiple phones to charge.
There is one light in the sleeping area and one light in the patio area.
You can rent Bed Packs for $10.00 at Housekeeping Camp when you arrive. The pack includes two blankets, two sheets, and two pillows.
Firepit in the site? Yes, there are fire rings at each campsite.
Wood fires are only allowed from 5:00 pm to 10:00 pm.
Picnic Table in the site? Yes
Bear Box in site/area? Yes, All units have a campfire ring with a grill grate and a bear-proof food storage locker.
You are required to store food properly in order to protect Yosemite's bears.
Food storage lockers are provided in all campsites 35″(D)x43″(W)x28″(H)
Potable Water? Yes, there is drinking water available in the campground
Laundry: Open seven days a week from 8:00 am to 10:00 pm, the laundry room features coin-operated washers and dryers.
Showers: Shower house is open from 7:00 am - 10:00 pm.
Camp Store: Open seven days a week from 8:00 am to 8:00 pm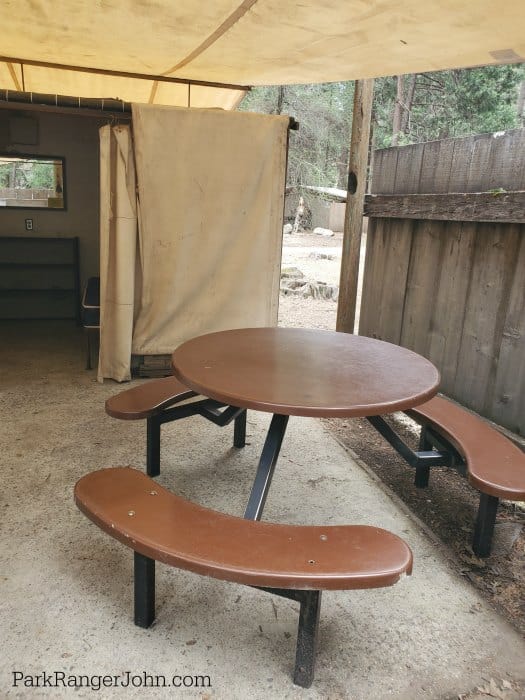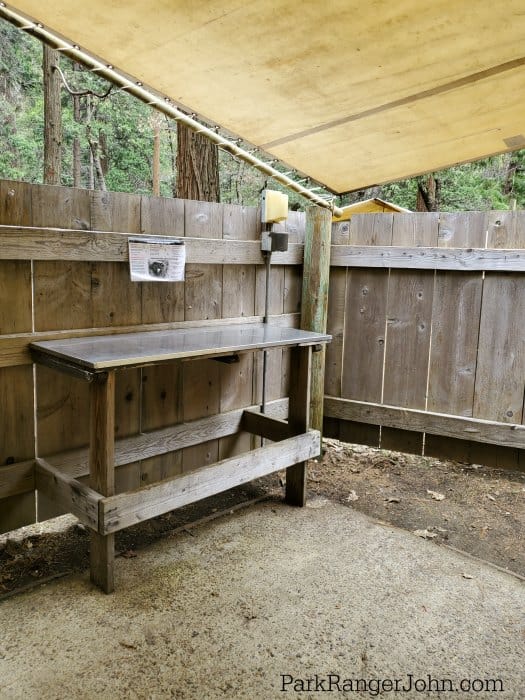 Don't forget to pack with you
Padlock for your food storage locker.
Shower shoes for the public community showers and walks to the restroom at night.
Earplugs for additional sleeping support.
String lights to help you find your tent at night
A water bottle that you can refill.
Flashlight or LED headlamp and extra batteries.
Closeable plastic food containers to store in the locker.
Inflatable Hammock for lounging and checking the epic Yosemite scenery.
Marshmallow Roasting Sticks to make epic smores over the campfire.
Bleach wipes to wipe down cooking areas and remove all food and scents.
The best thing to remember to bring is your sense of adventure! Yosemite will be your backyard while staying in Housekeeping Camp and there is so much to see and do!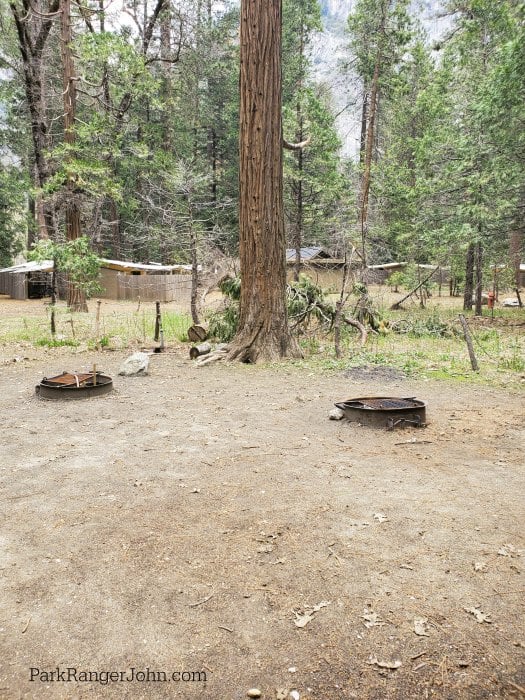 You will want to bring camping chairs with you or rent them at the Housekeeping Camp rental store. If you plan on renting them make sure to get there early so they do not sell out.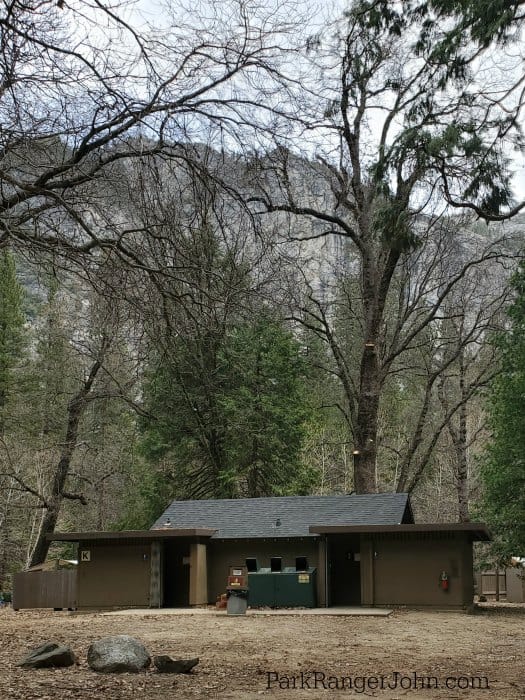 How to get to Housekeeping Camp
Housekeeping Camp is located on Southside Drive before you reach Curry Village.
Housekeeping Camp Regulations
The maximum number of people in a campsite: A maximum of six people (including children) are allowed per campsite.
The number of cars per campsite: Two motorized vehicles per campsite. A valid campground car pass must be displayed.
Check-in Time: 4 pm
Checkout time: 11 am
Quiet Hours: Quiet Hours are from 10:00 pm to 6:00 am, seven days a week.
Cancellation Policy: $10.00 cancellation fee for cancellations made 7 or more days prior to arrival. Reservations canceled within 7 days of arrival will forfeit the deposit paid.
Smoking: Smoking is strictly prohibited at all accommodations and buildings in Yosemite.
Housekeeping Camp Map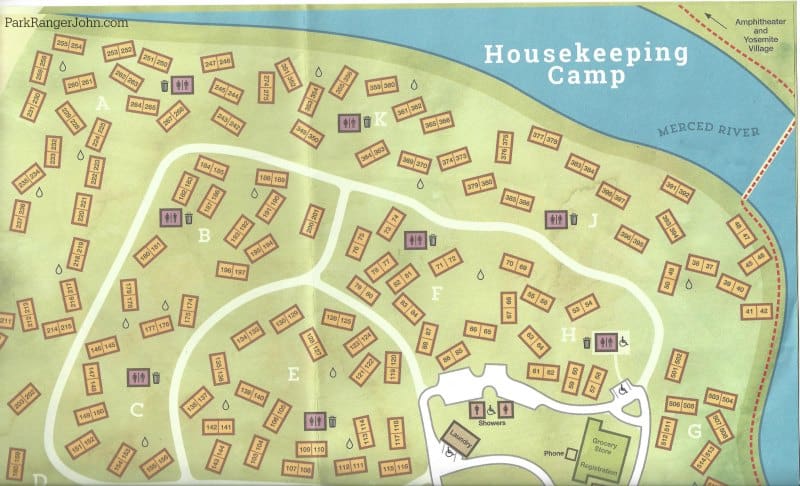 Best things to do in Yosemite - All the epic sites, hikes and things to do you don't want to miss within this great park.
Yosemite Falls - Detailed information on visiting Yosemite Falls in Yosemite Valley
Yosemite camping guide - detailed information on each of the campgrounds in Yosemite, how to make a reservation, site photos and more.
Mariposa Grove - all the info you need to enjoy your time in the Mariposa Grove of Giant Sequoias.
California National Parks - check out all of the great parks you can visit en-route to Yosemite.
One day in Yosemite Itinerary - All of the epic things you can do in one day in the park.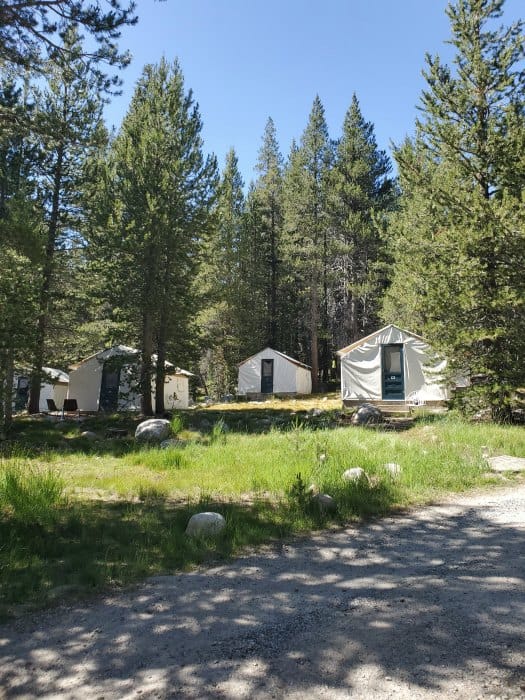 Check out all of the Yosemite Camping options!
Check out all of the California National Parks along with neighboring Arizona National Parks, Oregon National Parks, and National Parks in Nevada