Glacier Point in Yosemite National Park offers epic views over Yosemite Valley. The road to Glacier Point is only open during the summer months into fall.
This is one of the most iconic views in the National Park Service.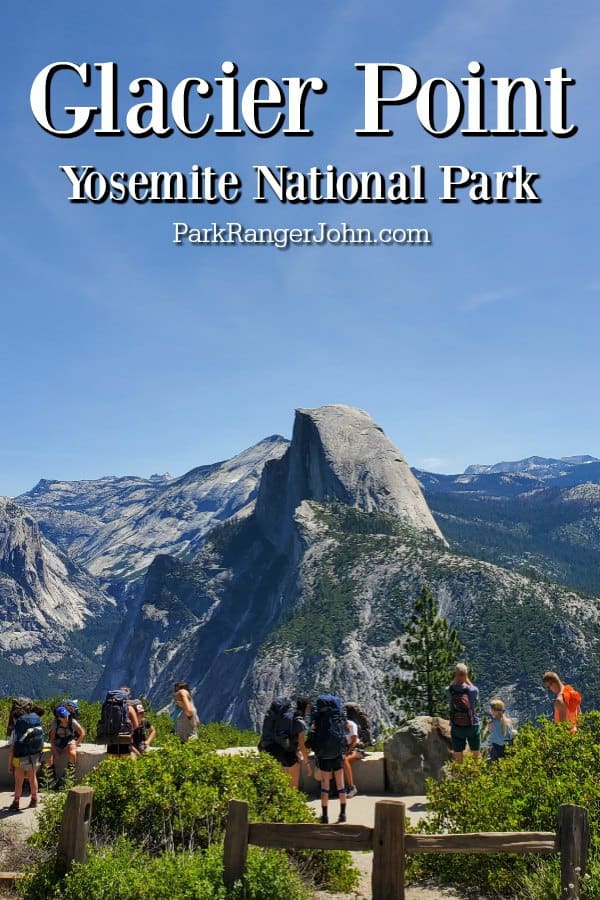 Glacier Point - Yosemite National Park
Glacier Point is one of our top things to do in Yosemite when the road is open.
One thing to know is Glacier Point Road will be closed to all traffic in 2021 to rehabilitate and improve the road.
The only access to Glacier Point in 2021 will be via the Four Mile, Panorama, and Pohono Trails, all of which are strenuous hikes.
Once you reach Glacier Point there is a fairly good size parking area. One thing to note is it can be a bit of a walk if you have to park at the end of the parking lot.
If you have anyone with you who has mobility restrictions or is unable to walk a fair distance you will want to drop them off before parking.
There is very little shade while exploring this part of the park. You will want to make sure you have sunscreen, a hat, sunglasses and are prepared with water. The sun is blazing hot and can easily burn you while you are checking out the amazing views.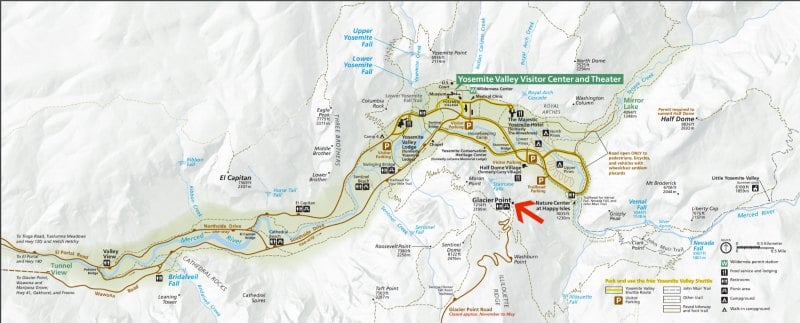 Where is Glacier Point?
Glacier Point sits 3,214 feet above Curry Village and Yosemite Valley.
To reach Glacier Point you can drive, hike, or cross country ski in the winter.
It is worth noting that Glacier Point is 32 miles from Yosemite Valley! You will want to plan a minimum of an hour's drive time plus parking time when you schedule your visit.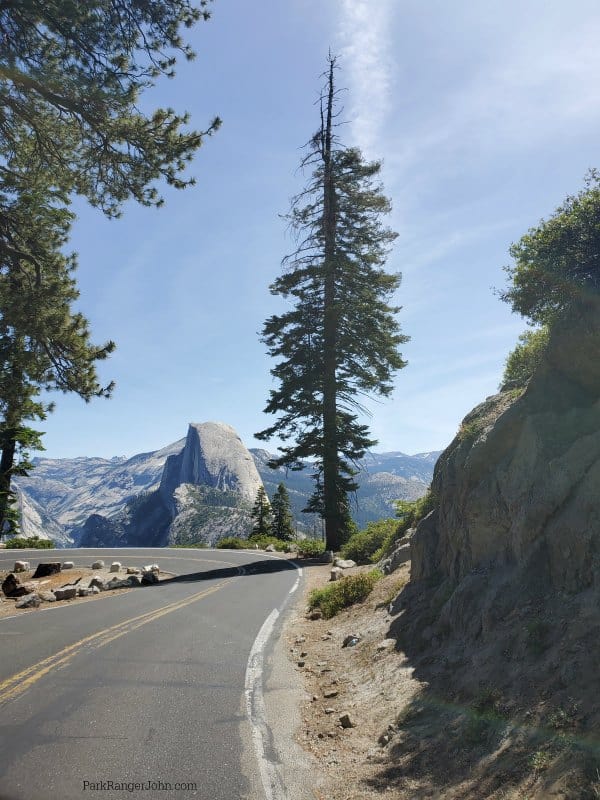 How do you get to Glacier Point?
You can drive to Glacier Point by traveling on the Wawona Road (the continuation of Highway 41 within the park)—either north from Wawona and Oakhurst or south from Yosemite Valley.
After traveling about 13 miles, turn on to the Glacier Point Road at the Chinquapin intersection.
Driving time from Wawona and Yosemite Valley is about an hour.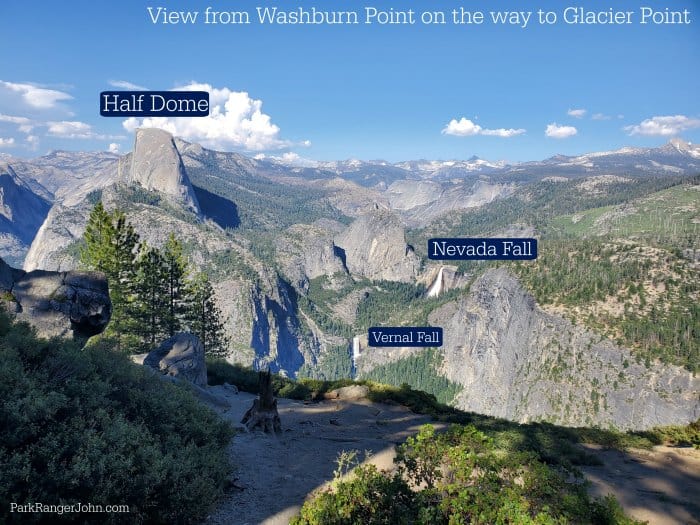 On the way to Glacier Point, you will want to pull over at Washburn Point for amazing views of Vernal and Nevada Falls.
Be prepared as your drive towards Glacier Point for an epic view of Half Dome as the road curves.
This is a great photo to grab out the passenger window of your car for a fun look at Yosemite.
Glacier Point Tour
This tour will not be operating during the 2020 season
You can sign up for a four hour guided tour that travels from Yosemite Valley up to Glacier Point. This guided tour is scheduled to run twice a day at 8:30 am and 1:30 pm.
The tour runs every day from late May to late October when Glacier Point Road is open - conditions permitting.
Glacier Point Tours meet at the lobby entrance of Yosemite Valley Lodge. If you are taking the park shuttle, get off at stop #8. If driving, please allow extra time for parking.
Highlights of the tour include El Capitan, Bridalveil Fall, Half Dome, Yosemite Falls in Yosemite Valley, Tunnel View, and Glacier Point.
To make a reservation call 888.413.8869 or book them online here.
Glacier Point Parking
I mentioned it above but it is worth mentioning a second time! The Glacier Point parking lot is a pretty good size. The parking lot wraps down a slight hill and back up again. There are a couple of pit toilets in the parking lot.
I am going to warn you that the pit toilets do not smell amazing when it is a hot summer day but they are there and you will probably see a line to get in one. If you see one open you will want to use it.
If you have someone with you who has mobility restrictions or who gets tired easily from walking you will want to drop them off before parking.
There are ADA Sites near the front of the parking lot available.
Washburn Point
On the way to Glacier Point, you will see a turnoff for Washburn Point! You want to check this view out!
Many times this overlook is not as crowded and you can enjoy wandering around without a huge crowd. We have enjoyed many picnics here while relaxing with an epic view.
Just pack lunch in a cooler and take time to just take a deep breath while looking out over Yosemite National Park.
Is Glacier Point open?
Glacier Point Road is normally open from approximately late May through October or November depending on snow levels.
During the winter Glacier Point can be accessed by cross country skiing 10.5 miles from Badger Pass Ski Area.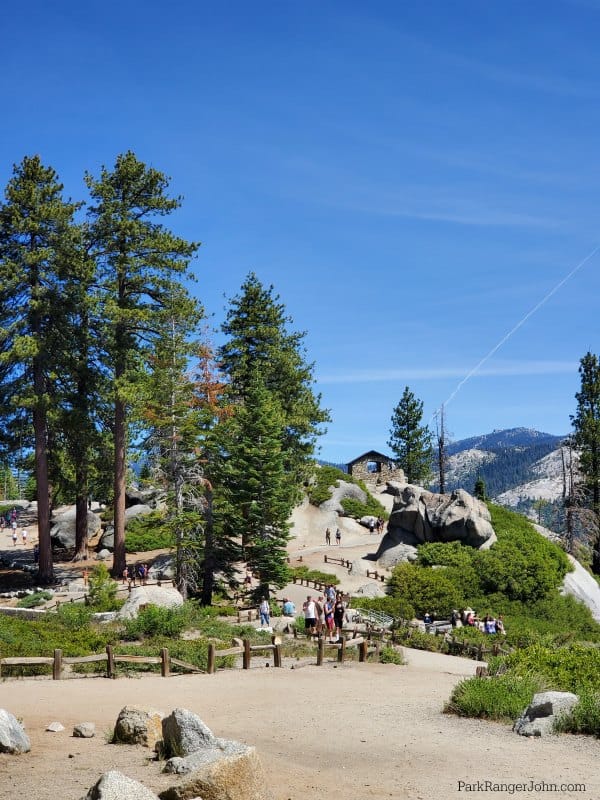 What can you do at Glacier Point?
There are a ton of different viewpoints from Glacier Point. You can spend hours wandering the overlook and checking out the views. As the sun and clouds shift during the day the overlook views can change dramatically.
When you first arrive at Glacier Point you can see a direct view of Half Dome. If you have time and energy you can wander to the left and check out the view from the stone cottage overlook and farther down the trail. Each of the overlooks provides a different view of Yosemite Valley.
It is well worth spending time walking around and checking out the different overlooks. They provide some of the most amazing views of Yosemite Valley and the Sierra Nevada Mountains.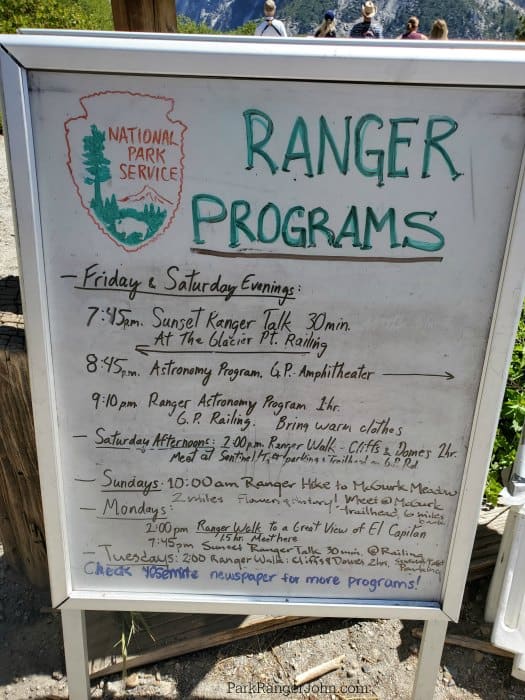 Ranger Programs
Ranger programs are offered on a variety of subjects during the day. For a current schedule check the Yosemite Newspaper.
Programs may be changed due to weather and other conditions.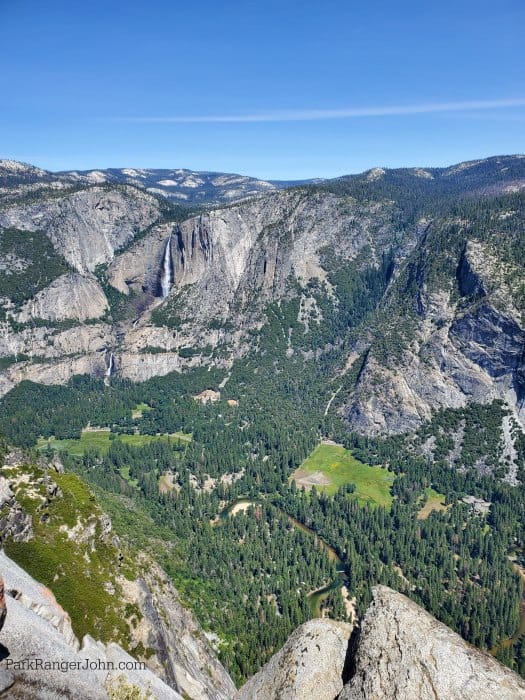 Photography Tips from Glacier Point
Our biggest photography tip is to be prepared with your best camera and lenses. Also, make sure that your batteries are charged and you have an SD Card with a ton of space available.
The best light for photography occurs from late afternoon to sunset. Keep an eye out for storms and clouds to add contrast to your photos.
The best time to visit is when you can dedicate time to exploring and getting the photos you dream of.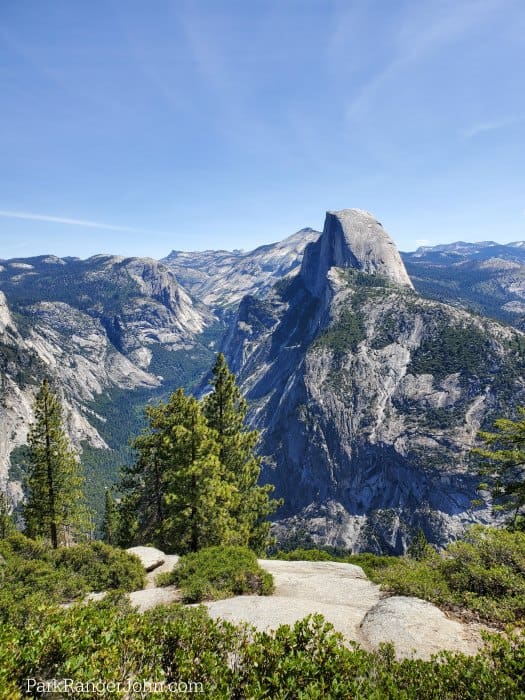 What can you see from Glacier Point?
Half Dome
You can't miss Half Dome from this view. Bring binoculars to see if you can see hikers who have hiked to the top of Half Dome.
Yosemite Valley
From this viewpoint, you are looking down on Yosemite Valley. You can see the Ahwahnee and Yosemite Village. Look for rafters in the Merced River.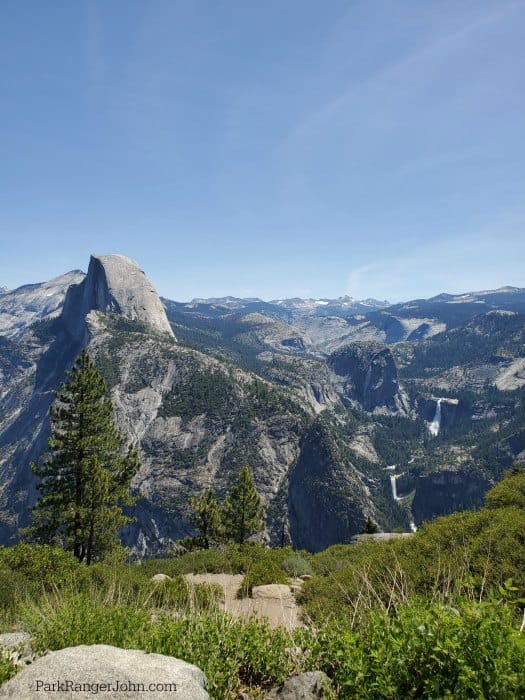 Vernal Fall and Nevada Fall
Nevada Falls plunges 594 feet and is the higher of the two waterfalls.
Both Vernal and Nevada Falls descend giant glacial steps that were formed when the glacier ice moved down the valley.
Yosemite Falls
As you walk around the viewpoint you can see Yosemite Falls on the other side of the valley. Yosemite Falls is actually three sections of waterfalls. Upper falls is 1,430 feet, the Middle Cascade is 675 feet and the Lower Falls are 320 feet.
It is truly amazing to be able to see Yosemite Falls in its entirety.
Yosemite's High Country
From this viewpoint, you can see just how vast the high country is. It is amazing to see the sheer size of the area and how many mountain peaks there are.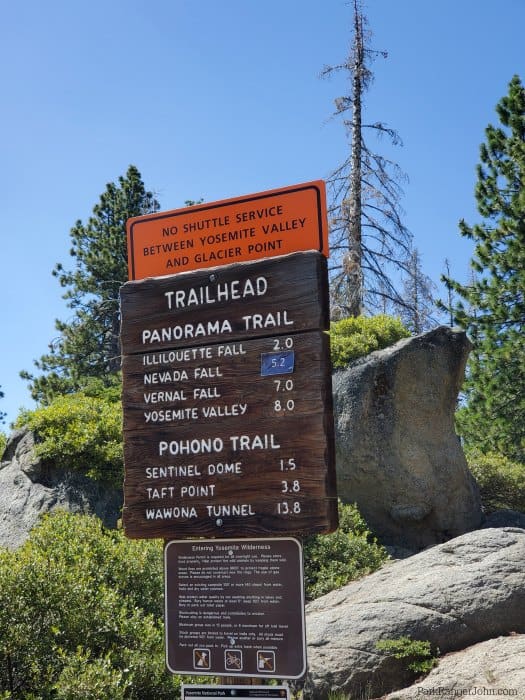 Glacier Point Hikes
You can print a PDF brochure of all of the hikes and a hiking map before your trip.
If you are going to do any hikes make sure you bring the ten essentials with you.
Easy Hikes
McGurk Meadow
Distance - 1.6 miles round trip
Duration - 1-2 hours
Elevation change - 150 feet
Trailhead - McGurk Meadow Trailhead
Moderate Hikes
Dewey Point
Distance - 8.2 miles round trip
Duration - 4 - 6 hours
Elevation change - 750 feet
Trailhead - Begin at McGurk Meadow Trailhead
Taft Point & The Fissures
Distance - 2.2 miles round trip
Duration - 2 hours
Elevation change - 200 feet
Trailhead - Sentinal Dome/Taft Point Trailhead
Taft Point sits at 7,503 feet and offers amazing views of Yosemite Falls, the Merced River, and El Capitan.
Sentinel Dome
Distance - 1.8 miles round trip
Duration - 2 hours
Elevation change - 400 feet
Trailhead - Sentinel Dome/Taft Point Trailhead
Sentinel Dome is the second highest point above the rim of Yosemite Valley after Half Dome.
Sentinel Dome/Taft Point Loop
Distance - 4.9 mile loop
Duration - 3-4 hours
Elevation change - 1,000 feet
Trailhead - Sentinel Dome/Taft Point Trailhead
Strenuous Hikes
Four Mile Trail
Distance - 4.8 miles one-way
Duration - 3-4 hours each direction
Elevation change - 3,200 feet
Trailhead - Glacier Point parking area to go top-down or the trailhead is located below Sentinel Rock on Southside drive about a mile before Yosemite Village to hike up.
Panorama Trail
Distance - 8.3 miles one way
Duration - 6-8 hours
Elevation change - 4,000 feet
Trailhead - Glacier Point parking area
Mt. Starr King View
Distance - 3 miles round trip
Duration - 2-3 hours
Elevation change - 900 feet
Trailhead - Mono Meadow Trailhead
Ostrander Lake
Distance - 11.4 miles round trip
Duration - 8-10 hours
Elevation change - 1,500 feet
Trailhead - Ostrander Lake Trailhead
Pohono Trail
Distance - 12.9 miles one way
Duration - 8-10 hours
Elevation change - 2,800 feet
Trailhead - Glacier Point parking area or Tunnel View parking area on Wawona Road.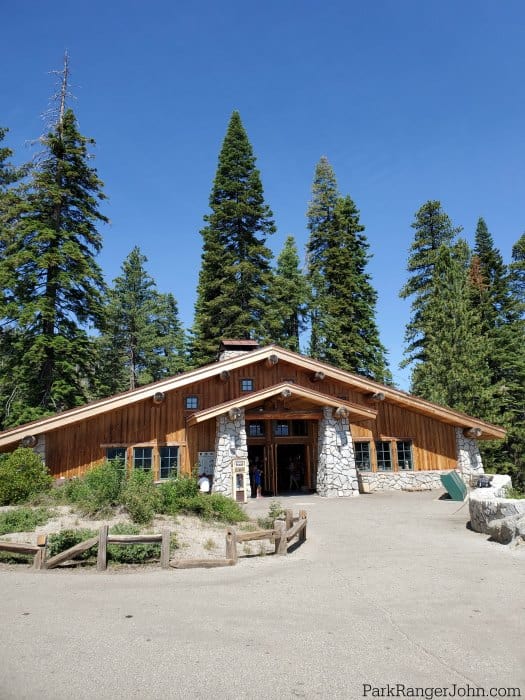 Glacier Point Gift Shop
The gift shop/snack shop is packed with great souvenirs and snacks. One of our favorite things is the cooler of ice cream and popsicles. On a hot summer day, the popsicles taste like a million dollars.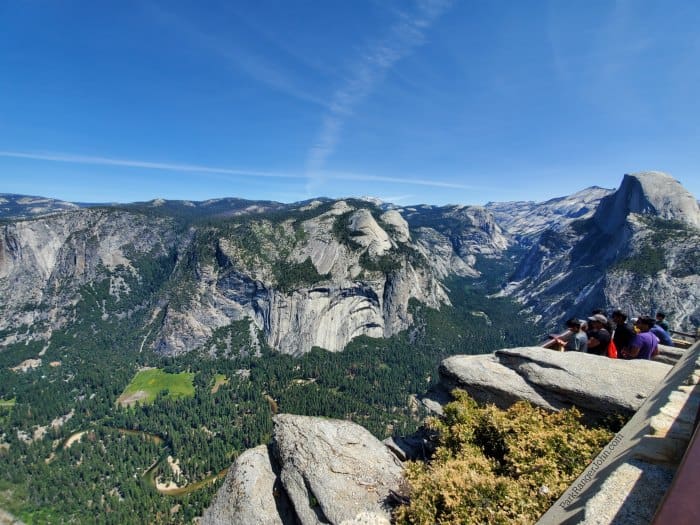 Details/Information
Glacier Point Elevation - 7,214 feet, 3,200 feet above Half Dome Village.
Winter Recreation - Cross Country Skiers will love that there are ski tracks ready for adventure. Check out our Yosemite Winter Guide for more information.
Camping near Glacier Point
Bridalveil Creek Campground is located on Glacier Point Road. The campground has 110 campsites and is normally open from July through early September depending on snow levels.
Wawona Campground is located on Highway 41 making it an easy campground to drive to Glacier Point Road.
Check out all of the Yosemite Campgrounds for more options when planning a camping trip to the park.
Lodges near Glacier Point
Wawona Hotel - Formerly the Big Trees Lodge. The lodge is located an hour from Glacier Point on Highway 41.
Yosemite Valley Lodge - Depending on traffic the Yosemite Valley Lodge is about an hour and 15 minutes to Glacier Point.
Additional Yosemite Resources
Yosemite Camping Guide – Check out all of the campgrounds in Yosemite including site photos.
One Day Yosemite Itinerary – Check out all the things you don't want to miss if you only have 1 day in the park.
Californa National Parks – Check out all of the parks you can visit while in California.