Oakhurst California is a gateway city to Yosemite National Park. This is because Oakhurst lies only 16 miles (24 Minutes) south of the Southern Entrance of Yosemite and has a symbiotic relationship with the park.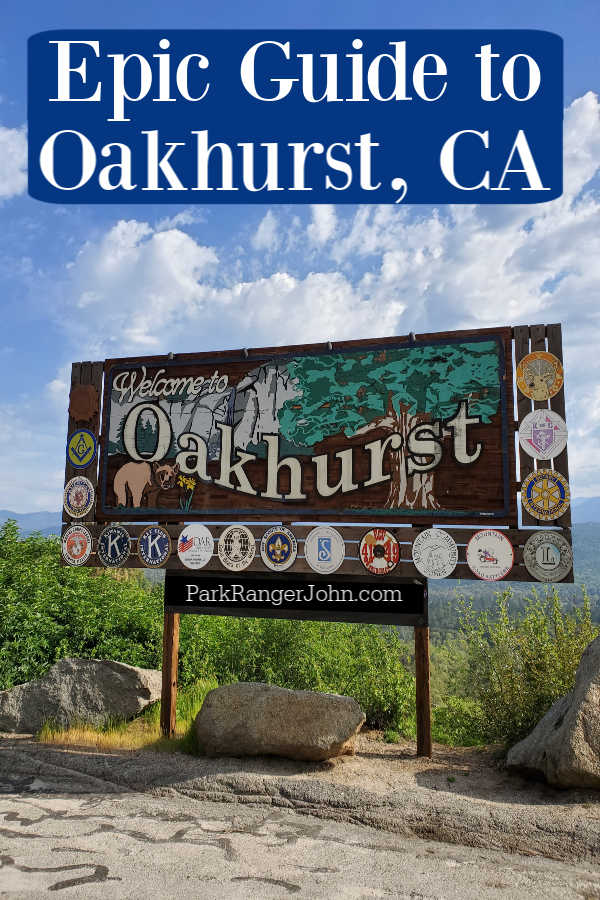 Oakhurst, California the Southern Entrance to Yosemite
We have spent the past couple of years partnering with the Visit Yosemite │ Madera County visitor center to learn more about Oakhurst and surrounding areas. We are so excited to share with you why we love this town.
Oakhurst formerly known as Fresno Flats offers a wide variety of restaurants, recreation and so much more!
Many people who live in gateway cities not only love and recreate in the park but also depend on tourism to have employment. Park Employees live in these areas, park volunteers who are essential to keep the parks going also live in these Gateway Cities and have created businesses catered to park visitors.
Gateway cities like Oakhurst are a vital part of the success of the National Park Service, especially to the large parks like Yosemite.
They provide hotel accommodations, restaurants, outdoor activities, parking, and shuttle services, and supplies to the ever-growing demand as more and more people come to explore our national parks.
Oakhurst is not only the Southern Gateway to Yosemite National Park but also home to Bass Lake, The Yosemite Mountain Sugar Pine Railroad, The Sierra Vista Scenic Byway, and tons of great restaurants.
All of this is easily accessed by driving on California 41 from Fresno California. The Southern Gateway is the ideal entrance for any visitor going to/coming from Sequoia and Kings Canyon National Parks, flying into California to Fresno Airport (FAT) or anyone driving from the south like Bakersfield or Los Angeles.
Oakhurst to Yosemite
Located in the foothills of the Sierra Nevada Mountain Range the Oakhurst area is 16 miles to the southern entrance to Yosemite National Park.
Oakhurst to Mariposa Grove of Giant Sequoia Trees: 17 miles, 32 minutes
Oakhurst to Wawona Hotel: 33 miles, 56 Minutes
Oakhurst to Yosemite Visitor Center in Yosemite Valley: 47 Miles, 1 Hour and 24 minutes
Oakhurst to Glacier Point (Open Seasonally due to Snowfall): 40 miles, 1 hour and fifteen minutes
Oakhurst to Badger Pass Ski Area: 45 Miles, 1 hour and thirty minutes
Where is Oakhurst?
Oakhurst is located in the central interior part of California. It is centrally located to numerous large cities as well as being in the heart of the Sierra Nevada Mountain Range.
Listed below is the distance to several large cities within a day's drive to Yosemite National Park.
Bakersfield — 155 miles — 2.5 hours
Fresno — 45 miles — 50 minutes
Las Vegas — 438 miles — 7 hours
Los Angeles — 275 miles — 4.5 hours
Madera — 45 miles — 1 hour
Merced — 67 miles — 1.25 hours
Monterey — 195 miles — 3 hours
Sacramento — 170 miles — 3 hours
San Diego — 380 miles — 6 hours
San Francisco — 213 miles — 4 hours
San Jose — 180 miles — 3 hours
San Luis Obispo — 155 miles — 3 hours
Santa Barbara — 282 miles — 5 hours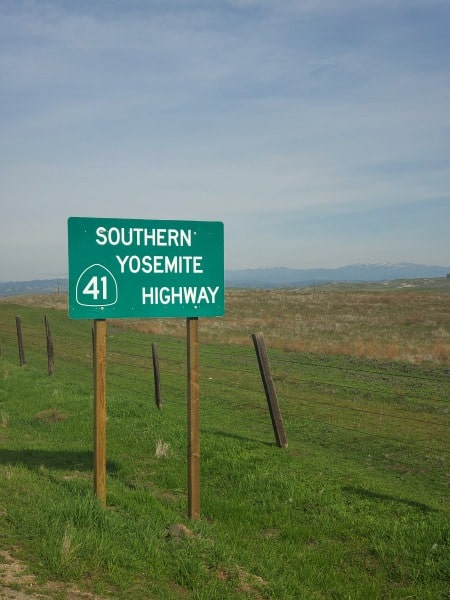 How to get to Oakhurst California
Located at the intersection of Highway 41 (a major corridor to Yosemite) and Highway 49 (the southern end of the Golden Chain Highway).
Oakhurst Weather
Oakhurst's weather is truly amazing! Averaging only 2 inches of snow a year and 29 inches of rain a year you can expect to enjoy great weather.
What to do in Oakhurst, California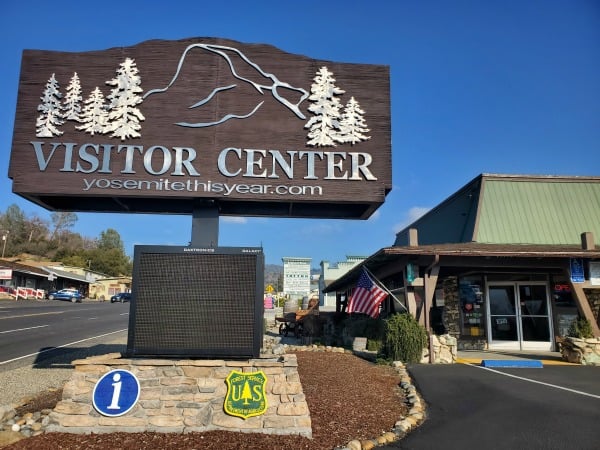 Visit the Yosemite Madera County Visitor Center
The visitor center is the perfect place to start your trip to Yosemite NP. You can pick up maps, brochures and ask the amazing front desk staff any questions you may have about not only Yosemite but the surrounding area.
They can also help with current road conditions, events happening while you are there, and more. This is always our first stop when we visit Oakhurst.
Address: 40343 Highway 41, Oakhurst, CA, United States
Phone: 559-683-4636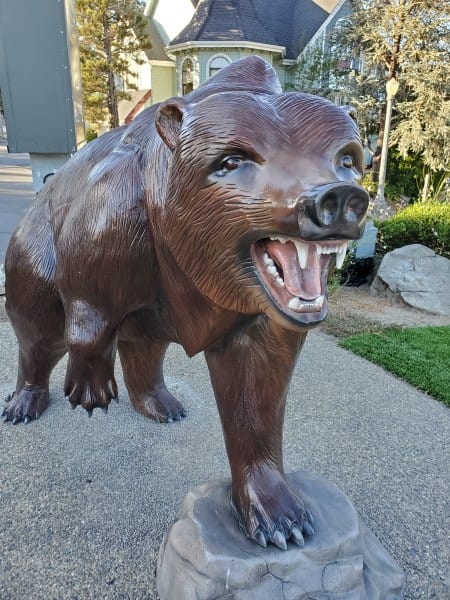 Talking Bear Statue
Who doesn't like bears? Especially when bears talk! Make sure to look for the bear on the side of the road just before the Visitor Center in Oakhurst.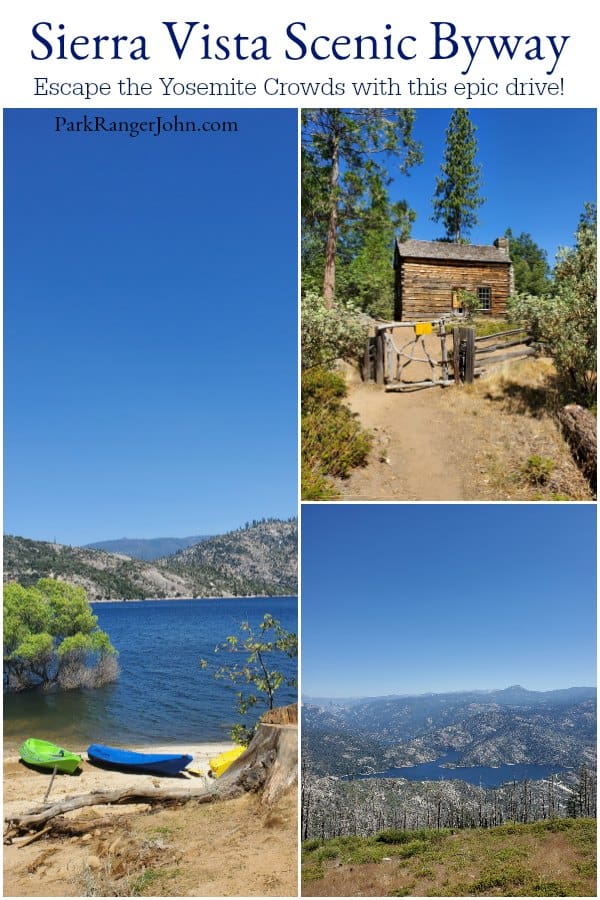 The Sierra Vista Scenic Byway takes you back into some rugged and less explored parts of the Sierra Nevada Mountain Range. Those willing to take time to explore this area get to see incredible scenery without the crowds and truly get to experience nature like John Muir once did!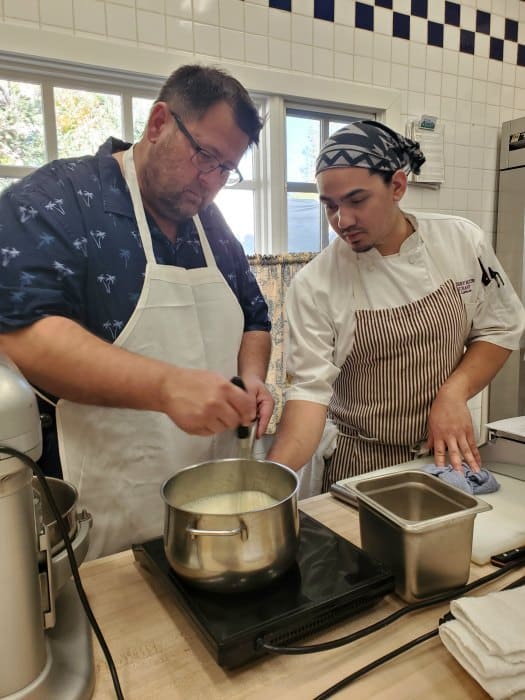 Erna's Elderberry Restaurant offers both half-day and 3-full day cooking classes during the year. We took a Sweet Treats class and loved it.
We learned to make these Lemon Butter Cookies, thumbprint cookies, and more!
The three-day class is fully immersive including bread, main dishes, wine pairings, and more.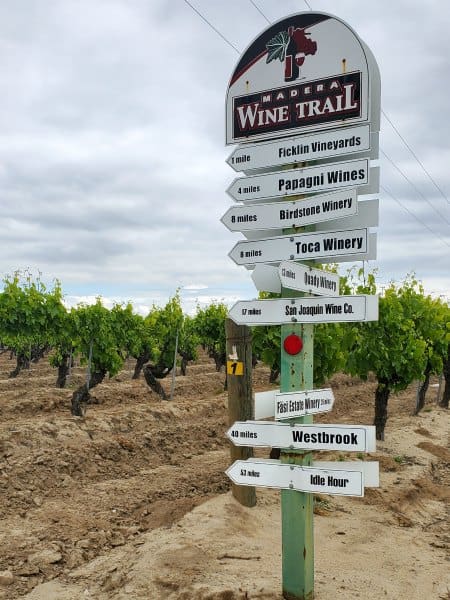 Madera Wine Trail
The Madera Wine Trail is located throughout Madera County. In Oakhurst, you can visit Idle Hour Winery. Located just outside of town is Westbrook Wine Farm (appointment only) and Fasi Estate Winery.
Idle Hour Winery offers tastings along with the opportunity to stay near the winery at the Queen's Inn. They recently started hosting soup nights and Sunday brunch which is incredibly popular and looks amazing.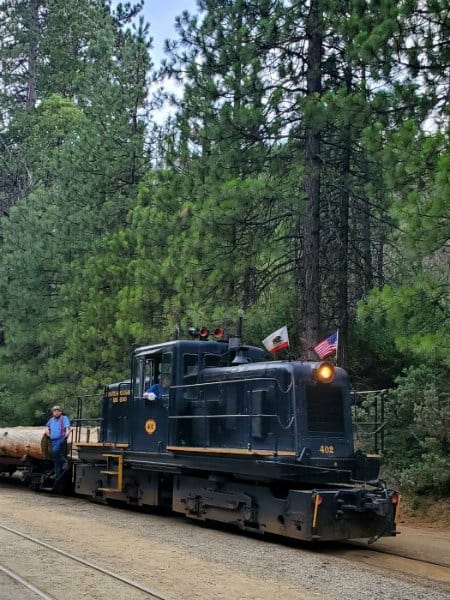 The Sugar Pine Railroad takes you back in history to the time of logging trains. Learn about the Sugar Pine Trees, Local History, and have a ton of fun.
During the summer they offer daily train tours along with weekend dinner and train rides.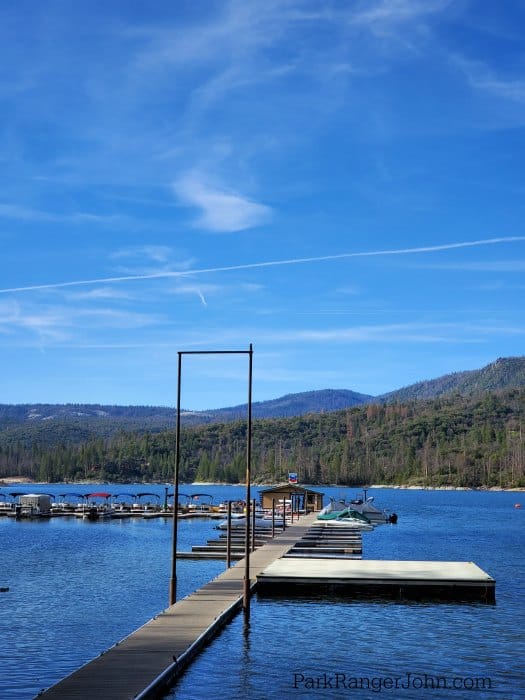 Bass Lake is located right outside of Oakhurst and is absolutely beautiful. You can stay right on the lake at The Pines Resort.
If you like water sports, spending time on the water, fishing or just relaxing you will love Bass Lake. There are multiple Bass Lake boat rental options.
Check out all of the Bass Lake Camping options.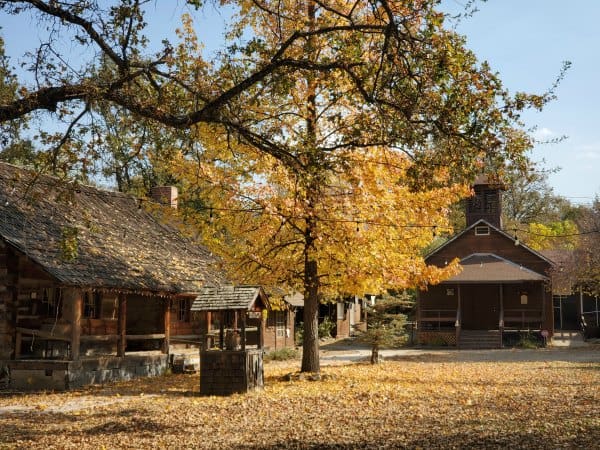 Fresno Flats Historic Village Park and Museum
The Fresno Flats Historical Park and Museum are located in the heart of Oakhurst. The park and museum are built around two restored and furnished homes dating back to the 1870s.
Both of these homes have been designated as points of historical interest by the State of California.
Address: 49777 High School Rd, Oakhurst, CA 93644
Phone: 559-683-6570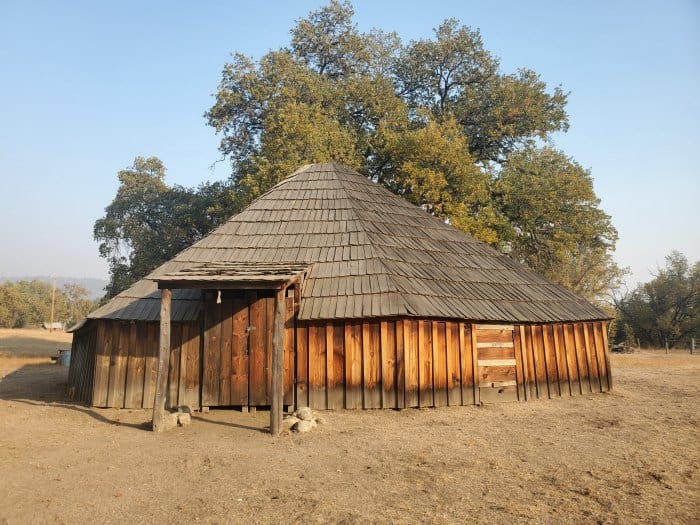 Just outside of Oakhurst you can visit the Wassama Round House State Historic Park. This small park includes a roundhouse that is still used to this day by local Southern Sierra Miwok People.
Art Galleries
Gallery Row is located right off of Highway 41 in the heart of Oakhurst. The complex includes multiple art galleries that feature paintings, sculpture, ceramics, art glass, photography, jewelry and more.
Address: 40982 Highway 41, Oakhurst, Ca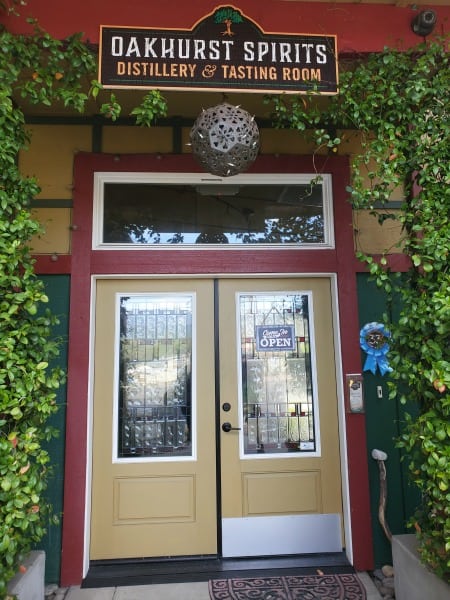 Oakhurst Spirits
Oakhurst Spirits offers small batches of whiskey, rum, vodka, gin, brandy, and bourbon. You can enjoy a tour and liquor tasting in the heart of Oakhurst.
They are only open Friday, Saturday, and Sunday from 12 pm to 7 pm or by appointment.
My wife Tammilee made these amazing Bourbon Cherry Chocolate Brownies with Oakhurst Spirits Bourbon.
Address: 40300 Greenwood Way, Oakhurst
Phone: 559-641-5400

Children's Museum of the Sierra - Closed
The Children's Museum of the Sierra is a discovery museum for kids ages 2 to 12 and their families. The museum provides hands-on exhibits and programs designed to encourage visitors to learn by doing.
Address: 49269 Golden Oak Drive, Suite 104, Oakhurst, CA 93644
Phone: 559-658-5656
Golden Chain Theater
The Golden Chain Theater recently celebrated 48 consecutive seasons of live theater. The theater presents summer melodramas, historical dramas, murder mysteries, and more.
The theater is run with all volunteers.
Address: 42130 CA-41, Oakhurst, CA 93644
Phone: 559-683-7112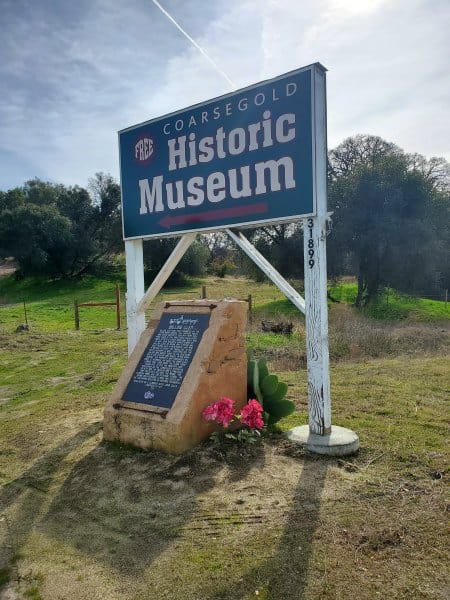 Coarsegold Historic Museum
Located near Oakhurst in the city of Coarsegold the Coarsegold Historic Museum is located off of Highway 41.
The museum includes a historic 19th century packed adobe way station for horse-drawn freight wagons on the old stage road until the 1930s, the Kennedy Barn houses historic artifacts and pictures of everyday life during the Gold Rush and mining era, and the restored one-room Picayune School which was used by the Chuckchansi Yokuts Indians from 1913 to 1956.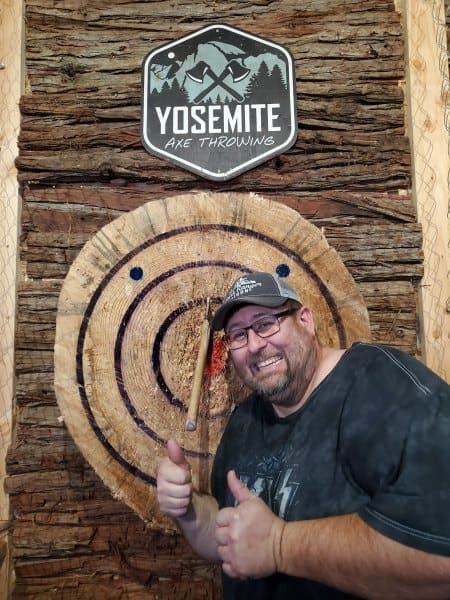 Yosemite Axe Throwing
You read right, Axe throwing! It's seriously so much fun and everyone I saw left with the biggest smiles.
The target lanes and countertops are built from reclaimed wood from a local fire scar.
Yosemite Axe Throwing was started by Nate Hodges who currently holds the U.S. Record in the Springboard Chop competition.
Nate is a member of the U.S. National Team for STIHL Regional Timber Sports.
Yosemite Axe Throwing is open for ages 8+. You can visit 7 days a week in the heart of Oakhurst.
Address: 40761 CA-41, Oakhurst, CA 93644
Phone: (559) 683-2937
Where to Stay in Oakhurst, California
The Chateau du Sureau offers five-star luxury in Oakhurst. We were so incredibly impressed with the Chateau during our stay. The room was gorgeous and the service impeccable.
Queen's Inn
The Queen's Inn is located near the heart of Oakhurst. Next to the Idle Hour Winery you can enjoy a glass of wine and live music at the Queen's Wine Bar.
The Pines Resort is located on the shores of Bass Lake. The rooms offer amazing views over the lake and are super comfortable
Fairfield Marriott
There is a brand new Fairfield Marriott opening in Oakhurst
Best Western Plus
We stayed at the Best Western Plus Yosemite Oakhurst during our last visit and loved it. The room was really nice with a gorgeous mural of Tunnel View in Yosemite above the bed.
The hotel has both an indoor and outdoor pool/hot tub available for guests. For breakfast, they offer a buffet with everything you would want to start the day.
The hotel is located right on Highway 41 making it an easy place to stay during your vacation.
You can camp on the shores of Bass Lake at multiple campgrounds.


Shopping not to miss in Oakhurst
Sierra Nevada Trading Company
Located right off of Highway 41 the Sierra Nevada Trading Company is the perfect place to pick up last-minute camping supplies and souvenirs. They have a great variety of Yosemite souvenirs, hats, gifts, maps, and books.
Address: 41969 CA-41 Ste. A, Oakhurst, CA 93644
Phone: (559) 676-7000
Artifacts World Import Gallery
Artifacts World Import Gallery is filled with gorgeous crystals, statues, handbags, jewelry and more. This is the store to visit to find incense, candles, gemstones, and crystals.
Address: 40671 Highway 41, Suite E, Oakhurst, California
Phone: 559-658-6300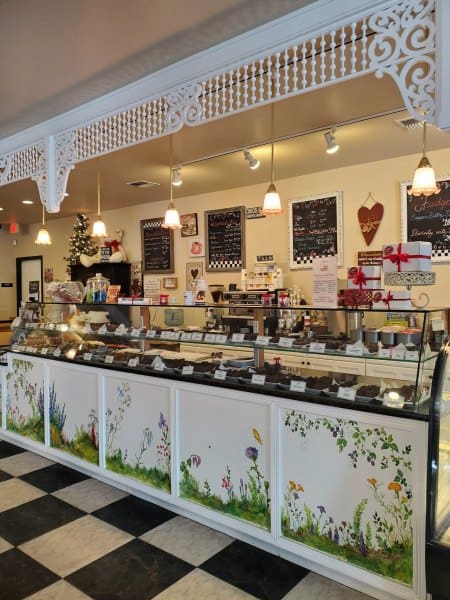 Reimers
Reimers is located off of Highway 41 and is the place to go for candies, gifts, and delicious ice cream. This is a sweet lover's paradise! The store is filled with all sorts of sugary goodness.
They have over 80 varieties of chocolate made with fine chocolate, fresh cream, and the best ingredients. They make their own fudge, brittles, toffees, and divinity.
They also have amazing ice cream with freshly made waffle cones made in-house. The 24 flavors ice cream is made in their three Rivers location. They use locally grown wild blackberries, peaches, and nuts as well as fresh cream to make seriously delicious ice cream.
Address: 41969 Highway 41, Oakhurst, Ca
Phone: 559-642-3232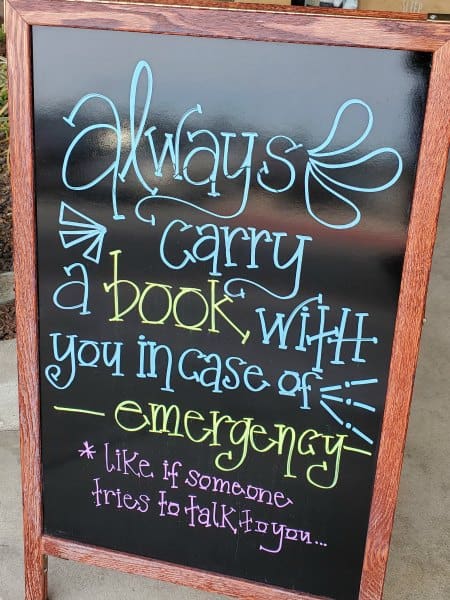 Branches Book Store - Closed
Located in Von's parking lot you need to check out Branches Book Store. The store is filled with not only great books but amazing cards and gifts.
We had a hard time leaving we were having so much fun picking out amazing cards.
Oakhurst Giftworks
Located just off of Highway 41 this gift store has a little bit of everything. Tons of Yosemite gifts along with so much more.
You can find antiques, great cookbooks, cute home items and really a little bit of everything.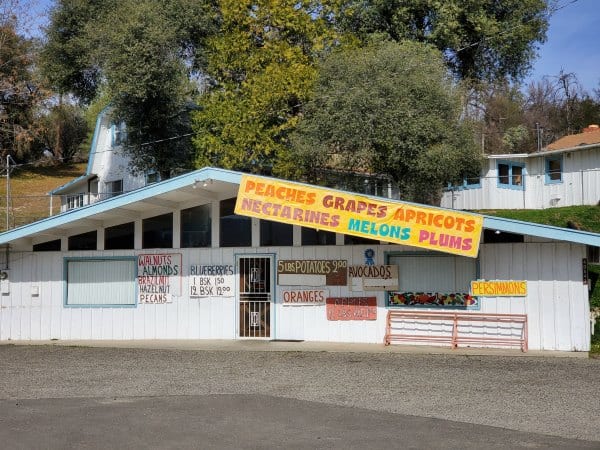 Oakhurst Fruit Stand
Oakhurst is just up the hill from Madera County and a ton of farmland. You can enjoy the literal fruits of these farms at the Oakhurst Fruit Stand.
We are always amazed at how great the produce prices are compared to what we pay in Spokane, Washington. I am going to admit that we have picked up bags of oranges and other produce and flown it home with us.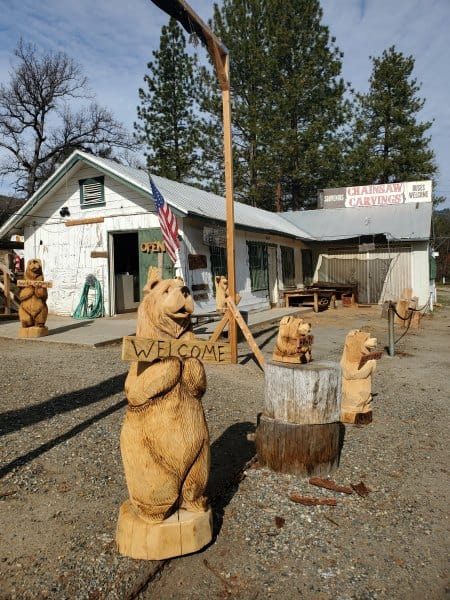 Chainsaw Bear Carvings - Closed
Located right on Highway 41 you don't want to miss these amazing bear carvings! Don't worry they have bears small enough to fit in your suitcase.
Whether you live in Oakhurst or are visiting on vacation we know that you will love the time you spend here!
Check out our Yosemite Vacation Guide for all the information you need to plan a great trip.
Don't miss our Yosemite and Oakhurst trip report to see how we spend time in the park.