Are you looking for an epic getaway? A place to have a great time at the lake surrounded by beautiful pine trees, perhaps even visit a National Park or two? Are you attracted to incredible mountain views, beautiful waterfalls, and incredible activities that everyone will love?
I have the perfect spot! It's Bass Lake California located in the heart of the Sierra Nevada Mountain Range. Bass Lake California is also the perfect place to get out on the water and explore some of the most beautiful scenery the U.S. has to offer!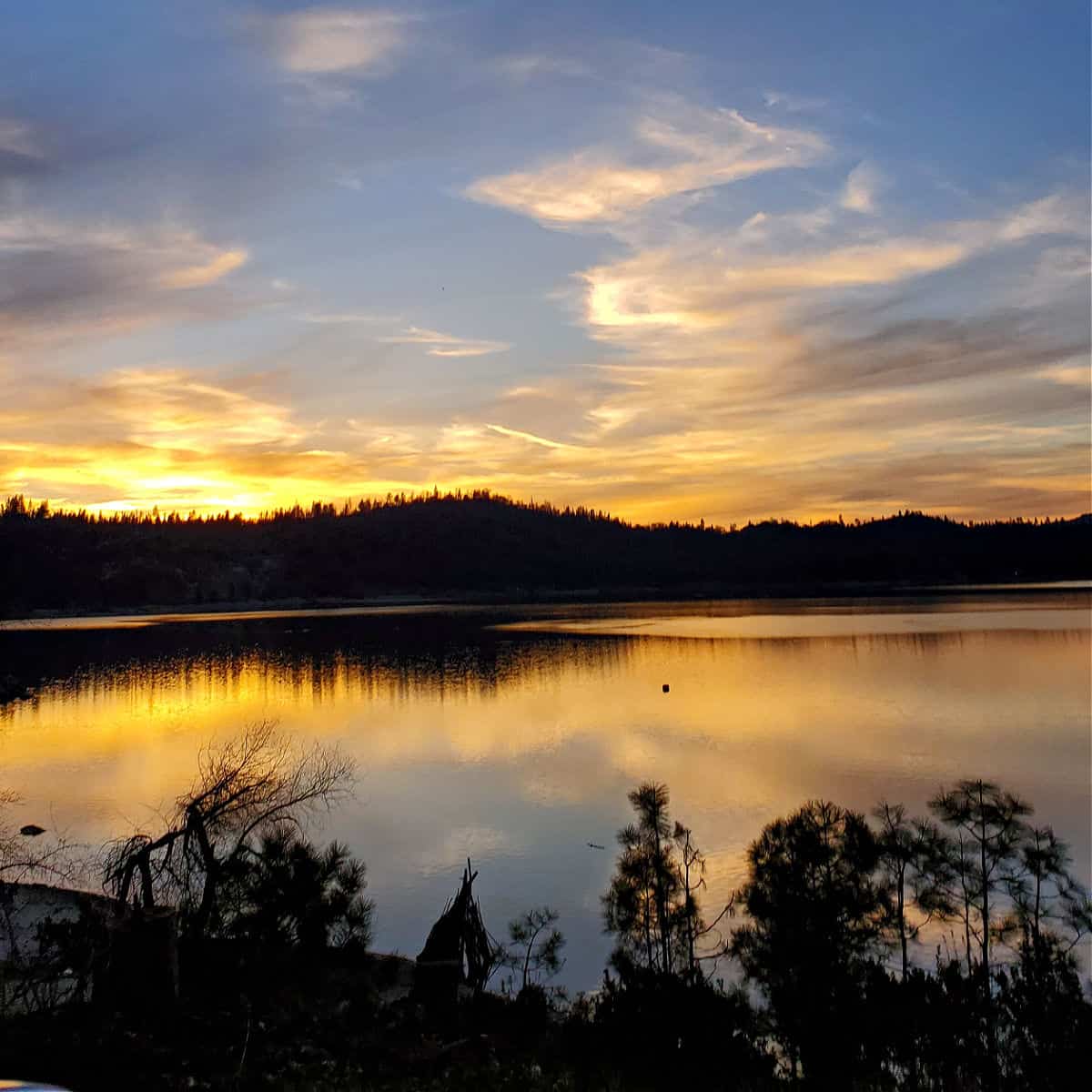 Bass Lake, California Travel Guide
Outdoor adventure can be found all around Bass Lake as it offers numerous outdoor activities including camping at several national forest campgrounds, hiking, fishing, bird watching, and witnessing breathtaking sunrises and sunsets!
Unlike Yosemite National Park, Bass Lake has plenty of water sports including water skiing, designated swim areas with picnic tables and fire pits, personal watercraft for rent, live music and events, and more.
We are so excited to be working with the Yosemite Madera County Visitor Bureau this year to help us bring you all the best information on this amazing part of California.
They have helped us to really get to know this incredible area and all it has to offer. I have to admit that I have fallen head over heels in love with the area and it will be easy to share with you all this incredible area has to offer.
Where is Bass Lake, California?
Bass Lake is an hour north of Fresno California and close to Yosemite National Park and the Sierra National Forest.
Simply take California Highway 41 from Fresno. After passing through Oakhurst California, you will turn right onto Road 222 (Bass Lake Road) and Bass Lake will be on your right.
It is just as easy to get to the southern entrance of Yosemite National Park. Simply take Road 222 back out to California Highway 41 and take a right and continue north. It is a short drive (a little under a half hour) to Yosemite from Bass Lake.
Highlights in the southern area of Yosemite National Park include the Mariposa Grove of Giant Sequoias, Big Tree Lodge, Wawona Campground, Pioneer Yosemite History Center, Wawona Visitor Center, and Glacier Point a little further north.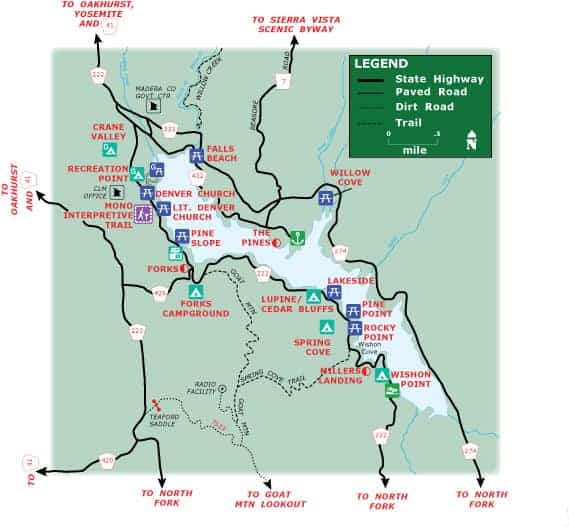 There are so many options for things to do on Bass Lake! You can rent a boat, a jet ski, a kayak, a canoe, stand-up paddleboards, or inner tubes if you want to spend time on the water.
You can look for bald eagles, golden eagles, and great blue herons as each is commonly seen around the lake. Make sure to bring your mountain bike as mountain goat, 007, spring cove, and willow creek trails all starting and finishing at the lake.
Bass Lake also hosts great events which are detailed below.
One tip is to check the Bass Lake Chamber website for current coupons to save on boat rentals!
The lake sits at 3,400 feet which helps brings the surface water up to a lovely 75°F/24°C in the summer making it a great place to spend time in the water.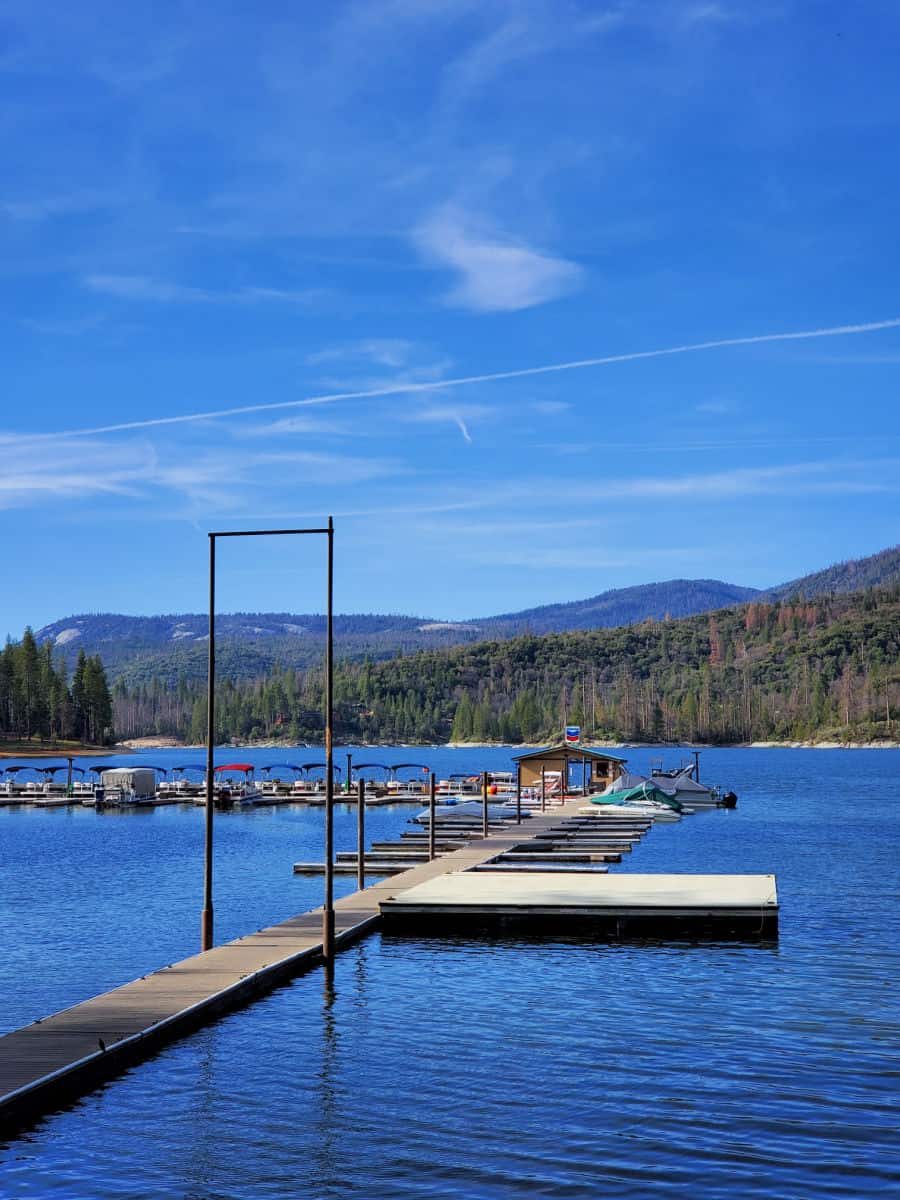 Bass Lake Boat Rentals
The Forks Resort
The Forks Resort offers boat rentals hourly, half-day, and full-day rentals. They have patio boats, fishing boats, double and single kayaks, paddleboards, and canoes.
Phone - 559-642-3737 / Website / 39150 Road 222, Bass Lake, CA 93604
Miller's Landing Boat Rentals
Miller's Landing offers boat rentals on Bass Lake by the hour, day, or week. They offer multi-day discounts for consecutive-day rentals.
Boats available include 20' and 25' patio boats, ski boats, wake surf boats, wave runners (jet skis), Fishing boats, kayaks, canoes, stand-up paddleboards, and inner tubes/bananas.
Dock staff is there to instruct you on how to operate each of the boats safely. Renters must be 18 years old. A deposit is required when renting.
Phone - 559-642-3633 / Website / 37976 Road 222 Wishon, Bass Lake, CA
Bass Lake Boat Rentals
Bass Lake Boat Rentals has tackle, bait, fuel, gifts, ice, soda, food, and marine supplies.
Boats available include elite patio boats, patio boats, ski board boats, fishing boats, paddle boards, canoes, kayaks, pedal boats, and jet skis.
Phone - 559-642-3200 / Website / 54406 Road 432, Bass Lake
Hours - 8 am to 8 pm
Bass Lake Fishing
Bass Lake has over 16 different species of fish; the most popular are trout, bass, kokanee salmon, catfish, crappie and bluegill.
California fishing license is required for ages 16 and above.
Lewis Creek Trail
The Lewis Creek Trail is part of the National Recreation Trail System and is 3.7 miles long. The trail is located near State Highway 41, four miles north of Oakhurst. Depending on snow levels most of the hiking on the Lewis Creek Trail happens during the spring to the fall.
Features along the trail include Red Rock Falls, Corlieu Falls, and an old lumber flume route. There is good fishing below Corlieu Falls.
The majority of the trail follows along the old Madera-Sugar Pine Lumber Company flume. This flume extended from the Sugar Pine Lumber Mill in the north and traveled southwest to Madera. The Madera-Sugar Pine Lumber Company flume operated from 1900 to 1931 with over 1 billion board feet of lumber passing down the flume.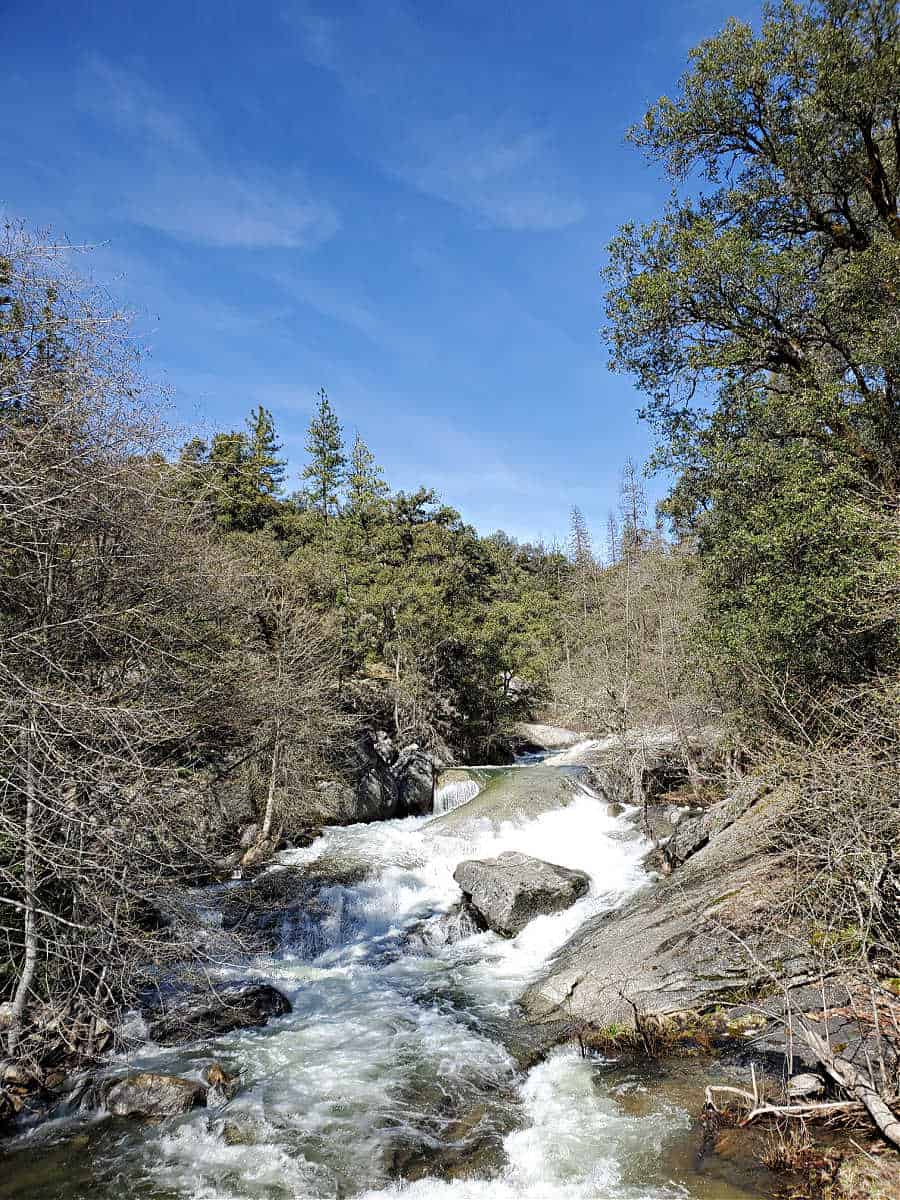 Willow Creek Trail
This 2.7-mile trail begins at the Willow Creek trailhead located on Bass Lake. The trail is considered a moderate to steep hike and you will want to be careful of poison oak and slippery trails. You can see Angel Falls from the road or parking area.
Way of the Mono Trail
The Way of the Mono Trail is a .6 mile-long self-guided walk that has interpretive panels talking about who the Mono people were and how they lived.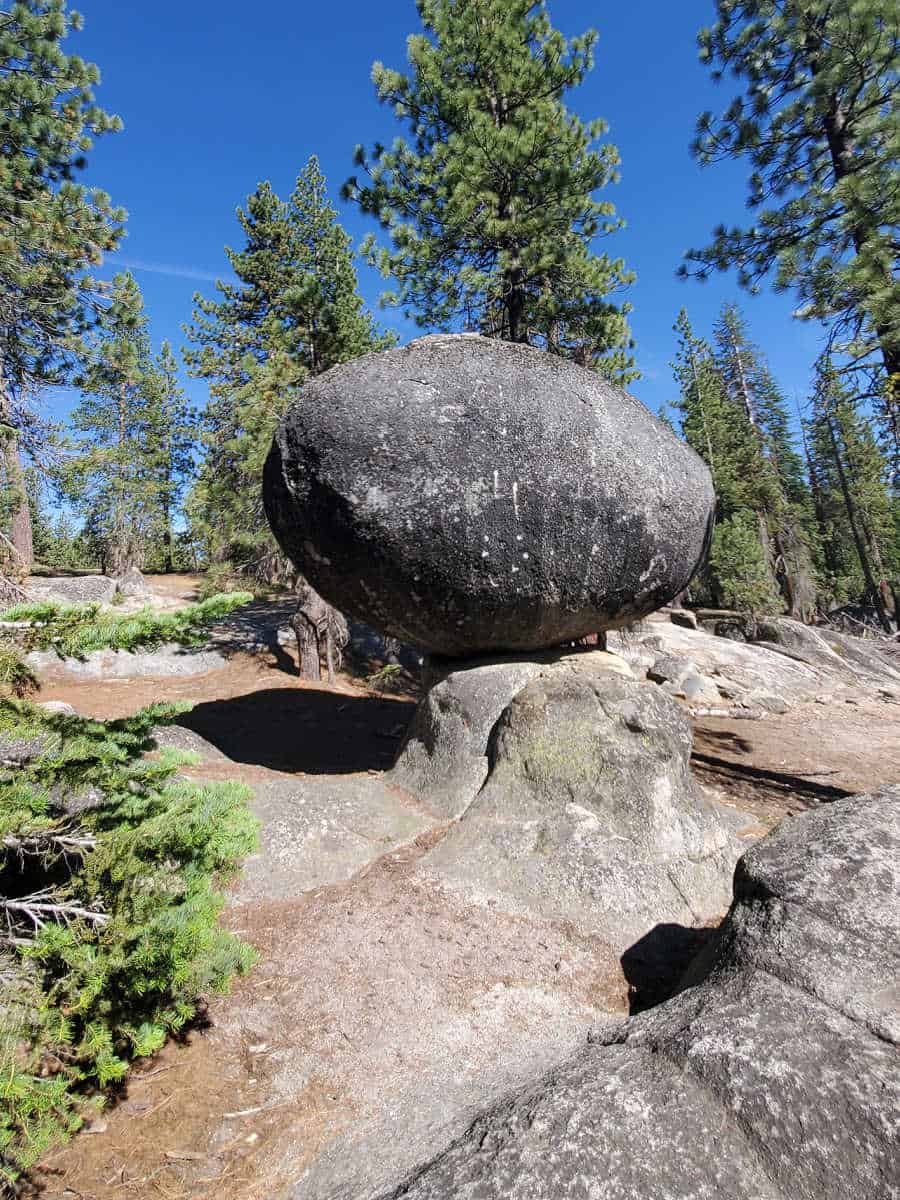 Sierra Vista National Scenic Byway
Get away from the crowds by taking the road less traveled through the Sierra Nevada's on the Sierra Vista National Scenic Byway! This 100-mile loop takes you by amazing scenic overlooks and is located near spots for hiking, fishing, mountain biking, and more!
You can even get a photo of the geological wonders...Arch Rock and Globe Rock!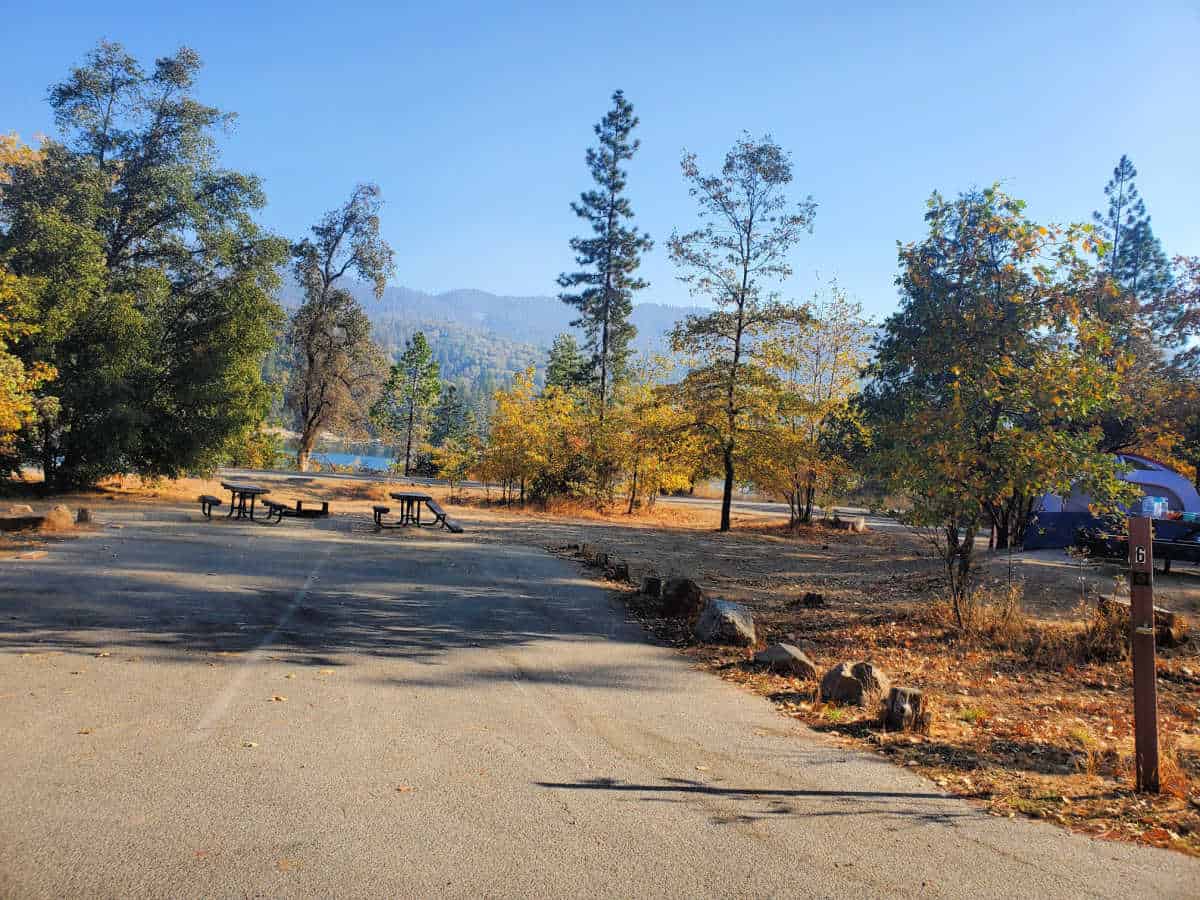 Imagine waking up with a view of the lake from your tent! There are 215 campsites spread over 7 campgrounds around Bass Lake. Some of the campgrounds even have double and quad sites that are perfect for a large group.
Check out our full post on Bass Lake Camping
Bass Lake Cabins
Renting a cabin at Bass Lake is a great way to enjoy being away as a couple or family. There are quite a few different sizes of cabins available for rent.
Millers Landing Cabin Rentals
You can rent cabins that can sleep between 6 to 8 people depending on how large of space you need. Rentals from July to mid-August are by the week only from Saturday to Saturday. The rest of the year there is a two-night minimum.
559-642-3633 / Website / 37976 Road 222 Wishon, Bass Lake
The Forks Resort
The Fork Resort has cabins ranging from one-bedroom cabins to three-bedroom townhouses. There is a four-night minimum on all advance reservations between Memorial Day and Labor Day.
559-642-3737 / website / 39150 Road 222, Bass Lake, CA 93604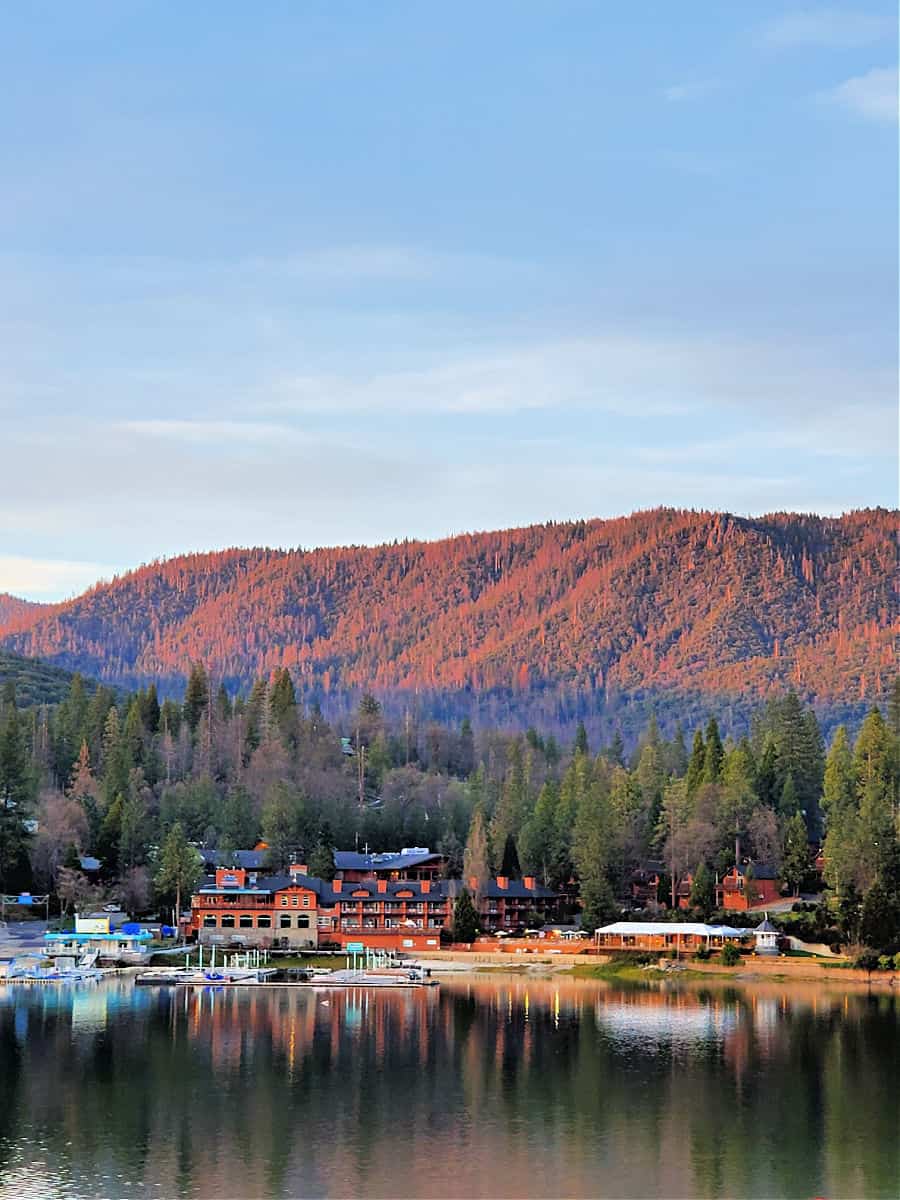 Bass Lake Hotels
The Pines Resort offers gorgeous rooms right on Bass Lake. You can also rent cabins at the resort. Don't miss dinner at Ducey's on the Lake.
Check out our full post on the Pines Resort to see room photos and why we loved our stay.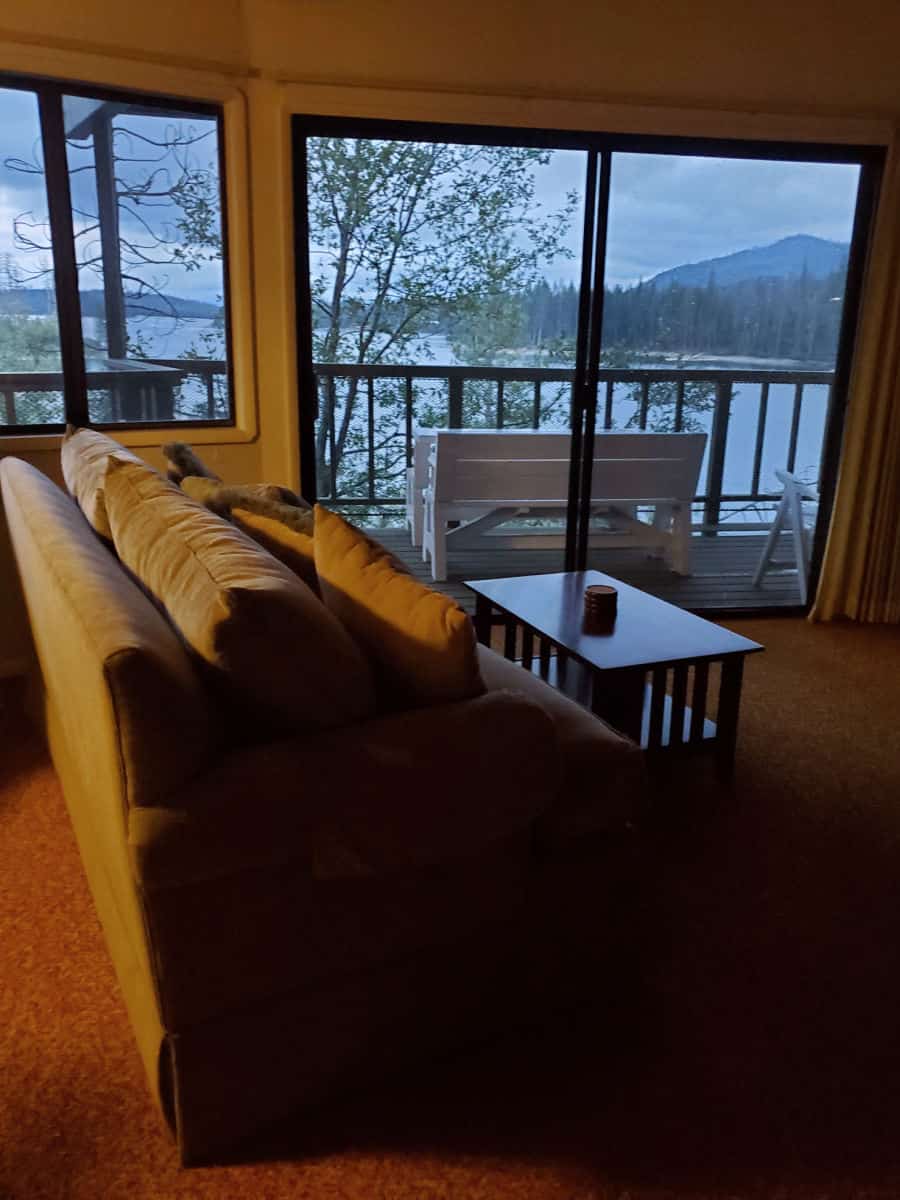 Bass Lake Vacation Rentals
During our last trip to Bass Lake, we had the opportunity to stay in a vacation rental that overlooked the lake. This was our first Bass Lake vacation rental experience and it was a lot of fun. We learned a lot about what to expect and what to make sure you ask when renting a house.
The view of the lake was amazing to wake up to!
Vacasa Home Rentals
Vacasa Home Rentals has houses ranging from small cabins to multi-generational houses. All of the homes are privately owned and managed by the Bass Lake-based team.
559-541-2222 / Website /
Bass Lake Restaurants
There are a number of restaurants around Bass Lake. You can also easily drive and enjoy any of these Oakhurst Restaurants. We tend to go back and forth between Bass Lake Village and nearby Oakhurst depending on what we are craving each day.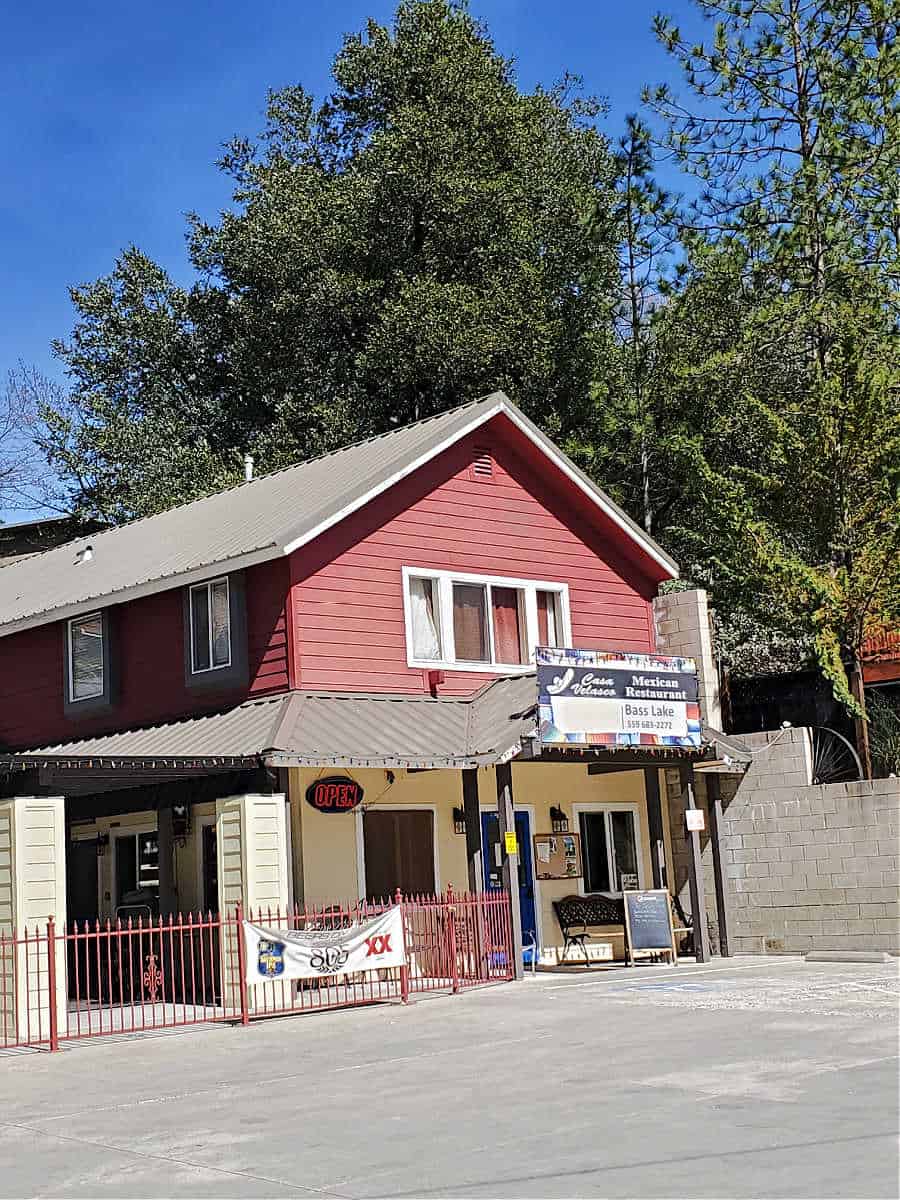 Casa Velasco
If you are looking for a delicious Mexican meal then Casa Velasco is the place to go! We loved our dinner and can't wait to return!
Phone - 559-683-2272 / 54311 Road 432 Bass Lake, Bass Lake, CA 93604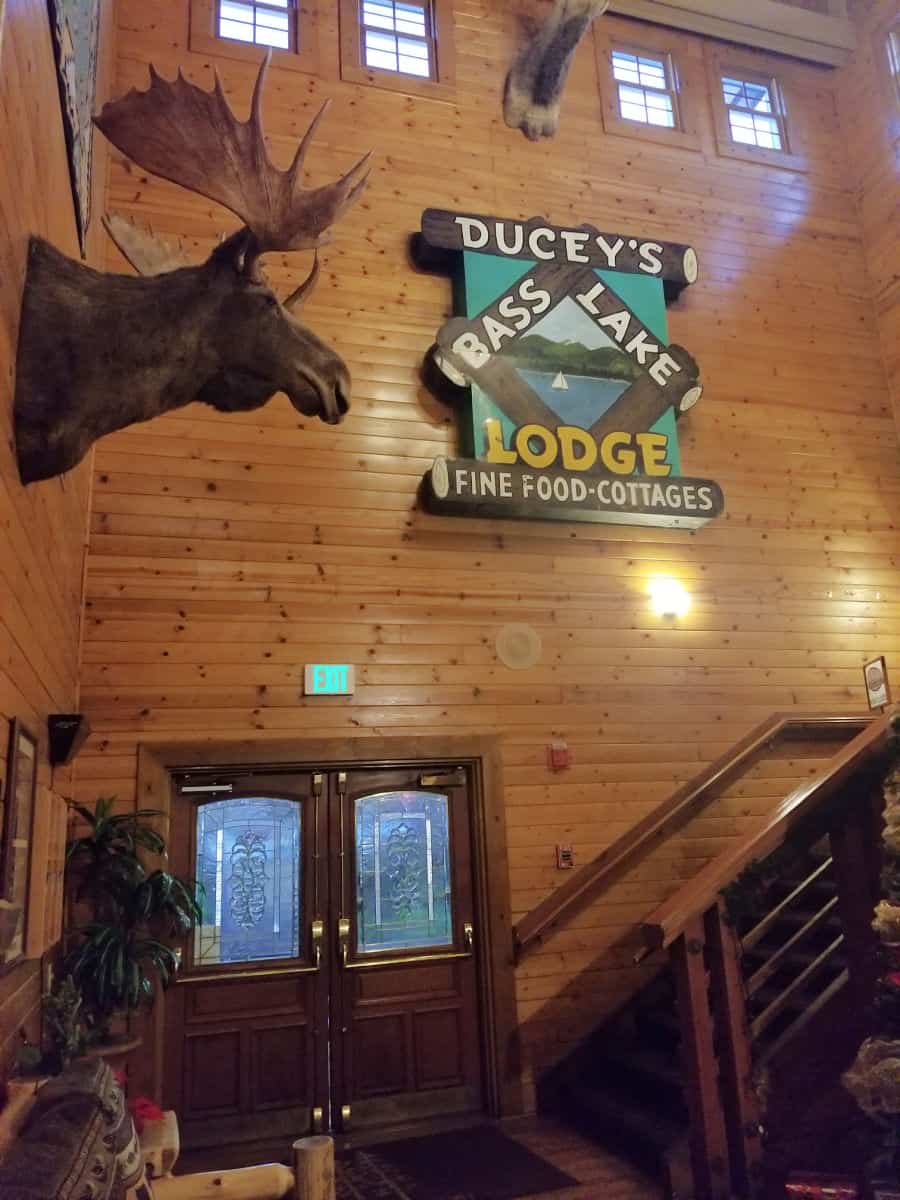 Ducey's on the Lake
Ducey's on the Lake is the "nicest" restaurant on Bass Lake. This sit-down restaurant offers a great menu. We truly enjoyed our meal at Ducey's and can't wait to return again.
Phone - 559-642-3131 / 54432 Road 432, Bass Lake, CA 93604
Ducey's Bar & Grill
Located upstairs from Ducey's on the Lake the Ducey's Bar and Grill is a more casual dining environment. You can enjoy both indoor and outdoor seating with a view of the lake.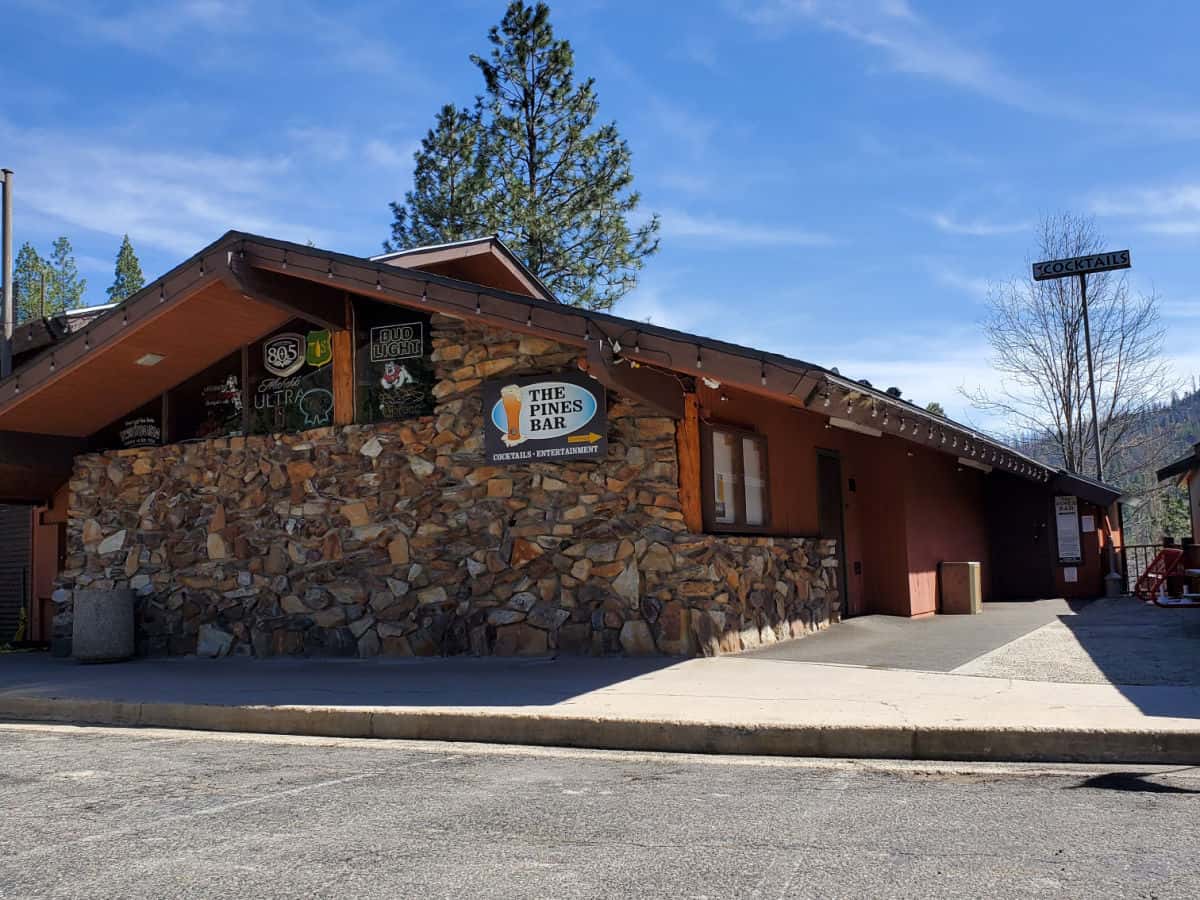 Pines Bar
Located next to the Pines Market the Pines Bar offers a large selection of craft beer to enjoy.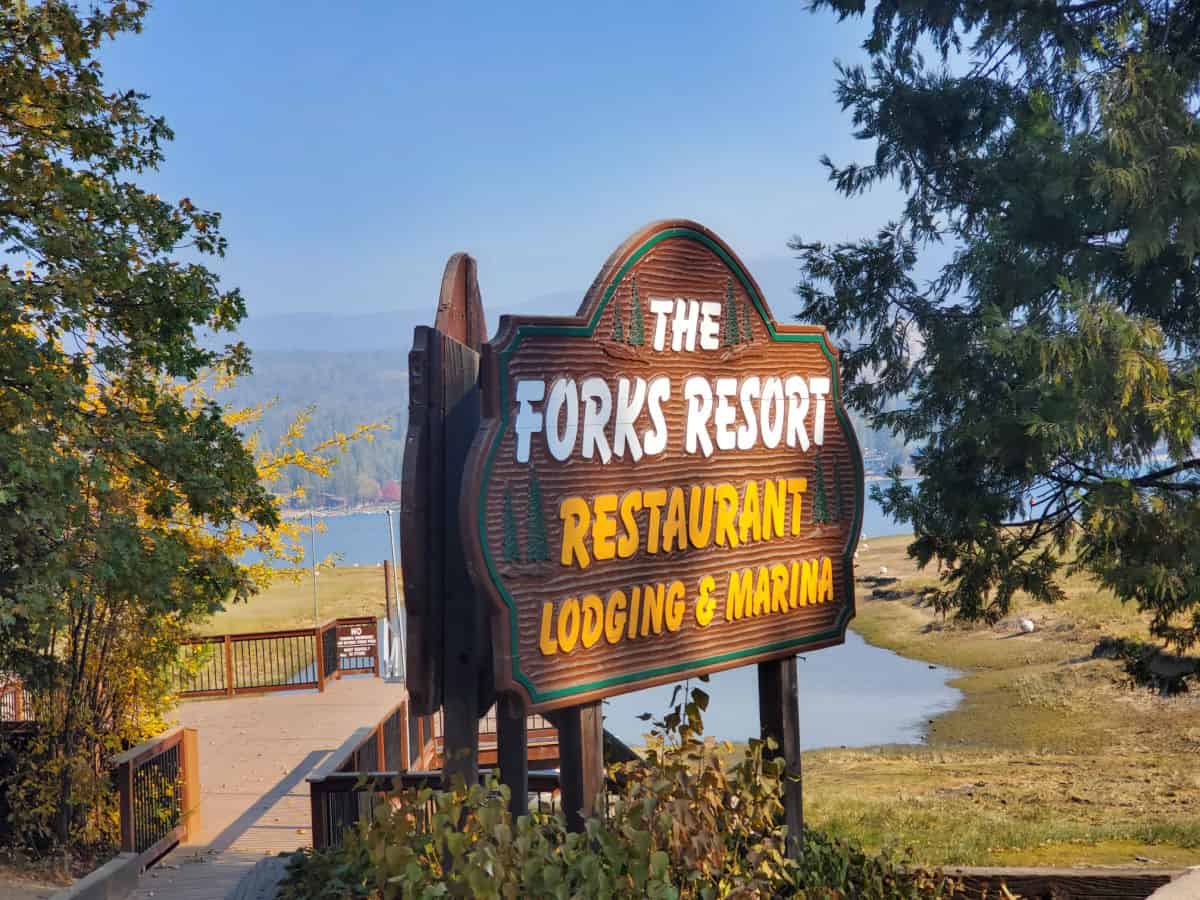 The Forks Resort
The Forks Resort has a great menu that includes burgers, salads, breakfast items, and desserts.
Phone - 559-642-3737 / 39150 Road 222, Bass Lake, CA 93604 / Menu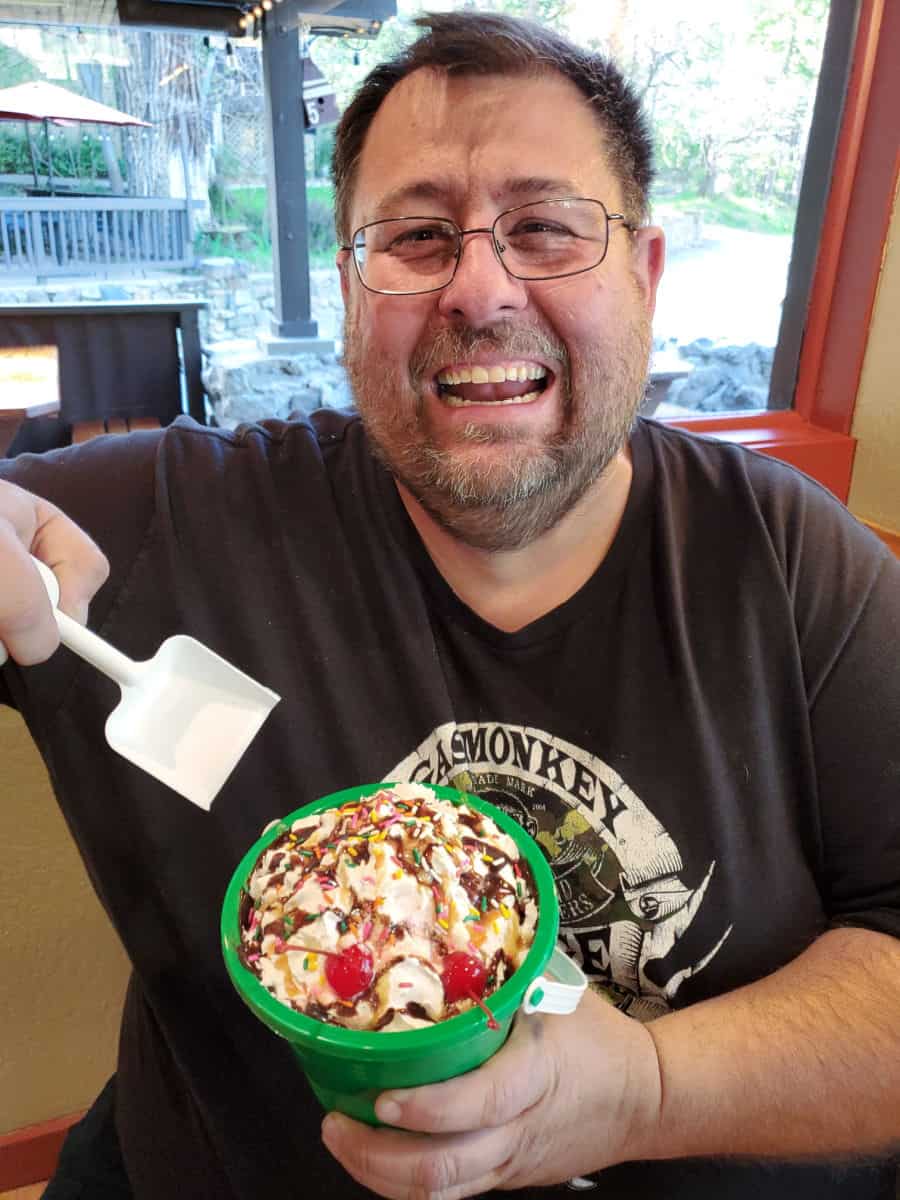 Miller's Landing
You do not want to miss the epic Millers Landing Sundae in a sand bucket! This is the perfect cold treat on a hot summer day! It is large enough to feed a group with multiple spoons!
They also have a wide variety of menu items including burgers, grilled sandwiches, appetizers, ice cream, and breakfast items.
The perfect restaurant to enjoy on a family trip.
Phone - 559-642-3633 / 37976 Rd 222, Wishon CA 93669 / Menu
Bass Lake Events
Bass Lake Fishing Derby
Imagine catching a fish that is worth $10,000!! Yes! You read that right. During the Bass Lake Fishing Derby, you have the chance to win $10,000! Even if you don't win you get the chance to spend the day on the lake enjoying a great day of fishing!
Check out all of the details for the next Fishing Derby here.
Fourth of July Fireworks and Boat Parade
We keep hearing that the Bass Lake annual 4th of July Boat Parade also has an epic fireworks show!!! People line the beaches and hundreds of boats hit the water to enjoy the show that starts at 7 pm. Talk about the perfect way to celebrate the Fourth of July!
Fireworks are shot usually from a barge between the Pines Resort and the Forks Resort at dark around 9 PM.
Smokey Bear Run
The Smokey Bear Run 10k and 2-mile run/walk take place along the south shore of Bass Lake
Find out more here
Bass Lake Antique Classic Boat Show
The Bass Lake Lions Club hosts an annual Bass Lake Antique Classic Boat Show! You can check out over 40 wooden and classic boats on display.
Find out more here.
Bass Lake Live
Jazz on the Lake is held at The Pines Resort on select Thursdays throughout the Summer with a closing concert on Labor Day weekend.
Find out more here
Pines Village
Pines Village is the heart of Bass Lake for shopping, gas, and the post office. If you need a last-minute camping item, groceries, gas, or to mail something and don't want to head into Oakhurst you will want to stop in Pines Village.
Pines Market
Pines Market has a little bit of everything! You can find groceries, boating and camping supplies, souvenirs, and so much more! This is a great place to stop to grab sandwiches or drinks to take out on the water with you.
Address: 54432 Road 432 - Pines Market, Bass Lake, CA 93604
Hours: Opens at 7 am, closes between 9 pm and 11 pm depending on the night of the week.
Bass Lake Post Office
Hours - Monday - Friday 8 AM–11 AM, 11:30 AM–4 PM, Closed Saturday and Sunday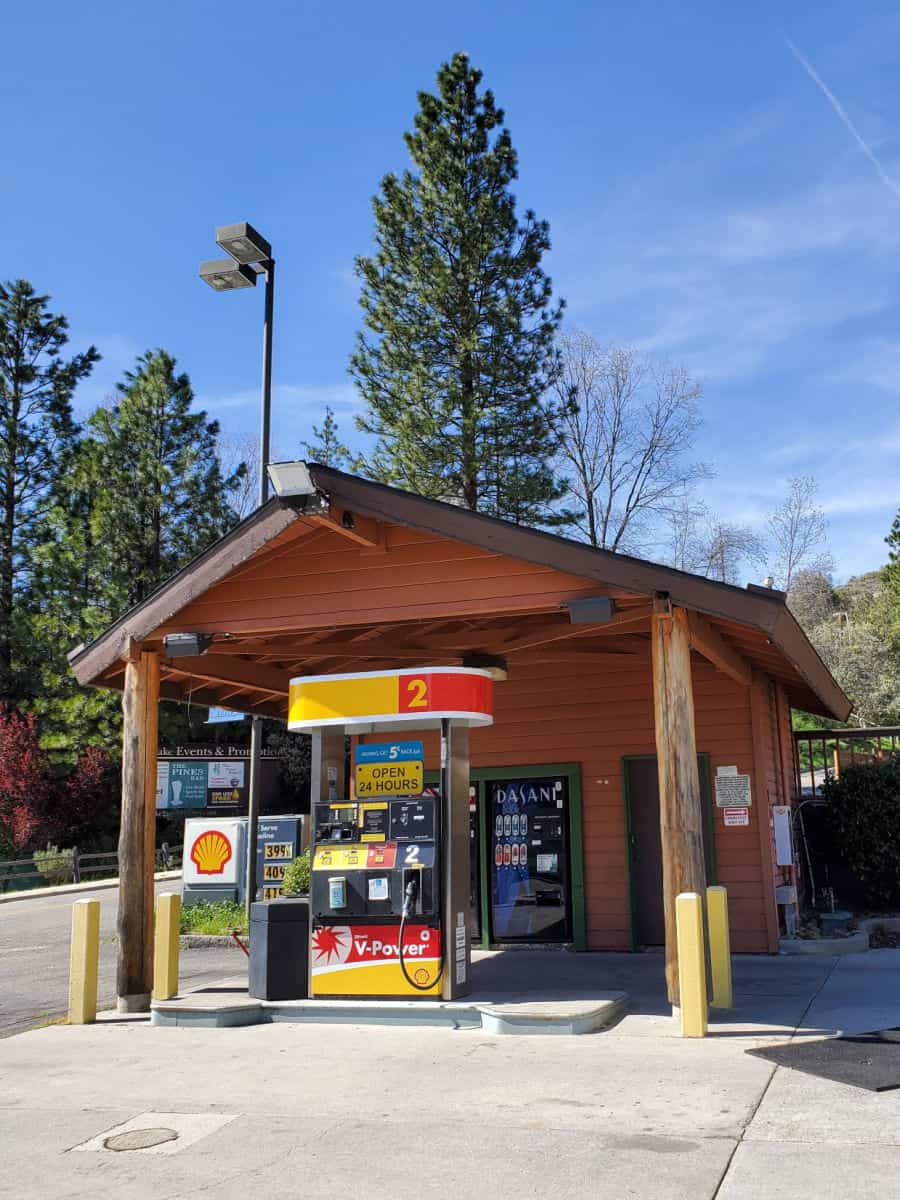 Bass Lake Gas Station
There is one Shell gas pump in the Pines Village that is open 24 hours a day. There is also a couple of vending machines next to the pump. We have found the gas prices to be pretty good and not far off of what you will find in Oakhurst.
Pines Village also has a couple of boutique shops that sell souvenirs, clothes, and more!
Places/attractions near Bass Lake California
We are hoping to ride on the Sugar Pine Railroad on an upcoming trip and hope to have an article out about the Sugar Pine Railroad.
Madera Wine Trail
Madera is a great place to visit for all wine enthusiasts. They are well known for their port wines and I found myself taking home a few bottles for myself and a few more for presents.
See the "Talking Bear" in Oakhurst
Make sure to stop by his corner at Highway 41 and Road 426 (at Century 21 Ditton Realty) for a photo of/with this bear and hear what this bear has to say.
Complete the Majestic Mountain Loop
The Majestic Mountain Loop is a three-day or more itinerary that visits three National Parks;
Yosemite National Park,
Sequoia National Park, and
Kings Canyon
National Park. This trip will crave the hunger for big trees in anyone! Did I mention epic views too! This is a trip that will have everyone talking about for a lifetime.
I hope this travel guide helps you plan that perfect trip to Bass Lake California. There is, even more, to do in this incredible area but I did not want to overwhelm someone planning their first trip to this incredible area.
Check out all of the amazing
things to do in Oakhurst
including Yosemite Axe Throwing, great shopping, and epic restaurants.
If you are heading to
North Fork, Ca
don't miss the Sierra Mono Indians Museum, fun shopping, and great restaurants.