The Sierra Vista Scenic Byway is one of those hidden gems in the high sierra exposed in plain sight. Millions of people each year drive past it in a hurry to get to Yosemite National Park's South Entrance.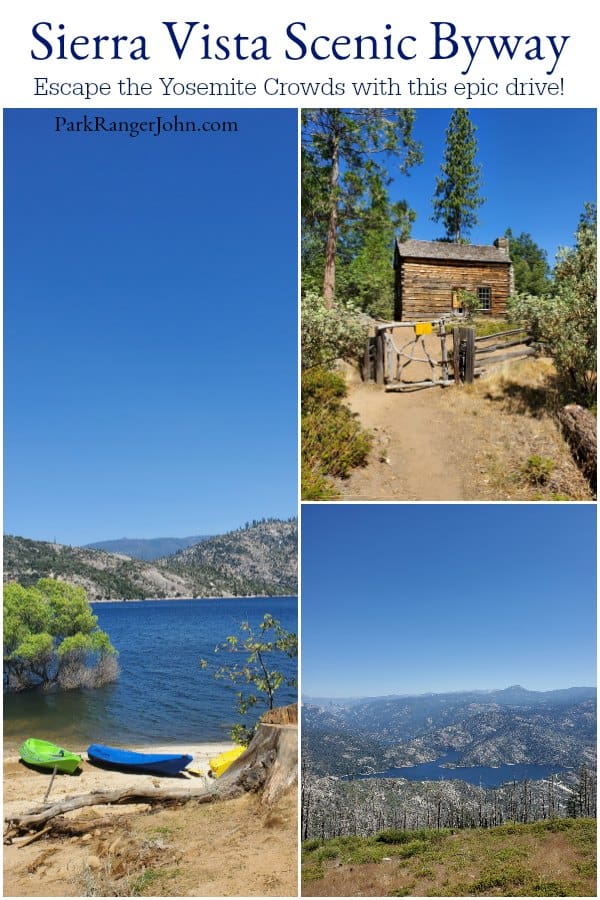 Sierra Vista Scenic Byway
Let me just say this to everyone, The Sierra Vista Scenic Byway, like everything within the Sierra Nevada Mountain Range from Lake Tahoe south past Kings Canyon National Park and Sequoia National Park is just stunning!
I personally think that the 100 miles of breathtaking views just get looked over by most tourists because it is located within the Sierra National Forest of the U.S. Forest Service, especially after the U.S. National Parks 100th Birthday and its incredibly successful #findyourpark campaign.
We visited the Sierra Vista Scenic Byway during our partnership with Visit Yosemite Madera County. It was so much fun taking a full day road trip and getting out to see more of this area.
The Sierra Nevada Mountains have inspired the likes of John Muir and Ansel Adams to write, photograph and dedicate their lives to protecting this amazing place.
What makes the Sierra Vista Scenic Byway special is that you can do anything from a leisurely drive taking in the sights and enjoying the views at 7000' or getting out and hitting a trail and exploring its alpine lakes, meadows filled with wildflowers and yes you can even get out the car and walk among the Giant Sequoia trees!
The benefit of doing this on the Sierra Vista Scenic Byway is that you get to do all of this without fighting with massive crowds in Yosemite National Park.
Imagine yourself finding a place in the Sierra Nevada's where you can spend an entire day without traffic jams, waiting in lines, and the constant struggle of just finding a place to park your car so that you can get out and actually explore as people did a hundred years ago!
Now let's get a little more in-depth with the 87.2 mile Sierra Vista Scenic Byway and stops you should take along the way.
Check out this video highlighting our trip exploring the Sierra Vista Byway!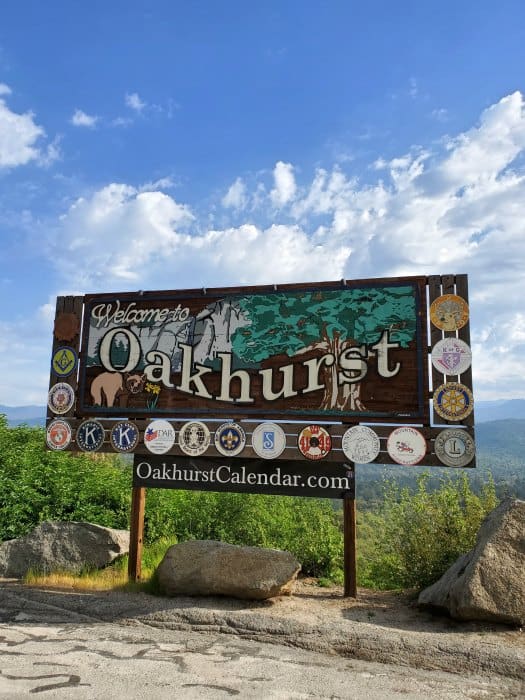 Oakhurst California is the ideal starting location for the Sierra Vista Scenic Byway even though every brochure I have seen starts off in North Fork, California. I say this because most people will go right through Oakhurst via California Highway 41 on their way to Yosemite National Park.
There are also several hotels and restaurants in Oakhurst and Bass Lake areas to get your day started off right. Oakhurst also has pretty much anything you could need and want. Did I mention that anyone that goes through the South Entrance of Yosemite National Park already goes through Oakhurst?
When finishing the Sierra Vista Scenic Byway you will end up back on California 41 just a couple miles north of the California 41 and Road 222 cutoff towards Bass Lake. From here you can decide to either go back towards Oakhurst, Bass Lake or to Yosemite National Park.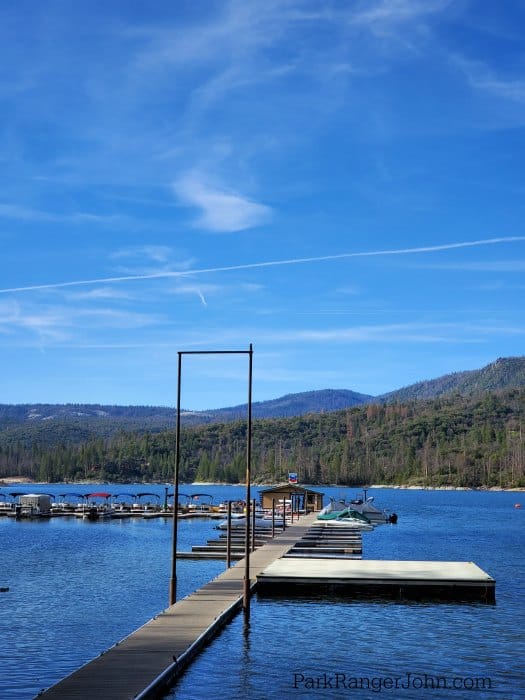 I Love Bass Lake! This lake has breathtaking sunsets, lots of water activities with several resorts (Pines Resort, The Forks Resort, Miller's Landing Resort) and lots of camping opportunities along Bass Lake itself.
It is also home to several events each year like the Yosemite Half Marathon, The Bass Lake Fishing Derby, The Antique and Classic Wooden Boat Show, and Light Up The Sky-the Annual Bass Lake Fireworks Show.
Bass Lake is also where the iconic 80's movie "The Great Outdoors" was filmed. Everyone feels a little nostalgic at Bass Lake and end up watching this movie. Don't worry, every store in town has a copy for sale or I would go online to purchase your copy ahead of time-saving you some money.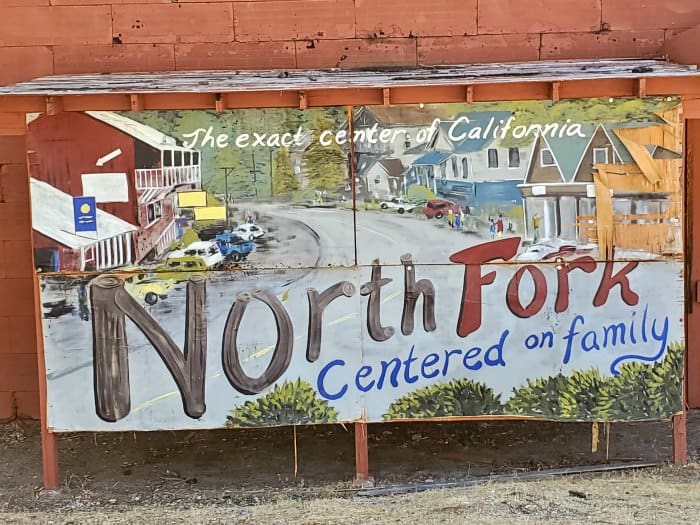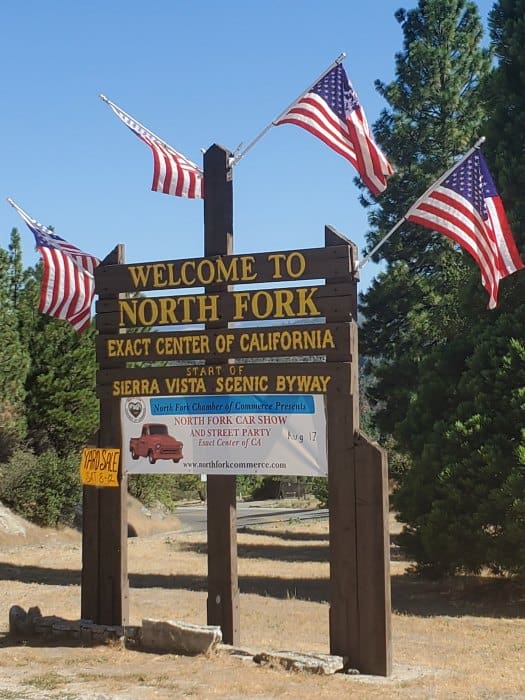 North Fork California
North Fork California is a small town and the official start of the Sierra Vista Scenic Byway. Make sure to take road 200 out of town for a mile or two and get the Sierra Vista Scenic Byway Sign.
There are also a few restaurants in town including La Cabana (Cash Only) and the Buckhorn Saloon along with the Sierra Mono Museum.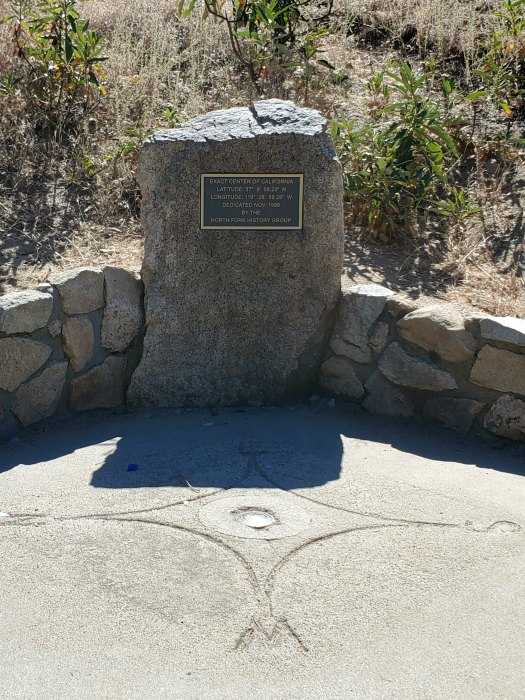 Exact Center of California
The City of North Fork claims to be the exact center of California. While they are the closest town, you actually have to take road 225 out of town for several miles and take the cutoff posted to reach the geographical center of California.
You will head down this road for a few more miles and run into the marker on the left side of the road. Keep a lookout for it as it would be easy to pass by if you were not paying attention.
From here you will have a short steep climb up to the monument. I would recommend sturdy footwear as I found myself slipping on the loose rock as I was walking back down.
After seeing the exact geographical Center of California, turn back around and drive back to road 225. Continue on road 225 to Minarets Road.
The first stop will be Redinger Lake Overlook and then the Ross Cabin.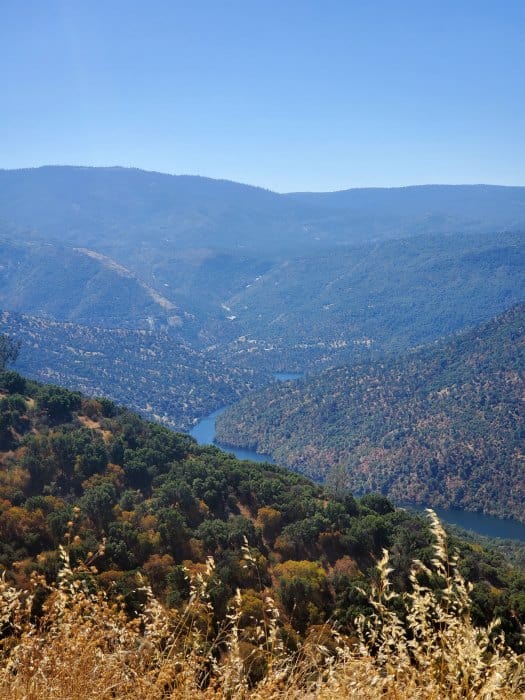 Redinger Overlook
From this overlook, you can see the rugged Sierra Nevada foothills and how they have been carved by the San Joaquin River.
Redinger Lake water flows to the San Joaquin Valley farmland and irrigates many of the farm fields.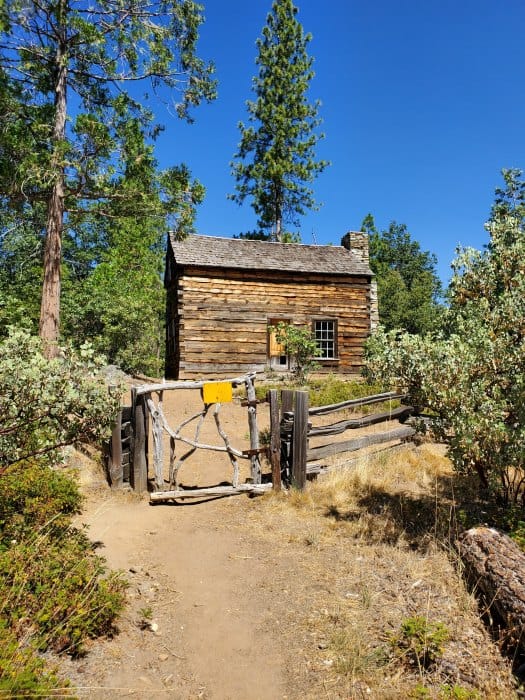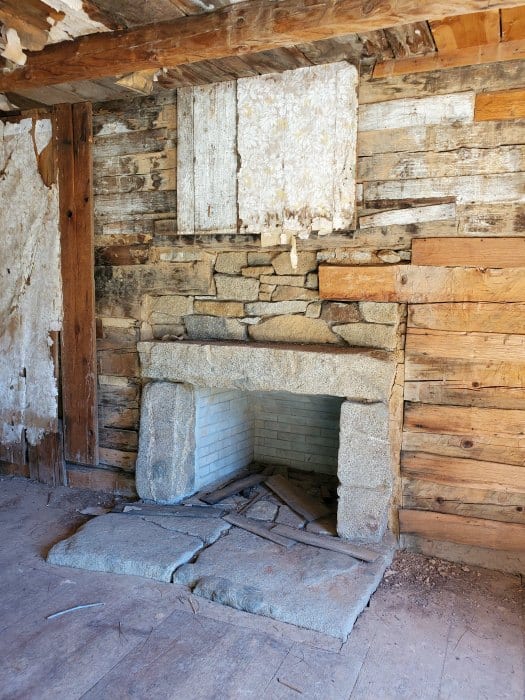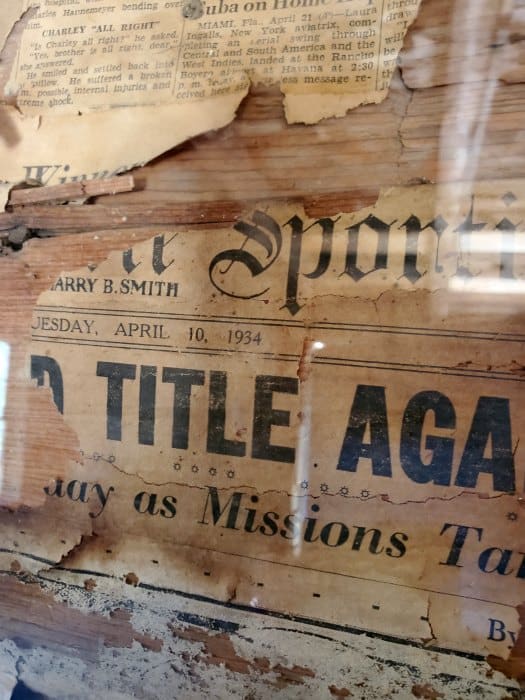 Ross Cabin
The Ross Cabin was built by Jessie Blakey Ross in 1860 and is one of the oldest cabins still standing in this area.
Jesse Ross came to this area from Missouri to avoid the civil war and to try his hand at prospecting gold.
Mr. Ross was helped by a local Mono Indian woman named Mary Waspi and her village. They helped him survive and thrive in the area.
Jesse Ross established his homestead by planting an apple orchard and building this classic continental style log cabin.
The original cabin was located a half-mile from the current location. The cabin was donated to the Sierra National Forest by private donors and moved to this location to save it from demolition.
The cabin was moved in 1990 to its current location on the Sierra Vista Byway. Forest Service employees and volunteers worked to renovate it to the style of the pioneer era.
When you visit look closely to see the logs that were replaced with new hand-hewn ponderosa pine logs. The fireplace, chimney, and hearth were reconstructed with the original stones.
It is believed that 75% of the original cabin material is still intact over 159 years after it was originally built.
It is a short walk to the cabin from the trailhead and is a great example of log construction brought to the Western U.S.
I personally loved photographing this cabin! You can also take a look inside, just be careful of bees in the summer. Take a look at the walls on the inside and notice the old newspaper that was used for insulation.
What's the oldest date you can find? What was your favorite article? All reasons to go check out this quaint little cabin in the woods!
Make sure to use the restroom at the trailhead before heading back out as they seem few and far between.
Now it's time to get back on Minarets Road and drive to the next stop, Mile High Vista.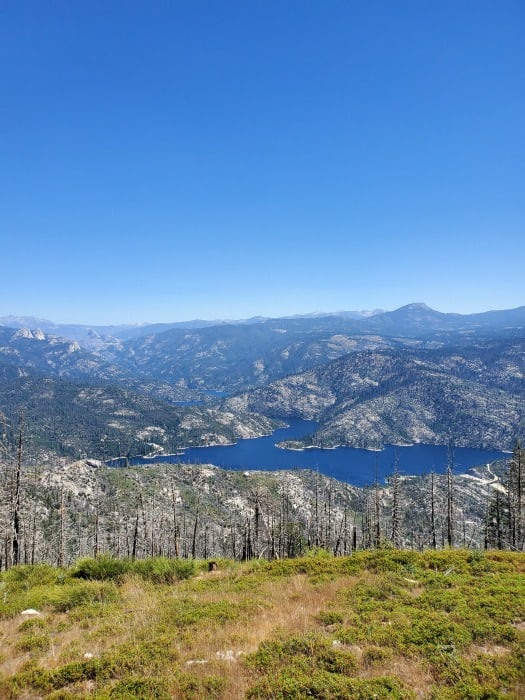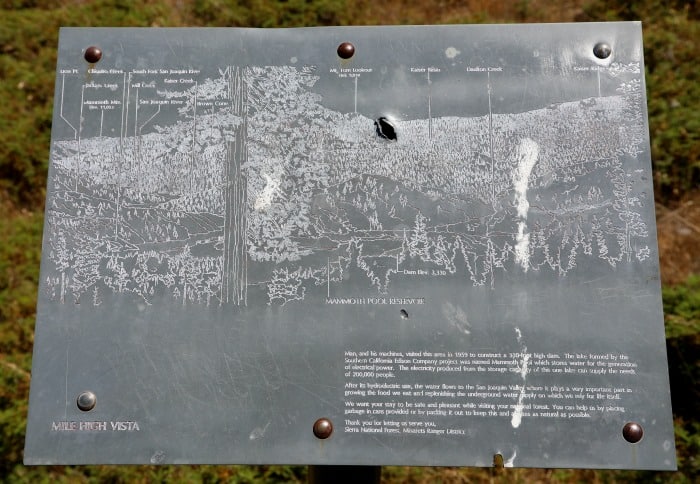 Mile High Vista
The Mile High Vista has an incredible view of the Sierra Nevada Mountains. You will also see the San Joaquin River and Mammoth Pool Reservoir in the distance putting the icing on the cake for epic views at the Mile High Vista.
The view of the Sierra Nevada Mountains encompasses 15 mountain peaks over 10,000 feet including the Minarets, Mt. Ritter and Mammoth Mountain at 13,157 feet.
There is also a couple of picnic tables if you want to get out and just take in the view for a while and get a bite to eat.
After taking in the spectacular view of the Sierra Nevada Mountains, you have a few choices, first, you can continue on to Arch Rock.
Second, you can drive on down towards the Mammoth Pool Reservior and Wagner's Mammoth Pool Resort.
Third, you can choose to take the shortcut on Grizzly Road if you are short on time. If you do decide to take the third option, I would highly suggest that once you drive Grizzly Road up to Road 632 and take a right and go 6.1 miles to Globe Rock, it's spectacular!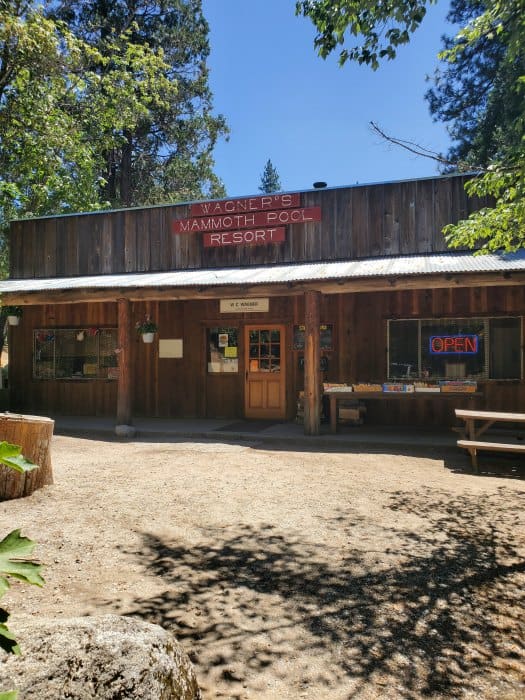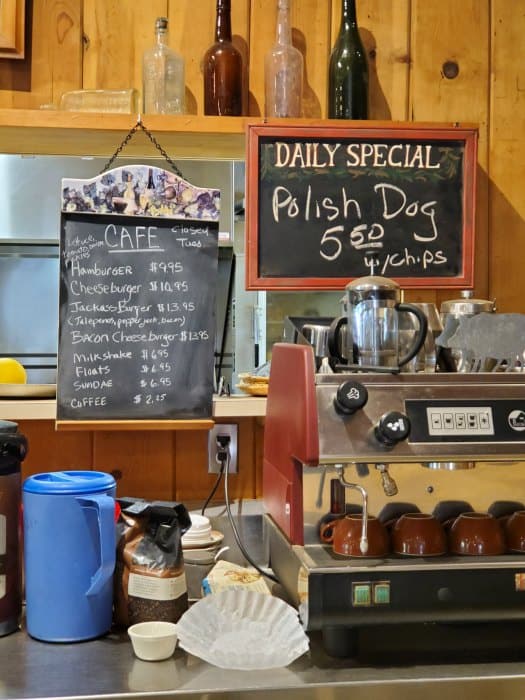 Wagner's Store
Wagner's Mammoth Pool Resort is approximately a mile before the reservoir and was built in 1958 when the dam was being built. We stopped in and it had several camping/fishing supplies, snacks and a cafe that had a pretty good hamburger and even ice cream.
It is a great time to look at your watch if you plan on eating at the Jones Store Resort as they close at 4:00 pm or sooner if they run out. We noticed that it was already getting late so we decided to eat here and enjoyed our hamburger!
Distance from North Fork, California - 42 miles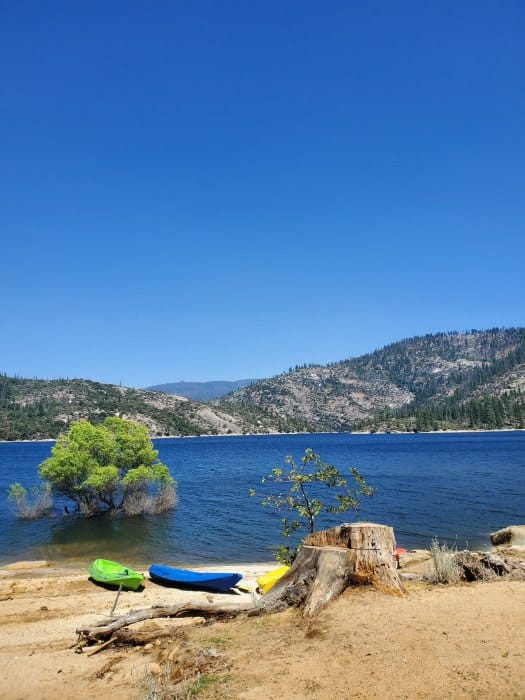 Mammoth Pool
You can take a side trip from the Sierra Vista Scenic Byway right after Wagner's Store. If you head out of the store to Mammoth Pool Road you can see Mammoth Pool Reservoir.
There are gorgeous views of the water and mountains. In the spring you can see the spillway from the dam.
Seven Forest Service campgrounds are located within thirteen miles of Mammoth Pool.
Mammoth Pool campground accepts reservations. Please contact National Recreation Reservation System at www.recreation.gov or by phoning 1.877.444.6777. Reservations must me made at least three days in advance.
Arch Rock
Arch Rock is easy to miss. You may ask me how I know this, well it's because I missed it myself and did not notice until we were already at Jackass Meadow. It was already getting a little later in the day so we decided to skip it and continue on until next time. I was pretty disappointed too!
Make sure to keep your eyes open for the sign and if you get to the unpaved portion of the road you have gone too far. Make sure to turn around now before getting further down the road.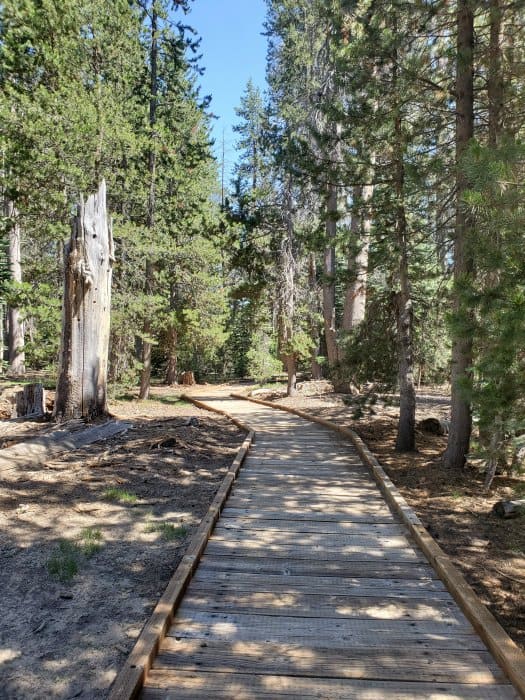 Jackass Meadow
Jackass Meadow is located at about 7000' in elevation in the unpaved portion of the road on the Sierra Vista Scenic Byway.
The trailhead has boardwalks leading out to the meadows that can be filled with wildflowers at the right time of year.
It is also a great time to get out and stretch your legs a bit as you have traveled quite a ways in your vehicle.
Keep an eye out for cow poop and other things along the trail!
When we visited Jackass Meadow was filled with cows who were happily munching on fresh grass.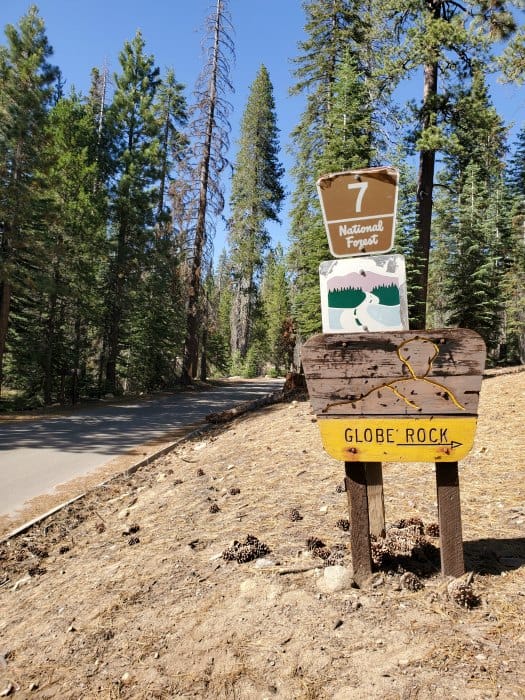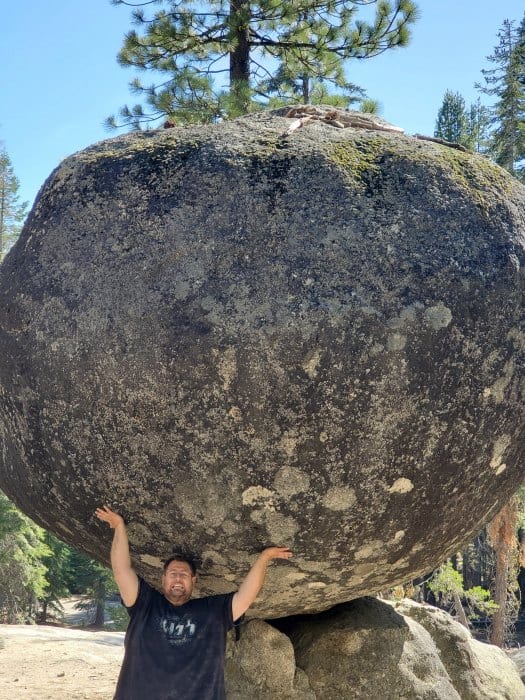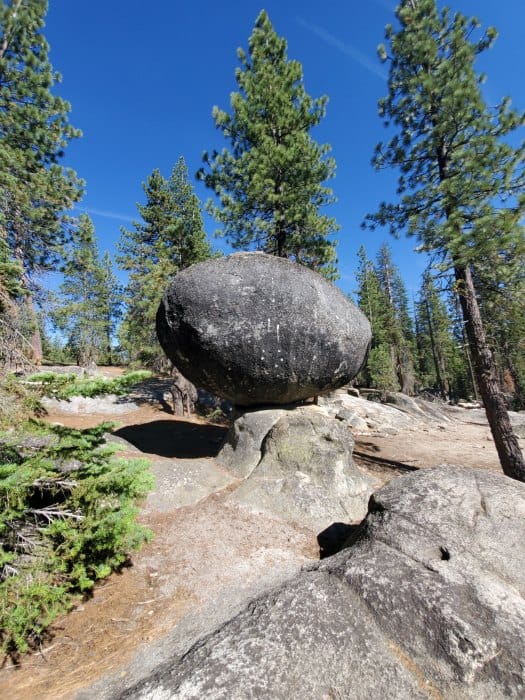 Globe Rock
Globe Rock is easy to see along the Sierra Vista Scenic Byway. It is also easy to miss if you are not looking out for it, especially if you don't know what you are looking for!
I personally found myself driving faster after just getting off the unpaved portion of the road and you are ready to get going again, especially when I found out that I was taking much longer to drive this loop than anticipated.
Another reason is that, for a major sightseeing attraction, it is very poorly marked. I just so happened to notice a small faded wooden sign with small print "Globe Rock" on the left-hand side of the road. All of a sudden it made complete sense as to why I most likely missed Arch Rock earlier.
Globe Rock sits at 7152 feet in elevation. I was beyond excited to visit Globe Rock, especially since it is a spot where Theodore Roosevelt had his picture taken. I couldn't resist taking the same photo as Teddy did over 100 years earlier!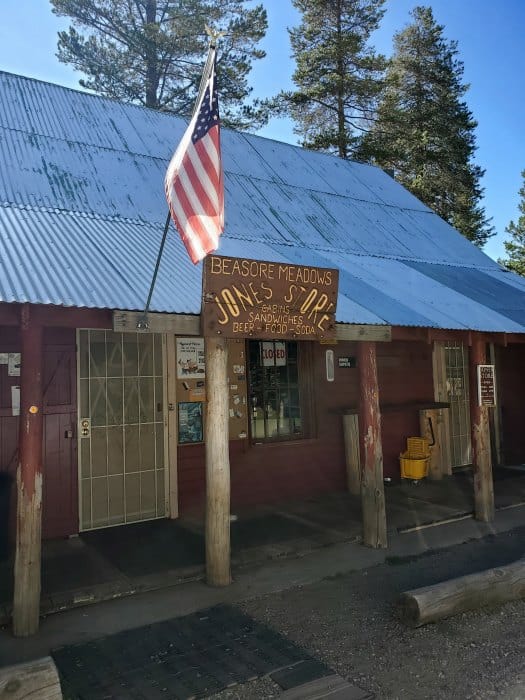 Jones Store
Jones Store Hours: Tuesday - Sunday 10 am to 4 pm or until food runs out.
No Checks or Credit Cards Accepted!
I wanted to put the store's hours first because I couldn't find it anywhere and I kept hearing all about it and missed it myself. All I kept hearing is how good their hamburgers were and that the pie was homemade and absolutely delicious. Needless to say how sad I was to leave without pie because I didn't know the store hours!
What makes the Jones Store unique is that it still operates as it did a hundred years ago, without electricity! I still can't imagine running a business without electricity.
Fresno Dome
Fresno Dome's Granite Dome stands a staggering 7540 feet and high above Soquel Meadow below. The trailhead is a three-mile drive off the Sierra Vista Scenic Byway and the Fresno Dome Campground is nearby also.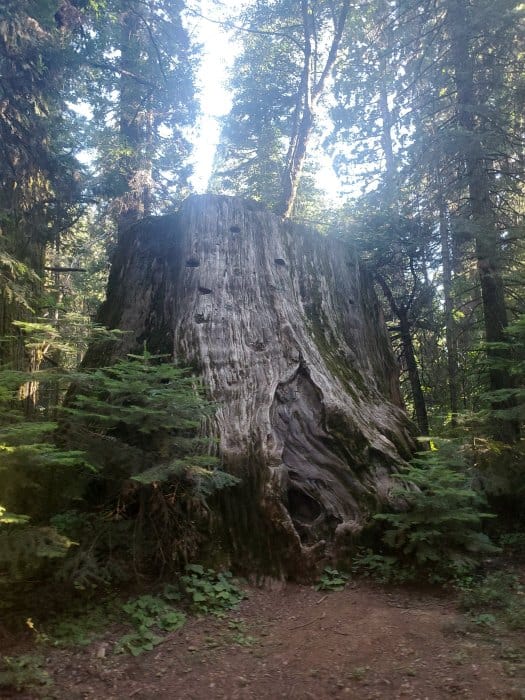 Nelder Grove
Nelder Grove consists of over 100 Giant Sequoia Trees! To get there it is a two-mile drive off of the Sierra Scenic Byway to towards the Nelder Grove Campground.
Here you can find stumps of several large Sequoia trees that were logged here in the 1890s as well as the "Bull Buck Tree"' The Bull Buck Tree is a contender for the world's largest tree standing at 246 feet tall and a ground-level circumference of 99 feet!
There is also a three-mile hike to the Graveyard of the Giants, an area with several fire killed sequoia trees. Here you can also see young sequoia trees growing thus bringing back the cycle of life.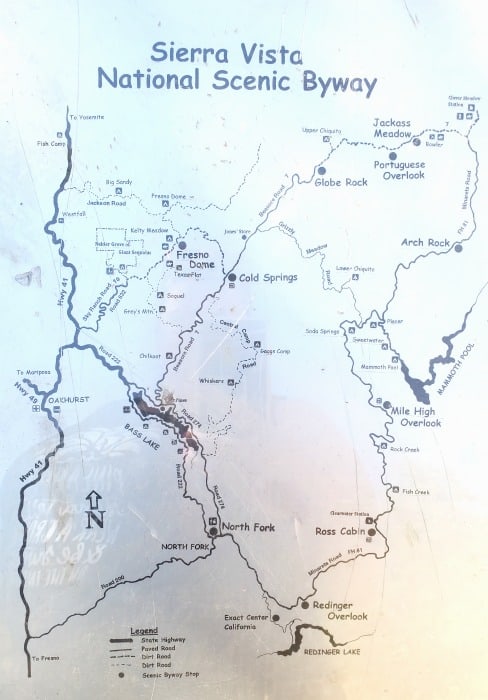 Things to know when planning a trip on the Sierra Vista Scenic Byway
For current road conditions contact the Bass Lake Ranger District Office in North Fork, CA. 559-877-2218
Make sure and stop into the Visit Yosemite Madera Visitor Center to get up to date information on what is happening in the area, maps and travel info!
Address: 40343 Highway 41, Oakhurst, CA 93644
Roads can have large potholes and obstacles requiring a high clearance four-wheel drive.
Start your day with a full tank of gas.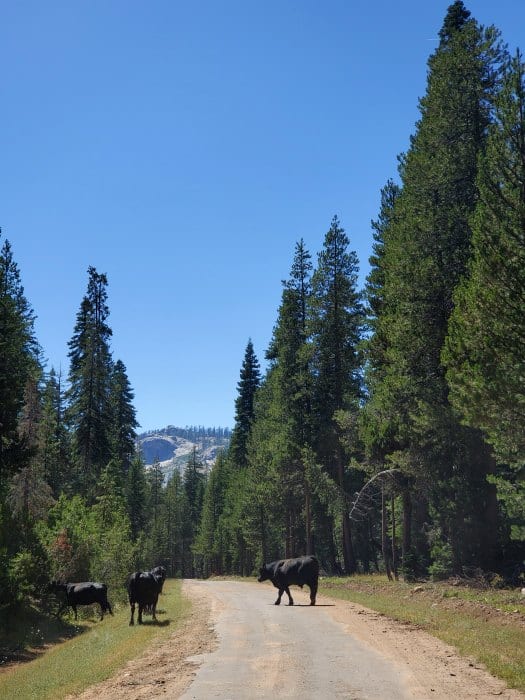 Keep an eye out for wildlife on the road including cows!
I still think Yosemite National Park is incredible and should be on everyone's bucket list, I just think everyone should afford themselves enough time to explore more than Yosemite itself!
A day in the Sierra Vista Scenic Byway will lead you past epic views, mountain streams, wildflowers, granite domes, giant Sequoia Trees, unique rock formations and much more.
It is simply up to you to decide to take on this adventure. You will come out with a much more rewarding experience than the typical hurry up and get a picture of the highlights of Yosemite and leave the same day.
If you are visiting the Yosemite area make sure and check out these other great posts.
Top things to do in Yosemite National Park
Things to do Kings Canyon National Park
Check out all of the California National Parks along with neighboring Arizona National Parks, Oregon National Parks, and National Parks in Nevada