We are excited to share the best camping gift ideas we have found! I spent 20 years as a Park Ranger and these are some of my favorite products to take camping.
Best Camping Gift Ideas
We have compiled a list of all different types of camping gift ideas to help you find camping supplies not only for your epic camping trips but also for any gifts you may need to give.
Some of these products were gifted to us and others we have purchased to check them out. Each of the products was taken out to parks and used to make sure that we loved them. We took these products to Mount Rainier National Park, Olympic National Park, Grand Teton National Park, and Yellowstone National Park over the past few months to test them out.
Clothing
Goosefeet Down Socks
Made from your choice of lightweight nylon fabric and filled with 850+ power premium goose down treated with DownTek for water-resistance, these socks are designed to keep your feet warm and comfy all night long.
I love that these down socks compact into a tiny carry bag perfect for throwing in your travel bag. I have been wearing them around the house on cold mornings and my feet are so happy.
Buy here
Trailheads Hat and Gloves
When the Trailheads hat and gloves arrived my wife immediately stole them and packed them for our Midwest National Park road trip. She was so happy to have them with how windy the weather was.
My wife kept saying how nice it was to have her ears covered and still be able to have her hair in a ponytail. She wore the hat and gloves almost every morning of our trip.
TrailHeads Women's Trailblazer Ponytail Hat is an all-purpose fleece baseball cap.
TrailHeads Power Stretch convertible mittens for women
Buy here
Tents/Hammocks/Sleeping Bags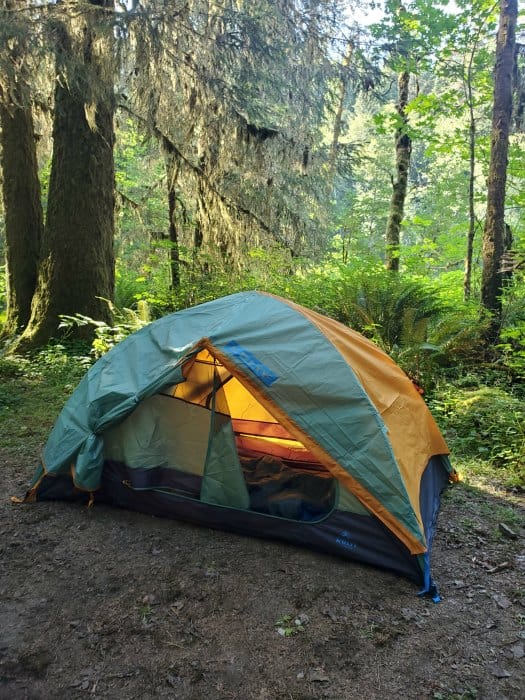 Kelty Wireless 2 Person Tent
What I love about the Kelty Wireless Tent is it is so quick and easy to set up. This tent was made by someone who has set up a ton of tents and knows all of the pain points that used to happen while camping. You can tell the person who designed this tent understands what campers are looking for.
This tent was made to be quick and easy to set up so you can spend more time out enjoying the parks and relaxing in your campsite. You no longer have to stress that it is going to take a ton of time to set up your tent! This tent takes minutes and you are ready to relax with a campfire and smores.
Sometimes you have to disconnect to connect. Get ready to leave it all behind and soak up the au naturel feels of the outdoors with the new Wireless 2 tent.
It features Kelty Quick Corners for lightnin'-fast setup, plus the new Shark Mouth duffel for effortless pack-up. Two-door, two-vestibule construction makes your new digs ultra-livable...while our new EZ-Zip vestibule makes getting in and out easy.
MSRP $119.95
Buy on Amazon
Kelty Mistral Collection Sleeping Bag
The Mistral Collection is the perfect sleeping bag for introducing the whole family to camping (and backpacking) with ease.
Available in men's, women's, and kiddos, this mummy bag features Kelty's cozy ClouldLoft synthetic insulation. Its polyester taffeta shell and liner means durability and comfort.
The offset quilt construction prevents pesky cold spots. And the natural-fit spacious foot box means more room to wiggle your toes.
Adult Mistral 20s are $59.95.
Kids Mistral 30s are $39.95.
Buy on Amazon
Play Wild® Double Hammock
It only takes 2 minutes to sling between a couple of trees and comes complete with high-quality carabiners and a couple of 9ft long fully adjustable hammock hanging straps giving plenty of options for locations to chill out.
I love how small the bag is for the Play Wild Hammock! It will now be living in our car so we can easily pull it out and relax while out on road trips or camping.
The whole kit is contained within its attached stuff sack.
The hammock is big enough for two and holds up to 500lbs
Comes with the high-quality hammock straps, to make hanging your hammock simple
Lightweight aluminum carabineers
All fits inside a convenient stuff sack (that's attached so it won't get lost)
Lightweight and compact to take on day hikes or overnight (1.8lbs all up)
Buy it on Amazon
Blankets and Covers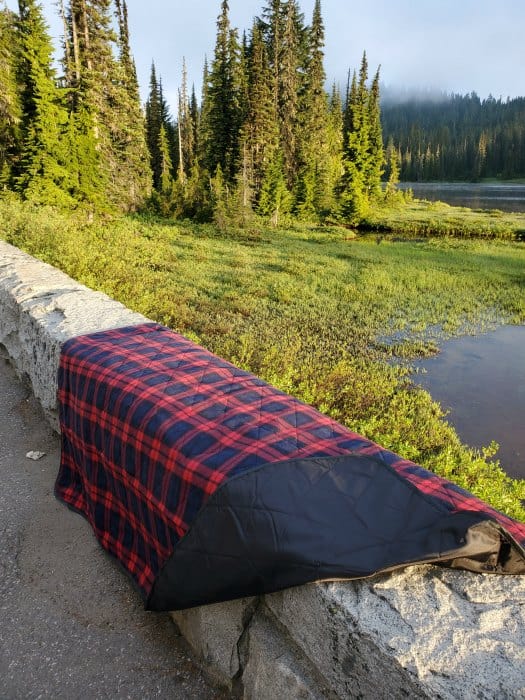 KAMUI's Waterproof Fleece Blanket
We used the Kamui Fleece Blanket while watching the sunrise at Reflection Lake in Mount Rainier and loved it. We then took it with us to watch wolves in Lamar Valley in Yellowstone and it was epic. My wife and I were able to wrap it over our legs while lounging in camp chairs waiting for the wolves early in the morning.
We have both decided that this fleece blanket will now live permanently in our SUV. It wraps up nicely in the carry bag and we love knowing we can stop anytime for a picnic or have a blanket to wrap up in if we get cold.
KAMUI's Waterproof Fleece Blanket is designed to give comfort while enjoying the amazing outdoors.
It can be used inside the tent. Basically, you can lay the blanket inside the tent as a ground layer. It is crafted with Fleece surface to give the feel of a home-like comforter and a Waterproof material underneath to give confidence to just lay and relax to any adequate surface while in camping or picnic locations.
A perfect companion for a family picnic or camping that comes with a carrying bag so you can take it whenever and wherever.
Find it on Amazon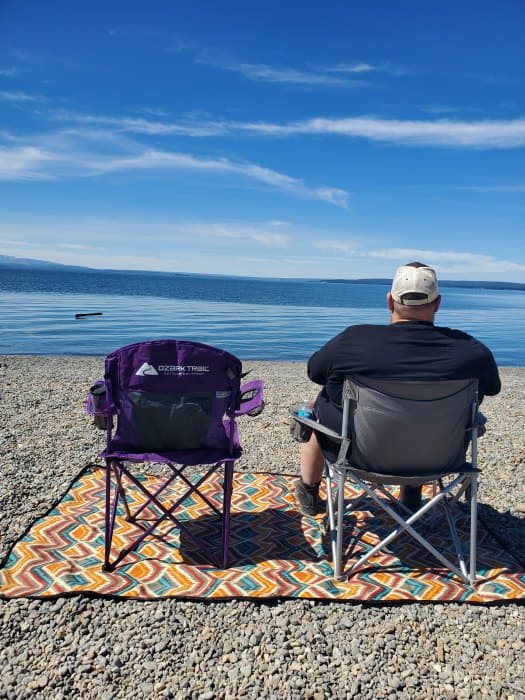 Tarpestry
There are so many uses for the Tarpestry! We loved having it while enjoying a picnic lunch soaking up the epic weather over Lake Yellowstone. Not having to worry about what was under us and being able to take our shoes off was so relaxing.
I love that you can easily hose the tapestry off if anything gets on it. We will definitely be using this anytime we go camping.
Tarpestry (think tarp + tapestry) is a soft and durable weather-resistant outdoor blanket. From picnics to campouts, this USA-made product is an excellent outdoor surface for learning, working, or playing.

Uppers are available in a range of styles and materials, from 100% cotton to weather-resistant polyester. With four grommet rings, one on each corner, the UV-resistant Tarpestry can be hung up for shade or staked down for a water-resistant blanket and includes a corner Velcro pocket for easy storage.
Easy to clean – you can rinse it off with a hose!
All Tarpestrys feature a water-repellent base fabric.
For an outdoor blanket that is water-repellent on both sides, the Rugged is a perfect fit.
The Classic features amazing designs from the ornate to the psychedelic.
If you'd like to add art to your walls as well as comfort to your outdoor adventures, check out the Epic (artist editions).
The Tarpestry is 7.5' x 4.5' and weighs 4lbs.
MSRP: $149-192
Coffee
Pakt Pour Over Coffee
I am a tried and true coffee snob! I fully admit that I like good coffee and struggle not having it in the morning. Enter in the Pakt Pour-Over Coffee system and my coffee worries are gone.
Being able to take my own coffee grounds and make my own pour-over coffee each morning has been such a blessing. I don't have to stress over how I am going to get my caffeine fix in the morning.
There is no stress over what has been put in or used to clean the hotel/Airbnb coffee maker. I know that my coffee is being made just the way I love it.
Make Barista-Quality Coffee Anywhere You Go with The Pakt Coffee Kit
The world's first compact, all-in-one coffee-making kit. It contains all the components of the classic pour-over brewing method in one sleek package, including an electric kettle.
Innovative nesting design is compact, durable, and airline carry-on friendly.
Environmentally-friendly / cuts down on waste from disposable cups.
For use at home, on the road, and in the office — anywhere space is at a premium.
The tastemakers at Intelligentsia called it "the best on the go kit we've found."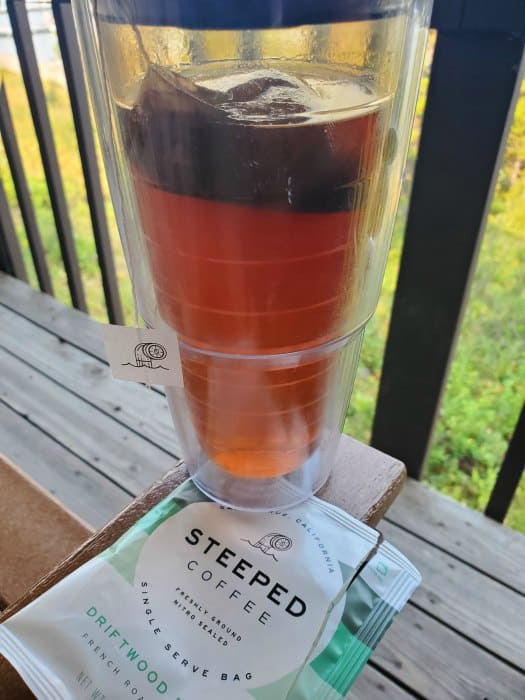 Steeped Coffee
When you need coffee but don't want to mess with having grounds or a coffee maker the Steeped Coffee bags are perfect.
Imagine a tea bag but it is coffee instead of tea. All you need is hot water to make a delicious cup of coffee. I enjoyed a hot cup of Steeped Coffee while staring out at the Teton Mountain Range from the Signal Mountain Lodge in Grand Teton. It was the absolute perfect way to start the day.
As mentioned above I am a coffee snob and I truly enjoyed the flavor of Steeped Coffee.
Features of Steeped Coffee include:
100% Specialty Coffee: quality coffee ethically sourced directly from farmers
Nitro Sealed: removes oxygen, stopping the clock on freshly ground beans
Ultrasonic Edges: no glue, staples, or wasted materials for max steeping
Full Immersion Filter: non-GMO filters that regulate ideal water-in and maximum flavor-out
Guilt-Free Packaging: made using plant-based renewable and compostable materials
Micro Batching: roasted locally in small batches
Precision Ground: consistent water-cooled grinding to the micron
Pre-Portioned: consistent SCA recommended water-to-coffee ratios
Just Add Water: single-serve convenience with no machines required
Barista Approved: tested by multiple independent specialty coffee Q-graders for freshness, quality, and taste
Buy it on Amazon
Waterbottles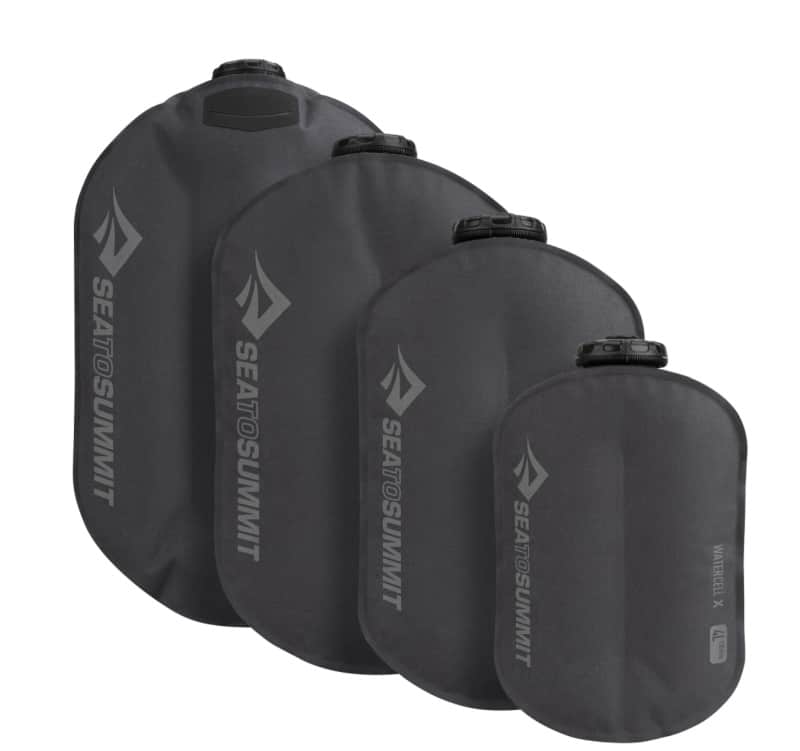 Watercell X
Having plenty of clean water on hand when you're on the road is a must, especially when travelling to remote, arid places out west. The Watercell X is packable, tough, versatile and BPA and PVC free.
A complete water storage and filtration system: the opening is compatible with industry-standard water filtration systems and replacement lids for clean water at the campsite
Compact and stackable, easily folds when not in use
Holds up to 20L for cooking, drinking, and putting the fire out at night
(4 / 6 / 10 / 20L) - $39.95 – $69.95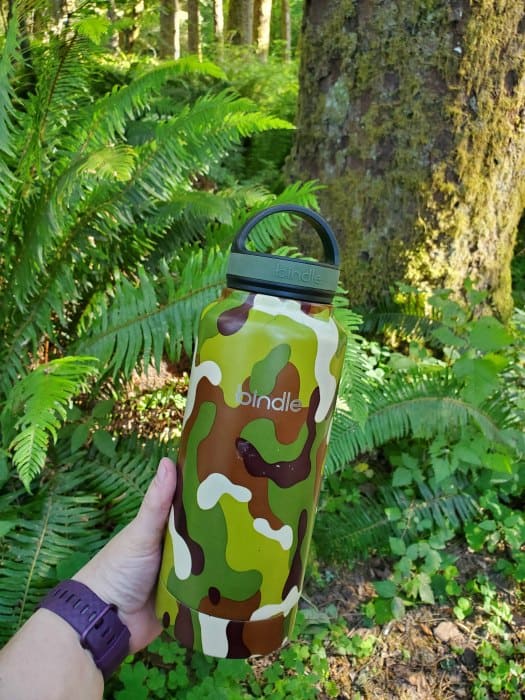 Bindle Bottle
Bindle Bottle is made for everyday adventures, exploring the outdoors, and long trips away.
Whether you are out hiking and want to bring along extra snacks or you need a place to stash lures while you're out fishing Bindle Bottle can accommodate your needs.
Maybe you just want to sip some hot cocoa around the campfire, in a bottle that will keep your drink warm all night long while storing some extra marshmallows. It is the bottle designed to keep you hydrated and organized.
Each bottle is built with lightweight, but durable stainless steel. The hidden-in-plain-sight waterproof storage lightens pockets by holding everyday essentials.
With eight different colors and two sizes, you can choose a bottle that is unique to you. Bindle Bottle is a great alternative to single-use plastics and combines style, function, and convenience.
Buy it on Amazon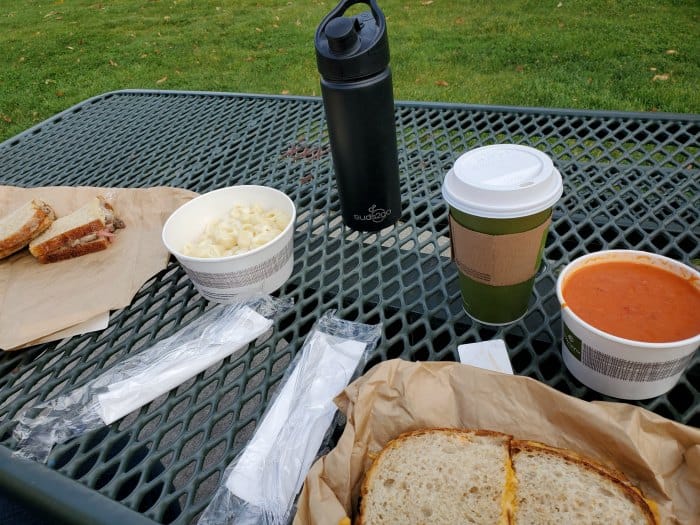 Suds2Go
You know those moments your hands are covered in sticky stuff and you really need to wash them but are not close to a restroom or anything. Enter in the Suds2Go! We are keeping the Suds2Go in our car from now on.
It is perfect for those moments your hands get dirty and you need to wash them but don't want to deal with finding a restroom or really touching anything. So simple to set up and so easy to use!
Key Features for Suds2Go-Dual Purpose Water Bottle:
25oz stainless steel bottle
BPA-free plastic spout for drinking
Restrictive-flow valve for rinsing hands
Latch for hook attachment
Refillable foaming soap pump head provides 65-75 pumps (refill with your own favorite soap)
Comes in three colors
$36.99
Find out more online
Camping Supplies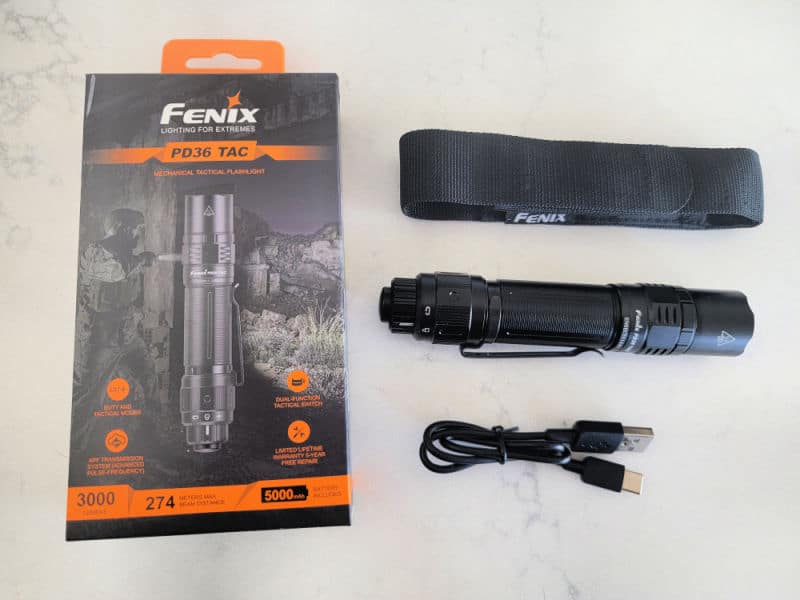 Fenix Tactical Flashlights
There is nothing worse than waking up and realizing your flashlight batteries are dead and you don't have a back up. Enter in the Fenix Tactical Flashlight with a rechargeable battery. The battery charges with a USB cord.
We have been so impressed with the brightness of this flashlight and its ease of use.
LUMINUS SST-40 LED with 50,000 hour lifespan
1600 Lumen max output
USB Type-C charging
Buy it at the Fenix Store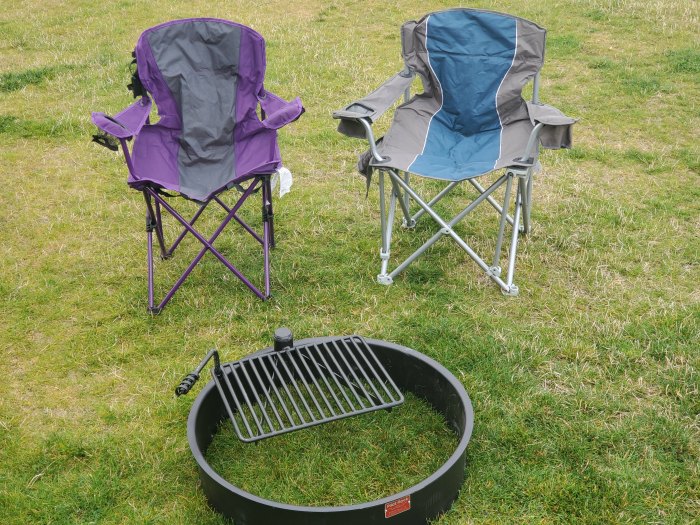 Pilot Rock Steel Fire Ring with Cooking Grate
NorthernTool.com has this amazing Pilot Rock Steel Fire Ring with Cooking Grate.
This is the perfect gift for yourself or anyone you know who loves a campfire! We are so excited to set up our fire ring.
We had to wait a bit due to fire danger warnings but it is finally getting to the time of year we can set up the fire ring. All we need to do is add some gravel and we are ready for smores in the backyard.
Spacious 32in. outer diameter x 7in.H, made with heavy-duty 3/16in. thick plate steel that stands up to the elements
Roomy 300 sq. in. cooking grate is made of ½in. steel bars and swivels 180° to swing away from the ring for easy serving or tending of the campfire
Cooking grate handle never passes over the fire
2 anchor pins allow the ring to tip back for easy cleaning and also help to prevent against theft.
Head over to Northern Tool to check out the fire ring!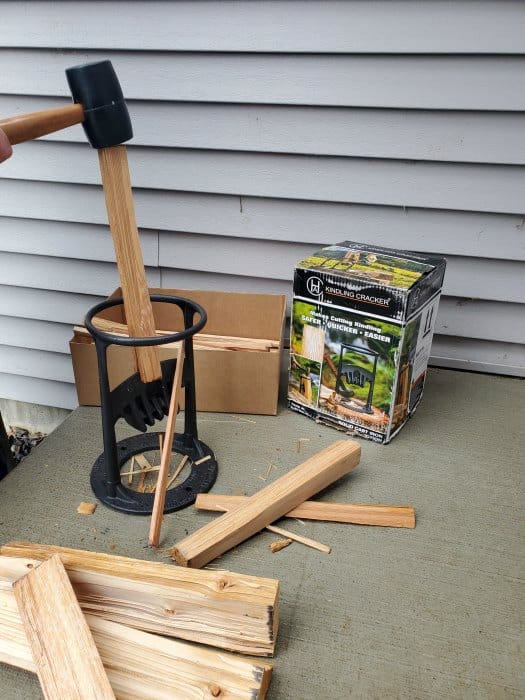 Kindling Cracker
The Kindling Cracker available from Northern Tool makes it easy to have kindling for your campfire.
It literally takes seconds to break a piece of wood into many pieces of kindling.
A safe and easy way to make kindling with no moving blade or sharpened object passing by your hands
To split a piece of wood, place it inside of the frame and strike it with a maul — the Roughneck® 3-lb. Drilling Hammer (Item# 2570508, sold separately) is ideal for this purpose
Splits firewood with less force than a standard axe
6.5in. inside dia. top ring; 12in. height
Made of high-quality cast iron in Australia
Head over to Northern Tool to check out the Kindling Cracker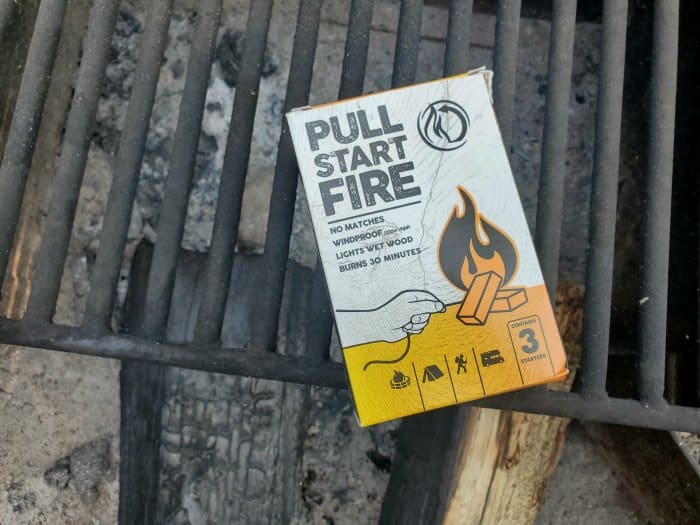 Pull Start Fire
We have all been in campgrounds where you buy firewood and all you get is a stack of big logs and no kindling. Then when you go to get kindling you realize that you can't pick up kindling in the campground due to the rules and you are wandering around wondering how to get your fire started.
Enter in the Pull Start Fire which takes the place of kindling and relieves all the stress of worrying about how you are going to start the fire. You don't have to stress about all the crazy rules we have all heard about how to start a fire, what not to do, and so on.
Pull Start Fire is a new fire starter product that does not require matches, ignites even wet firewood with one quick and easy pull to a red string, and will burn 30 minutes in the rain, snow, and high winds. Use Pull Start Fire to start a campfire or patio fire pit. It weighs only 4 oz. It's an inexpensive, easy-to-use campfire starter 'trick' for when it's cold or wet, you're hungry and need to get the fire going NOW.
Pull Start Fireignites even if it's wet and testing proves it can light frozen wood under the snow. This fire starter will burn in the rain for 30 minutes. It even burns in 200 MPH winds when tested for extreme conditions. Easy to use, start by looping the green string on one end of the box over a fire log to secure the box. Next stack logs for a fire. Then pull the red string on the other end of the box quick and hard to light a fire.
Pull Start Fire was invented by outdoor enthusiast and engineer Michael Beyrodt after he was unable to get his campfire started in freezing conditions.
Pull Start Fire is the perfect gift for the outdoors person and is sold as a 3 pack for $17.99 at www.pullstartfire.com or in hardware and outdoor supply stores including REI, Dick's Sporting Goods and Sportsman's Warehouse.

Carson Binoculars
We were amazed at the clarity looking through the Carson binoculars. We loved that they fit in the car door handle pocket so we could easily grab them while wandering around Yellowstone NP.
We used them to look at a Bald Eagle over the Madison River, Wolves in Lamar Valley, and tons of Bison in Hayden Valley. The clarity is amazing for a small compact binocular.
Carson Optical HW-822 Stinger™ 8x22mm binoculars are all compact binoculars that have great optics.
Compact and Lightweight Binoculars with an 8x Magnification | 22mm Objective Lens Diameter | Prism Type: BK-7

Features a center focus knob with independent right diopter adjustment for maximum focusing flexibility | Weight: 0.45 lbs

Field of View: 342 feet at 1,000 yards | Eye Relief: 13mm | Close Focus: 9.8 feet | Exit Pupil: 2.75mm | Product Dimensions (LxWxH): 4. 1'' x 3. 8'' x 1. 3''

Fully Multi Coated Lenses for Bright and Sharp Image Quality | Included Accessories: Soft Pouch, Wrist Strap and Microfiber Cleaning Cloth

Perfect Compact Binoculars for Travel, Backpacking, Birding, Concerts, Sporting Events, Surveillance, Nature Viewing, Safari's and More
Buy on Amazon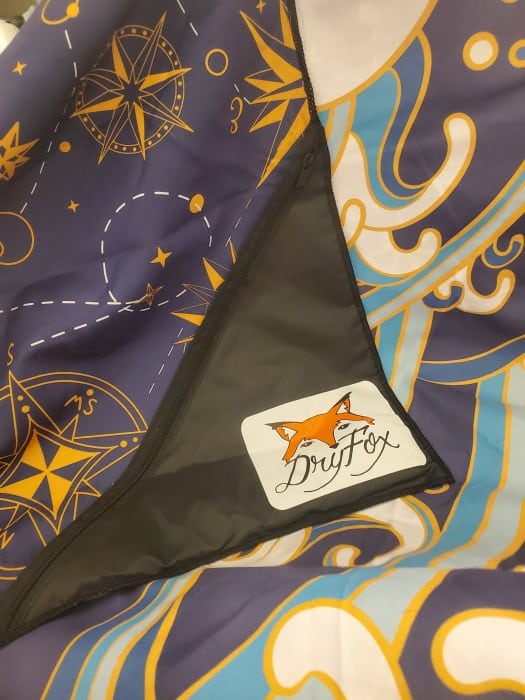 Dry Fox Towels
My wife snatched the DryFox towels as soon as they arrived at our house and said she was in LOVE with them. They are quick-drying and she has been using them after every shower to get her hair dry.
We took these with us while exploring Yellowstone and Grand Teton and they were perfect for wiping off after getting wet. I love that they have a secret pouch that you can store your hotel key or phone in without it being visible.
They are going to be perfect for beach trips and also anytime we are going out to the lake. They make it easy to store your valuables and keep them hidden.
DryFoxCo has reinvented the towel with compact travelers in mind making them lightweight, absorbent & quick drying. They're the ONLY towel with a water-resistant pocket for securely concealing your valuables.
They're made of the softest microfiber with the perfect XL size for covering your entire body & featuring reversible travel-inspired designs. Weighing only 8 oz, they easily fit in a backpack or carry on bag.
Our towels are high quality making them economical & environmentally smart. They're a top gift for National Park travelers who love something new & innovative. Made by a solo female backpacker for all travelers, they're a must-have for 2020.
They currently sell on our website www.dryfoxco.com and we offer free US shipping. Shipping international is available.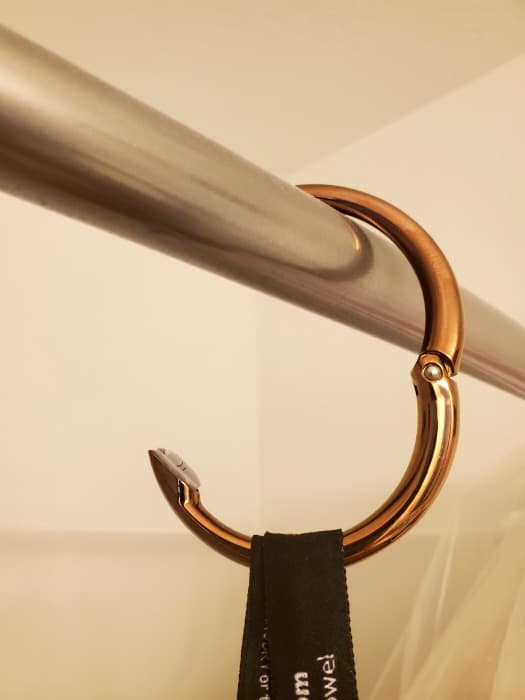 Clipa
Do you ever wish you could hang something off of your picnic table, tent, or in your campsite? The Clipa is the perfect easy to carry hook that helps keep things off of the ground and within reach.
We have been using the ClipA to hold our masks in the car, hang things in hotels and carry my wife purse hanging from a table when she doesn't want to set it down. They are so easy to clip onto bags or tent poles so you always have them within reach.
Clipa works where traditional hooks can't help prevent contact with germs, water, and dirt. Extends bag and backpack life, making access easy while providing peace mind.
7 finishes. Just 3" in diameter. Only 1.6 oz. Gift boxed.
$15.00 MSRP
Buy on Amazon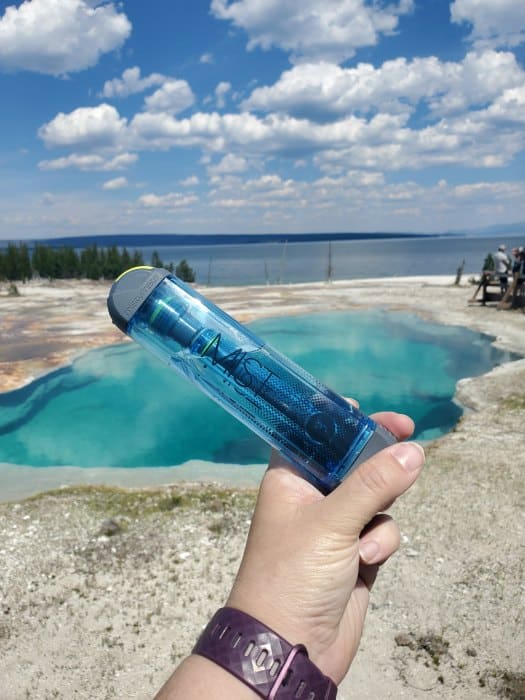 Misty Mate MISTPRO 3
The MistPro 3 will always be in my travel bag from now on. We hiked the West Thumb Geyser Basin in 85+ degree weather and I have to tell you being able to spray some cool water was so needed. It was so dang hot that just the fine mist felt like it cooled us off substantially.
We forgot to grab the MistPro 3 when we headed out to hike in the Norris Geyser Basin and regretted it instantly. We kept asking each other how in the world did we forget it as we were boiling hot and needed to cool down.
Don't worry as soon as we were in the car we filled the MistPro3 with ice-cold cooler water and sprayed ourselves down. It was so needed and felt blissful. This compact easy to carry mister is now one of my favorite travel tools.
The MISTPRO 3 is a re-usable, non-aerosol, Human-Powered, Portable Mist Cooling Device. Completely battery-free, Eco-Friendly & optimized so that it's sleek & easy-to-carry, allowing it to become your trusted Travel & Adventuring Companion, Wellness & Workout Buddy - giving you the power to Control Your Climate.
The MISTPRO 3 keeps you going when you're active outdoors and comfortable when relaxing poolside - helping you refresh, align & keep your center so you can bring the very best version of You regardless of external conditions.
Buy it on Amazon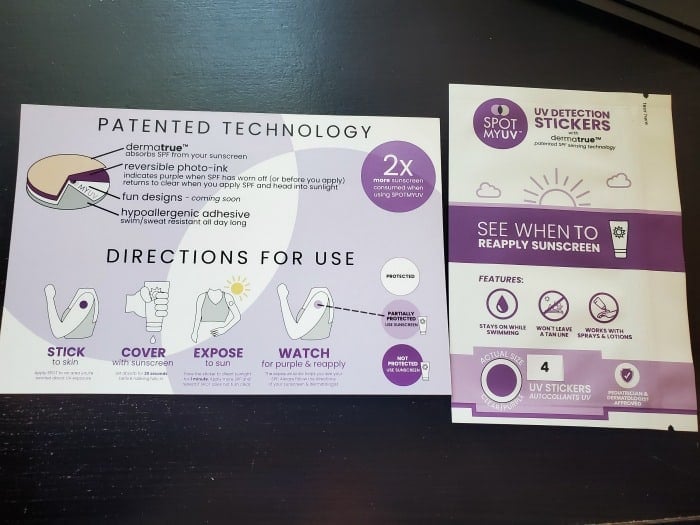 SPOTMYUV UV Detector Stickers
SPOTMYUV is essential when the plan is to spend all day outside since you definitely do not want to have a sunburn. They're great for kids who will now find using sunscreen fun, and parents who want to focus more on enjoying their day rather than always worrying about their kids getting burnt.
www.spotmyuv.com
Available in Albertsons/Safeway/3500+ stores in the USA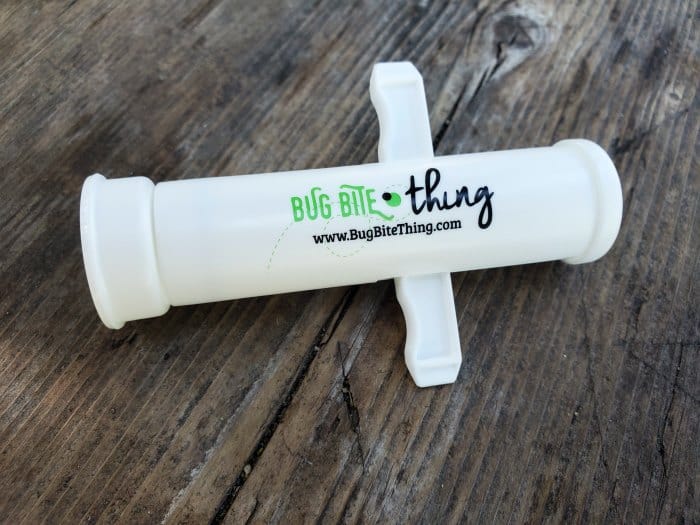 Bug Bite Thing
One thing about camping is bugs are a thing. They seem to be a constant issue and mosquito bites have the potential to make an epic trip really painful. My wife gets bit all the time and is always complaining about how much the itch of the bites drives her crazy.
The Bug Bite Thing is the perfect size to carry while traveling and we love that it is chemical-free and easy to use
Bug Bite Thing is chemical-free, reusable, and safe to use on all ages.
Bug Bite Thing is run by mompreneurs, mother/daughter team Ellen McAlister and Kelley Higney of South Florida who went on Shark Tank last year and partnered with Lori Greiner.
How it works: the easy-to-use suction tool painlessly and effectively extracts insect saliva/venom from under the skin to eliminate itching, stinging and swelling by removing the irritant - totally unlike topical creams and ointments which only mask it.
Buy it on Amazon
Go Fish Underwater Camera
GoFish Cam shows off all the underwater action when fishing, snorkeling, or diving. Footage from the wireless underwater HD video camera can easily be shared on social media.
For anglers, the footage provides an easy way to improve techniques and show off their trophy catches.
MSRP $149.99
gofishcam.com
Buy it on Amazon.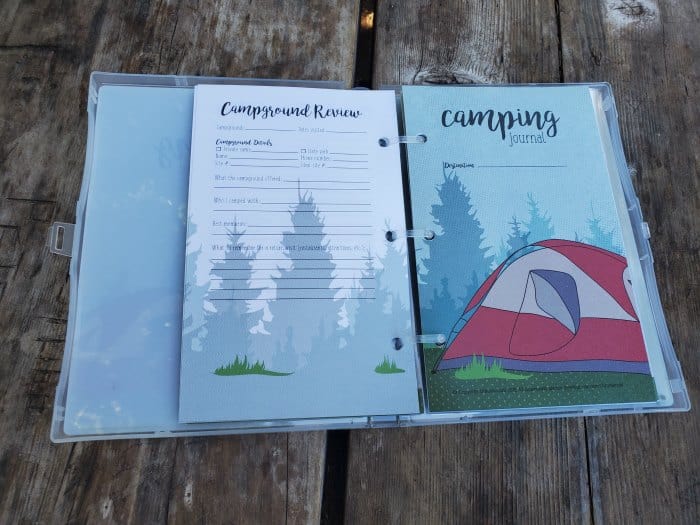 Camping Journal
Inside are pages to help you plan your camping trip - a route planner, packing checklist, bucket list, daily planner, camping meal planner, campfire notes page, and a campground review. And, there are enough of these pages for 4 separate camping trips.
The journal also includes 20 mini page protectors so you can store maps, brochures, photos, recipes, and other mementos. Overall, it's a great tool to have to store all of the info you might otherwise keep on your phone if you're camping somewhere without cell service. At the end of the trip, it makes for a nice keepsake to look back on your favorite trips.
Buy it on Amazon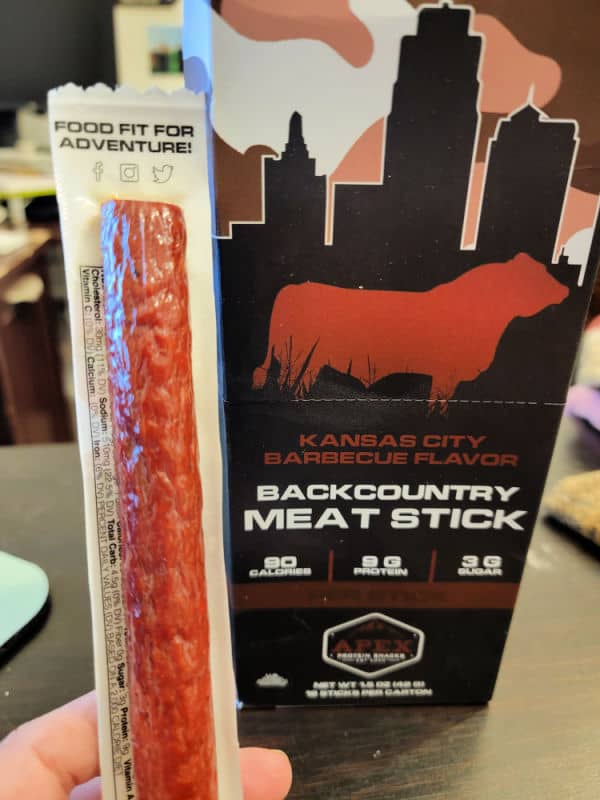 Apex Protein Snacks
I love having high protein snacks when traveling and out in the parks. These Apex Protein Snacks are amazing! I actually brought the Kansas City Barbecue Flavor sticks with me when I flew into Kansas City to start our Midwest Roadtrip. They were the perfect snacks on the plane and while we were on the road.
featuring high protein levels expected out of a snack stick, made with wild game meats, no filler ingredients, and zero sugar, Apex BackCountry Sticks are truly fit for adventure! Conveniently packaged in individual units, Apex BackCountry Sticks are the ultimate portable protein snack!
9g-11g protein
0g-3g sugar
90-105 calories

Gluten Free

Less than half the ingredients of most snack sticks

Zero fillers
Buy them here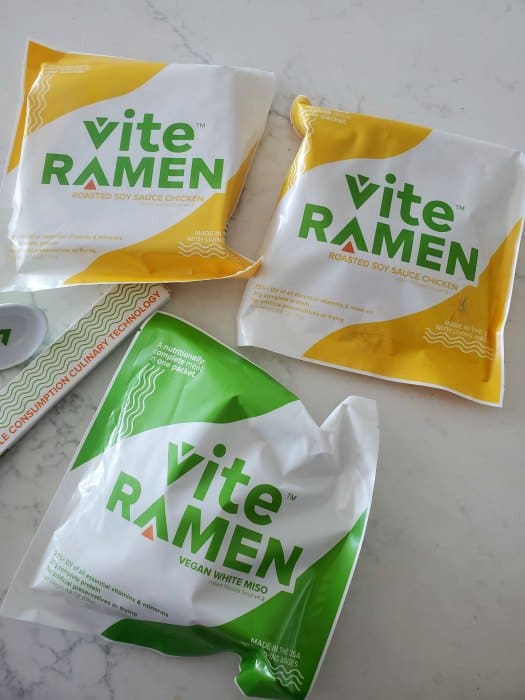 Vite Ramen
Every serving of Vite Ramen is packed with 25% DV of all 27vitamins and minerals your body needs to get you through the day, specifically-crafted for bioavailability. Each packet contains up to 31g of complete protein, 9 grams of prebiotic fiber, ALA Omega-3s, and is formulated with a calculated macronutrient and fiber approach, which helps adults sustain optimal energy levels.
Vite Ramen is made without deep frying, preservatives, or tons of salt. Made in the USA, Vite Ramen is the "future of food," offering fast and easy preparation, no post-meal crash, and everything you need to perform at 110%. Shelf-stable, Vite Ramen is delicious right out of the packet, or easily customizable to your tastes.
Vite Ramen is available in 6 and 9 packs in Garlic Pork Tonkotsu, Roasted Soy Sauce, Vegan White Miso, and a Variety pack.
Available at www..ViteRamen.com
We hope you love these great camping gifts as much as we do!
Check out the Best Gifts for RV Owners