Norris Geyser Basin includes some of the hottest water and springs in the park. One thing to know is this can mean the ambient air feels like you have walked into the Sahara desert…it is HOT HOT HOT!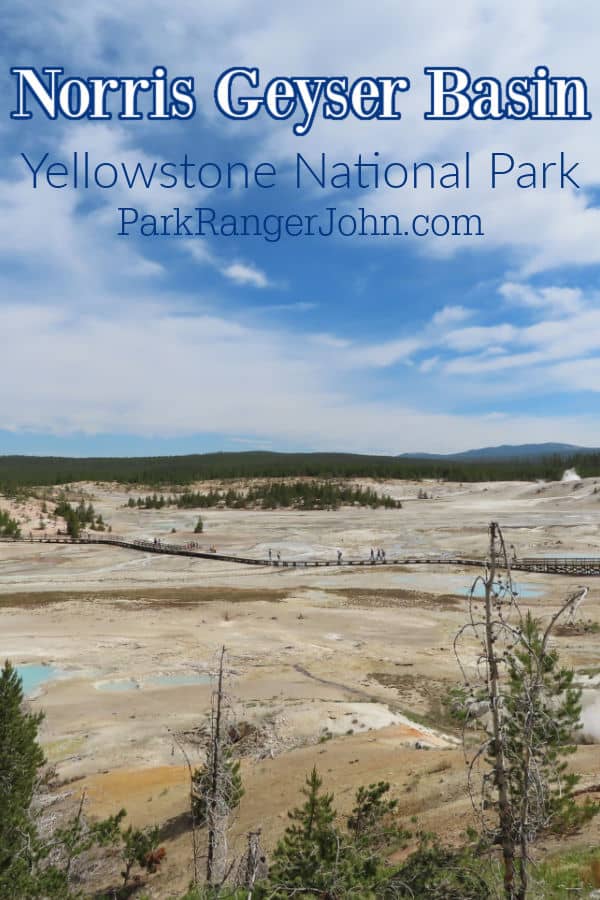 Norris Geyser Basin – Yellowstone National Park
We visited when it was only 78 degrees outside yet it felt like we were walking in a hot desert of heat. It was actually a bit miserable and we were super grumpy from being so hot by the end of it. We were not the only ones to be feeling the heat.
This is the one place in the park that we saw a lot of grumpy faces and heard people complaining about how hot the hike was, how hot they were and how they were done with it all.
I am not telling you this to detract you from visiting Norris Hot Springs but more to warn you so you are prepared for the experience.
Please make sure that you have water for everyone in your group, sunscreen, hats, and hike when it is the cooler part of the day if at all possible. We saw people carrying umbrellas to help block some of the direct sun and keep cooler.
We had a mister with us and it felt like we had won the lotto being able to cool down even a tiny bit with it.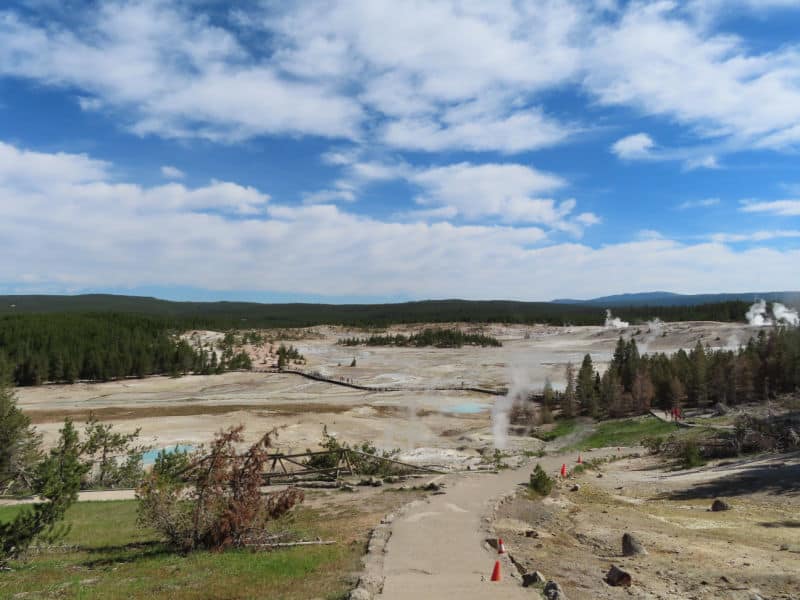 The Norris Geyser Basin is broken into two sections each with its own hikes. Each of these hikes is downhill at the beginning and back up the hill when you are done walking the boardwalks.
The Norris Geyser Basin is one of the most spectacular places in all of Yellowstone. Norris is made up of 2 basins, the Porcelain Basin and the Back Basin.
They both contain beautiful thermal features with vibrant colors and hot temperatures for you to see. Some include Ledge Geyser, Cistern Spring, Echinus Geyser, Green Dragon Spring, Minute Geyser, and the famous Steamboat Geyser.
The combinations of boardwalks and trails allow you to reach these amazing sights. Many boardwalks and trails are mostly wheelchair accessible with some assistance while other areas are not.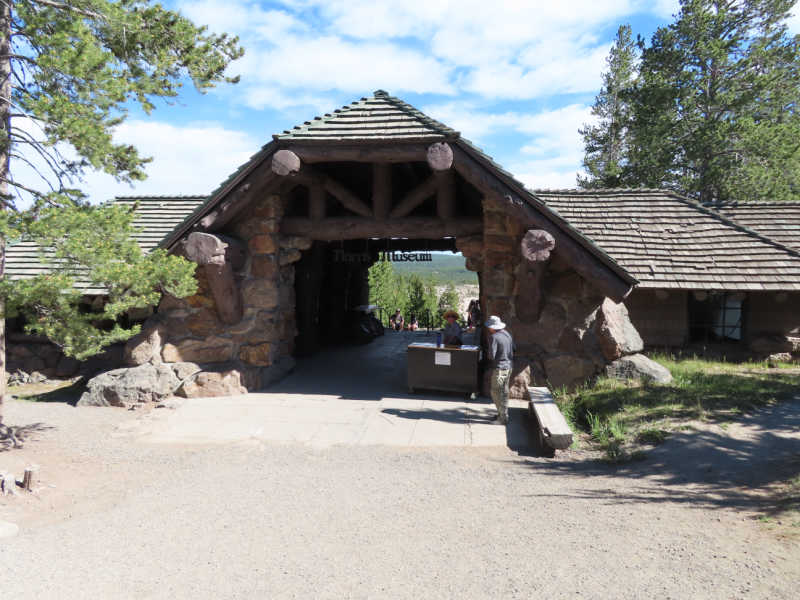 There is also a museum so you can learn more about the history of the Basin. Make sure you make time to check out the Norris Geyser Basin on your next trip to Yellowstone!
Norris is known for having the hottest and most acidic thermal areas in the whole park reaching temperatures of over 200 degrees Fahrenheit. The temperatures of these pools also help determine the colors of these pools as well as the minerals and thermophiles(heat-loving organisms) found in them.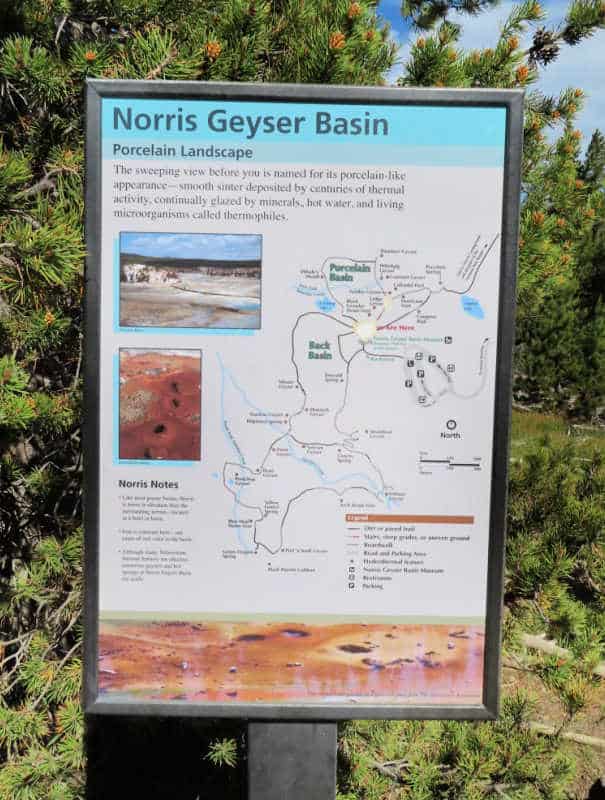 Sulfur is very common in these pools and contributes to the yellow colors seen in them. The sulfur in the water also contributes to the rotten egg smell you smell throughout the basin. Iron contributes to the red/orange/brown colors in these pools and algae contributes to the bright green color you see. These pools matched with their colors make them so beautiful.
These beautiful features also are known to change. Some geysers or features dry up or become dormant while brand new ones form. Events in the geological structures can cause these changes. Such as water passages getting blocked or even earthquakes. These changes could be very quick, or they can be very long. The pools and geysers can be very unpredictable with their changes and how active they are.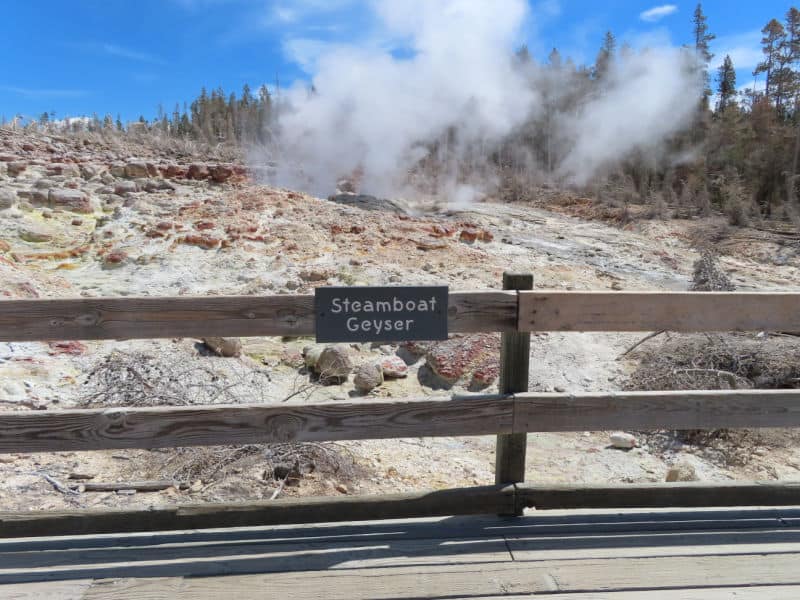 Steamboat Geyser
If you want to steamboat geyser erupt you will need to plan to spend some time waiting and watching or be really lucky. While the geyser has started erupting more frequently it does not erupt on a continuous schedule like Old Faithful Geyser does.
We saw people sitting under umbrellas who said they planned to spend hours waiting in hopes of seeing the geyser erupt.
Steamboat Geyser did not erupt for years! Currently, it seems to be going off about once a week though it has slowed down again significantly in the past year.
If you feel or hear that it is going to erupt you will want to make sure you have protection for your car. There are signs in the parking lot saying that the water that erupts from Steamboat Geyser can cause damage to cars in the parking lot.
The Steamboat Geyser is the tallest active geyser in the world! This powerful geyser throws water over 300 feet in the air soaking everything nearby. Visitors' cars can even be damaged by the debris of the geyser.
The geyser is very unpredictable. The time between eruptions can be as short as a few days and as long as a few years. If you get lucky, you might get to see this once-in-a-lifetime sight.

Porcelain Basin
The Porcelain Basin is filled with many colors and smells. Beautiful colors of blue, orange, green, and more fill the pools in the basin. With close to 10 features, it is a beautiful view. You can travel the boardwalk or view it from the Porcelain Basin Overlook right past the museum.
Ledge Geyser
This geyser steams often but very rarely erupts. Although when it does, it can project water over 80 feet into the air. This geyser is located right at the bottom of the hill.

Constant Geyser
The Constant Geyser goes off very frequently sometimes only being quiet up to a few hours. Although its eruptions only last about 10 seconds, it can send water up to 30 feet in the air.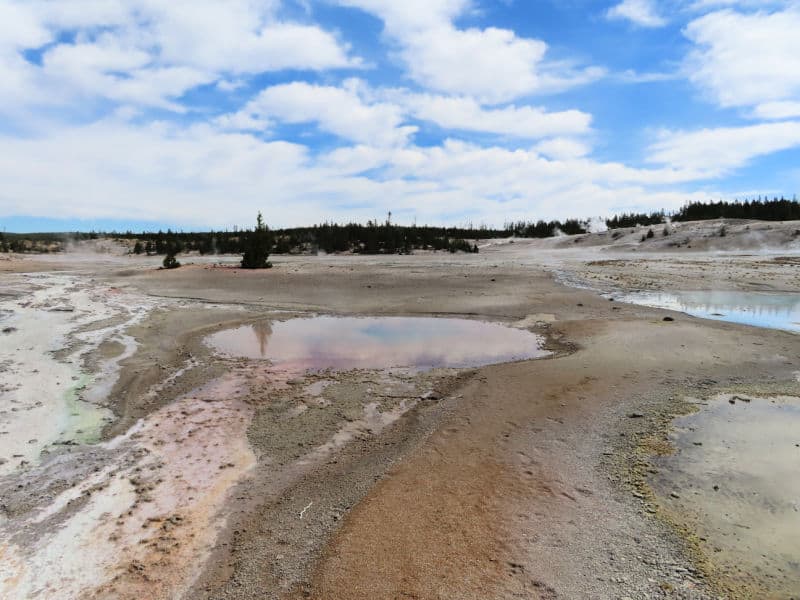 Whirligig Geyser
The Whirligig Geyser is an orangish-colored geyser due to the iron oxide. This geyser makes a loud pulsing sound from the bubbling water. This sound can be heard all around.
Pinwheel Geyser
The Pinwheel Geyser has not erupted in a long time but the runoff from Pinwheel and Whirligig is a beautiful sight. The different colors are from the different temperatures throughout the stream as it cools.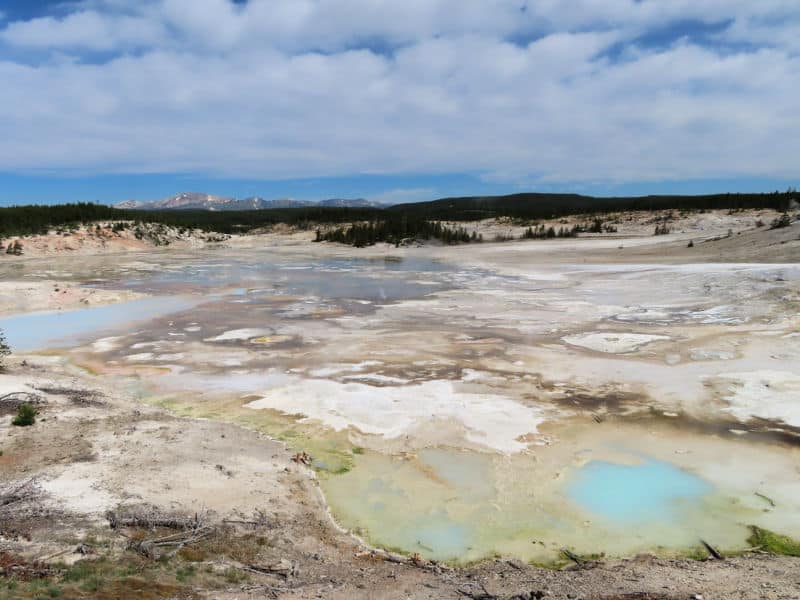 Porcelain Springs
This area is very inconsistent and unpredictable. At times it can be full of water and beautiful color or It can be completely dry.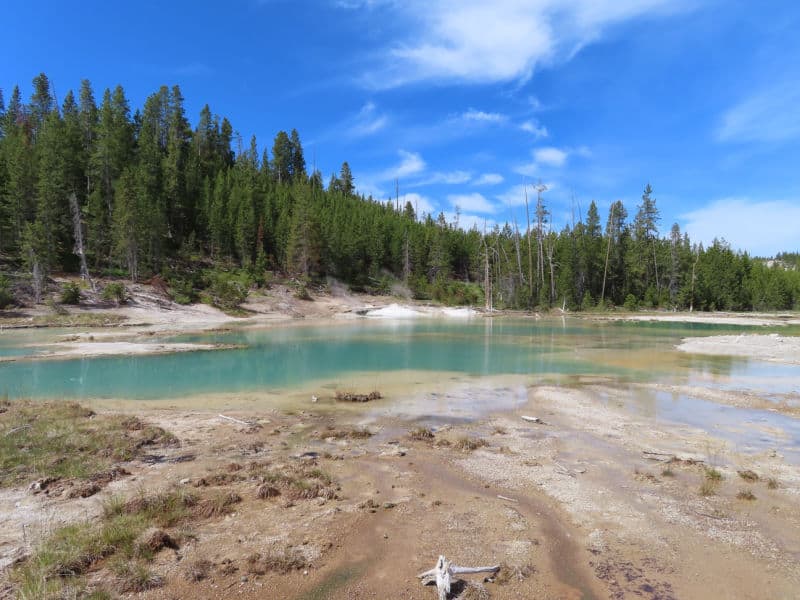 Crackling Lake
This lake is very cool due to its crackling sound mentioned in the name. It can also be of different colors at times depending on the temperature of the water.
Hurricane Vent
Hurricane Vent is incredibly beautiful with its turquoise blue color. It is also known for large amounts of steam.
Congress Pool
The Congress pool is known for many things. It is known for its steaming, blue pool, murky spring, and dry venting. The pool can change between doing all these things.
It was named the Congress Pool in 1891 because of the Fifth International Geological Congress in Yellowstone.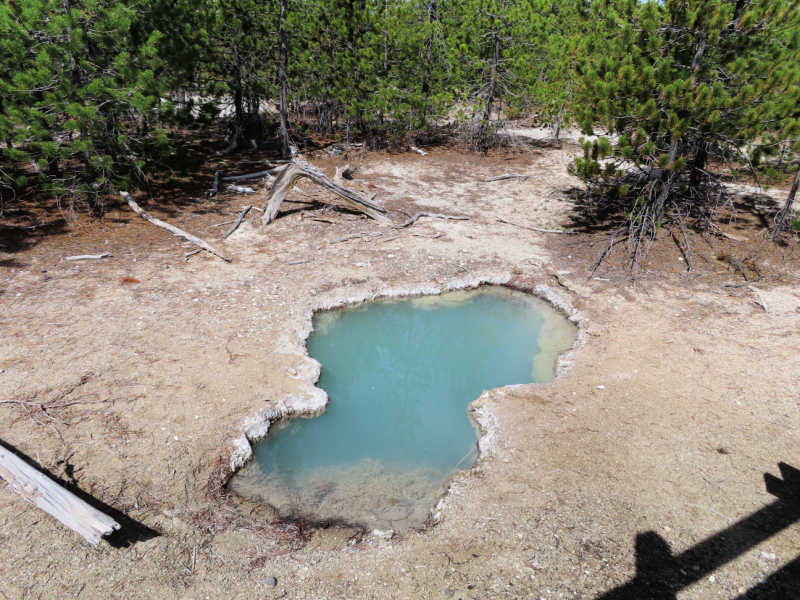 Whale's Mouth
This geyser is not regularly active at the moment. It was named due to the fact it resembled the mouth of a large fish.

Back Basin
The Back Basin is a larger area and has far more features than the Porcelain Basin. The boardwalks are much longer than the Porcelain Basin as well so be prepared to walk a bit.
This basin consists of over 20 features filled with many different colors and thermophiles that make up these beautiful pools. The area is much more spread out but much better for wheelchair accessibility.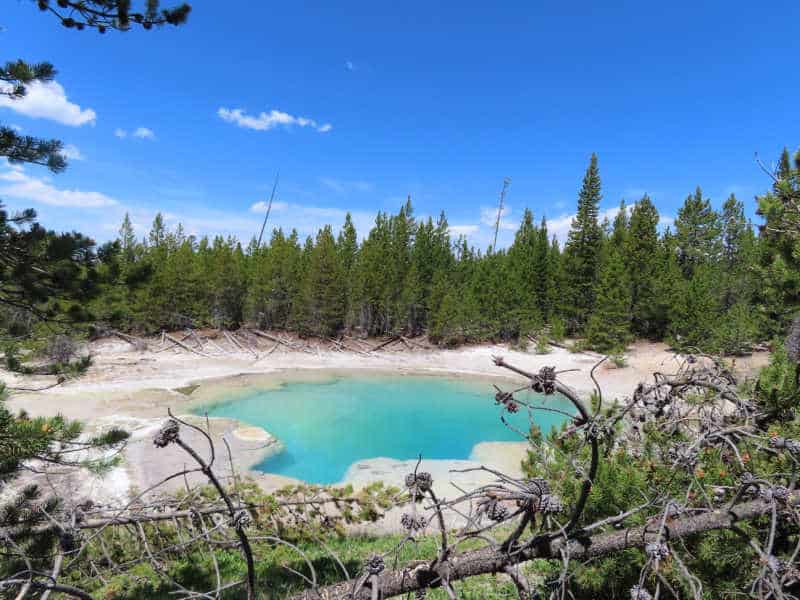 Emerald Spring
This beautiful blue pool is rich in sulfur and super hot. Very few thermophiles can live in these extreme temperatures.

Cistern Spring
The Cistern Spring is a beautiful pool that can be blue or green. This spring is connected to the Steamboat Geyser. The steamboat geyser can empty the Cistern Spring after an eruption.
This spring is also extremely high in silica. This silica is the reason you see that the trees near the spring are dead.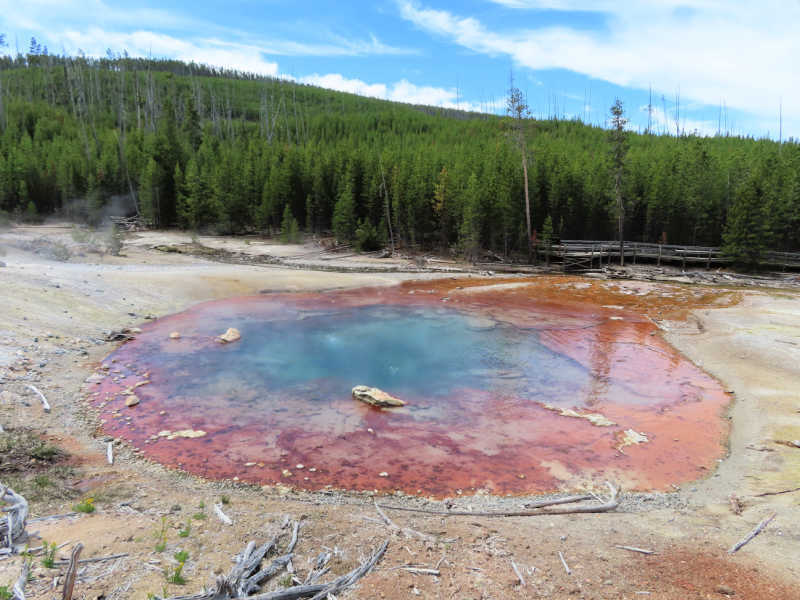 Echinus Geysers
This Geyser is a red and orange color due to the iron in the pool. This is also an extremely acidic geyser. In fact, it is the largest acidic geyser known.
This geyser used to be regularly active but has now become less active only erupting every few months or even years.
Puff 'n Stuff Geyser
This geyser typically steams and can shoot water a few feet into the air.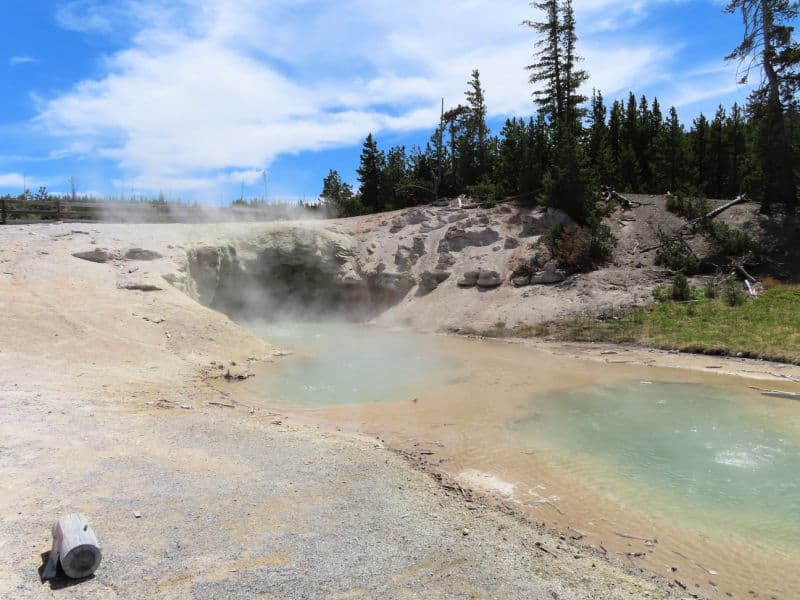 Green Dragon Spring
The Green Dragon Spring is very cool with its sulfur cave and its boiling pool. It can be blue, green, or often murky at times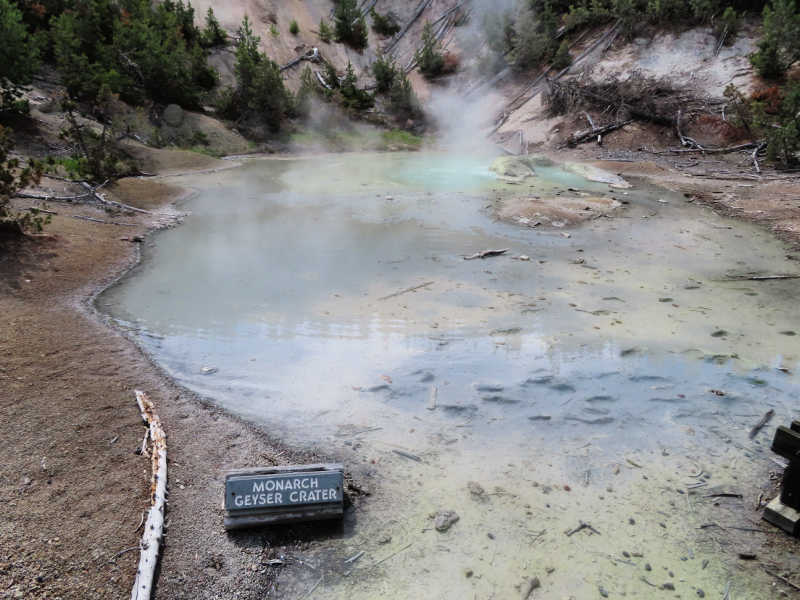 Monarch Geyser
The Monarchs Geyser used to give off enormous eruptions. It was highly active between the late 1800s and the early 1900s. It slowly became dormant over the years with its last eruptions in the '90s. It is now known to be blue or green and just gently flows with water.
Pork Chop Geyser
This geyser used to be a gentle hot spring until it exploded in September of 1989. It threw debris everywhere even over 200 feet in every direction. It is now a small gentle hot spring again and has not had any other eruptions since.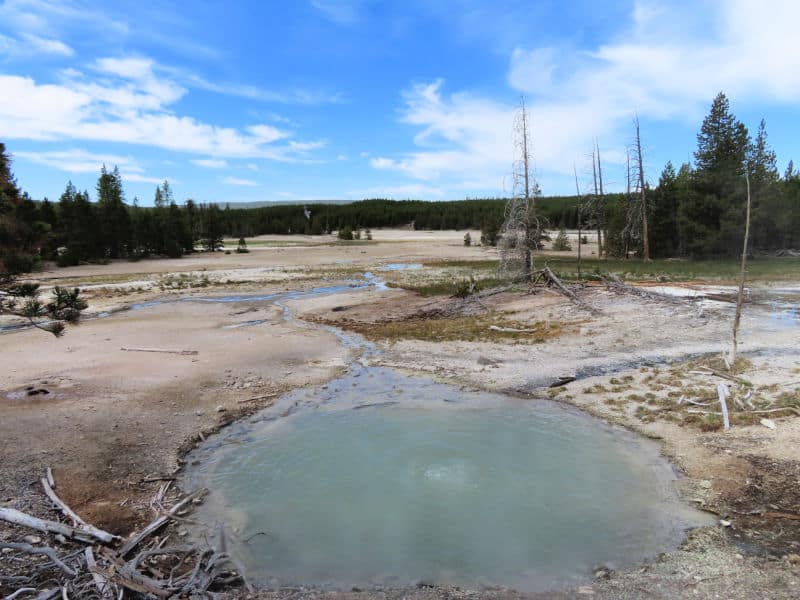 Minute Geyser
This geyser is very small and can shoot water only a few feet into the air. It is known to go off every few minutes but is very cool to see. The Minute Geyser used to erupt with much more power but was filled with coins and other objects by visitors at a time when stagecoaches were used.

Pearl Geyser
The Pearl Geyser is filled with vibrant colors and often empties and refills you can still see its amazing colors even when it is empty. At often times this geyser can shoot water around 8 feet high.
Blue Mud Steam Vent
This vent is known to be muddy and can be dry or full and overflowing at times. This vent used to be very strong and produce lots of steam.

Yellow Funnel Spring
The Yellow Funnel Spring is typically very murky and bubbles. At often times it can be dried up and steam as well. This spring used to be very rich with sulfur causing it to be a very colorful pool giving it its name.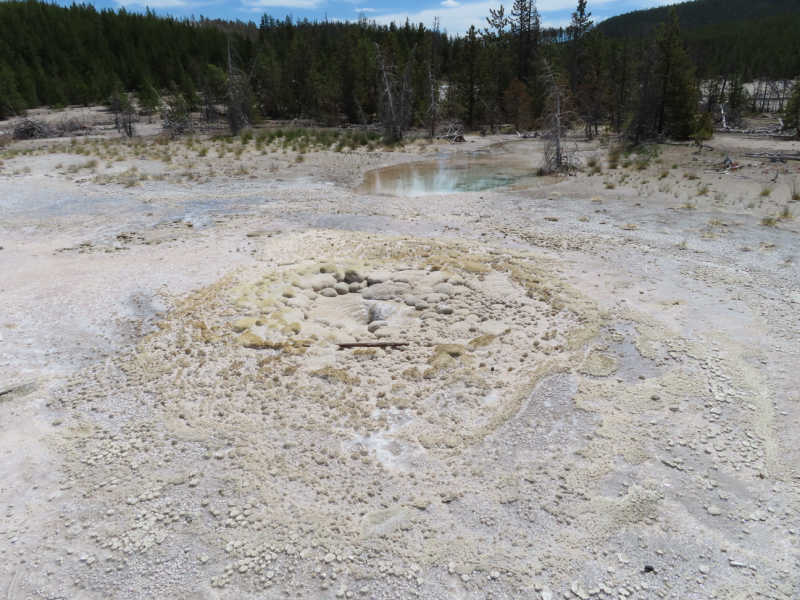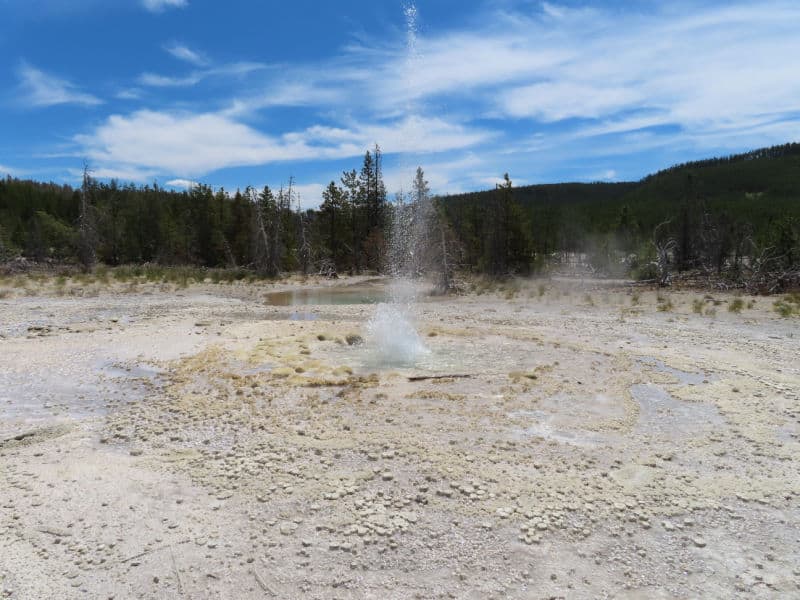 Vixen Geyser
This geyser is smaller but can put out a great eruption going to heights up to 20 feet. When not erupting you can often hear it bubbling and see it steaming.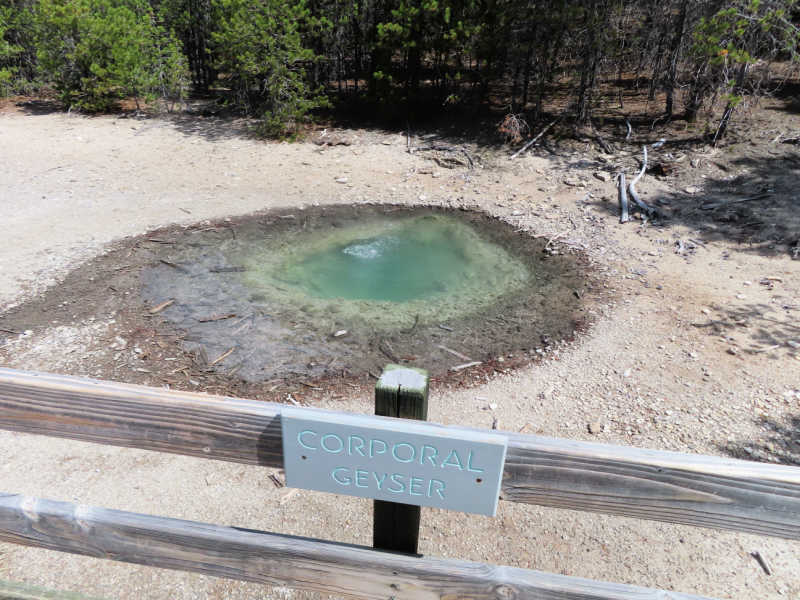 Corporal geyser
Corporal is right beside the boardwalk that typically has a blue or green tint to it. It is known to erupt often with intervals from a few minutes to days.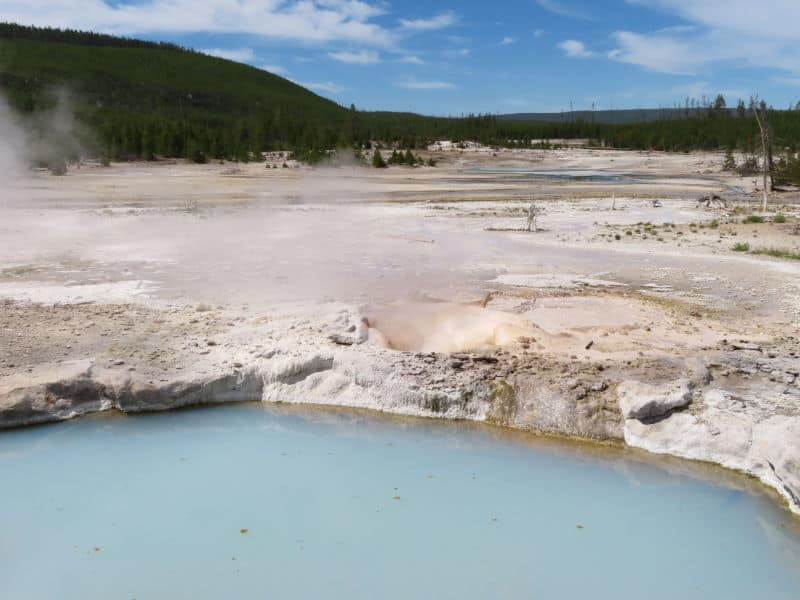 Veteran Geyser
This geyser can often have a milky blue color to it and goes off regularly. A lot of times you can see it bubble violently.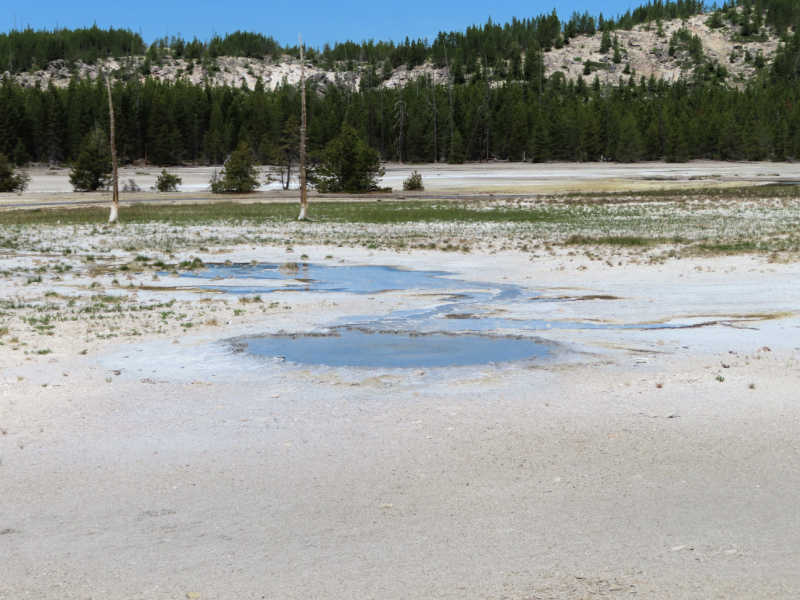 Palpitator Spring
The Palpitator Spring is known for its pulses seeming to almost beat like a heart. This geyser often has a cycle of draining then refilling and making the same pulsing sound again.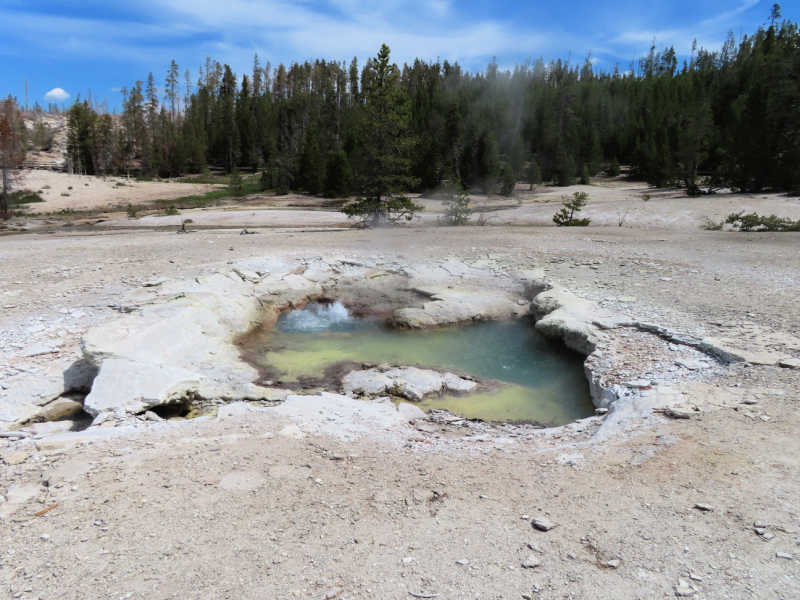 Norris Geyser Travel Tips
Make sure you have more water than you think you will want.
Sunscreen, a hat, and sun cover are definitely needed on sunny days. There is very little shade on a large portion of Norris Geyser Basin.
Prewarning we saw a lot of kids having major meltdowns. The hike up and down the hill was not fun for them and they were letting the world know it.
Wear shoes that are comfortable for hiking up and down a hill and on boardwalks in the heat.
Where is Norris Geyser Basin?
Norris Geyser Basin is located right off of the main loop road in Yellowstone National Park.
Old Faithful - Old Faithful is just down the road from the Midway Geyser Basin.
Firehole Lake Drive - Check out the Great Fountain Geyser, White Dome Geyser, and Firehole Lake on this beautiful scenic drive.
Biscuit Basin - Check out Black Opal Pool and the Jewel Geyser in Biscuit Basin.
Fountain Paint Pot - Explore the Fountain Paint Pot Trail to check out the Celestine Pool, Jet Geyser, Fountain Geyser, and Clepsydra Geyser.
Firehole Canyon Drive - Check out Firehole Falls and Firehole River Swimming Area on this great scenic drive.
Fairy Falls - Fairy Falls is one of the highest waterfalls in Yellowstone. You can easily reach the falls by walking the Fairy Falls trail as it continues past the Grand Prismatic overlook.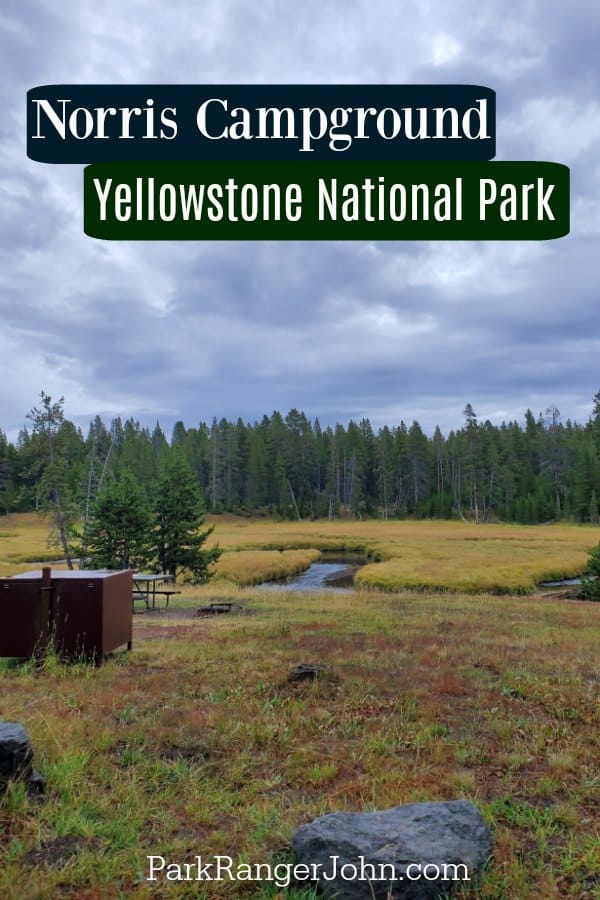 Closest Campground
Check out all of the Yellowstone Campgrounds to help plan your time in the park.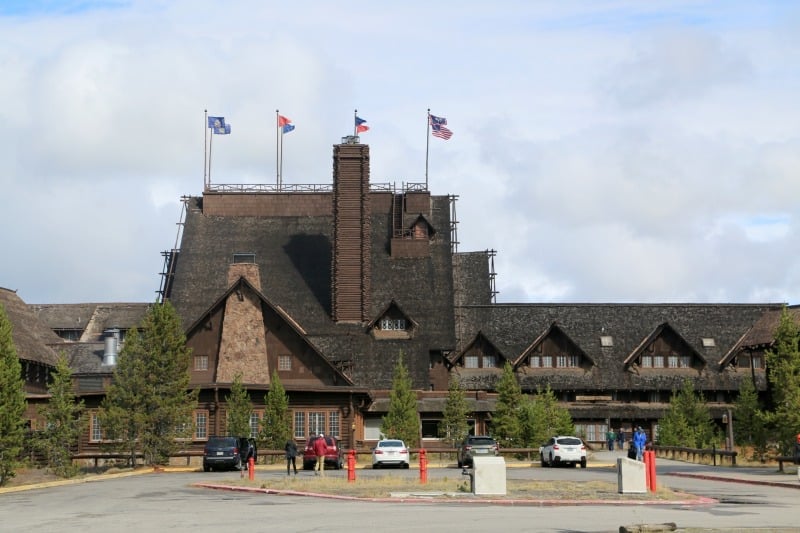 Closest Yellowstone Lodging
The Old Faithful Inn, Snow Lodge, and Old Faithful Lodge Cabins are the closest lodging options to Midway Geyer Basin,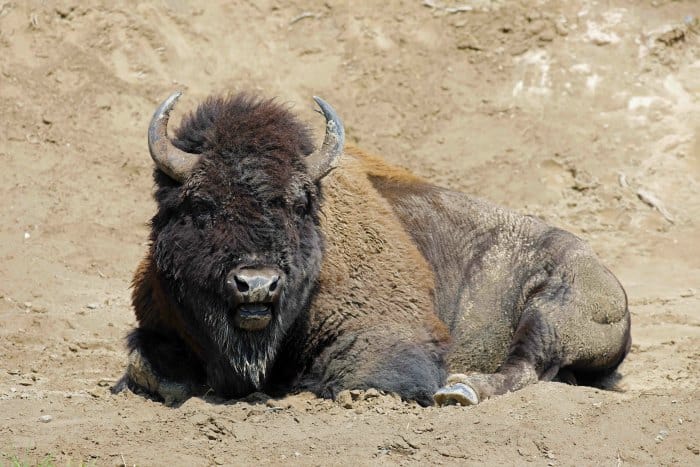 Additional Yellowstone Resources
Yellowstone Lodging -Check out all of the lodges you can stay in while visiting Yellowstone NP.
Yellowstone Camping - Check out all of the campgrounds available within the park.
Things to do Yellowstone - Check out all of the top things to do in the park.
Yellowstone Facts - Learn more about the unique features in Yellowstone.
Free National Park Days - Check out all of the days the National Park Service waives park entrance fees.
National Parks in Wyoming - Check out all of the parks you can visit while in Wyoming.
Grand Teton Guide - Find out about all of the great things to see, where to stay, camping, and more