The Lake Lodge Yellowstone National Park offers a variety of cabins. The Lake Lodge is perfectly placed for exploring Yellowstone Lake and seeing Elk.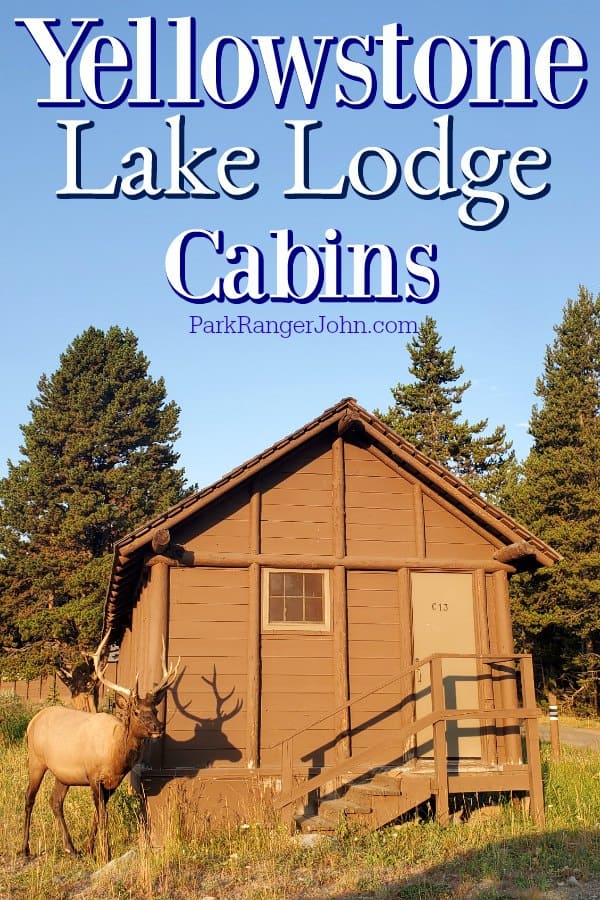 Lake Lodge - Yellowstone National Park
The Lake Lodge is located on the shores of Lake Yellowstone and has 186 cabins. There are recently renovated Western and Frontier cabins along with basic Pioneer Cabins.
Don't miss the gorgeous large porch that has rocking chairs perfectly placed for looking out over Yellowstone Lake.
The main lodge also has a gift shop, lounge, and two great fireplaces with chairs for relaxing.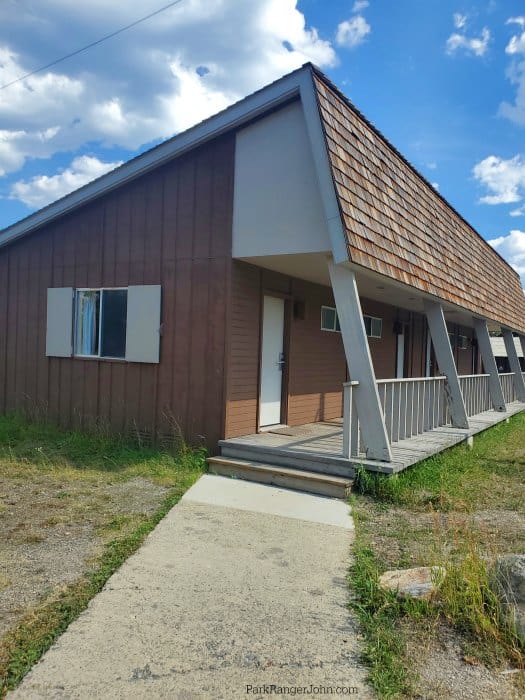 Western Cabin 2 Queens
The Yellowstone Lake Lodge Cabin we stayed in had 2 queen beds, a shared nightstand, a larger dining/work table, and a dresser with a private bathroom.
These cabins are great! They are located in the perfect location for exploring the West Thumb Geyser Basin, Hayden Valley, and Yellowstone Lake.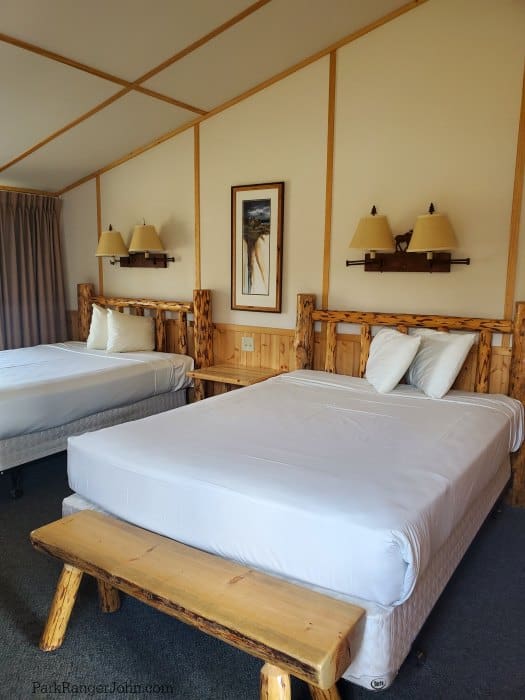 I will say that the bed mattresses are very firm. They had two small pillows for each bed so if you are someone who loves pillows you may need to request more or bring your own pillow.
There is no air conditioning in the cabins but there is a fan. We were able to open the window and sliding glass door before we went to bed to get some cross ventilation with a plug-in fan to cool the cabin down.
We did find the sliding glass door was unlocked when we first got to the cabin. This is well worth checking before you leave any gear or your stuff in the cabin and head out to explore.
Overnight the cabin was really quiet and peaceful. When I got up in the middle of the night you could see hundreds of stars glowing.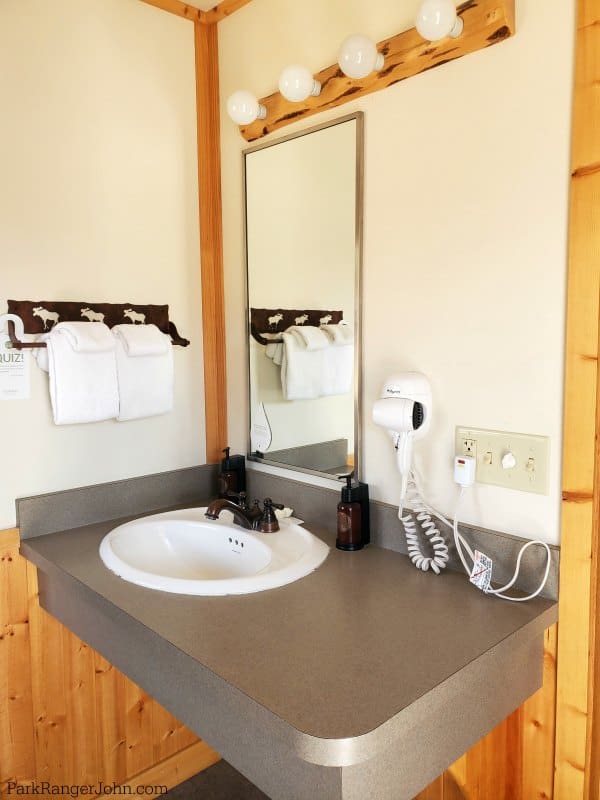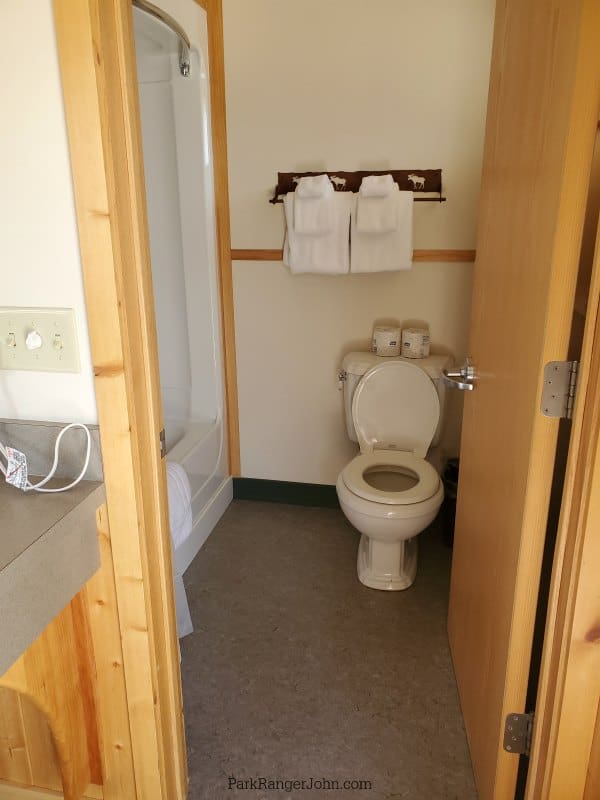 The bathroom has a deep tub with a shower and toilet. The sink is just outside the bathroom near the main room. The shower had amazing water pressure!
The tub is fairly deep so if you have any knee or mobility restrictions it may be hard to step up into.
One tip is to not judge the cabins by how they look on the outside. The grounds are a bit worn and the road does have quite a few potholes. The buildings look warn and kind of blah but trust me the insides are fantastic.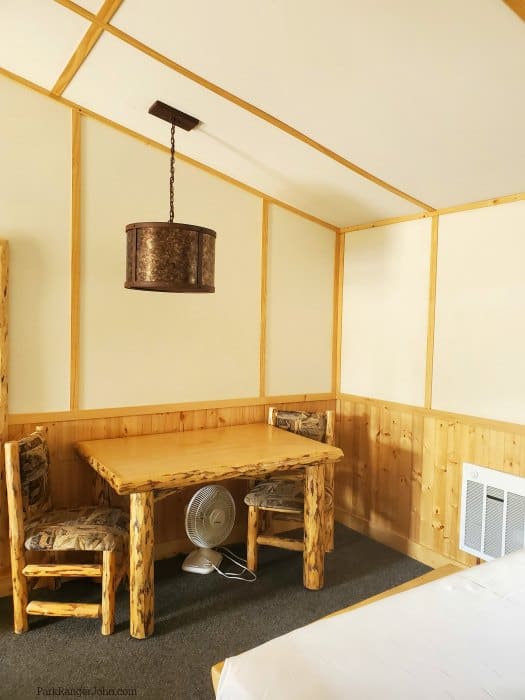 We did not see a ton of electrical outlets in the room so you may want a charging bar if you need to charge multiple camera batteries or phones.
There is no television or telephone in the room.
Outside the sliding glass door, there was one Adirondack chair.
We stayed in a Western Cabin with two Queen beds.
Western Cabins have private baths with a shower or tub/shower, toilet, and sink.
This is one of our favorite cabins in Yellowstone National Park.
Frontier Cabin
Frontier Cabins have one or two double beds, bathrooms include shower, toilet, and sink.
Pioneer Cabins
Pioneer Cabins were built in the 1920s and are being renovated during 2020. The Pioneer Cabins have one or two double beds, bathrooms include shower, toilet, and sink.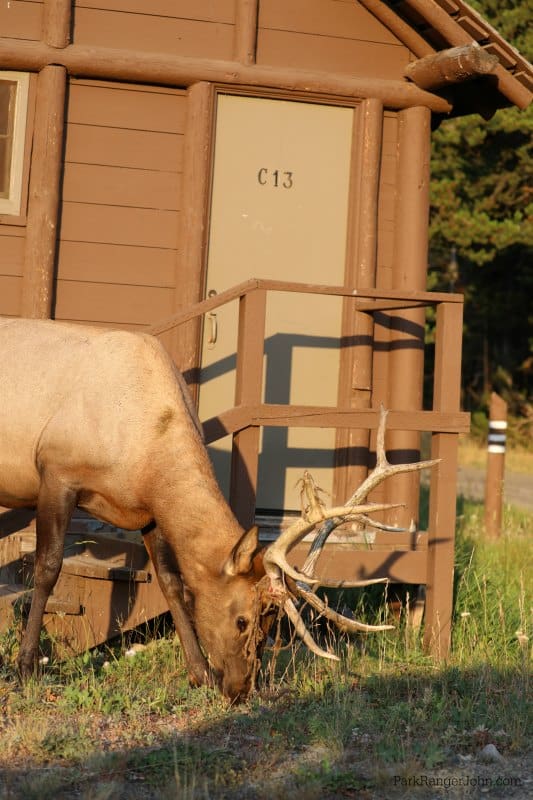 Things to know
Check-in Time - 4 pm
Check out Time - 11 am
Park entrance fees are not included in your reservation and are payable upon arrival at the park entrance.
Accessibility - ADA rooms are available (Call us at 307-344-7311 regarding ADA units and larger room sizes)
Smoking - All rooms and facilities at Yellowstone National Park are non-smoking.
Cooking is prohibited in all accommodations.
Wifi - Wifi, Internet, and cell service in Yellowstone are limited or nonexistent.
Televisions, microwaves, radios, rollaway beds, swimming pools, and air conditioners are not available.
GPS Coordinates - 44.5550856, -110.3957481
Address - 459 Lake Village Rd, Yellowstone National Park, WY 82190
Lake Lodge Cabin Map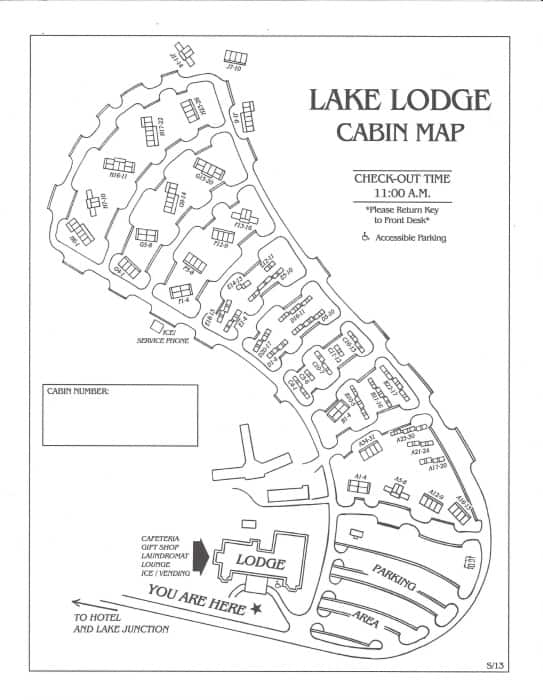 Nearby Yellowstone Attractions
Yellowstone Lake - It is hard to believe that Yellowstone Lake covers 131.7 square miles and has 141 miles of shoreline.
Old Faithful - Old Faithful is one of the big icons of Yellowstone National Park.
Mud Volcano - Just up the road from West Thumb this is a great thermal area that has a really nice trail around it.
Hayden Valley - Explore one of the best places in Yellowstone to see wildlife.
Black Sand Basin - This is a great boardwalk trail through a thermal area near Old Faithful.
Biscuit Basin - 3 miles north of Old Faithful this geyser basin includes Jewel Geyser, Mustard Spring, Black Opal, and Sapphire Pools.
Grand Canyon of Yellowstone - See the largest waterfall in Yellowstone.
Yellowstone Waterfalls - There are a couple of great waterfalls near the Mud Volcano area.
Grand Teton National Park - From this part of Yellowstone, it is a fairly quick drive to the south entrance of Yellowstone and on to Grand Teton.
Closest Campground
Check out all of the Yellowstone Campgrounds to help plan your time in the park.
Closest Yellowstone Lodging
Grant Village
Closest Visitor Centers
Grant Village
Fishing Bridge
Additional Resources
Yellowstone Lodging Guide -Check out all of the lodges you can stay in while visiting Yellowstone NP.
Yellowstone Camping Guide - Check out all of the campgrounds available within the park.
Things to do Yellowstone - Check out all of the top things to do in the park.
Yellowstone Facts - Learn more about the unique features in Yellowstone.
Free National Park Days - Check out all of the days the National Park Service waives park entrance fees.
National Parks in Wyoming - Check out all of the parks you can visit while in Wyoming.
Grand Teton National Park- Great info for planning your trip to the park.