Complete guide to Grand Teton National Park in Wyoming. Everything you need to know to plan an epic trip to this amazing national park including lodging, camping, things to do, history, wildlife, and information on the local area.

Grand Teton National Park
Under the shadow of one of the most picturesque mountain ranges in the world, Grand Teton National Park is both a tourist destination and a sanctuary for thousands of species.
Located south of Yellowstone National Park in the northwest corner of Wyoming, the park draws over four million visitors each summer with its serenity and unmatched views.
Visitors can enjoy scenic river float trips, fantastic fly fishing on the Snake River, hiking and backpacking throughout the park's vast trail system, mountain climbing in the challenging Teton Range, fishing and sightseeing excursions on Jackson Lake, horseback riding...and more!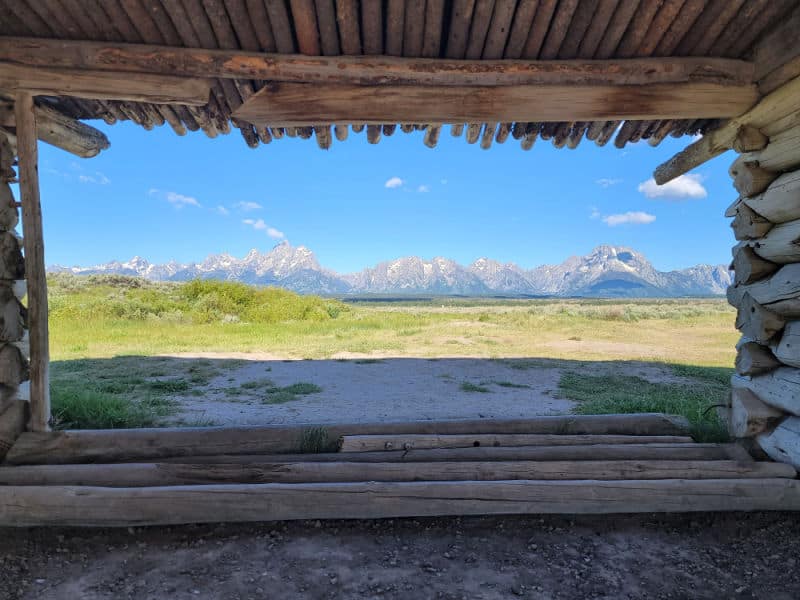 About Grand Teton National Park
While they are higher peaks elsewhere in the Rockies, none quite match the rugged majesty, the raw, wild beauty of this range. Bold, jagged spires of rock, the Tetons reach high into the Wyoming sky as if to snag the passing clouds.
The peaks are all grander for their setting. To the east of the mountains lies Jackson Hole (fur trappers of the last century referred to mountain-rimmed valleys as "holes").
From this basin the Tetons rise abruptly, with no intervening foothills, to neck-craning heights, a solid mountain rampart towering some 7,000 feet above the valley floor.
And then there are the lakes, Jackson Lake, Jenny Lake, and more. The mirrored images of the peaks in their waters seem to double the height of the mountain wall.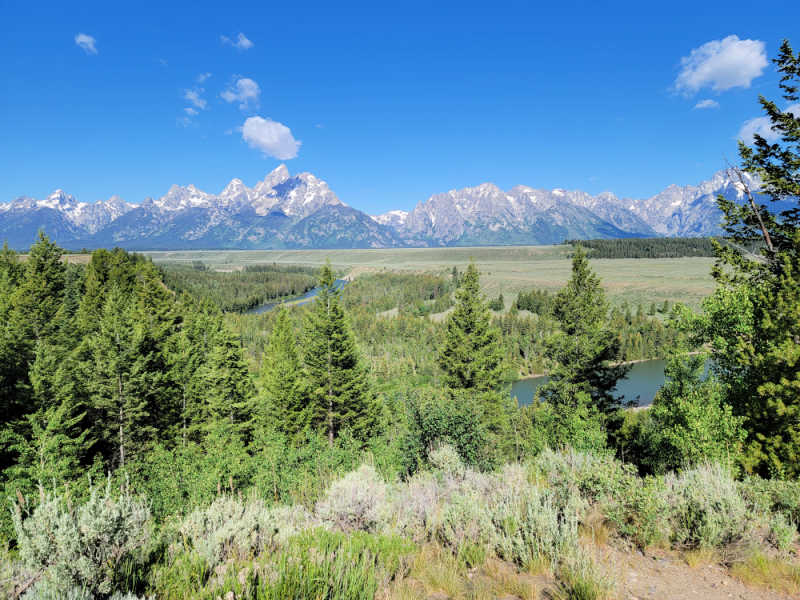 Winding through this lovely valley, like a silver thread of continuity, is the Snake River. A profusion of wildlife flourishes all along its course and throughout the park.
Ospreys nest in the weathered skeletons of dead trees by the riverside, as do bald eagles. Otters play on the riverbanks or glide gracefully through the water.
Along tributary streams, the small ponds created by beavers are favorite feeding spots for moose. The great beasts are often seen standing flank-deep, sometimes even neck-deep, in the ponds, munching on aquatic plants.
The park's lodgepole pine forests are home to elk and mule deer, while the sagebrush flats of Jackson Hole are preferred by pronghorns.
Black bears wander through the valley forests and on the lower mountain flanks, and grizzly bears are sometimes sighted in the northern reaches of the park. Coyotes, mountain lions, lynx, martens, bobcats, badgers, and a host of smaller animals also find refuge in this rugged wilderness.
And above it all, always there, looming over the scene, sensed even when hidden within a shroud of clouds, are the Tetons, the newest of the many ranges that make up the Rocky Mountains.
Less than 10 million years old, geologically the Tetons are mere babes; the rest of the Rockies average 60 million years in age.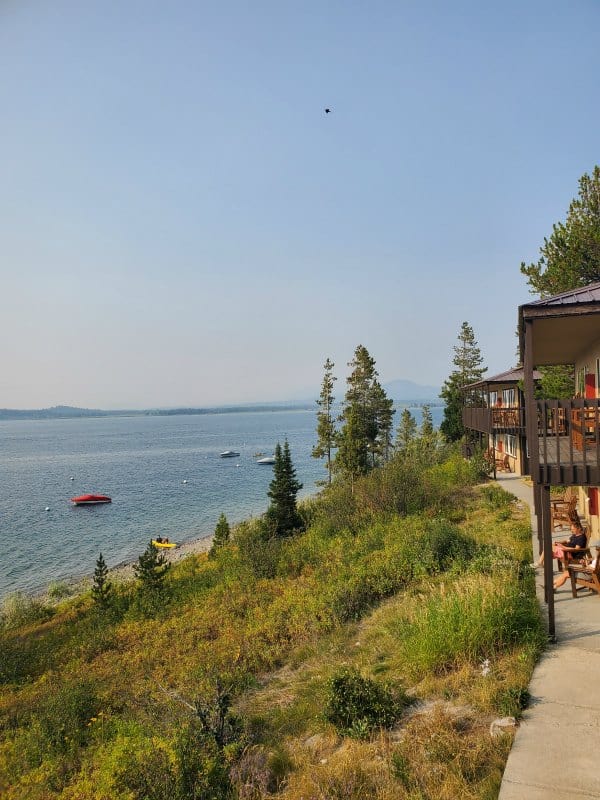 But the park provides more than just another resort getaway. A wide range of hiking trails offer challenges ranging from short hikes to waterfalls to multi-day excursions which will require a well-stocked backpack.
Personal favorites include the loop, beginning at Jenny Lake, through Cascade and Paintbrush Canyons on the way to Lake Solitude.
Another beautiful hike in the region begins at Phelps Lake, just north into the park from Teton Village, and takes visitors back to Static Peak. Both hikes involve great elevation gains but little requirement of technical skill.
Smaller hikes include the short afternoon hike from Jenny Lake to Hidden Falls (this is the trail which continues up Cascade Canyon) and various hikes north of Jackson Lake Lodge.
For the traveler that doesn't necessarily wish to strain themselves on vacation, there are ample opportunities to experience a view of the mountains without having to gasp for breath on an arduous climb.
A road leads to the summit of Signal Mountain from which there is a 360-degree view of the entirety of the valley.
Both the Teton and Gros Ventre ranges are visible from this vantage point, as well as Snow King Mountain hovering over the town of Jackson thirty miles south.
Guided horseback trips can be organized through any of the aforementioned resorts which follow many of the same trails offered for hiking.
Wildlife is in abundance throughout the park - after all, it is a nature preserve! In the swampy lowlands surrounding Jackson Lake and the other smaller bodies of water, moose feast on tender willow shoots.
Black and grizzly bears have been known to frequent the area, and herds of bison (as many as two-hundred heads) roam the Antelope Flats plateau high above the Snake River.
Pronghorn antelope and elk bound along and throughout the park borders and beyond. Be advised, however, that these are wild animals and should be viewed from afar.
Binoculars are a must-have on your trip to Grand Teton National Park, both to better view these wild creatures in their native habitat and to ensure that you make it back home safely with the memories.
Before the park was created in 1949, homesteaders had traveled to the area for the past century in hopes of staking a claim to some of the unspoiled beauty. The remnants of these settlers can be seen at the preserved buildings including Cunningham Cabin, Mormon Row, the Chapel of the Transfiguration and Menor's Ferry.
Several ranches remain in operation to provide a personal experience in Western Americana, such as Triangle X Ranch. On these ranches, one can better understand the hardships of staking a life on the beautiful but unforgiving soils of Grand Teton National Park.
So, whether planning a trip to Grand Teton National Park to coincide with the blooming of the mountain lupine and Indian paintbrush in the spring, or the changing colors of the aspen leaves in the fall, there will always be plenty to satisfy everyone's desires.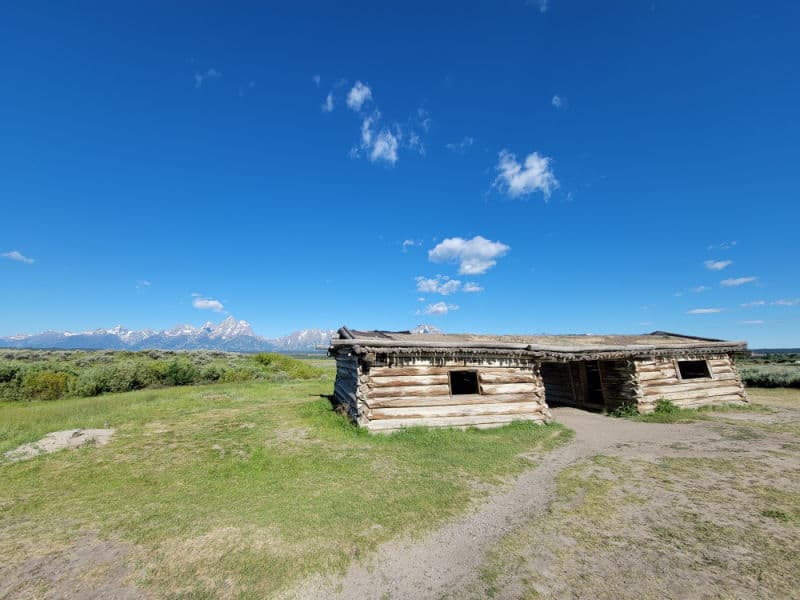 Is Grand Teton National Park worth visiting?
Yes! Yes! Yes!
There is a famous John Muir quote "The Mountains are Calling and I must Go!"
This is exactly how I feel about Grand Teton! Any opportunity to spend time in this park is well worth it! There is something magical about gazing up at the Tetons as they sharply rise into the horizon.
While visitation is on the rise as it is as all National Parks right now it is still worth planning time to visit this epic park.
Will there be crowds...maybe but it is still so worth spending a few days breathing in the fresh mountain air, looking for wildlife, and taking a moment to enjoy the scenic beauty that can only be found in Grand Teton.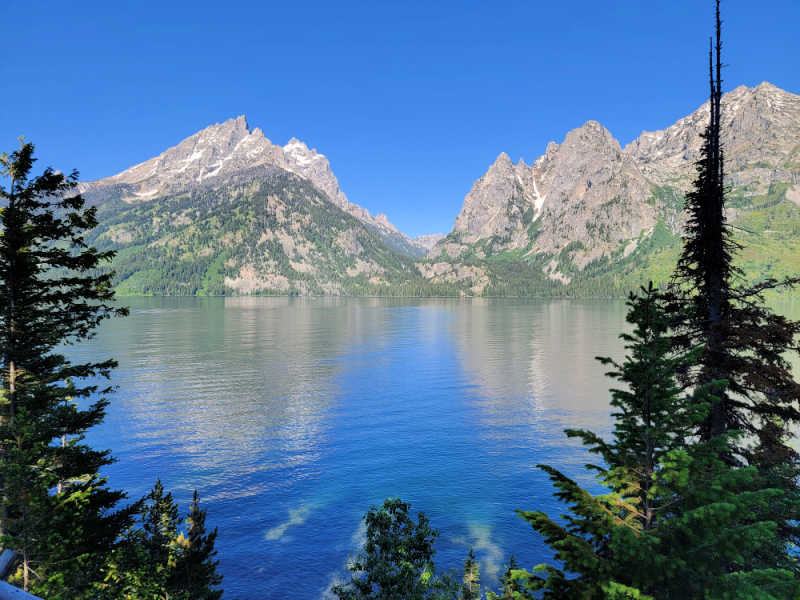 History of Grand Teton National Park
The history of Grand Teton National Park dates back to the late 1800s when the idea for a national park in the area was first raised. However, the establishment of the park did not come about until the 1920s, with John D. Rockefeller helping in its creation.
He bought a huge parcel of land in the area and donated it to the National Park Service, with this becoming part of the original layout. The park was created in 1929, with a bill signed by President Calvin Coolidge making this official.
The original park included the Teton Mountain Range and a number of glacial lakes. This was enlarged in 1950 when President Harry S. Truman ratified the merging of the original park area and the nearby Jackson Hole National Monument.
This created the Grand Teton National Park as it stands today and since the 1950s the park has welcomed millions of visitors to enjoy its attractions.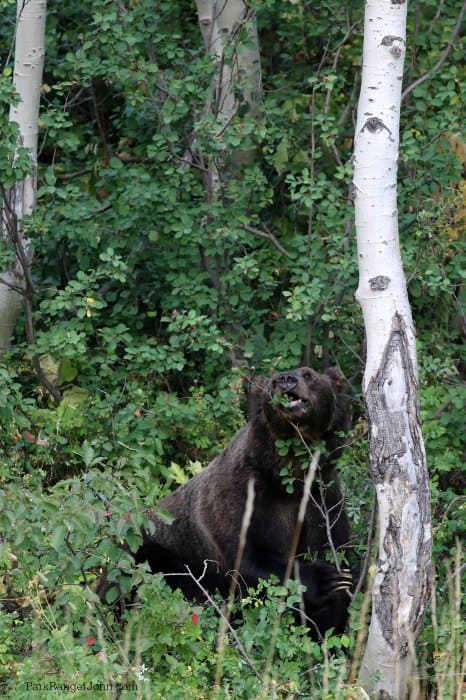 Things to know before your visit to Grand Teton National Park
Season
The park is open year-round although many facilities (including visitor centers and ranger stations), concessioners and roads close for the winter season.
The outer highway 26/89/191 is open year-round within the park and east through Togwotee Pass to Dubois.
Entrance fee
A fee is charged for entry to the park, with a 7-day permit available. The fee will typically depend on the method of gaining entry.
The permit provides access to all areas of Grand Teton National Park, as well as nearby Yellowstone National Park.
Grand Teton Entrance Fee - Private Vehicle - $35
Grand Teton Entrance Fee - Motorcycle - $30
Grand Teton Entrance Fee - Hiker/Biker - $20
Grand Teton Annual Pass - $70
Planning a National Park vacation? America the Beautiful/National Park Pass covers entrance fees for an entire year to all US National Park Sites and over 2,000 Federal Recreation Fee Sites.
The park pass covers everyone in the car for per vehicle sites and for up to 4 adults for per-person sites.
Buy on REI.com and REI will donate 10% of pass proceeds to the National Forest Foundation, National Park Foundation and the U.S. Endowment for Forestry & Communities.
Learn more about National Parks Passes!
Time Zone
MST- Mountain Standard Time
Pets
Pets are allowed in Grand Teton NP but they must be on a leash at all time.
Please remember that there is a ton of wildlife in Grand Teton and they may be attracted to your pet.
Keeping your pet on a leash helps to keep them safe during your visit.
Leashes cannot be longer than 6 feet in length. You are responsible for cleaning up after your pet.
Pets are not allowed on any park trails or in the park backcountry. Pets are not considered pack animals.
Cell Service
We have had fairly good service in the park especially on the main roads. There are definitely parts of the park where cell phone service is not available or there may be a intermittent cell signal.
Park Hours
The park remains open year-round, with the operating hours for the visitor centers depending on the time of the year.
The core hours are 9 a.m. to 5 p.m., although earlier opening and later closing will generally be in operation during the warmer months of the year.
Wi-Fi
WiFi may be available at the park visitor centers.
Insect Repellent
It is always a good idea to bring insect repellent with you. We use permethrin bug spray that can be applied to your clothes before you leave for your trip.
Water Bottle
Make sure to bring your own water bottle and plenty of water with you. Plastic water bottles are not sold in the park.
Parking
Most overlooks and scenic viewpoints have fairly large parking areas available. The one area of the park that is a constant parking problem is Jenny Lake.
If you plan to spend time at Jenny Lake you will want to get there EARLY in the morning! Earlier than you expect to have to arrive. The parking lot is packed most of the day and you could spend an hour circling the lot and still not find a parking spot.
Many visitors end up parking a ways down the road and having to hike in to reach Jenny Lake.
Colter Bay Village parking lot is a paved 464-car lot with 18 designated handicapped parking spaces. The lot has 68 oversized spaces for RVs, boats, and buses.
Craig Thomas Discovery and Visitor Center parking lot is a paved 180-car lot with designated handicapped parking spaces. The lot has 20 oversize spaces for RVs, boats, and buses.
Jenny Lake parking lot is a paved 414-car lot with 17 designated handicapped parking spaces and nine RV only spaces.
Laurance S. Rockefeller Preserve Center parking lot is a gravel 50-car lot with designated handicapped parking spaces.
Lupine Meadows Trailhead parking lot is a gravel 106-car lot.
Mormon Row parking area has two gravel lots with designated handicapped parking spaces.
Signal Mountain Boat Launch is a paved 24-car lot with a designated handicapped parking space.
String Lake parking lot is a paved 226-car lot with designated handicapped parking spaces.
Taggart Lake Trailhead parking lot is a paved 59-car lot with designated handicapped parking spaces.
Food/Restaurants
There are multiple restaurants within Grand Teton. Most of the restaurants are within the National Park lodges.
The restaurants are normally open only during the summer.
Jenny Lake Lodge - summer only dining
Signal Mountain Lodge - Peaks Dining Room and Trapper Grill
Jackson Lake Lodge - Mural Room, Pioneer Grill, Blue Heron Lounge
Colter Bay - Ranch House and Café Court.
Leeks Marina - Leeks Pizzeria
Flagg Ranch - Headwaters Lodge
Gas
There is a gas station next to Flagg Ranch in John D Rockefeller Memorial Parkway.
There are also gas stations available at Signal Mountain and Jackson Lake Lodge.
The towns of Moose, Teton Village, and Jackson have multiple gas stations.
National Park Passport Stamps
National Park Passport stamps can be found in the visitor center.
Make sure to bring your National Park Passport Book with you or we like to pack these circle stickers so we don't have to bring our entire book with us.
Grand Teton NP is part of the 1993 Passport Stamp Set.
Large Vehicles
The main roads within Grand Teton can easily handle a large RV or vehicle. The main pull out overlooks have parking spaces for large RVs.
Some of the smaller lookouts and roads may be difficult to maneuver.
Electric Vehicle Charging
There are EV Charging Stations listed as being at the visitor center and park administrative office.
There are also charging stations available in Jackson and in Moose, Wyoming.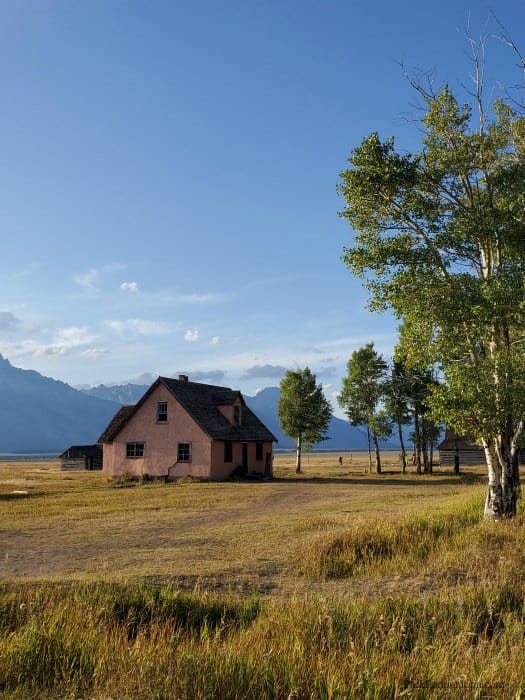 Details about Grand Teton National Park
Size - 310,00 acres
Grand Teton NP is currently ranked at 25 out of 63 National Parks by Size.
Date Established
The initial Grand Teton National Park was set aside by an act of Congress in 1929. The protected area included only the Teton Range and six glacial lakes at the base of the mountains.
The Jackson Hole National Monument was decreed by Franklin Delano Roosevelt through presidential proclamation in 1943. This proclamation combined Teton National Forest lands with other federal acres, plus Jackson Lake and a 35,000-acre donation by John D. Rockefeller, Jr.
On September 14, 1950, the original 1929 Park and the 1943 National Monument (including Rockefeller's acreage) were united into a 'new' Grand Teton National Park, with its current, more expansive boundary
Visitation
In 2021, Grand Teton had 3,885,230 park visitors.
In 2020, Grand Teton had 3,289,638 park visitors.
In 2019, Grand Teton had 3,405,614 park visitors.
Grand Teton is one of the top ten most visited National Parks in the United States.
Grand Teton National Park Address
This address is for the park headquarters
103 Headquarters Loop
Moose, WY 83012
Grand Teton National Park Map
Where is Grand Teton National Park
Grand Teton National Park lies in the northwest area of Wyoming, around 10 miles to the south of the famous Yellowstone National Park and 8 miles to the north of Jackson.
Interstates 25 and 90 lie to the east of the park, with Interstate 80 situated to the south.
Access to the park can be gained by U.S. 26, 89, and 191 to the south and US 26 and 287 to the east. For those looking to travel by air to the area, there are airports located in Jackson (Jackson Hole Airport) and Idaho Falls (Idaho Falls Regional Airport).
The state of Wyoming has some spectacularly beautiful landscapes to view and one of the top locations to take in the scenery is the Grand Teton National Park.
Located in the northwest region of the state, the park offers visitors opportunities to enjoy the outdoor life in a majestic setting. This makes it a top tourist attraction in Wyoming and anyone who has the chance to visit the park should certainly take the opportunity to do so.
Estimated distance from major cities nearby
Jackson, WY - 15 miles
Idaho Falls, ID - 106 miles
West Yellowstone - 145 miles
Bozeman, MT - 234 miles
Casper, WY - 265 miles
Salt Lake City, UT - 295 miles
Boise, ID - 387 miles
Denver, CO - 497 miles
Estimated Distance from nearby National Park
The road through Yellowstone is closed for the winter. If you are traveling to Grand Teton in the winter and want to visit Yellowstone or Glacier you will need to drive around the park which will add significant miles to the journey.
Yellowstone National Park - 65 miles
Glacier National Park - 525 miles
Arches National Park - 503 miles
Badlands National Park - 522 miles
Bryce Canyon National Park - 564 miles
Capitol Reef National Park - 481 miles
Rocky Mountain National Park - 475 miles
Where is the Grand Teton National Park Visitor Center?
Grand Teton NP has multiple visitor centers depending on which part of the park you are visiting.
Craig Thomas Discovery & Visitor Center
Jenny Lake Visitor Center
Colter Bay Visitor Center
Laurance S. Rockefeller Preserve Center
Jenny Lake Ranger Station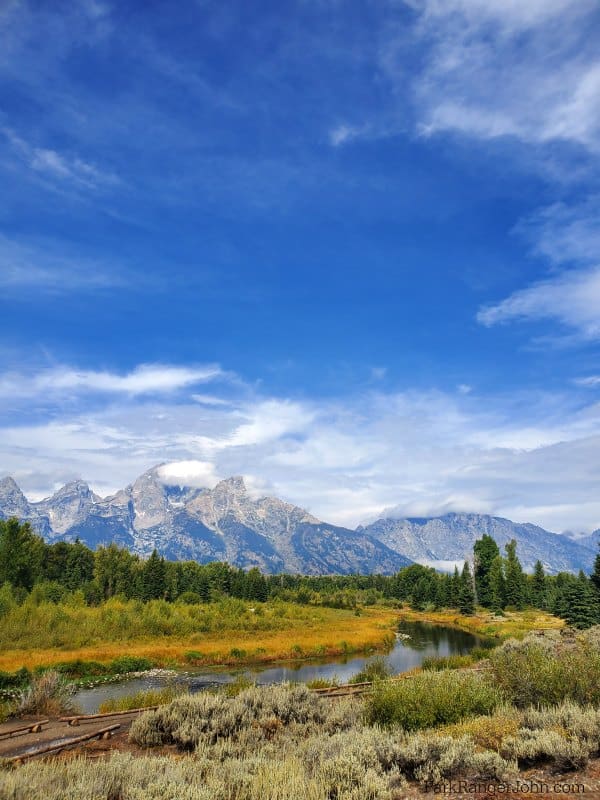 Getting to Grand Teton National Park
Closest Airports
Jackson Hole Airport - JAC
Jackson Hole Airport is located within the park.
Alaska, American, Delta, and United Airlines all offer year-round flights to and from Jackson Hole.
Allegiant, Frontier, and Sun Country Airlines offer direct flights between Jackson Hole and Denver in the summer months only.
International Airports
Salt Lake City International Airport - SLC
Regional Airports
Idaho Falls Regional Airport - IDA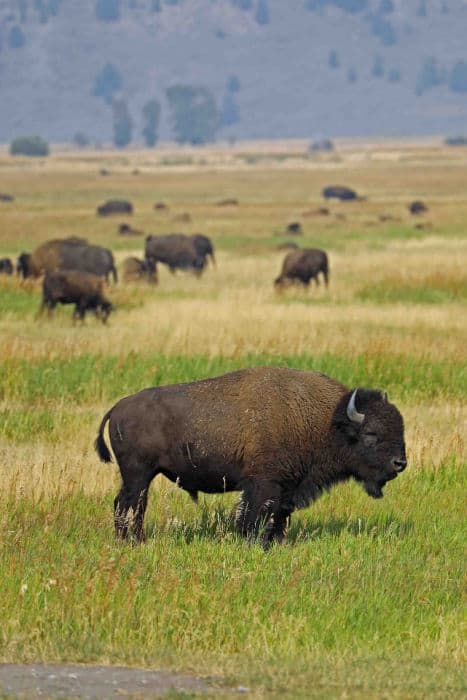 Best time to visit Grand Teton National Park
The best time to visit Grand Teton is any time you can make it to the park. Every season in the park brings the opportunity to see something amazing.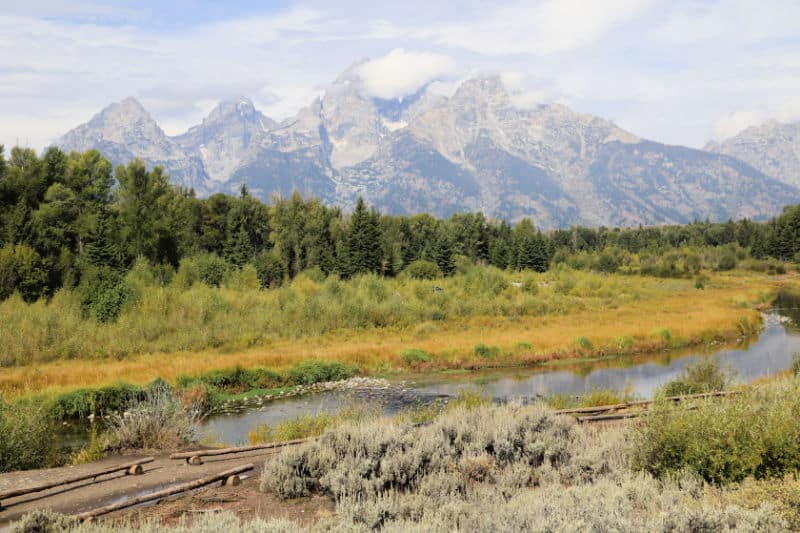 Grand Teton National Park Weather and Seasons
Grand Teton NP is a four season park!
Spring
Spring can arrive late in Grand Teton. The valley trails are usually snow covered until late May.
As Spring turns to early summer the park feels likes like it waking up from a deep sleep.
Bison have babies, bears start to appear, and the park starts to open for a new season.
Summer
Summer is amazing in Grand Teton!
One thing with visiting in the summer is there will most likely be crowds. Thankfully it is really easy to move around Grand Teton and visit areas of the park that are not as crowded as Jenny Lake.
One thing to know for late summer is the park can get really smoky! Depending on the wildfires on the west coast the smoke may blow into the park making it nearly impossible to see the mountains.
We have visited in late summer and experienced amazing weather but have also had so much wildfire smoke we could barely see in front of us.
Autumn/Fall
Fall in Grand Teton is spectacular! The leaves of the aspen trees change to a vibrant yellow, the weather is cooler, and everyone is taking a deep breath they survived the summer.
Moose, Elk and Deer start looking for mates during the fall. You may hear elk bugling as the bull elk gather a harem of cow elk.
A lot of wildlife spend fall migrating to their winter grounds. The elk migrate south to the National Elk Refuge as the weather turns to snow.
For visitors most of the trails remain open in the park during the fall though this can change quickly when the weather changes.
The majority of the roads in the park remain open until November 1 unless they have to close for inclement weather.
Winter
Winter in Grand Teton NP brings SNOW and many changes to the park.
The park is a popular destination for cross country skiing, snow shoeing, and epic winter photography.
The park offers snowshoe with a ranger programs to help provide an introduction to snowshoeing.
Driving in the park can be a challenge during the winter. You will need to be prepared with a vehicle that can handle the snow, has winter or all season tires, and have chains available.
For updated winter road information in the park call: 307-739-3682.
Many roads in the park have seasonal closures to provide space for winter recreation.
Examples of road closures include:
The Teton Park Road is closed November 1 to April 30 from Taggart Lake Trailhead to Signal Mountain Lodge.
The Moose-Wilson Road is closed November 1 until mid-May based on conditions and unplowed from Death Canyon Road to Granite Canyon Trailhead.
In the Rockefeller Parkway the Grassy Lake Road closes based on conditions and is unplowed in the winter from Flagg Ranch to the west.
Other roads such as Antelope Flats, Deadmans Bar, Grassy Lake, Pilgrim Creek, Schwabacher, and Two Ocean are closed seasonally based on conditions.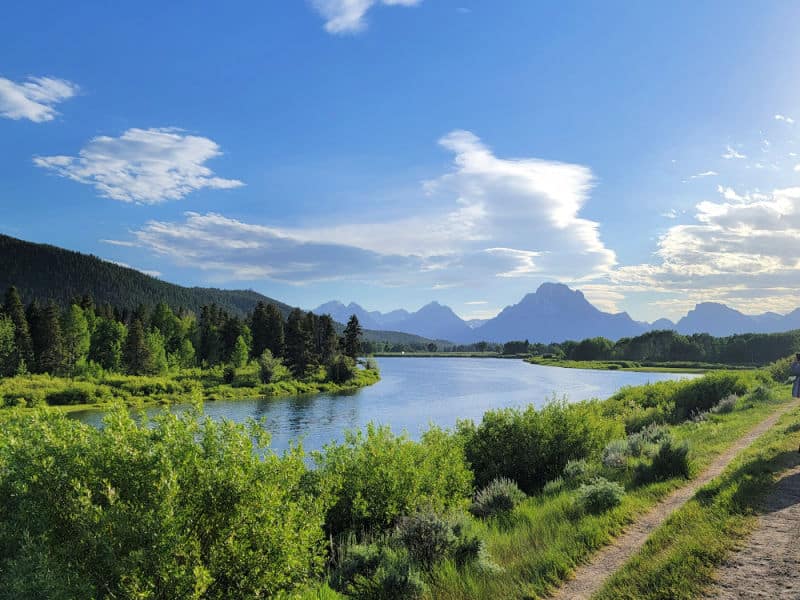 Best Things to do in Grand Teton National Park
Jenny Lake is one of the most popular destinations in the park. I know we have mentioned a few times that parking here can be a bit of a struggle but I am going to say it again!
This is an area of Grand Teton NP that you want to plan to arrive EARLY!!!
Oxbow Bend is one of the most iconic views in the park. We have seen a ton of wildlife in this area including world famous #399 with her cubs.
Schwabachers Landing is a hidden gem within the park. Arrive early in the morning when the water is still and grab an epic photo of the Teton Mountain range reflection. There are beaver dams and an easy walk along the water.
Moose Wilson Road is known for wildlife viewing! So much so that at certain times of the year the park has to close the area because of grizzly bear activity.
Plan time to sit and watch wildlife at the viewing area. Drive slow and keep an eye out because you never know what wildlife will be around the next corner.
Menor's Ferry
Menor's Ferry was the site of a ferryboat that provided a vital crossing across the Snake River.
Visitors can visit Bill Menor's cabin and country store, check out epic views, and learn more about the history of the park.
The Moulton Barn is probably one of the most photographed barns in the world. If you have seen photos of historic barns with the Teton Mountains rising behind them they were most likely taken along Mormon Row.
Snake River Overlook was made famous by Ansel Adams. The black and white photograph he shared from this overlook helped to protect more land and raise awareness of the epic scenery in the West.
Cunningham Cabin is one of the few remaining structures from the homesteading era. The cabin was built in the Appalachian style known as "double-pen" or "dog trot"
Visitors can wander around the cabin and see how it was constructed. The view out the cabin windows is truly unbelievable.
The Junior Ranger program can be picked up at the park visitor centers. This program is a fantastic way for visitors of all ages to learn more about the park.
Biking
Biking in Grand Teton is a fantastic way to explore the park. There is a multi-use pathway specifically designated for bikes, roller blades, and walkers.
The multi-use pathway extends from the town of Jackson, north to Antelope Flat Road.
At Moose Junction the pathway follows the Teton Park Road to the South Jenny Lake area.
The section of pathway through Grand Teton National Park opens seasonally after snow has melted from the pathway surface and park maintenance workers have swept it.
The multi-use pathway is closed from dusk to dawn for wildlife and public safety.
Guided Tours
Guided Wildlife Tour - Enjoy a wildlife safari tour in Grand Teton NP. Take the excursion in the morning or in the evening to increase the likelihood of spotting moose, bison, grizzly and black bears, wolves, elks, eagles, and more.
Bridger-Teton National Forest Horseback Ride
- Discover the Wyoming wilderness on horseback with a guide. Take in sweeping views of the Grand Teton mountain range and ride through secluded nature trails in the Bridger-Teton National Forest.
Wildlife and Scenery Tour with Lunch
- Experience the mountain landscapes of Grand Teton on a guided excursion from Jackson. Travel to unique panoramic lookouts and grab a pair of binoculars to look for bears, moose, eagles, and coyotes.
7-mile Snake River Float with views of the Tetons
- Enjoy an exclusive 7-mile float through a private ranch on Snake River. Admire incredible views of the Teton Range and keep a look out for local wildlife. Kick back and take in the scenery while your guide does all the work.
Snake River Class 2-3 Whitewater Rafting Adventure
- Experience an exciting whitewater adventure on Snake River which combines safety and fun. Get wet and wild as you navigate thrilling Class 2-3 rapids on a raft with an experienced paddling instructor. Have the chance to swim and observe local wildlife.
Sunrise Hot Air Balloon Tour
- Catch a spectacular sunrise view while floating in a hot air balloon. Marvel at Grand Teton NP and Snake River. See wildlife, take in mountain vistas and enjoy a champagne toast.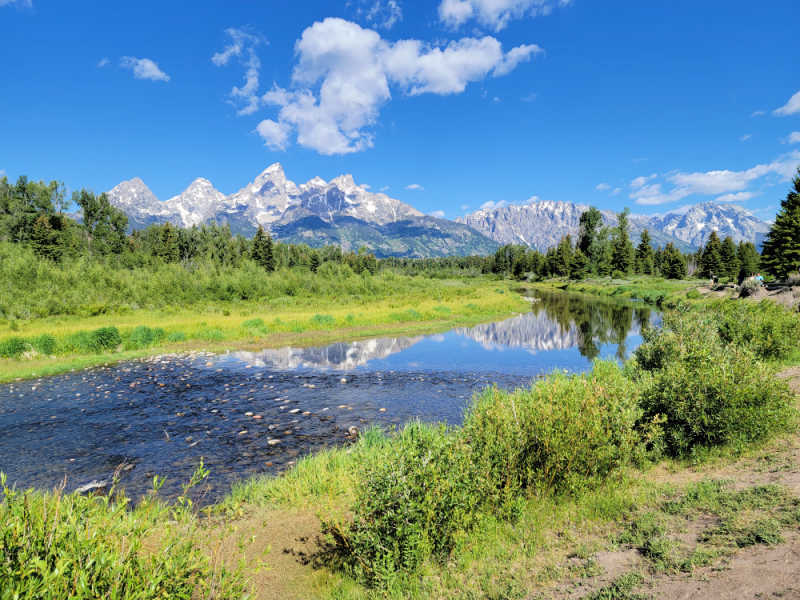 Hiking at Grand Teton National Park
There are 242 miles of trails within Grand Teton. Make sure to check with the visitor center for current trail information and any wildlife closures.
Depending on the time of year many trails will be closed because of Grizzly Bear activity.
Wildlife is one of the highlights of Grand Teton. The park wildlife includes:
22 species of rodents
17 species of carnivores (black and grizzly bears)
6 species of hoofed mammals
3 species of rabbits/hares
6 species of bats
4 species of reptiles (none venomous)
6 species of amphibians
16 species of fish
300+ species of birds
Numerous invertebrates (no venomous spiders)
One of the most famous grizzly bears in the world #399 calls Grand Teton home. She is well known for having multiple cubs and sticking near main roads to stay away from territorial male bears.
Always maintain a distance of at least 100 yards from wolves and bears and 25 yards from all other wildlife.
Wild animals are unpredictable and can cause personal injury or even death if not respected.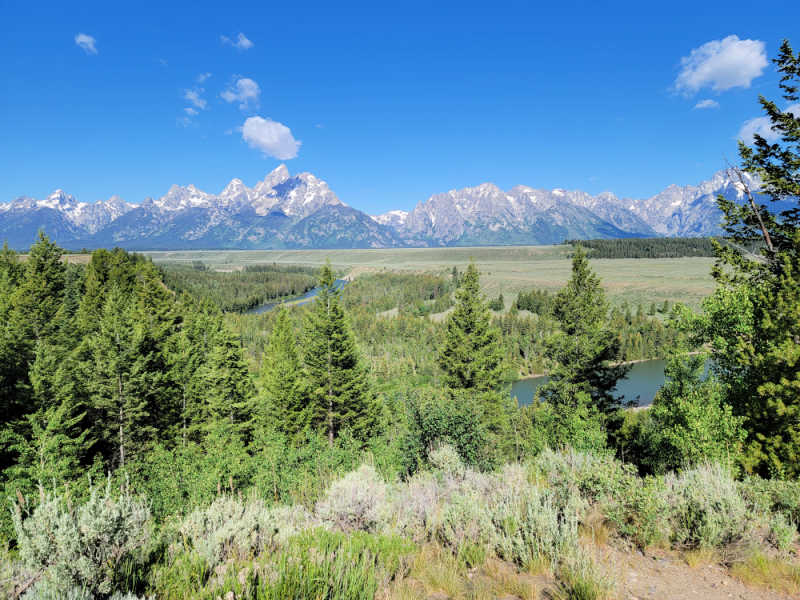 How to beat the crowds in Grand Teton National Park?
The best way to beat the crowds in Grand Teton NP is to plan ahead and be flexible.
If you really want to visit Jenny Lake and spend time exploring you will want to plan to arrive super early in the morning.
Being flexible is a great way to explore the park. If an overlook is packed you may want to wait a few minutes before trying to check out the view or head to the next one and check out the original overlook later in the day.
Early mornings and late afternoons are a great time to not only view wildlife but also spend time exploring the park.
Staying in one of the Grand Teton lodges gives you the opportunity to head out early in the morning or explore a bit later in the evening and not have to worry about driving to a hotel an hour or two away.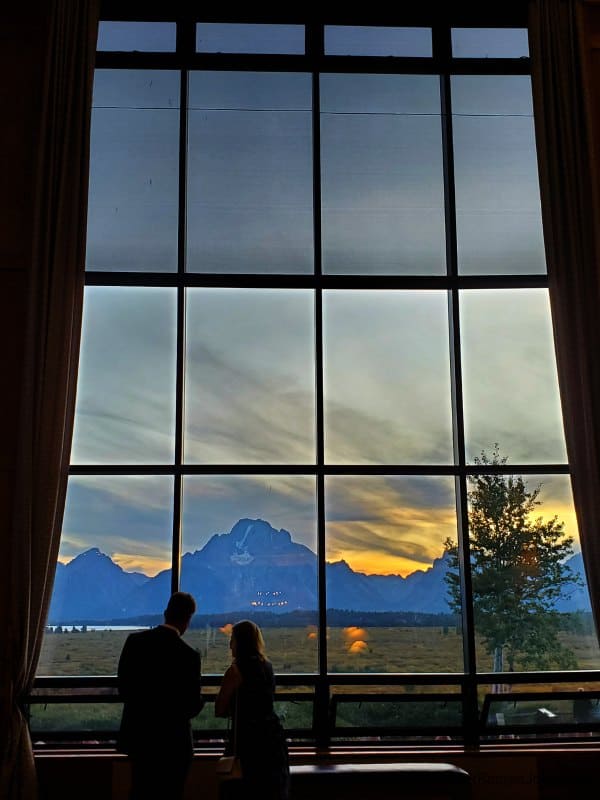 Grand Teton NP is home to multiple lodging options including Signal Mountain Lodge, Jenny Lake Lodge, Jackson Lake Lodge, Headwaters at Flagg Ranch, Triangle X Dude Ranch, and Colter Bay Village Cabins.
Grand Teton Lodging is incredibly popular so you will want to plan to make reservations as soon as possible.
Season - Early May to mid - October
On the south shore of Jackson Lake, Signal Mountain Lodge also provides fine accommodations. The views from the lake front rooms are amazing.
Jenny Lake Lodge
Season - Early June to early October
With secluded cabins located east of Jenny Lake, this resort is a high-class destination for the well-pampered traveler. The dining room offers a prix fixe menu with a local and international flair.
Season - Mid-May to early October
This 385-room resort is the flagship resort of the park. Situated on a peninsula approximately one mile from the eastern shore of Jackson Lake, the hotel offers sweeping panoramas of the Teton Range and Signal Mountain.
With spectacular dining in the world-renowned Mural Room, shopping opportunities in its three gift shops, guided activities, and a comprehensive conference facility, the resort draws thousands of guests from May through October.
Available to book on Expedia
Season - Early June to Late September
Headwaters Lodge at Flagg Ranch is actually located on the Rockefeller Memorial Parkway it is worth including since it is so close to Grand Teton National Park.
Available to book on Expedia
Season - Late May to Late September
Colter Bay Village has historic cabins and tent cabins that offer easy access to the Colter Bay Marina and village. The historic cabins are over 90 years old and feel like you are stepping back in time but still have modern amenities.
Available to book on Expedia
Triangle X Dude Ranch
Season - mid-May to mid-October, also open for peak winter season.
The Triangle X Ranch is an all-inclusive dude ranch that offers horseback riding, hikes, float trips, western cookouts, meals, fishing, dancing and other western ranch activities.
American Alpine Club Grand Teton Climbers' Ranch
Season - early-June to early-September
The American Alpine Club is open from mid-June to mid-September. It offers rustic co-ed bunk rooms. Guests must supply their own bedding and sleeping mat.
There is a bath house with showers, potable water, and flush toilets. There is also a community cooking shelter with outlets. No pets are allowed.
Lodging near Grand Teton NP
SpringHill Suites Jackson Hole - A free breakfast buffet, dry cleaning/laundry services, and a health club are just a few of the amenities provided at SpringHill Suites Jackson Hole. Enjoy onsite activities like tennis and horseback riding. Stay connected with free in-room Wi-Fi, and guests can find other amenities such as a business center.
The Cloudveil, Autograph Collection - 4-star hotel The onsite restaurant, The Bistro, features French cuisine. Stay connected with free in-room Wi-Fi, and guests can find other amenities such as babysitting and a bar.
Snake River Lodge & Spa - 4-star hotel. At Snake River Lodge & Spa, you can look forward to shopping on site, dry cleaning/laundry services, and a fireplace in the lobby. Skiers and snowboarders can spend time on the slopes at this hotel offering ski-in/ski-out access, ski equipment rentals, and ski storage. Indulge in a facial, a massage, and a body scrub at Jackson Hole Spa, the onsite spa. Free in-room Wi-Fi is available to all guests, along with car rentals on site and a bar.
Continuum - 3-star hotel located near Grand Teton. Take advantage of a coffee shop/cafe, a bar, and a hot tub at Continuum. Adventurous travelers may like the snowboarding, downhill skiing, and cycling at this hotel. The onsite American cuisine restaurant, The Bar at Continuum, features pool views. Stay connected with free in-room Wi-Fi.
Teton Mountain Lodge and Spa - 4.5-star luxury resort. At Teton Mountain Lodge and Spa, you can look forward to a terrace, shopping on site, and a garden. Adventurous travelers may like the sledding and aerobics at this resort. Treat yourself to aromatherapy, Ayurvedic treatments, or a body wrap at the onsite spa. The onsite restaurant, Spur Restaurant, features al fresco dining and happy hour. Yoga classes are offered at the gym; the property also has a playground, dry cleaning/laundry services, and a fireplace in the lobby. Free in-room Wi-Fi is available to all guests, along with a bar and a business center.
Four Seasons Resort Jackson Hole - 5-star luxury hotel. Consider a stay at Four Seasons Resort Jackson Hole and take advantage of the nightclub, and a terrace. Hit the slopes at this hotel offering ski-in/ski-out access, ski passes, and ski equipment rentals. For some rest and relaxation, visit the 3 hot tubs. Be sure to enjoy a meal at The Handle Bar, the onsite restaurant. Yoga classes are offered at the health club; other things to do include snowboarding. Free in-room Wi-Fi is available to all guests, along with a hair salon and an arcade/game room.
Fireside Resort - This cabin features a spa tub, coffee/tea in a common area, and concierge services. Free Wi-Fi in public areas and free self parking are also provided. Additionally, laundry facilities, tour/ticket assistance, and a garden are onsite. All 20 cabins boast fireplaces and offer free Wi-Fi and kitchens. Patios and living rooms are standard, as are flat-screen TVs with cable channels.
Click on the map below to see additional vacation rentals and lodging options near the park.
There are six main campgrounds in Grand Teton National Park: Colter Bay, Flagg Ranch, Gros Ventre, Jenny Lake, Lizard Creek, and Signal Mountain.
Single-night stays range from $14 to $60 depending on the campground.
All campgrounds within Grand Teton NP are now on the reservation system.
There are several backcountry camping areas where camping is allowed in the park. Permits are required for backcountry stays. Backcountry sites can be reserved in advance through May 15. A nonrefundable service charge of $25 will be charged for advance reservations.
For a fun adventure check out Escape Campervans. These campervans have built in beds, kitchen area with refrigerators, and more. You can have them fully set up with kitchen supplies, bedding, and other fun extras. They are painted with epic designs you can't miss!
Escape Campervans has offices in Vancouver, Seattle, Portland, San Francisco, Las Vegas, Los Angeles, Phoenix, Salt Lake City, Denver, Chicago, New York, and Orlando
Location: 25 miles north of Moose, Close to Jackson Lake
Number of sites: 335 sites, 11 group sites, 13 electric hookup sites
Accessible Sites: 13 electric accessible sites.
RVs allowed?: up to 45 ft. length motor homes or trailers.
Location: Near Colter Bay Village
Number of sites: 103 sites
Location: Located in John D Rockefeller Parkway between Yellowstone and Grand Teton National Park
Number of sites: 131 campsites and 40 cabins
Accessible Sites: Most sites are accessible to wheelchairs. Restroom facilities are accessible. One fully accessible shower is available.
RVs allowed?: Yes, pull-through RV sites with full hook-ups (including 20, 30, and 50 amp electricity)
Location: closest campground to the town of Jackson, Wyoming
Number of sites: 300 sites, 5 groups sites, 36 electric hookup sites
Accessible Sites: Yes, #169, 173, 174, 204, 206
RVs allowed?: Yes, Thirty-six sites have electricity, 10 of which are ADA compliant with an adjacent restroom. RVs up to 45ft
Location: Next to Jenny Lake
Number of sites: 49 individual tent campsites and 10 sites designated for hikers and bicyclists.
Accessible Sites: There are three accessible sites within the campground (Sites 3, 5 and 6)
RVs allowed?: No, Campground is a tent-only campground
Location: 17 miles north of Signal Mountain Lodge on Highway 89, about 10 miles south of the South Entrance into Yellowstone National Park.
Number of sites: 60
Accessible Sites: Currently there are no accessible sites.
RVs allowed?: Yes, RVs up to 30 feet in length.
Location: located on the Signal Mountain Lodge property
Number of sites: 81
Accessible Sites: Sites 43, 44, and 46 were designated ADA sites.
RVs allowed?: Yes, RVs up to 30 feet in length.
Backcountry camping information is available at park visitor centers.
Permits are required for all overnight stays in the backcountry and can be obtained at the Craig Thomas Discovery and Visitor Center, Jenny Lake Ranger Station, or Colter Bay Visitor Center.
Backcountry camping permits are issued by advance reservation or on a first-come, first-served basis no more than one day before the start of your trip.
$45 for advanced reservations, booked through Recreation.gov
$35 for walk-in permits
Visit the backcountry reservations page to learn more about the reservation process and submit a reservation.
Park-approved bear canisters must be used in the backcountry. The park provides canisters free of charge for use in the park.
Download the backcountry trip planner for more details.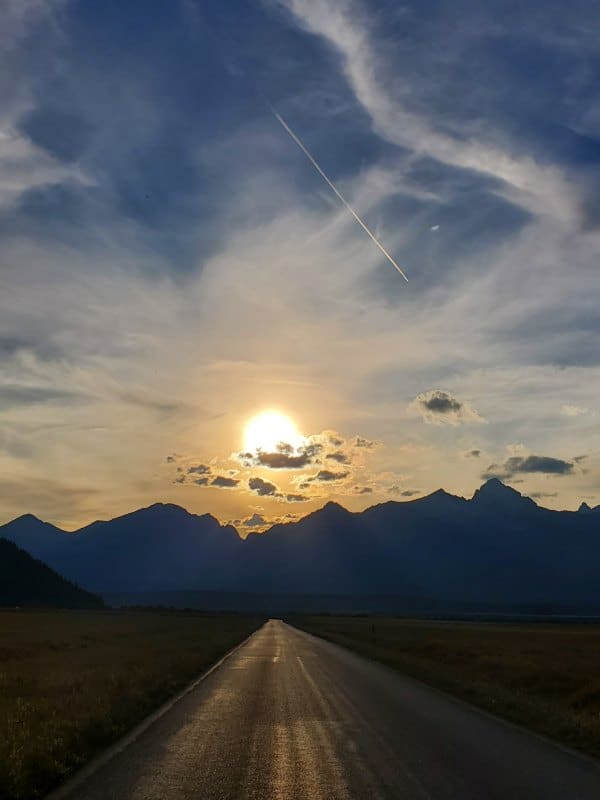 Park Ranger John Reader Tips!
Slow down and enjoy it. ~ Sabrina C
Get your affairs in order and put the house up for sale because you won't want to leave ~Melissa H
Remember to keep a safe distance from Grand Teton wildlife. ~ GeriLynn
Bring binoculars, camera. Sunglasses, good walking shoes, and water bottles. Have fun! ~ Kathi W
Get up early and take reflection photos at the Oxbow bend. ~ Pat. S
Stay safe and obey the rules and respect the wildlife ~ Randi B
Take the boat ride across the lake(I think it's Jenny lake) to get to some amazing trails to hike! Also...it's not in the park, but go up to Teton Village and take the tram up to the top right behind it - great hiking trails!~ Terri G
Take a river raft trip ~ Dave S
For your first (non-winter) trip, take a float trip down the Snake River, visit Schwabacher Landing (esp. at sunrise), Jenny Lake, Oxbow Bend (esp. at sunset) and Mormon Row; hike Leigh Lake and String Lake... ~ Jennifer M
Bear spray and common sense go far ~ Craig H
Be prepared for what you want to do...I spent so much time planning on our trip to Yellowstone that I was blindsided by the crowds and unprepared of what we were doing...I just knew I wanted to go to Mormon row...we definitely need to go back ~ Theresa O
I think practical stuff is good but even living near the other parts of the Rockies don't prepare you for how small you feel. Helping people learn to enjoy feeling small in nature rather than being afraid of it. It grounds you. It helps you realize your place in the vastness of it all. ~Jason V
Get up early for animal sighting. There are ranger walks that you have to preregister weeks in advance. Rockefeller preserves and Phelps lake has great hikes. Really had to research all the different ranger programs offered because parking was difficult and traveling time took longer than expected. ~Jessica F
Cascade Canyon and or the Paintbrush Canyon. SIX-foot tall wildflowers!!!! Oh, and if you can, raft the Snake River, one of the most fun rafting experiences I've ever had. MadRiver was a good company ~Serena R
Enjoy an ice-cold huckleberry soda on the porch of the Menor's Ferry Store. Chapel of the Transfiguration was nice. The Menor's Ferry area was a fun little stop. Fish the Snake. Snake River rafting. The Signal Mountain Summit has spectacular views! Enjoy the frequent early-afternoon showers; look for some gorgeous rainbows afterward.~ Jen K
Paintbrush Canyon. Best campsite is the last one in...spectacular sunrise. Also, take the tram in Teton Village up for some amazing hiking and views. As for the hotel...Jackson Lake Lodge. ~Teddi O
Research your shot locations and plan on shooting early morning to 11 a.m. Most importantly, enjoy the park! See Brookover Gallery and some awesome Jackson restaurants. Travel light--too much gear will hamper your ability to "get the shot." Most importantly, have fun and enjoy! ~ Joseph F
Bundle up and go early. Hike for the good views. Bring better binoculars than you think you'll need. Pack more food and water than usual. ~ Deb S
Go on a tour with a biologist. Worth every penny ~Susan N
If coming down steep roads freak you out, come in from the Wyoming side. Go in mid to late September when the Yellowstone crowds are gone. ~Jason D
Additional Resources
Yellowstone and Grand Teton [Map Pack Bundle] (National Geographic Trails Illustrated Map)
Fodor's Compass American Guides: Yellowstone and Grand Teton (Full-color Travel Guide)
Who Pooped in the Park? Grand Teton: Scat and Tracks for Kids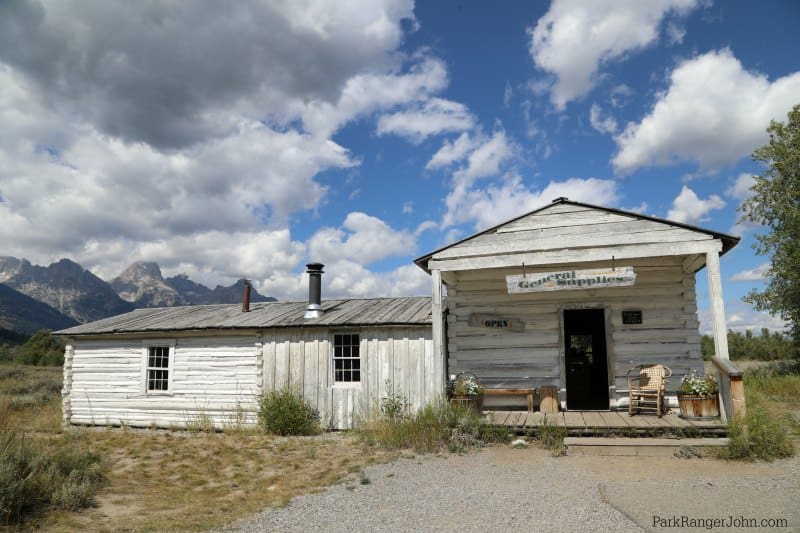 National Parks near Grand Teton National Park
Craters of the Moon National Monument
Timpanogos Cave National Monument
Fossil Butte National Monument
Golden Spikes National Historic Site
City of Rocks National Reserve
Check out all of the great National Parks in Wyoming along with neighboring Colorado National Parks, Idaho National Parks, National Parks in Utah, Nevada National Parks, Arizona National Parks, and New Mexico National Parks.
National Park Service Website