Headwaters Lodge & Cabins at Flagg Ranch is located along the Rockefeller Memorial Parkway in between Yellowstone National Park and Grand Teton National Park in Wyoming.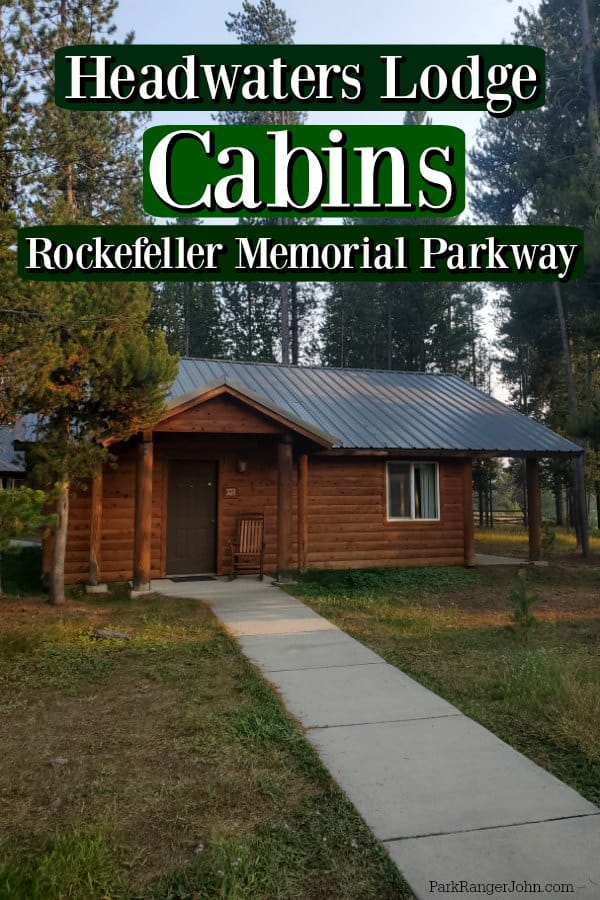 Headwaters Lodge & Cabins
Headwaters Lodge & Cabins offers the perfect opportunity to enjoy a great meal at Sheffields Restaurant, both lodge and camper cabins, camping, and RV sites with full hook-up (20, 30,50 amp.).
Headwaters Lodge Cabin Premium 1 King
We stayed in a cabin with a king bed at the Flagg Ranch at Headwaters and it worked great. The lodge is located perfectly between Yellowstone National Park and Grand Teton National Park in the John D. Rockefeller Parkway.
We found it easy to access both the southern portion of Yellowstone and the Northern area of Grand Teton from the cabin.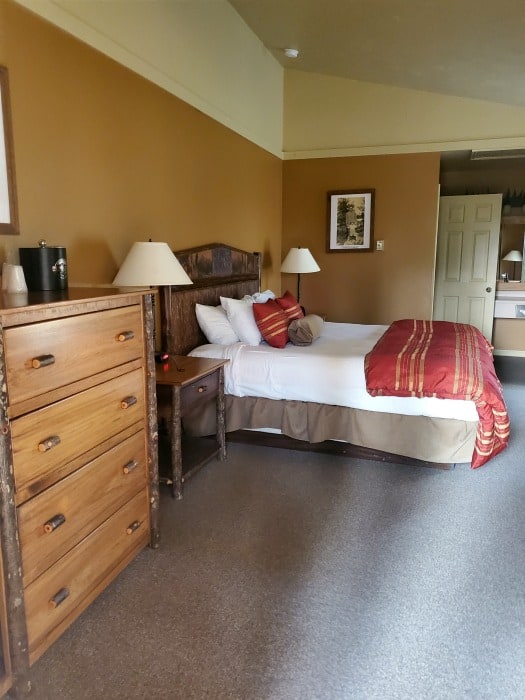 Our cabin had a king-size bed in a large cabin that shares a wall with one other room. The room also had a nice desk with a chair, two chairs by a circle desk, a dresser, a small refrigerator, microwave, and a private bathroom.
The bathroom included a large counter with a sink in the main area along with a smaller room with a toilet and a nice size shower. The shower had amazing water pressure and was perfect after a day out exploring the parks.
The bed was slightly firm but had a ton of pillows making it great for relaxing. Like most National Park Lodges the room did not have a television. There is a phone in case you need to call the main lodge for information.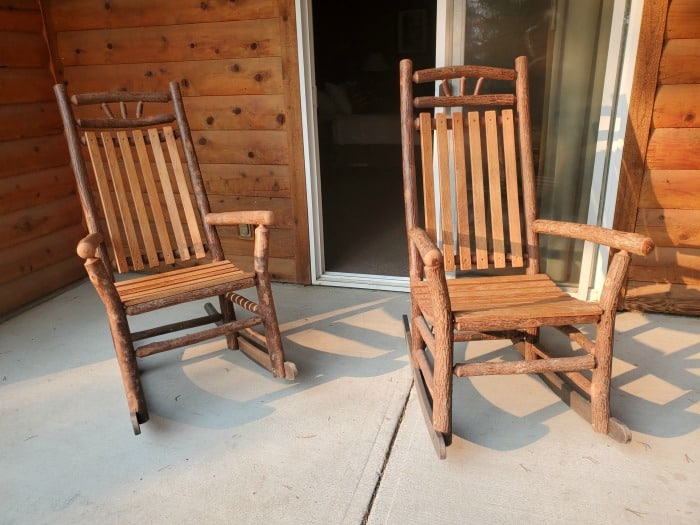 One of the best parts of the Flagg Ranch cabin was the two rocking chairs on the back porch and the view looking out over the woods. You could easily relax and just soak up the view waiting for wildlife to walk by.
There is one shared parking lot for all of the cabins with easy access points to each cabin. There are paved walkways that lead to each of the cabins. Our cabin was in the back row and it was a short walk to the cabin.
The cabins are spread out perfectly so you do not hear anyone else and can just enjoy a great night's sleep.
The main lodge building includes a coffee bar and restaurant. We have eaten at the restaurant multiple times and always enjoyed it. I will say the pancakes at breakfast are always a bit thick and heavy. If you like a light buttermilk pancake you may want to skip them and try the biscuits and gravy.
At lunch the bison chili is amazing!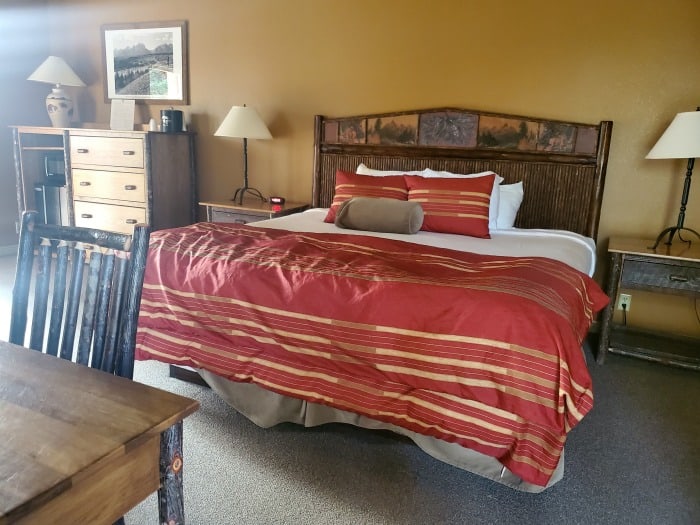 Things to know
Headwaters Lodge and Cabins at Flagg Ranch are open seasonally from early June - late September.
Lodging options include cabins, RV sites (with full hook-ups), tent sites, and camper cabins.
If you are looking to camp check out the Headwaters Campground at Flagg Ranch.
Check-in Time - 4 pm
Check-Out Time - 11 am
Location - Two miles from the south entrance of Yellowstone
Cell Service & Wifi - Cell service and complimentary WiFi are available just 30 minutes south of us at Jackson Lake Lodge.
Laundry - The campground has a 24-hour laundry facility
Reservations - You can make reservations online or by calling 800-443-2311
Nearby Grand Teton and Yellowstone Attractions
Yellowstone
Moose Falls - A great Yellowstone Waterfall right off the side of the road.
Lake Yellowstone
Grand Teton
Colter Bay - They offer a variety of boat rentals, a general store, laundromat, and it is only a short walk from the cabins
Closest Grand Teton and Yellowstone Campgrounds
Lewis Lake Campground - Yellowstone
Grant Village Campground - Yellowstone
Lizard Creek Campground - Grand Teton
Colter Bay Tent Cabins - Just around the corner from the Colter Bay Cabins the tent cabins have a wood-burning stove, outdoor fire ring, and picnic table. You will need to bring your own sleeping bags and supplies.
Check out all of the great Grand Teton Campground options and Yellowstone Campgrounds.
Closest Visitor Center
Colter Bay Visitor Center
Additional Grand Teton Resources
Grand Teton Camping Guide - Find out about all of the great campgrounds within the park.
Mormon Row - Learn more about this icon of the park.
Grand Teton Lodging Guide - Find out about all of the lodges within the park.
Free National Park Days - Check out all of the days the National Park Service waives park entrance fees.
Yellowstone Lodging Guide -Check out all of the lodges you can stay in while visiting Yellowstone NP.
National Parks in Wyoming - Check out all of the parks you can visit while in Wyoming.