The West Thumb Geyser Basin is located along the western edge of Yellowstone Lake. There is a fantastic boardwalk trail that leads you past amazing hydrothermal features that are constantly changing.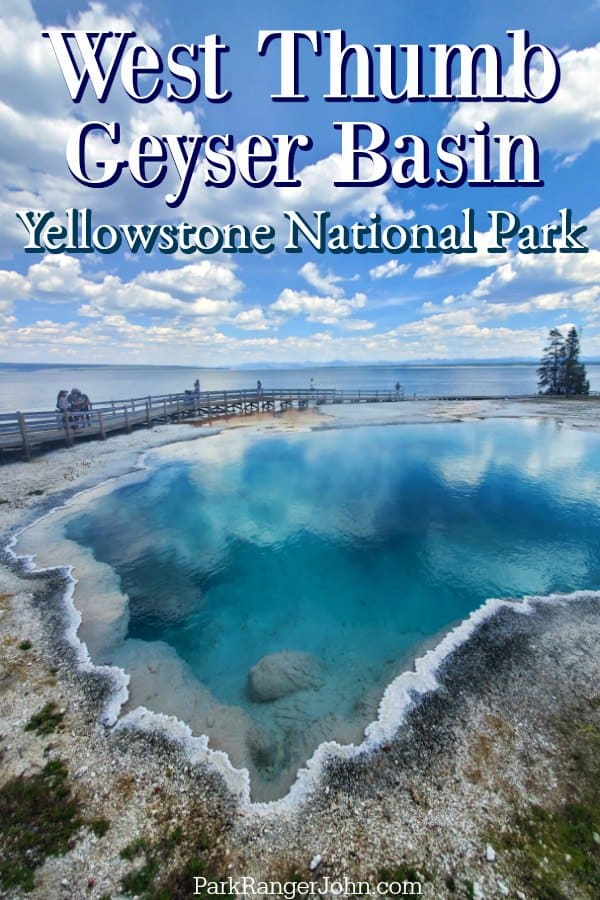 West Thumb Geyser Basin - Yellowstone National Park
Location - West shores of Yellowstone Lake
Trail distance - ½ mile around the outer boardwalk and ¼ mile around the inner boardwalk.
Parking - There is a nice size parking lot that leads to the trail and restrooms.
There is a small gift store next to the entrance to the boardwalk on the edge of the parking area.
Every single day an average of 3,100 gallons of hot water pour into Yellowstone Lake from the West Thumb Geyser Basin. You would think that this much hot water would warm up the lake water to make it perfect for swimming but the average summer temperature is still a chilly 45 degrees Fahrenheit.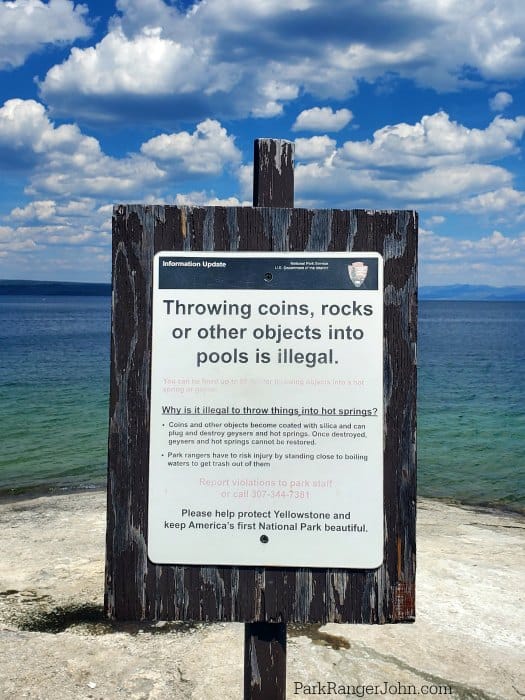 West Thumb Caldera is a caldera inside of a caldera. The caldera actually lies within the even greater Yellowstone Caldera.
The Yellowstone Caldera is one of the world's largest calderas and encompasses the central and southern portions of the park.
One thing to know before heading out to explore the West Thumb Geyser Basin is there is no real shade! You will want to be prepared to be in the blazing sun if you visit on a sunny day.
There are benches for resting and checking out some of the thermal areas but no real shade.
The boardwalk does have an incline/decline at each end depending on which direction you walk.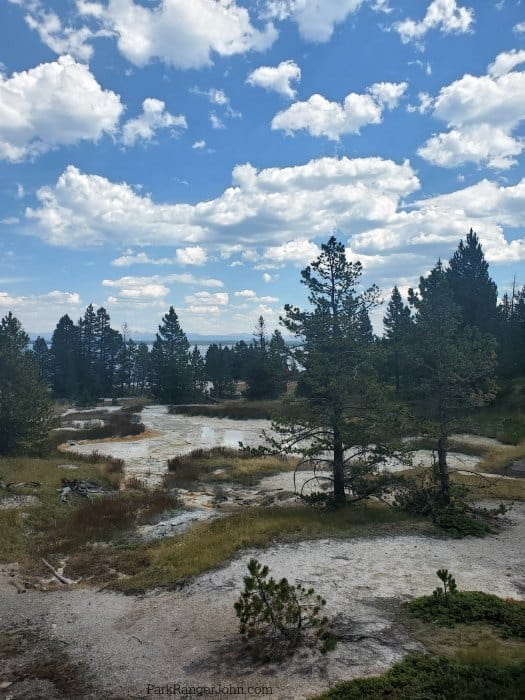 Thumb Paint Pots
The Thumb Paint Pots look like mini mud volcanoes. The paint pots look different based on the amount of rain the area has had along with groundwater levels.
There are days they look like muddy water and other days they look like they are thick enough to form clay pottery.
Mudpots are different from other thermal features. The mud pot water is much more acidic and dissolves the surrounding rock turning it into clay.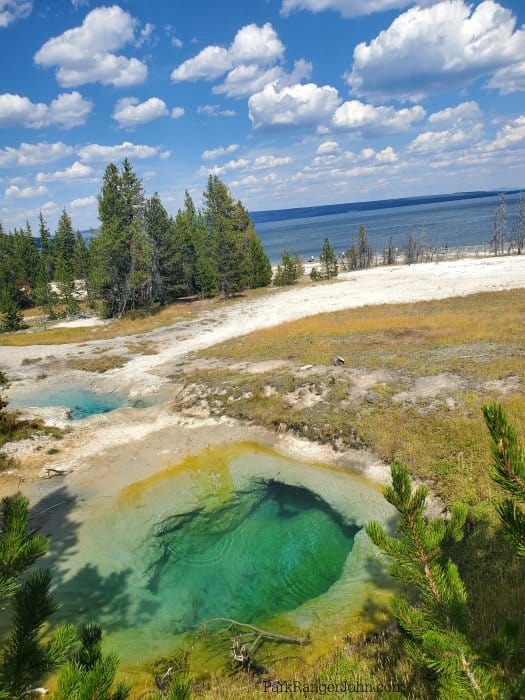 Seismograph and Bluebell Pool
When the 1959 Hebgen Lake Earthquake occurred these pools were renamed. They were previously named Blue Pools.
Lakeshore Geyser
If you visit during Spring or Early Summer you may be surprised to see Lakeshore Geysers two vents underwater. When the lake levels drop the geyser vents are exposed again and may splash a couple of feet.
This geyser is mostly inactive except for small splashes.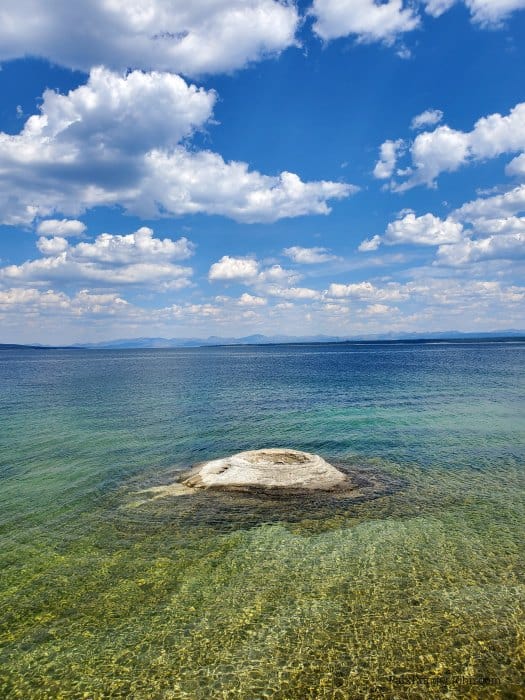 Fishing Cone
Fishing Cone is another thermal feature that can be covered in lake water in early Spring and Summer. The snowmelt causes Yellowstone Lakes water to rise during early spring and summer.
Once Fishing Cone is exposed the water inside the cone measures on average at just above boiling at 199 degrees Fahrenheit (93 degrees Celsius).
In the past visitors would come dressed in chef's clothes for photos. They would fish Yellowstone Lake and then swing their poles around and cook the fish in the cone.
Fishing is no longer allowed in Fishing Cone!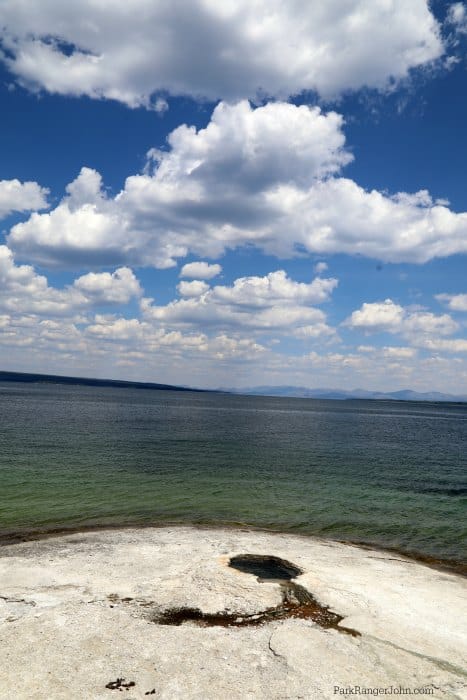 Big Cone
Big Cone sits along the edges of Lake Yellowstone.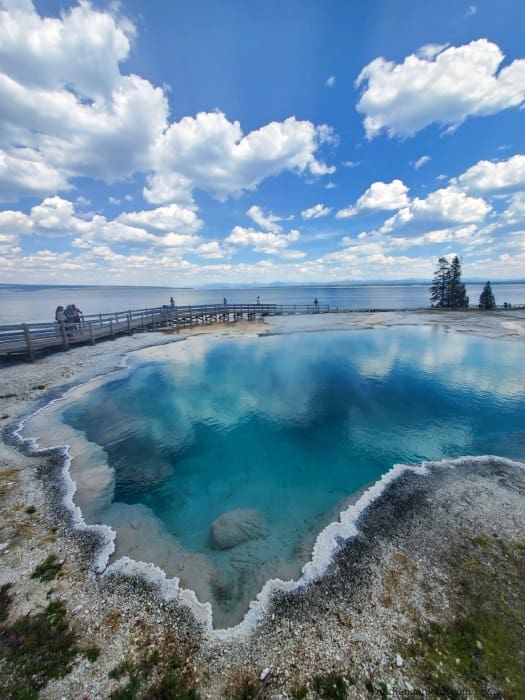 Black Pool
Black Pool is now a beautiful pool but in the past, it had a lower water temperature that allowed thick mats of dark green and brown thermophiles to grow making it appear black. Thermophiles are heat-loving microorganisms.
The water temperatures went up in 1991 which killed the thermophiles.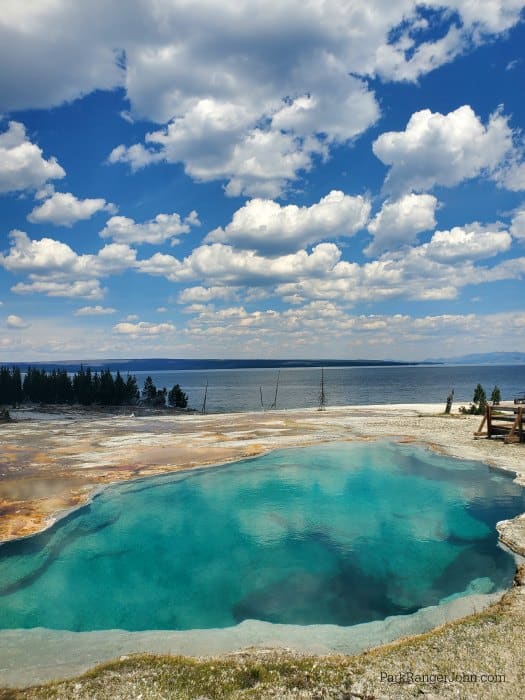 Abyss Pool
Abyss Pool is one of the deeper hot springs in Yellowstone. It descends down to 53 feet and varies in colors from turquoise blue to emerald green with shades of brown.
Over the past 40 years, the Abyss Pool has erupted and then quieted down and then become active again. Currently, it is a quiet pool.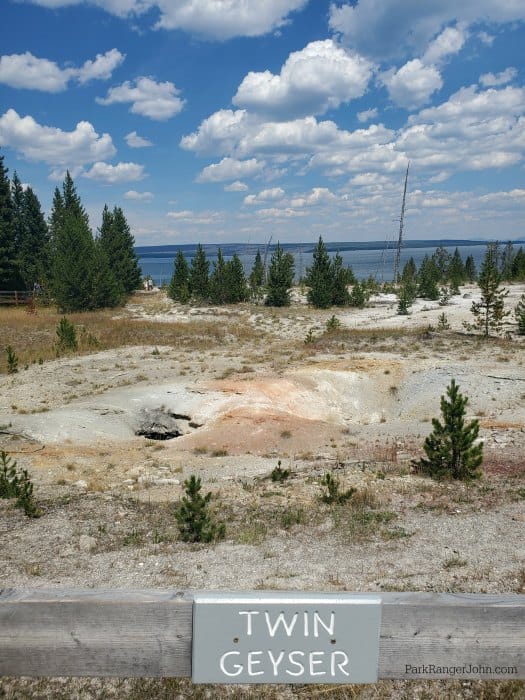 Twin Geysers
Twin Geysers is actually one geyser with two vents. The last known eruption for Twin Geysers was in 1999.
The Central Basin
The Central Basin is the central portion of the trail. This portion of the walkway is packed with hydrothermal features. You will want to do the full inner and outer loop to not miss anything.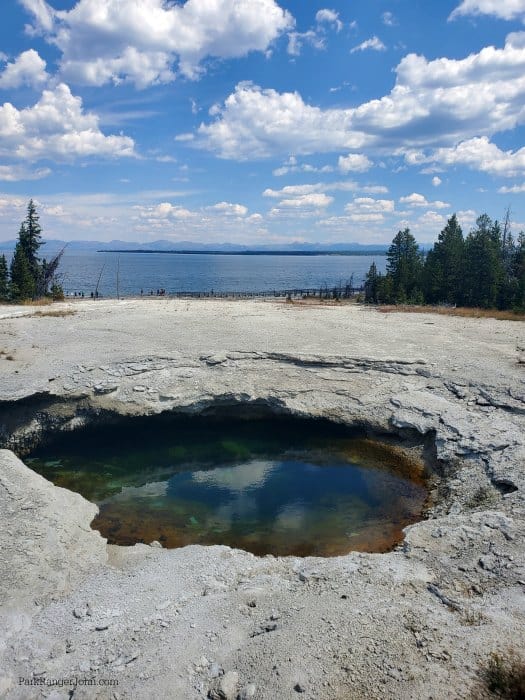 Surging Spring
Surging Spring has been quiet since 2002 and began overflowing in early 2010. In the past when it was active it would dome and overflow sending waves of water into Yellowstone Lake.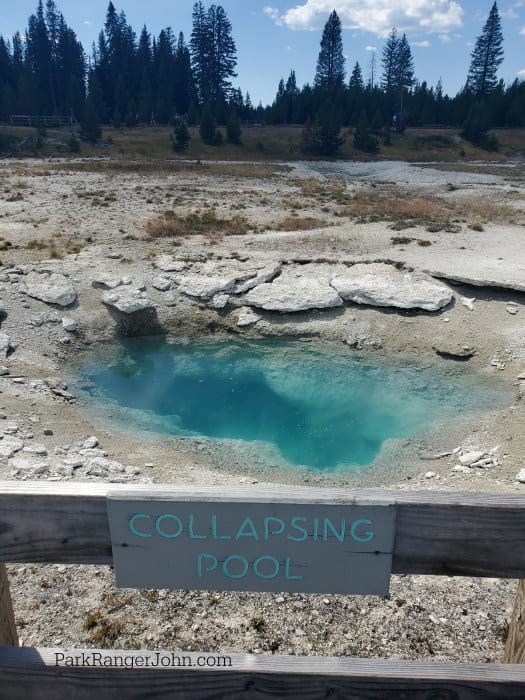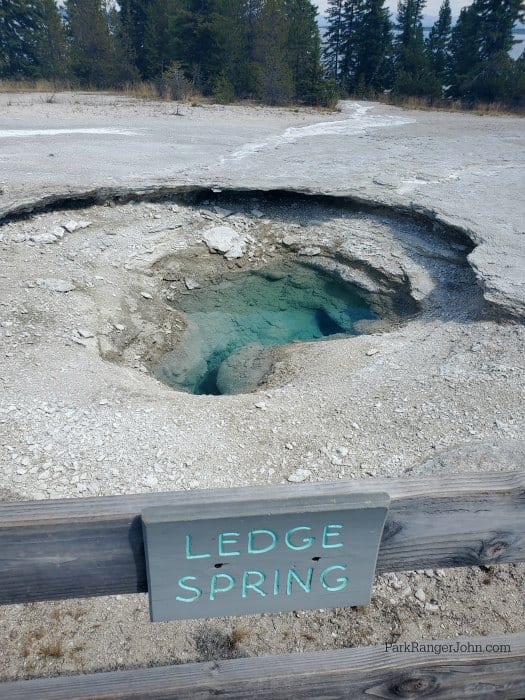 Ledge Spring and Collapsing Spring
Ledge Spring erupted in 2004 and 2005.
Collapsing Spring erupted in 2001.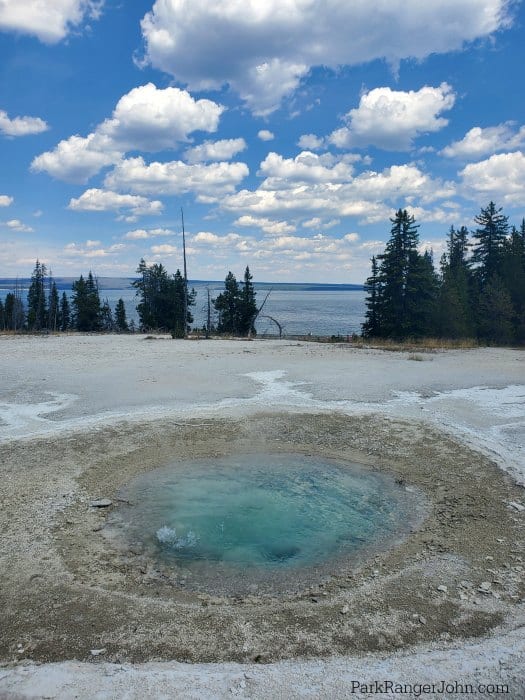 Percolating Spring
Percolating Spring last erupted in 2005.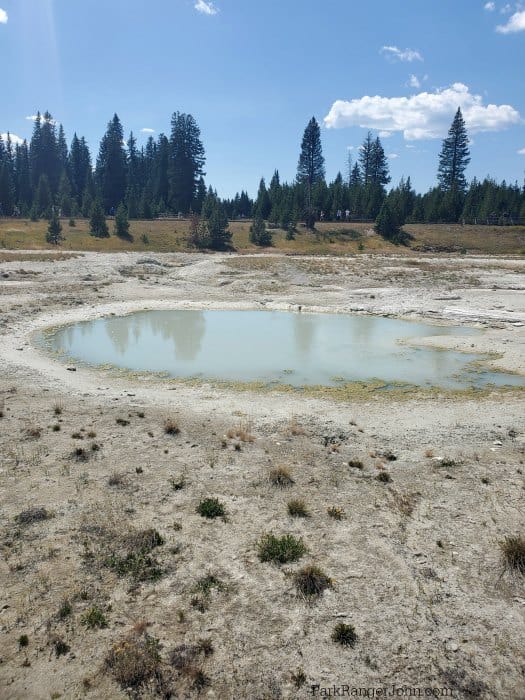 Thumb Geyser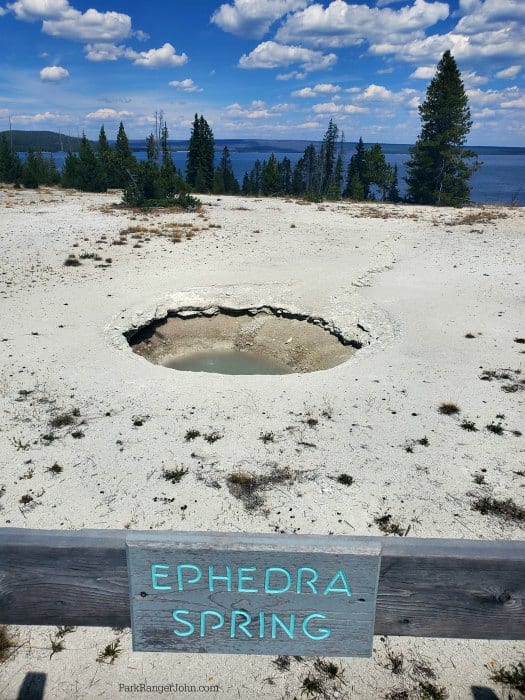 Ephedra Spring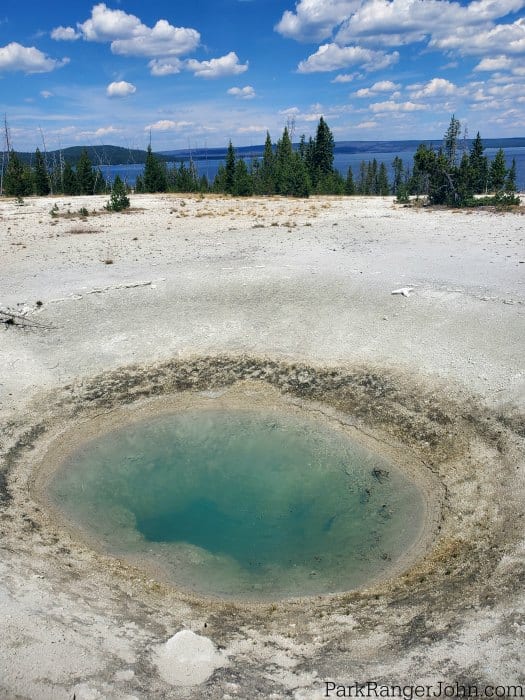 Blue Funnel Spring
When Abyss Pool began erupting in 1991 it caused the water in Blue Funnel Spring along with adjacent Perforated Pool and Ephedra Spring to cool and sink below the rim.
In 2010 the Blue Funnel Spring, Ephedra and Perforated Pools drained.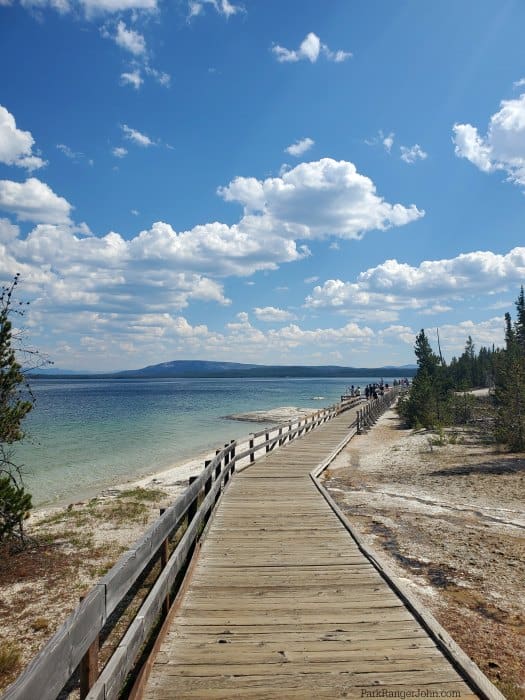 Where is the West Thumb Geyser Basin?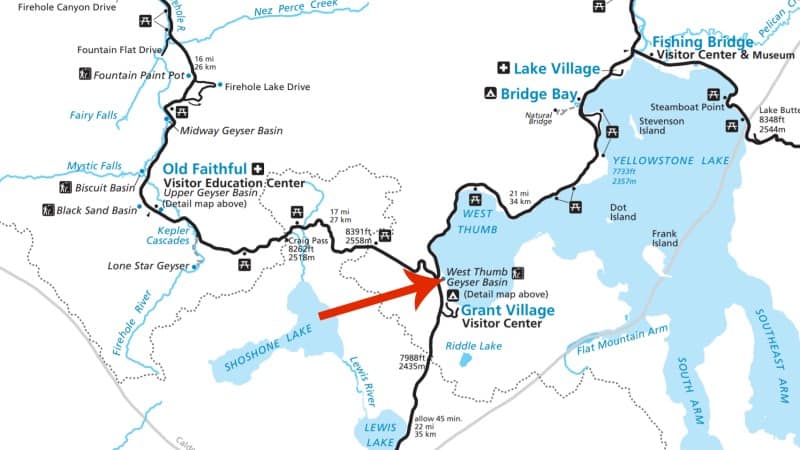 West Thumb Geyser Basin Map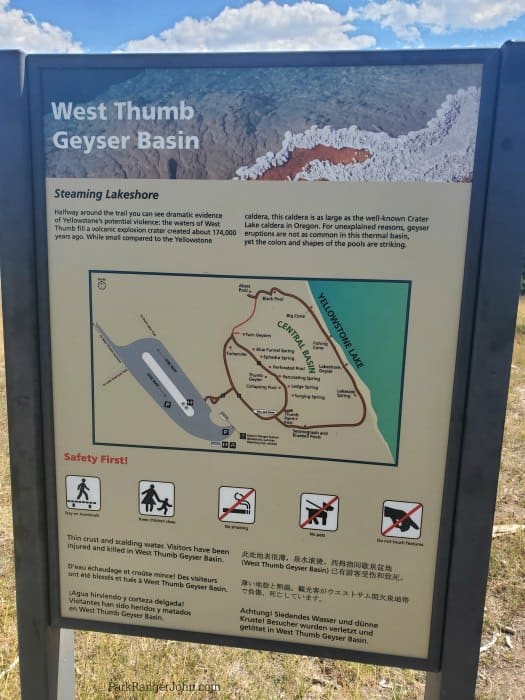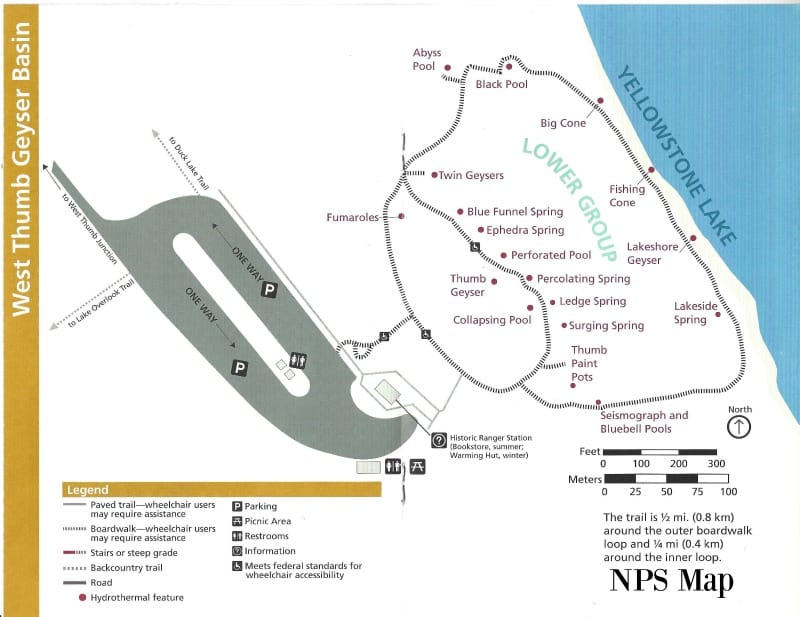 Nearby Yellowstone Attractions
Yellowstone Lake - It is hard to believe that Yellowstone Lake covers 131.7 square miles and has 141 miles of shoreline.
Old Faithful - Old Faithful is one of the big icons of Yellowstone National Park.
Mud Volcano - Just up the road from West Thumb this is a great thermal area that has a really nice trail around it.
Hayden Valley - Explore one of the best places in Yellowstone to see wildlife.
Black Sand Basin - This is a great boardwalk trail through a thermal area near Old Faithful.
Biscuit Basin - 3 miles north of Old Faithful this geyser basin includes Jewel Geyser, Mustard Spring, Black Opal, and Sapphire Pools.
Grand Canyon of Yellowstone - See the largest waterfall in Yellowstone.
Yellowstone Waterfalls - There are a couple of great waterfalls near the Mud Volcano area.
Grand Teton National Park - From this part of Yellowstone, it is a fairly quick drive to the south entrance of Yellowstone and on to Grand Teton.
Closest Campground
Check out all of the Yellowstone Campgrounds to help plan your time in the park.
Closest Yellowstone Lodging
Grant Village
Closest Visitor Centers
Grant Village
Fishing Bridge
Additional Yellowstone Resources
Yellowstone Lodging Guide -Check out all of the lodges you can stay in while visiting Yellowstone NP.
Yellowstone Camping Guide - Check out all of the campgrounds available within the park.
Things to do Yellowstone - Check out all of the top things to do in the park.
Yellowstone Facts - Learn more about the unique features in Yellowstone.
Free National Park Days - Check out all of the days the National Park Service waives park entrance fees.
National Parks in Wyoming - Check out all of the parks you can visit while in Wyoming.
Grand Teton National Park - Epic Planning guide for visiting this great park.