Mud Volcano trail is the perfect place to explore some of Yellowstone National Parks hydrothermal features.
This area of thermal features includes the Mud Volcano, Mud Geyers, Dragon's Mouth Spring, Grizzly Fumarole, Sour Lake, and Sizzling Basin to just name a few.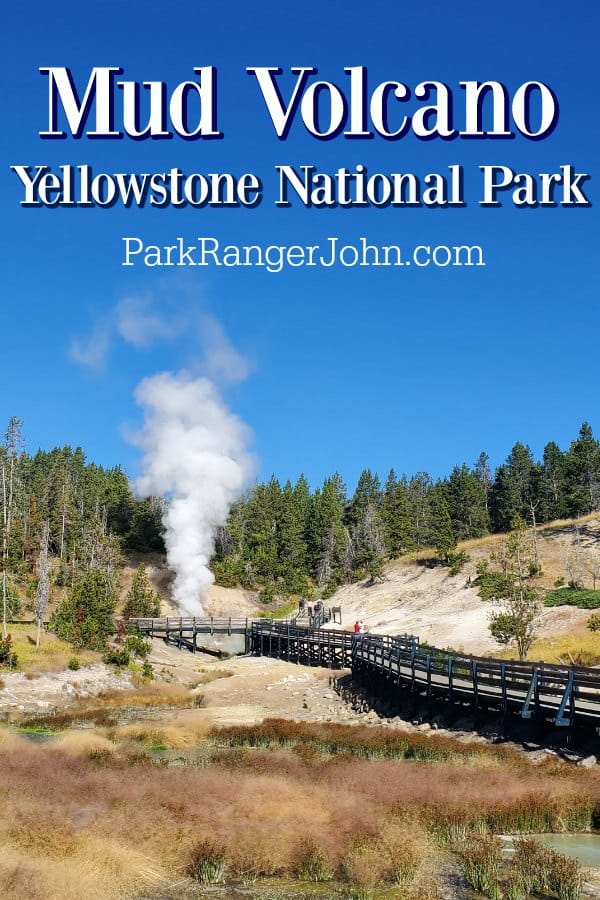 Mud Volcano - Yellowstone National Park
Trail Distance - .6 mile
When visiting the Mud Volcano Trail you will want to be prepared for the strong odor of rotten eggs which is caused by hydrogen sulfite gas.
This area has many faults that converge here so earthquakes are common. It is near the greatest uplift and sinking of the Yellowstone Caldera floor.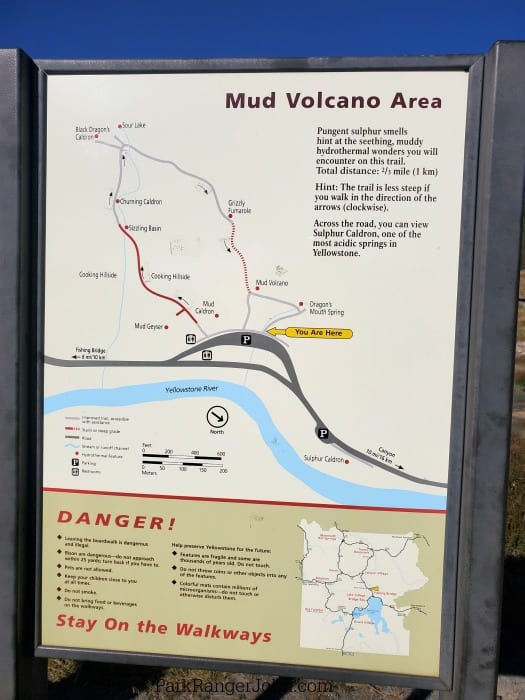 This guide follows the trail in a clockwise route which is less steep than the counter-clockwise route.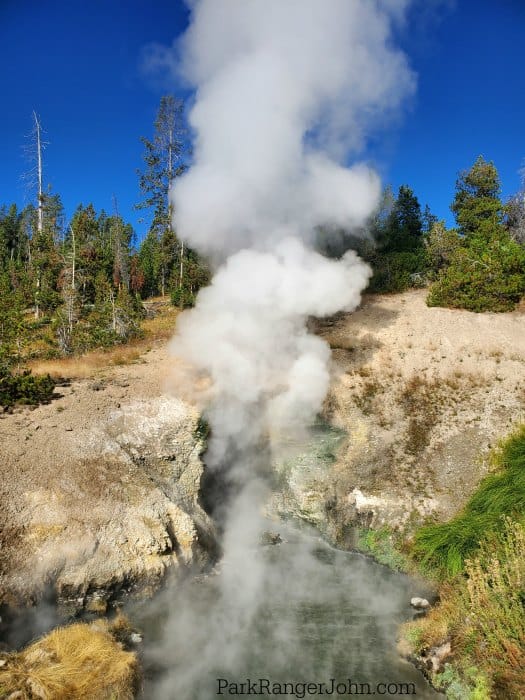 Dragon's Mouth Spring
When you walk up to Dragon's Mouth Spring it feels like the cave is belching steam and having a rough day. LOL! Over the past 24+ years, the spring has seen some big changes.
In 1994 the surging action decreased and then in 1999, the water temperature dropped ten degrees and the color changes from green to chalky white.
Dragon's Mouth Spring has also been called Gothic Grotto, Blowing Cavern, and the Belcher.
Mud Volcano
Mud Volcano reminds me of Halloween and a gurgling witches cauldron of mud. The muddy water is constantly undercutting the back wall.
When early explorers to Yellowstone encountered the Mud Volcano they said it was terrifying. At that point, it was a volcano-cone like structure 30 feet high and 30 feet wide that erupted mud tall enough to cover trees.
In 1870, when Nathaniel P. Langford visited he said it was more of a bubbling mass of mud which made them believe violent eruptions must have blown out the volcano cone.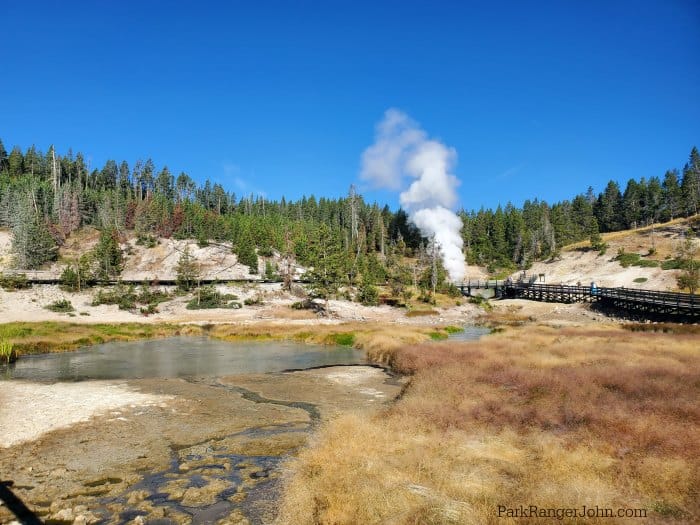 At this point on the trail, it does go up a short distance via either stairs or steeply graded pavement and boardwalk.
From here you can continue along the trail or turn around and follow the trail back down to the parking lot.
Grizzly Fumarole
Grizzly Fumarole changes based on the weather. If you visit during a time when it has been raining you will find a large watered-down mudpot with a series of smaller and thicker mudpots or fumaroles.
During the dry season when there is little to no rain you may be surprised to find an area with hot water hissing far below and the pools looking almost empty.
Sour Lake
Sour Lake is a large pool of water that looks like you want to dive right into it and cool off.
Please do not touch this water!
The water is so acidic it would burn your skin like battery acid! The pools acid comes from microorganisms that create sulfuric acid as they consume sulfur.
The microorganism is what creates the color of the lake.
Black Dragon's Caldron
Black Dragon's Caldron is a relatively new destination along the Mud Volcano Trail. It appeared in 1948 when it appeared along a crack in the earth.
Since 1948 this feature has moved 200 feet south along the crack in the earth.
The caldron was named by a park ranger for the color and the apparent lashing o the "dragon's tongue".
Churning Caldron
Churning Caldron has had some major changes since earthquake activity in 1978-79. The pool was a cool spring covered in colorful mats of microorganisms.
After the earthquake activity, the water was superheated which killed off some of the mat-forming microbes.
Starting in 1996 the caldron started throwing water 3-5 feet high and now averages a temperature of 164 degrees Fahrenheit.
Sizzling Basin
The sizzling basin has also undergone changes form the 1960s to the 1970s.
In the 1960s the Sizzling Basin was similar to a hot grease-filled frying pan. During the 1970s, the pool cooled and lost part of its carbon dioxide supply which allowed microorganisms to grown and create a lush mat that covered most of the surface.
When earthquakes struck in 1978-79 the pool was again super-heated killing off the microorganisms.
Mud Geyser
One thing that is constant in this area of Yellowstone is changed. These features change daily, weekly, monthly, and yearly so it is worth revisiting to see what changes have happened.
Mud Geyser was described as a boiling spring, placid pod, deep dry funnel or an active geyser by the Washburn Expedition in 1970.
At that time the geyser would explode muddy water 500 feet into the air every few hours.
By the 20th Century, the geyser had died due to its plumming getting clogged with mud and rocks.
Soil temperatures skyrocketed ni 1993 for unknown reasons causing trees to start dying around the geyser's south rim.
A new feature burst onto the scene in January 1995 on the south bank of Mud Geyser. All of a sudden steam vents and shallow pools sizzled.
By 1999 mud pots formed and then exploded creating a deep hole with even more sizzling features and mud.
Mud Caldron
The bubbling in Mud Caldron is caused by carbon dioxide and other gases rising from several thousand feet below.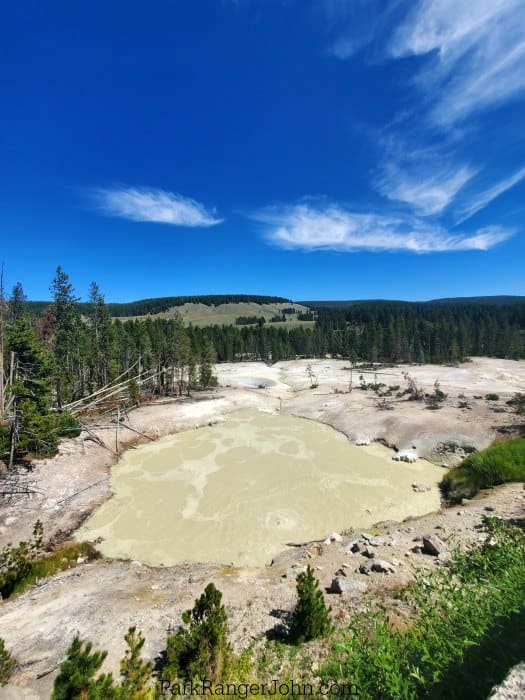 Sulphur Caldron
Sulphur Caldron is located across the Grand Loop Road from Mud Volcano.
Sulphur Caldron is one of the most acidic springs in Yellowstone. These waters have a pH of approximately 1-2 which is equivalent to car battery acid or stomach fluids.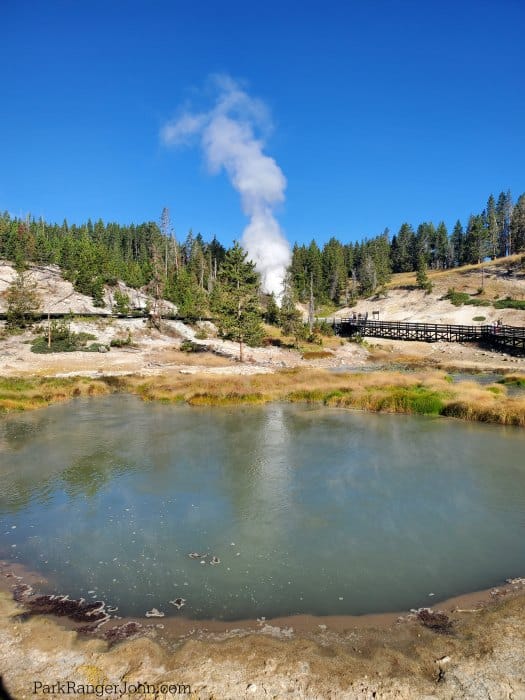 Where is the Mud Volcano?
Mud Volcano is located between Canyon Village and Fishing Bridge.
You will drive right by Mud Volcano on the Grand Loop Road when driving towards Hayden Valley from Lake Yellowstone.
Nearby Yellowstone Attractions
Hayden Valley - Explore one of the best places in Yellowstone to see wildlife.
Grand Canyon of Yellowstone - See the largest waterfall in Yellowstone.
Yellowstone Lake - There are 141 miles of shoreline surrounding Yellowstone Lake. The perfect place for a picnic or soaking in the views.
West Thumb Geyser Basin - Explore amazing geysers and colorful pools next to Yellowstone Lake.
Yellowstone Waterfalls - There are a couple of great waterfalls near the Mud Volcano area.
Closest Campground
Fishing Bridge RV Park
Check out all of the Yellowstone Campgrounds to help plan your time in the park.
Closest Yellowstone Lodging
Lake Lodge - The Lake Lodge has a great assortment of cabins.
Lake Hotel - The historic Lake Yellowstone Hotel has both hotel rooms and cabins behind the main building.
Closest Visitor Center
Fishing Bridge Visitor Center
Canyon Village Visitor Education Center
Additional Yellowstone Resources
Yellowstone Lodging Guide -Check out all of the lodges you can stay in while visiting Yellowstone NP.
Yellowstone Camping Guide - Check out all of the campgrounds available within the park.
Things to do Yellowstone - Check out all of the top things to do in the park.
Yellowstone Facts - Learn more about the unique features in Yellowstone.
Free National Park Days - Check out all of the days the National Park Service waives park entrance fees.
National Parks in Wyoming - Check out all of the parks you can visit while in Wyoming.
Grand Teton National Park - Epic Guide to this amazing park.