Bridge Bay Campground is the largest campground in Yellowstone National Park with 432 sites.
The campground is located near Yellowstone Lake. Right off of the main park loop road, this campground offers great access to a ton of the top things to do in Yellowstone.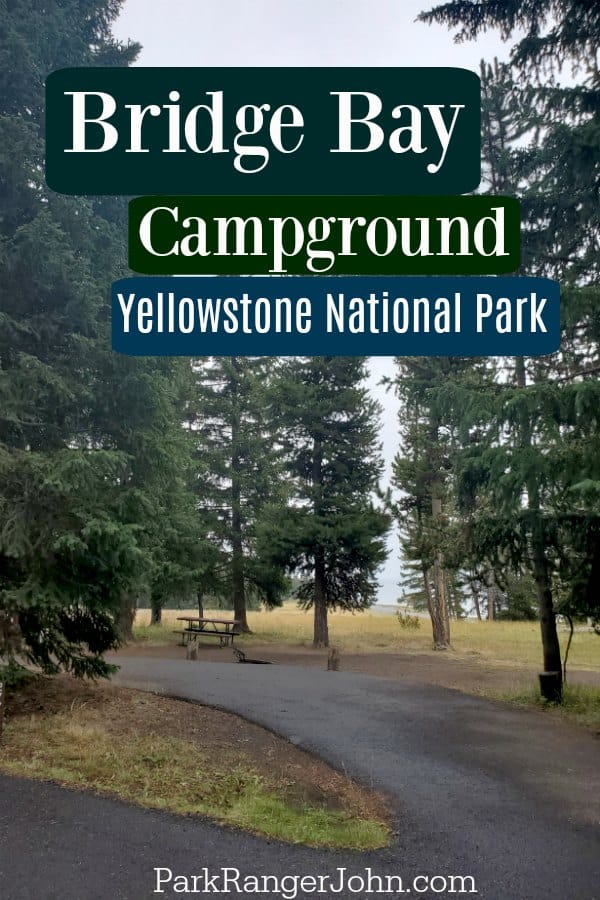 Bridge Bay Campground
One thing to know about Bridge Bay Campground is there are little to no trees within the campground. There is not much shade so you will want to be prepared. We suggest bringing a pop-up table cover or gazebo to have some shade.
If you are visiting during a rainstorm you will want to be prepared for the campsite to potentially flood.
We have seen a lot of reviews of people having elk and bison in their campsites. Just something to be aware of when planning your trip.
Season: only open during summer from 5/15 to 9/7, 2020
Number of Sites: 432
Location in the park: near Yellowstone Lake, Located on the Grand Loop Road just a few miles southwest of Lake Village and next to the Bridge Bay Marina.
Campsite cost: $26.00
Rates do not include taxes or utility fees and are subject to change.
Interagency Access and Senior Pass holders receive a 50% discount.
Hiker/bicyclist Nightly Fee - $8.00
This is the per-person cost for a hiker/bicyclist campsite for one night.
Payments accepted:
Reservations: Yes (see details below)
Campground Address:
Latitude/Longitude: N 44 32.070 W 110 26.218
Elevation: 7,800 feet (2377 m)
Accessible Sites: Three accessible campsites. Accessible restrooms are located in Loop A of the campground and in the picnic area along the entrance road to Bridge Bay Marina.
Pets Allowed: Yes, You will want to be aware of the park pet policy
Bridge Bay Campground Reservations
Are campground Reservations Available? Yes
Yellowstone National Park Lodges provides reservations for in this campground. Call 307-344-7311 (307-344-5395 for TDD service) or visit www.yellowstonenationalparklodges.com.
You can request a site when you make your reservation but there is no guarantee you will get that spot.
The person who makes the reservation must go to the registration desk. They will not allow a spouse or other person to check-in.
Bridge Bay Campground Amenities
The campground offers running water, dishwashing stations, easy access to the main park loop road.
Flush Toilets: Yes
Showers: no
Payphone: Yes, near the entrance
Is wifi available? No
Is cellular Phone Service Available? There is a cell phone tower near Lake Village: check with your provider to verify coverage.
We did not have any service with T-mobile.
Is camp host available on site? Yes
Is firewood available for purchase? Yes
Amenities at each campsite:
Firepit in the site? Yes
Picnic Table in the site? Yes
Bear Box in site/area? Yes, Bear boxes are available for most tent sites.
Potable Water? Yes
RV Camping at Bridge Bay Campground
When calling to make a reservation, be prepared to give the size of your tent (in feet) or the combined length of your RV and any other vehicles or towed vehicles.
RV Length: Campground sites that will accommodate a maximum combined length of 40-feet or more are limited.
Dump Station: yes, located at the entrance to the campground.
Generators: Generators may only be operated from 8 am to 8 pm (60 dB limit)
Hookups: There are 13 electric hookup sites

Group Camp Sites
The group campsites are all in a loop near each other. There are individual campsites near the group sites.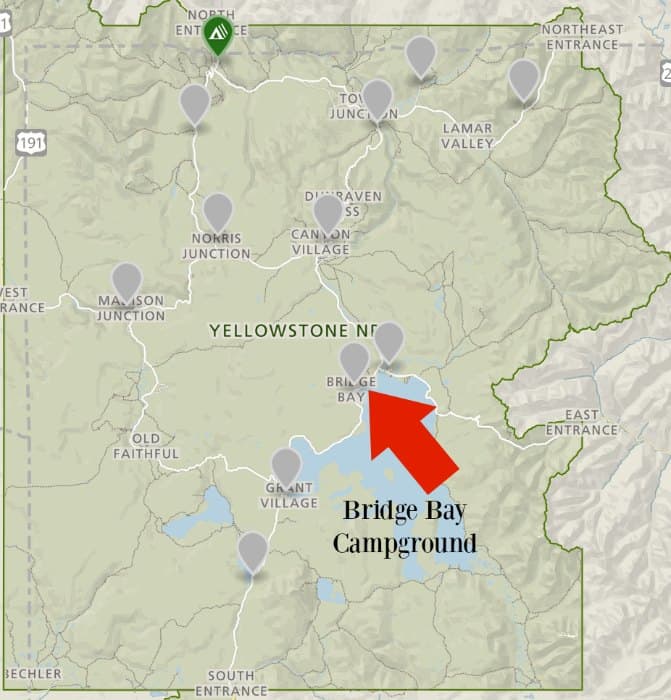 How to get to Bridge Bay Campground
Located on the Grand Loop Road just a few miles southwest of Lake Village and next to the Bridge Bay Marina.
Bridge Bay Campground Regulations
The maximum number of people in a campsite: Maximum 6 persons per site
The number of cars per campsite: Tent sites allow for up to two tents and two vehicles. RV sites allow for one RV (tow included) only. (For reference, 2 motorcycles = 1 vehicle)
Check-in Time: check-in any time of day that there is an unoccupied site.
Checkout time: 11 AM.
Quiet Hours: Quiet hours are from 10:00 p.m. to 7:00 a.m.
Maximum Stay: Camping is limited to 14 days from July 1 through Labor Day, and 30 days for the rest of the year. There is no stay limit at the Fishing Bridge RV Park.
Don't forget to pack
Earplugs - Especially if you are in a tent you may get a lot of noise.
Food containers
Fire Starter
Smores Kit
Bridge Bay Campground Photos
Loops A - D are in a wide-open field with no shade. They are close together and look like they could get quite loud.
There are signs that say to not approach bison that wander around the campground.
D - Loop -This loop is tents only. These sites have shared bear boxes.
E- Loop - This loop is tent only. Some of the sites offer a view of the lake
F - Loop - These sites are tent only. Some of the sites offer epic views of the lake. Some sites are near the road and could be loud
H - Loop - This loop would be great for RV's. It is at the back of the campground
I - Loop - Tents only, This was our favorite loop in the campground. One thing to know is it is uphill to the bathroom from most sites.
J - Loop - This loop is a tent only with 4 group sites between individual sites. The sites are forested but could be loud depending on the groups.
Yellowstone National Park Camping - Our ultimate guide with every Yellowstone Campground broken down.
Yellowstone Lodging Guide -Check out all of the lodges you can stay in while visiting Yellowstone NP.
Yellowstone Waterfall Guide - Check out the waterfalls you can see while in the park.
Things to do in Yellowstone - These are the top things to do that you don't want to miss during your trip!
Yellowstone National Park Facts - Learn more about our 1st National Park and fun facts about the wildlife in the park.
Mammoth Hot Springs Hotel - Find out what it is like to stay in this great Yellowstone lodge.
Lake Yellowstone Hotel - Room photo and videos, what to expect when staying at the Lake Yellowstone Hotel
Camping Tips from a Park Ranger - These are the tips I learned from managing a campground for years.
Grand Teton NP Guide - Heading to Grand Teton after you visit Yellowstone? Make sure to check out this epic guide.
Kayaking in Yellowstone - Check out these great tips and info on kayaking in the park.