Located 8 miles south of Mammoth Hot Springs you will find Indian Creek Campground in Yellowstone National Park.
This smaller campground with only seventy sites is located off of the main road and is a great quiet oasis away from the hustle and bustle of the main parts of the park.

Generators are not allowed in the campground so it is a great quiet spot to relax.
We did see a lot of squirrels in the campground. You will want to have food storage boxes to make sure they don't get into anything.
This campground has fantastic forest cover and some shade. It is gorgeous near the river.
Season: The campground is only open during summer.
Number of Sites: 70
Location in the park: Eight miles south of Mammoth Hot Springs on the road to Norris
Campsite cost: $15.00
Rates do not include taxes or utility fees and are subject to change.
Interagency Access and Senior Pass holders receive a 50% discount.
Hiker/bicyclist Nightly Fee - $5.00
Payments accepted:
Reservations: No, All sites are first-come, first-served.
Latitude/Longitude: N: 44 53.22138 W: 110 44.16414
Elevation: 7,300 feet (2225 m)
Accessible Sites: One accessible campsite; accessible vault toilet. Site #8
Pets Allowed:
Indian Creek Campground Reservations
Are campground Reservations Available? No, All sites are first-come, first-served.
Visit our Yellowstone camping guide for information on the campgrounds that do take reservations and how to make them.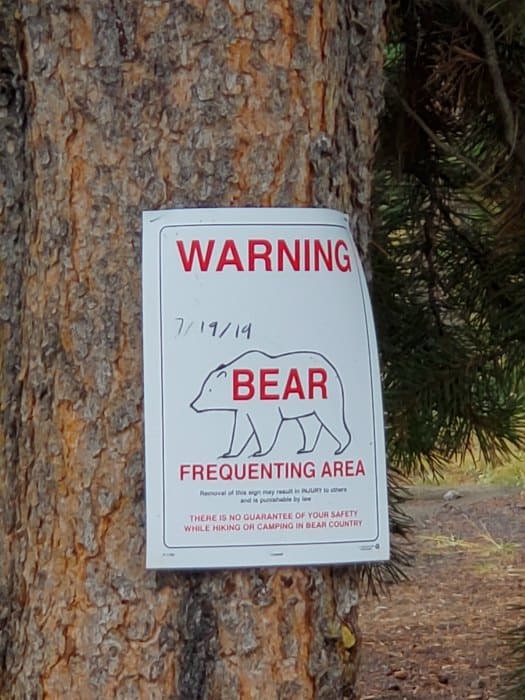 Indian Creek Campground Amenities
Flush Toilets: No, vault toilets
Showers: No
Payphone: No
Is wifi available? No
Is cellular Phone Service Available? No
Is camp host available on site? Yes
Is firewood available for purchase? Yes, for a couple of hours near registration each night. While we were there they had firewood for sale from 6 pm to 8 pm.
$8.00 firewood
$3.00 kindling
They also sold a site occupied sign for $1
Amenities at each campsite:
Firepit in the site? Yes
Picnic Table in the site? Yes
Bear Box in site/area? Yes, Bear boxes are available for most tent sites.
Potable Water? Yes, don't forget to bring a water jug to bring water to your campsite.
RV Camping at Indian Creek Campground
RV Length: 10 sites at 35 feet (10.7 m), 35 sites at 30 feet (9.1 m). Sites may not be level.
Dump Station: No
Generators: No generators are allowed in the campground
Hookups: No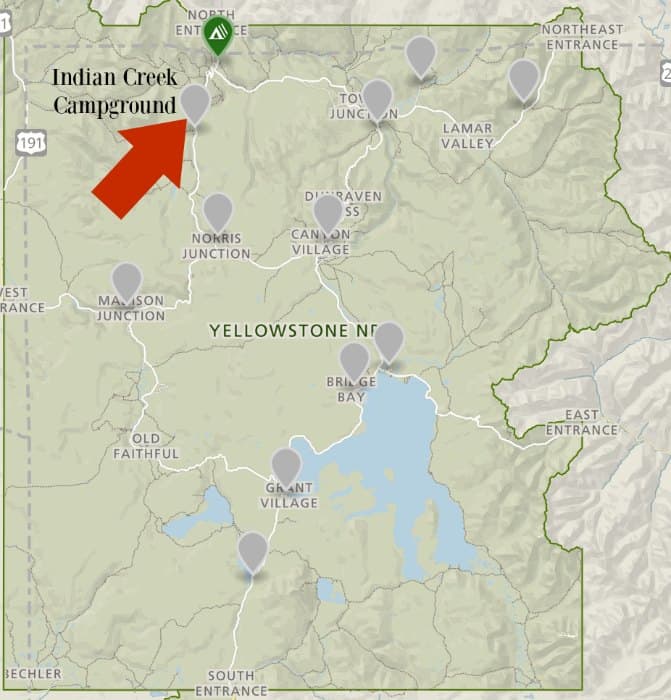 How to get to Indian Creek Campground
Eight miles south of Mammoth Hot Springs on the road to Norris
Important Dates for Campground
Seasonally open during the summer.
Indian Creek Campground Regulations
The maximum number of people in a campsite: Maximum 6 persons per site
The number of cars per campsite: Tent sites allow for up to two tents and two vehicles. RV sites allow for one RV (tow included) only. (For reference, 2 motorcycles = 1 vehicle)
Check-in Time: check-in any time of day that there is an unoccupied site.
Checkout time: 10 AM.
Quiet Hours: Quiet hours are from 10:00 p.m. to 7:00 a.m.
Maximum Stay: Camping is limited to 14 days from July 1 through Labor Day, and 30 days for the rest of the year. There is no stay limit at the Fishing Bridge RV Park.
Indian Creek Campground Map
Indian Creek Campground Photos
Sites 1 - 3 are Hiker Biker Sites.
Site #57 - RV only site
Site #65 - RV only site
Additional Yellowstone National Park Resources
Things to do in Yellowstone - All of the top things you don't want to miss during a trip to Yellowstone.
Yellowstone Facts - Fun facts to surprise your family with.
Yellowstone Lodging -Check out all of the lodges you can stay in while visiting Yellowstone NP.
Yellowstone Waterfalls - There are quite a few amazing waterfalls in the park.
Free National Park Days - Check out all of the days the National Park Service waives park entrance fees.
Montana National Parks - Check out all of the parks you can visit during your vacation.
Wyoming National Parks - Check out all of the Wyoming parks you can visit.