Black Sand Basin if a great boardwalk that includes Emeral Pool, Rainbow Pool, and Sunset Lake. Black Sand Basin is located near Old Faithful making it an easy stop along the Grand Loop Road in Yellowstone National Park.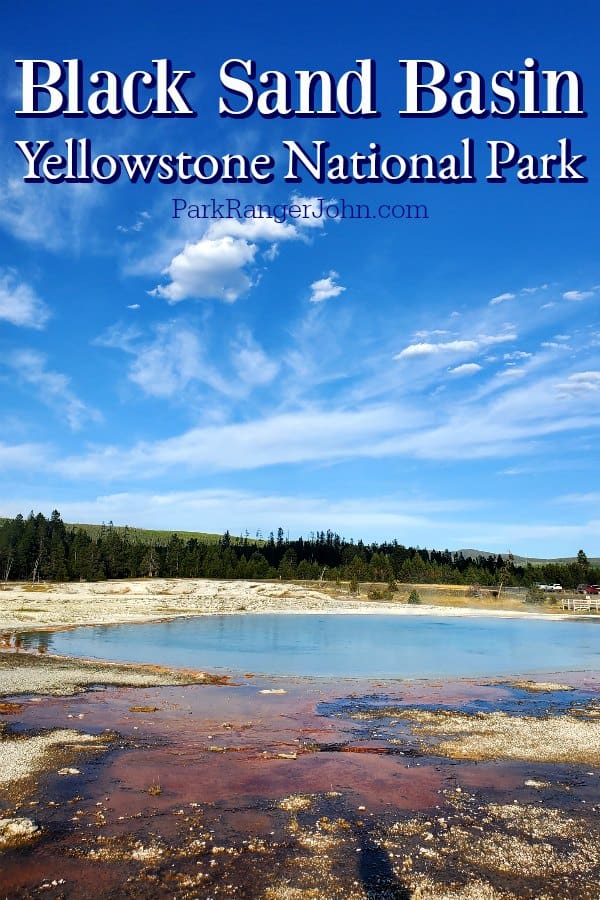 Black Sand Basin - Yellowstone National Park
Distance - .5 mile boardwalk trail
Location - 1 mile north of Old Faithful area on the Grand Loop Road.
Look for black obsidian around the edges of the pool. This black obsidian was what brought early visitors to name this area Black Sand Basin.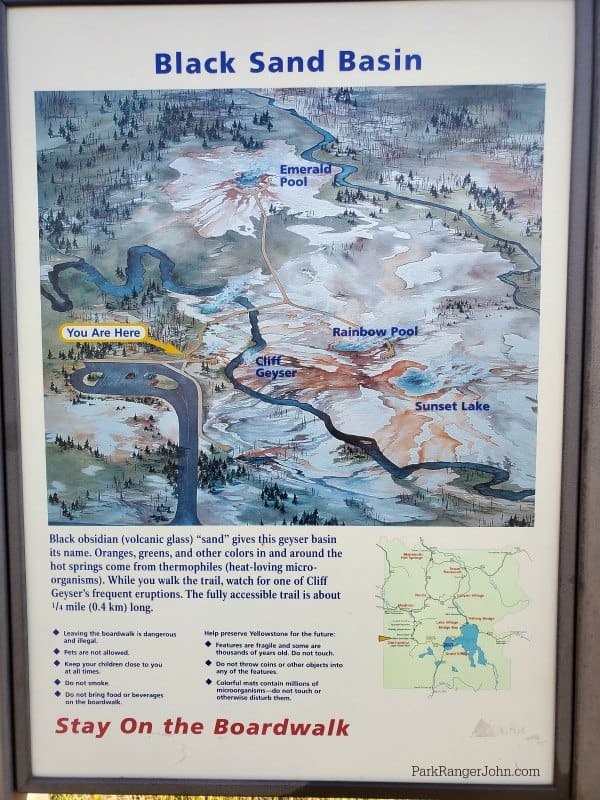 Black Sand Basin is split into a Y-shaped boardwalk. It is is a really short distance between all of the thermal features and hot springs.
There isn't a ton of shade on this boardwalk. If you are visiting during the hot summer make sure you are ready for the sun. If you visit later in the day you may want bug spray. We encountered a few mosquitoes while exploring the boardwalk.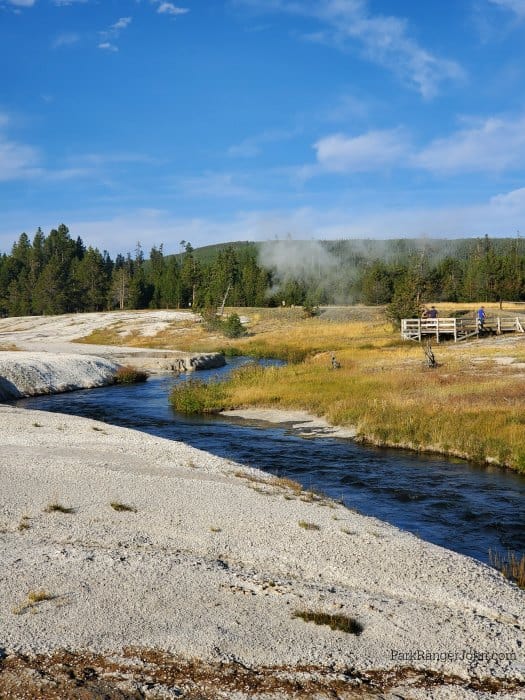 Iron Creek flows through the Black Sand Geyser Basin.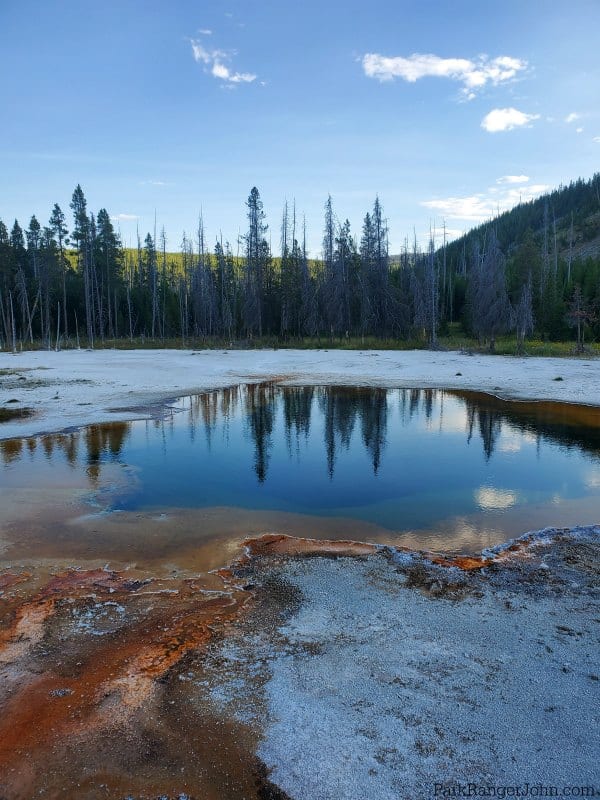 Emerald Pool
Temperature 154.6°F
Dimensions 27x38 feet.
Depth 25 feet.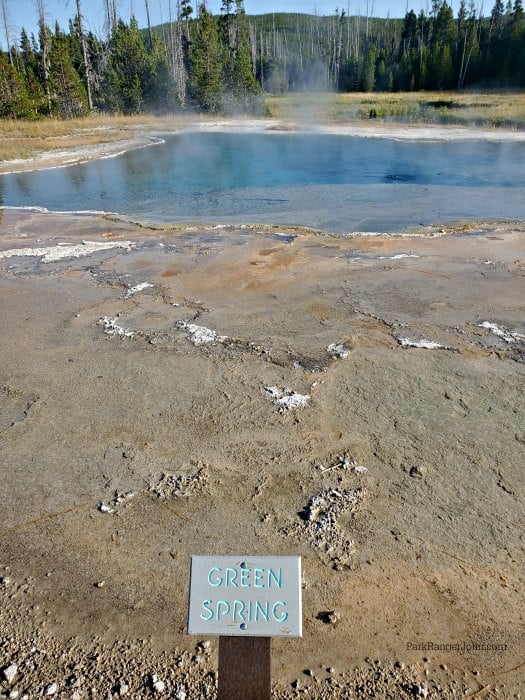 Green Spring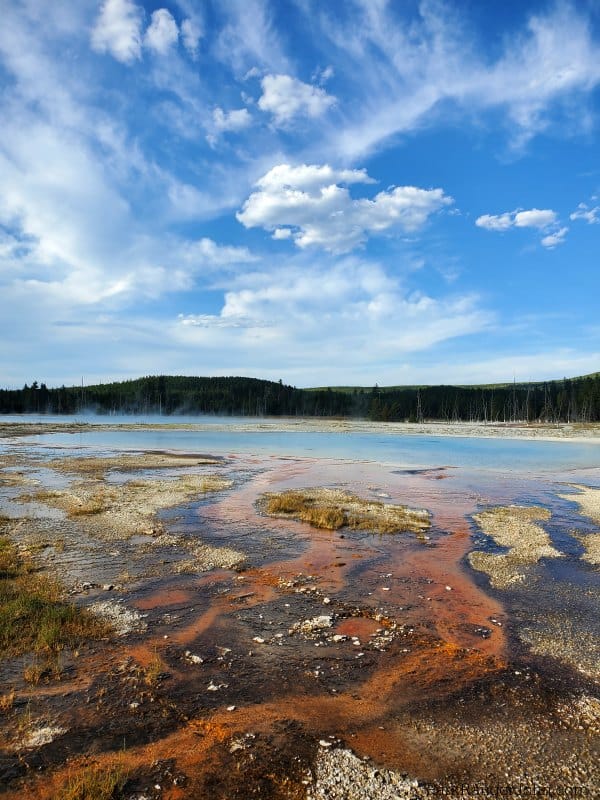 Rainbow Pool
Temperature 161°F
Dimensions 100x130 feet.
Depth 27 feet.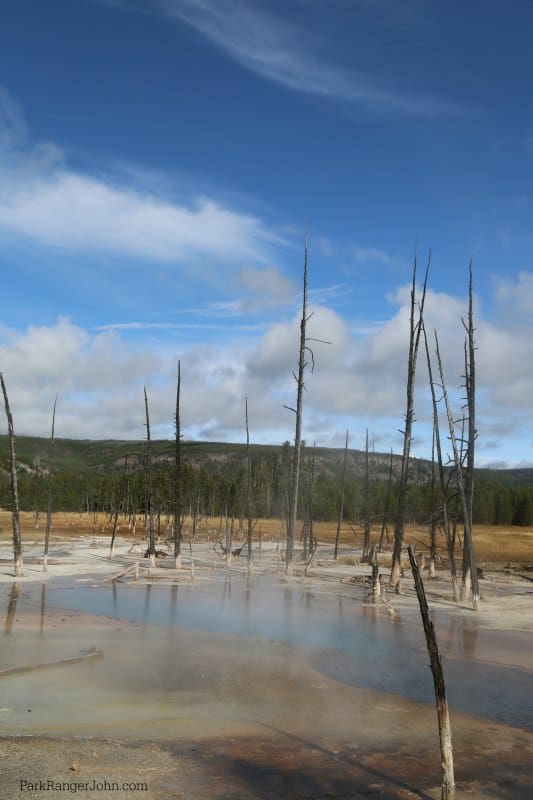 Opalescent Pool
Temperature 144°F
Dimensions 28x55 feet.
Depth 6 feet.
Spouter Geyser
Temperature 199.9°F
Interval 1-2 hours.
Duration 10-11 hours.
Height 5-7 feet.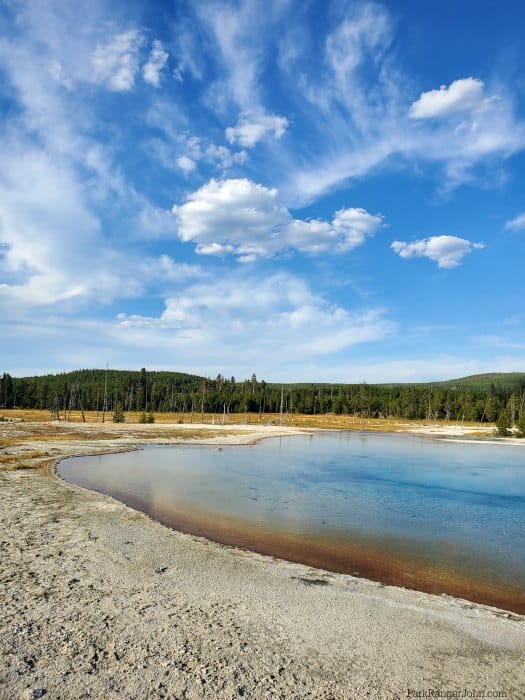 Sunset Lake
temperature 180°F Dimensions 145x191 feet. Depth 23.5 feet.
Sunset Lake is actually a geyser but it erupts infrequently and it seldom noticed because of all the steam over the water.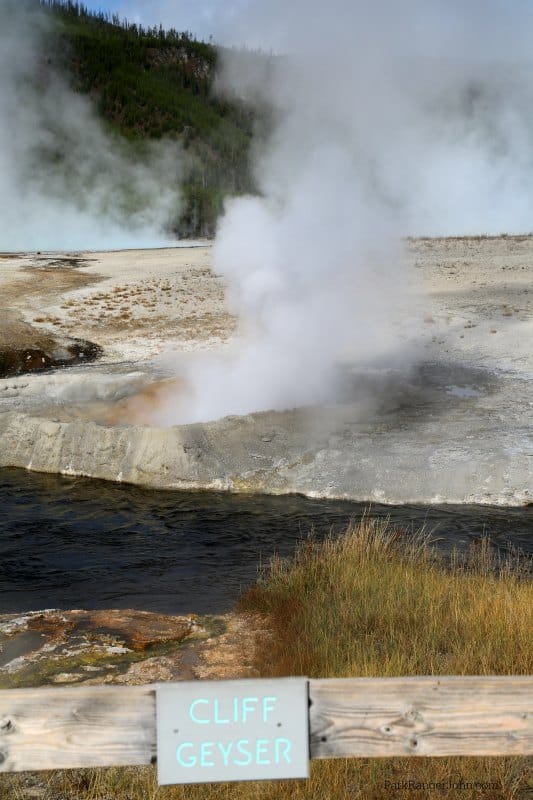 Cliff Geyser
Temperature 191.8°F
Interval irregular.
Duration 30 minutes to 3 hours. Height 40 feet.
Look for the crater to fill with boiling water indicating an eruption is close to happening. Cliff Geyser erupts every few minutes and can reach heights of 30 feet.
Where is the Black Sand Basin?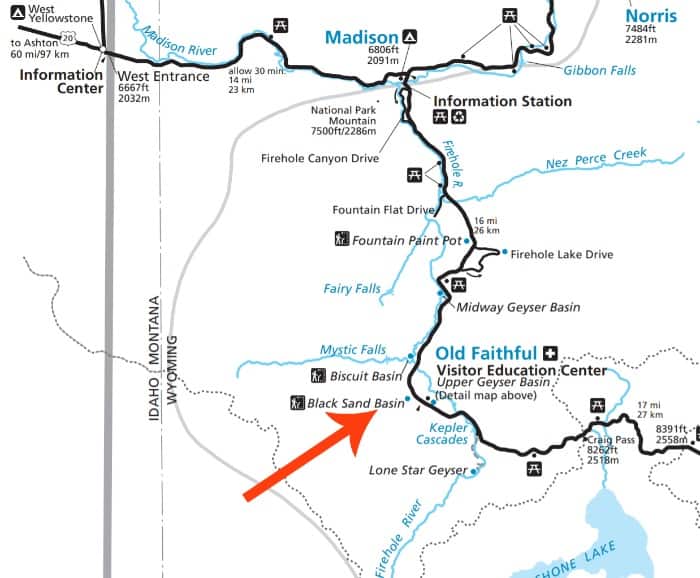 Black Sand Basin is located one mile northwest of the Old Faithful area along the main loop road.
This area is part of the Upper Geyser Basin in Yellowstone NP.
Nearby Yellowstone Attractions
Old Faithful - Old Faithful is just down the road from Firehole Lake Drive
Biscuit Basin - Check out Black Opal Pool and the Jewel Geyser in Biscuit Basin.
Firehole Lake Drive - This 2-mile scenic drive includes the Great Fountain Geyer, White Dome Geyser, and Firehole Lake
Fountain Paint Pots Boardwalk Trail - Check out this half-mile boardwalk that guides you past all four types of hydrothermal in the park.
Fairy Falls - Fairy Falls can be seen on a 5-mile round trip hike
Check out all of the epic Yellowstone Waterfalls in the park.
Closest Campground
Madison Campground- Located near the Madison Junction heading towards West Yellowstone.
Check out all of the Yellowstone Campgrounds to help plan your time in the park.
Closest Yellowstone Lodging
The Old Faithful Inn, Snow Lodge, and Old Faithful Lodge Cabins are the closest lodging options to Midway Geyer Basin,
Closest Visitor Center
Old Faithful Visitor Center is the closest campground to Black Sand Basin.
Additional Yellowstone Resources
Yellowstone Lodging Guide -Check out all of the lodges you can stay in while visiting Yellowstone NP.
Yellowstone Camping Guide - Check out all of the campgrounds available within the park.
Things to do Yellowstone - Check out all of the top things to do in the park.
Yellowstone Facts - Learn more about the unique features in Yellowstone.
Free National Park Days - Check out all of the days the National Park Service waives park entrance fees.
National Parks in Wyoming - Check out all of the parks you can visit while in Wyoming.
Grand Teton - Ultimate guide to planning a visit to Grand Teton NP.