The Old Faithful Snow Lodge is one of the newer lodging options in Yellowstone National Park near Old Faithful.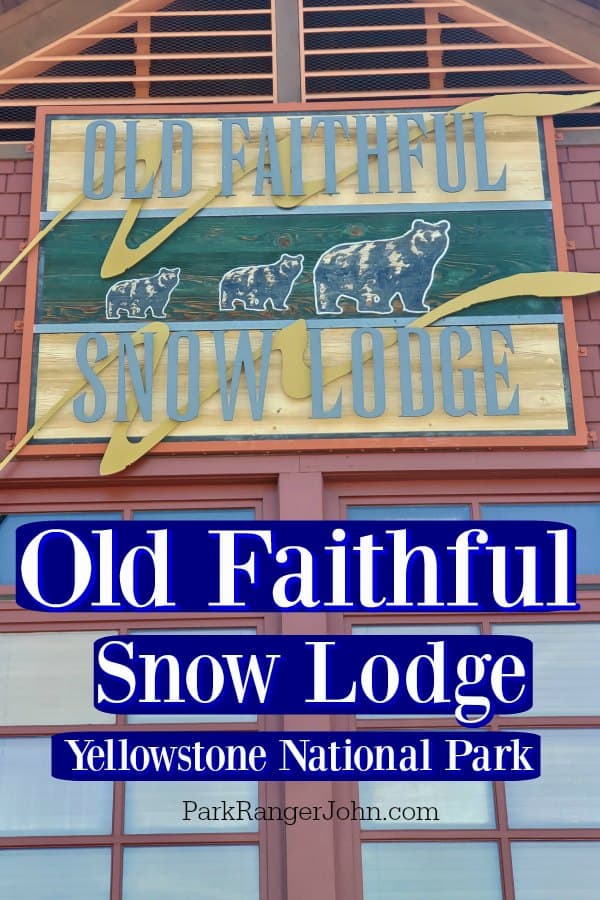 Old Faithful Snow Lodge - Yellowstone National Park
Premium Room 1 King
We stayed in a premium king room on the 2nd floor of the Old Faithful Snow Lodge. The room was fairly large with a king-size bed, leather chair, desk and chair, private bathroom, and two closets.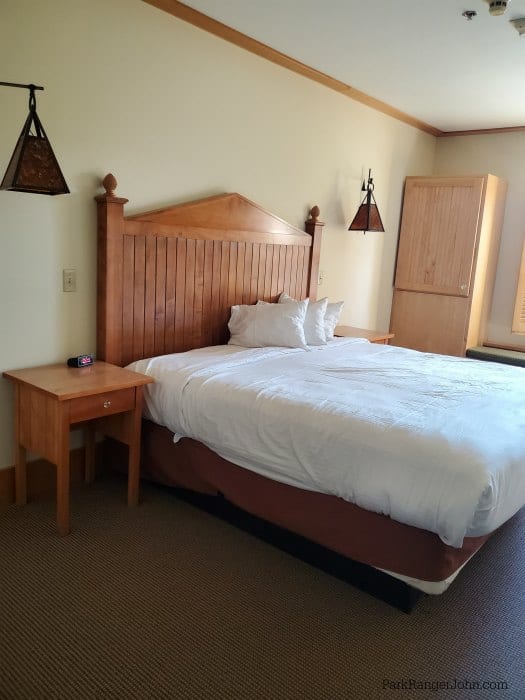 The room did have a small fridge but it was not plugged in when we arrived. If you are booking a premium room so you can use the small refrigerator make sure it is plugged in and cold before using it for medication or food.
There was a fan which helped cool the room down along with opening the one window. In front of the window there is a great bench for luggage or to sit on.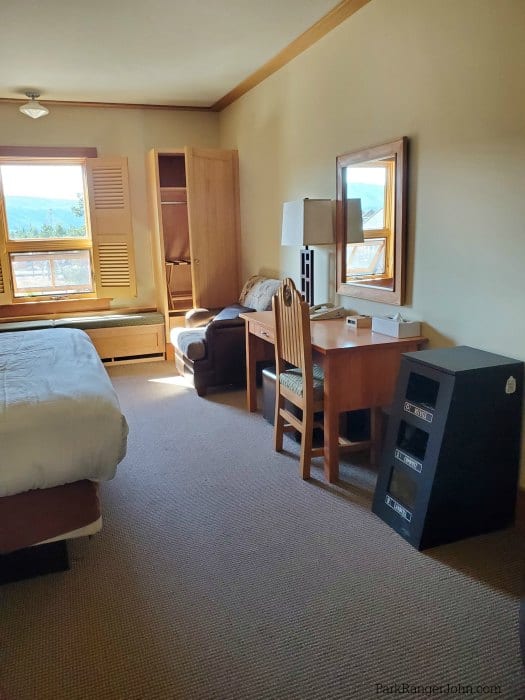 One thing that we really loved was all of the electrical plugins on the desk. There were regular plugins plus USB plugs so we were able to charge all of our devices and camera batteries during our stay without having to hunt all over the room for a plugin.
The bed was firm similar to the Old Faithful Inn. There were three small pillows on the king-size bed. If you like a large pillow or more than a couple of small ones you may need to request additional pillows or bring one with you.
The room was fairly quiet all night long. Since we left the window open to cool the room off we could hear people walking outside of the Snow Lodge starting fairly early in the morning.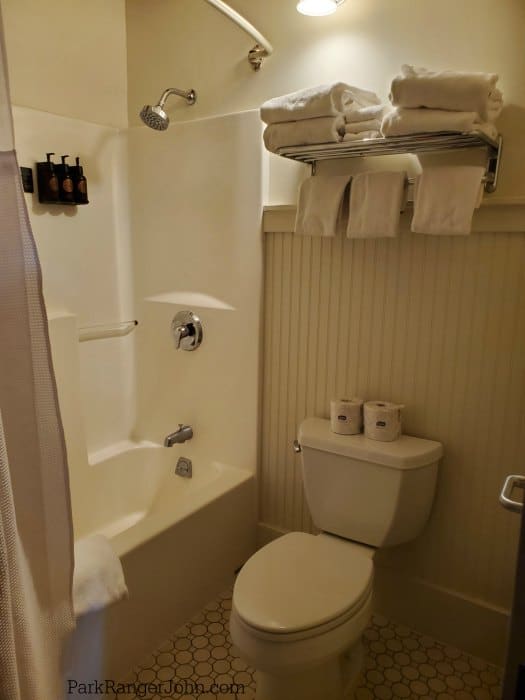 Overall the Snow Lodge was a great place to stay for easy access to Old Faithful and the main loop road. One additional bonus for staying at the Snow Lodge was the free WiFi that was included in the room.
The WiFi was strong enough to pull up our security cameras at home and check emails. I don't think it would be strong enough to download large files but for light work it was fantastic.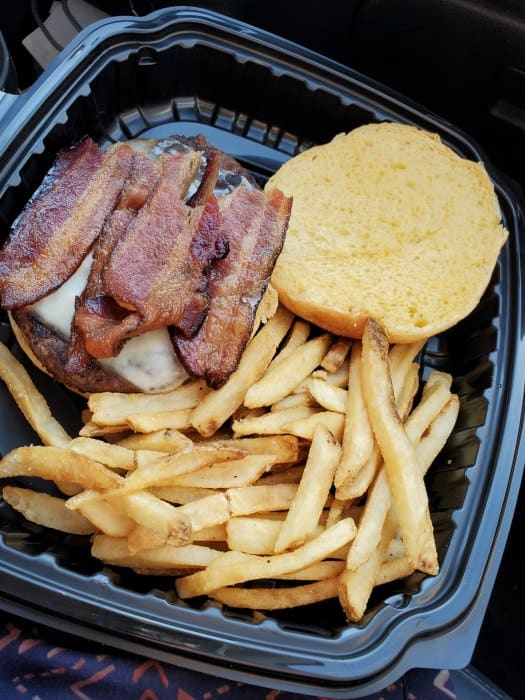 Obsidian Dining Room
Since we visited during 2020 the dining rooms was take out only. They had a great system for ordering and pick up that went great. I would highly recommend the Montana Wagyu Beef Burger. It was full of flavor and tasted amazing.
My wife said the grilled cheese sandwich and fries were also fantastic.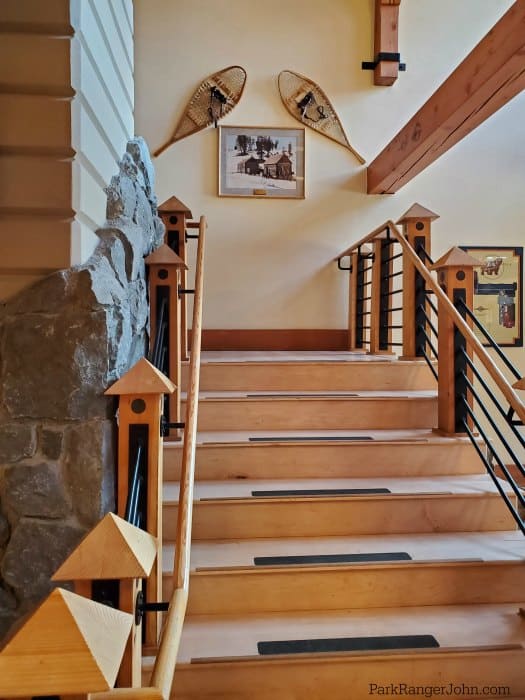 Things to know
Check-in Time - 4 pm
Check out Time - 11 am
Park entrance fees are not included in your reservation and are payable upon arrival at the park entrance.
Smoking - All rooms and facilities at Yellowstone National Park are non-smoking.
Cooking is prohibited in all accommodations.
Wifi - We had really great WiFi during our stay at the Old Faithful Snow Lodge. It was the best we have experienced anywhere in the park.
Televisions, microwaves, radios, rollaway beds, swimming pools, and air conditioners are not available.
Reservations - You can make online reservations here
Nearby Yellowstone Attractions
Biscuit Basin - Check out Black Opal Pool and the Jewel Geyser in Biscuit Basin.
Firehole Lake Drive - This 2-mile scenic drive includes the Great Fountain Geyer, White Dome Geyser and Firehole Lake
Fountain Paint Pots Boardwalk Trail - Check out this half-mile boardwalk that guides you past all four types of hydrothermal in the park.
Firehole Canyon Drive - This 2-mile one-way drive travels past the 40 foot tall Firehole Falls and the Firehole River swimming area.
West Thumb Geyser Basin - West Thumb Geyer Basin is on the shores of Yellowstone Lake.
Have you seen all of the amazing waterfalls in Yellowstone? There are so many easy-to-see waterfalls in the park.
Closest Campgrounds
Madison Campground- Is located near the Madison Junction.
Grant Campground - Is located near Grant Village.
Check out all of the Yellowstone Campgrounds to help plan your time in the park.
Nearby Yellowstone Lodging
The Old Faithful Inn and Old Faithful Lodge Cabins are the closest lodging options.
Additional Resources
Yellowstone Lodging Guide -Check out all of the lodges you can stay in while visiting Yellowstone NP.
Yellowstone Camping Guide - Check out all of the campgrounds available within the park.
Things to do Yellowstone - Check out all of the top things to do in the park.
Yellowstone Facts - Learn more about the unique features in Yellowstone.
Free National Park Days - Check out all of the days the National Park Service waives park entrance fees.
National Parks in Wyoming - Check out all of the parks you can visit while in Wyoming.
Grand Teton Guide - Epic guide for planning a visit to this great park.