Perfectly situated in the Upper Geyser Basin next to Old Faithful Geyser is The Old Faithful Inn, one of the most iconic National Park Lodges within the National Park System. This fully functional lodge is open seasonally every year (approximately May-October) providing 329 guest rooms, full-service restaurant, lounge, snack bar, gift shop and daily tours.
Did I mention the location? Staying in this historic hotel is all about location, location, location! A stay in this historic hotel puts you in the heart of the Geyser Basin of Yellowstone National Park. Perhaps the best part for me was waking up early in the morning before everyone else was out and watching Old Faithful erupt and not a soul was around! What a surreal moment in an iconic National Park.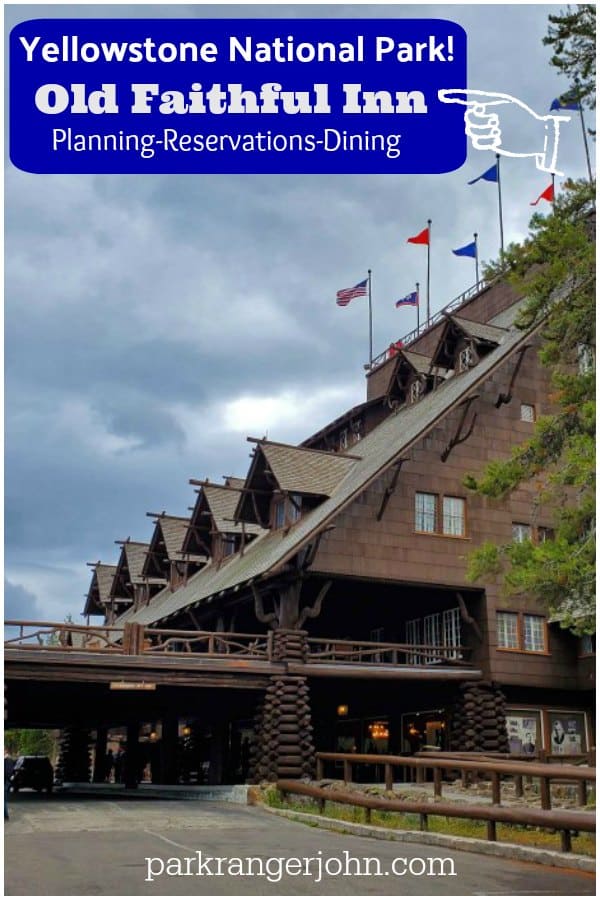 Old Faithful Inn
The Old Faithful Inn was developed by architect Robert Reamer. It was completed in 1904 and used locally sourced logs and stone to build. The lodge is considered the largest log structure in the world! The Old Faithful Inn was designed in the National Park Rustic (Parkitecture) theme with its rustic style lodge with log and wood shingle exterior. The original part of the inn known as the "Old House".
The Old Faithful Inn was designated a National Historic Landmark in 1987.
Pulling up to the portico of the hotel and walking into the lobby is breathtaking. It looks like a scene from a movie and you can't really believe it is real.
The lobby area is filled with other visitors to Yellowstone gawking at all of the wood railings, massive fireplace, and the massive clock. There is an art gallery, gift shop, bell desk, registration, and seating areas right when you walk in.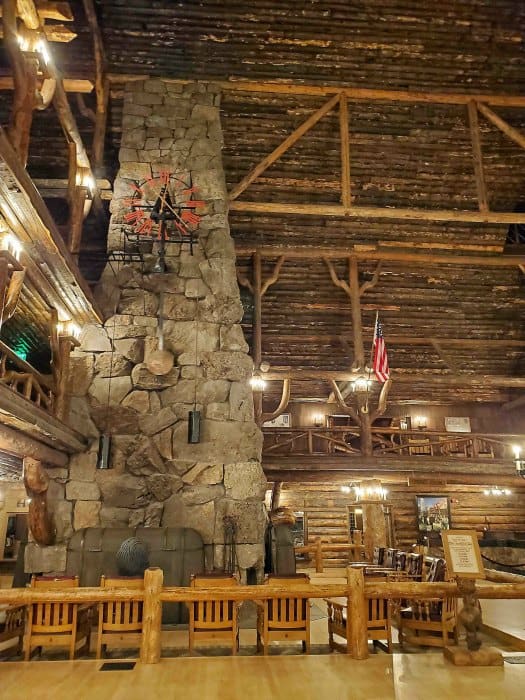 The lobby area has 76-foot tall ceilings, a huge rough stone fireplace, and overhanging balconies and railings made of gnarled logs. The clock is handcrafted with copper, wood and wrought iron.
It is honestly a bit overwhelming there is so much to see and experience quickly when you walk into the lobby area. I found myself stopping and just staring at the massive wood pillars and balconies.
Registration was a breeze to get through. I did learn that you may not want to arrive right when check-in opens. The day we arrived it was a bit rainy and cloudy and we heard from the front desk that the line stretched across the lobby and almost down the hall a couple of hours before we got there.
Arriving an hour or two after check-in started we were able to walk right up and get checked in quickly.
Old Faithful Inn has 329 guestrooms with either private (east wing and west wing) or shared baths in the Old House portion.
Standard 1 Queen Bedroom
We stayed in a standard one queen room at the Old Faithful Inn. Our room was located on the "garden level" which is on the 1st floor. One thing to always remember when staying at a historic lodge is the rooms are almost secondary to the location and the lobby area.
There were two sets of stairs down to our room on the garden level. If you have any mobility restrictions that prevent you from easily maneuvering downstairs with luggage you may want to let them know when you make your reservation.
There is an elevator but it did not go down to the garden level only to one level above us.
The room was fairly basic but the location was out of this world. The room includes a sink, dresser, small closet, queen bed, 2 nightstands, a small chair, and a private bath.
Not all of the rooms have a private bathroom, remember in the early 1900's it was common for hotels to have shared bathrooms. This is definitely something to keep an eye on while making a reservation.
Being on the garden level the room was a bit loud before other guests headed to sleep. You could hear the steam heat vents gurgling and people walking down the halls talking.
Thankfully the steam heat vents gurgling turned into white noise and we fell asleep quickly and easily. The bed is quite firm with one comforter cover on it along with four small pillows.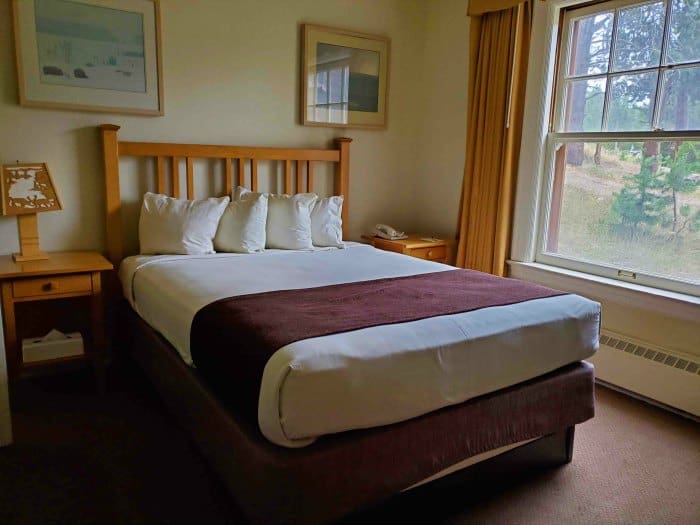 Value for Money
The cost we paid for the night – $409.36 with taxes
Location – You can't get a much better location in Yellowstone National Park. You are literally feet from one of the world's most famous landmarks. You have the opportunity to stay in the heart of the nation's first national park.
Amenities –Next to Location, this lodge is a National Park Lovers dream come true! The lodge just screams out Parkitecture and will have those into old buildings running around marveling at its grandeur! My wife will stand in the background, watch me running around admiring everything and will somehow find a complete stranger and explain to them how I am now geeking out over wavy glass and says that I will soon be talking about historic preservation treatments/guidelines and whether they have managed to preserve its original integrity. Of course, I don't mind, I find it sexy when I hear her talking like that.
I thought the teddy bear bar of soap was a bonus in your room giving it a personal touch. The room was really basic with not a lot of extra amenities included. There is shampoo, conditioner, and body wash available in the shower. A coffee maker with coffee and tea in the room.
Night Sleep – We did not have a great night's sleep at all, unfortunately. The bed is extremely firm (I have a pillowtop bed at home) and the pillows are very small. The room was loud with people walking by and talking. Keep in mind this lodge was build in 1903-04.
I would personally stay at the Old Faithful Inn Again – This is a National Park Lodge I have dreamed of staying at for as long as I can remember. The lobby and entrance to the Inn are amazing and worth visiting but you can visit this area during the day without paying over $400 a night for a room, especially if you are on a budget. If you are on a budget but still wanted to stay within the park, I would suggest you check out the Snow Lodge or one of the other hotels in Yellowstone before returning to the Old Faithful Inn.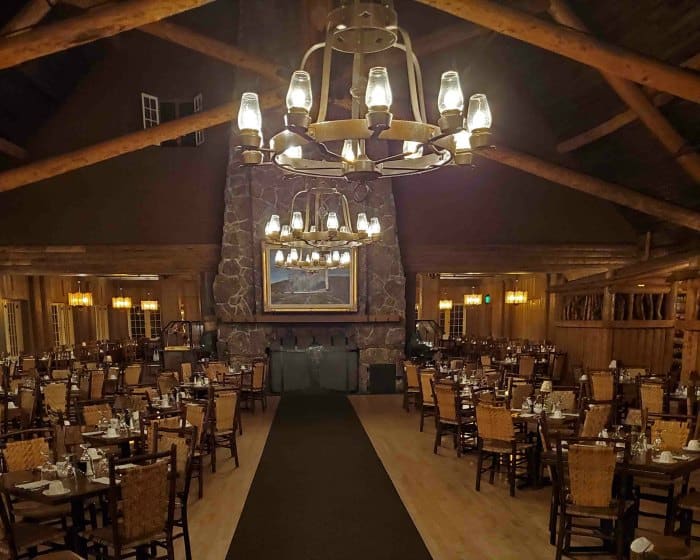 Old Faithful Inn Restaurants
There are several dining options at the Old Faithful Inn and surrounding areas. If you do not see what you like, try checking out the other park hotels/lodges near you. There is a list of the parks Hotels/lodges at the bottom of this article.
Old Faithful Inn Dining Room
The main dining room is open for breakfast, lunch, and dinner. Reservations are required for the dinner buffet. I heard from several people that the breakfast buffet was a good value for money and was a great way to start the day off.
We chose not to have dinner at the Old Faithful Inn Dining Room after reading multiple online reviews, talking with other people who have stayed there and employees onsite telling us to skip it and head to the Obsidian Room at the Snow Lodge for a better meal.
Unfortunately, we were told that the food does not live up to what you would expect for the price of the hotel. We would love to hear if you have dined here and how it was. Now, this can change from year to year, depending on the summer staff that gets hired.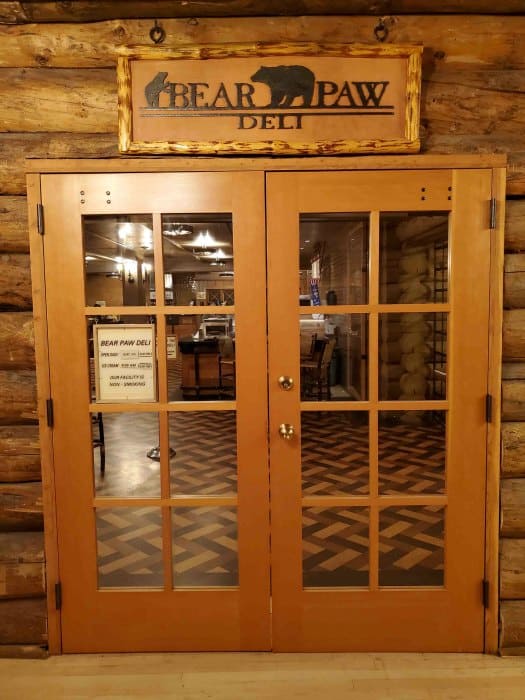 Bear Paw Deli
The deli is open for breakfast, lunch, and dinner along with serving espresso drinks.
Park Ranger John Pro Tip:
Don't miss an ice cream cone at the Bear Paw Deli with epic Big Dipper Ice Cream. Big Dipper Ice Cream can be found in Missoula, Helena, and Billings Montana as well as select Xanterra Lodges and restaurants in Glacier and Yellowstone National Park. Big Dipper has received recognition from Good Morning America to being chosen as one of America's Best by Food and Wine Magazine, USA Today, Yahoo News and Budget Travel. Don't forget to try the local favorite Huckleberry, a native fruit native to the Pacific Northwest.
Mezzanine Espresso Cart and Bar
Located on the second floor of the inn this is a great place to grab a coffee or a drink and relax in one of the chairs overlooking the main floor of the Inn.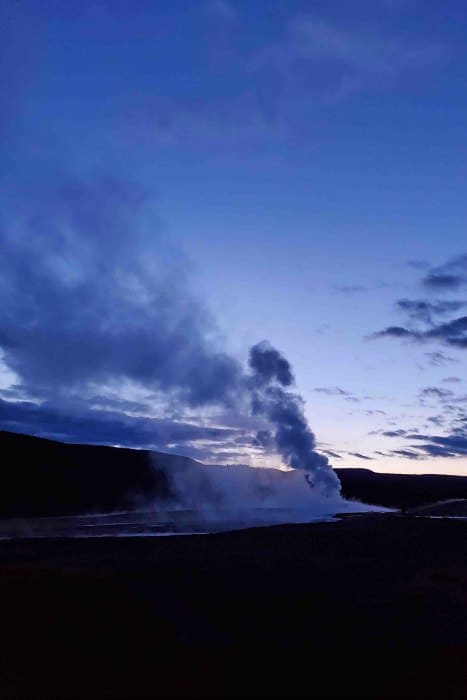 Things to know when planning a stay at the Old Faithful Inn
Location – 30 minutes from Yellowstone National Parks west entrance, 39 miles from the south entrance
Check-in time – 4:00 PM
Check out time – 11:00 AM
Wi-Fi – We did not have any Wi-Fi access in the hotel. We did hear that there is WiFi at the Snow Lodge
Cell Service – There is Verizon cell service in the area. We have T-mobile and could pull in some service in the middle of the night but it was super slow.
Beds – All rooms in the inn have queen beds
Pets – Pets are not allowed in the hotel.
Smoking – All Yellowstone guest rooms, cabins, lobbies, dining areas, and lounges are smoke-free.
Closest Airports – Jackson Hole Airport – 90 miles
Billings Logan International Airport – 220 miles
Additional Yellowstone Articles
Ultimate Yellowstone National Park Lodging and Cabins Guide- The most complete source you can find on lodging and cabin options in Yellowstone National Park
Lake Yellowstone Hotel - Room photos and video from the Lake Yellowstone Hotel. What to expect while staying at the hotel.
Mammoth Hot Springs Hotel - Room photos and video from Mammoth Hot Springs Hotel.
Yellowstone Camping Guide - Check out all of the campgrounds in Yellowstone and what to expect.
Top things to do in Yellowstone - All of the things you do not want to miss in Yellowstone during your vacation.
Yellowstone facts - fun things to know about Yellowstone!
Yellowstone Waterfalls - epic waterfalls in the park.