The Fairy Falls Hiking Trail is an epic hike in West Yellowstone with a beautiful view of the 200 foot Fairy Falls. I love this hike so much due to the fact that it is great for all skill levels of hikers and most ages.
It is a 5 mile round trip trail that is fairly flat and easy for most of the trail passing the Midway Geyser Basin. You also have an option to loop up and see the spectacular views of Grand Prismatic Spring. Be prepared to have fun and see some epic views!!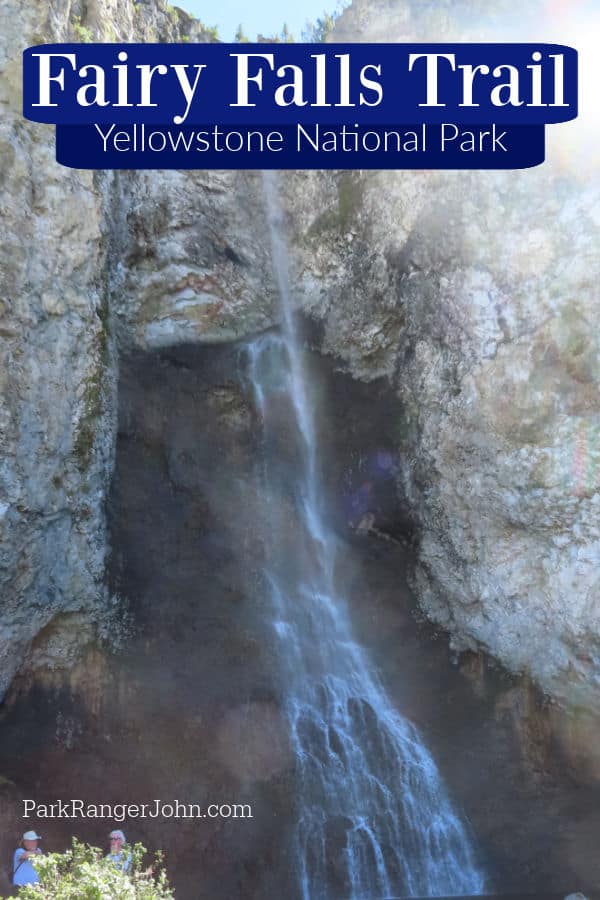 Distance: 5 miles round trip, in and out. If you add on the Grand Prismatic Overlook it adds .4 miles making this trail 5.4 miles round trip.
Elevation Gain/Loss: 228 feet
Time: 3-5 hours
Difficulty: Easy hike to Moderate. Mostly Flat. People with disabilities or health issues will find it difficult.
Restrooms: There are no restrooms at the trailhead. Plan ahead accordingly and find a restroom before you head to the trail.
Accessibility: I did see a person in a wheelchair but it did not look easy or enjoyable. The trail surface is not flat.
Pets: Pets are not allowed on this trail or any of Yellowstone's other trails or boardwalks
Fairy Falls Parking Lot: Small parking lot for the number of people. It fills up very quickly.
Check out all of the waterfalls in Yellowstone National Park!

Where is Fairy Falls Trail Head?
Entering the West Entrance of Yellowstone, you will follow the road to Madison Junction. You will then take a right at the stop sign and head south. You should pass by Fountain Flat Drive, Firehole Lake Drive, and the Grand Prismatic Spring Entrance. Then turn right at the Grand Prismatic Spring Overlook shortly after.
Coming from the North Entrance of Yellowstone you will follow the road past the Albright Visitor Center and Mammoth Hot Springs. Follow the road all the way to Norris Junction and go straight through Norris.
You should pass by Norris Geyser Basin and Artist Paintpots as you head towards Madison Junction. Take a left at Madison Junction and follow it until you pass Grand Prismatic Spring Entrance and you will see the Grand Prismatic Overlook trail. Turn there.
From Old Faithful, exit right and follow the road straight past Black Sand Basin and Biscuit Basin. You will then see the Grand Prismatic Springs Overlook/Fairy Falls Trail on your left and turn there.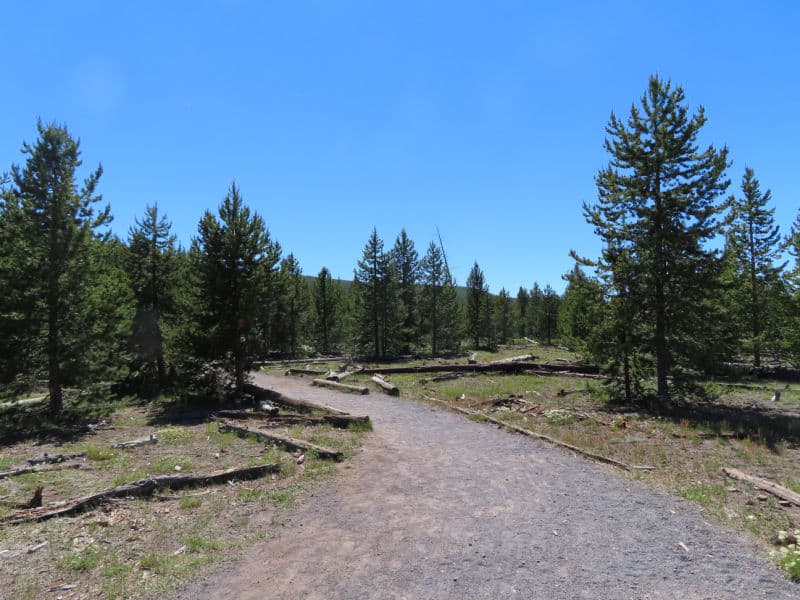 Hiking the Fairy Falls Trail
The Fairy Falls Hike starts out with the Grand Prismatic Springs Overlook Trail and will split off about 0.5 miles in. I highly encourage you to make the small loop up and down the Grand Prismatic Overlook at some point.
To continue on to Fairy Falls you will continue straight on the path past the overlook trail and head about another 0.5 miles while getting a beautiful view of the Midway Geyser Basin and the Grand Prismatic Spring.
You will then turn left at a sign that marks the Fairy Falls Trail. From here you will have 1.6 miles to the falls. You will then follow the trail through a Lodgepole Pine Forest where the trail continues to be mostly flat.
It will get a little more rugged towards the falls where you will have to navigate over and around some rocks. When you arrive it will all be worth the trip with the amazing view of Fairy Falls and the pool below.
This is a fantastic Yellowstone Day Hike!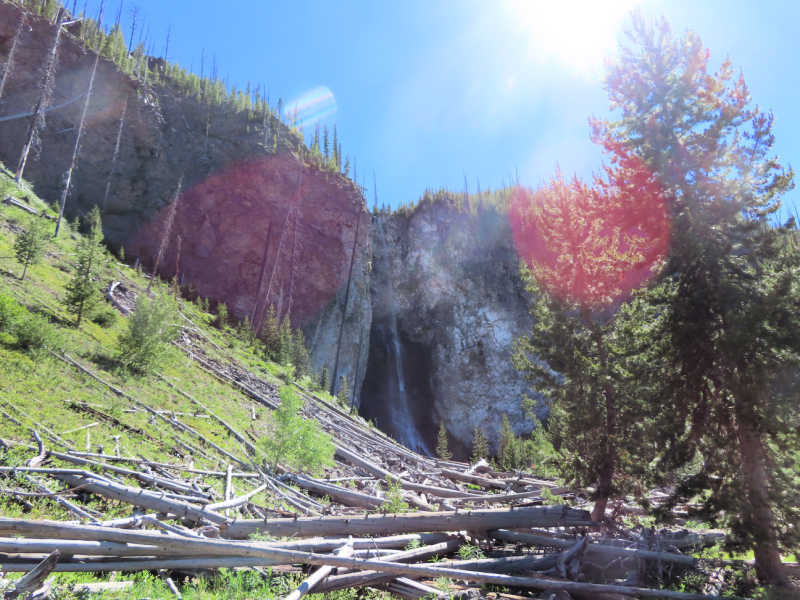 Trail Safety
Fairy Falls is a great hiking trail but you must be safe. People should consider their own health and safety when preparing for this hike. Especially people with health conditions. If you second guess your ability to complete the hike safely, then it might be best to sit this one out.
Be aware of wildlife as well. Bears are prevalent in Yellowstone so be prepared if you see one. As well as other wildlife.
The trail can be closed at times due to bear management. Typically it is closed from March 10th through the Friday of Memorial Day weekend but always check to make sure it is open at the time you plan to hike.
Be aware of weather conditions as well.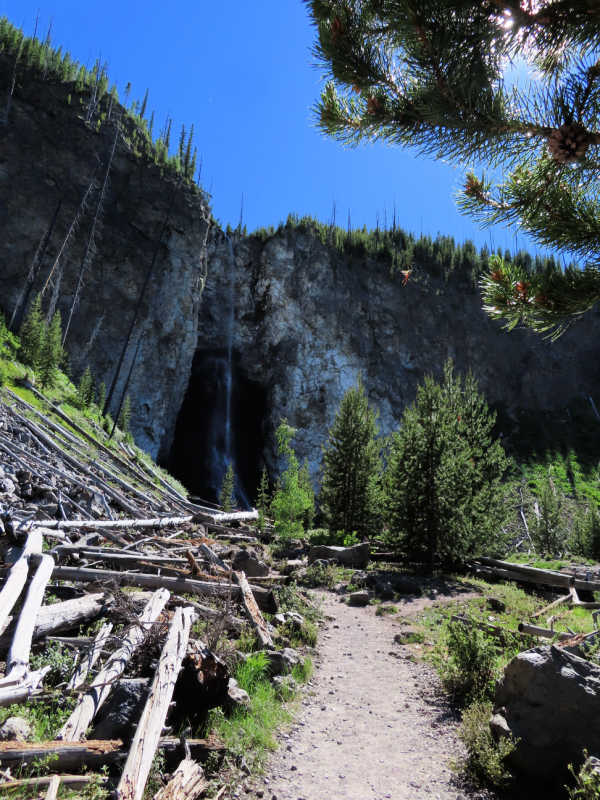 What to Bring
Water - Water is key to preventing dehydration. It gets hot while hiking and it is crucial to drink water.
Sunscreen/Hat - Make sure you are prepared for the weather and heat! The last thing you want is to get burned on your Yellowstone Vacation.
Make sure you bring the 10 essentials with you!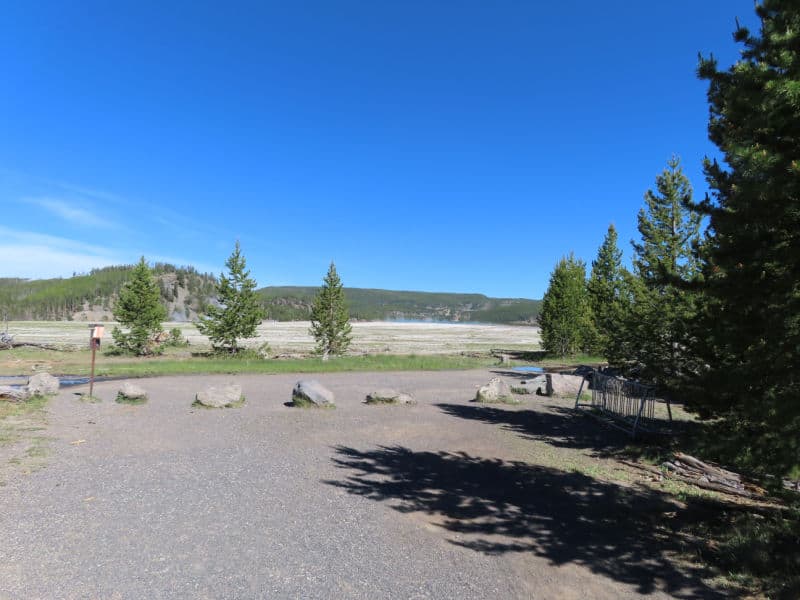 Nearby Yellowstone Attractions
Old Faithful - Old Faithful is just down the road from this trail.
Biscuit Basin - Check out Black Opal Pool and the Jewel Geyser in Biscuit Basin.
Fountain Paint Pot - Explore the Fountain Paint Pot Trail to check out the Celestine Pool, Jet Geyser, Fountain Geyser, and Clepsydra Geyser.
Firehole Canyon Drive - Check out Firehole Falls and Firehole River Swimming Area on this great scenic drive.
Black Sand Basin - This is a great short boardwalk through multiple thermal features.
Norris Geyser Basin - Norris Geyser Basin is home to some of the hottest thermal features in the park. There are two loop trails that guide you along with these thermal features.
Closest Campground - Madison Campground
Closest Yellowstone Lodging - Old Faithful Inn and Old Faithful Snow Lodge and Old Faithful Lodge Cabins
Additional Yellowstone and Grand Teton NP Resources
Yellowstone Lodging Guide -Check out all of the lodges you can stay in while visiting Yellowstone NP.
Yellowstone Camping Guide - Check out all of the campgrounds available within the park.
Things to do Yellowstone - Check out all of the top things to do in the park.
Yellowstone Facts - Learn more about the unique features of Yellowstone.
Free National Park Days - Check out all of the days the National Park Service waives park entrance fees.
National Parks in Wyoming - Check out all of the parks you can visit while in Wyoming.
Grand Teton Guide - Find out about all about this epic park.