What to expect when staying at the Old Faithful Lodge Cabins in Yellowstone National Park. These historic cabins are located near Old Faithful.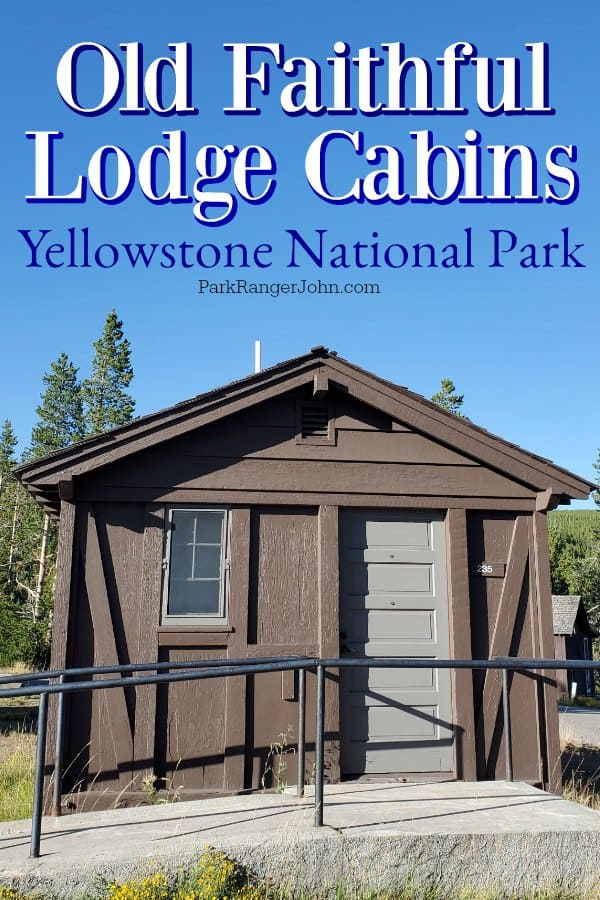 Old Faithful Lodge Cabins - Yellowstone National Park
Don't miss the epic views of Old Faithful Geyser from the lobby building. The Old Faithful Lodge is located just down from the Old Faithful Inn.
The main lodge was built in the 1920′s featuring massive logs and stone pillars. This is a great place to take a break from any inclement weather if you run into it. There is an amazing stone fireplace in the lobby.
One of the great things about the lodge cabins is being within walking distance to Old Faithful and the Visitor Center.
The Old Faithful Frontier Lodge Cabins are located in the perfect location for exploring the Old Faithful Area, Midway Geyser Basin, and Lower Geyser Basin.
The cabins are behind the lodge in two groups. One great thing about these cabins is there is parking really close to each of the cabins.
While our cabin did not have a view of Old Faithful we could easily walk to the boardwalk and watch for an eruption or walk into the main lodge building for meals or to check out the great gift shops.
Frontier Cabin 1 Double & 1 Single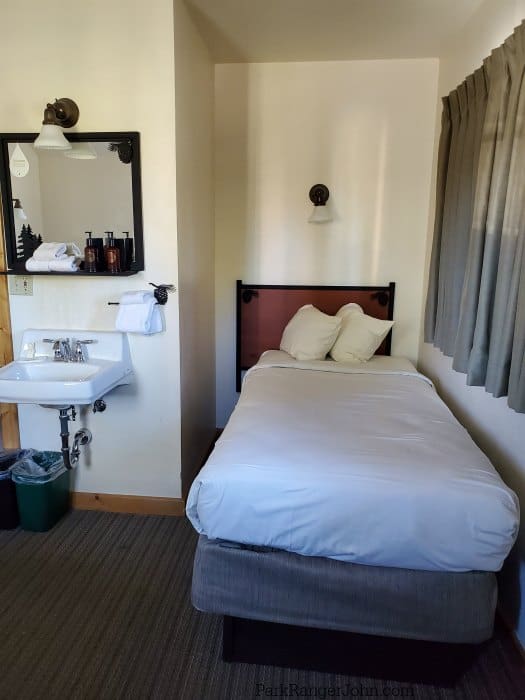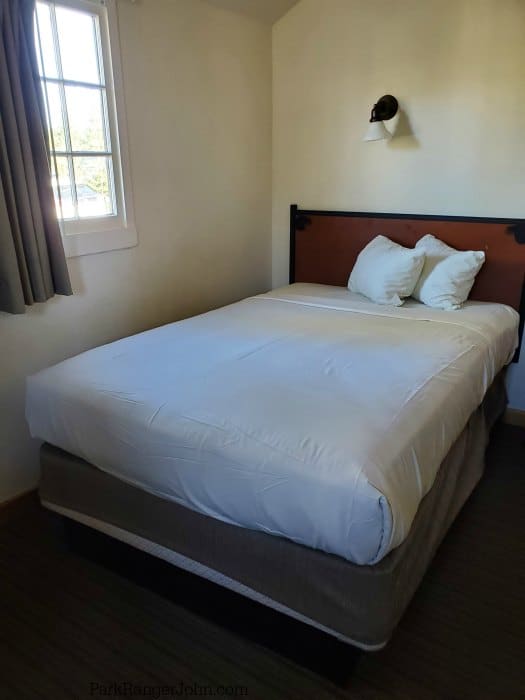 We stayed in a cabin with a full-size bed and a twin bed. I will say these cabins are not huge but they are super cute and in a great location.
The cabin had 2 beds, a sink in the main area, and a nice size desk. There was a small shelf by the door for hanging clothes and a metal fan.
The bathroom is TINY! As in you will need to straddle the toilet to close the door to get to the shower. The bathroom has basic toiletries and towels.
There was a small heater but we visited in August so we just left the windows open for fresh air and to keep the cabin cool. It was a bit chilly in the morning even in August. When we woke up it was 37 degrees out so make sure you pack a sweater or warm clothing to start the day if you plan to get up early.
I found the bed to be pretty comfortable. It was not super hard and I had a great night's sleep.
The cabin we stayed in was one of 4 cabins within the same building. We could hear people getting ready for bed and showering at night. It wasn't crazy loud but if you are a light sleeper you may want to pack earplugs.
Our cabin was along a road so we also heard cars going semi late and early in the morning. One thing about Yellowstone is there are people up and moving at all times of the day.
If you are looking for basic accommodations in a great location the Old Faithful Frontier Cabins would work great!
The Frontier Cabins come with either one double bed or one double bed and one single bed. We stayed in a cabin with 1 double bed and 1 single bed.
These cabins have private bathrooms with a shower, toilet, and sink.
There are also historic cabins that have a sink but no private bath or toilet. Toilets and communal showers are located near these cabins.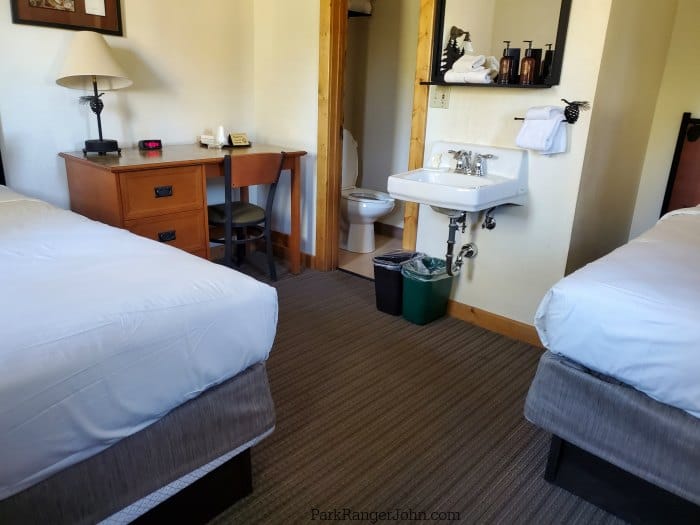 Things to know
We did have 3-4 concrete steps to reach the entrance of our cabin. It looked like some cabins have only 1 or 2 steps. If you have any mobility restrictions make sure to let the lodge know.
Check-in Time - 4 pm
Check out Time - 11 am
Park entrance fees are not included in your reservation and are payable upon arrival at the park entrance.
Accessibility - ADA rooms are available
Smoking - All rooms and facilities at Yellowstone National Park are non-smoking.
Cooking is prohibited in all accommodations.
Wifi - Wifi, Internet, and cell service in Yellowstone are limited or nonexistent. There is no Wifi Available in the Frontier Cabins.
Cell Service – Early in the morning my phone showed that I had T-Mobile service. I was able to get a few emails in but not able to check any videos or large files.
Televisions, radios, and air conditioning are not available in park lodging.
GPS Coordinates - 44.4593322, -110.8261262
Address - 725 Old Faithful Lodge Rd, Yellowstone National Park, WY 82190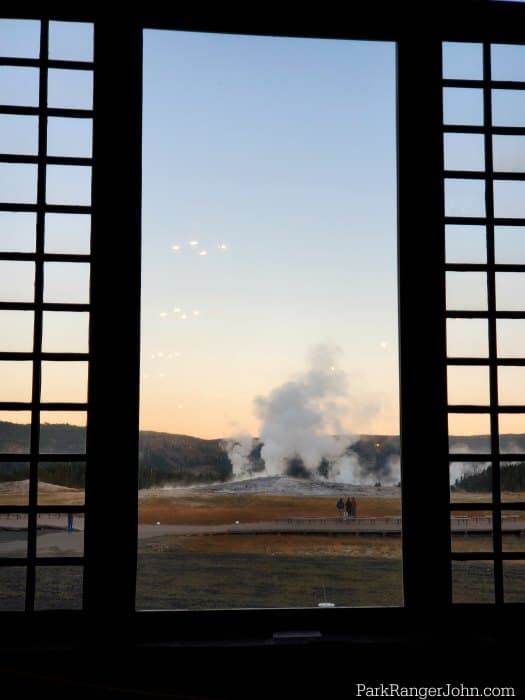 Don't miss the amazing views from inside the Old Faithful Lodge!
You can see straight out to Old Faithful while enjoying being inside the building away from any rain or cold weather.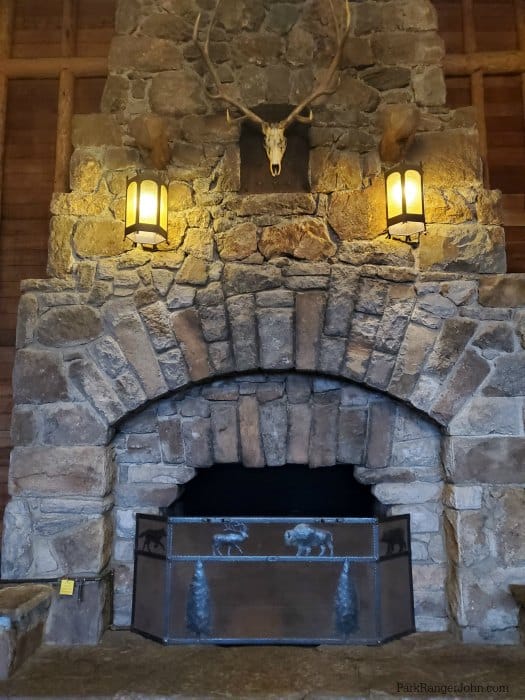 When the weather is colder you can enjoy sitting by this gorgeous stone fireplace in the Old Faithful Lodge.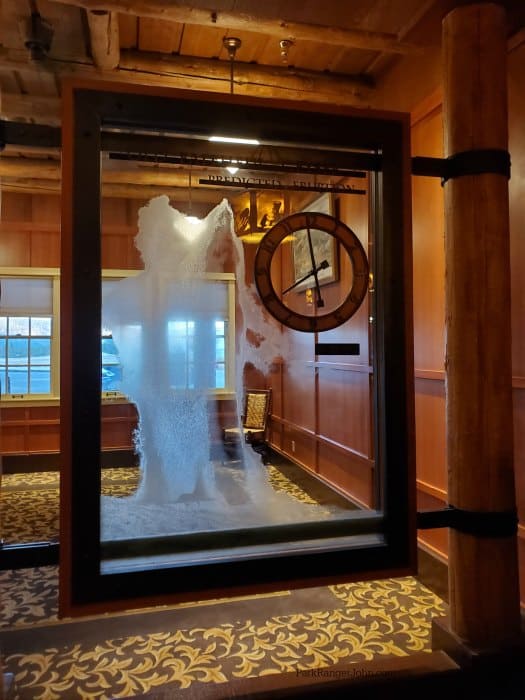 The lodge posts the upcoming Old Faithful eruption times to make it easier to know when to keep an eye out on Old Faithful Geyser.

Nearby Yellowstone Attractions
Biscuit Basin - Check out Black Opal Pool and the Jewel Geyser in Biscuit Basin.
Firehole Lake Drive - This 2-mile scenic drive includes the Great Fountain Geyer, White Dome Geyser, and Firehole Lake
Fountain Paint Pots Boardwalk Trail - Check out this half-mile boardwalk that guides you past all four types of hydrothermal in the park.
Firehole Canyon Drive - This 2-mile one-way drive travels past the 40 foot tall Firehole Falls and the Firehole River swimming area.
West Thumb Geyser Basin - West Thumb Geyer Basin is on the shores of Yellowstone Lake.
Midway Geyser Basin - Including Grand Prismatic Spring
Closest Campgrounds
Madison Campground- Is located near the Madison Junction.
Grant Campground - Is located near Grant Village.
Check out all of the Yellowstone Campgrounds to help plan your time in the park.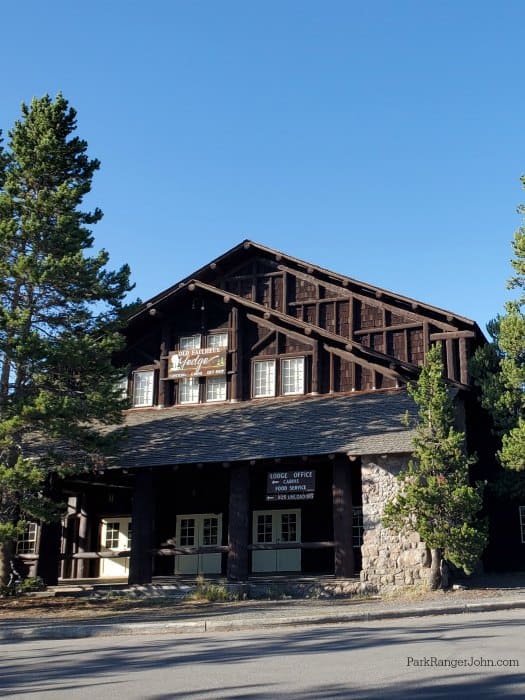 Additional Yellowstone Lodging
The Old Faithful Inn and Old Faithful Snow Lodge are near the Old Faithful Lodge Cabin making it easy to visit all the lodges
Old Faithful Lodge Cabin Map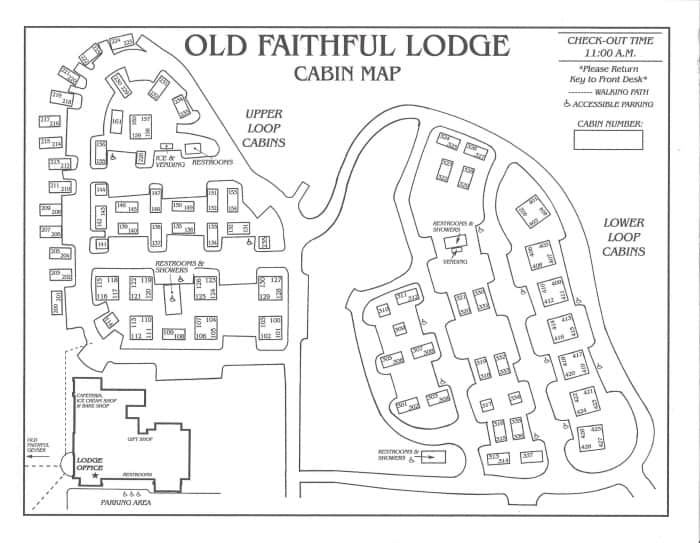 Additional Resources
Yellowstone Lodging Guide -Check out all of the lodges you can stay in while visiting Yellowstone NP.
Yellowstone Camping Guide - Check out all of the campgrounds available within the park.
Things to do Yellowstone - Check out all of the top things to do in the park.
Yellowstone Waterfalls - There are so many great waterfalls in the park.
Yellowstone Facts - Learn more about the unique features in Yellowstone.
Free National Park Days - Check out all of the days the National Park Service waives park entrance fees.
National Parks in Wyoming - Check out all of the parks you can visit while in Wyoming.
Grand Teton - Epic guide for planning an amazing visit to this park.