Biscuit Basin is a short ½ mile boardwalk trail that guides you through epic Yellowstone Hyrdrotheremal features including Jewel Geyser, Mustard Spring, Black Opal Pool, and more. This easy walk is a must-see attraction in Yellowstone.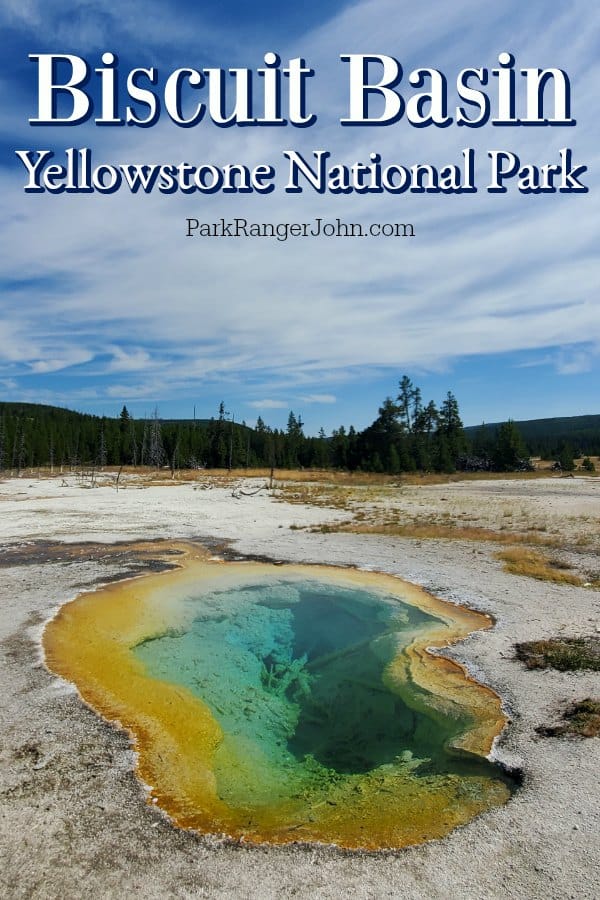 Biscuit Basin - Yellowstone National Park
Location - Upper Geyser Basin, three miles north of Old Faithful
Distance - ½ of a mile boardwalk
Biscuit Basin was named originally for the unusual biscuit-like deposits that used to be surrounding Sapphire Pool. During the 1959 Hebgen Lake Earthquake Sapphire Pool erupted and the biscuits were blown away.
Even without the biscuit-like deposits, Sapphire Pool is still amazing!
If you want to spend more time hiking you can take the extension off the Biscuit Basin Loop and head towards Mystic Falls, Observation Point, Summit Lake, and Fairy Creek Trail.
The boardwalk is an easy walk from the parking lot. There is a small hill in the beginning but once you are past that it is pretty flat. I would suggest bringing sunglasses, sunscreen, and or a hat while wandering the boardwalk.
There is no shade so it can get fairly warm on a hot summer day. It is well worth taking the time to explore this gorgeous thermal area in Yellowstone.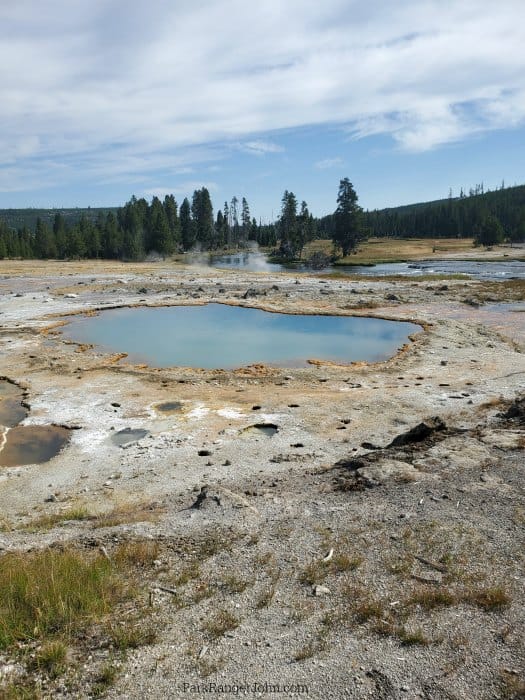 Black Opal Spring
One of the first things you see when you walk along the boardwalk is the gorgeous Black Opal Spring.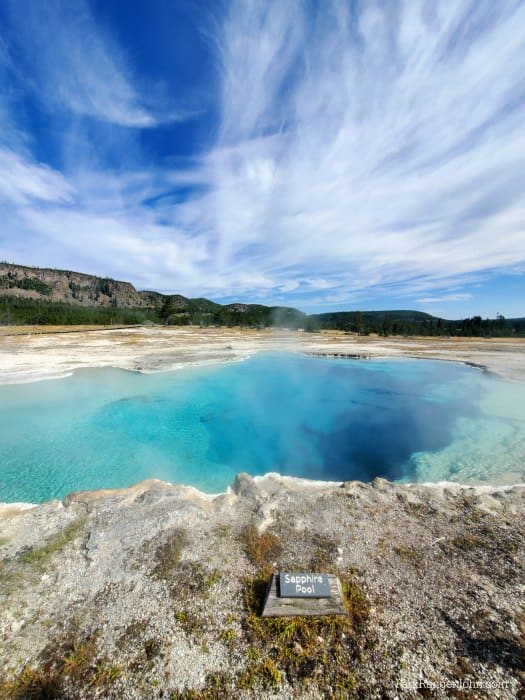 Sapphire Pool
Sapphire Pool is one of our favorite blue water pools in Yellowstone National Park. The bright blue pools are unbelievable.
It is hard to imagine that Sapphire Pool is over 200 degrees Fahrenheit.
Following the 1959 earthquake, Sapphire Pool would erupt with 150-foot eruptions. Today the pool is normally very calm with rare boiling and surges.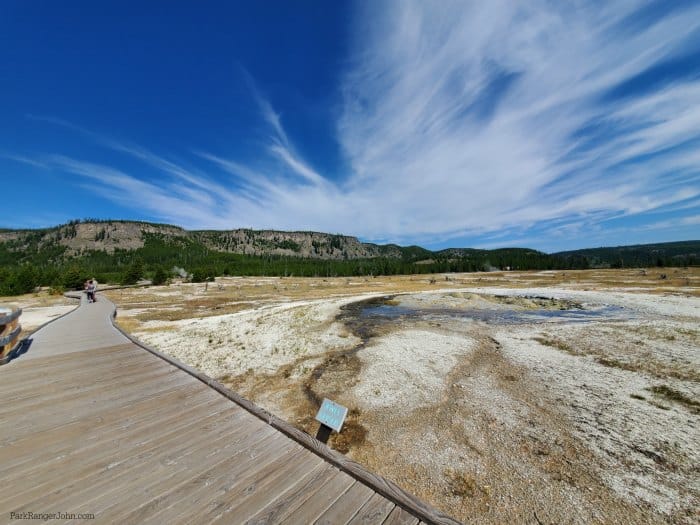 Jewel Geyser
Jewel Geyser erupts every seven to ten minutes!
You can see the eruptions from all around the Biscuit Basin boardwalk. We had to wait for just a few minutes for it to erupt and it was so worth it.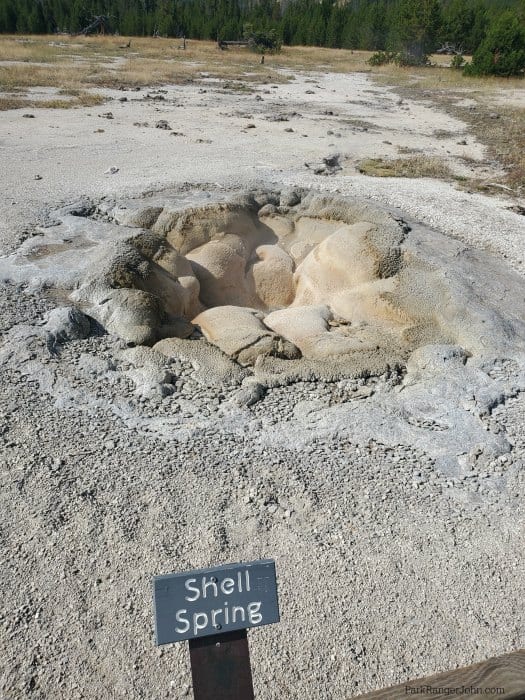 Shell Spring
Keep an eye on Shell Spring as you walk by it. You will see the water start to drain and then it starts bubbling up. For a small thermal feature, it is really fun to watch.
At times Shell Spring can erupt 5 to 8 feet high.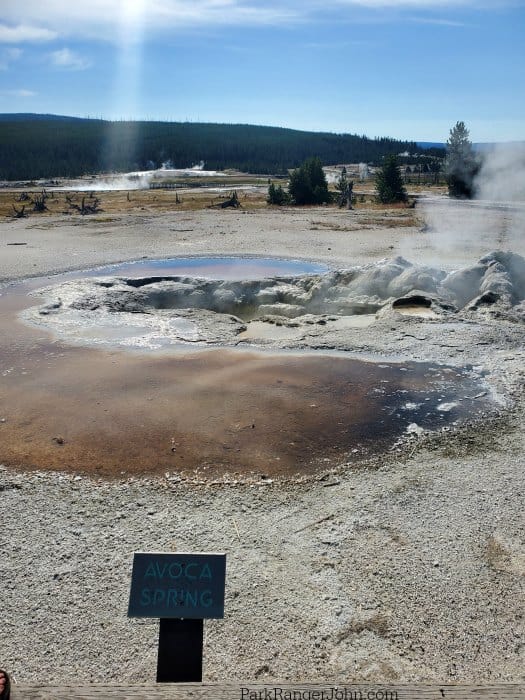 Avoca Spring
Avoca Spring hisses and steams as you walk by it on the boardwalk.
At time Avoca Spring will erupt with water going in all directions.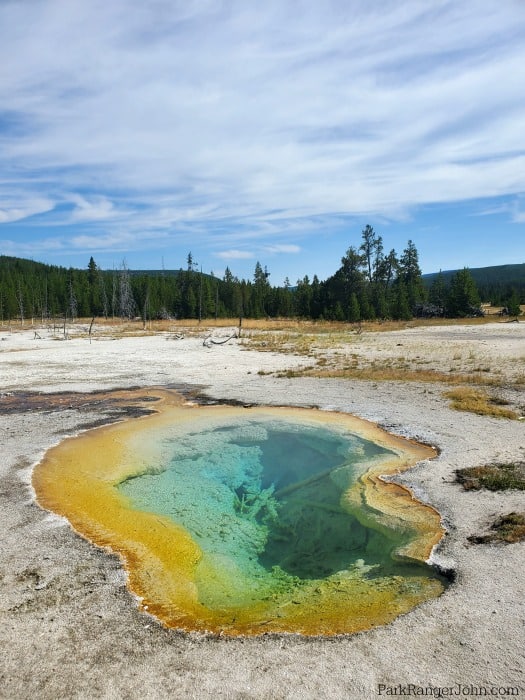 The Biscuit Basin boardwalk splits and there is a trail towards Mystic Falls which is 1.2 miles.
Just down from there the boardwalk splits is this super colorful pool. We have not been able to find a name for it but it is worth taking the side trail down a few feet to get a photo.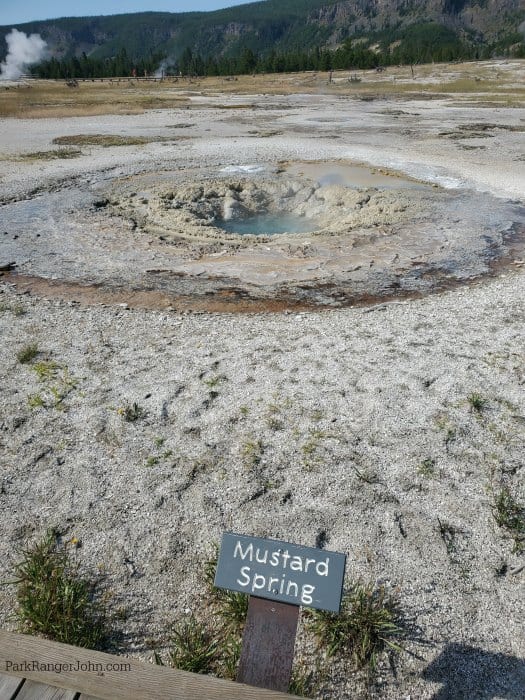 Mustard Spring
Mustard Spring temperature ranges from 172-198°F. It erupts frequently and normally for about five minutes.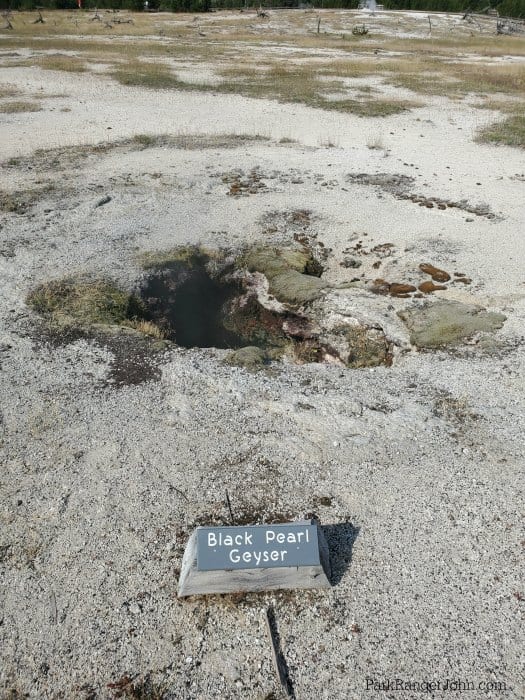 Black Pearl Geyser
We did not see this small geyser go off. So far we are still researching if it is still active.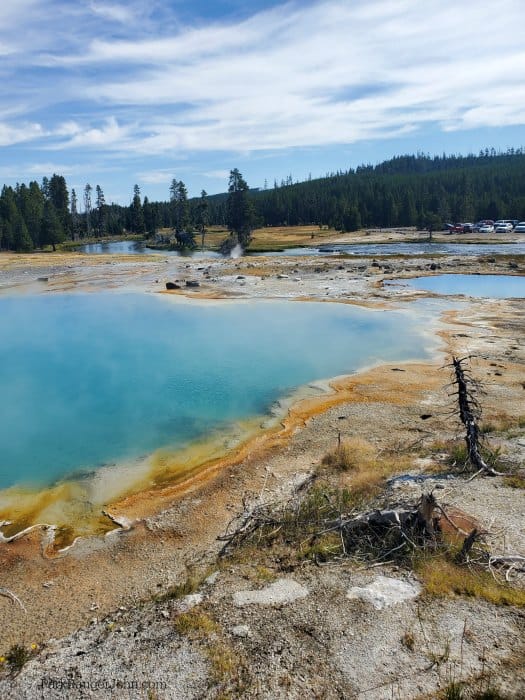 Wall Pool
Wall Pool is absolutely gorgeous! I don't know why we don't hear more about the epic hot springs and colorful pools along Biscuit Basin more often.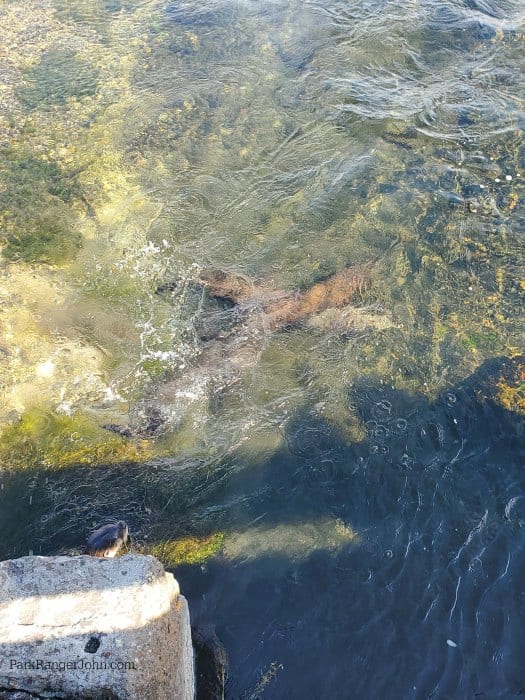 River Otters
Keep an eye out on the Firehole River for River Otters as you cross the wooden bridge heading up to Biscuit Basin.
We saw 5 or 6 River Otters playing in the water just below the bridge. I have to admit we were so surprised we jumped and squealed in joy a bit. LOL
Where is Biscuit Basin in Yellowstone?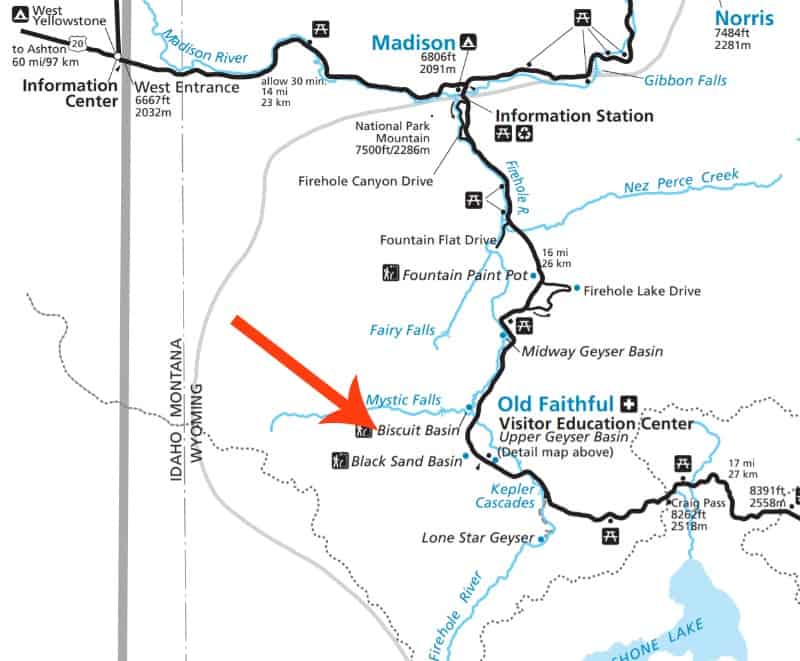 Biscuit Basin is located three miles north of Old Faithful just off of the Grand Loop Road.
It is an easy drive and there is a great loop parking lot near the trailhead that is easily accessible. I would not drive large RVs into the loop parking lot.
It could get really tight to make the turn. We saw someone trying to make it through the parking area and the entire time we were holding our breath hoping they didn't hit another car.
Nearby Yellowstone Attractions
Old Faithful - Old Faithful is just down the road from Firehole Lake Drive
Biscuit Basin - Check out Black Opal Pool and the Jewel Geyser in Biscuit Basin.
Firehole Lake Drive - This 2-mile scenic drive includes the Great Fountain Geyer, White Dome Geyser and Firehole Lake
Fountain Paint Pots Boardwalk Trail - Check out this half-mile boardwalk that guides you past all four types of hydrothermal in the park.
Fairy Falls - Fairy Falls can be seen on a 5-mile round trip hike
Check out all of the amazing Yellowstone Waterfalls you can easily see while visiting the park.
Closest Campground
Madison Campground- Located near the Madison Junction heading towards West Yellowstone.
Check out all of the Yellowstone Campgrounds to help plan your time in the park.
Closest Yellowstone Lodging
The Old Faithful Inn, Old Faithful Snow Lodge, and Old Faithful Lodge Cabins are the closest lodging options to Biscuit Basin,
Closest Visitor Center
Old Faithful Visitor Center is the closest campground to Black Sand Basin.
Additional Yellowstone Resources
Yellowstone Lodging Guide -Check out all of the lodges you can stay in while visiting Yellowstone NP.
Yellowstone Camping Guide - Check out all of the campgrounds available within the park.
Things to do Yellowstone - Check out all of the top things to do in the park.
Yellowstone Facts - Learn more about the unique features in Yellowstone.
Free National Park Days - Check out all of the days the National Park Service waives park entrance fees.
National Parks in Wyoming - Check out all of the parks you can visit while in Wyoming.
Grand Teton National Park- Find out about this epic park.