Complete Guide to Grant-Kohrs Ranch National Historic Site in Montana, including things to do, history, nearby lodging and camping, directions, and so much more.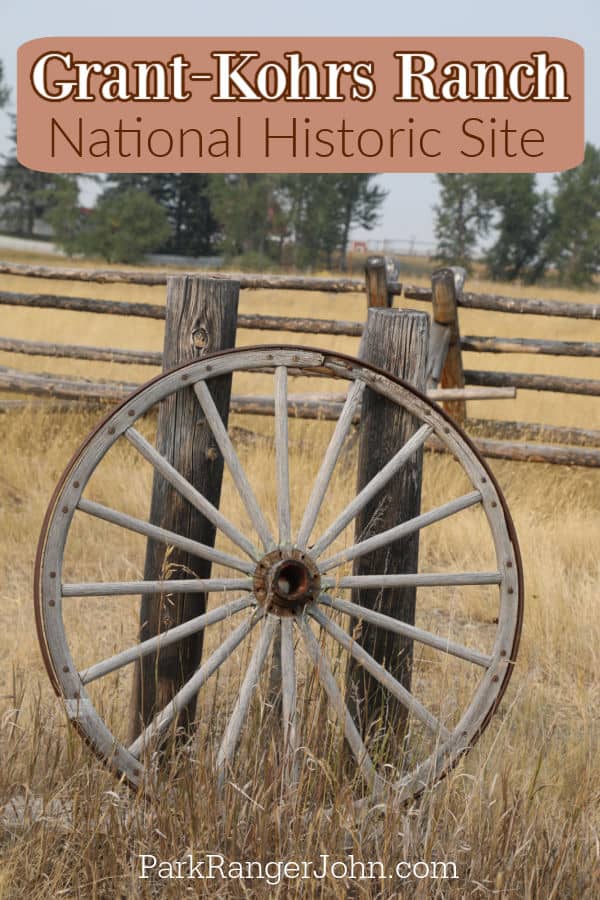 Grant-Kohrs Ranch National Historic Site
Have you ever wondered what ranch life was like in the American West of the 1800's? A visit to Grant-Kohrs Ranch National Historic Site gives you the opportunity to step back in time and see what life was like in the frontier days.
One of the cool things about Grant-Kohrs Ranch is it is still a working ranch to this day! During your visit, you can check out the historic bunkhouse, visitor center, and Thoroughbred Barns with historic wagons and buggies, along with other historical buildings.
The ranch can be bustling with activity or feel slow, depending on the day and season that you visit. Summers are busier and offer the greatest opportunity to see the ranch in action.
At times the park has a Blacksmith working, a chuck wagon, ranger walks, western movies, and more. This is a park that has a little bit of everything for guests to enjoy.
About Grant-Kohrs Ranch National Historic Site
A French-Canadian fur trader named Johnny Grant established a cattle operation in Deer Lodge Valley in Western Montana in the 1850s. Mr. Grant built a home in 1859 and then a larger home in 1862 while operating several businesses in the area.
Grant ended up selling his businesses to Conrad Kohrs after experiencing struggling in communication due to his poor English language skills and racial prejudice against his Indian wives. Conrad Kohrs grew the cattle operation to 50,000 head of cattle that grazed 10 million acres of land over four states and Canada. Kohrs became known as the Cattle King of Montana. He was a true cattle baron.
Kohrs ranch was the headquarters of a 10 million acre cattle empire that included vast herds of cattle! Today the Grant-Kohrs NHS focuses on the early cattle operations and commemorates the role of cattlemen in American history. The park includes more than 80 structures including the ranch and its original furnishings.
There is also a blacksmith shop, horse barns, cattle sheds, and outbuildings dating as far back as the 1860s.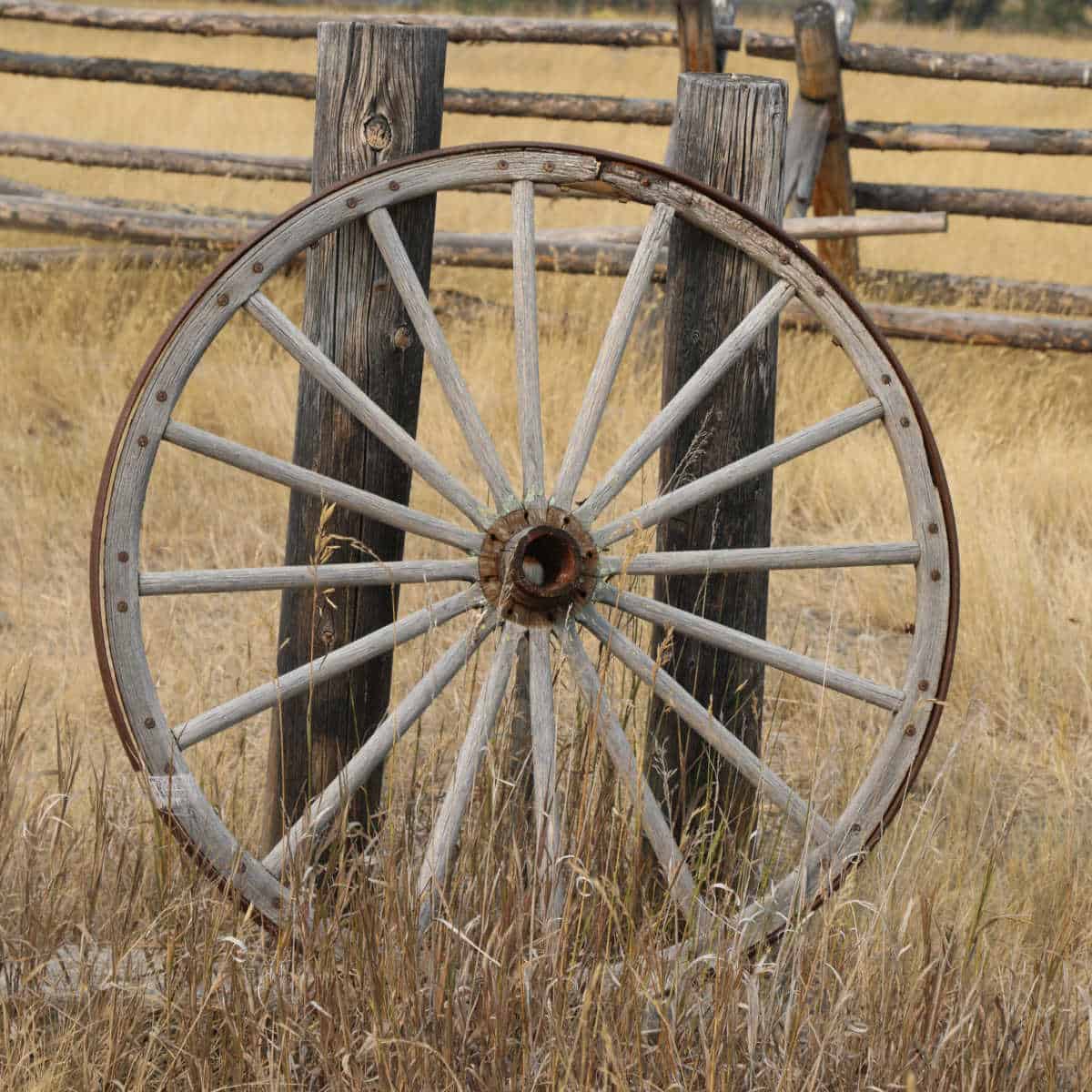 Is Grant-Kohrs Ranch National Historic Site worth visiting?
The Grant-Kohrs Ranch National Historic Site is a unique destination that offers visitors a chance to learn about the history of the American West and the cattle industry in an authentic and engaging way. It is great for families with kids, history buffs, and even nature enthusiasts.
We have enjoyed the park every time we have visited.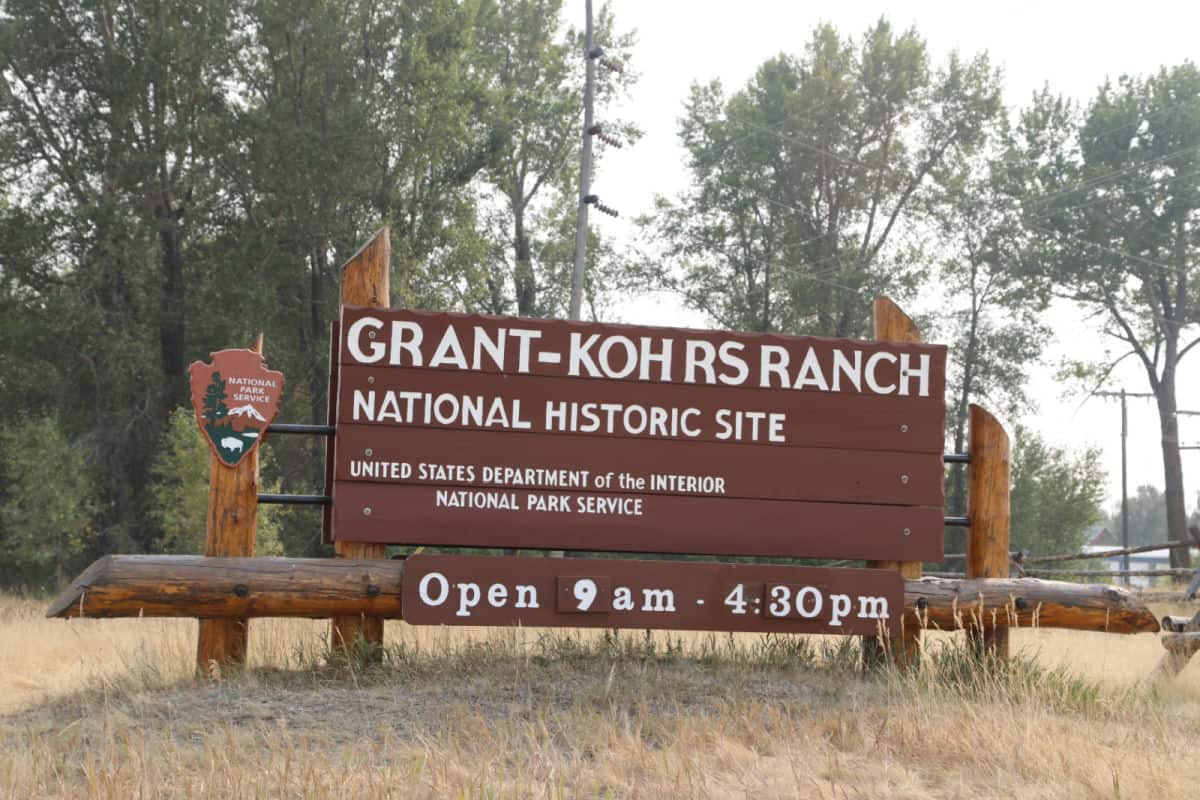 History of Grant-Kohrs Ranch National Historic Site
Grant-Kohrs Ranch National Historic Site is located near the town of Deer Lodge, Montana. The site commemorates the Western cattle industry from the mid-1800s to present day.
As early as the beginning of the 16th century, cattle were being taken from Mexico into what is now present day New Mexico, spreading east and west from there, the industry boomed in the years to come. In the 1850s, cattlemen were beginning to roam into the open ranges of Montana, as ranches to the south had been overpopulated and vegetation overgrazed.
In 1850 a man named John Francis Grant left his father's household in the Idaho territory, and set off on his own. Born in Canada, he came from a family of fur traders, but his future would involve a different venture.
In the 1850s, the Oregon Trail was lined with travelers setting out west. Grant raised cattle in the area and as travelers passed through, needing to rest their exhausted animals, Grant would trade a strong eager animal for their weary.
After resting the new animal and grazing it on abundant grass, Grant would sell the animal, now stronger, to a new emigrant passing by, making quite the profit. Grant was one of the first men to become successful at this trade tactic.
In 1859, Grant built a home in what is now the Deer Lodge Valley and grazed his then hundreds of head of cattle and horses. By 1862, he had established an impressive ranch at Cottonwood Creek.
He had also persuaded other men, mainly fur traders to settle the area, and together they established the town of Deer Lodge. The large house he built in 1862 is now the central point of the NHS. Grant lived there with his Bannock Indian wife, Quarra.
As gold strikes began taking place all over southwestern Montana, Grant utilized a trading post at his home and also added nearby a stable, saloon, blacksmith shop, and sawmill. He ran wagons between steamboats and Deer Lodge to bring people to the area.
As time went on, Grant began to see that even though he had worked hard to accommodate newcomers to the area, most newcomers were English. His French-Canadian background did not serve as a benefit and it was soon evident it was best for him to return to Canada.
In 1866, Grant sold his ranch to cattle baron Conrad Kohrs, an German immigrant who arrived in Montana during the Gold Rush. Kohrs saw a benefit in selling food to fortune seekers instead of searching for gold himself. Kohrs operated butcher shops at the mining camps and sold beef to gold miners.
After purchasing Grant's ranch, Kohrs created quite the ranching empire, people knew him as "Montana's Cattle King." As he grew his business and his property, he eventually owned 50,000 head of cattle which grazed on nearly 10 million acres of land in Montana and into Canada.
Kohrs was an innovator in cattle ranching, using beneficial methods such as fencing his ranges, utilizing space to store feed, and breeding his stock. Kohrs' half-brother, John Bielenberg, went into business with him on the ranch and mainly took care of the horse section of the ranch.
Breeding what he called "Big Circle Horses," these horses showed extreme stamina compared with others of their time. These two men dominated the cattle industry in Montana for half a century.
The simple yet majestic white home that stands in the NHS today was one of a kind in Montana when it was built.
John Grant had windows shipped from St. Louis and much of his furniture was homemade. The architectural style of the home was modeled after those built by the Hudson Bay Company in Canada.
The Grants lived in a quickly built log cabin while the main home was being built. That cabin then became the bunkhouse. The front porch was added by the Kohrs family, as was the brick addition which was constructed in 1890.
This addition leads to a dry-air basement which served as the epicenter of food storage on the ranch. The basement contained a meat and dairy cooler, a root cellar, and a milk separation facility.
A furnace and gas plant were also added by the Kohrs at this time and added the conveniences a city home would provide. It reduced the work of cutting wood for stoves and filling lamps for light.
In 1972, Congress established the ranch as a National Historic Site. Preservation of history, appreciate for the cattle industry and respect for the wildlife are the goals of the National Park Service for the site and has been at the forefront of the ranch's morals for centuries.
The history of Montana would not be complete without Mr. John Grant and Mr. Conrad Kohrs. This historic ranch with its views of Cottonwood Creek, lush pastures, and cottonwood groves began the story of cattle ranching in Montana, which today is still as strong and proud as ever.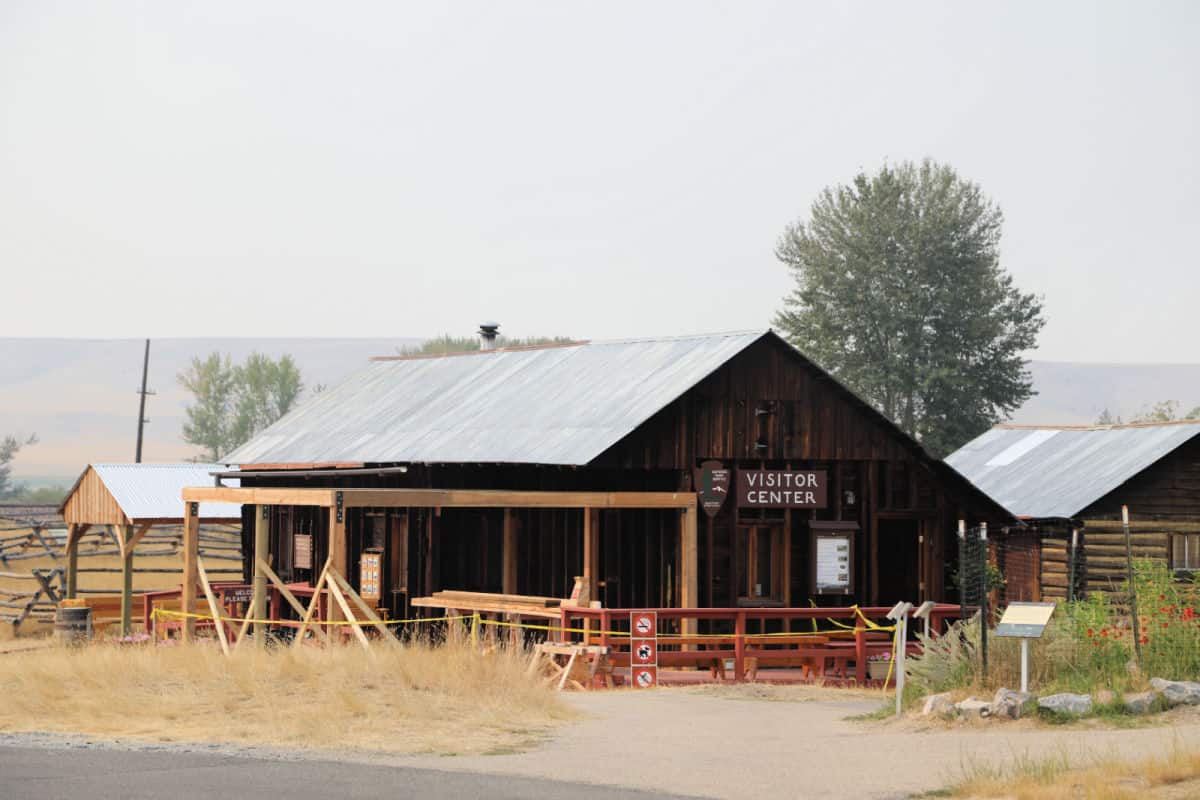 Things to know before your visit to Grant-Kohrs Ranch National Historic Site
Entrance fee
$0.00 - There is no entrance fee to visit the park.
Learn more about National Park Passes for parks that have an entrance fee.
Free Entrance Days -Mark your calendars with the five free entrance days the National Park Service offers annually.
Time Zone
Mountain Time Zone
Pets
Leashed dogs are allowed in the parking lot near the visitor center. Open air kennels are available free of charge on site. Dogs are not allowed in the ranch house or historic buildings.
Cell Service
The park has good cellular coverage.
Park Hours
The park opens from 9 AM to 4:30 PM, but closes at 5:15 PM during summer. Park is closed during Thanksgiving, Christmas, and New Year's Day.
Wi-Fi
There is no public WiFi available.
Insect Repellent
Insect repellent is always a great idea when outdoors, especially if you are around any body of water.
We use Permethrin Spray on our clothes before our park trips.
Water Bottle
Make sure to bring your own water bottle and plenty of water with you. Plastic water bottles are not sold in the park.
Parking
If you need accessible parking there is a parking area closer to the main ranch house. There is a paved path that leads to the main house from the visitor center also.
Food/Restaurants
There are no restaurants within the park.
Gas
There are no gas stations within the park.
Drones
Drones are not permitted within National Park Sites.
National Park Passport Stamps
National Park Passport stamps can be found in the visitor center.
We use the Explorer Edition Passport Book that can be expanded and updated. This is a great way to track all of the parks you have visited over time.
Make sure to bring your National Park Passport Book with you or we like to pack these circle stickers so we don't have to bring our entire book with us.
Electric Vehicle Charging
There are 5 electric vehicle charging stations within a 30 mile radius of Deer Lodge, MT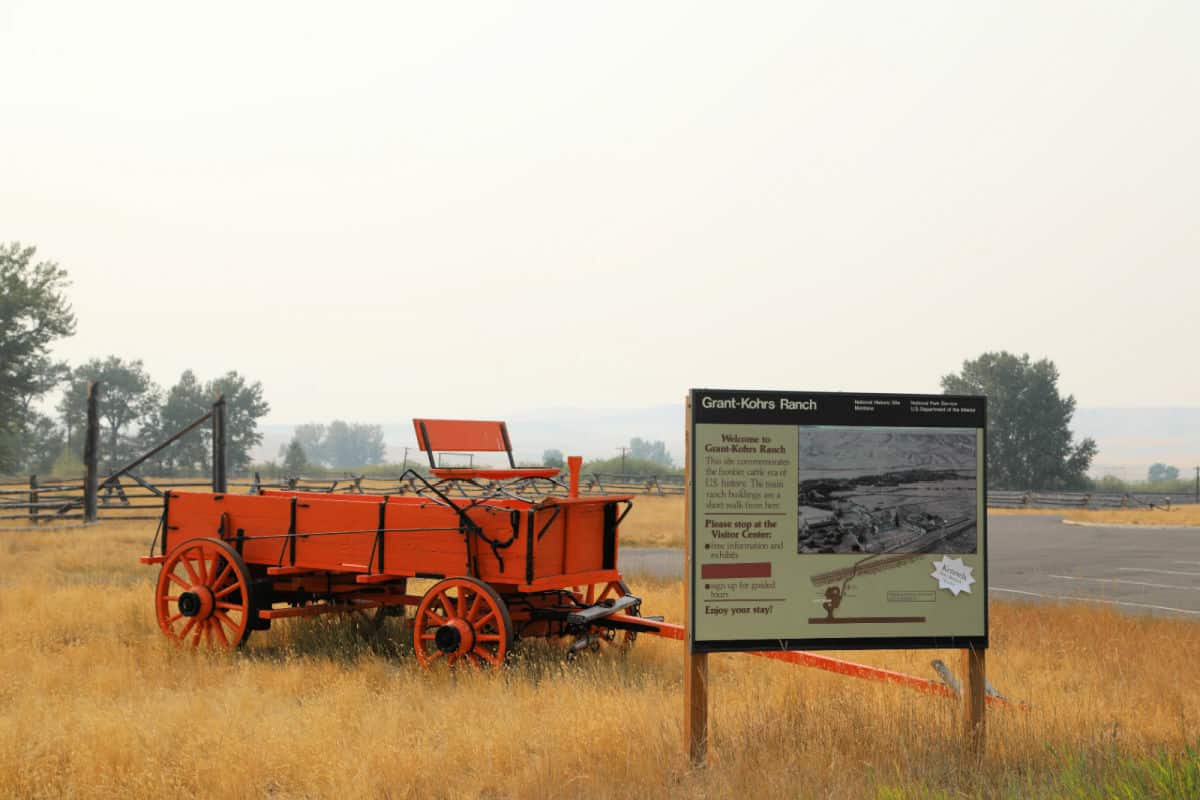 Details about Grant-Kohrs Ranch National Historic Site
Size - 1,600 acres
Check out how the park compares to other National Parks by Size.
Date Established
August 9, 1972
Visitation
In 2022, Grant-Kohrs Ranch NHS had 24,351 park visitors.
In 2021, Grant-Kohrs Ranch NHS had 24,476 park visitors.
In 2020, Grant-Kohrs Ranch NHS had 15,328 park visitors.
In 2019, Grant-Kohrs Ranch NHS had 25,043 park visitors.
Learn more about the most visited and least visited National Parks in the US
National Park Address
266 Warren Lane, Deer Lodge, MT 59722
United States
National Park Map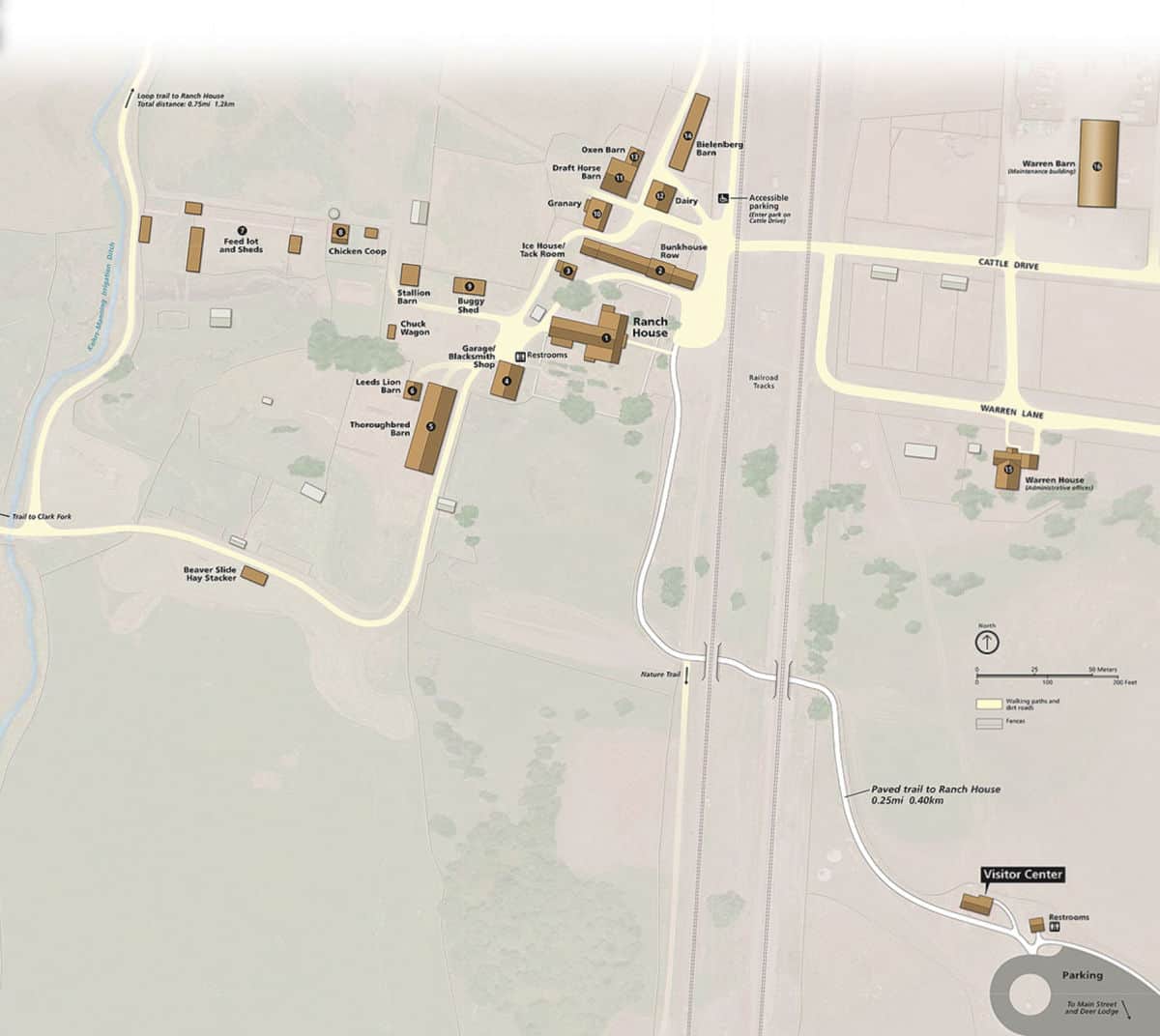 Where is Grant-Kohrs Ranch National Historic Site?
Grant-Kohrs Ranch is located directly off I-90 midway between Yellowstone NP and Glacier NP in Deer Lodge, Montana. Grant Kohrs Ranch is ½ mile from exit 184.
The ranch can also be accessed from exit 187. After a short 2 mile drive through the city of Deer Lodge you will see Grant-Kohrs Ranch located at the north end of town.
Estimated distance from major cities nearby
Missoula, MT - 80 miles
Spokane, WA - 277 miles
Butte, MT - 38 miles
Boise, ID - 450 miles
Seattle, WA - 555 miles
Portland, OR - 630 miles
Reno, NV - 850 miles
Estimated Distance from nearby National Park
Glacier National Park - 205 miles
Yellowstone National Park - 200 miles
Grand Teton National Park - 310 miles
Theodore Roosevelt National Park - 540 miles
Badlands National Park - 640 miles
Wind Cave National Park - 625 miles
Where is the National Park Visitor Center?
Grant-Kohrs Ranch NHS is located Western Montana, approximately mid-distance between Yellowstone and Glacier along Interstate 90, on the Northwest edge of the town of Deer Lodge.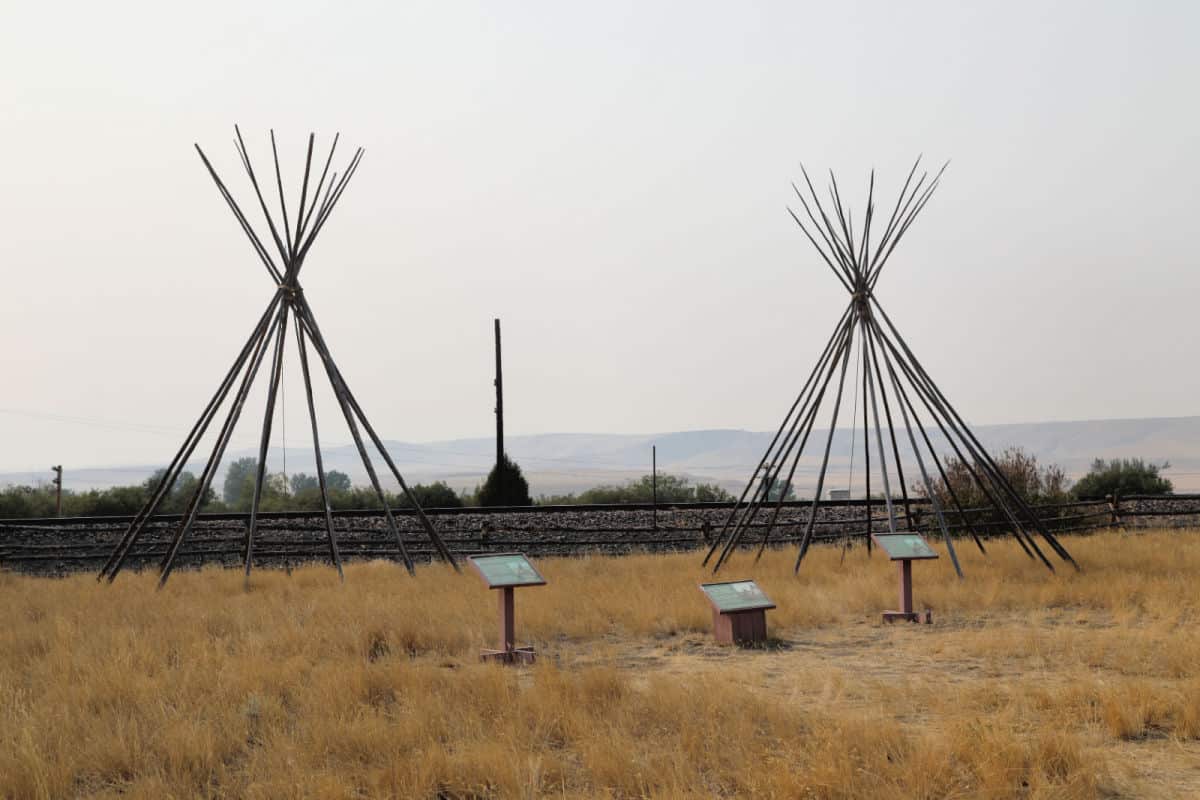 Getting to Grant-Kohrs Ranch National Historic Site
Closest Airports
Bert Mooney Airport (BTM)
Helena Regional Airport (HLN)
International Airports
Missoula International Airport (MSO)
Bozeman Yellowstone International Airport (BZN)
Great Falls International Airport (GTF)
Driving Directions
Arriving from the east: Take Interstate 90, exit 187. Drive through town, approximately 2.5 miles. Turn left onto Grant Circle and enter the park. Arriving from the west: Take Interstate 90, exit 184. Turn right. Drive approximately ¾ of a mile. Turn right on to Grant Circle and enter the park.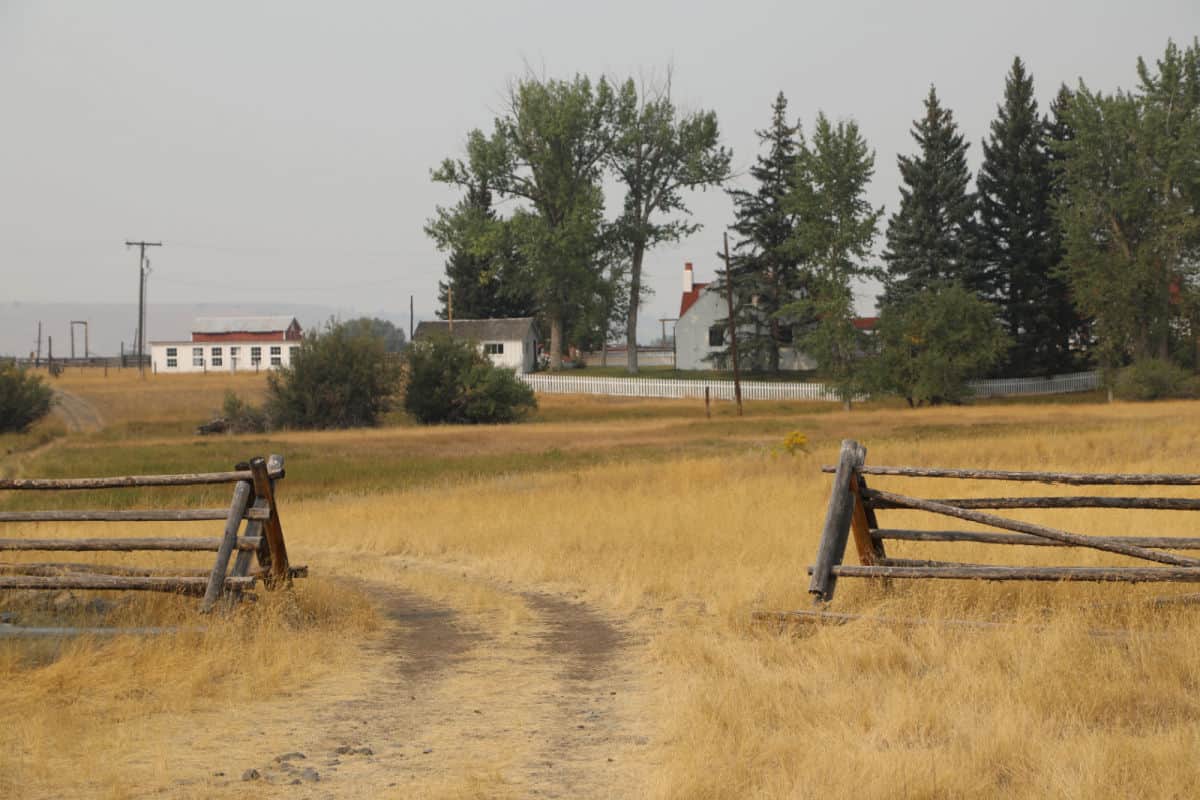 Best time to visit Grant-Kohrs Ranch National Historic Site
The best time to visit Grant-Kohrs Ranch National Historic Site would depend on what you would like to see or do while you're there.
Generally speaking, the summer months of June through August are the most popular time to visit the site, as the weather is warm and sunny, and the ranch is in full operation with tours and activities.
Weather and Seasons
The warmest weather is from June 18th to September 11th, when the average daily high temperature is above 72 degrees.
The coldest weather is from November 16th to February 27th, when the average daily high temperature is below 40 degrees.
The snowiest weather is from October 29th to April 24th, with a snowfall of at least 1 inch a month. December gets the most snow, with an average of 2.9 inches.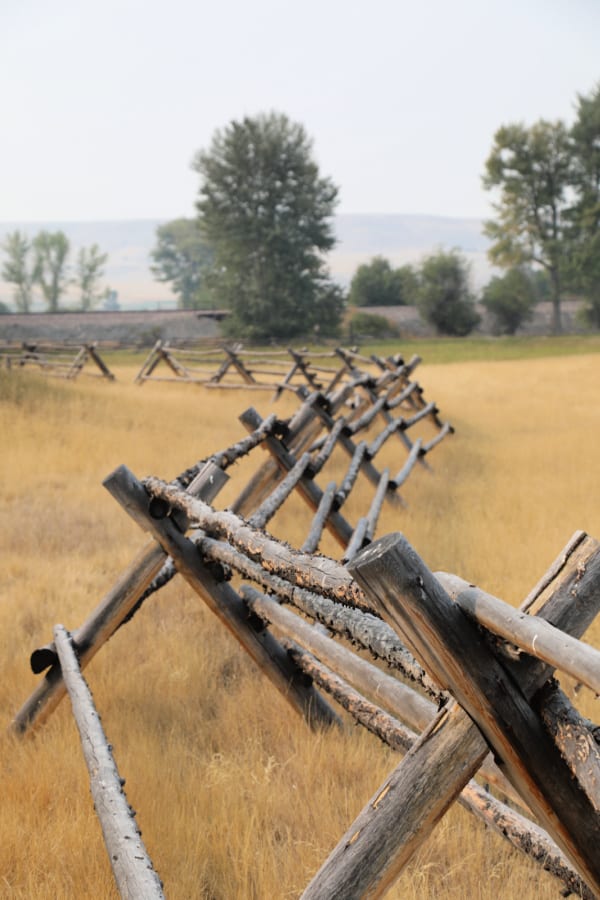 Best Things to do in Grant-Kohrs Ranch National Historic Site
One of the best things about Grant-Kohrs Ranch NHS is the wide open spaces and stepping back into the American West.
You can see a hard-working cowboy on a working cattle ranch, enjoy tours of the main ranch house, learn about the history of cattle ranching, and cowboy culture.
Who would have thought the National Park System would include a working cattle ranch.
Self Guide Tour of Historic Buildings
Pick up a park brochure and explore the parks historic buildings including the Bunkhouse, Draft Horse Barn, horse-drawn vehicles in the Thoroughbred Barn, and so much more!
The Junior Ranger program can be picked up at the visitor center. This is a great way to learn more about the park for all ages.
Ranger Programs
During the summer the park offers amazing ranger programs including living history demonstrations in the 1930s blacksmith and repair shop along with Chuckwagon Talks.
The chuckwagon talk includes a cup of cowboy coffee by the fire while learning about how cowboys lived on roundups and trail rides.
Cowboy Talks invite you learn about the real cowboy of the open range.
The museum collection tour gives you the opportunity to join a ranger for a behind the scenes tour of the ranch's climate controlled museum storage facility and learn how the National Park Service preserves the thousands of artifacts and documents that are not able to be on public display.
An evening at the ranch gives you the opportunity to enjoy a gorgeous summer evening on the ranch. Activities can include a campfire, walk on the wild side, or other ranger programs.
Ranger and a Movie is a rare opportunity to enjoy an outdoor movie at the ranch. Please bring a lawn chair or blanket. To enjoy the ranch comfortably in the twilight hours, the park highly recommends you bring mosquito repellent, a jacket, and a water bottle.
See the calendar for ranger programs and special events in the park.
Guided Tours
Guided tours are offered during different times of the year. Check out this page on the National Park Service website to see the current tour options.
I would love to do the Cowboy Experience tour that is offered during the summer. Reservations are required at least a week in advance for this three-hour tour. The tour takes you out in the ranch to experience life as a cowboy. You get to tour the ranch in a horse-drawn wagon.
On Mondays, the park offers both a Collections Tour that visit the more than 35,000 historic items that are from the house at the ranch. Most of these items you can only see during this tour.
Also on Mondays in the summer you can take a Wagon Tour of the ranch. These tours are offered to start in June and run until August or September depending on the tour.
There is also ranger-led chuckwagon programs, cowboy, and blacksmith talks that teach you about what it was like to do these jobs on the ranch.
Ranch House Tours
Tours are also offered of the ranch house! Make sure and sign up for the tour at the visitor center when you arrive.
Ranch House Tours haveTickets Required
Tickets are free and available at the visitor center on the day of your visit.
Tours are offerred daily at 9:15 am, 10:00 am, 11:00 am, 1:30 pm, 2:30 pm, 3:30 pm, 4:30 pm.
Tours are limited to 10 people and fill quickly in the summer months, so please allow time in advance.
Please arrive at the Visitor Center at least 15 minutes before the tour to allow time to walk to the ranch house.
The last house tour each day begins at 4:30 PM MST.
Wagon Tour
Offered Monday afternoons from 1:00 pm - 3:30 pm, June 13th and July 11th through August 29th. No tickets or reservations are required.
The wagon tours take you out on the open range to see the working ranch and open-range cattle.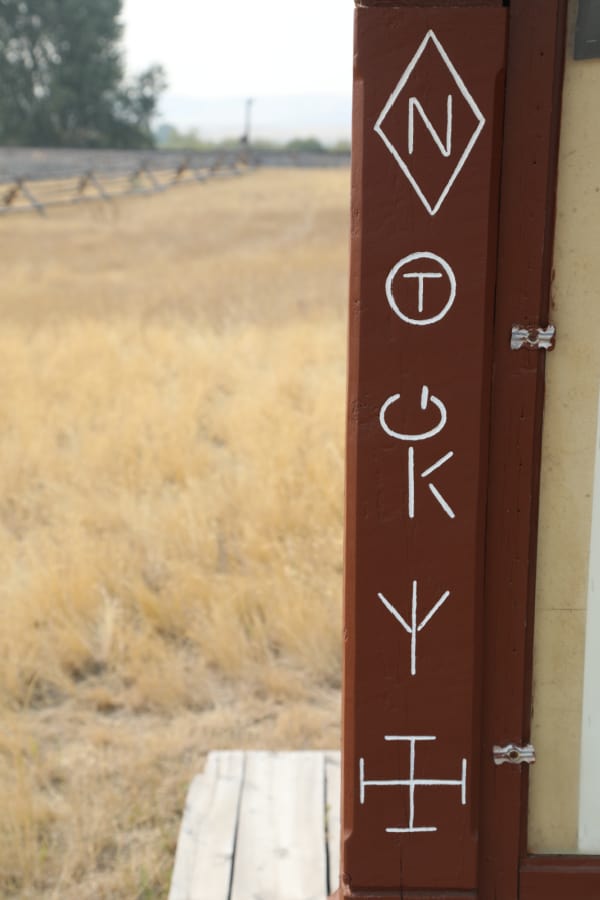 Hiking in Grant-Kohrs Ranch National Historic Site
Always carry the 10 essentials for outdoor survival when exploring.
If you are not at the ranch during tour times don't worry! There are multiple walking trails around the ranch that give you the chance to explore the area.
There are more than seven miles of walking trails including a nature trail that follows Cottonwood Creek to the Clark Fork River. There are also trails that lead to the far pastures for a view of the cattle.
How to beat the crowds
We have not experienced any crowds during our visits to the park. You may get a few more crowds for special events or ranger programs.
Where to stay when visiting
There are no National Park Lodges within the park.
Nearby Lodging includes:
Old Montana Inn - Old Montana Inn provides everything you need. Guests can connect to free in-room Wi-Fi.
The Forge Hotel, BW Signature Collection - look forward to a grocery/convenience store, a firepit, and laundry facilities. For some rest and relaxation, visit the hot tub. In addition to an outdoor entertainment area and a bar, guests can connect to free in-room Wi-Fi.
Hickory House Inn - 3-star bed & breakfast adjacent to a golf course, Look forward to free full breakfast, 18 holes of golf, and a free manager's reception at Hickory House Inn. Tee up with amenities like a golf clubhouse at this bed & breakfast. In addition to a terrace and a garden, guests can connect to free in-room Wi-Fi.
Fairmont Hot Springs Resort - 3.5-star family-friendly resort, enjoy 18 holes of golf, a roundtrip airport shuttle, and a poolside bar at Fairmont Hot Springs Resort. Get out on the links at this resort and enjoy amenities such as golf lessons. Treat yourself to a body treatment, a facial, or a Swedish massage at the onsite spa. Enjoy American cuisine and more at the two onsite restaurants. Enjoy the gym, as well as activities like basketball and volleyball. In-room Wi-Fi (surcharge), with speed of 500+ Mbps (good for 6+ people or 10+ devices), is available to all guests, along with a terrace and mini golf.
Click on the map below to see current vacation rentals and lodges near the park.


Camping
There are no National Park Campgrounds within the park.
For a fun adventure check out Escape Campervans. These campervans have built in beds, kitchen area with refrigerators, and more. You can have them fully set up with kitchen supplies, bedding, and other fun extras. They are painted with epic designs you can't miss!
Escape Campervans has offices in Vancouver, Seattle, Portland, San Francisco, Las Vegas, Los Angeles, Phoenix, Salt Lake City, Denver, Chicago, New York, and Orlando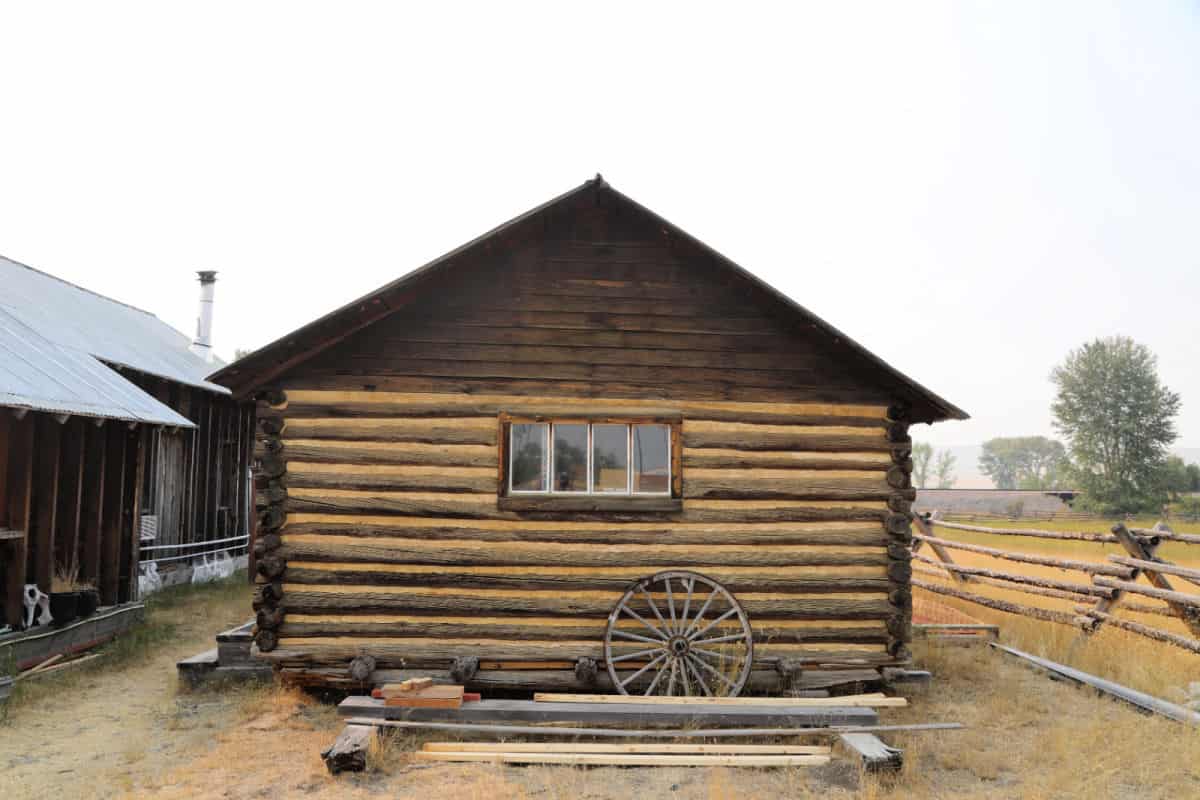 Parks Near Grant-Kohrs Ranch National Historic Site
Little Bighorn Battlefield National Monument
Fort Union Trading Post National Historic Site
Nez Perce National Historical Park
Lewis & Clark National Historic Trail
Bighorn Canyon National Recreation Area
Nez Perce National Historical Park
Check out all of the National Parks in Montana along with neighboring National Parks in Idaho, National Parks in North Dakota, South Dakota National Parks, and Wyoming National Parks