Little Bighorn Battlefield National Monument shares the story of the US Army's 7th Cavalry and the Lakota's and Cheyenne's who fought in one of the last armed efforts to preserve the Indian way of life.
Also known as Custer's Last Stand this battle occurred June 25 and 26, 1876.

Little Bighorn Battlefield National Monument
About Little Bighorn Battlefield National Monument
History riding on the wind, tears that sting your very soul. Little Bighorn Battlefield National Monument is where the Plains Tribes fought their last major battle and won.
Three diverse groups joined together that day. Cheyenne, Lakota, and Arapahoe led into battle by such esteemed strategists as Crazy Horse and under the spiritual and tactical hand of Sitting Bull himself.
This is where former General now Lt. Col George A Custer and 262 other US Army Cavalry soldiers met their demise.
The park is located about 65 miles from Billings, Montana on Interstate 90. Camping or lodging in the area is limited and reservations should be made in advance. There are some cool events and dramatic sites not far away.
This windswept graveyard is a place where many small nations, notwithstanding their victory, were very nearly destroyed in order to become one nation.
This is a piece of American history that all Americans need to know in order to complete the quilt that makes us one great nation.
Rangers give lectures on several aspects of the Battle, geography of the location, and the history of the site several times each day during the summer months.
Montana can be treacherous during the winter making this most likely a summer trip.
Is Little Bighorn Battlefield National Monument worth visiting?
Yes, This park is one everyone should visit.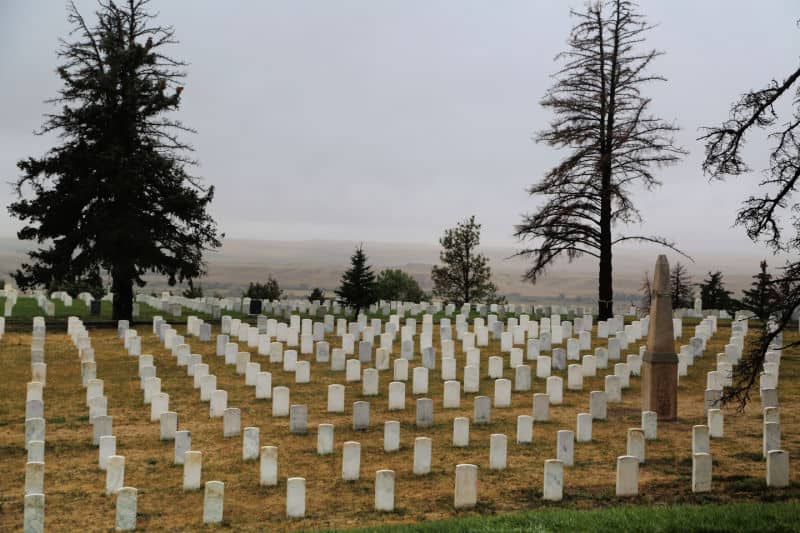 History of Little Bighorn Battlefield
Today, Crow Agency is a census-designated area in Big Horn County, Montana, about 60 miles east of Billings.
Six miles south of the town sits the sight of one of the most infamous interactions between the U.S. Government and Native Americans – Little Bighorn Battlefield National Monument.
In the late 19th century, America was growing and settlers were eager to venture west and discover for themselves what Lewis and Clark had already mapped out – land.
Wide-open prairies, rivers aplenty, and ground for homes and farming. Stating that tensions between eager settlers and Native Americans were rising would be an understatement. Many tribe members were ultimately forced or persuaded to move onto designation reservations.
Other Native Americans resisted being forced off their native lands, some were willing to fight to the death to preserve it.
Two great leaders of the Sioux tribes, Crazy Horse and Sitting Bull strongly resisted the government's actions to force their people onto reservations.
Gold was discovered in the Black Hills of South Dakota in 1875, and settlers swarmed the area by the thousands, thus ignoring treaty agreements the government had with the Sioux people.
Anger rising, many Sioux and Cheyenne tribe members left their reservations and joined Crazy Horse and Sitting Bull in Montana. For over a century, Sioux, Crow, and Cheyenne tribes had fought against each other to control the land of the Black Hills.
Crazy Horse was a fearless warrior in the Lakota (Sioux) tribe and had a premonition as a teenager that he would never be harmed by an arrow or a bullet when fighting in battle.
As a teenager, Sitting Bull showed amazing bravery during a raid on a Crow tribe. His father gave him his own name, Buffalo Who Sits Down, to his son and held a ceremony for his son's passage into the Lakota warrior tribe. Americans later came to call him "Sitting Bull."
In the late 19th century, tribes would now need to be united to keep land that they held sacred from the U.S. government. By spring of 1876, 10,000 Native Americans had converged at a camp along the Little Bighorn River.
The war department had threatened to attack if the natives did not return to their reservations. Sometime in June, U.S. troops lined up three columns near the Big Horn River and the camp of natives. 1,200 of those natives held back one of those columns on June 17th.
In a decision that would make the following days a monumental event in history, General George Custer of the 7th Calvary decided to press on towards the camp instead of scouting the area and waiting for reinforcements as he was instructed.
Born in Ohio, Lt Col George Armstrong Custer distinguished himself in the American Civil War. In 1866, Custer and his Calvary were sent to Kansas as part of a regiment sent to intimidate and awe the natives with their military artillery and power.
After the gold rush sparked in the Dakota Territory, Custer's Calvary marched west in May of 1876 as part of the enforcement of natives who were deemed "hostile" because they would not retreat to reservations.
The plan that fateful day in June 1876, was for Custer to strike the Sioux and Cheyenne camp from the south, pushing the group to a blocking force upstream of the river. General Alfred Terry and his men would be there waiting.
Custer instead split his Calvary into three groups, sending one straight into the camp, one around to the south, and one around to the north. At Noon on June 25th, he set his orders into action.
His decisions proved tragic for his men, as in this position, the Calvary was too far spread apart to support one another in a battle the Sioux and Cheyenne were prepared for.
Rather than taking flight, the Sioux and Cheyenne were ready to defend their land or die trying. Army intelligence was under the impression that Sitting Bull's army was approximately 800 strong, but in fact, nearly 2,000 Sioux and Cheyenne were waiting for Custer as he attacked head-on.
Many natives were armed with rifles and were determined to defend their women and children.
Native American accounts of the battle credit the courageous actions of Crazy Horse and other leaders for their tactical knowledge as well. Surrounded by the Native Americans, all 210 of the soldiers who followed Custer to the northern edge of the village were killed.
That is really all that is known for sure. The small hill on the edge of the village that has since been called "Custer's Last Stand" has been studied over the years for clues such as bullets, arrowheads, bones, etc. to try and decipher exactly what battle movements took place in that spot.
Even with Native American eyewitness accounts and studies conducted, we will likely never know exactly what "Custer's Last Stand" looked like.
Custer's two remaining groups, which had attacked the other end of the valley, were engaged in an extended battle that lasted until nighttime on June 26th. In the end, the victorious Sioux and Cheyenne had completely annihilated Custer's entire battalion.
Although an immense victory for Native Americans in their fight to keep their sacred lands, the Battle of Little Bighorn greatly enraged white settlers and government troops. It spurred action that forced them to eventually surrender.
Many of the troops were buried in shallow graves where they lay at Little Bighorn. Some officials were recovered and buried elsewhere in the United States and General Custer's remains were taken to West Point Cemetery in New York.
Although history has taken way too many hardships and discrimination against the Native Americans, the Battle of Little Bighorn shows the determination and spirit the Sioux and Cheyenne people had to save their generational land.
Tribes all across the country could celebrate those brave warriors who were taking a stand against a people they felt unfairly took everything that was sacred to their people for thousands of years.
Sitting Bull and Crazy Horse, in their last show of defiance, both died at Fort Robinson, Nebraska at the hands of U.S. soldiers. Both men had been arrested when paranoia overcame the government of a native uprising. Both men fought and resisted.
Crazy Horse was killed by a bayonet on September 5, 1877, historians believe he was approximately 37 years old. Sitting Bull was shot on December 15, 1890, at the age of 59.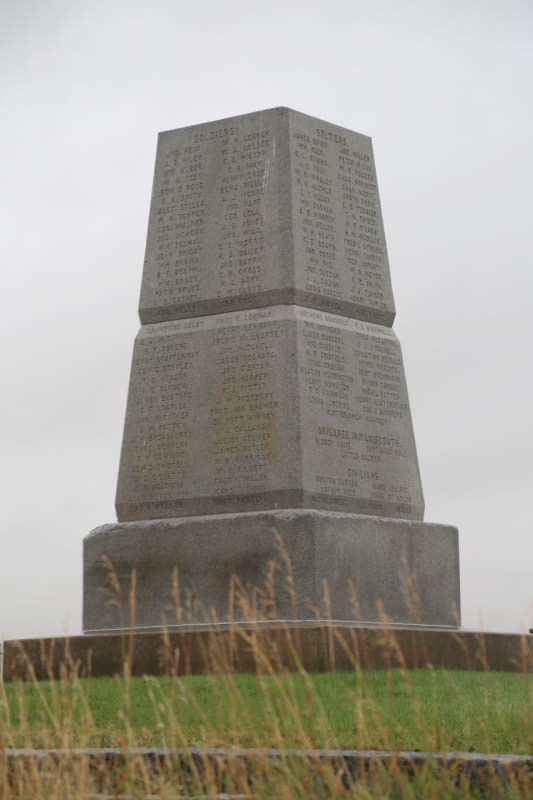 Things to know before your visit to Little Bighorn Battlefield NM
Entrance fee
7-day single-vehicle park pass - $25
7-day individual park pass - $15
7-day motorcycle park pass - $20
Planning a National Park vacation? America the Beautiful/National Park Pass covers entrance fees for an entire year to all US National Park Sites and over 2,000 Federal Recreation Fee Sites.
The park pass covers everyone in the car for per vehicle sites and for up to 4 adults for per-person sites.
Buy on REI.com and REI will donate 10% of pass proceeds to the National Forest Foundation, National Park Foundation and the U.S. Endowment for Forestry & Communities.
Learn more about National Park Passes for parks that have an entrance fee.
Free Entrance Days -Check out the five free entrance days the National Park Service offers annually.
Time Zone
MST - Mountain Standard Time
Pets
Pets are not allowed outside of visitors' vehicles. They must remain in the vehicle during the entire park visit.
Service animals are allowed in national parks.
Cell Service
We did not have great service while visiting the park.
Park Hours
Park hours change based on the time of year. Make sure to confirm the current hours before visiting the park.
Wi-Fi
There is no Wi-Fi within the park.
Insect Repellent
Insect repellent is always a great idea when outdoors, especially if you are around any body of water.
We use Permethrin Spray on our clothes before our park trips.
Water Bottle
Make sure to bring your own water bottle and plenty of water with you. Plastic water bottles are not sold in the park.
Parking
The parking lot next to the visitor center can get packed with cars. If there is no parking available we suggest heading out on the auto tour road and coming back to the visitor center later.
Food/Restaurants
There are no restaurants or food options within the park.
Gas
There are no gas stations within the park.
Drones
Drones are not permitted within National Park Sites.
National Park Passport Stamps
National Park Passport stamps can be found in the visitor center. Make sure to bring your National Park Passport Book with you.
We like to bring these circle stickers with us to the park so we don't have to carry our entire Passport Book on every trip.
Little Bighorn Battlefield NM is part of the 1996 Passport Stamp Set.
Electric Vehicle Charging
The closest EV Charging Stations are located in Custer and Billings, Montana.
There are 73 public charging stations in Billings, Montana.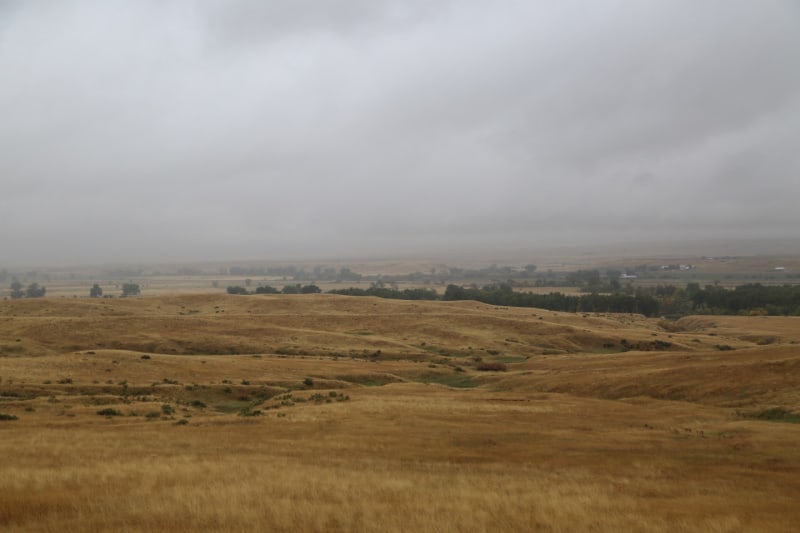 Details about National Park
Size - 765.34 Acres
Check out how the park compares to other National Parks by Size.
Date Established
January 29, 1879
The park was transferred from the war department to the National Park Service on July 1, 1940.
The park was re-designated Custer Battlefield National Monument on March 22, 1946
The park was originally named Custer Battlefield National Monument. President George W. Bush renamed the site Little Bighorn Battlefield on December 10, 1991.
Visitation
In 2021, Little Bighorn Battlefield NM had 211,296 park visitors.
In 2020, Little Bighorn Battlefield NM had 97,461 park visitors.
In 2019, Little Bighorn Battlefield NM had 241,304 park visitors.
Learn more about the most visited and least visited National Parks in the US
Little Bighorn Battlefield NM Address
756 Battlefield Tour Road
Crow Agency, MT 59022
The park lies within the Crow Indian Reservation in Southeastern Montana.
Little Bighorn Battlefield NM Map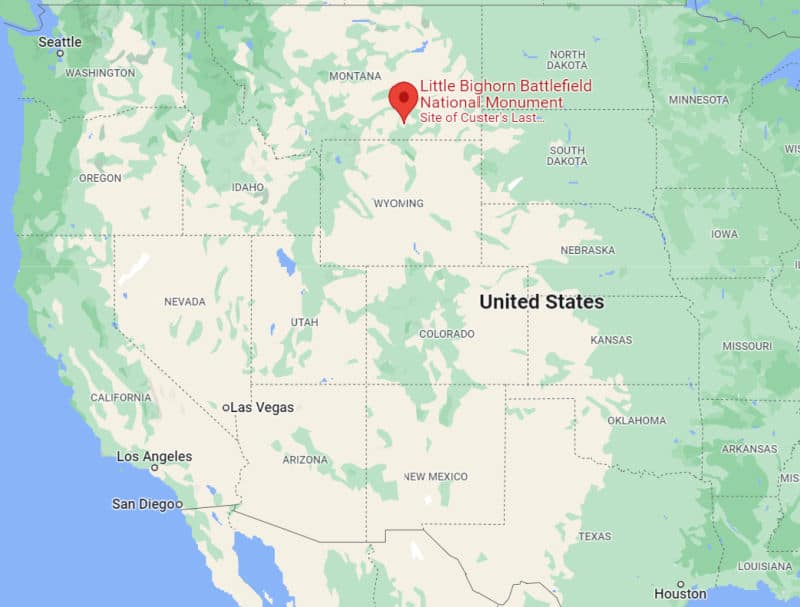 Where is Little Bighorn Battlefield National Memorial?
Little Bighorn Battlefield National Memorial is located in Montana approximately 55 miles from Billings.
Estimated distance from major cities nearby
Billings, MT - 62 miles
Casper, WY - 218 miles
Butte, MT - 288 miles
Rapid City, SD - 256 miles
Missoula, MT - 405 miles
Spokane, WA - 602 miles
Boise, ID - 675 miles
Minneapolis, MN - 831 miles
Estimated Distance from nearby National Park
Yellowstone National Park - 100 miles
Theodore Roosevelt National Park - 273 miles
Grand Teton National Park - 376 miles
Badlands National Park - 315 miles
Glacier National Park - 436 miles
Where is the National Park Visitor Center?
The visitor center is located right after the entrance stations.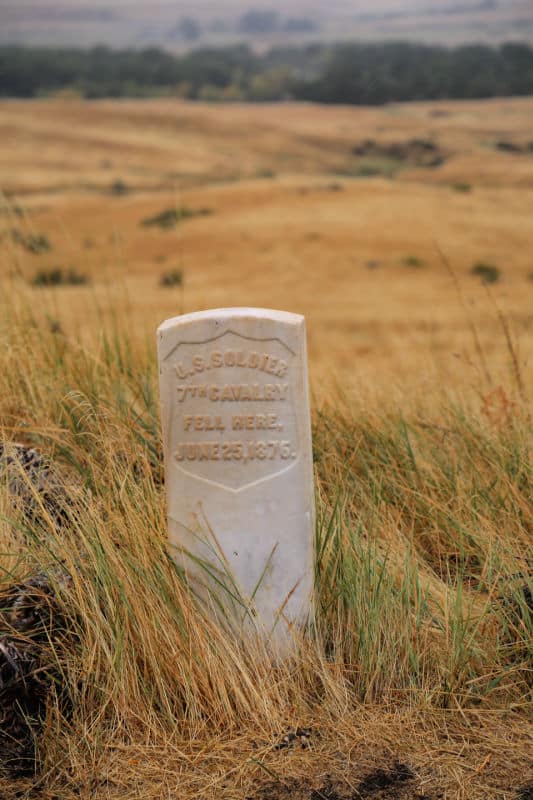 Getting to National Park
Closest Airports
Billings Logan International Airport (BIL) - 64 miles
International Airports
Denver International Airport (DEN) - 498 miles
Hector International Airport, North Dakota (FAR) - 601 miles
Salt Lake City International Airport (SLC) - 629 miles
Regional Airports
Sheridan County Airport (SHR) - 74 miles
Yellowstone Regional Airport (COD) - 170 miles
Gillette-Campbell County Airport (GCC) - 174 miles
Worland Municipal Airport (WRL) - 168 miles
Driving Directions
Take Interstate I-90 and get off at Crow Agency Exit 510 at Jct 212. To reach Little Bighorn Battlefield National Monument, take Battlefield Tour Road 756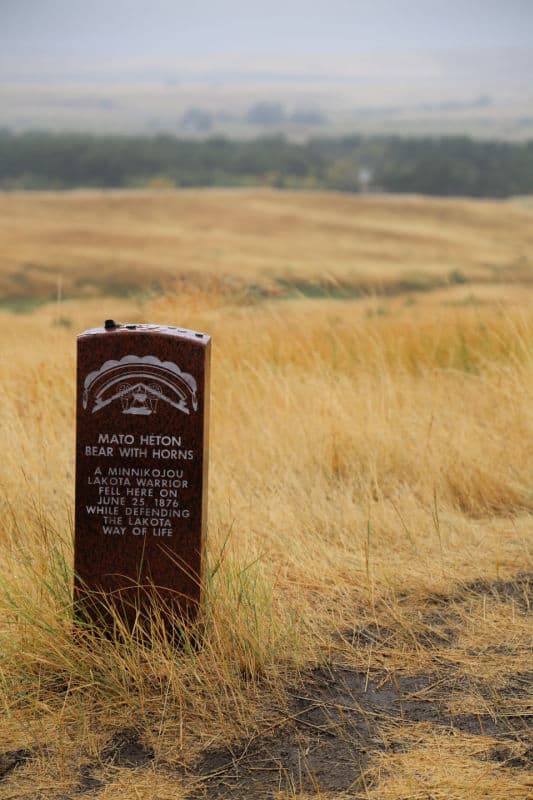 Best time to visit Little Bighorn Battlefield
The park is open year-round which makes it really easy to plan a visit. They do experience harsh winters and cool damp weather.
The best time to visit is late spring through the fall when the weather is nice and you can spend time walking to the interpretive panels.
Weather and Seasons
This part of Montana experiences hot dry summers and cold snowy winters.
The temperature ranges from 20 degrees to 90 degrees on average depending on when you visit.
The hottest temperatures are from June 14th to September 10th with an average temperature of 79 degrees.
The coldest temperatures are from November 18 to February 27th with an average temperature below 46 degrees.
The coldest month is December with an average low of 22 and a high of 37 degrees.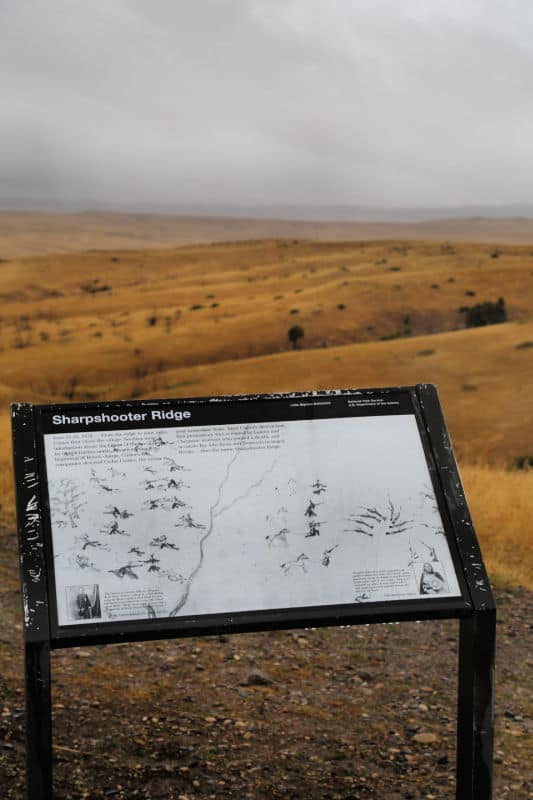 Best Things to do at Little Bighorn Battlefield
Visitor Center
Make sure and watch the 25-minute park film. The film does a fantastic job of detailing the events that happened at Little Bighorn Battlefield.
There are also exhibits detailing the battle, bookstore, and information.
Auto Tour Road
The 4.5-mile tour road travels from the visitor center to the Reno-Benteen Battlefield.
This battlefield was the second state of the Battle of Little Bighorn. There are multiple pull outs along the tour with interpretive panels.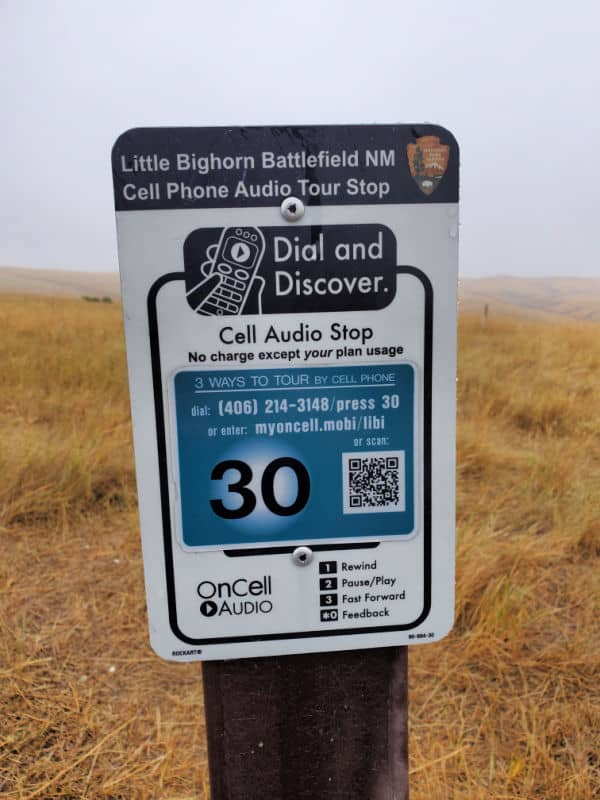 Cell Phone Tour
There are multiple stops along the auto tour where you can call in for additional information on the battlefield.
You can listen to a narrative of soldier movements and warrior accounts. Additional cell phone stops are located in the National Cemetery and Last Stand Hill.
For more information and detail on the battlefield, you can purchase an hour and twenty-minute long auto tour at the bookstore.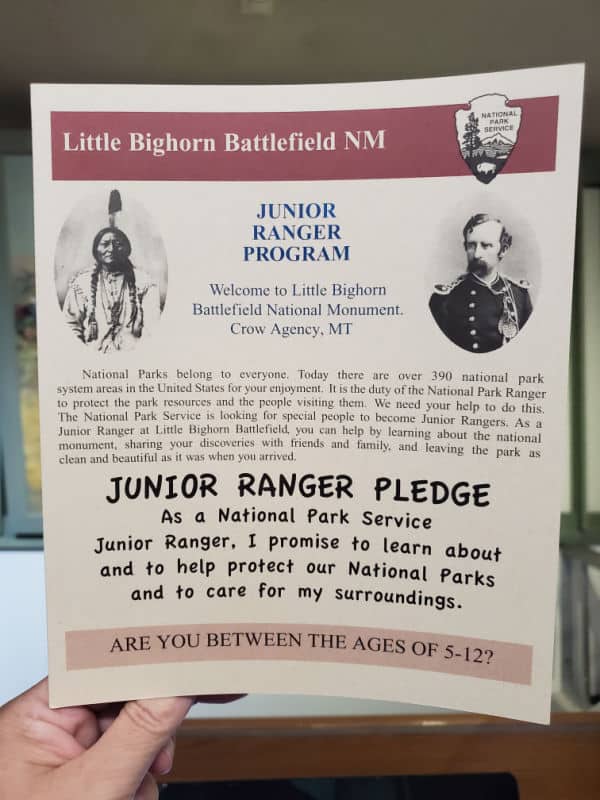 A large portion of the junior ranger program can be completed within the visitor center. You may need to go out on the auto tour for a few of the answers.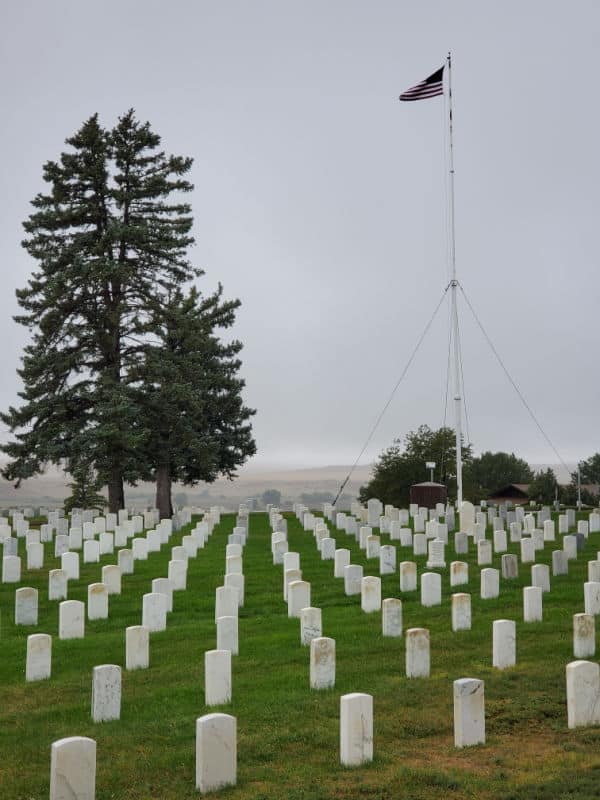 Custer National Cemetery
Custer National Cemetery is located near the visitor center. The cemetery was created after those killed in battle were already buried.
There are approximately 5,000 people interred at Custer National Cemetery.
Reenactments
Custer's Last Stand re-enactments are not held at the National Monument! They are privately operated!
One of the most opportune times to go is Reenactment weekend in Hardin, just about 12 miles north of the battlefield on Interstate 90. This event is held yearly on the fourth weekend in June.
There is a festival atmosphere with art displays and food vendors. Twice daily a reenactment of the battle takes place. The script was written by Joe Medicine Crow and views the battle from the Native perspective.
On Saturday there is a Reenactment by the Red Birds, descendants of those who fought in the actual battle. This is done on the actual battlefield.
The Crow Fair weekend on the third weekend of August every year is the best time to visit the battlefield. This fair is held in Crow Agency about a mile and a half from the park.
The Pow-Wow starts slowly on Wednesday and proceeds through until tribal elections on the following Monday. There are Artists, Native food, and numerous other vendors. The dancing begins at 10 am on Friday morning and will continue almost until dawn, Singing, daily parades to the dance area, an all-Native Rodeo, and gambling contests featuring the stick and hand games as well as blackjack and others.
Don't forget if you are a tourist that you've been invited to someone else's family reunion, holiest of religious ceremonies, and political convention all rolled into one to be polite and respectful or just don't go.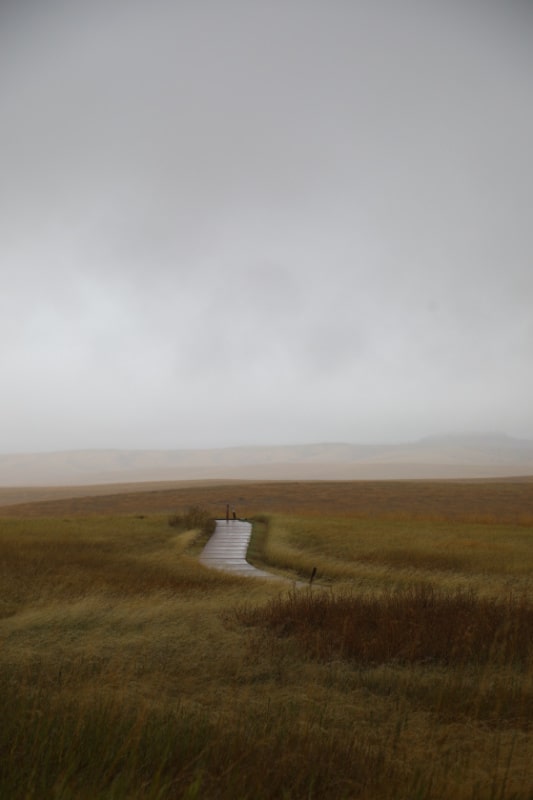 Hiking in National Park
Always carry the 10 essentials for outdoor survival when exploring.
Deep Ravine Trail
Walk the ¼ mile self-guided walking tour that takes you through a portion of the National Memorial.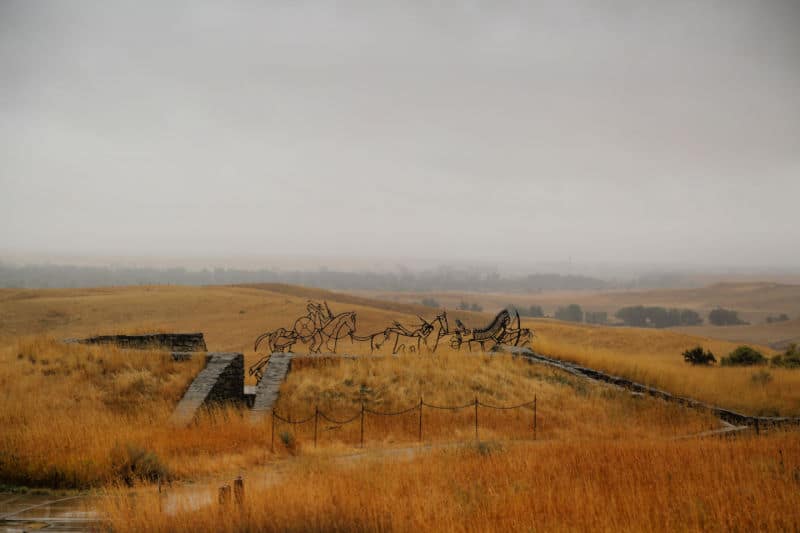 How to beat the crowds
We have visited Little Bighorn Battlefield multiple times and every time it has been pretty busy.
Even on rainy grey days, there has been a nice number of visitors. The only area we really experienced crowds was trying to find a parking space at the visitor center.
Once you are out on the auto tour road it is easy to stay away from crowds.
Where to stay when visiting National Park
There are no National Park Lodges within this National Monument.
There are a few hotels in Hardin, MT but the majority of hotels can be found in Billings, MT.
Lariat Motel - located in Hardin. Lariat Motel provides amenities like a garden and a fireplace in the lobby. Stay connected with free in-room Wi-Fi.
Super 8 by Wyndham Hardin - All guestrooms at Super 8 by Wyndham Hardin Little Bighorn Battlefield boast perks such as air conditioning, in addition to amenities like free Wi-Fi and desk chairs.
Homestead Inn and Suites - located in Hardin. Free self-serve breakfast, laundry facilities, and a 24-hour gym. Free in-room Wi-Fi and a 24-hour business center are available to all guests.
Hotels near Billings, Montana
Holiday Inn Express Billings - Consider a stay at Holiday Inn Express Billings, an IHG Hotel and take advantage of free continental breakfast, a gym, and a business center. In addition to a restaurant, guests can connect to free in-room Wi-Fi.
Hilton Garden Inn Billings - At Hilton Garden Inn Billings, you can look forward to a free roundtrip airport shuttle, dry cleaning/laundry services, and a bar. For some rest and relaxation, visit the hot tub. The onsite restaurant, Great American Grill, features American cuisine. In addition to a gym and a 24-hour business center, guests can connect to free in-room Wi-Fi.
Click on the map below to see additional vacation rentals and hotels near the park.
Camping
There are no campgrounds located within the park.
For a fun adventure check out Escape Campervans. These campervans have built in beds, kitchen area with refrigerators, and more. You can have them fully set up with kitchen supplies, bedding, and other fun extras. They are painted with epic designs you can't miss!
Escape Campervans has offices in Vancouver, Seattle, Portland, San Francisco, Las Vegas, Los Angeles, Phoenix, Salt Lake City, Denver, Chicago, New York, and Orlando
There are private campgrounds within easy reach of the park.
Grandview Campground - 14 miles from the park
This campground offers Cable TV, RV, and Tent Sites
Lazy R Campground and Cabins - 47 miles from the park
This campground offers RV Sites and Cabins, an onsite restaurant, and internet access.
Billings Village RV Park - 55 miles from the park
This campground has RV Sites, Cable TV, Bathrooms and Showers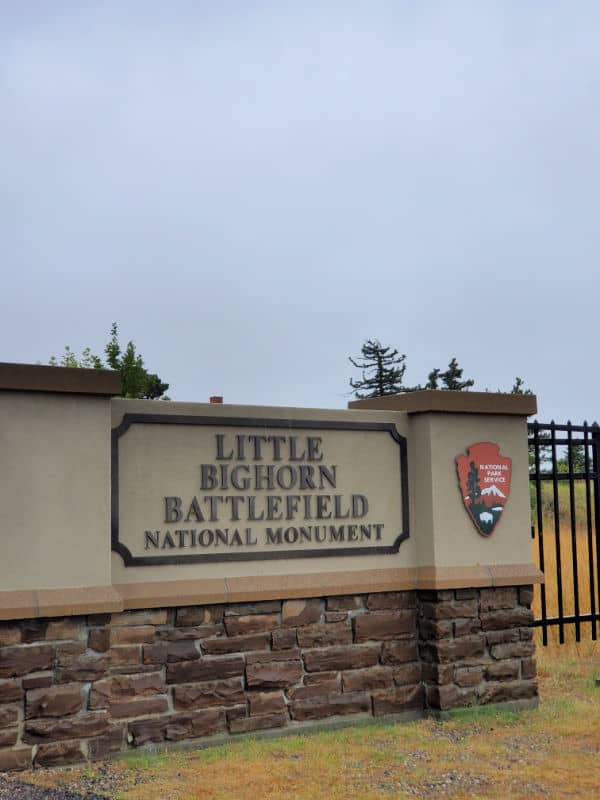 Additional Resources
The Last Stand: Custer, Sitting Bull, and the Battle of the Little Bighorn
Archaeological Perspectives on the Battle of the Little Bighorn
A Terrible Glory: Custer and the Little Bighorn - the Last Great Battle of the American West
Artifacts of the Battle of Little Big Horn: Custer, the 7th Cavalry & the Lakota and Cheyenne Warriors
The Battle of Little Bighorn: Legendary Battle of the Great Sioux War (Major Battles in US History
Parks near National Park
Bighorn Canyon National Recreational Area - 58 miles
Devils Tower National Monument - 270 miles
Theodore Roosevelt National Park - 270 miles
Grant Kohrs National Historic Site - 328 miles
Check out all of the Montana National Parks along with neighboring National Parks in Wyoming, National Parks in South Dakota, North Dakota National Parks, and Idaho National Parks
National Park Service Website