History riding on the wind, tears that sting your very soul. Little Bighorn Battlefield National Monument is where the Plains Tribes fought their last major battle and won.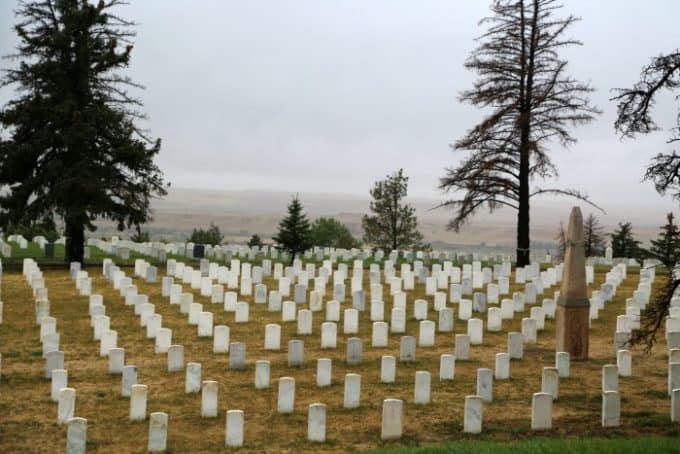 Little Bighorn Battlefield National Monument
Three diverse groups joined together that day. Cheyenne, Lakota, and Arapahoe led into battle by such esteemed strategists as Crazy Horse and under the spiritual and tactical hand of Sitting Bull himself.
This is where former General now Lt. Colonel George Armstrong Custer and 262 other US Army Cavalry soldiers met their demise.
The park is located about 65 miles from Billings, Montana on Interstate 90. Camping or lodging in the area is limited and reservations should be made in advance. There are some cool events and dramatic sites not far away.
This windswept graveyard is a place where many small nations, notwithstanding their victory, were very nearly destroyed in order to become one nation.
This is a piece of American history that all Americans need to know in order to complete the quilt that makes us one great nation.
Rangers give lectures on several aspects of the Battle, geography of the location, and about the history of the site several times each day during the summer months.
Montana can be treacherous during the winter making this most likely a summer trip.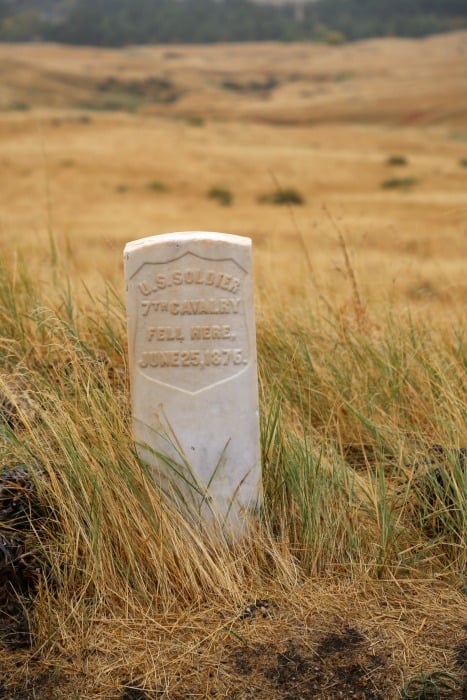 Apsaalooke Tours provides a historical context of the Battle of the Little Big Horn and is offered by Native American students from Little Big Horn College.
They begin at the Battlefield's visitor's center and take the group south to the Reno-Benteen Battlefield and end on Last Stand Hill back inside the Park.
This area also serves as a military cemetery and holds nearly five thousand graves of US soldiers and or their families. There is no charge to visit the cemetery.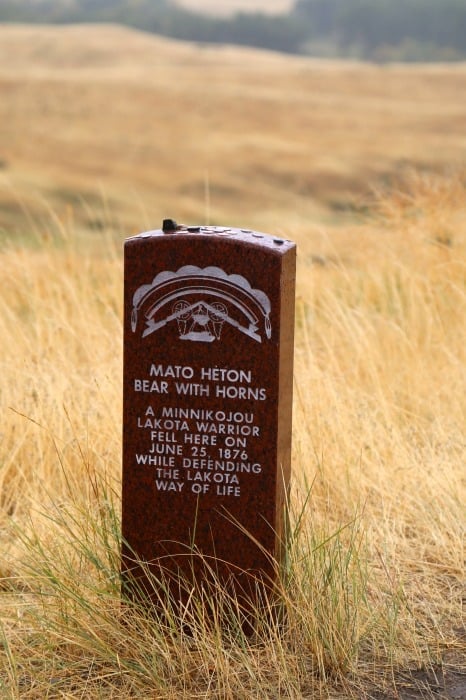 One of the most opportune times to go is Reenactment weekend in Hardin, just about 12 miles north of the battlefield on Interstate 90. This event is held yearly on the fourth weekend in June.
There is a festival atmosphere with art displays and food vendors. Twice daily a reenactment of the battle takes place. The script was written by Joe Medicine Crow and views the battle from the Native perspective.
On Saturday there is a Reenactment by the Red Birds, descendants of those who fought in the actual battle. This is done on the actual battlefield.
The Crow Fair weekend on the third weekend of August every year is the best time to visit the battlefield. This fair is held in Crow Agency about a mile and a half from the park.
The Pow-Wow starts slowly on Wednesday and proceeds through until tribal elections on the following Monday. There are Artists, Native food, and numerous other vendors. The dancing begins at 10 am on Friday morning and will continue almost until dawn, Singing, daily parades to the dance area, an all-Native Rodeo, and gambling contests featuring the stick and hand games as well as blackjack and others.
Don't forget if you are a tourist that you've been invited to someone else's family reunion, holiest of religious ceremonies, and political convention all rolled into one to be polite and respectful or just don't go.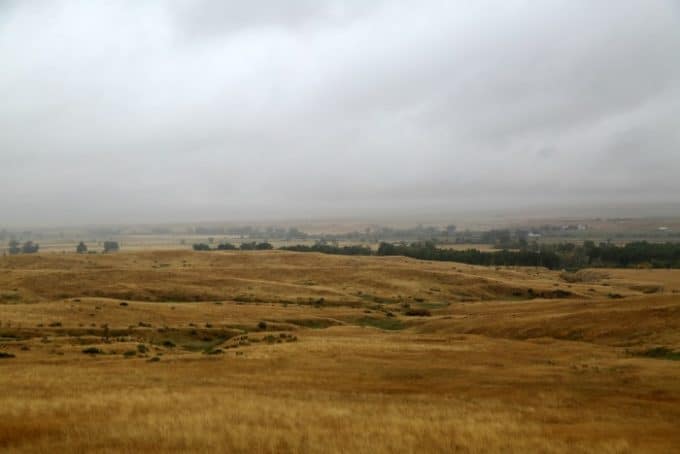 The closest camping or lodging to the Battlefield is in Hardin just about 10 miles northwest on Interstate 90. The next place is Billings.
For event weekend reservations should be made as much as a year in advance even for camping. There is a great little museum in Garryowen just south on Interstate 90. It is operated by "Friends of the Battlefield" a private group. Harding has a small gallery featuring regional artists.
Keep following Interstate 90 west and take a left on US 89 at Livingston and what do you know straight ahead lays Yellowstone. It is only about a four-hour drive but then that is another story.
The Little Big Horn National Monument is not anyone sculpture or plaque that you visit and view.
This monument is a testimonial carried by the windblown prairie and the vast open sky that looms over this great lonely space. To experience the monument is also a personal journey into the heart and spirit.
As with most monuments devoted to an event, it's important to view your surroundings with the history in mind.
The battle site history in brief
Situated on a wide and rolling plain is a site most famous for the poor judgment and planning of Lieutenant Colonel George Armstrong Custer whose arrogance resulted in calamity.
The short and tragic battle at Little Big Horn took many lives, including Custer's, and it's on a hill within the monument that Custer made his ill-fated Last Stand.
However, the Battle of Little Big Horn extended way beyond one man's infamy. It was one of the great last efforts of the Northern Plains People to preserve their lifestyle.
When you get there
Most of the trip can be made by diving along a self-guided interpretive road, but starting your journey this way will leave you as empty as the great blue Montana sky.
I suggest that you stop in the visitor center first, and learn. Listening to the series of talks and a stroll through the museum will take up about 2 hours of well-spent time.
Visit the past
During rangers conducted talks you will be provided with in-depth information about the battle, the life of an 1876 Calvary soldier, and the reason an Indian encampment was made along the Little Bighorn River.
It's interesting to learn about all the components that led to the battle and the series of events that followed. If you can only catch one lecture, "The battle strategy talk" is the one to hear.
The rangers take care to present the battle on a human level and cover everything from heroism, brashness, victory, and tragedy on both sides of the conflict.
Besides Custer and Sitting Bull, you'll hear about the several other key players in the battle that are seldom talked about such as the controversial second in command, Major Marcus A. Reno and a charge against Company C led by a Cheyenne warrior named, Lame White Man who was mistakenly killed as an Indian scout by a Lakota warrior.
The battlefield route
Once you have a clear understanding of the situation that led to the battle and the battle itself, it's time to take the drive through the actual site. As you travel the road there are pull-offs and paths where you can get out and read plaques about each battle point.
Along the way, you will find white markers that represent where U.S. Calvary men fell and red markers where Lakota warriors fell. This is where it all really starts to hit home and transition into an emotional journey.
The guide provided at the memorial gateway actually uses the word "fell". By the time you are done in the museum, you will have a good understanding that "fell" doesn't mean that the person just dropped and fell dead.
They dropped and lay dying. The museum and rangers made it clear that in battle you have no option but to fight until you can't physically continue, and then you just wait there where you "fell" for death to claim you.
Indian or white, brave or cowardly, it's heart-wrenching to think of the terror that these men and boys faced in their final moments.
Battlefield memorials should certainly reflect the tragedy of war from all sides, and Little Big Horn has done that quite successfully.
Within two hours of the monument is The Nez Perce National Historical Park.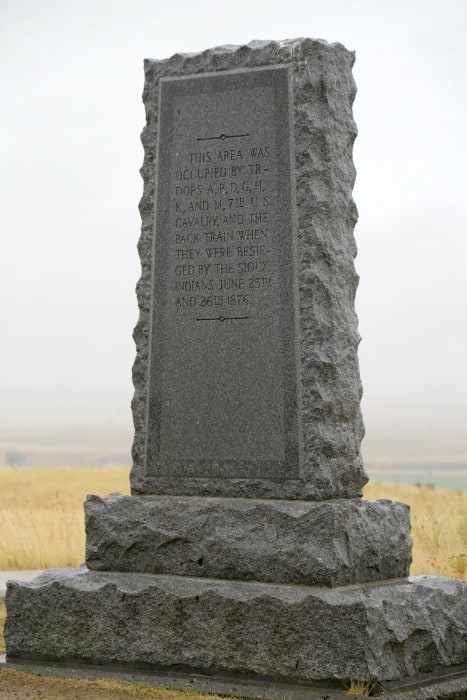 Visit the visitor center
Make sure and watch the 25-minute park film. The film does a fantastic job of detailing the events that happened at Little Bighorn Battlefield.
There are also exhibits detailing the battle, bookstore, and information.
Become a junior ranger
A large portion of the junior ranger program can be completed within the visitor center. You may need to go out on the auto tour for a few of the answers.
Walk the Deep Ravine trail
Walk the 1/4 mile self-guided walking tour that takes you through a portion of the National Memorial.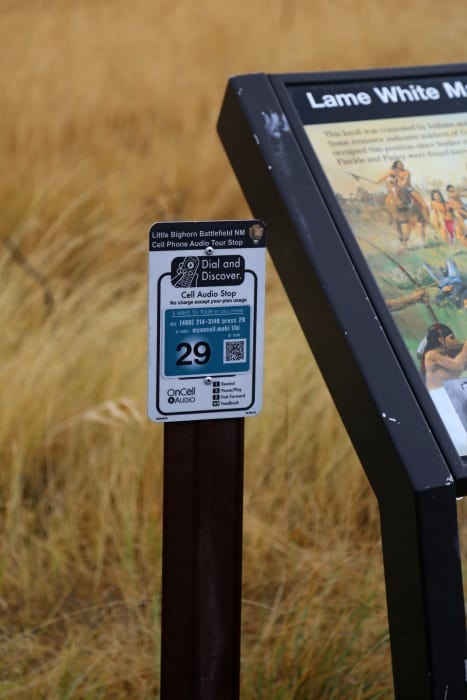 Explore the cell phone tour
There are multiple stops along the auto tour where you can call in for additional information on the battlefield.
You can listen to a narrative of soldier movements and warrior accounts. Additional cell phone stops are located in the National Cemetery and Last Stand Hill.
For more information and detail on the battlefield, you can purchase an hour and twenty-minute long auto tour at the bookstore.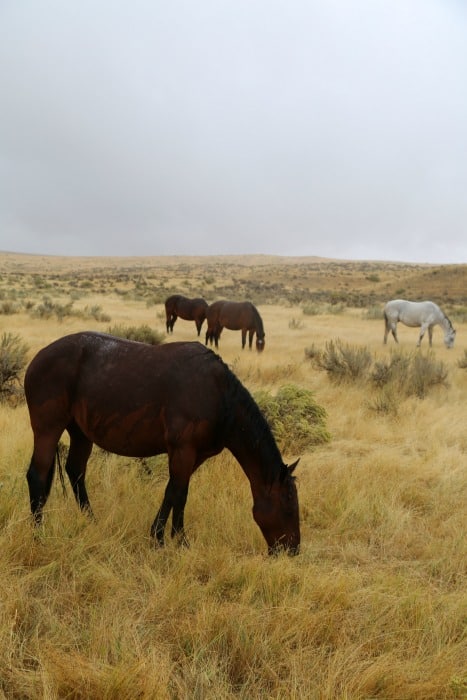 Things to know when visiting Little Bighorn Battlefield National Monument
Address
756 Battlefield Tour Road
Crow Agency, MT 59022
Take Interstate I-90 and get off at Crow Agency Exit 510 at Jct 212. To reach Little Bighorn Battlefield National Monument, take Battlefield Tour Road 756
Operating Hours
Winter hours run October 1st through March 1st, open 8:00 A.M. & Closing 4:00 P.M.
4.5 mile Tour Road
Deep Ravine Walking Trail
Open 8 am to 4:30 pm
Visitor Center/Museum/Book Store
Last Stand Hill
Custer National Cemetery
Entrance Gate locked at 4:30 p.m.
Spring hours are from Labor Day through September 30 are from 8 am to 6 pm
Summer hours between Memorial Day to Labor Day
Fall hours between the day after Labor Day and Sept. 30, open 8:00 a.m. to 6:00 p.m
Entrance Fees
Individual Entrance Fee - $10.00, For individuals on foot or riding a motorcycle or bicycling into the battlefield.
Private Vehicle Entrance Fee - $20.00, This fee applies to each private vehicle entering Little Bighorn Battlefield National Monument.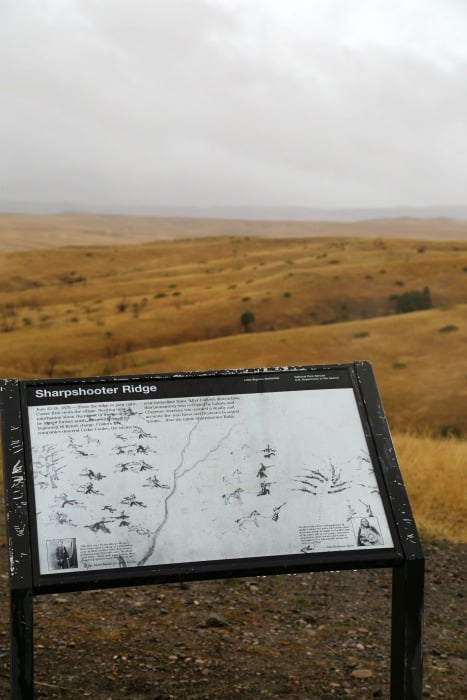 National Park sites near Little Bighorn Battlefield National Monument
Yellowstone National Park - 100 miles
Bighorn Canyon National Recreational Area - 58 miles
Devils Tower National Monument - 270 miles
Theodore Roosevelt National Park - 270 miles
Grant Kohrs National Historic Site - 328 miles
Check out all of the Montana National Parks and neighboring National parks in North Dakota, South Dakota National Parks, Wyoming National Parks, and Idaho National Parks.