Glacier National Park in Montana is one of our favorite parks in the National Park system. There is just something special about driving the Going to the Sun Road, staying in historic lodges, enjoying epic wildlife viewing, and hiking its iconic trails.
Today we are excited to share our Glacier National Park Travel Guide with you. It is based on the numerous trips that we have taken over the years to this epic destination so that you can make the most out of your time visiting this amazing park.

Glacier National Park
Glacier is located in northwestern Montana and borders Canada. It lies in a spectacular wilderness of glaciers, lofty mountain peaks, and scenic lakes covering an area of over one million acres.
You will also hear Glacier called the Crown of the Continent. It got this name from George Grinnell who was a conservationist and editor for Field and Stream Magazine. He came to visit Glacier in 1885 and became an advocate for the creation of this park and nicknamed it "The Crown of the Continent". He claimed that the glaciers were the jewel in the crown.
Geological records suggest there were 150 glaciers in the park in 1850. Today, the USGS reports that there are only 25 glaciers that are recognized as active or big enough to act as a glacier. Currently, there are several studies that believe the park will no longer have any glaciers by the year 2030.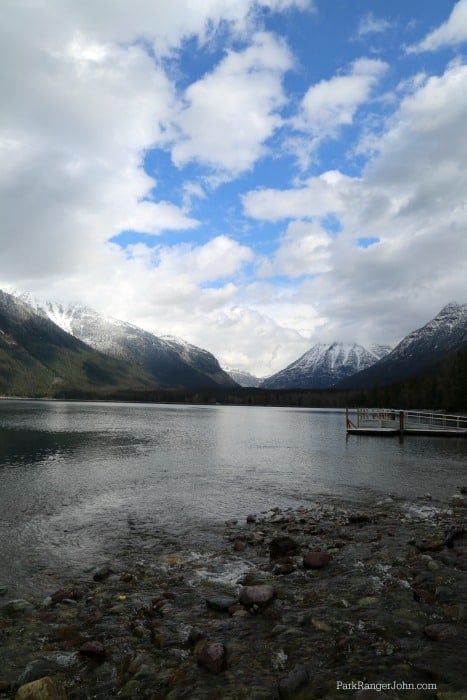 About Glacier National Park
Glacier National park was named from the more than 60 glaciers that range in size from a few acres to several miles. The largest of these glaciers is the Blackfoot Glacier.
Blackfoot Mountain is named for the tribe of native peoples who inhabited this land until the time of its exploration by the white man.
There are more than 200 lakes within the boundaries of Glacier National Park. These were formed from depressions in the land that were carved out as the glaciers moved over them.
Many of the lakes are high in the mountains surrounded by sheer cliffs. Lake MacDonald, which is the largest of these lakes, is about ten miles long and is more than a mile in width.
The Lewis Range of mountains extends across the park from east to west. This range of mountains forms part of the Continental Divide.
It is here you will find some of the highest peaks of this mountain range, such as Mount Cleveland at over 10,000 feet.
There are at least 1,132 species of vascular plants that have been identified in Glacier including several wild mountain flowers and shrubs that bloom throughout the park during the summer months.
Wild animals, such as moose, elk, deer, black bears, grizzly bears, and mountain lions, inhabit this park and roam freely because hunting is not permitted within the boundaries.
Fishing in the many lakes is permitted and anglers do catch sizable fish on their visits.
The Going-to-the-Sun Road winds its way through Glacier National Park and is aptly named because of the heights to which it rises.
This road crosses the park from east to west, rising to Logan Pass from which you have a panoramic view of the park below.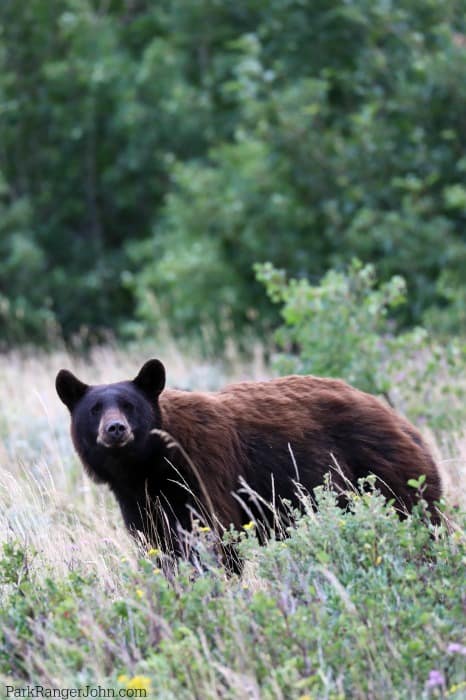 Is Glacier National Park worth visiting?
YES! YES! YES!
Glacier NP is one of our favorite National Parks to visit. We try to spend time in the park every summer.
Thankfully it is only 5 hours drive from us because we love it.
There is truly something amazing about this Montana National Park. It is breathtaking, amazing, and did I mention breathtaking.
You never know what you will see around the next corner.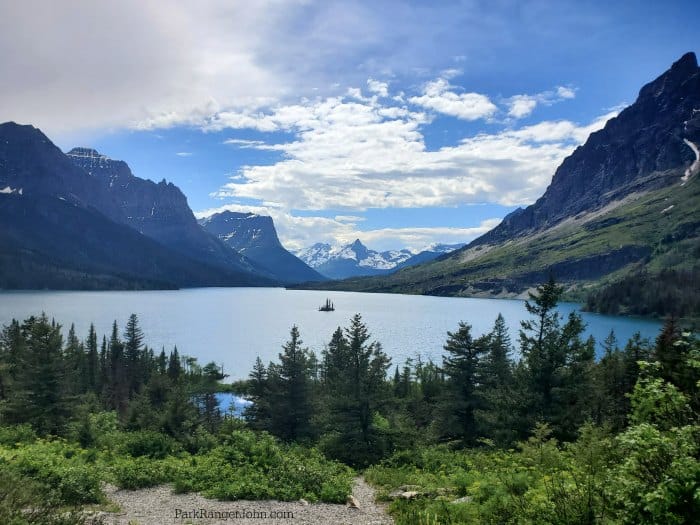 History of Glacier National Park
Established as a park on May 11, 1910

Established as Waterton-Glacier International Peace Park in 1932

Going-to-the-Sun Road completed in 1932

Established as an International Biosphere Reserve in 1974

Waterton Lakes National Park established in 1895
The Great Northern Railway was instrumental in showcasing the beauty of Glacier as early as the 1890s.
They invited people to see America First and use the railway as a way to get to Glacier in Montana.
The landscape drew influential leaders to the park including George Bird Grinnell who pushed for the creation of a National Park in Montana.
This finally happened when President Taft signed legislation on May 11, 1910, establishing the 10th National Park in the United States...Glacier.
The Great Northern Railway worked to make the landscape more inviting to tourists by building a series of lodges and Swiss-style chalets around the park.
You can still stay in these lodges still today including the Glacier Park Lodge in East Glacier, Many Glacier Hotel, and the Sperry and Granite Park Chalets in the backcountry.
The Sperry Chalet has been rebuilt after being damaged in a wildfire.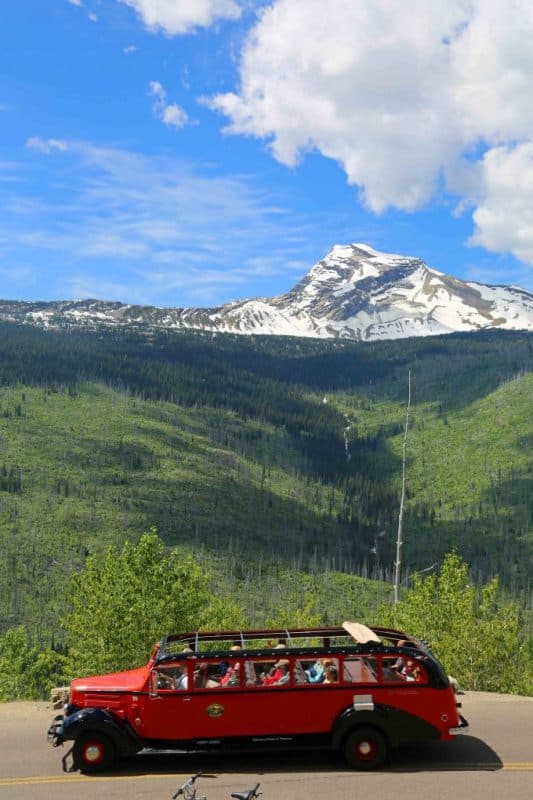 Things to know before your visit to Glacier National Park
Glacier NP is open year-round but only certain parts of the park are accessible in the winter.
Entrance fee
7-day single-vehicle park pass - $35
7-day individual park pass - $20
7-day motorcycle park pass - $30
Glacier NP Annual Park Pass - $70
Valid for one year through the month of purchase. Admits one private, non-commercial vehicle or its pass holder to Death Valley.
Learn more about National Park Passes for parks that have an entrance fee.
Free Entrance Days -Find the five free entrance days the National Park Service offers annually.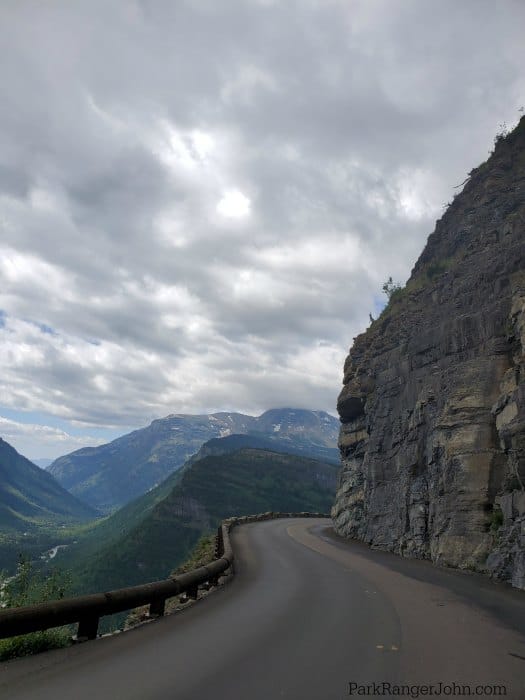 Glacier Ticketed Entry
In 2021 Glacier NP created a ticketed entry program for the Going to the Sun Road. This was created to help relieve congestion and allow visitors to enjoy the park.
For 2022 the park will have ticketed entry from May 27 through September 11, 2022.
One ticket per vehicle will again be required to enter the Going-to-the-Sun Road (GTSR) at the West Entrance, St. Mary Entrance, and the new Camas Entrance.
A ticket per vehicle will also be required at the Polebridge Ranger Station to visit the North Fork area of the park.
The GTSR and North Fork tickets will be two separate tickets. The park anticipates a portion of tickets becoming available by early March.
The park will offer three-day tickets for GTSR rather than the seven-day ticket offered last year, and one-day tickets for the North Fork.
Visitors with lodging, camping, transportation, or commercial activity reservations within the GTSR corridor can use their reservation for entry in lieu of a $2 ticket.
Time Zone
MST - Mountain Standard Time
Pets
Pets are permitted in campgrounds, along roads, and in parking areas.
Pets must be on a leash no longer than six feet, under physical restraint, or caged at all times.
Service animals are welcome. Service animals require a permit, available at the backcountry permit offices listed above, to use trails or enter the backcountry.
Cell Service
Cell service on the west side of the park is accessible from West Glacier to Apgar.
On the east side of the park, there is a good cell signal from St. Mary to about 4 miles up the Going-to-the-Sun Road.
Park Hours
Glacier NP is open 24 hours a day 365 days of the year.
Wi-Fi
There is limited access to Wi-Fi at St. Mary and Apgar Visitor Centers.
Insect Repellent
Insect repellent is always a great idea when outdoors, especially if you are around any body of water.
Water Bottle
Make sure to bring your own water bottle and plenty of water with you. Plastic water bottles are not sold in the park.
Parking
Parking in Glacier really depends on the area of the park you are visiting.
One thing that is common is how quickly the parking lots fill. The Logan Pass parking lot can fill super early in the morning.
Food/Restaurants
Apgar
Lake McDonald Lodge
Russell's Fireside Dining Room: breakfast, lunch, and dinner
Jammer Joe's Grill & Pizzeria: lunch and dinner
Lucke's Lounge: lunch and dinner
Many Glacier
Ptarmigan Dining Room: breakfast, lunch, and dinner
Swiss Lounge: lunch and dinner
Nell's at Swiftcurrent Motor Inn: breakfast, lunch, and dinner
Heidi's: hot and cold snacks, sandwiches, drinks
Stores in the park
Apgar: Eddie's Mercantile
Lake McDonald: Lodge Camp store
Many Glacier: Swiftcurrent Camp store
Rising Sun: Rising Sun Camp store
Two Medicine: Two Medicine Camp store
Gas
There are no gas stations within the park.
There are gas stations in West Glacier, Kalispell, and surrounding communities.
National Park Passport Stamps
National Park Passport stamps can be found in the visitor center. Make sure to bring your National Park Passport Book with you.
Glacier NP is featured in the 1995 Passport Stamp Set
Electric Vehicle Charging
There is an EV Charging station at the Lake McDonald Lodge, Rising Sun Motor Inn, along with in St. Mary and West Glacier, Montana.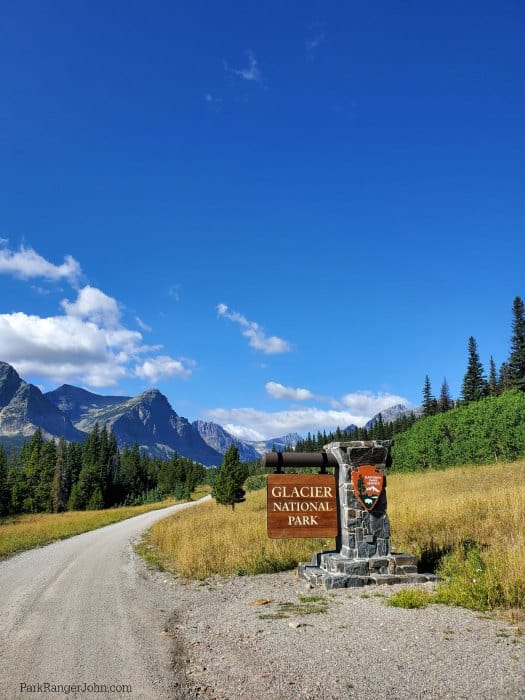 Details about Glacier National Park
Size - 1,012,837 acres
Glacier is currently ranked at 12 out of 63 National Parks by Size.
1,583 square miles, Glacier National Park is over a million acres in size.
Date Established
Established as a park on May 11, 1910
Visitation
In 2020, Glacier NP had 1,698,864 park visitors.
In 2019, Glacier NP had 3,049,839 park visitors.
Learn more about the most visited and least visited National Parks in the US
Glacier National Park Address
64 Grinnell Drive
Glacier National Park Headquarters
West Glacier, MT 59936
Glacier National Park Map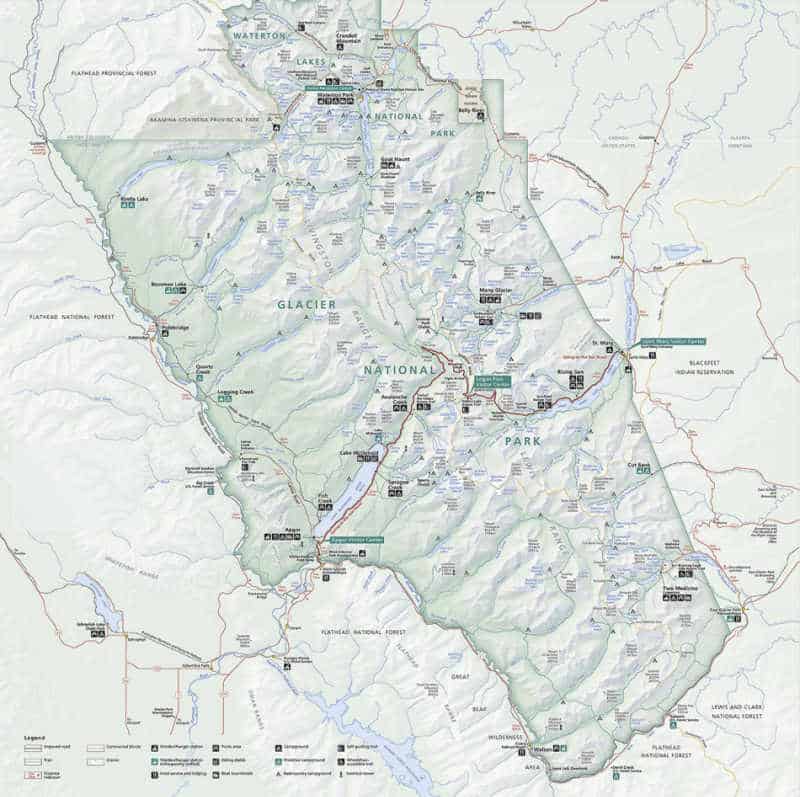 For a more detailed map, we suggest getting a Trails Illustrated Map of Glacier National Park. We buy them on Amazon.
Where is Glacier National Park?
Glacier NP is located in Northwest Montana. The closest cities are Kalispell and then Missoula is 2.5 to 3 hours away.
Estimated distance from major cities nearby
Seattle to Glacier National Park - 550 miles
Portland to Glacier National Park - 622 miles
Spokane to Glacier National Park - 272 miles
Missoula to Glacier National Park - 136 miles
Yellowstone to Glacier National Park - 376 miles
West Yellowstone to West Glacier National Park takes a minimum of 6 hours and is 367 miles.
Mammoth Hot Springs to West Glacier NP takes a minimum of 6 hours and 45 minutes and is 421 miles.
Old Faithful to West Glacier NP takes a minimum of 7 hours and 15 minutes and is 422 miles.
Amtrak services offer train service to Glacier National Parking including East Glacier, West Glacier, and Whitefish train depots on the Empire Builder line.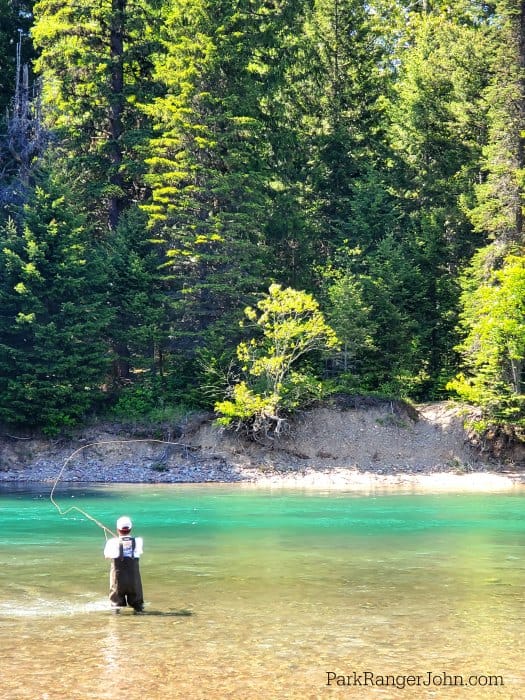 Estimated Distance from nearby National Parks
Yellowstone National Park 390 miles, 7 hours and 47 minutes
Mount Rainier National Park 563 miles, 9 hours and 35 minutes
North Cascades National Park 523 miles, 9 hours and 13 minutes
Grand Teton National Park 847 miles, 13 hours and 30 minutes
Badlands National Park 817 miles, 13 hours and 53 minutes
Theodore Roosevelt National Park 612 miles, 10 hours and 41 minutes
Estimated Distances within Glacier
St. Mary to Many Glacier Valley: 20 miles, 30-40 minutes
St. Mary to Two Medicine Valley: 34 miles, 1 hour
St. Mary to Waterton Lakes National Park: 50 miles, 1 hour plus customs
West Glacier to East Glacier: 56 miles, 1 hour
West Glacier to St. Mary (Going-to-the-Sun Road): 50 miles, 2 to 2 1/2 hours
West Glacier to St. Mary (US Hwy 2 to Hwy 89): 90 miles, 2 to 2 1/2 hours
West Glacier to Many Glacier: 70 miles, 2 1/2 to 3 hours
West Glacier to Polebridge: 28 miles, 1 hour
Where is the National Park Visitor Center?
Apgar Visitor Center
Apgar Visitor Center is located 2 miles east of the west entrance to the park.
Open daily mid-May to mid-October
Open weekends only in fall, spring, and winter
Apgar Nature Center
June 17–August 27 - 10 am–4 pm
Logan Pass Visitor Center
The Logan Pass Visitor Center sits atop the Continental Divide at 6,646 feet.
Open daily from Going-to-the-Sun Road's opening to late September.

Once open for the summer –Sept. 4 . 9 am–7 pm
Sept. 5–Sept. 30...…9:30 am–4 pm
St. Mary Visitor Center
The St. Mary Visitor Center is located just inside the east entrance of the park near the community of St. Mary, Montana.
Open daily late May to early October

May 26–June 17 - 8 am–5 pm
June 18–August 12 - 8 am–6 pm
August 13–Sept. 30 - 8 am–5 pm
October 1-October 8 - 9 am–5 pm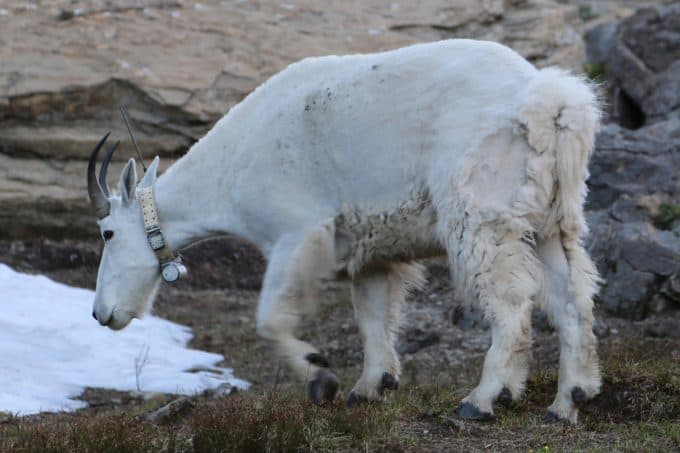 Getting to Glacier National Park
Closest Airports
Kalispell, Montana - Glacier Park International Airport (FCA)
International Airports
Missoula International Airport (MSO)
Spokane International Airport (GEG)
Driving Directions
By car use U.S. Highway 2 to access Glacier National Park from either the East or West entrance. The park is also accessible via Highways 89 or 17.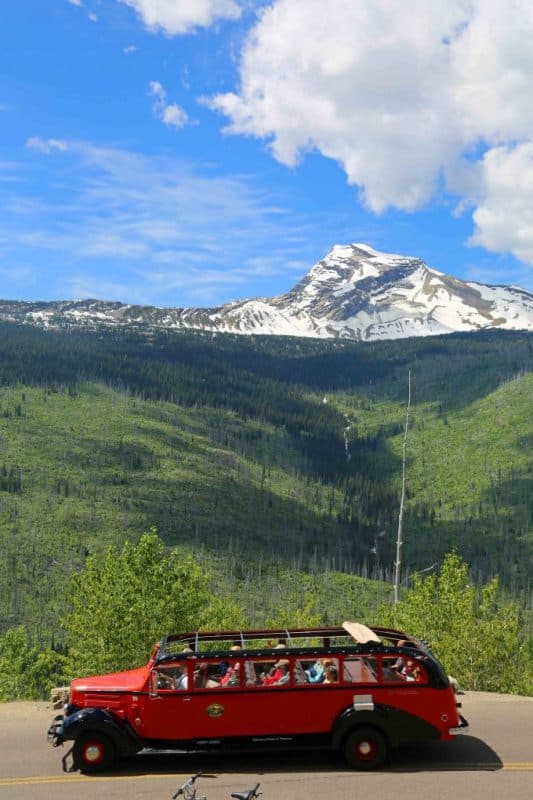 Best time to visit Glacier National Park.
The best time to visit Glacier NP is anytime you can get to the park.
It is gorgeous year-round! To visit when the park is completely open, visit June through September.
Glacier National Park Weather and Seasons
The park is open year-round but the conditions drastically change depending on when you visit.
Spring
If you plan to visit in Spring you will want to plan ahead. There are limited services open in the park.
Trails can be dangerous and snow-covered until late June.
Primitive camping is available at Apgar and St. Mary Campground year-round.
The park starts plowing the Going to the Sun Road but it can take two to four months depending on the snow season.
The road normally does not open until late June or early July.
Summer
Summer is the busiest time in the park! All of the park services are open but they can also be packed.
You will want to plan ahead for lodging, camping reservations, and entry tickets to Going to the Sun Road.
May through September is the busiest time of the year.
Our biggest tip is to make sure to manage your expectations. The park is crazy busy and there can be backups on trails, parking, and well everywhere.
Autumn/Fall
Fall is one of the best times to visit the park. The crowds are less than the summer and wildlife is still active.
On average Going to the Sun Road stays open until the third Monday in October.
Many Glacier Road closed for the season on September 20, 2021. No vehicle access is permitted.
Visitor centers are normally open until Late September to Early October.
The restrooms at Apgar Visitor Center remain open year-round.
Most of the lodges in the park will be closed by Fall.
Winter
Services are incredibly limited in the winter. Most of the roads in the park will be closed.
Primitive camping is normally available year-round at Apgar and St. Mary Campgrounds.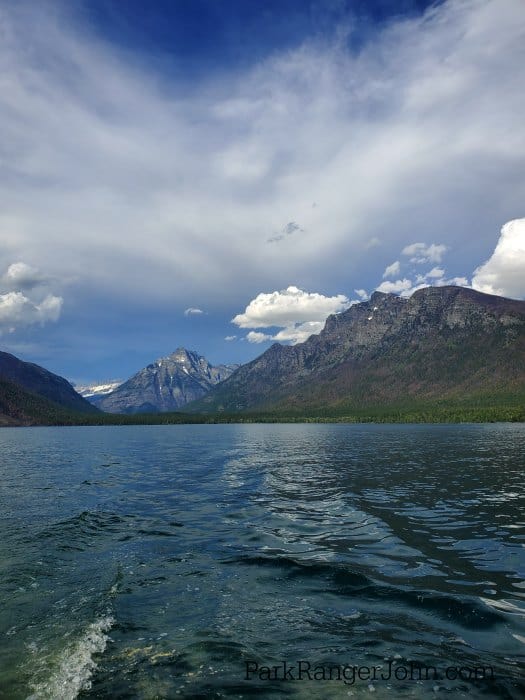 There are so many great things to do in Glacier NP. If you are not a hiker don't worry there are a ton of things to enjoy without hitting a trail. From wildlife to photography you can find something for anyone.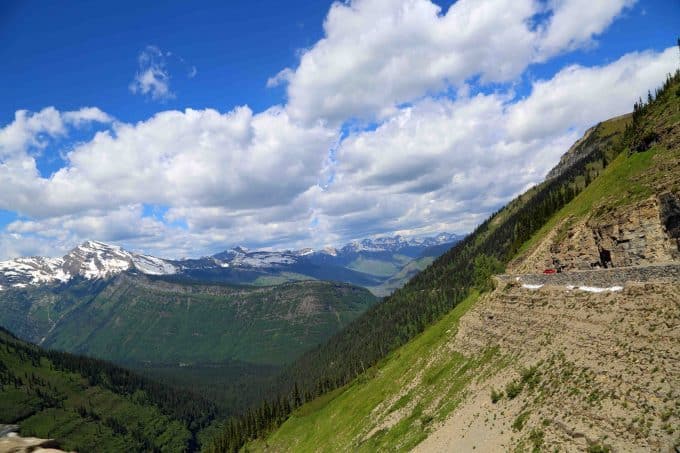 Driving the Going to the Sun Road in Glacier NP is an amazing experience. There are times you are gasping in awe at the views and the next minute you are gasping at how far the drop over the side is.
This is a must-do during any trip to Glacier!
Vehicles and vehicle combinations allowed on Going to the Sun Road
Vehicles longer than 21 ft. (including bumpers) and/or • wider than 8 ft. (including mirrors) are prohibited on the Going-to-the-Sun Road between Avalanche Creek and Rising Sun.
Vehicles over 10 feet in height may have difficulty driving west from Logan Pass due to rock overhangs.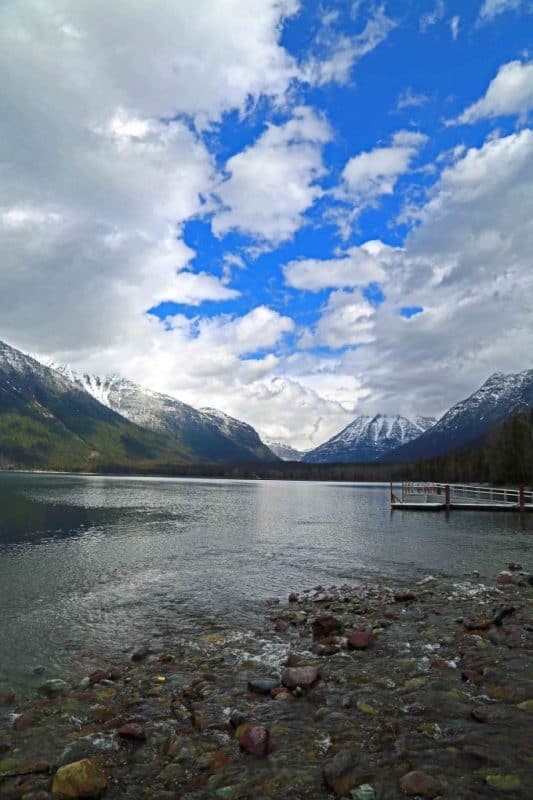 Lake McDonald is a stunning 1.5 miles wide 10-mile long bathtub-shaped lake. The Average depth is 458 feet with the deepest point at 472 feet deep.
The lake's balmy 40-degree water is enough for most people to think twice about diving in.
We highly suggest taking a Lake McDonald Boat Tour while in the park! The views from the boat are unbelievable.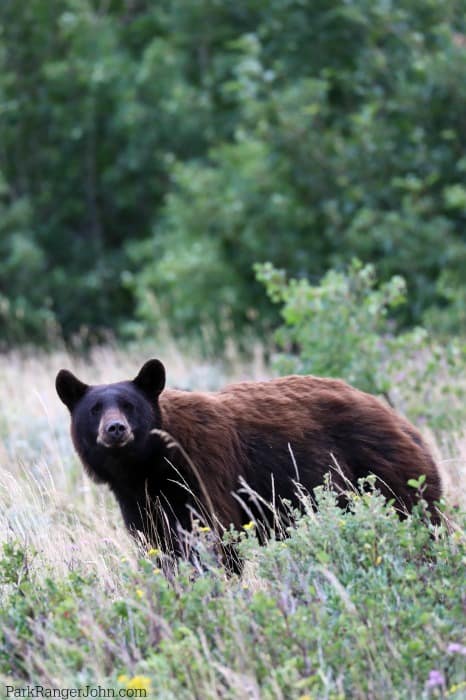 Wildlife viewing
Glacier is a wildlife lovers park! You honestly never know what you are going to see around the next corner.
We have seen Grizzly Bears, Black Bears, Big Horn Sheep, Deer, Osprey, Mountain Goats, Marmot, and more. This is one of our favorite National Parks for wildlife.
The number of fish species: 24 — 18 native and 7 non-natives (Lake trout are native in the Hudson Bay drainage, but are non-native west of the Divide. They are listed on both the native and non-native lists.)
Number of species of mammals: 71
Number of species of birds: 276 documented
The Junior Ranger Program can be picked up at the visitor center. It is a fantastic way for visitors of all ages to learn more about the park.
Dark Sky Park
Glacier National Park and its sister park, Waterton Lakes National Park of Canada, have been certified as an International Dark Sky Park by the International Dark-Sky Association (IDA).
Nightly programs take place throughout the summer at St. Mary and Apgar.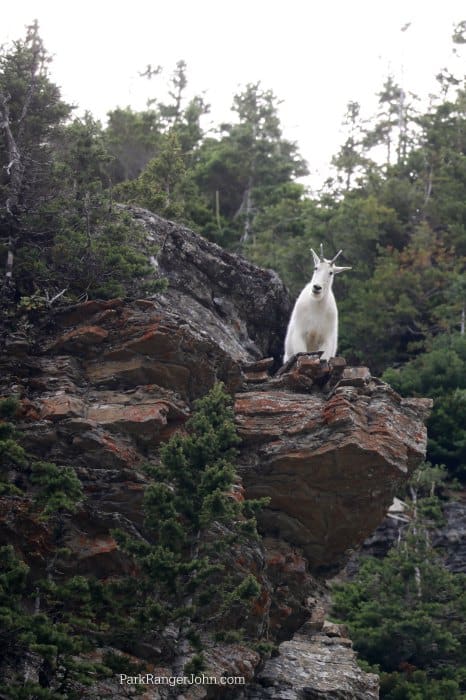 Hiking in Glacier National Park
Always carry the 10 essentials for outdoor survival when exploring. Also, remember this is bear country. Always make noise when hiking and hike in groups. Try not to surprise a bear! Many visitors choose to carry bear spray with them while hiking in Glacier.
There are over 700 miles of trails spread all over the park.
Popular hikes include the Highline Trail, Grinnell Glacier Hike, Hidden Lake Hike, and Running Eagle Falls near Two Medicine Lake.
Make sure to check out the current trail and area closures before heading out.
Trail of the Cedars is perhaps the most popular of all the Glacier National Park Trails.
It is also one of two wheelchair-accessible trails in the park and has several interpretative panels as it guides you through towering trees along Avalanche Creek. It is a must-see during any visit to the park.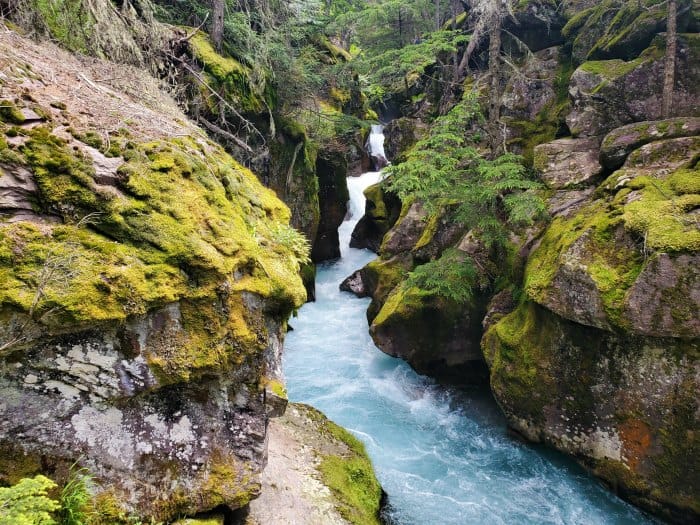 How to beat the crowds in Glacier?
The best way to beat the crowds in Glacier is to plan a visit outside of the middle of summer.
The park has seen a huge increase in visitation and it can feel really crowded. If you can only visit during the summer plan to get up EARLY in the morning to see sunrise and spend the day exploring.
The new ticketed entry is helping with congestion but there are still a lot of people visiting the park daily.
Where to stay when visiting Glacier National Park
There are multiple options for lodging within the park along with nearby communities.
The most important thing to do is make a reservation as soon as you know when you want to visit the park!
Get your ticketed entry pass and a reservation ASAP! Glacier NP is crazy popular and the lodges and nearby hotels can be booked out months in advance.
There are amazing Glacier National Park Lodging options within the park. Glacier has some of the most amazing National Park Lodges in the park system.
Lodging near Glacier
Lodging outside of the park includes in Kalispell and Whitefish, Montana along with West Glacier on the west side of the park.
On the east side of the park, there is loading in St. Mary's.
Camping in Glacier National Park is an outdoor enthusiast's dream vacation.
With over 1000 campsites to choose from you can be as far away from civilization as you choose to experience nature at its finest.
There are also other types of accommodations available within the park in the form of tourist chalets and hotels. The headquarters of the park is located at the western edge in the village of West Glacier.
Travel Tips
Check the weather often before your trip. It can easily snow in July on Logan Pass and make traveling the Going to the Sun Road interesting. You can find links for local weather in the park here.
Dress in layers. This park has so many different areas from the top of Logan Pass to boating on Lake McDonald. You can easily travel from an alpine walk to cruising the lake on a boat.
Traffic can be brutal in the park. Plan extra time to balance out the traffic especially during the summer construction season. Check current road conditions and construction updates on the park website.
You also want to check and make sure that Going to the Sun is open and plowed. It can easily be the Fourth of July before Going to the Sun Road opens for visitors.
Bug Spray is your friend!
If you are interested in taking a tour make sure and book them as soon as you can. Especially the Jammer tours. The Red Jammers fit around 17 people per vehicle so they can easily fill up quickly.
Try Huckleberry everything! This small berry is a bear favorite and one of my favorites. They make great margaritas, ice cream, and honestly everything.
If you are staying near Kalispell make sure and have dinner at Moose's. It is a true Montana experience. Just think of a Montana bar with sawdust-covered floors and swinging doors meet absolutely amazing pizza.
Be BEAR AWARE at all times! You never know when a bear will be around so keep your eye on your surroundings and also know where your camera is.
Bring glass cleaner or spray if you have some to keep your windshield clean. There is nothing worse than seeing a bear or other wildlife and your photo has bug guts spread across the windshield. Trust me I have been there and was so bummed out.
There is very little cell service in the park. Be prepared to spend the day enjoying the park and not be hooked to your phone, other than using it to take photos.
Pack snacks and water with you. We try to bring a lunch that can easily be stored in our coolers.
When you see a bathroom use the bathroom. Especially with traffic, it can feel like hours before you see the next bathroom.
What is it like in Glacier right now? Check out these webcams for a look into the park.
You can check out the park newsletter online which is a great way to plan your trip.
If you plan to cross the border into Waterton National park make sure you have your passport with you.
If you are planning on going hiking you may want to bring bear spray with you. It is much cheaper to buy this ahead of time than buying it in the park. If you are flying you will need to pick it up after you fly, it is illegal to bring bear spray with you on a flight and this includes checked luggage.
Here are a few Glacier National Park books/maps to help with planning your trip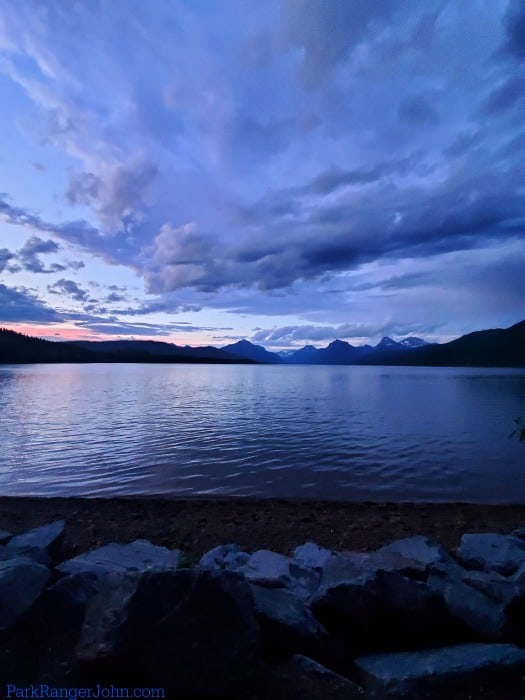 Glacier National Park Facts
Established as Waterton-Glacier International Peace Park in 1932
Going-to-the-Sun Road was completed in 1932
Established as Waterton-Glacier International Peace Park World Heritage Site in 1995
Elevation at Logan Pass: 6,646 feet / 2,025 m
Highest mountain: Mt. Cleveland at 10,448 ft / 3,190 m
Miles of Continental Divide Trail in Glacier: 110
HOW MANY GLACIERS ARE IN GLACIER NATIONAL PARK?
The number of glaciers in Glacier National Park: 26; all shrinking in size.
Largest glacier: Harrison Glacier at 1,661,456.75 sq. meters
HOW MANY LAKES ARE IN GLACIER NATIONAL PARK?
Number of named lakes: 131
Number of unnamed lakes: 631
Largest lake: Lake McDonald at 9.4 miles long; 1.5 miles wide; 464 feet deep; 6,823 acres
Parks near Glacier National Park
Grant Kohrs Ranch National Historic Site
Nez Perce National Historical Park
Little Bighorn Battlefield National Monument
Bighorn Canyon National Recreation Area
Check out all of the Montana National Parks and neighboring National parks in North Dakota, South Dakota National Parks, Wyoming National Parks, and Idaho National Parks.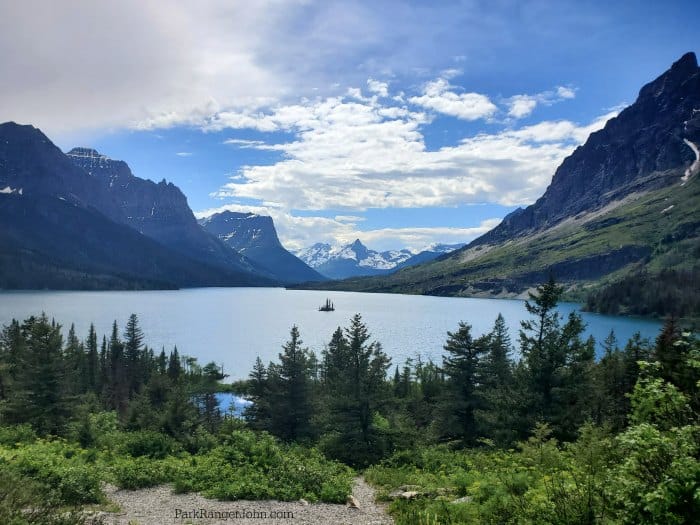 Additional Resources
National Park Service Website
Travel Montana VisitMT.com / (800) 847-4868
Blackfeet Indian Reservation BlackfeetCountry.com / (406) 338-7406
Waterton Lakes National Park, Alberta MyWaterton.ca / (403) 859-2224
Flathead National Forest (406) 758-5200
Lewis & Clark National Forest (406) 791-7700
Flathead Convention & Visitor Bureau FCVB.org / (800) 543-3105
Bigfork, MT BigFork.org / (406) 837-5888
Columbia Falls, MT ColumbiaFallsChamber.org (406) 892-2072
Cut Bank, MT (406) 873-4041
Kalispell, MT KalispellChamber.com / (406) 758-2800
Whitefish, MT WhitefishChamber.com (406) 862-3501
Travel Alberta TravelAlberta.com / (800) 252-3782